April 12 show
Baseball great Carl Erskine of Anderson
With the season opening of Major League Baseball this week, Hoosier History Live! will explore the career, as well as the life away from the dugout, of one of the most beloved Hoosiers who ever pitched.
Nelson's special guest will be Anderson native Carl Erskine, a star pitcher for the Brooklyn Dodgers (he was chosen to pitch the opening game in 1958 when the Dodgers moved to Los Angeles) during the era that the team's roster included his longtime close friend Jackie Robinson, who broke the racial barrier in the major leagues. Carl Erskine pitched for the Dodgers in five World Series.
After retiring from baseball, Carl, now 87, returned to Anderson and became one of the top business and civic leaders in his hometown.
Carl and his wife, Betty, have been particularly dedicated to Special Olympics, in which their son Jimmy, who has Down syndrome and is now in his 50s, continues to compete. Carl wrote his most recent book, The Parallel (2012), as a way to raise funds for Special Olympics Indiana. The book draws parallels between the evolving social acceptances of minorities - thanks to trailblazers like Jackie Robinson - and societal acceptance of people with disabilities. Carl's other books include What I Learned from Jackie Robinson (McGraw-Hill, 2005).
Carl met Jackie Robinson in 1948 when the Hoosier was playing in the minor leagues and the civil rights pioneer gave him encouragement in the dugout. Carl went on to win 122 games as a pitcher for the Brooklyn/Los Angeles Dodgers. He also pitched three two no-hitters during his 12-year career with the team. In 1953, he set a record in the World Series for striking out 14 players. (They were New York Yankees.)
Following his return to Anderson, where he started out in sandlot, high school and amateur baseball, Carl was a bank president for several years. He also coached the baseball team at Anderson University and, for more than 40 years, has volunteered for Special Olympics.
His honors include being named a Living Legend by the Indiana Historical Society in 1999 and, in 2010, receiving the Sachem Award from then-Gov. Mitch Daniels in a ceremony at the Indiana Statehouse.
Carl, who was born in Anderson in 1926, grew up in a racially integrated neighborhood. His childhood pals included "Jumping" Johnny Wilson, an African-American who later was named "Mr. Basketball" as the state's best high school player in 1946. Eventually, Wilson played pro basketball for the Harlem Globetrotters.
In What I Learned from Jackie Robinson, Carl writes that his early experiences with diverse families meant that he was open to a quick, easy friendship with Jackie Robinson, whose life story was depicted in the movie 42: The Jackie Robinson Story (2013).
In his book, Carl describes a series of disturbing incidents in 1949 in Atlanta, where the KKK picketed the Dodgers and Robinson received death threats.
"We couldn't believe anybody would want to kill somebody else for playing ball because of his race," Carl writes. According to Carl, the classy way in which Robinson handled taunts from spectators, fellow players and the media taught him "to be 'better,' not bitter, whenever adversity struck."
In addition to Carl, Robinson's supporters on the Dodgers included another Hoosier: Gil Hodges(1924-1972), a native of Princeton, Ind., who was a star first baseman. Later in his career, Hodges became manager of the New York Mets and, in 1969, led the team to a World Series championship.
By then, Carl had retired as a player and had moved back to his hometown with his wife, Betty, and started a business. He also was president and a director of Star Bank.
The Erskines' son, Jimmy, had been born in 1960 with Down syndrome. Carl and Betty were urged to institutionalize him, but they declined and raised him at home. This led to their involvement with Special Olympics, where Jimmy has been a gold medalist.
History Mystery
In the early 1940s, before Carl Erskine played for the Brooklyn Dodgers, another Indiana-born baseball star was on the team's roster. A native of New Albany, he also played for teams in Boston and Pittsburgh.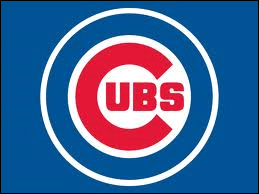 Primarily, though, the Hoosier was associated with the Chicago Cubs, where he was considered one of the greatest hit-and-run hitters of the 1930s and played against icons like Babe Ruth.
The mystery player, a second baseman, had been born in New Albany in 1909. At the end of his career, he was a team manager and scout. By the time he died in 1992, he had been inducted into the Baseball Hall of Fame.
Hint: His granddaughter, Cheri, grew up to marry former Gov. Mitch Daniels.
Question: Who is he?
The call-in number is (317) 788-3314. Please do not call into the show until you hear Nelson pose the question on the air, and please do not try to win the prize if you have won any other prize on WICR during the last two months.
The prize is a pair of tickets to the Indiana Wine Fair in Brown County on April 26, courtesy of Story Inn, and a pair of tickets to the Benjamin Harrison Presidential Site, courtesy of Visit Indy.
Roadtrip: T.C. Steele and Brown County wildflowers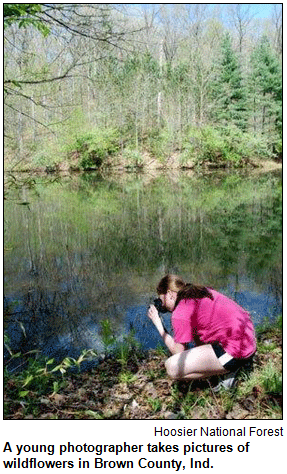 Guest Roadtripper Chris Della Rocca of Indiana Landmarks suggests we take in the 29th Annual Wildflower Foray in Brown county coming up April 25-27.
During a three-day period, guests can enjoy 24 different hikes and programs that focus on the natural history and environmental concerns of Brown County, especially as they relate to wildflower and bird populations. Included are wildflower and bird walks, wetland hikes, a boat trip on Lake Monroe, nature photography and more.
Hikes and programs will be on established trails throughout the T.C. Steele property and at other nearby natural areas, including DNR properties, Hoosier National Forest, Indiana University, Sycamore Land Trust and Nature Conservancy lands.
By the way, our History Mystery prize this week includes two tickets to the Indiana Wine Fair that same weekend in Brown County! Spring is especially welcome this year after such a seemingly endless winter!
6th-anniversary party
Another rousing success!
The sixth anniversary party for Hoosier History Live! on Feb. 27 was yet another rousing success.
About 200 guests hailing from all corners of the state, from Fort Wayne to Jeffersonville, attended our gala, which was hosted by Indiana Landmarks at their state headquarters, the beautifully renovated Central Avenue United Methodist Church.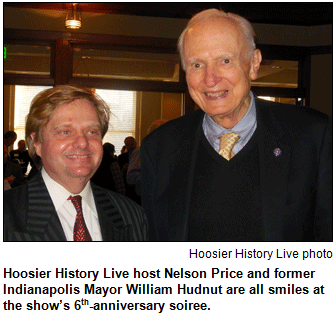 The party was attended by dozens of the distinguished Hoosiers who have been studio guests on the radio show during the last six years, including notables such as novelist James Alexander Thom and his wife, Dark Rain Thom; Jane "Janie" Hodge, the pioneer of children's TV programming, and Jesse Kharbanda, president of the Hoosier Environmental Council.
Former Indianapolis Mayor William Hudnut spoke with great enthusiasm to our guests ("History matters!" - he proclaimed), as did Jeff Smulyan, CEO of Emmis Communications.
Hoosier History Live! wishes to thank the following performers, costumed re-enactors and others who contributed to the evening's success: Hank Fincken as Johnny Appleseed, Danny Russel as Abe Lincoln, kilted members of the Scottish Society of Indianapolis as a nod to our many programs about ethnic groups in Indiana, Shirley Judkins on the grand piano performing Indiana's Songwriter Legends, and Janet Gilray as "Ms. Melody" of Legacy Keepers and Dan Wethington of bluegrass band Cornfields & Crossroads. Photos by Frank Espich of the Indianapolis Star.
Birthday cake and mini cupcakes by Chef Maureen Dunlap, and photography by Bill Holmes.
Acknowledgments also to Garry Chilluffo, Mark Szobody, Marsh Davis, Sharon Gamble, Doris Bond, Laura Yeo, Leah Cody, Carol Simmons, Gary BraVard, Clayton Ryan, Jed Duvall, Lockerbie Pub, Richard Sullivan, Pam Fraizer, Tom Rea, Lorraine Vavul and Jeanne Blake.
April 19 show
Tornado history and storm chasing
With tornado season under way - and this month's 40th anniversary of one of the worst outbreaks - Hoosier History Live! will tackle the heritage of twisters in Indiana. We also will explore various aspects of storm chasing, including questions about why weather researchers put themselves in harm's way.
A "Super Outbreak" of tornadoes in April 1974 across the Midwest resulted in 49 deaths and 768 injuries in Indiana. Particularly hard-hit by the series of twisters were the cities of Monticello, Rochester, Madison and Hanover. To explore the impact of those tragic episodes and other tornado outbreaks - as well as to share insights about storm-chasing techniques - two guests will join Nelson in studio:
Dave Call, an assistant professor at Ball State University, who, almost every spring, leads students on storm-chasing trips across the Midwest and Great Plains. He also has worked as a broadcast meteorologist.
And Dan McCarthy, meteorologist-in-charge of the National Weather Service office in Indianapolis. He also is an expert on the April 1974 outbreak, which involved 20 tornadoes in Indiana and even more in Kentucky.
"Although Indiana is outside what most people think of as 'tornado alley,' the state does see an average of 22 tornadoes per year, and experiences three strong or violent tornadoes every two years," our guest Dave Call says.
In a guest column for The Indianapolis Star in June 2013, Dave wrote:
"Even with the dangers, there are good reasons to chase and get as close as we safely can to these meteorological monsters. Unfortunately, chasing is still one of the best methods for weather researchers to collect data about tornadoes. ... There is simply no good way to measure the near-storm environment without going to the storms themselves and deploying equipment."
He wrote the column following the tragic death of former Discovery Channel storm chaser Tim Samaras, a weather researcher who was among three people killed during a chase in Oklahoma.
Dave emphasized that tornado chasers should, "at minimum" take classes in storm spotting, research safety techniques, travel with experienced partners and "have escape routes mapped out in case a storm suddenly changes direction."
This show won't be our first foray into Indiana's tornado history.
In March 2012, we explored the horrific Palm Sunday tornado outbreak of 1965, the deadliest in Indiana history. Nelson's guest was Dennis Keyser, who was a 10 year-old boy in Bremen on April 11, 1965, a date that set him on his career path.
After witnessing the devastation of the tornado outbreak, which killed a total of 137 Hoosiers and injured about 1,200 others, Dennis eventually studied atmospheric sciences at Purdue. For his master's in meteorology, he focused on severe weather dynamics.
Today, he lives in Silver Springs, Md., and works in a highly specialized field of troubleshooting related to weather data.
Listen to the March 24, 2012 show, "Palm Sunday tornado outbreak of 1965":


(Show length 25:12 - Click just once and be patient; the file may take some time to load!)
Recognition!
Host Nelson Price receives Fadely Award
Our ever-effervescent host Nelson Price was honored with the presentation of the Fadely History Award on March 30 at annual meeting of the Marion County Historical Society at the Athenaeum in downtown Indy.
The award was presented by Jim Fadely, Director of College Counseling at University High School, in honor of his pioneer ancestors.
The award is presented by the Marion County Historical Society "in recognition of outstanding effort to advance the knowledge of history in Indianapolis and Marion County."
"With his career of writing features at the Indianapolis newspapers, his books about famous Hoosiers and his hosting of the current Hoosier History Live radio program, Nelson Price is the perfect recipient of the Fadely History Award for advancing the history of Indianapolis and Marion County," said Jim Fadely.
Thanks also to the Indianapolis Star for publishing Nelson's column on April 8, "Letterman's ties to Indy remain strong."
Thanks!
Underwriting the project
Hoosier History Live welcomes new or renewal contributors Sue and Craig Thomson, Teresa Baer, Jane Hodge, Paul and Billie Fouts, Steve Barnett, Joe Young, Howard Creveling, Eunice Trotter, Dana Waddell and Clay Collins, Lorraine and Richard Vavul, Linda Gugin of Evansville, Marion Wolen, Jim and Marjorie Kienle, Tom Castaldi, Stacia Gorge, David Willkie, Kevin Murray, Jeff Swiatek, Dixie Richardson, Sharon Butsch Freeland and several anonymous contributors.
We are not staff members of any organization; rather, we are a small, independent production group trying to keep Hoosier History Live on the air, on the web, and in your inbox. Your gift goes primarily to support those individuals who are working so hard on the project, as well as to help defray the costs of maintaining our website, our email marketing software and our audio editing costs.
If you believe in supporting local artists, writers, historians and performers, look no further!
It takes only seconds to help us out. Just go to our website and click the yellow "Donate" button. Or, if you prefer the paper method, you may make out a check to "Hoosier History Live" and mail it to Hoosier History Live, P.O. Box 44393, Indianapolis, IN 46244-0393. We will list you on our website, unless you wish to remain anonymous. You also may memorialize a loved one if you wish; just make a note with either your online contribution or on your paper check. Thanks!

We also try to maintain some of those old-fashioned journalism principles about trying to keep editorial content separate from financial contributions.
For questions about becoming an underwriting sponsor (the underwriter level includes logos on our website and newsletter and spoken credits in the live show), contact our producer, Molly Head, at molly@hoosierhistorylive.org, or (317) 927-9101. If you have any questions at all about how we are organized, please feel free to talk to our producer.
Also, the Irvington Library Listening Group continues to meet on a regular basis from noon to 1 p.m. on Saturdays to listen to and discuss the live show. If you think you would enjoy listening with fellow history lovers, just stop by the library at 5626 E. Washington St. in Indianapolis and ask for the listening group.
By the way, it's easy to form your own listening group; all you need is a relatively quiet room with comfortable chairs and either a radio or an online listening device to pick up the show from the live Web stream on Saturdays. We do have listeners all over the country. A weekly listening group is an easy way to get "regulars" into your organization or place of business.
A nice note of support
'We hope to see it broadcast far and wide'
A particularly nice letter of support came in some time ago from authors James Alexander Thom and Dark Rain Thom. We like to re-read it from time to time!
To Whom it May Concern:

Last Spring, my wife and I were interviewed by Nelson Price on his Hoosier History radio program, as authors of frontier and Native American history books. Mr. Price's program was so well prepared and conducted that we feel it should be made available to students and general audiences as widely as possible. His program is well-researched, all questions pertinent to the chosen theme, and moves along briskly. Listeners called in with questions and comments that were intelligent and relevant, a sign of an avid audience.

As historical writers, we try to overcome the public's indifference to history, to bring alive in any way we can the important lessons of the past, and are enthusiastic about programs and writings that make those lessons interesting. The Hoosier History Live program does that so well that we hope to see it broadcast far and wide over this historically significant State of Indiana. It is an excellent program, worthy of extensive distribution and strong support.

James Alexander Thom & Dark Rain Thom, authors
Bloomington, Indiana
July 14, 2011
Shows, we got shows
We have more than 200 Hoosier History Live! radio shows completed, as a matter of fact. And we need to get show audio onto the website, which we are doing by and by, but we sure could use some sponsorship assistance as we edit and publish audio for each archived show. Take a look at the list below and check out all the opportunities for sponsoring a slice of original Hoosier History Live! content on the Web.
No one else is doing anything quite like what we're doing. We are the nation's only live call-in radio program about history. We offer a permanent and growing archive of quality content, available for sponsorship opportunities.
If you are interested in becoming a sponsor of Hoosier History Live!, click here or call Molly Head at (317) 927-9101 for more info.
What people are saying about Hoosier History Live!
"As museums and educational institutions scramble to make their offerings more interactive, more entertaining and more 'relevant' to today's digitally obsessed consumers, Hoosier History Live! seems to have mastered that formula."
Glynis Worley, rural Bartholomew County listener
"Hoosier History Live! is a perfect place to consider and reconsider history ... not just what happened in the past, but what it may mean in the present. Nelson Price is the perfect host: enthusiastic, curious and knowledgeable. Tune in to Hoosier History Live! and be prepared to be surprised."
James Still, playwright in residence, Indiana Repertory Theatre
"Hoosier History Live! is a fantastic opportunity for people to not only learn about history, but also become a part of the conversation. Much like our mission, the telling of Indiana's stories, Nelson and his guests wonderfully connect people to the past!"
John Herbst
President and CEO, Indiana Historical Society
"The links on the Friday Hoosier History Live! enewsletter are a great way to learn more about history, and from a variety of sources."
Jill Ditmire
Omni Media Specialist
"Distilling life experience into stories is an art. Telling stories of life experience for Hoosiers past and present will shape the lives of young people and enrich the lives of all in our state. Mr. Nelson Price brings alive the life experience of notable Hoosiers in Hoosier History Live!"
David T. Wong, Ph.D., President
DT Wong Consulting, LLC
Former Lilly research scientist who developed Prozac
"Nelson Price, more than anyone I know, infuses joy into the pursuit of history. And that joy rings out loud and clear on the radio show, Hoosier History Live!"
Marsh Davis
President, Indiana Landmarks
"No, I haven't heard of another call-in talk radio show about history. Our airwaves are now full of the worst vitriol! Give me the phone number for the show. I want to call in!"
Ken Burns, speaking at a preview of his film "The War" at Indianapolis Hebrew Congregation, April 18, 2007