Sept. 5 show
Bicentennial projects across Indiana, both upcoming and completed
In Spencer County, where young Abe Lincoln and his family moved in 1816, Boy Scouts have been collecting seeds descended from squash apparently grown by the Lincolns. Local residents are planning to plant and harvest the squash with a link to the "Great Emancipator."
In Crawfordsville, the tower on the Montgomery County Courthouse was struck by lightning in 1941; its bell was donated to the World War II effort. A new courthouse bell has been obtained and will be installed in the tower, which is being restored.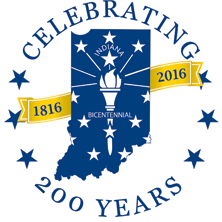 And in Centerville, a creative project involving a nature park will unfold at the Cope Environmental Center.
They are among the dozens of projects planned for next year in counties and towns when Indiana celebrates its 200th birthday. To share details about what to expect, Perry Hammock, executive director of the Indiana Bicentennial Commission, will be Nelson's studio guest.
They also will share insights about projects that already have occurred in counties and towns that were organized before Indiana achieved statehood - and, as a result, have already had local bicentennial celebrations.
In historic Orleans in southwestern Indiana, for example, the town's original fire truck- with wooden wheels and its original engine (circa 1924) - was restored by local firefighters.
Perry and Nelson primarily will focus on local, grassroots projects involved with the Bicentennial rather than the major state projects. The 2016 Bicentennial Celebration includes the construction of a $25 million building for the Indiana State Archives (Hoosier History Live explored the archives - and the dismal condition of the current facility - in a radio show on May 16) and the creation of a Bicentennial Plaza at the Indiana Statehouse.
The $55 million allocated by the state for the Bicentennial also includes the cost of a torch relay to all 92 counties.
Last month, the Bicentennial Commission chose a design for the commemorative medal of the 200th birthday. The winning design, selected from submissions by 60 artists, features a page being turned in Indiana history, with representations of the Civil War, farming and medical research. The design was created by Donna Weaver, an artist in Switzerland County; the commemorative medal with her design is expected to be available to the public in November, according to the Associated Press.
In December 1816, the same month that Indiana became the 19th state, seven-year-old Abe Lincoln moved with his family from Kentucky to southwestern Indiana.
How, though, do the local folks know that the squash seeds truly are descended from those grown by the Lincolns? That's among the questions Nelson plans to ask Perry Hammock, whose commission has endorsed nearly 500 Bicentennial projects and events.
The Lincoln Boyhood National Museum is coordinating the squash project and has been distributing seeds. Their goal is to have every Spencer County and Perry County garden "growing the 'Lincoln squash' in 2016"; that year's harvest will feature contests recognizing the largest squash, best pie and other accomplishments.
Other Bicentennial projects include, in White County, the creation of a statue of the county's namesake, Isaac White, a soldier who was killed in the Battle of Tippecanoe in 1811. The statue will be erected on the courthouse lawn in Monticello.
Our guest Perry Hammock became director of the Indiana Bicentennial Commission in March 2014. Before that, he spent 33 years on the staff of Ivy Tech Community College.
His predecessor at the Bicentennial Commission, former executive director Chris Jensen, joined Nelson and distinguished historian James Madison, a Bicentennial Commission board member, for a show in June 2013 that explored the Centennial in 1916, including the challenges then, as well as the celebrations.
Learn more:
Roadtrip - Simple delights await in Starke County in northern Indiana
Guest Roadtripper and public historian Glory-June Greiff tells us to "head on up U.S. 35 out of Logansport - a road largely developed and routed by the Works Progress Administration (WPA) in the 1930s, by the way - to Starke County, where many simple delights await you.
The hamlet of Bass Lake, on the southwestern corner of one of Indiana's largest natural lakes, is just off 35; it boasts one of the state's few remaining drive-in theaters, the Melody. (Interestingly, during Christmas season, it is the site of a living Nativity put on by a local church.) Try to make it before winter (they are closed then) so you can stop at Fingerhut's Bakery, located in what was once a bank building. Great doughnuts, but good food, too. Bass Lake once was a state park - or technically, a state beach - that was deaccessioned some years ago and is now run by the county.
If you miss Fingerhut's at Bass Lake, do not despair, for their mother location is only a few miles to the west (take SR10) in North Judson, and that one is open year-round. North Judson is home to the annual Mint Festival on Father's Day weekend, celebrating the crop ubiquitous to that area, although mint farming is not as widespread as it once was. (Indiana is still among the top 10 producers of mint, though!)
Did we mention the WPA? Right in the middle of town is Norwayne Field, today a park but built as a baseball field in a natural depression with bleachers up the sides. Note the unusual concrete track along the side of the bleachers; it was intended as a snow slide in winter for sledders. North Judson also boasts the Hoosier Valley Railroad Museum, which on Saturdays offers train rides.
Before heading home, you might want to head up Ind. 39 a few miles and turn east to Toto, an odd little place that must be seen to be appreciated. The tiny town in the middle of nowhere is old, but it attracts thousands of people each year to its huge discount stores and odd shops. There's a great little grocery store that in spring stocks a huge array of wonderful plants, and places to eat as well.
Continue east on the county road and you'll soon find yourself back on Highway 35.
History Mystery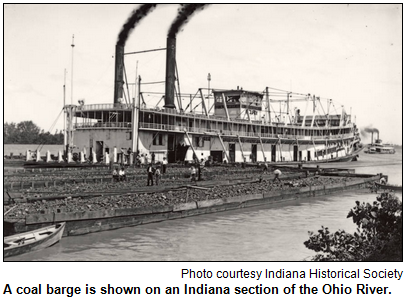 One of Indiana's first counties to be organized celebrated its bicentennial in 2013. Located in far-southwestern Indiana, the country was organized in 1813.
Its county seat is a town to which a teenage Abe Lincoln walked so he could sit in courtrooms and observe cases argued by a local lawyer, who mentored him. (The bicentennial county is located next to Spencer County, where the Lincoln family lived.)
Another town in the county is known for its historic Main Street and scenic, "river village" ambience; the town is nestled on the Ohio River. Some of the county is considered to be part of the metro area of Evansville, which is located in another bordering county, Vanderburgh County.
Question: Name the far-southwestern county that celebrated its bicentennial in 2013.
Hint: It often is listed among the 10 fastest-growing counties in the state.
Please do not call if you have won a prize from any WICR show during the last two months. The call-in number is (317) 788-3314, and please do not call until you hear Nelson pose the question on the air.
The prize pack includes two tickets to the Hoosier Hops & Harvest Festival at Story Inn in Brown County on Sept. 12, courtesy of Story Inn, as well as two tickets to the Indianapolis Children's Museum, courtesy of Visit Indy.
Thanks!
Underwriting the project
We are not staff members of any organization; rather, we are a small, independent production group trying to keep Hoosier History Live on the air, on the web and in your inbox. Your gift goes primarily to support those individuals who are working so hard on the project, as well as to help defray the costs of maintaining our website, our email marketing software and our audio editing costs.
If you believe in supporting local artists, writers, historians and performers, look no further!
It takes only seconds to help us out. Just click the yellow "Donate" button, above. Or, if you prefer the paper method, you may make out a check to "Hoosier History Live" and mail it to Hoosier History Live, P.O. Box 44393, Indianapolis, IN 46244-0393.
We also try to maintain some of those old-fashioned journalism principles about trying to keep editorial content separate from financial contributions.
For questions about becoming an underwriting sponsor (the underwriter level includes logos on our website and newsletter and spoken credits in the live show), contact our producer, Molly Head, at molly@hoosierhistorylive.org, or (317) 927-9101, or Garry Chilluffo, our media+development director, at gchill@hoosierhistorylive.org.
Also, the Irvington Library Listening Group continues to meet on a regular basis from noon to 1 p.m. on Saturdays to listen to and discuss the live show. If you think you would enjoy listening with fellow history lovers, just stop by the library at 5626 E. Washington St. in Indianapolis and ask for the listening group.
If you are interested in forming your own listening group, all you need is a relatively quiet room with comfortable chairs and either a radio or an online listening device. A weekly listening group is an easy way to get "regulars" into your organization or place of business.
The Central Library in Indianapolis is willing to provide a space for a listening group if someone would volunteer to host the group. For more info, contact producer Molly Head.
Sept. 12 show
Wendell Willkie, unlikely presidential candidate of 1940
In a recent article in The New York Times headlined "Before Trump or Fiorina, There Was Wendell Willkie," esteemed presidential historian Michael Beschloss wrote:
"If either Donald Trump or Carly Fiorina receives the 2016 Republican presidential nomination, it will be a rare achievement. Only once in American history has a major political party granted its prize to someone whose principal qualification was to have served as a chief executive.
That "someone" was a colorful Hoosier. Elwood native Wendell Willkie, whose rollicking presidential crusade was headquartered in Rushville, was a maverick Republican in 1940 when he took on Franklin D. Roosevelt in his quest for a third term.
Last month, commemorative events celebrated the 75th anniversary of an August 1940 rally in Elwood for Willkie that drew a crowd of 215,000. That makes it the largest political gathering in Indiana history. By the time Willkie wound down on the sweltering, 102-degree afternoon, nearly 360 people needed to be treated for heat-related disorders.
Amid the anniversary and the presidential nomination season underway, David Willkie will be Nelson's studio guest to share insights about his grandfather, who died suddenly of heart disease in 1944 at age 52.
David, who grew up in Rushville and has worked as a staff member for former U.S. Sen. Richard Lugar, is in his 40s and never personally knew his grandfather. He has fond memories, though, of his grandmother, Edith Willkie, who almost became the nation's first lady.
Wendell Willkie, a utility company executive and attorney who never had held elective office of any kind, was the dark horse nominee of the Republican Party. The chant "We want Willkie! We want Willkie! We want Willkie!" swept delegates to the GOP national convention in Philadelphia, which had been deadlocked on more traditional candidates. Willkie won on the sixth ballot.
Although Willkie lost in the general election, President Roosevelt eventually designated the Hoosier to be his personal representative to the Allied nations in Europe. Regarded as socially progressive, a champion of civil rights and an internationalist, Willkie also became the author of a bestselling book titled One World.
A note about that historic speech in Elwood: According to David Willkie, family folklore is that his grandfather inadvertently forgot his speech when he arrived at the massive rally, which jammed roads for miles far beyond Madison County. So squad cars had to be dispatched to weave among the bumper-to-bumper traffic and fetch the speech.
David shared that anecdote when he was our guest for a show in 2012. Much of that program, though, focused on an unrelated event: The 20th anniversary of David Willkie's highly publicized, fund-raising stunt in 1992 to save the Athenaeum in downtown Indy. (David camped on the slate roof of the historic structure for 60 days.)
For this show, the full focus will be on his grandfather, who took Indiana - and the entire country - on an unforgettable ride 75 years ago.
Learn more:
Volunteers needed
Calendar itemkeeper, listening-group host opportunities
Would you be interested in placing the Hoosier History Live show topic and dates and times and ways to listen on the Bicentennial calendar and various other free community calendars across the state? This is rather detailed online weekly public relations work, but it would help get the word out about our show. If interested, please email molly@hoosierhistorylive.org, and please include your phone number.
Would you be interesting in hosting or facilitating a listening group at Central Library in Indianapolis each week? You would be responsible for being there each week during the live show and making sure a listening device is available. And generally facilitating the discussion. If interested, please email molly@hoosierhistorylive.org, and please include your phone number.
Original history journalism every week
Hoosier History Live really needs your financial support!
The 2015 year is coming to a close, and we are having difficulties keeping our operation going. If you like what we are doing as a small production group, please consider visiting the yellow Donate button on our website or enewsletter. Or, if you prefer the paper method, you may make out a check to "Hoosier History Live" and mail it to:
Hoosier History Live
P.O. Box 44393
Indianapolis IN 46244-0393
We are a self-supporting small production group, and the money goes primarily to those who are working so hard on the project, as well as goes to pay for technical fees associated with keeping the website and enewsletter going. If you value what we are doing, please consider supporting us financially.
A note of support
'We hope to see it broadcast far and wide'
A particularly nice letter of support came in some time ago from authors James Alexander Thom and Dark Rain Thom. We like to re-read it from time to time!
To Whom it May Concern:

Last Spring, my wife and I were interviewed by Nelson Price on his Hoosier History radio program, as authors of frontier and Native American history books. Mr. Price's program was so well prepared and conducted that we feel it should be made available to students and general audiences as widely as possible. His program is well-researched, all questions pertinent to the chosen theme, and moves along briskly. Listeners called in with questions and comments that were intelligent and relevant, a sign of an avid audience.

As historical writers, we try to overcome the public's indifference to history, to bring alive in any way we can the important lessons of the past, and are enthusiastic about programs and writings that make those lessons interesting. The Hoosier History Live program does that so well that we hope to see it broadcast far and wide over this historically significant State of Indiana. It is an excellent program, worthy of extensive distribution and strong support.

James Alexander Thom & Dark Rain Thom, authors
Bloomington, Indiana
July 14, 2011
Shows, we got shows
We have more than 200 Hoosier History Live! radio shows completed, as a matter of fact. And we need to get show audio onto the website, which we are doing by and by, but we sure could use some sponsorship assistance as we edit and publish audio for each archived show. Take a look at the list below and check out all the opportunities for sponsoring a slice of original Hoosier History Live! content on the Web.
No one else is doing anything quite like what we're doing. We are the nation's only live call-in radio program about history. We offer a permanent and growing archive of quality content, available for sponsorship opportunities.
If you are interested in becoming a sponsor of Hoosier History Live!, click here or call Molly Head at (317) 927-9101 for more info.
What people are saying about Hoosier History Live!
"Hoosier History Live is a fun and interesting way to learn about the heart and soul of Indiana. No boring classes or books here! The production team does an outstanding job."
Judy O'Bannon, civic leader and public broadcasting producer
"The folks at Hoosier History Live! are able to find great stories and the people to tell them - people and stories that you seldom hear on the national air."
Dr. James H. Madison, author and IU history professor
"As museums and educational institutions scramble to make their offerings more interactive, more entertaining and more 'relevant' to today's digitally obsessed consumers, Hoosier History Live! seems to have mastered that formula."
Glynis Worley, rural Bartholomew County listener
"Hoosier History Live! is a perfect place to consider and reconsider history ... not just what happened in the past, but what it may mean in the present. Nelson Price is the perfect host: enthusiastic, curious and knowledgeable. Tune in to Hoosier History Live! and be prepared to be surprised."
James Still, playwright in residence, Indiana Repertory Theatre
"Hoosier History Live! is a fantastic opportunity for people to not only learn about history, but also become a part of the conversation. Much like our mission, the telling of Indiana's stories, Nelson and his guests wonderfully connect people to the past!"
John Herbst
President and CEO, Indiana Historical Society
"The links on the Friday Hoosier History Live! enewsletter are a great way to learn more about history, and from a variety of sources."
Jill Ditmire
Omni Media Specialist
"Distilling life experience into stories is an art. Telling stories of life experience for Hoosiers past and present will shape the lives of young people and enrich the lives of all in our state. Mr. Nelson Price brings alive the life experience of notable Hoosiers in Hoosier History Live!"
David T. Wong, Ph.D., President
DT Wong Consulting, LLC
Former Lilly research scientist who developed Prozac
"Nelson Price, more than anyone I know, infuses joy into the pursuit of history. And that joy rings out loud and clear on the radio show, Hoosier History Live!"
Marsh Davis
President, Indiana Landmarks
"No, I haven't heard of another call-in talk radio show about history. Our airwaves are now full of the worst vitriol! Give me the phone number for the show. I want to call in!"
Ken Burns, speaking at a preview of his film "The War" at Indianapolis Hebrew Congregation, April 18, 2007