June 22, 2019
The Indiana Dunes
Earlier this year, the Indiana Dunes made national news with the announcement that the distinctive shoreline on Lake Michigan would be a new national park, the first one in the state.
But does its designation as Indiana Dunes National Park - rather than the former Indiana Dunes National Lakeshore - make a substantive difference?
Hoosier History Live will explore that question, as well as a mountain of other topics related to the towering mounds of white sand that resulted from changes in the level of Lake Michigan that occurred around six thousand years ago, after the last ice age. We also will explore the Indiana Dunes State Park, which is included within the 15,000 acres of the national park. Only 61 sites in the country have been designated as national parks, according to an article in April in the Indianapolis Business Journal.
During our show, two guests will join Nelson by phone from their Porter County offices at the Dunes:
Bruce Rowe, public information officer for Indiana Dunes.
And Dustin Ritchea, promotions director for Indiana Dunes Tourism.
In an interview with the Indianapolis Star when the national park designation was announced in February, Dustin described the Indiana Dunes as one of the most biodiverse areas of North America - with more plant and animal species than Hawaii. In addition to sand dunes, Indiana Dunes includes woodlands, wetlands, prairies and bogs.
During the early 1900s, Chicago-based painter Frank Dudley became captivated by the dunes. He crusaded to have them preserved even as steel plants and other industrial development was occurring nearby in northwest Indiana. Carl Sandburg, who lived in Chicago, came to the dunes to write some of his poetry; he once called the dunes "eternity's signature."
Proposals to designate the Indiana Dunes as a national park started more than 100 years ago. In 1916, the first director of the National Park Service initially suggested the idea, according to The Indianapolis Star. The Indiana Dunes State Park was opened in 1926.
Attractions today include a 3 Dune Challenge, an endurance test in which visitors to the state park are challenged to climb its three tallest dunes. "The 1.5-mile trail takes participants up and down 552 vertical feet," according to the IBJ.
Although this will be our first show devoted exclusively to the Indiana Dunes, aspects of their heritage have come up during several previous Hoosier History Live programs. They have included:
According to Indiana Dunes Tourism, more than 3.6 million visitors came to the Dunes last year, putting the area on a par with Mount Rushmore's visitation.
Because of its biodiversity, Indiana Dunes is promoted as "one of the best spots in the Midwest for bird watching." More than 1,000 species of plant life also can be found there.
Consideration of national park designation for the Indiana Dunes dates back more than 100 years, according to an article in the June issue of Indianapolis Monthly. In 1916, Stephen Mather, the first director of the National Park Service, suggested the designation. The country's focus on World War I, however, meant the push was tabled and the proposal was essentially forgotten.
In total, the Indiana Dunes have 15 miles of white sand beaches on Lake Michigan. The Hoosier Slide, at about 200 feet tall, was the largest dune before it was destroyed by sand mining.
History Mystery
Some of the best-known folklore about the Indiana Dunes is based on a real woman who lived a reclusive, unconventional life during the early 1900s. Fishermen at the Dunes beaches during that era reported sightings of a naked woman swimming in Lake Michigan.
They gave her a nickname and told tales about her that were embellished and repeated for decades. Some people claimed she was a free-spirited heiress from a wealthy Chicago family who fled the city to pursue a simpler life among the scenic sand dunes.
Amid much speculation about the woman, whose nickname became familiar to thousands of visitors to the Dunes, fictional accounts about her were written. After her death in 1925, the truth about the "naked woman of the Dunes" began to emerge, but by then her nickname had become legendary.
Question: What was the nickname of the free-spirited woman who lived amid the Indiana Dunes during the early 1900s and became the subject of widespread folklore?
Please do not call in to the show until you hear Nelson pose the question on the air, and please do not try to win if you have won any other prize on WICR during the last two months. You must be willing to give your first name to our engineer, you must answer the question correctly on the air and you must be willing to give your mailing address to our engineer so we can mail the prize pack to you. This week's prizes: a Family 4-Pack to the Indiana State Museum, courtesy of the Indiana State Museum, and a gift certificate to the Story Inn in Brown County, courtesy of the Story Inn.
Roadtrip: Juneteenth at the Central Library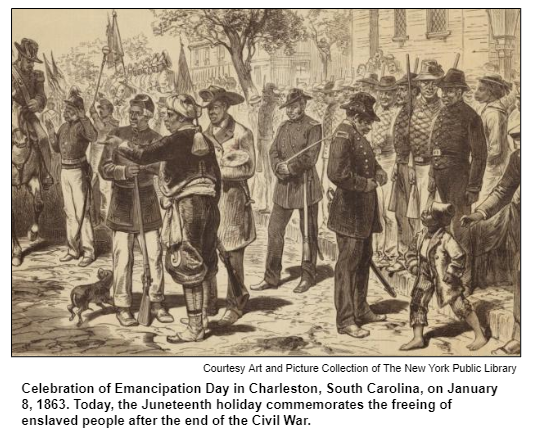 Guest Roadtripper Dona Stokes-Lucas, African-American history researcher and owner of Xpression Tours, invites us to join her in celebrating Juneteenth at Indianapolis Public Library's Center for Black Literature & Culture, where she'll be calling in with her live Roadtrip report.
The celebration of Juneteenth dates back to the era following the U.S. Civil War. Slavery had been declared illegal in 1863 by Abraham Lincoln's Emancipation Proclamation, but even after the Union victory in April of 1865, U.S. troops still had to enforce emancipation in some former Confederate areas.
In Texas, approximately 250,000 people were still being held in slavery when, on June 19, 1865, Union troops led by Major General Gordon Granger arrived in Galveston to announce that the war had ended and that all enslaved people were now free.
Texas began the tradition of celebrating Juneteenth and made it an official state holiday in 1980; the day is now celebrated across America.
And while you're celebrating Juneteenth, Dona suggests you check out Central Library's Bookfest, also on Saturday, where bibliophiles of all ages will find a wide variety of activities and presentations catering to their interests.
History, celebration, books … sounds like a Roadtrip to remember!
June 29, 2019 - coming up
Violent early era of Fishers: encore
It's a suburban boomtown continually in the spotlight because of developments like the opening in 2017 of the first Ikea store in the state.
So who today would guess that Fishers, located in Hamilton County, had a reputation for lawlessness, gun fights, grave robberies and drunken brawls in the years after it was founded during the 1870s?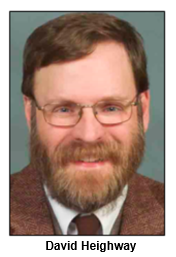 To explore the violent early history of Fishers - which shed the designation of town to assume official status as a city only in 2014, after years of explosive growth - Nelson is joined by David Heighway, Hamilton County's historian, in this encore show originally broadcast in 2017. Based on his extensive research, David has several explanations for why the town was so rough-and-tumble in the years after it was founded in 1872.
Even Fishers' nickname of Mudsock has violent origins: a melee known as "the Battle of Mudsock" made national news in 1881, one month after the infamous Gunfight at the O.K. Coral (in Arizona) when, according to David, the public was paying close attention to violent incidents.
"If you've seen the movie Tombstone or the TV series Deadwood - that was what Fishers was like," David contends.
He has posted several blog entries about Fisher's violent early years on a weekly blog of the Hamilton East Public Library, where he works in collection services.
Much of the blame for the Wild West early years of Fishers, David says, falls on "the loose political structure of the town," which encouraged lawlessness. As a railroad depot (the community early on was known as Fishers Station), Fishers was located near several towns with strict temperance laws and ordinances.
"So if someone wanted to raise a little hell," David says, "they would go to Fishers."
A native Hoosier and a descendant of Indiana pioneers, David is on the board of directors of the Hamilton County Historical Society and serves on the Noblesville Historic Preservation Commission.
According to an article David wrote for the Hamilton County Business Magazine, the Battle of Mudsock in November 1881 was a "community-wide brawl" that left one dead and 32 wounded. A fistfight escalated into an "explosion of violence."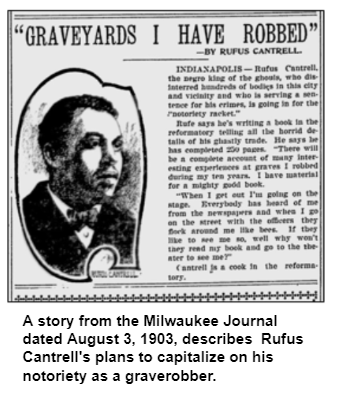 During its early years, lawlessness in Mudsock - i.e. Fishers - persisted in part because the town apparently had few, if any, law enforcement officers, David says.
Grave robbing in the Fishers area circa 1900 was an extension of "body snatching" problems in Indianapolis, which was the epicenter of a major national ring led by Rufus Cantrell, who was known as the "King of the Ghouls."
Cantrell and his accomplices, who may have included a physician born in Hamilton County in 1859, supplied corpses to early medical schools desperate for bodies to use in teaching students. In one of David's blog posts about the grave robbery problems, he describes how Cantrell testified in court against the physician from Hamilton County.
Other crimes in early Fishers included "train wrecking," robberies in which desperadoes placed ties or other obstructions on railroad tracks. When approaching trains would crash or overturn, the criminals would loot the wreckage.
In the 1880s, when the Monon Railroad line opened in the western part of Hamilton County - the opposite end from Fishers - violence in the town began to decline, according to David. He adds, though, that a pool hall located in the back of a Fishers hardware store was demolished by a dynamite explosion in 1914.
"By the end of World War I," he notes, Fishers "had begun to settle into a quiet farming community."
They're singing our praises!
"Hoosier History Live is the best Americana-themed show anywhere on radio!"
So says John Guerrasio, a professional actor who lives in London, England. We met John in 2008 when he played a role in the Indiana Repertory Theatre's production of The Ladies Man, a French farce by Georges Feydeau.
Even though he no longer lives in Indiana, John stays current with Hoosier History Live by listening to the show via podcast. He encourages other listeners to do the same - wherever they live. Listening by podcast means you can catch up on old shows, post shows on your social media accounts, and fit your listening to your own schedule.
Just go to hoosierhistorylive.org and look for recent shows linked in bold typeface at the top of the site. For older shows check out our archive page, where podcast links are available along with the original newsletter material for each show. You can also access Hoosier History Live podcasts via Apple's podcast app on your phone or iPad, or many other podcasting apps as well.
Whether you listen live on Saturdays or via podcast, we think you'll agree with John that Hoosier History Live is worth making a part of your day!
Want to support Hoosier History Live?
We offer a permanent and growing archive of quality online content, including easily accessible podcasts available a week after live air. Thanks to associate producer Mick Armbruster for directing our online audio distribution.
If you are interested in becoming a sponsor, click here or call Molly Head at (317) 927-9101. Sponsorship includes logos and links on our enewsletter and website, and voiced credits in the show. You can also of course make an individual contribution on the yellow button on the left side of this page. Support local journalism.

Feedback from our supporters
"...great value to sponsors"
"Hoosier History Live has amassed a vast library of content over the years, both with the show audio and newsletter material. I believe that the Hoosier History Live content has great value to sponsors and advertisers via widespread online distribution. Nowhere else do you find the fresh new material each week, the depth of stories, the richness of detail, and the long-term consistency."
- John McDonald, CEO, ClearObject in Fishers, Indiana, Inc. Magazine's fastest-growing IT company in Indiana for 2014, 2015, 2016 and 2017.
"...always a great show"
"Hoosier History Live is always a great show. We did a small sponsorship as a gesture of support, and I didn't think a little history show would have much impact. But many people mentioned to me that they had heard our credit on the radio."
G.B. Landrigan, Realtor, Certified Residential Specialist
August 2018
"...a great way to represent what I do..."
"I have thoroughly enjoyed my experiences with Nelson Price and the Hoosier History Live team. I feel being on the show was a great way to represent what I do with motorsports history. I am particularly excited by the show's new distribution through a podcast and making it accessible live through the Web."
-Mark Dill, owner, FirstSuperSpeedway.com
July 2018
What people are saying about Hoosier History Live
"Hoosier History really is 'Live'--and 'Lively' as well. The program brings to new audience the delight and wisdom that comes with knowing more of our past and our connections as Hoosiers."
James H. Madison
Emeritus History Professor
Indiana University
"Hoosier History Live does more to promote Indiana history than does any single source."
Andrea Neal, Indianapolis author and educator
"Hoosier History Live is a fun and interesting way to learn about the heart and soul of Indiana. No boring classes or books here! The production team does an outstanding job."
Judy O'Bannon, civic leader and public broadcasting producer
"Distilling life experience into stories is an art. Telling stories of life experience for Hoosiers past and present will shape the lives of young people and enrich the lives of all in our state. Mr. Nelson Price brings alive the life experience of notable Hoosiers in Hoosier History Live."
David T. Wong, Ph.D., President
DT Wong Consulting, LLC
Former Lilly research scientist who developed Prozac
"Nelson Price, more than anyone I know, infuses joy into the pursuit of history. And that joy rings out loud and clear on the radio show, Hoosier History Live."
Marsh Davis
President, Indiana Landmarks
"As museums and educational institutions scramble to make their offerings more interactive, more entertaining and more 'relevant', Hoosier History Live seems to have mastered that formula."
Glynis Worley, rural Bartholomew County listener
"Hoosier History Live is a perfect place to consider and reconsider history ... not just what happened in the past, but what it may mean in the present. Nelson Price is the perfect host: enthusiastic, curious and knowledgeable. Tune in to Hoosier History Live and be prepared to be surprised."
James Still, playwright in residence, Indiana Repertory Theatre
"Hoosier History Live is a fantastic opportunity for people to not only learn about history, but also become a part of the conversation. Much like our mission, the telling of Indiana's stories, Nelson and his guests wonderfully connect people to the past!"
John Herbst
President and CEO, Indiana Historical Society
"The links on the Friday Hoosier History Live enewsletter are a great way to learn more about history, and from a variety of sources."
Jill Ditmire
Omni Media Specialist
"No, I haven't heard of another call-in talk radio show about history. Our airwaves are now full of the worst vitriol! Give me the phone number for the show. I want to call in!"
Ken Burns, speaking at a preview of his film "The War" at Indianapolis Hebrew Congregation, April 18, 2007