April 21, 2018
Zionsville town history: encore presentation
Zionsville probably is best known for its Main Street, which has been described for decades as "quaint" and "charming."
So during this encore of a show originally broadcast Nov. 12, 2016, we explore the evolution of Main Street in Zionsville, where the 1950s was a pivotal era for creating a "colonial village" theme among the street's merchants. Also on the show, we dig deeper into the history of the Boone County town, which was founded during the early 1850s.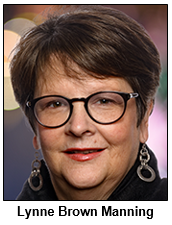 For this program in our rotating series about town and county histories across Indiana, Nelson's studio guests are Marianne Doyle, who lives in a Civil War-era home in Zionsville, and Lynne Brown Manning, a fourth-generation Zionsville resident who is president of the Zionsville Historical Society. Marianne had been the Boone County historian for 19 years when our show originally was broadcast; since then, she has retired from that position.
Lynne's grandmother founded the historical society. Her mother was executive director of the Greater Zionsville Chamber of Commerce for part of the era when the business revival - known as the "miracle on Main Street" movement - unfolded.
According to Marianne, the town's current population is around 28,000. The area primarily was farmland and wilderness prior to the mid-1800s, when promoters of a railroad between Indianapolis and Lafayette encouraged settlement.
Railroad promoters included William Zion, an early settler and business leader in Lebanon (he became the new town's namesake, even though he never lived in the village) and landowners Mary Hoover Cross and her husband, Elijah Cross. Zionsville became a stop for trains, with tracks initially located right on Main Street.

Prior to the railroad, the building of Michigan Road was a key factor in the evolution of Boone County and Zionsville. An early village along the Michigan Road in Boone County - known as Eagle Village - was the forerunner of Zionsville, Marianne says.

During our show, we explore the impact of the interurban rail system on Zionsville, as well as the bricking of Main Street in 1911.

Our guests Lynne Manning and Marianne Doyle are the co-founders of the Zionsville Little Theatre Company. Lynne also is the drama club director for Zionsville West Middle School. Both of our guests have served as board members of the Maplelawn Farmstead in Zionsville.


Roadtrip: Canal Park and more in Delphi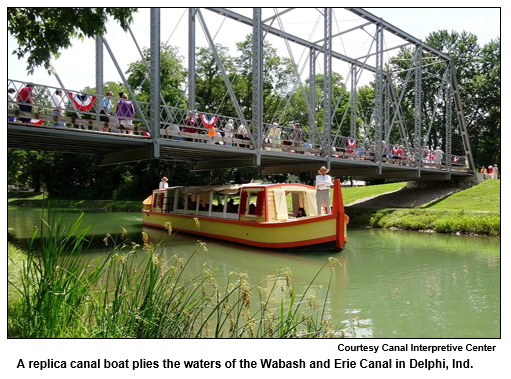 Guest Roadtripper and public historian Glory-June Greiff tells us: "I know I've taken you to Delphi before, around five years ago, but so much is happening there, we're going back!"

Along the preserved stretch of the Wabash and Erie Canal, it seems there is something new every week, Glory says. "The Canal Interpretive Center is an amazing small museum; all along the canal are rehabbed historic buildings and replicas to help interpret the full story of the canal, not to mention several bridges that have been rescued from miles around. If you love hiking and nature, there are numerous trails that nearly all intersect at Canal Park."

Who would have dreamed that the long-neglected 1860s Delphi Opera House could be so beautifully restored? Well, it has been, and its success no doubt has been the stimulus for a number of other rehab projects taking place.

As Glory notes, "Downtown Delphi is looking better than it has in years!"

Before leaving Delphi, don't miss the lovely Water Maiden sculpture on the Murphy Memorial Fountain on the southwest corner of the courthouse. "This charming little bronze girl is one of my personal favorites," Glory says. "It's the work of Myra Reynolds Richards (1882-1934), who headed the sculpture department at Herron School of Art in Indianapolis."



Prizes solicited for History Mystery contest
If your business or organization would like to contribute prizes for our History Mystery contest, we would love to have them! Ideally they fit in a standard mailing envelope, such as coupons or vouchers.
Your organization gets a mention on the air by Nelson, as well as a link to your website on our enewsletter and website! If interested, contact producer Molly Head at molly@hoosierhistorylive.org.
Thanks to Peggy Hollingsworth for obtaining the Seiberling Mansion tickets for us to give away as prizes; we encourage our readers to get out and explore Indiana!


April 28, 2018 - Upcoming
Madam Walker: news about her legacy
Even though Madam C.J. Walker died 99 years ago, developments continue to unfold with the legacy of the African-American entrepreneur, who was the first woman in the country to become a self-made millionaire. Some highlights:
To share details about these developments and others, A'Lelia, a journalist and historian, will be Nelson's studio guest. She grew up in Indianapolis, attended North Central High School and Harvard College and lives in the Washington D.C. area. For 30 years, A'Lelia was a network TV news executive and producer; she worked for NBC News and ABC News.
As she continues to research Madam Walker, A'Lelia says she turns up new insights about her ancestor, who was named Sarah Breedlove at her birth in Louisiana to parents who were former slaves. She was orphaned at age 7, married as a teenager and widowed at 20, with a young daughter to support. Before she achieved success as an entrepreneur, Madam Walker worked at a series of grueling jobs, including washerwoman.
A'Lelia has been a previous guest on Hoosier History Live, including a show in March 2014 about the history of the four-story Madame Walker Theatre Center, housed in a landmark triangular building at the corner of Indiana Avenue and West Street in downtown Indianapolis.
The $15.3 million renovation is expected to include improvements to both the exterior and interior, which features distinctive Egyptian and West African motifs.
10-year anniversary gala caps a decade of on-air history
Hoosier History Live partygoers rang in our show's second decade on March 1, 2018, with a fun-packed anniversary soiree at the Indiana Landmarks Center in Indianapolis. Speakers included Indianapolis Mayor Joe Hogsett, Danny Lopez, who serves as chief of staff at Indiana Governor Eric Holcomb's office, as well as producer Molly Head and our show's host, Nelson Price, who reigned as usual over the live Hoosier History Mystery contest.
Check out these photos from our swank affair!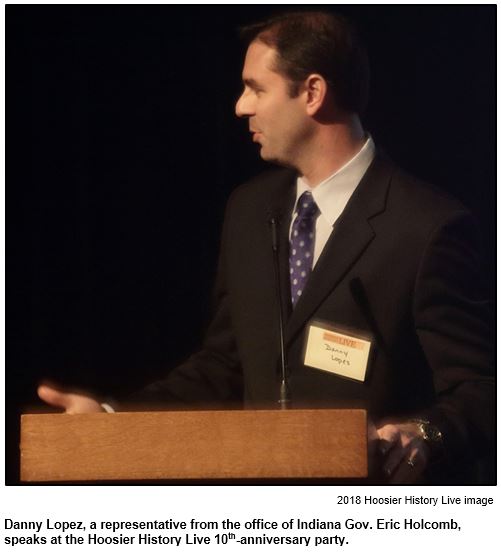 A big Hoosier thank you to all who helped!
You can't put on a bash like the Hoosier History Live 10th anniversary party without a little help from your friends. Or a lot of help, as the case may be. In no particular order, here are the folks we're writing about in our gratitude journal:
The party sponsors: Jim and Marjorie Kienle, Scott Keller Fine Art and Antiques Appraisals, Indiana Landmarks and MBP Catering.
The fabulous musical entertainment: the Herron High School String Quartet, Janet Gilray's PrairieTown, and Shirley Judkins on the grand piano.
The historic re-enactors: Abe Lincoln (Danny Russel), Johnny Appleseed (Hank Fincken), President Benjamin Harrison (Charles Braun), and May Wright Sewall (Jan Wahls)
The Indiana Album, which took time to scan interesting photos from Indiana's past!
And finally, the many folks who work behind the scenes every week to make Hoosier History Live a success and who put in the extra effort to make this party a night to remember: Eric Manterfield, Sarah Witwer, Barbara Goddard, Sherril Adkins, Chris Fry, Garry Chilluffo, Cheryl Lamb, Richard Sullivan, Mick Armbruster, Gary BraVard, Marsh Davis, Mark Szobody, Sari Swinehart, Robin Knop, Lauren Del Rosario , Mario Laing, Alex Riddle, Sidney Bunch, Janet Gilray, Dan Wethington, Bob Foster, WICR 88.7 FM, Henri Pensis, Chris Shoulders and Joan Hostetler.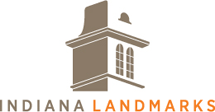 A note of support
'We hope to see it broadcast far and wide'
A particularly nice letter of support came in some time ago from authors James Alexander Thom and Dark Rain Thom. We like to re-read it from time to time!
To Whom it May Concern:

Last Spring, my wife and I were interviewed by Nelson Price on his Hoosier History radio program, as authors of frontier and Native American history books. Mr. Price's program was so well prepared and conducted that we feel it should be made available to students and general audiences as widely as possible. His program is well-researched, all questions pertinent to the chosen theme, and moves along briskly. Listeners called in with questions and comments that were intelligent and relevant, a sign of an avid audience.

As historical writers, we try to overcome the public's indifference to history, to bring alive in any way we can the important lessons of the past, and are enthusiastic about programs and writings that make those lessons interesting. The Hoosier History Live program does that so well that we hope to see it broadcast far and wide over this historically significant State of Indiana. It is an excellent program, worthy of extensive distribution and strong support.

James Alexander Thom & Dark Rain Thom, authors
Bloomington, Indiana
July 14, 2011
Shows, we got shows
We have more than 470 Hoosier History Live radio shows completed, as a matter of fact. We certainly welcome underwriting support to get more of our show audio online. Let's help support the hardworking Hoosiers who do the writing and editing for Hoosier History Live!
No one else is doing anything quite like what we're doing. We are the nation's only live call-in radio program about history. We offer a permanent and growing archive of quality content, available for sponsorship opportunities.
If you are interested in becoming a sponsor of Hoosier History Live, click here or call Molly Head at (317) 927-9101 for more info.
What people are saying about Hoosier History Live
"Hoosier History Live does more to promote Indiana history than does any single source."
Andrea Neal, Indianapolis author and educator
"Hoosier History Live is a fun and interesting way to learn about the heart and soul of Indiana. No boring classes or books here! The production team does an outstanding job."
Judy O'Bannon, civic leader and public broadcasting producer
"The folks at Hoosier History Live are able to find great stories and the people to tell them - people and stories that you seldom hear on the national air."
Dr. James H. Madison, author and Indiana University history professor
"As museums and educational institutions scramble to make their offerings more interactive, more entertaining and more 'relevant' to today's digitally obsessed consumers, Hoosier History Live seems to have mastered that formula."
Glynis Worley, rural Bartholomew County listener
"Hoosier History Live is a perfect place to consider and reconsider history ... not just what happened in the past, but what it may mean in the present. Nelson Price is the perfect host: enthusiastic, curious and knowledgeable. Tune in to Hoosier History Live and be prepared to be surprised."
James Still, playwright in residence, Indiana Repertory Theatre
"Hoosier History Live is a fantastic opportunity for people to not only learn about history, but also become a part of the conversation. Much like our mission, the telling of Indiana's stories, Nelson and his guests wonderfully connect people to the past!"
John Herbst
President and CEO, Indiana Historical Society
"The links on the Friday Hoosier History Live enewsletter are a great way to learn more about history, and from a variety of sources."
Jill Ditmire
Omni Media Specialist
"Distilling life experience into stories is an art. Telling stories of life experience for Hoosiers past and present will shape the lives of young people and enrich the lives of all in our state. Mr. Nelson Price brings alive the life experience of notable Hoosiers in Hoosier History Live."
David T. Wong, Ph.D., President
DT Wong Consulting, LLC
Former Lilly research scientist who developed Prozac
"Nelson Price, more than anyone I know, infuses joy into the pursuit of history. And that joy rings out loud and clear on the radio show, Hoosier History Live."
Marsh Davis
President, Indiana Landmarks
"No, I haven't heard of another call-in talk radio show about history. Our airwaves are now full of the worst vitriol! Give me the phone number for the show. I want to call in!"
Ken Burns, speaking at a preview of his film "The War" at Indianapolis Hebrew Congregation, April 18, 2007