October 21, 2017 - upcoming
"Old as Dirt" with a trio of Indiana garden writers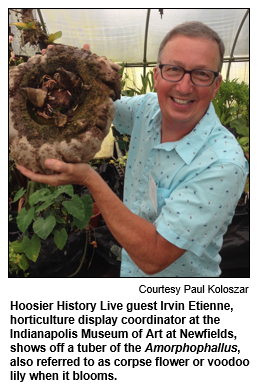 Sitting in for Nelson Price on this show will be frequent guest Jo Ellen Meyers Sharp, author, garden writer, speaker and photographer. Her blog, Hoosier Gardener, offers week-by-week advice on a variety of topics related to raising vegetables, potting plants and creating beautiful landscapes in Indiana. Jo Ellen also writes a weekly gardening column for the Indianapolis Star. She'll be joined in studio by award-winning Indiana garden writers Carol Michel and Irvin Etienne.
Among other dirty topics, the trio will talk about some important historical highlights of Indiana horticulture: a hall at Purdue University that was named for a female leader in agriculture; landscape architects who worked in Indiana and whose culturally significant designs remain largely intact; and a brief look at consumer trends in growing plants in pots over the last few decades.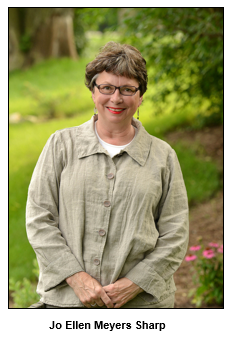 Carol, author of the book Potted and Pruned: Living a Gardening Life, says she loves old gardening books, plants and tools. "And if I can connect them to my Hoosier roots, I love them even more," she adds. Her award-winning blog can be found at MayDreamsGardens.com.
Irvin is horticulture display coordinator at the Indianapolis Museum of Art at Newfields, where he wrote award-winning blogs. He speaks around the country about tropicals and other plants and is a former director of the Perennial Plant Association. He also raises rabbits and chickens for show.
Jo Ellen, Carol, and Irvin will also be talking about Seed Your Future, a new initiative that promotes horticulture in the U.S. to young people. "Our food depends on it!" Jo Ellen points out. The trio will also be talking about horticultural jobs (ranging from dungarees to lab coats) and how they have changed over the years.
History Mystery
A recent Hoosier History Live show featured two very special Indiana fruits. Recent trends that favor eating locally-grown produce have renewed interest in these fruits, and small-town Indiana festivals pay homage to them in the late summer and fall.
Question: What is the name of the two fruits featured in a recent Hoosier History Live show? You must give both fruits in order to win.
The call-in number is (317) 788-3314. Please do not call in to the show until you hear Jo Ellen pose the question on the air, and please do not try to win the prize if you have won any other prize on WICR during the last two months. You must be willing to give your name and address to our engineer and be willing to be placed on the air, and you must answer the question on the air.
The prize is a voucher for two admissions to Frightful: A Silent Halloween, a film screening of the 1922 silent classic Nosferatu at Indiana Landmarks Center on Oct. 27, courtesy of Indiana Landmarks, as well as four tickets to the Indy International Festival on Nov. 9, 10, and 11, courtesy of the Nationalities Council of Indiana.
Roadtrip: German Catholic heritiage in Ferdinand, Ind.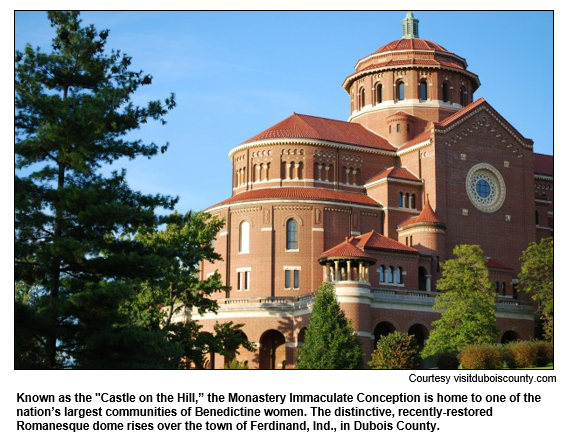 Guest Roadtripper Jeannie Regan-Dinius of the Indiana Division of Historic Preservation invites us to take a trip to Ferdinand, Ind., in Dubois County to visit several historic landmarks associated with the area's German Catholic heritage.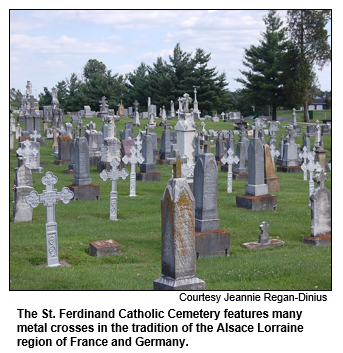 Jeannie suggests that we begin our visit by exploring the St. Ferdinand Catholic Cemetery, located at 341 East 10th St. Among the limestone and marble tombstones, the cemetery features the distinctive metal crosses favored by Germans immigrants from the Alsace-Lorraine area of Germany and France, who settled this region in southern Indiana beginning in the 1840s.
The cemetery is across the street from the spectacular Monastery Immaculate Conception, known as the "Castle on the Hill." It was built in 1867 and is listed on the National Register of Historic Places. Just outside the entrance of the monastery is the cemetery for the sisters who once lived and worked there.
"The gift shop at the monastery is always a favorite for handmade goods," says Jeannie. She also tells us that once we have taken in the sights of Ferdinand, there is much to explore in the pastoral rolling hills of Dubois County. Check out the county's visitor website for more ideas!
October 28, 2017 - upcoming
H.H. Holmes, the 1890s serial killer, and his Indy connections
Notorious serial killer H.H. Holmes, whose murderous spree during the 1893 World's Fair was recounted in best-selling The Devil in the White City (2004), is first and foremost associated with Chicago, the city that hosted that World's Fair.
But Holmes came to Indianapolis during the fall of 1894 and rented a cottage in Irvington, where he killed a 10-year-old boy. Holmes also checked into several downtown hotels, where he periodically detained the boy's two older sisters.
To explore these and other Indiana connections of the mass murderer - whose victims probably included a woman from Lafayette - Nelson will be joined in studio by two guests:
Irvington historian Al Hunter, a columnist for The Weekly View newspaper that covers the eastside of Indy. Several years ago, Al, who also serves as commentator for popular Halloween tours of Irvington, was given a box of artifacts connected to the life of Holmes by two of his tour-goers. Some of the artifacts even may have belonged to Holmes. The collection is being exhibited at the Bona Thompson Center, 5350 University Avenue, through Nov. 15.
Attorney Libby Cierzniak, who has written about the Indianapolis connections of H.H. Holmes (1861-1896) for historicindianapolis.com. Libby, a partner at Faegre Baker Daniels, has been a guest on several previous Hoosier History Live shows.
After Holmes was convicted of one murder, he confessed to 27 others; experts believe the actual number could be far higher. In Irvington, authorities discovered the remains of 10-year-old Howard Pitezel (spelled "Pitzel" in some accounts).
Holmes, who was born Herman Webster Mudgett, had at least three wives; his final wife, Georgiana Yoke, was a Hoosier. (Authorities concluded none of the wives were aware of any of the murders.) Our guest Al Hunter has been in contact with Yoke's descendants. Working with the Irvington Historical Society, he also has written The Mystery of the H.H. Holmes Collection, a book about the historic artifacts given to him.
A note of support
'We hope to see it broadcast far and wide'
A particularly nice letter of support came in some time ago from authors James Alexander Thom and Dark Rain Thom. We like to re-read it from time to time!
To Whom it May Concern:

Last Spring, my wife and I were interviewed by Nelson Price on his Hoosier History radio program, as authors of frontier and Native American history books. Mr. Price's program was so well prepared and conducted that we feel it should be made available to students and general audiences as widely as possible. His program is well-researched, all questions pertinent to the chosen theme, and moves along briskly. Listeners called in with questions and comments that were intelligent and relevant, a sign of an avid audience.

As historical writers, we try to overcome the public's indifference to history, to bring alive in any way we can the important lessons of the past, and are enthusiastic about programs and writings that make those lessons interesting. The Hoosier History Live program does that so well that we hope to see it broadcast far and wide over this historically significant State of Indiana. It is an excellent program, worthy of extensive distribution and strong support.

James Alexander Thom & Dark Rain Thom, authors
Bloomington, Indiana
July 14, 2011
Shows, we got shows
We have more than 470 Hoosier History Live radio shows completed, as a matter of fact. We certainly welcome underwriting support to get more of our show audio online. Let's help support the hardworking Hoosiers who do the writing and editing for Hoosier History Live!
No one else is doing anything quite like what we're doing. We are the nation's only live call-in radio program about history. We offer a permanent and growing archive of quality content, available for sponsorship opportunities.
If you are interested in becoming a sponsor of Hoosier History Live, click here or call Molly Head at (317) 927-9101 for more info.
What people are saying about Hoosier History Live
"Hoosier History Live does more to promote Indiana history than does any single source."
Andrea Neal, Indianapolis author and educator
"Hoosier History Live is a fun and interesting way to learn about the heart and soul of Indiana. No boring classes or books here! The production team does an outstanding job."
Judy O'Bannon, civic leader and public broadcasting producer
"The folks at Hoosier History Live are able to find great stories and the people to tell them - people and stories that you seldom hear on the national air."
Dr. James H. Madison, author and Indiana University history professor
"As museums and educational institutions scramble to make their offerings more interactive, more entertaining and more 'relevant' to today's digitally obsessed consumers, Hoosier History Live seems to have mastered that formula."
Glynis Worley, rural Bartholomew County listener
"Hoosier History Live is a perfect place to consider and reconsider history ... not just what happened in the past, but what it may mean in the present. Nelson Price is the perfect host: enthusiastic, curious and knowledgeable. Tune in to Hoosier History Live and be prepared to be surprised."
James Still, playwright in residence, Indiana Repertory Theatre
"Hoosier History Live is a fantastic opportunity for people to not only learn about history, but also become a part of the conversation. Much like our mission, the telling of Indiana's stories, Nelson and his guests wonderfully connect people to the past!"
John Herbst
President and CEO, Indiana Historical Society
"The links on the Friday Hoosier History Live enewsletter are a great way to learn more about history, and from a variety of sources."
Jill Ditmire
Omni Media Specialist
"Distilling life experience into stories is an art. Telling stories of life experience for Hoosiers past and present will shape the lives of young people and enrich the lives of all in our state. Mr. Nelson Price brings alive the life experience of notable Hoosiers in Hoosier History Live."
David T. Wong, Ph.D., President
DT Wong Consulting, LLC
Former Lilly research scientist who developed Prozac
"Nelson Price, more than anyone I know, infuses joy into the pursuit of history. And that joy rings out loud and clear on the radio show, Hoosier History Live."
Marsh Davis
President, Indiana Landmarks
"No, I haven't heard of another call-in talk radio show about history. Our airwaves are now full of the worst vitriol! Give me the phone number for the show. I want to call in!"
Ken Burns, speaking at a preview of his film "The War" at Indianapolis Hebrew Congregation, April 18, 2007