May 18, 2019
Brothels and streetwalkers in pre-1920 Indy: encore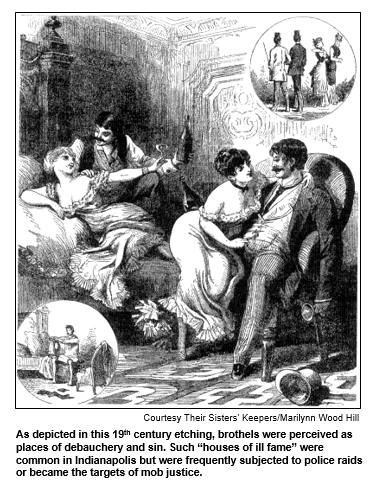 In our quest to explore all aspects of our heritage, even the unsavory and notorious, this edition of Hoosier History Live delves into a seldom-examined topic: Red-light districts and prostitutes in Indianapolis at the turn of the last century.
To examine these aspects of the Hoosier state capital's social history, Nelson's studio guest on this encore show (originally broadcast July 8, 2017) is Paul Mullins, a popular professor in IUPUI's Department of Anthropology.
A historical archaeologist, Paul has researched and written about pre-1920 prostitution as part of a larger project titled "Invisible Indianapolis: Race, Memory, and Community Memory in the Circle City."
Along with co-director Susan Hyatt and a team that includes both undergraduate and graduate students, Paul has published the project's findings in a blog called Invisible Indianapolis.
The project's overarching goal: to show the historical impact of seemingly invisible urban social factors such as racial redlining, highway construction and gentrification.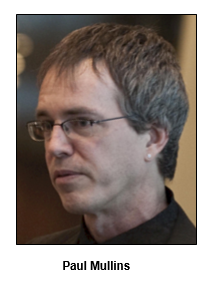 Paul has identified two major red-light districts in Indy during the late 1800s and early 1900s:
An area bounded by what is today Park Avenue (then called Liberty Street) and Market, East and Washington Streets.
A district at the site of what is now another hospitality building, the Indiana Convention Center. The district ran along Senate Avenue near Georgia Street.
"Prostitution probably always was an element of the early cityscape, but some of the earliest evidence for houses of prostitution comes in the 1850s," Paul writes in the blog.
He quotes an 1857 newspaper account of a shooting at a brothel managed by a "mysterious woman." After the shooting, he adds, the illicit business "became the target of mob justice when [the woman's] brothel was set afire by a mob of more than 200 people."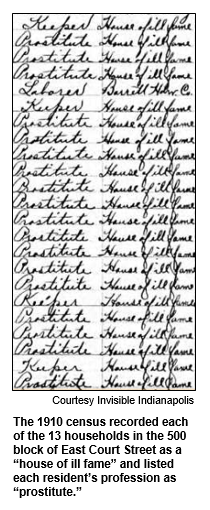 The census in 1870 and 1910 apparently even listed the occupations of some Indianapolis women as "prostitute." Others were listed in city directories as "seamstresses," but Paul's research indicates many of these actually were prostitutes, living in brothels (sometimes called "female boarding houses" by Sanborn Fire Insurance Company maps) raided by the police.

"The desperation of some women working as prostitutes was documented in a string of suicides and suicide attempts," Paul reports.

Paul Mullins is a past president of the Society for Historical Archaeology. For several years, Paul and his students could be seen during the summer months excavating sites near the IUPUI campus. Paul was a Hoosier History Live guest in 2009 when he was leading an excavation on the site of the long-demolished home of Madam Walker, the wealthy African-American entrepreneur and philanthropist.

According to Paul's research for Invisible Indianapolis, prostitutes often worked "in and around" Union Station during the late 1800s and early 1900s. (Before majestic Union Station opened during the 1880s, its predecessor, Union Depot, was the first train station in the country where competing railroad lines came together.)

Near the bustling train station, brothels were located among saloons and stores on South Street.

Farther east, a bygone street named East Court Street (now a parking lot between East and Park) had a cluster of brothels that Paul describes as "the city's most prominent concentration" of such businesses. In 1898, a Sanborn map "identified nearly every structure on East Court as a 'female boarding house,'" Paul writes, noting that at least 10 of these 16 homes listed in the 1899 city directory were brothels.

His blog describes attempts by local churches to encourage police raids of the brothels. Some of the churches also were active in the temperance movement.
Roadtrip: Indianapolis' Central Library
You might not think of a public library as a tourist destination, but guest Roadtripper Mick Armbruster recommends a sight-seeing visit to the Central Library in downtown Indianapolis. As the flagship of the Indianapolis Public Library system, this architectural gem offers outstanding examples of art, fascinating insights into history and an unparalleled view of the city skyline. Oh, and you might even check out some books during your visit as well!
Parking is available in an underground lot directly beneath the library from an entrance on Pennsylvania Street, or metered street parking is available. The main doors on the south side lead you to the library's original building, constructed in 1917 in classic Greek Doric style. Before you pass under the massive portico and through its enormous fluted columns, take a minute to gaze south at the American Legion Mall with its gilt statuary, gigantic American flag and fountains that all serve to memorialize the fallen soldiers of our nation's wars.
Once inside, take in the original library building's central hall (now called the Simon Reading Room). Its ceiling murals depict the history of written language, from the Rosetta Stone to the modern printing press, as well as scenes from Indiana's early exploration and settlement.
The heart of the modern Central Library is the massive, light-filled atrium that joins the original building to the modern glass tower that was added in 2007. Here you can pick up a snack in the cafe, people watch or make use of the library's free wifi Internet service. The atrium also provides access to the Learning Curve, the library's award-winning children's center, which offers state-of-the-art learning activities for kids.
Don't miss out on Mick's favorite part of the Central Library: the sixth floor of the modern building, which offers spectacular views of the city skyline. The sixth floor also houses the Special Collections Room, where history buffs can view such treasures as ancient Babylonian tablets, a leaf of a Gutenberg Bible, and signed copies of books by Booth Tarkington.
May 25, 2019 - coming up
Influential women in 1920s: Their enduring vision for culture and children in Indy
For nine years beginning in 1980, Mark Kesling was director of science for the renowned Children's Museum of Indianapolis. From 1993 to 2006, Mark was the academic director at Orchard School, a private school on the northside of Indianapolis.
Not only did both institutions date back to the 1920s, Mark noticed, but they were initiated by the same group of visionary women.
"If New York City-area children can have a free museum just for them . . . Why shouldn't the children of Indianapolis?" asked Mary Stewart Carey, a civic leader credited with launching the Children's Museum. In 1924, she had visited the Brooklyn Children's Museum.
Mrs. Carey and several other women on the initial board of trustees of the Children's Museum also were members of the Progressive Education Association of Indianapolis. It met in 1922 to begin planning what became Orchard School, an elementary school (now K-8) founded to emphasize individualized instruction and learning through children's direct interactions with their environment.
To share details about these 1920s-era women civic leaders and their vision, Mark Kesling will be Nelson's studio guest.
Mark is the founder and CEO of The daVinci Pursuit, a non-profit organization that uses art to engage the community in science education opportunities. He also is the co-host, with Jill Ditmire, of She Says Art, He Says Science, the program on WICR-FM (88.7) that follows Hoosier History Live at 1 pm on Saturdays.
In addition to discussing the women civic leaders of the 1920s who helped launch the Children's Museum and Orchard School, Mark and Nelson will time-travel to 1916 to explore another cultural initiative of women that endures to this day. Inspired by the state's Centennial celebrations in 1916, women civic leaders initiated a contest to design the Indiana state flag. The winning entry, designed by Mooresville-based artist Paul Hadley, remains the state flag more than 100 years later.
In 1925, the initial home of the Children's Museum was the carriage house of the Propylaeum, 1410 N. Delaware St., a women's advocacy organization. In addition to women civic leaders such as Edith Whitehill Clowes and Elizabeth Browning, former director of the Indianapolis Public Library, influential figures in the early years of the Children's Museum included architect Kurt Vonnegut Sr., the father of the future novelist.
Note: This show may be partially or fully preempted by WICR-FM's live coverage of UIndy sports.
People are talking about Hoosier History Live!
We hate to brag, but here's what a recent guest on the show had to say about us:
"Hoosier History Live has amassed a vast library of content over the years, both with the show audio and newsletter material. I believe that the Hoosier History Live content has great value to sponsors and advertisers via widespread online distribution. Nowhere else do you find the fresh new material each week, the depth of stories, the richness of detail, and the long-term consistency."
- John McDonald, CEO, ClearObject in Fishers, Indiana, Inc. Magazine's fastest-growing IT company in Indiana for 2014, 2015, 2016 and 2017.
Want to support Hoosier History Live?
We offer a permanent and growing archive of quality online content, including easily accessible podcasts available a week after live air. Thanks to associate producer Mick Armbruster for directing our online audio distribution.
If you are interested in becoming a sponsor, click here or call Molly Head at (317) 927-9101. Sponsorship includes logos and links on our enewsletter and website, and voiced credits in the show. You can also of course make an individual contribution on the yellow button on the left side of this page. Support local journalism.
Hoosier History Live podcasts are now available for free at the Apple iTunes store!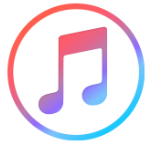 We've been providing podcasts of Hoosier History Live for a couple of years, posting links to recent shows at the top of each newsletter and on the weekly update to our website.
Those who like to subscribe to podcasts can now find us by searching on their favorite podcast app on their smartphone. We'll be posting a new podcast every Friday, a week after the show airs on Saturday on WICR.
We'll keep posting podcast links on our newsletter and website as before. And if you're looking for a podcast from a 2017 or 2018 show, just go to the Archive page on our website and you'll see the podcast link posted right below the show's title.
New to podcasts? All you need is a computer or smartphone, and you can listen to radio shows (and more!) wherever and whenever you want. Confused by the new-fangled technology? Check out this guide to podcasts, provided by Wired Magazine. Another great option: the New York Times Beginner's Guide to Getting Into Podcasts.
Feedback from our sponsors
"...always a great show"
"Hoosier History Live is always a great show. We did a small sponsorship as a gesture of support, and I didn't think a little history show would have much impact. But many people mentioned to me that they had heard our credit on the radio."
G.B. Landrigan, Realtor, Certified Residential Specialist
August 2018
"...a great way to represent what I do..."
"I have thoroughly enjoyed my experiences with Nelson Price and the Hoosier History Live team. I feel being on the show was a great way to represent what I do with motorsports history. I am particularly excited by the show's new distribution through a podcast and making it accessible live through the Web."
-Mark Dill, owner, FirstSuperSpeedway.com
July 2018
What people are saying about Hoosier History Live
"Hoosier History really is 'Live'--and 'Lively' as well. The program brings to new audience the delight and wisdom that comes with knowing more of our past and our connections as Hoosiers."
James H. Madison
Emeritus History Professor
Indiana University
"Hoosier History Live does more to promote Indiana history than does any single source."
Andrea Neal, Indianapolis author and educator
"Hoosier History Live is a fun and interesting way to learn about the heart and soul of Indiana. No boring classes or books here! The production team does an outstanding job."
Judy O'Bannon, civic leader and public broadcasting producer
"Distilling life experience into stories is an art. Telling stories of life experience for Hoosiers past and present will shape the lives of young people and enrich the lives of all in our state. Mr. Nelson Price brings alive the life experience of notable Hoosiers in Hoosier History Live."
David T. Wong, Ph.D., President
DT Wong Consulting, LLC
Former Lilly research scientist who developed Prozac
"Nelson Price, more than anyone I know, infuses joy into the pursuit of history. And that joy rings out loud and clear on the radio show, Hoosier History Live."
Marsh Davis
President, Indiana Landmarks
"As museums and educational institutions scramble to make their offerings more interactive, more entertaining and more 'relevant', Hoosier History Live seems to have mastered that formula."
Glynis Worley, rural Bartholomew County listener
"Hoosier History Live is a perfect place to consider and reconsider history ... not just what happened in the past, but what it may mean in the present. Nelson Price is the perfect host: enthusiastic, curious and knowledgeable. Tune in to Hoosier History Live and be prepared to be surprised."
James Still, playwright in residence, Indiana Repertory Theatre
"Hoosier History Live is a fantastic opportunity for people to not only learn about history, but also become a part of the conversation. Much like our mission, the telling of Indiana's stories, Nelson and his guests wonderfully connect people to the past!"
John Herbst
President and CEO, Indiana Historical Society
"The links on the Friday Hoosier History Live enewsletter are a great way to learn more about history, and from a variety of sources."
Jill Ditmire
Omni Media Specialist
"Nelson Price, more than anyone I know, infuses joy into the pursuit of history. And that joy rings out loud and clear on the radio show, Hoosier History Live."
Marsh Davis
President, Indiana Landmarks
"No, I haven't heard of another call-in talk radio show about history. Our airwaves are now full of the worst vitriol! Give me the phone number for the show. I want to call in!"
Ken Burns, speaking at a preview of his film "The War" at Indianapolis Hebrew Congregation, April 18, 2007