August 17, 2019
Breaking Away at 40 with Dave Blase
If the decades seem to have zipped by with the speed of a competitive cyclist, brace yourselves: The movie Breaking Away, filmed in and around Bloomington, opened in theaters across the country 40 years ago this summer.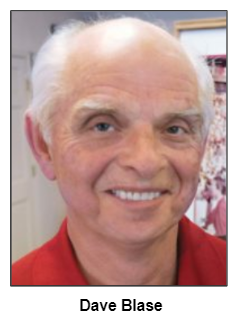 The film became an unexpected hit in 1979 and won an Academy Award for its screenwriter, Indiana University graduate Steve Tesich, who drew inspiration from his fraternity's victory in the Little 500 bicycle race. He based the film's central character on his fraternity brother Dave Blase, a zoology major and avid cyclist at IU in the early 1960s who used to sing Italian arias as he rode over the hills of Monroe County.
Now 79 years old, Dave Blase is retired after a long career as a biology teacher, including 39 years on the faculty of Arlington High School in Indianapolis. Dave Blase will be Nelson's studio guest to share insights about his early life (he grew up in Speedway), the impact of Breaking Away (in which the aria-singing protagonist is named Dave Stoller), and how his life has unfolded during the 40 years since the release of the movie.
"Dave had this fanatical attachment to the sport," Tesich recalled in an interview with Nelson, our host, a few years before the screenwriter's death in 1996. "It was almost a romantic involvement."
The Phi Kappa Psi brothers won the Little 500 in 1962, with Dave Blase as the undeniable star of the team. Several factors influenced his fondness for all things Italian, including the fact that he had spent a semester working as a researcher at a campus medical center with Italian doctors. It also didn't hurt that cyclists from Italy had dominated the competition at the 1960 Rome Olympics.
In Breaking Away, the "townie" characters on the scrappy Little 500 team hail from working-class families who cut limestone in the quarries near Bloomington. The team members, who call themselves "Cutters," feud with preppy IU students, competing not only in the Little 500, but also for the attention of sorority members.
In interviews over the years, Dave Blase has said that during his boyhood in Speedway, he had minimal interest in sports, including cycling. That changed at IU, culminating in his spectacular performance in the Little 500 in 1962, in which he rode 139 of the 200 laps and set campus records.
With only a $2.4 million budget - modest even for the time - Breaking Away was filmed in Bloomington and elsewhere in Monroe County during the summer and fall of 1978, then released the next year.
Steve Tesich, the screenwriter, was born in 1942 in what was then Yugoslavia. At age 14, he immigrated with his family to East Chicago, Ind. After winning the Oscar for Breaking Away, Tesich wrote the screenplay for Four Friends (1981), an autobiographical movie about an Eastern European immigrant who comes of age in northwestern Indiana.
"I had heard from my frat brothers about a freshman who showed up on campus with a 10-speed bicycle, which was unusual in those days," Dave Blase told Nelson several years ago, referring to his initial meeting on campus with Tesich in the fall of 1961.
Breaking Away, though, is set in the late 1970s. The film, in which Dennis Christopher played the Dave Stoller character, was such a success that it inspired a short-lived TV series starring teen idol Shaun Cassidy in the role.
By then, Dave Blase was teaching at Arlington High School. Although he had continued to race competitively after he graduated from IU and through his 20s, he found that the occasional prize money he won was not enough to support a family. He had met his wife Yolande, who is Dutch, during a bicycling excursion through Europe.
The two now live on the northeast side of Indianapolis and are the parents of two grown children.
Roadtrip: Windmill Museum in Kendallville
Guest Roadtripper, retired bookshop owner and world traveler Kathleen Angelone invites us to "catch the wind" at the Mid-America Windmill Museum in Kendallville, north of Fort Wayne in northeastern Indiana. The museum features a "path of mills" in a bucolic setting and includes more than fifty historic windmills from all over the country.
Windmills played an important role in American history, Kathleen informs us, and the museum has taken on the mission of telling "the story of wind power from its origination through the American windmill to the present day."
The Mid-America Windmill Museum was established in 1992 and displays all of the windmills manufactured at Kendallville's Flint and Walling Company, which has been in business for 153 years (but no longer manufactures windmills).
So if the role of wind power in history sets your heart to fluttering, be sure to join Kathleen on this breezy Roadtrip. You'll be blown away!
History Mystery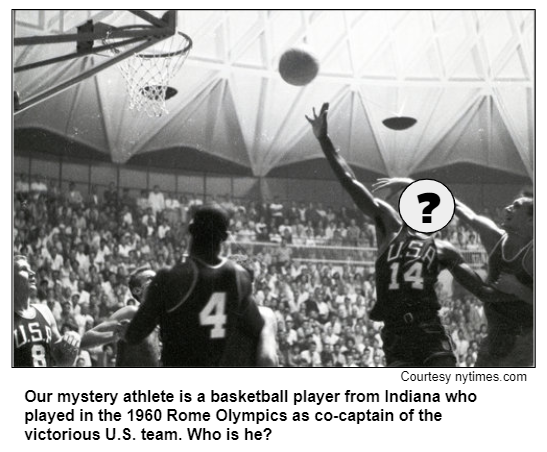 The 1960 Rome Olympics, in which Italian athletes swept many of the medals in cycling and inspired our guest Dave Blase, also featured an outstanding performance by a basketball player from Indiana.
He helped the U.S. team capture a gold medal, the country's fifth straight in the Summer Olympics. The basketball player was co-captain of the victorious team in the Rome Olympics.
Even before the Olympics, he had become a household name in Indiana. After the Olympics, he enjoyed a sensational, 14-year career in the NBA.
Question: Who is basketball player from Indiana who helped lead the U.S. team to victory in the 1960 Olympic games?
The call-in number is (317) 788-3314. Please do not call into the show until you hear Nelson pose the question on the air, and please do not try to win the prize if you have won any other prize on WICR during the last two months. You must be willing to give your name and address to our engineer and be willing to be placed on the air.
The prizes this week are two admissions to the Eiteljorg Museum, courtesy of the Eiteljorg Museum, and two admissions to the Indiana History Center, courtesy of the Indiana Historical Society.
Baseball history hits a home run!
August 24, 2019 - coming up
Bootleg King and his Indiana connections
In the early years of Prohibition, nearly 35 percent of all of the illegal liquor in the country was controlled by a teetotaler, a lawyer-turned-entrepreneur who owned a chain of distilleries and pharmacies across nine states.
Known as the "Bootleg King" during the early 1920s, George Remus was based in Cincinnati but had several connections to Indiana, including one of his top revenue sources, the Squibb distillery in Lawrenceburg on the Ohio River.
Many of his rum-runners came from Indiana and stayed at "Death Valley," his heavily-guarded farm just west of Cincinnati that served as a storage area for his vast quantities of alcohol.
The posh Claypool Hotel in downtown Indianapolis was one of the favorite lodging spots for Remus and his glamorous wife, Imogene.
The Claypool also was where, in the middle of the night, Remus tracked down Imogene when she was staying at the hotel with a car salesman. Remus, in a jealous rage, nearly beat the salesman to death in the elegant hotel.
The social history, national impact and Indiana connections of the colorful "Bootleg King" will be the focus of our show when New York-based author Karen Abbott joins Nelson by phone. Abbott (as she prefers to be called), is the author of The Ghosts of Eden Park (Crown Publishing), a new book about Remus, his lavish lifestyle and his crimes.
Abbott shared insights about Remus and the era of Prohibition during a recent presentation at the Indiana History Center.

Abbott noted that a courthouse in Indianapolis was the setting for one of his federal trials; in 1925, he was accused of crimes associated with a Jack Daniels distillery.

During the trial, Remus stayed at the lavish Claypool, which, with its rival, the Hotel Lincoln, was the focus of a Hoosier History Live show in March.

According to Abbott, Remus probably was the inspiration for the fictional character of Jay Gatsby, the central figure in The Great Gatsby, the classic novel by F. Scott Fitzgerald published in 1925. Like Gatsby, Remus owned a string of pharmacies, lived in an opulent mansion and, as Abbott puts it, "was obsessed with an enigmatic woman."






They're singing our praises!
"Hoosier History Live is the best Americana-themed show anywhere on radio!"
So says John Guerrasio, a professional actor who lives in London, England. We met John in 2008 when he played a role in the Indiana Repertory Theatre's production of The Ladies Man, a French farce by Georges Feydeau.
Even though he no longer lives in Indiana, John stays current with Hoosier History Live by listening to the show via podcast. He encourages other listeners to do the same - wherever they live. Listening by podcast means you can catch up on old shows, post shows on your social media accounts, and fit your listening to your own schedule.
Just go to hoosierhistorylive.org and look for recent shows linked in bold typeface at the top of the site. For older shows check out our archive page, where podcast links are available along with the original newsletter material for each show. You can also access Hoosier History Live podcasts via Apple's podcast app on your phone or iPad, or many other podcasting apps as well.
Whether you listen live on Saturdays or via podcast, we think you'll agree with John that Hoosier History Live is worth making a part of your day!
Want to support Hoosier History Live?
We offer a permanent and growing archive of quality online content, including easily accessible podcasts available a week after live air. Thanks to associate producer Mick Armbruster for directing our online audio distribution.
If you are interested in becoming a sponsor, click here or call Molly Head at (317) 927-9101. Sponsorship includes logos and links on our enewsletter and website, and voiced credits in the show. You can also of course make an individual contribution on the yellow button on the left side of this page. Support local journalism.

Feedback from our supporters
"...great value to sponsors"
"Hoosier History Live has amassed a vast library of content over the years, both with the show audio and newsletter material. I believe that the Hoosier History Live content has great value to sponsors and advertisers via widespread online distribution. Nowhere else do you find the fresh new material each week, the depth of stories, the richness of detail, and the long-term consistency."
- John McDonald, CEO, ClearObject in Fishers, Indiana, Inc. Magazine's fastest-growing IT company in Indiana for 2014, 2015, 2016 and 2017.
"...always a great show"
"Hoosier History Live is always a great show. We did a small sponsorship as a gesture of support, and I didn't think a little history show would have much impact. But many people mentioned to me that they had heard our credit on the radio."
G.B. Landrigan, Realtor, Certified Residential Specialist
August 2018
"...a great way to represent what I do..."
"I have thoroughly enjoyed my experiences with Nelson Price and the Hoosier History Live team. I feel being on the show was a great way to represent what I do with motorsports history. I am particularly excited by the show's new distribution through a podcast and making it accessible live through the Web."
-Mark Dill, owner, FirstSuperSpeedway.com
July 2018
What people are saying about Hoosier History Live
"Hoosier History really is 'Live'--and 'Lively' as well. The program brings to new audience the delight and wisdom that comes with knowing more of our past and our connections as Hoosiers."
James H. Madison
Emeritus History Professor
Indiana University
"Hoosier History Live does more to promote Indiana history than does any single source."
Andrea Neal, Indianapolis author and educator
"Hoosier History Live is a fun and interesting way to learn about the heart and soul of Indiana. No boring classes or books here! The production team does an outstanding job."
Judy O'Bannon, civic leader and public broadcasting producer
"Distilling life experience into stories is an art. Telling stories of life experience for Hoosiers past and present will shape the lives of young people and enrich the lives of all in our state. Mr. Nelson Price brings alive the life experience of notable Hoosiers in Hoosier History Live."
David T. Wong, Ph.D., President
DT Wong Consulting, LLC
Former Lilly research scientist who developed Prozac
"Nelson Price, more than anyone I know, infuses joy into the pursuit of history. And that joy rings out loud and clear on the radio show, Hoosier History Live."
Marsh Davis
President, Indiana Landmarks
"As museums and educational institutions scramble to make their offerings more interactive, more entertaining and more 'relevant', Hoosier History Live seems to have mastered that formula."
Glynis Worley, rural Bartholomew County listener
"Hoosier History Live is a perfect place to consider and reconsider history ... not just what happened in the past, but what it may mean in the present. Nelson Price is the perfect host: enthusiastic, curious and knowledgeable. Tune in to Hoosier History Live and be prepared to be surprised."
James Still, playwright in residence, Indiana Repertory Theatre
"Hoosier History Live is a fantastic opportunity for people to not only learn about history, but also become a part of the conversation. Much like our mission, the telling of Indiana's stories, Nelson and his guests wonderfully connect people to the past!"
John Herbst
President and CEO, Indiana Historical Society
"The links on the Friday Hoosier History Live enewsletter are a great way to learn more about history, and from a variety of sources."
Jill Ditmire
Omni Media Specialist
"No, I haven't heard of another call-in talk radio show about history. Our airwaves are now full of the worst vitriol! Give me the phone number for the show. I want to call in!"
Ken Burns, speaking at a preview of his film "The War" at Indianapolis Hebrew Congregation, April 18, 2007