Join us February 28 for our anniversary soiree!
When: Thursday, Feb. 28, 2019, from 5 to 7:30 p.m.
Where: Indiana Landmarks Center, 1201 Central Ave., Indianapolis, IN 46202.
Legendary Hoosier Bobby Plump, who made the final, winning shot for the small Milan High School basketball team in 1954, will speak. Musical performance by Herron High School Strings and PrairieTown.

You are welcome to come in historic garb, or to dress representing your proud ethnic heritage.

Live History Mystery from the podium by host Nelson Price. Delicious catered cuisine and cash bar provided by Black Plate Catering. This is a complimentary event. However, as we are a small independent production group, we appreciate your visiting the yellow "donate" button on our website or newsletter. Or, if you wish, bring a check made out to Hoosier History Live to the event.

We look forward to seeing you!

Thanks to our sponsors!

Hoosier History Live podcasts are now available for free at the Apple iTunes store!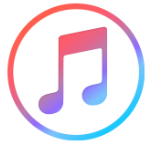 We've been providing podcasts of Hoosier History Live for a couple of years, posting links to recent shows at the top of each newsletter and on the weekly update to our website. Listeners tell us they love the opporunity to listen to the show at a time that's convenient for them; our fans also share the link to the podcast with friends who might be interested.
Those who like to subscribe to podcasts can now find us in the Apple iTunes store as well - at no charge, of course. Just open your iTunes app, click in the search box and type "Hoosier History Live." You can choose the previous week's episode, or an earlier one that we've posted.
We're working to get listed on all the major podcast providers as well; send us an email if your favorite one doesn't carry us, and we'll make sure it gets posted there. We'll keep posting podcast links on our newsletter and website as before. And if you're looking for a podcast from a 2017 or 2018 show, just go to the Archive page on our website and you'll see the podcast link posted right below the show's title.
Thanks to associate producer Mick Armbruster for heading up our online distribution project. Our growing availability as a podcast and on iTunes is great news for our sponsors as well. More media reach!
New to podcasts? All you need is a computer or smartphone, and you can listen to radio shows (and more!) wherever and whenever you want. Confused by the new-fangled technology? Check out this guide to podcasts, provided by Wired Magazine. Another great option: the New York Times Beginner's Guide to Getting Into Podcasts.
February 16, 2019
Movies with obscure Indiana connections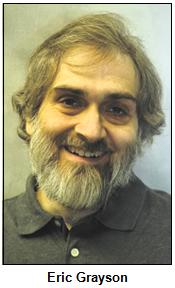 Even though Close Encounters of the Third Kind was considered a blockbuster after its release in 1977, many Hoosiers may have forgotten its connection to Indiana. No scenes were filmed in the state, but the central characters were described as residents of Muncie.
In a scene played for laughs in Brother from Another Planet (1984), the protagonist, an alien who doesn't speak, encounters wide-eyed tourists from Indiana on a subway in New York City.
The Great Dan Patch (1949), a biopic about the world's greatest racehorse during the 1890s and early 1900s, is set in the Benton County town of Oxford. (Hoosier History Live explored the life of Dan Patch during a show in 2012.) But the movie wasn't filmed in Indiana; that's obvious because of the mountain range visible in scenes of Oxford, which is in a flat region of west central Indiana
In the 1953 version of the film Titanic, a fictional passenger on the doomed ocean liner is a student at Purdue University. Played by Robert Wagner, the character is described as a college tennis star.
Those are among movies that we will spotlight with our guest, Indianapolis-based film historian and preservationist Eric Grayson. Known across Indiana for his popular screenings of vintage movies ranging from classics to films so rare that Eric owns the only existing copies (including some he salvaged before they were about to be destroyed), he has been described as a "walking encyclopedia" of movie lore.
In addition to talking about movies with obscure links to Indiana, during our show Eric will share insights about actors and directors with Hoosier connections who - unlike the more famous James Dean, Steve McQueen, Carole Lombard and other stars - are seldom discussed today.
They include Otis Harlan (1865-1940), a comedian and character actor from Martinsville. According to Eric, Harlan was featured in hundreds of silent movies and early talkies, including a film version of A Midsummer Night's Dream (1935). Harlan also provided the voice of the dwarf Happy in Disney's animated Snow White and the Seven Dwarfs (1937).
Richmond native Norman Foster (1903-1976), an actor who enjoyed greater success when he became a director, also was involved in Disney projects. Foster was associated with Orson Welles for many decades, serving as the director of the spy thriller Journey into Fear (1943) starring Welles, as well as several Charlie Chan mysteries. As an actor, Foster had a major role in Welles' final movie, The Other Side of the Wind, which began filming in 1970; it was uncompleted when Welles died in 1985 and finally was released in 2018 after being reconstructed by other filmmakers.
Both Foster and Harlan were in the cast of The Hoosier Schoolmaster (1935), a movie based on a 19th-century novel by Indiana author Edward Eggleston. The setting is southern Indiana after the Civil War.
Please note: This show was original scheduled for January 12 but had to be rescheduled due to severe weather.
History Mystery
A major Hollywood movie released in 1988 was set in Chicago, but many significant scenes actually were filmed in Indianapolis during the previous year.

The film's plot focuses on one of the most notorious scandals in baseball history. In 1919, Chicago White Sox players accepted bribes to lose the World Series. The movie, which starred John Cusack and Charlie Sheen, follows the unfolding of what became known as the "Black Sox scandal."

Historic Bush Stadium, still the home of the Indianapolis Indians during the 1980s, was the setting for many of the baseball sequences in the movie, standing in for the home field of the 1919 White Sox.

Question: What was the name of the baseball movie filmed at Bush Stadium?

Please do not call in to the show until you hear Nelson pose the question on the air, and please do not try to win if you have won any other prize on WICR during the last two months. You must be willing to give your first name to our engineer, you must answer the question correctly on the air and you must be willing to give your mailing address to our engineer so we can mail the prize pack to you. The prize this week is a dvd of the newly remastered film Little Orphant Annie starring Colleen Moore and restored by Eric Grayson, courtesy of Eric Grayson. Don't miss this opportunity to win a copy of this cinematic treasure telling the story of a beloved James Whitcomb Riley poem!



Christmas is long past, but here's a Hoosier History Live wish list
Hoosier History Live is seeking a restaurant sponsor near UIndy, Fountain Square, or downtown. We like to treat our studio guests to lunch after the Saturday show, and we will offer a complimentary sponsorship in exchange for the opportunity to bring our guests to your restaurant to dine and to chat!
We like prizes for the History Mystery contest, too, ideally items that can be mailed in a standard business envelope. In return we will feature your logo and a link to your organization's home page in our newsletter and on our website, and a mention by Nelson on the air.
Also, if your business or organization would like to start a listening group during the live show, all you need is a quiet room and a radio, laptop or listening device and someone to facilitate the group. The Irvington Library has maintained a listening group open to the public for about eight years. This is a great opportunity for small busineses, libraries, or senior centers.
For all of the above, contact producer Molly Head at molly@hoosierhistorylive.org.
February 23, 2019 - coming up
Former Indy Mayor Ballard on electric car history and more
For several decades, each mayor of the Hoosier capital has had a relationship with the University of Indianapolis once his term in office has ended. Greg Ballard, who was elected to two terms as mayor of Indianapolis, is no exception; he currently serves as a Visiting Fellow at UIndy.
Former Mayor Ballard will describe his new role, reflect on his terms as mayor (which followed an unexpected victory in the 2007 election) and talk about historic aspects of one of his major areas of focus - electric cars - when he joins Nelson as studio guest.
Indiana-related aspects of electric car production involve modern history: During the 1990s, crucial components of General Motors' EV1, described as "one of the most technologically advanced" and fuel-efficient vehicles of the 20th Century, were made in two Indiana cities. A Delco Remy plant in Anderson produced the motors. The battery packs were made in Muncie, also at a Delco Remy factory.
The need to shift from oil as the primary transportation fuel is the focus of Less Oil or More Caskets (IU Press), a new book by former Mayor Ballard, who draws on observations from his 23-year career as a U.S. Marine, which included serving in the first Persian Gulf War.
In 2013, while serving as mayor, Greg Ballard was our studio guest to discuss historic connections between the Marines and the Hoosier state. He also shared insights about attending Cathedral High School (where he was a member of the Class of '72) during its final years as an all-male school located in downtown Indy.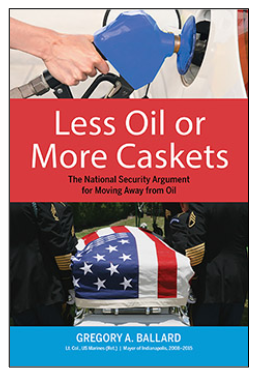 This time, former Mayor Ballard, a Republican, will assess his terms in office, including accomplishments and frustrations.
Documents, oral interviews and artifacts of former mayors are housed at UIndy's Institute for Civic Leadership & Mayoral Archives. Several former mayors, including Ballard's predecessor, Bart Peterson, a Democrat, have served on UIndy's board of trustees (Former Mayor Peterson was Nelson's studio guest on a show in 2015).
The history of electric cars stretches much further back than the 1990s production of the EV1. Early electric vehicles - powered by a battery charged by plugging it in - were built circa 1900 at the dawn of auto production.
As Ballard describes in his book, the challenges then involved the limitations of the vehicles; in the early 1900s, electric cars only could travel about 20 miles before requiring a recharge, severely limiting their range compared to gasoline-powered automobiles.
With substantial improvements in battery technology since that time, electric cars have made significant gains in range and efficiency. Less Oil or More Caskets is being promoted as a call to action to shift from gasoline to electricity in transportation, which former Mayor Ballard calls "the last industry dominated by the use of oil."
Feedback from our sponsors
"...always a great show"
"Hoosier History Live is always a great show. We did a small sponsorship as a gesture of support, and I didn't think a little history show would have much impact. But many people mentioned to me that they had heard our credit on the radio."
G.B. Landrigan, Realtor, Certified Residential Specialist
August 2018
"...a great way to represent what I do..."
"I have thoroughly enjoyed my experiences with Nelson Price and the Hoosier History Live team. I feel being on the show was a great way to represent what I do with motorsports history. I am particularly excited by the show's new distribution through a podcast and making it accessible live through the Web."
-Mark Dill, owner, FirstSuperSpeedway.com
July 2018
What people are saying about Hoosier History Live
"Hoosier History really is 'Live'--and 'Lively' as well. The program brings to new audience the delight and wisdom that comes with knowing more of our past and our connections as Hoosiers."
James H. Madison
Emeritus History Professor
Indiana University
"Hoosier History Live does more to promote Indiana history than does any single source."
Andrea Neal, Indianapolis author and educator
"Hoosier History Live is a fun and interesting way to learn about the heart and soul of Indiana. No boring classes or books here! The production team does an outstanding job."
Judy O'Bannon, civic leader and public broadcasting producer
"Distilling life experience into stories is an art. Telling stories of life experience for Hoosiers past and present will shape the lives of young people and enrich the lives of all in our state. Mr. Nelson Price brings alive the life experience of notable Hoosiers in Hoosier History Live."
David T. Wong, Ph.D., President
DT Wong Consulting, LLC
Former Lilly research scientist who developed Prozac
"Nelson Price, more than anyone I know, infuses joy into the pursuit of history. And that joy rings out loud and clear on the radio show, Hoosier History Live."
Marsh Davis
President, Indiana Landmarks
"As museums and educational institutions scramble to make their offerings more interactive, more entertaining and more 'relevant', Hoosier History Live seems to have mastered that formula."
Glynis Worley, rural Bartholomew County listener
"Hoosier History Live is a perfect place to consider and reconsider history ... not just what happened in the past, but what it may mean in the present. Nelson Price is the perfect host: enthusiastic, curious and knowledgeable. Tune in to Hoosier History Live and be prepared to be surprised."
James Still, playwright in residence, Indiana Repertory Theatre
"Hoosier History Live is a fantastic opportunity for people to not only learn about history, but also become a part of the conversation. Much like our mission, the telling of Indiana's stories, Nelson and his guests wonderfully connect people to the past!"
John Herbst
President and CEO, Indiana Historical Society
"The links on the Friday Hoosier History Live enewsletter are a great way to learn more about history, and from a variety of sources."
Jill Ditmire
Omni Media Specialist
"Nelson Price, more than anyone I know, infuses joy into the pursuit of history. And that joy rings out loud and clear on the radio show, Hoosier History Live."
Marsh Davis
President, Indiana Landmarks
"No, I haven't heard of another call-in talk radio show about history. Our airwaves are now full of the worst vitriol! Give me the phone number for the show. I want to call in!"
Ken Burns, speaking at a preview of his film "The War" at Indianapolis Hebrew Congregation, April 18, 2007
Become a sponsor today!
We offer a permanent and growing archive of quality online content, including podcasts and our iTunes feed. Thanks to associate producer Mick Armbruster for directing our online audio distribution.
If you are interested in becoming a sponsor of our online show, click here or call Molly Head at (317) 927-9101. Local show only sponsorship is also available, which includes logos and links on our enewsletter, website, and voiced credits on our local show.