Astronauts and Purdue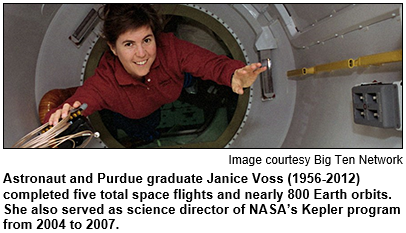 (June 25, 2016) - A significant percentage of American astronauts have spent portions of their lives in Indiana. A major reason is the presence of Purdue University, which has been nicknamed "Mother of Astronauts."
To explore the historic connection between the space program and the university in West Lafayette, Nelson is joined in studio by an author, journalist and historian who is considered the top expert on Indiana and space exploration.
John Norberg, a retired columnist for the Lafayette Journal & Courier and a Purdue historian, is one of the few journalists to whom reclusive Neil Armstrong granted one-on-one interviews. John also is the co-author of a biography of Jerry Ross, a popular retired astronaut who grew up in Crown Point, Ind., graduated from Purdue and is tied for first among all astronauts for the number of space launches.
John Norberg collaborated with Jerry Ross on the book Spacewalker: My Journey in Space and Faith as NASA's Record-Setting Frequent Flier (Purdue University Press, 2013.)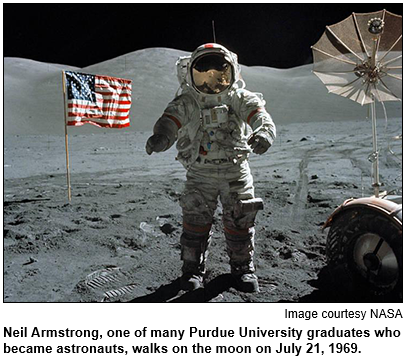 During our show, one of the currently active astronauts who graduated from Purdue joins John and Nelson by phone. Astronaut Drew Feustel, 50, who grew up in Michigan and studied earth sciences at Purdue, is preparing for another space mission. His first space flight in 2009 involved repairing the Hubble Space Telescope.
As we explore during the show, Purdue's link stretches back to the dawn of interest in space exploration, even before the selection of Purdue grad (and Mitchell, Ind., native) Virgil "Gus" Grissom as one of the original group of American astronauts, known as the Mercury 7, in 1959. Grissom, who became the first person to travel in space twice, was killed in 1967 in a tragic fire during a routine ground test. Hoosier History Live explored Grissom's life during a show in April 2009.
Our guest John Norberg notes that Dr. Steven Beering, Purdue's president emeritus, worked as a physician for the Mercury 7 astronauts.
In addition to Armstrong, an Ohio native who became the first man to walk on the moon, the nearly two dozen astronauts who have attended Purdue include David Wolf, who grew up in Indianapolis; Janice Voss, a South Bend native who died in 2012, and Donald Williams, who grew up as a farm boy near tiny Otterbein, Ind., and became the commander on the space shuttle Atlantis in 1989. (Williams died at age 74 last February.)
During our show, John Norberg will share insights about why Purdue has produced so many astronauts.
Explanations include the fact that it was the first university in the country with its own airport (beginning in 1930) and the reputation of its engineering program, which included early leadership in aero engineering.
John notes that when Grissom arrived on campus in 1946 - and Armstrong a year later - the word "astronaut" was "an obscure, science fiction term." Rather than dreaming of flying in space, they hoped to be military fighter pilots and test pilots.
By the way, not all of the Indiana natives who became astronauts have been Purdue grads. Three attended the University of Notre Dame, and one went to DePauw University.
According to our guest John Norberg, Purdue has had a total of 23 astronaut graduates. Its rival as a non-military "Mother of Astronauts" institution is the Massachusetts Institute of Technology (MIT). The U.S. Air Force Academy and the Naval Academy have graduated the most astronauts.
Of the 12 people who have walked on the moon, two have been Purdue grads. They are Neil Armstrong, who was 17 years old when he arrived at Purdue in the fall of 1947, and Eugene Cernan, the last man to have walked on the moon. Although Armstrong cherished privacy, John notes he returned often to the Purdue campus before his death in 2012.
"In the late 1990s, when he started seeing his autograph selling for thousands of dollars, he stopped signing them," John says. "However, he spent much time talking to students and always posed for photographs with them. ... The last time I saw him, I had pizza at Bruno's in West Lafayette with him and Gene Cernan."
John adds that Purdue's history in flight stretches clear back to a 1908 graduate, Cliff Turpin, who helped the Wright Brothers redesign their airplane and controls.
Other books by John Norberg include Wings of Their Dreams: Purdue in Flight (Purdue University Press, 2003).
Previous Hoosier History Live shows that have featured John as a studio guest include a program in 2013 about aviator Amelia Earhart's connections to Indiana, including Purdue.
Roadtrip: Fort Ouiatenon
Guest Roadtripper Jeff Kamm tells us that with Hoosier History Live's topic focusing on the "final frontier" with astronauts from Purdue, he'll take us to an "early frontier" settlement near Purdue: Fort Ouiatenon.
The fort was established by the French in 1717 as a stronghold against British expansion. The settlement thrived and may have had some 3,000 residents, including Native Americans, and it was central to a hub of five Wea and two Kickapoo villages. In September of 1760 New France surrendered to the British during the French and Indian War.
As late as 1778, Ouiatenon was a staging ground for war parties fighting on behalf of the British government. During the 1780s, however, local Indian tribes used it as a base of operations to stage raids against American settlers pushing westward.
The fort was eventually destroyed by American militia forces and forgotten about. In 1930, the fort blockhouse was reconstructed and serves as a museum.
History Mystery
In 2003, international attention focused on a popular astronaut who grew up in Bedford, Indiana.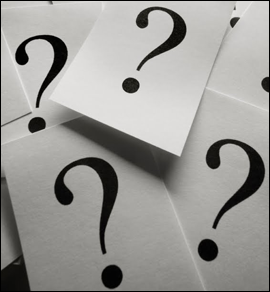 This astronaut did not attend Purdue University, though. After graduating from Bedford High School in 1974, he attended the U.S. Naval Academy and earned a degree in aerospace engineering.
Worldwide attention focused on him in 2003 because he was living on the International Space Station when an explosion of the Challenger shuttle killed seven astronauts as they were returning to Earth. The tragedy grounded the shuttle fleet and delayed the return to Earth of the astronaut. Finally, he and two crew members returned in a tiny space capsule that missed its targeted landing site.
His capsule eventually came down on land in Kazakhstan. Previously, every U.S. capsule had landed in water. Fortunately, the astronaut from Bedford was not injured.
In 2010, he was inducted into the Astronaut Hall of Fame.
Question: Who is he?
The prize pack includes two admissions to the Indianapolis Museum of Art, four admissions to the Indiana Experience at the Indiana History Center, and a gift certificate to Bee Coffee Roasters, all courtesy of Visit Indy.
Thanks!
Underwriting the project
We are not staff members of any organization; rather, we are a small, independent production group trying to keep Hoosier History Live on the air, on the web and in your inbox. Your gift goes primarily to support those individuals who are working so hard on the project, as well as to help defray the costs of maintaining our website, our email marketing software and our audio editing costs.
If you believe in supporting local artists, writers, historians and performers, look no further!
It takes only seconds to help us out. Just click the yellow "Donate" button, above. Or, if you prefer the paper method, you may make out a check to "Hoosier History Live" and mail it to Hoosier History Live, P.O. Box 44393, Indianapolis, IN 46244-0393.
We also try to maintain some of those old-fashioned journalism principles about trying to keep editorial content separate from financial contributions.
For questions about becoming an underwriting sponsor (the underwriter level includes logos on our website and newsletter and spoken credits in the live show), contact our producer, Molly Head, at molly@hoosierhistorylive.org, or (317) 927-9101, or Garry Chilluffo, our media+development director, at gchill@hoosierhistorylive.org.
Also, the Irvington Library Listening Group continues to meet on a regular basis from noon to 1 p.m. on Saturdays to listen to and discuss the live show. If you think you would enjoy listening with fellow history lovers, just stop by the library at 5626 E. Washington St. in Indianapolis and ask for the listening group.
If you are interested in forming your own listening group, all you need is a relatively quiet room with comfortable chairs and either a radio or an online listening device. A weekly listening group is an easy way to get "regulars" into your organization or place of business.
The Central Library in Indianapolis is willing to provide a space for a listening group if someone would volunteer to host the group. For more info, contact producer Molly Head.
July 2 show
The wives of artist T.C. Steele
You already may know about the most famous painter from Indiana, T.C. Steele, who won widespread acclaim for his landscapes, particularly of scenic Brown County.
But how much do you know about the two wives who were, in different ways, so influential in the life and work of the Hoosier Group artist who died 90 years ago this month?
To share insights about Libbie Lakin Steele and Selma Neubacher Steele, acclaimed author Rachel Berenson Perry, the fine arts curator emerita for the Indiana State Museum, will be Nelson's studio guest.
Rachel has written an introduction about Selma for the newly released House of the Singing Winds: The Life and Work of T.C. Steele, a lavishly illustrated book that the Indiana Historical Society originally published 50 years ago.
Rachel also is the curator for an extensive exhibit of paintings by Steele (1847-1926) at the Eugene and Marilyn Glick Indiana History Center; several of the paintings are from private collections and never have been seen in public before. The special exhibit, Indiana Impressions: The Art of T.C. Steele, runs through July 9.
In the new version of the book - which also features an account by Selma of her challenges in moving with her husband to rustic, isolated Brown County during the early 1900s - Rachel calls Selma "the unsung heroine of her artist husband's legacy."
Even today, at the couple's restored hilltop home studio (which he called the House of the Singing Winds), now the T.C. Steele State Historic Site, Rachel notes: "Portable water continues to be problematic, flooded roads are a seasonal headache, and building maintenance is a perpetual conundrum."
The beauty of the area - which Steele depicted in landscapes now cherished by collectors - is undeniable.
Before his renown as a landscape artist, though, T.C. Steele (full name: Theodore Clement Steele) was in demand as a portrait painter, the source of his acclaim for many of the years he was married to Selma, his first wife.
Steele painted portraits of most of Indiana's most prominent residents of the era, including President Benjamin Harrison, poet James Whitcomb Riley, Col. Eli Lilly and retailer Lyman S. Ayres.
Libbie Steele, who died of tuberculosis at age 49, was the other of the couple's children, Brandt and Daisy.
The children were both under 10 years old when Libbie coped with raising them overseas; that's because T.C. Steele was studying at one of the world's top art schools, the Royal Academy in Munich, Germany.
Rachel describes Libbie as a "kindred spirit, nature lover and critic of his paintings from the beginning. Though not an artist herself, (she was) very tuned into his muse."
Steele was born near Gosport and grew up in Waveland in west-central Indiana. For most of his career as a portrait artist, he was based in Indianapolis; second wife Selma got her first look at their Brown County home shortly after their wedding.
Rachel's books include a biography written for young readers, Paint and Canvas: A Life of T.C. Steele (IHS Press, 2011). She was a guest on Hoosier History Live in 2015 for a show about the life of Steele's Hoosier Group colleague William Forsyth.
Rachel is the author of William J. Forsyth: The Life and Work of an Indiana Artist (IU Press, 2014).
Learn more:
Celebration!
8-year soiree on Feb. 25 was historical fun
Photos continue to roll in from the Feb. 25 Hoosier History Live party to celebrate our 8 years on the air. This week's featured image is of Indianapolis Mayor Joe Hogsett with the four fine young musicians of the Herron String Quartet who provided such lovely music in the entry hall at Indiana Landmarks Center as the event got under way.
If you have a good photo that you would allow us to use for publication in our e-newsletter and website, please consider emailing it to us at news@hoosierhistorylive.org. Do include the name that is to receive credit.
Thanks again to corporate supporters Indiana Landmarks and Jacquie's Gourmet Catering, as well as event sponsor Core Redevelopment.
Thanks also to individual contributors Anne Laker, Jim and Marjorie Kienle, Dennis Arbuckle, Joe Young, Kathleen Angelone, J. Scott Keller, Jennifer Q. Smith of AvantGarb, Georgia Cravey and Jim Lingenfelter, Barbara and Michael Homoya, Margaret Smith, Peggy Hollingsworth, Lorraine Vavul, Rita Kohn and William McNiece.
Presenters included CEO of Indiana Landmarks Marsh Davis, Indianapolis Mayor Joe Hogsett, WICR program director Henri Pensis and Indiana Bicentennial Commission Executive Director Perry Hammock, as well as host Nelson Price and producer Molly Head of Hoosier History Live.
Catering was provided by Jacquie's Gourmet Catering, and entertainment was provided by Shirley Judkins, Herron High School String Quartet and Janet Gilray of Voices in Time. Thanks to corporate supporters Indiana Landmarks and Core Redevelopment.
As a nod to the many Indiana ethnic heritage shows produced by Hoosier History Live over the years, guests were invited to dress to portray their ethnic heritage. A shout-out to the Scots, Greeks, and Germans in attendance! And thanks to Jan Wahls for portraying May Wright Sewall.
Your encouragement and participation, on all fronts and in myriad ways, are what keep us going - on the air, in your in-box and on the web. Thanks!
Volunteers needed
Calendar itemkeeper, listening-group host opportunities
Would you be interested in placing the Hoosier History Live show topic and dates and times and ways to listen on the Bicentennial calendar and various other free community calendars across the state? This is rather detailed online weekly public relations work, but it would help get the word out about our show. If interested, please email molly@hoosierhistorylive.org, and please include your phone number.
Would you be interesting in hosting or facilitating a listening group at Central Library in Indianapolis each week? You would be responsible for being there each week during the live show and making sure a listening device is available. And generally facilitating the discussion. If interested, please email molly@hoosierhistorylive.org, and please include your phone number.
A note of support
'We hope to see it broadcast far and wide'
A particularly nice letter of support came in some time ago from authors James Alexander Thom and Dark Rain Thom. We like to re-read it from time to time!
To Whom it May Concern:

Last Spring, my wife and I were interviewed by Nelson Price on his Hoosier History radio program, as authors of frontier and Native American history books. Mr. Price's program was so well prepared and conducted that we feel it should be made available to students and general audiences as widely as possible. His program is well-researched, all questions pertinent to the chosen theme, and moves along briskly. Listeners called in with questions and comments that were intelligent and relevant, a sign of an avid audience.

As historical writers, we try to overcome the public's indifference to history, to bring alive in any way we can the important lessons of the past, and are enthusiastic about programs and writings that make those lessons interesting. The Hoosier History Live program does that so well that we hope to see it broadcast far and wide over this historically significant State of Indiana. It is an excellent program, worthy of extensive distribution and strong support.

James Alexander Thom & Dark Rain Thom, authors
Bloomington, Indiana
July 14, 2011
Shows, we got shows
We have more than 300 Hoosier History Live! radio shows completed, as a matter of fact. And we need to get show audio onto the website, which we are doing by and by, but we sure could use some sponsorship assistance as we edit and publish audio for each archived show. Take a look at the list below and check out all the opportunities for sponsoring a slice of original Hoosier History Live! content on the Web.
No one else is doing anything quite like what we're doing. We are the nation's only live call-in radio program about history. We offer a permanent and growing archive of quality content, available for sponsorship opportunities.
If you are interested in becoming a sponsor of Hoosier History Live!, click here or call Molly Head at (317) 927-9101 for more info.
What people are saying about Hoosier History Live!
"Hoosier History Live is a fun and interesting way to learn about the heart and soul of Indiana. No boring classes or books here! The production team does an outstanding job."
Judy O'Bannon, civic leader and public broadcasting producer
"The folks at Hoosier History Live! are able to find great stories and the people to tell them - people and stories that you seldom hear on the national air."
Dr. James H. Madison, author and IU history professor
"As museums and educational institutions scramble to make their offerings more interactive, more entertaining and more 'relevant' to today's digitally obsessed consumers, Hoosier History Live! seems to have mastered that formula."
Glynis Worley, rural Bartholomew County listener
"Hoosier History Live! is a perfect place to consider and reconsider history ... not just what happened in the past, but what it may mean in the present. Nelson Price is the perfect host: enthusiastic, curious and knowledgeable. Tune in to Hoosier History Live! and be prepared to be surprised."
James Still, playwright in residence, Indiana Repertory Theatre
"Hoosier History Live! is a fantastic opportunity for people to not only learn about history, but also become a part of the conversation. Much like our mission, the telling of Indiana's stories, Nelson and his guests wonderfully connect people to the past!"
John Herbst
President and CEO, Indiana Historical Society
"The links on the Friday Hoosier History Live! enewsletter are a great way to learn more about history, and from a variety of sources."
Jill Ditmire
Omni Media Specialist
"Distilling life experience into stories is an art. Telling stories of life experience for Hoosiers past and present will shape the lives of young people and enrich the lives of all in our state. Mr. Nelson Price brings alive the life experience of notable Hoosiers in Hoosier History Live!"
David T. Wong, Ph.D., President
DT Wong Consulting, LLC
Former Lilly research scientist who developed Prozac
"Nelson Price, more than anyone I know, infuses joy into the pursuit of history. And that joy rings out loud and clear on the radio show, Hoosier History Live!"
Marsh Davis
President, Indiana Landmarks
"No, I haven't heard of another call-in talk radio show about history. Our airwaves are now full of the worst vitriol! Give me the phone number for the show. I want to call in!"
Ken Burns, speaking at a preview of his film "The War" at Indianapolis Hebrew Congregation, April 18, 2007