July 15, 2017 show
Tamika Catchings, history maker
She has been called the most beloved athlete in Indiana - and not only because she's considered to have been one of the best female professional basketball players in history. Nor is it merely because she has won four Olympic gold medals.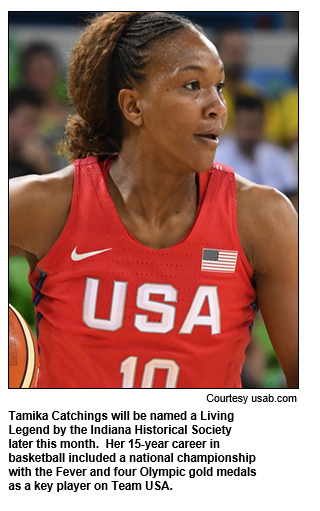 Tamika Catchings is regarded as an inspirational figure even by admirers who never have attended an Indiana Fever game.
Born with a profound hearing impairment that caused her to be bullied as a child, Tamika established her Catch the Stars Foundation in 2004 to help young people confronted by challenges. She has written an autobiography, Catch a Star (Revell Publishing, 2016) in which she describes how she was discouraged from chasing dreams.
Tamika, 37, is about to be named a Living Legend by the Indiana Historical Society. Last month, her jersey (No. 24) became the first to be permanently retired by the Indiana Fever; her entire 15-year playing career in the WNBA was spent with the team.
She will be Nelson's guest to talk about a range of aspects of her life and career, which includes a new role: tea shop proprietor. A few months ago, Tamika bought the Tea's Me Cafe, 140 E. 22nd St., after learning the owners intended to shutter it. She had been a longtime patron and didn't want the cafe to close.
The last two years have been something of a whirlwind for Tamika. She married her husband, Parnell Smith, in a small ceremony in downtown Indy. She has become a commentator for ESPN's SEC network. She also has a new job with Pacers Sports and Entertainment: director of player programs and franchise development. And she recently gave the commencement address at IUPUI.
"If anyone can do it, you can," she repeated to the graduates as a refrain throughout her speech.
Although her father, Harvey Catchings, enjoyed a 12-year career with the NBA and then played pro basketball overseas, the WNBA didn't even exist until Tamika was 16 years old.
By then, she had moved multiple times, spending her formative years everywhere from Italy to Texas as the family was continually uprooted because of her father's career. In Catch a Star, which Tamika wrote with Ken Petersen, she describes how she was perceived at the succession of new schools:
"Tamika Catchings was still just an odd-looking girl with big box hearing aids over her ears."
She went on to lead the Fever to a national championship in 2012, win four Olympic gold medals (the most recent at the 2016 Rio Olympics) as a key player on Team USA and receive the ESPN Humanitarian Award.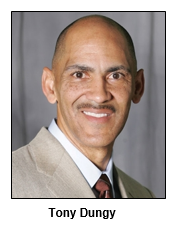 "Tamika has been a shining light in the community, a tireless worker, and a tremendous role model not only for young athletes, but for everyone," writes Tony Dungy, the former Indianapolis Colts coach, in the introduction to Catch a Star. "She is one of the rare superstar athletes who really 'get it.'"

Tamika was drafted by the Indiana Fever in 2001 after leading the University of Tennessee's team to a national championship. At Tennessee, she had suffered a severe leg injury, but in Indianapolis she rebounded and excelled with the Fever, overcoming what Tamika describes in her autobiography as painful shyness during her youth.

"The name-calling, the put-downs, all the being singled out and set apart was too much," she writes in Catch a Star, referring to childhood teasing because of the hearing aids she wore.

When she launched her Catch the Stars Foundation, Tamika's goal was to help disadvantaged and challenged youth. In recent years, the foundation has expanded its mission to "empower youth to achieve their dreams by providing goal-setting programs that promote literacy, fitness and mentoring," as stated on the organization's website.

In addition to Tamika Catchings, the Living Legends this year will include Janet Allen, the longtime artistic director of the Indiana Repertory Theatre who was the Hoosier History Live guest July 1. At the Legends gala, which will be held July 28 at the Indiana History Center, business leader Mark Miles and civic leaders/philanthropists John and Sarah Lechleiter also will be named Living Legends.

History Mystery
In addition to Tamika Catchings, who won a gold medal in women's basketball as part of Team USA, Hoosiers who won medals at the 2016 Rio Olympics included a diver who grew up in Noblesville.
The diver, who won a silver medal in synchronized diving on the 10-meter platform, had done even better at the 2012 London Olympics. At those Olympic games, he won the gold medal on the 10-meter platform.
He attended Purdue University; today, he lives in West Lafayette.
Question: Who is the diver?
The call-in number is (317) 788-3314. Please do not call in to the show until you hear Nelson pose the question on the air, and please do not try to win the prize if you have won any other prize on WICR during the last two months. You must be willing to give your name and address to our engineer and be willing to be placed on the air, and you must answer the question on the air. The prize is two admissions to the Indiana History Center, courtesy of the Indiana Historical Society, and two admissions to the Benjamin Harrison Presidential Site, courtesy of the Benjamin Harrison Presidential Site.

Roadtrip: Kokomo Automotive Museum
Guest Roadtripper Kayleen Reusser of Bluffton in northeastern Indiana, author of the blog World War II Legacies: Stories of Northeast Indiana Veterans, suggests a Roadtrip to the Kokomo Automotive Museum. Kokomo is where one of the first motor vehicles built in America was assembled in 1894 by Elwood Haynes.
Those first cars were called "Haynes" and then "Haynes & Apperson" after two brothers who bought into the business. The nascent U.S. automobile industry as a whole experienced rapid growth and by 1900 was producing 8,000 cars a year. Unfortunately, competition and the Great Depression caused Haynes to go out of business in 1925.
The Kokomo Automotive Museum, which opened in 1997, features the largest collection of Haynes automobiles in the United States, as well as 112 vehicles of various models and purposes. Many of the vehicles date from the late 1800s, but not every car is more than a century old. Here's a museum where you can see a 1957 T-bird with a supercharged V8 engine, a 1935 Auburn sports car with front suicide doors (manufactured in Auburn, Ind., now home to the National Auto and Truck Museum), a 1936 Packard convertible and 1941 black Cadillac.
Kayleen tells us that the museum is open year-round. Sharing her etymological prowess, she also informs us that the word "automobile" comes from the Greek word "auto," meaning self, and "mobile," from the French word meaning moving.
Happy Roadtripping!
July 22, 2017 show - upcoming
Little-known stories of Hoosiers in the Civil War
Letters written by Indiana children to their fathers who were dying on the front lines of the Civil War. Orphanages and homes for widows that were championed after the war by women civic leaders, including one who had served as a spy. (She escaped from a Confederate camp with a gun hidden in her skirts.)
A Copperhead grave robbery near Rochester, Ind.
And captured Confederate battle flags that helped expand collections of the Indiana State Museum, which had its humble origins as a as a cabinet of mineralogical samples assembled by State Librarian R. Deloss Brown in 1862.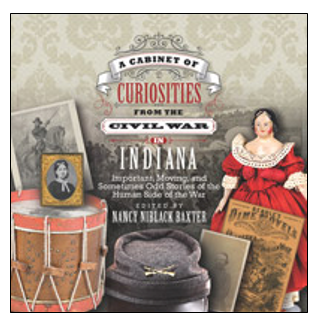 They are among the little-known Civil War stories involving Hoosiers that are described in a new book that we will explore during our show. Nelson's guests will be three Civil War experts who have contributed to the new book, A Cabinet of Curiosities from the Civil War in Indiana: Important, Moving, and Sometimes Odd Stories of the Human Side of the War (Hawthorne Publishing). The guests will be:
Nancy Baxter, the author of 11 books about Indiana history and the editor of the new book.
Steve Towne, the archivist at IUPUI and an expert on Copperhead activity and spies in Indiana.
And Dale Ogden, the recently retired chief curator of cultural history at the State Museum, which has an array of Civil War-era photos and artifacts.
The State Museum's artifacts include a 32-pound shell fired by Confederates at the 18th Indiana Light Artillery, which was led by then-Captain Eli Lilly. The shell was unidentified until recent years.
After its establishment during the Civil War, the State Museum quickly became the repository of Confederate regiments' flags captured by Indiana soldiers. During the early 1960s, Gov. Matthew Welsh decided the captured flags should be returned to the South.
Indiana sent nearly 210,000 men and teenage boys to fight for the Union cause, the second highest percentage of any Northern state in proportion to its population. As A Cabinet of Curiosities notes, diseases such as dysentery and typhoid fever in the soldiers' camps killed far more Hoosiers than battle.
At some of the camps, Lovina Streight of Indianapolis joined her husband (who rose to become a brigadier general) and his troops. She nursed wounded soldiers and spent time as a spy.
A Cabinet of Curiosities describes how after the Civil War, Mrs. Streight and other women became benefactors of soldiers' widows and orphans in Indiana. Mrs. Streight was buried with full military honors in a ceremony at Crown Hill Cemetery attended by 5,000 people.
A note of support
'We hope to see it broadcast far and wide'
A particularly nice letter of support came in some time ago from authors James Alexander Thom and Dark Rain Thom. We like to re-read it from time to time!
To Whom it May Concern:

Last Spring, my wife and I were interviewed by Nelson Price on his Hoosier History radio program, as authors of frontier and Native American history books. Mr. Price's program was so well prepared and conducted that we feel it should be made available to students and general audiences as widely as possible. His program is well-researched, all questions pertinent to the chosen theme, and moves along briskly. Listeners called in with questions and comments that were intelligent and relevant, a sign of an avid audience.

As historical writers, we try to overcome the public's indifference to history, to bring alive in any way we can the important lessons of the past, and are enthusiastic about programs and writings that make those lessons interesting. The Hoosier History Live program does that so well that we hope to see it broadcast far and wide over this historically significant State of Indiana. It is an excellent program, worthy of extensive distribution and strong support.

James Alexander Thom & Dark Rain Thom, authors
Bloomington, Indiana
July 14, 2011
Help keep Hoosier history alive!
Thanks for your support
No, we're not going to rattle a tin cup, but if you'd like to be among those individuals and sponsors who value the fresh perspective that Hoosier History Live offers, please consider clicking the big yellow "Donate" button above, or visit our website's "Support the show" page and make a contribution.
Or, you may make out a check to "Hoosier History Live" and mail it to:
Hoosier History Live
P.O. Box 44393
Indianapolis IN 46244-0393
Your support goes toward our ongoing expenses, including website hosting, email marketing software, audio editing, audio archiving and a long list of other items that a media team of any size must have to keep operations going.
We are a small creative/technical group that keeps our history-journalism reporter, Nelson Price, working - creating an Indiana-history archive that grows each week in heft and value. Nelson gets the interviews, and he gets the facts right.
We have produced more than 400 episodes - and counting - of original Indiana history journalism.
We are swimming against the tide, in a media landscape where ethical and objective reporting, without bias, has for the most part fallen by the wayside.
For questions about becoming an underwriting sponsor (the underwriter level includes logos on our website and newsletter and spoken credits in the live show), contact our producer, Molly Head, at molly@hoosierhistorylive.org, or (317) 927-9101, or Garry Chilluffo, our media+development director, at gchill@hoosierhistorylive.org.
Thanks again to recent individual contributors: Suzann Owen, Roz Wolen, Carol Bacon, Michael J. Quinn, Sr., Jinsie Bingham, Jennifer Smith, Theresa and David Berghoff, Stacia Gorge, Sally Cook, Margaret Smith, Jo Ellen Meyers Sharp, John and Diana Iozzo, Margaret Smith, Tom and Linda Castaldi (Fort Wayne), Peggy Hollingsworth (Connersville), Jane "Janie" Hodge, Lorraine and Richard Vavul, Kathleen Angelone, Richard Vonnegut, Jim and Marjorie Kienle, Georgia Cravey and Jim Lingenfelter, Dennis Arbuckle, Rita Kohn, Don Willsey and Judy O'Bannon, John and Lena Snethen, Juliet Emanuel (New York City), Sharon Butsch Freeland, Daniel Craig, Chuck and Cheryl Hazelrigg, Stacia Gorge, and Jill Chambers.
Please consider taking a moment to support our unique-in-the-world content. No, we are not a non-profit organization - perhaps soon; that is an ongoing discussion - so we are not in a position to offer a tax deduction. Rather, we are simply a tiny corps of Indiana creators, private citizens who each week create an original radio show, newsletter and website about our great state's history.
Your support is our only support!
Volunteers needed
Listening-group host opportunity
Would you be interesting in hosting or facilitating a listening group at Central Library in Indianapolis each week? You would be responsible for being there each week during the live show and making sure a listening device is available. And generally facilitating the discussion. If interested, please email molly@hoosierhistorylive.org, and please include your phone number.
Shows, we got shows
We have more than 400 Hoosier History Live radio shows completed, as a matter of fact. And we need to get show audio onto the website, which we are doing by and by, but we sure could use some sponsorship assistance as we edit and publish audio for each archived show. Take a look at the list below and check out all the opportunities for sponsoring a slice of original Hoosier History Live content on the Web.
No one else is doing anything quite like what we're doing. We are the nation's only live call-in radio program about history. We offer a permanent and growing archive of quality content, available for sponsorship opportunities.
If you are interested in becoming a sponsor of Hoosier History Live, click here or call Molly Head at (317) 927-9101 for more info.
What people are saying about Hoosier History Live
"Hoosier History Live does more to promote Indiana history than does any single source."
Andrea Neal, Indianapolis author and educator
"Hoosier History Live is a fun and interesting way to learn about the heart and soul of Indiana. No boring classes or books here! The production team does an outstanding job."
Judy O'Bannon, civic leader and public broadcasting producer
"The folks at Hoosier History Live are able to find great stories and the people to tell them - people and stories that you seldom hear on the national air."
Dr. James H. Madison, author and Indiana University history professor
"As museums and educational institutions scramble to make their offerings more interactive, more entertaining and more 'relevant' to today's digitally obsessed consumers, Hoosier History Live seems to have mastered that formula."
Glynis Worley, rural Bartholomew County listener
"Hoosier History Live is a perfect place to consider and reconsider history ... not just what happened in the past, but what it may mean in the present. Nelson Price is the perfect host: enthusiastic, curious and knowledgeable. Tune in to Hoosier History Live and be prepared to be surprised."
James Still, playwright in residence, Indiana Repertory Theatre
"Hoosier History Live is a fantastic opportunity for people to not only learn about history, but also become a part of the conversation. Much like our mission, the telling of Indiana's stories, Nelson and his guests wonderfully connect people to the past!"
John Herbst
President and CEO, Indiana Historical Society
"The links on the Friday Hoosier History Live enewsletter are a great way to learn more about history, and from a variety of sources."
Jill Ditmire
Omni Media Specialist
"Distilling life experience into stories is an art. Telling stories of life experience for Hoosiers past and present will shape the lives of young people and enrich the lives of all in our state. Mr. Nelson Price brings alive the life experience of notable Hoosiers in Hoosier History Live."
David T. Wong, Ph.D., President
DT Wong Consulting, LLC
Former Lilly research scientist who developed Prozac
"Nelson Price, more than anyone I know, infuses joy into the pursuit of history. And that joy rings out loud and clear on the radio show, Hoosier History Live."
Marsh Davis
President, Indiana Landmarks
"No, I haven't heard of another call-in talk radio show about history. Our airwaves are now full of the worst vitriol! Give me the phone number for the show. I want to call in!"
Ken Burns, speaking at a preview of his film "The War" at Indianapolis Hebrew Congregation, April 18, 2007