May 28 show
Roadside architecture
Hoosier History Live will "patronize" drive-in restaurants that have been cherished by generations of Hoosiers in West Lafayette, Logansport and the eastside of Indy.
The show also will explore drive-in movie theaters that still are going strong in Morgan County and on Bass Lake in far-northern Indiana.
And we will make a "pit stop" at a miniature golf course that opened during the 1930s on what's now the suburban south eastside of Indy. For decades, though, getting there involved a jaunt to the "countryside" for patrons.
All are surviving examples of roadside architecture that has been vanishing from the Indiana landscape as chain-owned eateries and retailers - with standardized buildings and signage - have multiplied. Roadside architecture, both bygone and lingering across the Hoosier state, will be the focus of our show, with two historic preservationists as Nelson's guests.
Triple XXX Family Restaurant, which opened in 1929 in West Lafayette and touts itself as "Indiana's oldest drive-in," isn't just known for its root beer, burgers and shakes. The landmark, which has been featured on the Food Network's "Diners, Drive-Ins and Dives" show, also is cherished for its roadside ambience.
Ditto for the Char-Bett Drive In in Logansport, with its eye-catching red and white awning and distinctive sign that features a looping red arrow.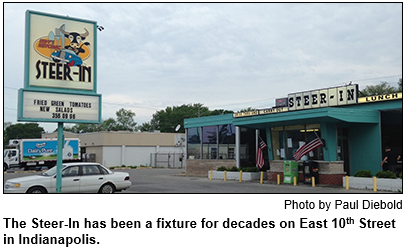 To share details about these and other roadside gems - as well as reasons to preserve vestiges of vanishing Americana - Nelson will be joined in studio by:
Paul Diebold of the Indiana DNR's division of historic preservation and archaeology. Paul recently gave a presentation about the need to preserve roadside architecture to the Irvington Historical Society. Previously on Hoosier History Live, he has been a guest on shows about Sears Kit Homes and the historic Irvington neighborhood in Indy.
And public historian Glory-June Greiff, an author who has been a frequent guest (and Roadtripper) on Hoosier History Live programs. They include shows about the history of Indiana's state parks - Glory is the author of People, Parks and Perceptions (Trafford Publishing) and the heritage of U.S. 40 (the National Road) and the Lincoln Highway. Her other books include Remembrance, Faith and Fancy (Indiana Historical Society Press), which explores outdoor statues and sculptures across Indiana.
Sometimes distinctive statues - or other signage - are part of the roadside appeal of the sites we will explore.
But in some cases, the roadside destination's distinction is due other factors.
That's so, Paul says, with the miniature golf course known as Rustic Gardens when it opened in far-southeastern Marion County in 1932. It's now called Rustic Driving Range & Miniature Golf Inc.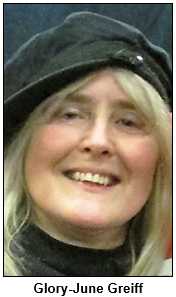 "The roadside appeal of Rustic Gardens is that, when founded and until the 1960s, it was a trip to the countryside to get there," Paul says. "And by 'trip,' I mean there were no rail lines to get there. It was a 'destination' roadside place."
Other roadside destinations include drive-in movie theaters that survive even as so many have closed across Indiana during the last 30 years. Glory plans to discuss the CenterBrook Drive-In (which opened in 1950 with a name derived from its location between the Morgan County towns of Centerton and Brooklyn) and the Melody Drive-In on U.S. 35 at Bass Lake in Starke County.
Speaking of the derivation of names: According to the Triple XXX, the restaurant was named for a brand of root beer popular during the early 1900s. Root beers then were ranked with X ratings, with one X being good, two better "and three X's best of all."
Other drive-in restaurants on our roadside show's menu will include the Steer-In, which opened in 1960 at 5130 E. 10th in Indy. With a sign that depicts the head of a steer (horns and all), the Steer-In also has been featured on the Food Network, which praised its meatball sandwiches and beef and noodles.
Several years ago, our guest Glory-June was the central Indiana escort for John Margolies, generally considered the country's premiere author-photographer of roadside architecture. His books include See The USA (Chronicle Books) and Fun Along the Road (Bulfinch Press).
Roadside stops on our radio journey will include:
Also during the show, our host, Nelson, will share details about mimetic architecture in which a building's design mimics the roadside services or products it offers. Several long-gone examples of mimetic architecture are featured in his Indianapolis Then and Now visual history book (Pavilion Books), including Polks Sanitary Milk Company. The corners of the bygone dairy's headquarters on the near-northside of Indy were shaped like giant milk bottles.
Learn more:
Roadtrip: McCormick's Creek near Spencer
Guest Roadtripper Terri Gorney of Fort Wayne tells us that Indiana is celebrating the centennial of our state parks.
"The idea of a state park system was conceived by Richard Lieber in 1910," says Terri. "He wanted at least one state park for the 100th birthday of Indiana's statehood in 1916."
Lieber would later be named the "Father of Indiana State Parks."
The distinction of the first state park goes to McCormick's Creek State Park. It was named after the first owner of the property, John McCormick, who purchased 450 acres in Owen County in 1816. In 1888, the land was purchased and a sanitarium was built. The land was offered to the state for a bargain price of $5,250. Private funds paid for the land in May 1916.
McCormick's Creek has beautiful limestone canyons, waterfalls and forests. A Stone Arch Bridge was created by the Civilian Conservation Corps (CCC) in the 1930s. The park also includes a nice inn and a nature center.
Today, all Hoosiers live within a one-hour drive from a state park.
Many special events are planned this summer to celebrate the park's Centennial.
Says Terri: "I would encourage everyone to enjoy McCormick's Creek or one of our other parks this year."
Learn more:
History Mystery
For generations of Indianapolis residents, the Tee Pee Restaurant was a distinctive roadside landmark near the Indiana State Fairgrounds. Marsh Davis, president of Indiana Landmarks, has called the Tee Pee, which was demolished in the late 1980s, a "fine example of whimsical roadside architecture."
The drive-in restaurant was so popular - particularly during the heyday of the "cruising" era of the 1950s and '60s - that a second Tee Pee was opened on the city's south side with nearly the same, distinctive architectural design.
But when the original restaurant opened during the 1930s, its name was not the Tee Pee. Instead, the iconic restaurant had a different name associated with Native Americans.
Question: What was the Tee Pee Restaurant's initial name?
Please do not call in to the show until you hear Nelson pose the question on the air, and please do not try to win the prize if you have won any other prize on WICR during the last two months. You must also give your first name to our engineer in order to be placed on the air.
The prize pack includes two tickets to the Indiana Medical History Museum and two tickets to ComedySportz, courtesy of Visit Indy, and a gift certificate to Empire Pizzeria in Kirklin, Indiana, (with lots of antique shops on Main Street!), courtesy of Empire Pizzeria.
Tell them Hoosier History Live sent you!
Thanks!
Underwriting the project
We are not staff members of any organization; rather, we are a small, independent production group trying to keep Hoosier History Live on the air, on the web and in your inbox. Your gift goes primarily to support those individuals who are working so hard on the project, as well as to help defray the costs of maintaining our website, our email marketing software and our audio editing costs.
If you believe in supporting local artists, writers, historians and performers, look no further!
It takes only seconds to help us out. Just click the yellow "Donate" button, above. Or, if you prefer the paper method, you may make out a check to "Hoosier History Live" and mail it to Hoosier History Live, P.O. Box 44393, Indianapolis, IN 46244-0393.
We also try to maintain some of those old-fashioned journalism principles about trying to keep editorial content separate from financial contributions.
For questions about becoming an underwriting sponsor (the underwriter level includes logos on our website and newsletter and spoken credits in the live show), contact our producer, Molly Head, at molly@hoosierhistorylive.org, or (317) 927-9101, or Garry Chilluffo, our media+development director, at gchill@hoosierhistorylive.org.
Also, the Irvington Library Listening Group continues to meet on a regular basis from noon to 1 p.m. on Saturdays to listen to and discuss the live show. If you think you would enjoy listening with fellow history lovers, just stop by the library at 5626 E. Washington St. in Indianapolis and ask for the listening group.
If you are interested in forming your own listening group, all you need is a relatively quiet room with comfortable chairs and either a radio or an online listening device. A weekly listening group is an easy way to get "regulars" into your organization or place of business.
The Central Library in Indianapolis is willing to provide a space for a listening group if someone would volunteer to host the group. For more info, contact producer Molly Head.
June 4 show
World War II vets look back
Periodically on Hoosier History Live, we salute Hoosiers who served during what has been called "the most significant and influential event of the 20th century" by inviting survivors to share insights about their lives before, during and after World War II.
Our guests on this show will be two central Indiana residents in their 90s - veterans of the Army Air Force and the Navy - as well as a chaplain who has included their stories in a new book.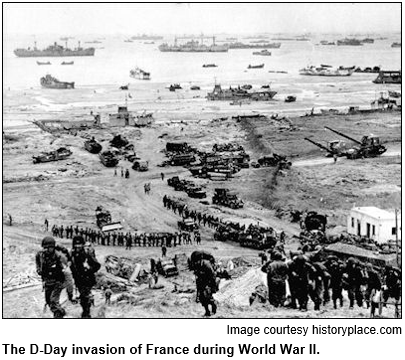 Ron May, a chaplain and pastor based in Avon, is the author of Our Service, Our Stories (Fideli Publishing). Ron, who spent 22 years as a Navy reserve chaplain, will join Nelson in studio, along with:
Paul Maves, a retired civil engineer who lives on the west side of Indianapolis. During World War II, he was a bombardier with the Army Air Force and served with a squadron that provided aerial support during the Battle of the Bulge in December 1944.
And Walter Dreyfus of Greenwood, who is retired from the insurance industry. A Navy veteran, Walter served on ships off North Africa, Italy, England and France. He helped ready some mid-sweeper ships for the D-Day invasion and helped retrieve - and do sea burials for - bodies found after the historic invasion.
As a bombardier, Paul flew on 41 missions in France, Holland and Germany. According to Our Service Our Stories, he initially was disqualified for bombardier training because he was left-handed. ("Bombardiers had to learn to use the Norden Bomb Sight, which could only be operated by the right hand.").
He persevered and went on to serve on B-26 bombers; close calls included a mission on a hobbled aircraft that endured more than 300 strikes from German artillery.
Walter served in radio communications on the Navy ships; on land in France, he was part of a reconnaissance party ambushed by Germans. (He survived by hiding in a ditch.) In Cherbourg, Walter met Catherine Fox, a WAC from Indianapolis. They later married and, before Catherine's death in 2013, returned to France for the 50th and 60th anniversaries of Cherbourg's liberation.
Both Paul and Walter have participated on Indy Honor Flights to Washington D.C. Our guest Ron May accompanied Hoosier veterans on one of the flights.
In the prelude to his book, Ron notes that of the 16 million service members who fought in WW II, only about 850,000 are still alive; about 500 pass away daily.
Previous Hoosier History Live shows featuring interviews with veterans of WWII have included programs in January 2014 and February 2015. Guests on those shows included veterans whose stories are shared, respectively, in the books World War II: Duty, Honor, Country and World War II Legacies: Stories of Northeast Indiana.
Learn more:
Reflections of World War II veterans - Hoosier History Live newsletter for the Feb. 28, 2015 show featuring WWII vets Don Shady, Bob Foster (now deceased) and author Kayleen Reusser, all of northern Indiana.
World War II veterans remember - Hoosier History Live newsletter for the Jan. 11, 2014 show featuring WWII veteran Merrill "Lefty" Huntzinger of Noblesville (now deceased) and authors Steve Hardwick and Duane Hodgin.
Celebration!
8-year soiree on Feb. 25 was historical fun
Photos continue to roll in from the Feb. 25 Hoosier History Live party to celebrate our 8 years on the air. This week's featured image is of Indianapolis Mayor Joe Hogsett with the four fine young musicians of the Herron String Quartet who provided such lovely music in the entry hall at Indiana Landmarks Center as the event got under way.
If you have a good photo that you would allow us to use for publication in our e-newsletter and website, please consider emailing it to us at news@hoosierhistorylive.org. Do include the name that is to receive credit.
Thanks again to corporate supporters Indiana Landmarks and Jacquie's Gourmet Catering, as well as event sponsor Core Redevelopment.
Thanks also to individual contributors Anne Laker, Jim and Marjorie Kienle, Dennis Arbuckle, Joe Young, Kathleen Angelone, J. Scott Keller, Jennifer Q. Smith of AvantGarb, Georgia Cravey and Jim Lingenfelter, Barbara and Michael Homoya, Margaret Smith, Peggy Hollingsworth, Lorraine Vavul, Rita Kohn and William McNiece.
Presenters included CEO of Indiana Landmarks Marsh Davis, Indianapolis Mayor Joe Hogsett, WICR program director Henri Pensis and Indiana Bicentennial Commission Executive Director Perry Hammock, as well as host Nelson Price and producer Molly Head of Hoosier History Live.
Catering was provided by Jacquie's Gourmet Catering, and entertainment was provided by Shirley Judkins, Herron High School String Quartet and Janet Gilray of Voices in Time. Thanks to corporate supporters Indiana Landmarks and Core Redevelopment.
As a nod to the many Indiana ethnic heritage shows produced by Hoosier History Live over the years, guests were invited to dress to portray their ethnic heritage. A shout-out to the Scots, Greeks, and Germans in attendance! And thanks to Jan Wahls for portraying May Wright Sewall.
Your encouragement and participation, on all fronts and in myriad ways, are what keep us going - on the air, in your in-box and on the web. Thanks!
Volunteers needed
Calendar itemkeeper, listening-group host opportunities
Would you be interested in placing the Hoosier History Live show topic and dates and times and ways to listen on the Bicentennial calendar and various other free community calendars across the state? This is rather detailed online weekly public relations work, but it would help get the word out about our show. If interested, please email molly@hoosierhistorylive.org, and please include your phone number.
Would you be interesting in hosting or facilitating a listening group at Central Library in Indianapolis each week? You would be responsible for being there each week during the live show and making sure a listening device is available. And generally facilitating the discussion. If interested, please email molly@hoosierhistorylive.org, and please include your phone number.
A note of support
'We hope to see it broadcast far and wide'
A particularly nice letter of support came in some time ago from authors James Alexander Thom and Dark Rain Thom. We like to re-read it from time to time!
To Whom it May Concern:

Last Spring, my wife and I were interviewed by Nelson Price on his Hoosier History radio program, as authors of frontier and Native American history books. Mr. Price's program was so well prepared and conducted that we feel it should be made available to students and general audiences as widely as possible. His program is well-researched, all questions pertinent to the chosen theme, and moves along briskly. Listeners called in with questions and comments that were intelligent and relevant, a sign of an avid audience.

As historical writers, we try to overcome the public's indifference to history, to bring alive in any way we can the important lessons of the past, and are enthusiastic about programs and writings that make those lessons interesting. The Hoosier History Live program does that so well that we hope to see it broadcast far and wide over this historically significant State of Indiana. It is an excellent program, worthy of extensive distribution and strong support.

James Alexander Thom & Dark Rain Thom, authors
Bloomington, Indiana
July 14, 2011
Shows, we got shows
We have more than 200 Hoosier History Live! radio shows completed, as a matter of fact. And we need to get show audio onto the website, which we are doing by and by, but we sure could use some sponsorship assistance as we edit and publish audio for each archived show. Take a look at the list below and check out all the opportunities for sponsoring a slice of original Hoosier History Live! content on the Web.
No one else is doing anything quite like what we're doing. We are the nation's only live call-in radio program about history. We offer a permanent and growing archive of quality content, available for sponsorship opportunities.
If you are interested in becoming a sponsor of Hoosier History Live!, click here or call Molly Head at (317) 927-9101 for more info.
What people are saying about Hoosier History Live!
"Hoosier History Live is a fun and interesting way to learn about the heart and soul of Indiana. No boring classes or books here! The production team does an outstanding job."
Judy O'Bannon, civic leader and public broadcasting producer
"The folks at Hoosier History Live! are able to find great stories and the people to tell them - people and stories that you seldom hear on the national air."
Dr. James H. Madison, author and IU history professor
"As museums and educational institutions scramble to make their offerings more interactive, more entertaining and more 'relevant' to today's digitally obsessed consumers, Hoosier History Live! seems to have mastered that formula."
Glynis Worley, rural Bartholomew County listener
"Hoosier History Live! is a perfect place to consider and reconsider history ... not just what happened in the past, but what it may mean in the present. Nelson Price is the perfect host: enthusiastic, curious and knowledgeable. Tune in to Hoosier History Live! and be prepared to be surprised."
James Still, playwright in residence, Indiana Repertory Theatre
"Hoosier History Live! is a fantastic opportunity for people to not only learn about history, but also become a part of the conversation. Much like our mission, the telling of Indiana's stories, Nelson and his guests wonderfully connect people to the past!"
John Herbst
President and CEO, Indiana Historical Society
"The links on the Friday Hoosier History Live! enewsletter are a great way to learn more about history, and from a variety of sources."
Jill Ditmire
Omni Media Specialist
"Distilling life experience into stories is an art. Telling stories of life experience for Hoosiers past and present will shape the lives of young people and enrich the lives of all in our state. Mr. Nelson Price brings alive the life experience of notable Hoosiers in Hoosier History Live!"
David T. Wong, Ph.D., President
DT Wong Consulting, LLC
Former Lilly research scientist who developed Prozac
"Nelson Price, more than anyone I know, infuses joy into the pursuit of history. And that joy rings out loud and clear on the radio show, Hoosier History Live!"
Marsh Davis
President, Indiana Landmarks
"No, I haven't heard of another call-in talk radio show about history. Our airwaves are now full of the worst vitriol! Give me the phone number for the show. I want to call in!"
Ken Burns, speaking at a preview of his film "The War" at Indianapolis Hebrew Congregation, April 18, 2007