September 25, 2021
Indy wife of Treasure Island's Robert Louis Stevenson: encore
Unlikely as it may seem, Scottish novelist, poet and essayist Robert Louis Stevenson - author of such classics as Treasure Island (1883) - married an Indianapolis native.
Fanny Vandegrift was more than 10 years older than Stevenson. Born in 1840 to a prosperous family during the early years of the Hoosier capital, she had left an unfaithful first husband (whom she later divorced) when she met Stevenson at a dinner party in Paris during the 1870s.
Stevenson, the author of The Strange Case of Dr. Jekyll and Mr. Hyde (1886), wrote most of his best-known works after he met Fanny Vandegrift; some historians even regard her as his muse.
Indianapolis historian Sharon Butsch Freeland, who has researched and written about Fanny Vandegrift's colorful life, is Nelson's studio guest on this encore of a show initially broadcast in 2018.
Fanny's father, a prosperous lumber dealer in Indianapolis, was a close friend of Rev. Henry Ward Beecher, the preacher at Second Presbyterian Church during the 1840s. (Beecher, the brother of Uncle Tom's Cabin novelist Harriet Beecher Stowe, eventually moved to New York and became one of the best-known clergymen in America.) In fact, Beecher baptized young Fanny in the White River.
According to Sharon's research, the Vandegrifts initially lived in a red brick home across from Monument Circle, then known as Governor's Circle. At the time, Second Presbyterian was adjacent to the house; since the late 1950s, the church has been in the 7700 block of North Meridian Street.
Also unearthed by Sharon: the Vandegrifts owned a farm in Hendricks County, the farmhouse of which still stands. Fanny stayed with her parents at the farmhouse during a rocky period with her first husband, Sam Osbourne, who lived in Nevada and California, where he patronized saloons and brothels, according to historians.
In the 1870s, Fanny and the couple's three children moved to Europe. She eventually enrolled as an art student at an academy in Paris, where she met Robert Louis Stevenson, who was in frail health. When they married in 1880, she had just turned 40 and he was 29. The couple honeymooned in California, where they decided to live during the first years of their marriage.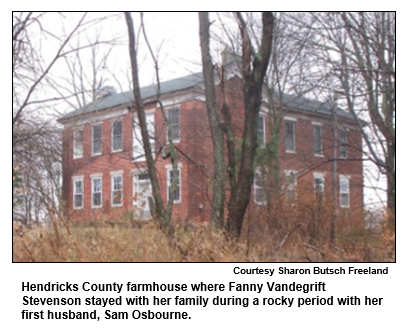 Although the marriage initially upset Stevenson's family in Scotland, Sharon writes that they were won over after the novelist took Fanny to Edinburgh to meet them. "Fanny's father-in-law was so impressed with her literary judgment that he made his son promise never to publish anything without Fanny's approval."
In 1880, the Stevensons moved to Samoa in search of a climate that would provide relief for his respiratory problems. Robert Louis Stevenson died on his village estate in Samoa in 1894 at age 44. Fanny lived until 1914 and is buried next to Stevenson on Mount Vaea, which overlooks the Samoan capital of Apia and its harbor.
Some history facts:
Our guest Sharon Butsch Freeland has served as a guide for Robert Louis Stevenson devotees visiting from out of state who want to see sites associated with Fanny. They have included California relatives of Sam Osbourne, Fanny's first husband.

Fanny was just 17 years old when she married Osbourne, who then was working as the secretary to Indiana's governor, according to Sharon's research.

Before settling in Samoa, the Stevensons "traveled constantly for nearly a decade," Sharon writes. "They spent time in health resorts in England, Scotland, France, the United States and Hawaii."

According to an article in the spring 2007 issue of Traces, the Indiana Historical Society's magazine, Robert Louis Stevenson and Fanny served an "American-style Thanksgiving dinner" in Samoa a few weeks before he died. During the feast, Stevenson raised his glass and proposed a toast to his Hoosier wife. He said she had been "all in all to me."
Roadtrip: Hindostan whetstone grave markers
Jeannie Regan-Dinius of the Indiana Department of Natural Resources, Division of Historic Preservation, suggests a Roadtrip to seek out pioneer-era tombstones made from Hindostan whetstone. Whetstone grave markers were among the first commercial gravestones used in Indiana; they are made of sedimentary stone quarried from ancient river beds in southwestern Indiana. The term "whetstone" can be traced to the practice of using these flat, smooth stones to sharpen tools.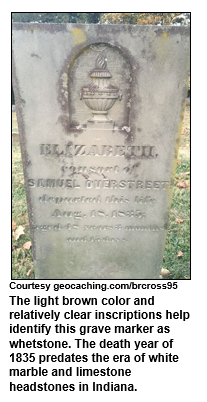 Whetstone grave markers were seen as an improvement over their wooden or fieldstone predecessors and were widely employed in Indiana in the first four decades of the 19th century. However, production peaked during the 1840s and began to decline due to competition from white marble grave markers that could be transported from distant quarries via the growing regional railroad system. The Indiana limestone industry also began to produce and market commercial gravestones around this time, as well.
Whetstone grave markers are among the oldest preserved graves in the southern part of the state, and they're not hard to spot in old cemeteries. They usually have a specific tombstone shape (see photo above), and their color is often tan, buff or light brown and streaked with rust (in contrast to the white or off-white of marble or limestone). The inscriptions on whetstone grave markers are usually still legible because the stone's relative softness allowed for a deep carve; unfortunately, due to the layered nature of the stone, the grave markers are also prone to splitting and flaking away over time.
More than 1,400 whetstone headstones have been identified in cemeteries throughout southern Indiana and southeastern Illinois near the Wabash River. Jeannie tells us that we might find some of these treasures in Greenlawn Cemetery in Vincennes, which is the oldest established cemetery in the state, or in Rose Hill in Bloomington.
Learn more:
Hoosier History Live welcomes Ryan DeRome
Hoosier History Live is pleased to announce Ryan DeRome as its new associate producer. Ryan is taking the reins from Mick Armbruster, who served diligently in that position for many years, as well as guest hosted occasionally.
Mick, a former high school English teacher at both Arsenal Technical and Brebeuf Jesuit in Indianapolis, continues to pursue his various passions in what he calls "creative self-employment." "Follow your joy!" urges Mick.
Ryan, who began training with Mick a month ago, attended IUPUI Herron School of Art, is a writer and editor in the "gig" economy (as we all are!) and works in the audio/video industry as an installer, data technician and event technology operations manager.
Ryan will handle editing the newsletter, website, and podcasts, and of course, always more! As one can imagine, a maverick, multi-level media project such as Hoosier History Live demands hours and hours of detailed behind-the-scenes work. As producer Molly Head often tells host Nelson Price, "We are absolutely lost without our tech people."
"My deep love of Hoosier and world history often go hand in hand, "says Ryan. "My personal library is filled with books on all things Indiana and working with Hoosier History Live is a great way to expand my knowledge and contribute to this show and the citizens of Indiana."
What people are saying about Hoosier History Live
"...best Americana-themed show..."
"Hoosier History Live is the best Americana-themed show anywhere on radio!"
- John Guerrasio, former IRT actor
"...always a great show"
"Hoosier History Live is always a great show. We did a small sponsorship as a gesture of support, and I didn't think a little history show would have much impact. But many people mentioned to me that they had heard our credit on the radio."
G.B. Landrigan, Realtor, Certified Residential Specialist
"... an intelligent, well-researched program..."
"I've loved listening to Hoosier History Live during the pandemic as an intelligent, well-researched program to escape the news for an hour."


-Lee Little, JD, MLS, Research Librarian, Indiana University
"...'Live' - and 'Lively' as well..."
"Hoosier History really is 'Live' - and 'Lively' as well. The program brings to new audiences the delight and wisdom that comes with knowing more of our past and our connections as Hoosiers."
James H. Madison, Emeritus History Professor, Indiana University
"... a compelling and engaging media project..."
"Molly Head and Nelson Price are Indiana-based visionaries who have created a compelling and engaging media project with Hoosier History Live. Podcasts, website, enewsletter, and live call-in radio show; it's all there!"


- Keira Amstutz, President and CEO, Indiana Humanities
"...a great way to represent what I do..."
"I have thoroughly enjoyed my experiences with Nelson Price and the Hoosier History Live team. I feel being on the show was a great way to represent what I do with motorsports history. I am particularly excited by the show's new distribution through a podcast and making it accessible live through the Web."
-Mark Dill, owner, FirstSuperSpeedway.com



"...great value to sponsors..."
"Hoosier History Live has amassed a vast library of content over the years, both with the show audio and newsletter material. I believe that the Hoosier History Live content has great value to sponsors and advertisers via widespread online distribution. Nowhere else do you find the fresh new material each week, the depth of stories, the richness of detail, and the long-term consistency."
- John McDonald, CEO, ClearObject in Fishers, Indiana, Inc. Magazine's fastest-growing IT company in Indiana for 2014, 2015, 2016 and 2017.
"I love the podcasts..."
"I love the podcasts! I work on Saturdays and cannot always hear the live broadcasts. Sometimes I also like to listen a second time."


- Terri Gorney, Fort Wayne listener
"...fun and interesting..."
"Hoosier History Live is a fun and interesting way to learn about the heart and soul of Indiana. No boring classes or books here! The production team does an outstanding job."
Judy O'Bannon, civic leader and public broadcasting producer
"...does more to promote Indiana history..."
"Hoosier History Live does more to promote Indiana history than does any single source."
Andrea Neal, Indianapolis author and educator
"...infuses joy into the pursuit of history..."
"Nelson Price, more than anyone I know, infuses joy into the pursuit of history. And that joy rings out loud and clear on the radio show, Hoosier History Live."
Marsh Davis, President, Indiana Landmarks
"...enthusiastic, curious and knowledgeable..."
"Hoosier History Live is a perfect place to consider and reconsider history ... not just what happened in the past, but what it may mean in the present. Nelson Price is the perfect host: enthusiastic, curious and knowledgeable. Tune in to Hoosier History Live and be prepared to be surprised."
James Still, playwright in residence, Indiana Repertory Theatre
"...a great way to learn more about history..."
"The links on the Friday Hoosier History Live enewsletter are a great way to learn more about history, and from a variety of sources."
Jill Ditmire, Omni Media Specialist
"...I want to call in!

..

"No, I haven't heard of another call-in talk radio show about history. Our airwaves are now full of the worst vitriol! Give me the phone number for the show. I want to call in!"

Ken Burns, speaking at a preview of his film "The War" at Indianapolis Hebrew Congregation, April 18, 2007
"...interactive, more entertaining and more 'relevant'..."
"As museums and educational institutions scramble to make their offerings more interactive, more entertaining and more 'relevant', Hoosier History Live seems to have mastered that formula."
Glynis Worley, rural Bartholomew County listener
Podcast Listening 101: The Basics
We still broadcast live every Saturday on WICR 88.7, but more and more of our listeners are getting their Hoosier History Live shows by podcast - and it's easier than ever!
It's really this simple: If you have a smartphone, go to the Google search engine, click on the microphone button, and say "Hoosier History Live podcasts." Or if you don't use the microphone, type in the words "Hoosier History Live podcasts" at the Google search bar.You'll immediately get a list of recent shows to choose from. Click on one of them - and let the listening begin!
If you have a preferred podcast provider like Apple Podcasts or Stitcher, you can use their search function to call up Hoosier History Live as well. When you see our yellow Hoosier History Live logo, just click on the episode you want to listen to.
And don't forget to share! You can post links to our podcast on your social media page or send them by email or text.