July 20, 2019
Broad Ripple High School history
The fate of its high-visibility site on the northside of Indy has been a question mark since the closing of Broad Ripple High School in 2018.
But there's no questioning the high school has a rich history that sometimes seems to have changed course with the speed of a Rocket, which was adopted as the school's mascot in the early 1930s, according to the Broad Ripple High School Alumni Association.
It was considered a "rural" high school - located in the village of Broad Ripple - when Broad Ripple High opened in 1886 with seven students in a building that also was being used as an elementary school.
It became part of the Indianapolis Public Schools system in 1923 (one year after the village was annexed into the city) and has a roster of notable alumni including David Letterman (class of '65); attorney Marilyn Tucker Quayle (class of '67), the nation's second lady as the wife of former Vice President Dan Quayle, and George Hill (class of 2004), the current NBA player for the Cleveland Cavaliers.
Hoosier History Live will take a glance at the lives of these alumni as we explore how their alma mater evolved from rural to suburban to urban over the years, with plenty of triumphs and challenges along the way. BRHS milestones have included a state high school basketball championship in 1980; court-ordered integration in the 1970s; designation as an Arts and Humanities magnet school; and dwindling enrollment after reaching a peak of 2,500 students in 1995 because of the closings then of other IPS high schools.
Nelson's studio guests will include three alums of Broad Ripple High:
Alice Ashby Roettger (class of '52), a Broad Ripple historian who has lived in the area most of her life. Members of her family attended the high school for a span of more than 50 years, extending from the1930s (an older sibling was in the class of '39) to 1988, with the graduation of the youngest of her four daughters, all of whom attended Broad Ripple.
Bruce Buchanan (class of '73), CEO of Buchanan Group Inc./Flanner and Buchanan Funeral Centers and a civic leader. Bruce, who was a member of the high school's state championship tennis team in 1973, is currently involved in an effort to ensure that the school's archives, keepsakes and other artifacts are protected and not dispersed, which has been the fate at some other local high schools that have been closed.
And Sandy Sisson Fenstermaker (class of '54), who periodically coached track, golf and swimming and was a substitute teacher at her alma mater. Sandy, who continues to live in the Broad Ripple area, is the mother of five graduates of the high school. Six of her grandchildren also have graduated or attended Broad Ripple.
At the 1893 Chicago World's Fair, the then-new Broad Ripple High School was recognized as one of the nation's outstanding "rural" high schools. At that point in its history, the school was not located at its current address on the corner of Broad Ripple Avenue and Haverford Avenue, where it moved in 1914.
What we know today as Broad Ripple High school consists of a series of additions to the1914 structure, which was itself demolished in 1968. That demolition and reconfiguration project made navigating the school's hallways easier, but getting from one side of the building to the other could still be a circuitous challenge.
Before that demolition, students included Michael Graves (class of '52), an internationally acclaimed architect whose hometown projects included the Indianapolis Art Center near his alma mater; John Mutz (class of '53), former lieutenant governor of Indiana; and former Indianapolis Mayor Steve Goldsmith (class of '64).
Beginning in the early 1980s, Broad Ripple High School periodically was threatened with closing. Along with the eventual decision to shut down BRHS in 2018, IPS officials closed Arlington High School and Northwest High School.
According to an article published in Indianapolis Monthly after the school's closing, BRHS during its final year was attended by "just 25 percent of the number of students it was designed to accommodate." The final graduating class consisted of about 130 students.
Some other BRHS history facts:
A cow pasture south of the school became its football field in 1928. The parents of an alum killed during World War II donated funds to make Broad Ripple the first IPS school with a lighted football field, according to the alumni association.
In 1970, the high school was overseen by a black principal, William Jones, for the first time.
Our guest Bruce Buchanan wrote for The Riparian, the school's newspaper, which, along with the yearbook, won several national awards in the decades following their debuts during the 1920s. Other Riparian staffers included David Letterman's younger sister, Gretchen Letterman, who has enjoyed a long career as a newspaper editor based in St. Petersburg, Fla.

Roadtrip: James E. Roberts School 97 on Indy's near eastside
Guest Roadtripper Suzanne Stanis of Indiana Landmarks suggests a visit to Roberts School Flats on East 10th Street in Indianapolis. The apartment building is a great example of "adaptive reuse," a process by which historic buildings are given a second life by modifying them to serve a new purpose.

Suzanne tells us that Robert School Flats is part of a larger trend to turn former schools into contemporary living places that appeal to urban dwellers. "Wide corridors, spacious rooms, and ample natural light make historic school buildings a popular housing option," she says.
The project adds to the growing revitalization of East 10th Street and preserves an important landmark for the disabled community. Constructed as a PWA project, the building opened as the first state-of-the-art facility for physically disabled children in 1936. Noted local architects McGuire & Shook designed the two-story school with ramps, a hydrotherapy pool, elevator and sun deck.
To hear the story of how the historic building was almost lost but then saved with the help of Indiana Landmarks and a $3 million rehabilitation by Core Redevelopment, be sure to join us for this fascinating Roadtrip!

History Mystery
Famous alumni of Broad Ripple High School include a member of the class of 1976 who enjoyed a long and distinguished career in the NBA as both a player and a coach.
After graduating from Broad Ripple, he achieved success at Indiana University playing for coach Bobby Knight and helping lead the Hoosiers to a Big Ten championship in 1980. Later that year, he began his NBA career when he was drafted by the New York Knicks.
After more than a decade as a player for various teams, he served as coach or assistant coach for several NBA teams. From 2004 to 2010, he was the head coach of the Atlanta Hawks, which made the NBA playoffs in each of his final three seasons.
Question: who is the member of Broad Ripple High's class of 1976 who has enjoyed a long career in the NBA?

Please do not call in to the show until you hear Nelson pose the question on the air, and please do not try to win if you have won any other prize on WICR during the last two months. You must be willing to give your first name to our engineer, you must answer the question correctly on the air and you must be willing to give your mailing address to our engineer so we can mail the prize pack to you.
The prizes this week are four tickets to the James Whitcomb Riley Museum Home in Indianapolis, courtesy of the museum, and a gift certificate to Story Inn in Brown County, courtesy of Story Inn.
Getting into the flow of White River history
July 27, 2019 - coming up
Hoosier horticultural heritage
With midsummer upon us, it's time to pour a glass of iced tea, sit on the porch and soak up some of the history that grows in the lush gardens of Indiana. Guest host Jo Ellen Meyers Sharp, AKA the Hoosier Gardener, will explore the rich horticultural heritage of the Hoosier state.
First stop on Jo Ellen's tour of Indiana's garden history: Zionsville. Turns out that the historic village (now a booming suburb of Indianapolis) played an important role in the development and marketing of flowers for use in home gardens.
Nearly a century ago, Zionsville gained the nickname "Dahlia City," thanks to the success of two neighboring nurseries located in the village. Both produced not only dahlia tubers, but other showy flowers as well, which they sold locally and across the country through mail-order catalogs.
Zionsville became known as one of the best places to purchase tubers to produce colorful, spectacular blooms.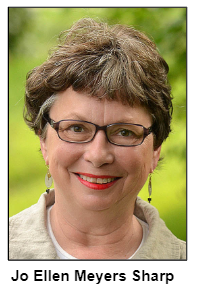 The story of Zionsville and the dahlias comes from Mark Zelonis, who will be joining Jo Ellen in studio to discuss Indiana's horticultural history. Mark has spent an entire career directing beautiful gardens, including those at the Indianapolis Museum of Art at Newfields. Mark is a frequent lecturer on gardens and landscape history and recently formed a new company, Cultural Excursions, through which he leads tours to gardens, museums and historic sites in the U.S. and Europe.
Mark tells how early 20th century promoters of the growing Zionsville community touted the town's attractiveness to potential new homeowners and businesses and probably coined the nickname "Dahlia City." The craze for dahlias eventually waned, however, and by the 1940s both nurseries had closed.
Some of Zionsville's floral legacy has been sadly lost: it appears the dahlia variety Zion's Pride is no longer available in the trade. However, town officials recently named a new road on the south side of town Dahlia Drive to recognize this colorful aspect of the village's history.
Also joining Jo Ellen in studio: landscape architect David Gorden, co-owner of Mark M. Holeman Inc., landscape company.
Jo Ellen, Mark and David will share stories of some of the state's most beautiful landscapes and how they convey a unique sense of place. Among the most culturally significant of these gardens: twenty "Hidden Treasures" that have been placed on the National Register of Historic Places. These include Lindenwood Cemetery in Fort Wayne, Deming Park in Terre Haute, and the Historic New Harmony Labyrinth.
Within the boundaries of Indianapolis, garden lovers can revel in the beauty of Garfield Park, designed by George Kessler, and Oldfields, The estate garden designed by Percival Gallagher of the famed Olmsted Brothers landscape firm.
Yet another important historic garden to explore with Jo Ellen and her guests: the recently restored Riverdale estate landscape designed by Jens Jensen, now part of the campus of Marian University. The Friends of Riverdale raised $1.4 million to restore the century-old landscape that recently won an award from Indiana Landmarks. Riverdale also figures into Hoosier racing history: it is the former estate of James A. Allison, one of the founders of the Indianapolis Motor Speedway.
Also on the agenda for discussion: the value of native plants in Indiana gardens. There's growing interest in these plants as gardeners, urban planners, horticulturist, garden centers, nurseries and landscape architects learn more about the role of native perennials, trees and shrubs in sustainable gardens. A good example is public interest in milkweed, the only family of plants beloved monarch butterflies use to lay their eggs.
They're singing our praises!
"Hoosier History Live is the best Americana-themed show anywhere on radio!"
So says John Guerrasio, a professional actor who lives in London, England. We met John in 2008 when he played a role in the Indiana Repertory Theatre's production of The Ladies Man, a French farce by Georges Feydeau.
Even though he no longer lives in Indiana, John stays current with Hoosier History Live by listening to the show via podcast. He encourages other listeners to do the same - wherever they live. Listening by podcast means you can catch up on old shows, post shows on your social media accounts, and fit your listening to your own schedule.
Just go to hoosierhistorylive.org and look for recent shows linked in bold typeface at the top of the site. For older shows check out our archive page, where podcast links are available along with the original newsletter material for each show. You can also access Hoosier History Live podcasts via Apple's podcast app on your phone or iPad, or many other podcasting apps as well.
Whether you listen live on Saturdays or via podcast, we think you'll agree with John that Hoosier History Live is worth making a part of your day!
Want to support Hoosier History Live?
We offer a permanent and growing archive of quality online content, including easily accessible podcasts available a week after live air. Thanks to associate producer Mick Armbruster for directing our online audio distribution.
If you are interested in becoming a sponsor, click here or call Molly Head at (317) 927-9101. Sponsorship includes logos and links on our enewsletter and website, and voiced credits in the show. You can also of course make an individual contribution on the yellow button on the left side of this page. Support local journalism.

Feedback from our supporters
"...great value to sponsors"
"Hoosier History Live has amassed a vast library of content over the years, both with the show audio and newsletter material. I believe that the Hoosier History Live content has great value to sponsors and advertisers via widespread online distribution. Nowhere else do you find the fresh new material each week, the depth of stories, the richness of detail, and the long-term consistency."
- John McDonald, CEO, ClearObject in Fishers, Indiana, Inc. Magazine's fastest-growing IT company in Indiana for 2014, 2015, 2016 and 2017.
"...always a great show"
"Hoosier History Live is always a great show. We did a small sponsorship as a gesture of support, and I didn't think a little history show would have much impact. But many people mentioned to me that they had heard our credit on the radio."
G.B. Landrigan, Realtor, Certified Residential Specialist
August 2018
"...a great way to represent what I do..."
"I have thoroughly enjoyed my experiences with Nelson Price and the Hoosier History Live team. I feel being on the show was a great way to represent what I do with motorsports history. I am particularly excited by the show's new distribution through a podcast and making it accessible live through the Web."
-Mark Dill, owner, FirstSuperSpeedway.com
July 2018
What people are saying about Hoosier History Live
"Hoosier History really is 'Live'--and 'Lively' as well. The program brings to new audience the delight and wisdom that comes with knowing more of our past and our connections as Hoosiers."
James H. Madison
Emeritus History Professor
Indiana University
"Hoosier History Live does more to promote Indiana history than does any single source."
Andrea Neal, Indianapolis author and educator
"Hoosier History Live is a fun and interesting way to learn about the heart and soul of Indiana. No boring classes or books here! The production team does an outstanding job."
Judy O'Bannon, civic leader and public broadcasting producer
"Distilling life experience into stories is an art. Telling stories of life experience for Hoosiers past and present will shape the lives of young people and enrich the lives of all in our state. Mr. Nelson Price brings alive the life experience of notable Hoosiers in Hoosier History Live."
David T. Wong, Ph.D., President
DT Wong Consulting, LLC
Former Lilly research scientist who developed Prozac
"Nelson Price, more than anyone I know, infuses joy into the pursuit of history. And that joy rings out loud and clear on the radio show, Hoosier History Live."
Marsh Davis
President, Indiana Landmarks
"As museums and educational institutions scramble to make their offerings more interactive, more entertaining and more 'relevant', Hoosier History Live seems to have mastered that formula."
Glynis Worley, rural Bartholomew County listener
"Hoosier History Live is a perfect place to consider and reconsider history ... not just what happened in the past, but what it may mean in the present. Nelson Price is the perfect host: enthusiastic, curious and knowledgeable. Tune in to Hoosier History Live and be prepared to be surprised."
James Still, playwright in residence, Indiana Repertory Theatre
"Hoosier History Live is a fantastic opportunity for people to not only learn about history, but also become a part of the conversation. Much like our mission, the telling of Indiana's stories, Nelson and his guests wonderfully connect people to the past!"
John Herbst
President and CEO, Indiana Historical Society
"The links on the Friday Hoosier History Live enewsletter are a great way to learn more about history, and from a variety of sources."
Jill Ditmire
Omni Media Specialist
"No, I haven't heard of another call-in talk radio show about history. Our airwaves are now full of the worst vitriol! Give me the phone number for the show. I want to call in!"
Ken Burns, speaking at a preview of his film "The War" at Indianapolis Hebrew Congregation, April 18, 2007