January 25, 2020
A collector's guide to Indianapolis memorabilia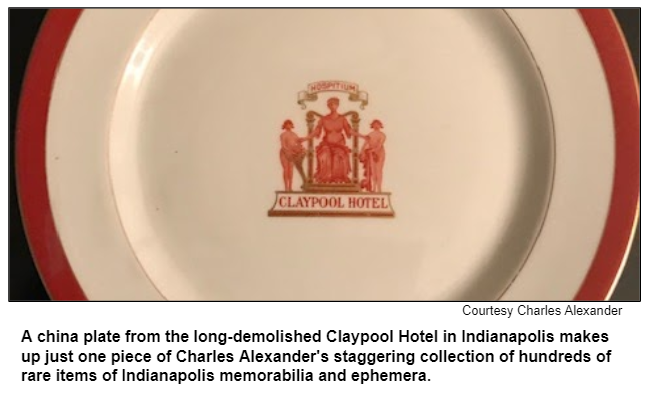 Where do you start in describing a staggering collection of hundreds of rare items of Indianapolis memorabilia and ephemera?
A private collection owned by antiques dealer Charles Alexander includes miniature models of iconic structures like the Soldiers and Sailors Monument; he owns two replicas created as the landmark was being constructed during the 1880s and '90s. The historic models differ in appearance because the monument's design was still evolving.
His private collection also includes historic photos and postcards depicting the Woodruff Place neighborhood and bygone Riverside Amusement Park; architectural sketches of the Murat Shrine Temple (now the Murat Theatre at the Old National Centre) and the World War Memorial; embossed silverware from the long-demolished Claypool and Lincoln hotels; Amaco art pottery made in Speedway during the Great Depression; and yearbooks from Shortridge and Arsenal Tech high schools.
Although Charles owns a booth at Midland Arts & Antiques Market, none of his rare Indianapolis memorabilia and ephemera is for sale there. Or anywhere else.
"I love the Indianapolis collection too much to sell any of it," says Charles, 63, who began collecting artifacts related to his hometown's heritage as a teenager in the early 1970s.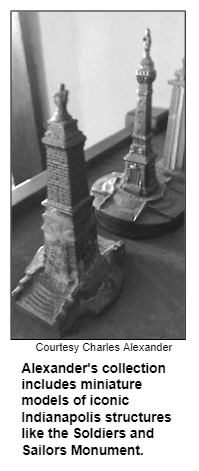 In addition to describing cherished items in his vast collection (it includes 150 dinner spoons from the Indianapolis Athletic Club, long before it was converted into luxury condos), during our show Charles will offer advice for folks who enjoy hunting at garage sales, flea markets, antique booths, auctions and estate sales.
He's been a full-time antiques dealer for more than 35 years. At Midland, he primarily sells china, silverware and vintage furnishings not made in Indianapolis. He also has moonlighted at auction houses including Christy's of Indiana in Indianapolis, Heimel's Auction in Beech Grove and Burgess Auctions in Knightstown. Those gigs often enable him to get first dibs on rare Indy memorabilia to add to his ever-expanding collection.
Some listeners may recall Charles from his memorable appearance on the PBS series Antiques Roadshow when the program was filmed at the Indiana Convention Center in 2000. Charles, who emphasizes that he's not an appraiser, showed up with a rare World War I poster for which he had paid $35. It turned out to be worth an amount that Charles describes as "far, far more than that."
Fortunately, his Arts & Crafts-style house, which was built in 1917 in the Meridian Park neighborhood, has an attic, a basement and spare bedrooms for storage of his Indianapolis memorabilia and ephemera.
Perhaps not surprisingly, Charles has won the History Mystery prize several times on Hoosier History Live, sometimes drawing on knowledge gleaned while finding local treasures.
He also has put his knowledge to use at the Indiana State Fair, where he has judged 18 categories, primarily pottery and china. In addition, Charles has taught classes in antique china, pottery, glass and silver at various auction houses.
He offers up this tidbit of advice for collectors, using the popular Woodruff Place Flea Market as an example:
"Don't go expecting to find a specific item or treasure. Go to Woodruff Place to enjoy the historic neighborhood that it is. If you find something wonderful, that will be the icing."

History Mystery
Riverside Amusement Park, the iconic entertainment center northwest of downtown Indianapolis that opened in 1903, was depicted in dozens of postcards, including some in the collection of guest Charles Alexander. For many decades, among the most popular attractions at Riverside were two massive roller coasters. Children and teenagers often debated which of the two roller coasters was more frightening.
After flourishing for more than 60 years, Riverside closed in 1970. The two dueling roller coasters were removed from the site, along with the other rides and attractions, which included a Ferris wheel, a miniature railroad and a water slide.
Question: Name at least one of the two roller coasters at bygone Riverside Amusement Park.
The call-in number is (317) 788-3314. Please do not call into the show until you hear Nelson pose the question on the air, and please do not try to win the prize if you have won any other prize on WICR during the last two months. You must be willing to give your name and address to our engineer and be willing to be placed on the air.
The prizes this week are a gift certificate to Story Inn in Brown County, courtesy of Story Inn, and two admissions to the Indiana State Museum, courtesy of the Indiana State Museum.
Celebrating a century of women's suffrage
February 1, 2020 - coming up
Studebakers: the brothers, the cars and the legacy
For many generations of South Bend residents, Studebaker Brothers - which later became the Studebaker Corp. - was the largest employer in town.
It all began in 1852 when the two oldest of five Studebaker brothers - Henry and Clement - opened a blacksmith shop, pursuing a trade they had been taught by their father. By the 1880s, Studebaker was the largest maker of vehicles - wagons, carriages and sleds, at that point - in the world.
Then came the heyday of auto production, with models like the Commander, the President, the moderately-priced Erskine and the luxurious Pierce-Arrow during the 1920s; the Land Cruiser in the 1930s; Champion Regal coupes in the 1950s; and the Avanti and the Daytona during the 1960s.
Although the final Studebaker car to be assembled in South Bend rolled off the production line in 1963, thousands of aficionados around the world continue to drive them.
Among the most popular destinations for visitors to South Bend is the three-story Studebaker National Museum, where galleries include exhibits of U.S. presidential carriages. Among the crown jewels displayed at the Studebaker museum: the Barouch carriage that transported the Lincolns to Ford's Theatre on the night of the president's assassination in 1865.
For a motoring excursion through a broad landscape of Studebaker history, our two guests will be:
Andy Beckman of South Bend, the archivist for the Studebaker National Museum and past president of the Society of Automotive Historians. The museum, which has 55,000 square feet and galleries of vintage cars and wagons, also houses the archives of the Studebaker Corp. and other South Bend businesses dating to the 1850s.
Bob Palma of Brownsburg, who writes Studebaker columns for auto collector publications, including Hemmings Classic Car magazine; he also serves as the technical editor for the Studebaker Drivers Club's magazine, Turning Wheels. The owner of a fleet of four Astra white 1964 Daytona models (the last model year of South Bend production), Bob is retired from a career that included teaching auto mechanics at Arsenal Tech High School and editing industrial arts textbooks. During the mid-1950s, his father co-owned a Studebaker dealership.
Family connections have been part of the Studebaker heritage since the beginning. The fortunes of the wagon-making business are said to have been jump-started when John Mohler (J.M.) Studebaker, the third of the five brothers, returned from California to invest in his siblings' company. J.M. (1833-1917) had become wealthy by selling wheelbarrows to miners during the Gold Rush.
At various times, all five Studebaker brothers were involved in the business, although Clement (1831-1901), J.M. and Peter (1836-1897) were most closely associated with it. Clement's mansion, built during the 1880s and christened Tippecanoe Place, is now home to a popular restaurant in South Bend.
During World War II, Studebaker manufactured trucks and other vehicles used by the military. After the war, the company returned to making popular cars for middle-class Americans; our guest Bob Palma notes their 1947 models were touted with the slogan "first by far with a postwar car."
They're singing our praises!
"Hoosier History Live is the best Americana-themed show anywhere on radio!"
So says John Guerrasio, a professional actor who lives in London, England. We met John in 2008 when he played a role in the Indiana Repertory Theatre's production of The Ladies Man, a French farce by Georges Feydeau.
Even though he no longer lives in Indiana, John stays current with Hoosier History Live by listening to the show via podcast. He encourages other listeners to do the same - wherever they live. Listening by podcast means you can catch up on old shows, post shows on your social media accounts, and fit your listening to your own schedule.
Just go to hoosierhistorylive.org and look for recent shows linked in bold typeface at the top of the site. For older shows check out our archive page, where podcast links are available along with the original newsletter material for each show. You can also access Hoosier History Live podcasts via Apple's podcast app on your phone or iPad, or many other podcasting apps as well.
Whether you listen live on Saturdays or via podcast, we think you'll agree with John that Hoosier History Live is worth making a part of your day!
Want to support Hoosier History Live?
We offer a permanent and growing archive of quality online content, including easily accessible podcasts available a week after live air. Thanks to associate producer Mick Armbruster for directing our online audio distribution.
If you are interested in becoming a sponsor, click here or call Molly Head at (317) 927-9101. Sponsorship includes logos and links on our enewsletter and website, and voiced credits in the show. You can also of course make an individual contribution on the yellow button on the left side of this page. Support local journalism.

Feedback from our supporters
"...great value to sponsors"
"Hoosier History Live has amassed a vast library of content over the years, both with the show audio and newsletter material. I believe that the Hoosier History Live content has great value to sponsors and advertisers via widespread online distribution. Nowhere else do you find the fresh new material each week, the depth of stories, the richness of detail, and the long-term consistency."
- John McDonald, CEO, ClearObject in Fishers, Indiana, Inc. Magazine's fastest-growing IT company in Indiana for 2014, 2015, 2016 and 2017.
"...always a great show"
"Hoosier History Live is always a great show. We did a small sponsorship as a gesture of support, and I didn't think a little history show would have much impact. But many people mentioned to me that they had heard our credit on the radio."
G.B. Landrigan, Realtor, Certified Residential Specialist
August 2018
"...a great way to represent what I do..."
"I have thoroughly enjoyed my experiences with Nelson Price and the Hoosier History Live team. I feel being on the show was a great way to represent what I do with motorsports history. I am particularly excited by the show's new distribution through a podcast and making it accessible live through the Web."
-Mark Dill, owner, FirstSuperSpeedway.com
July 2018
What people are saying about Hoosier History Live
"Hoosier History really is 'Live'--and 'Lively' as well. The program brings to new audience the delight and wisdom that comes with knowing more of our past and our connections as Hoosiers."
James H. Madison
Emeritus History Professor
Indiana University
"Hoosier History Live does more to promote Indiana history than does any single source."
Andrea Neal, Indianapolis author and educator
"Hoosier History Live is a fun and interesting way to learn about the heart and soul of Indiana. No boring classes or books here! The production team does an outstanding job."
Judy O'Bannon, civic leader and public broadcasting producer
"Distilling life experience into stories is an art. Telling stories of life experience for Hoosiers past and present will shape the lives of young people and enrich the lives of all in our state. Mr. Nelson Price brings alive the life experience of notable Hoosiers in Hoosier History Live."
David T. Wong, Ph.D., President
DT Wong Consulting, LLC
Former Lilly research scientist who developed Prozac
"Nelson Price, more than anyone I know, infuses joy into the pursuit of history. And that joy rings out loud and clear on the radio show, Hoosier History Live."
Marsh Davis
President, Indiana Landmarks
"As museums and educational institutions scramble to make their offerings more interactive, more entertaining and more 'relevant', Hoosier History Live seems to have mastered that formula."
Glynis Worley, rural Bartholomew County listener
"Hoosier History Live is a perfect place to consider and reconsider history ... not just what happened in the past, but what it may mean in the present. Nelson Price is the perfect host: enthusiastic, curious and knowledgeable. Tune in to Hoosier History Live and be prepared to be surprised."
James Still, playwright in residence, Indiana Repertory Theatre
"Hoosier History Live is a fantastic opportunity for people to not only learn about history, but also become a part of the conversation. Much like our mission, the telling of Indiana's stories, Nelson and his guests wonderfully connect people to the past!"
John Herbst
President and CEO, Indiana Historical Society
"The links on the Friday Hoosier History Live enewsletter are a great way to learn more about history, and from a variety of sources."
Jill Ditmire
Omni Media Specialist
"No, I haven't heard of another call-in talk radio show about history. Our airwaves are now full of the worst vitriol! Give me the phone number for the show. I want to call in!"
Ken Burns, speaking at a preview of his film "The War" at Indianapolis Hebrew Congregation, April 18, 2007