June 24, 2017 show
Ask Nelson - and a top environmentalist, too
A few times each year, Hoosier History Live opens the phone lines for the entire show so listeners can inquire about any aspect of our state's heritage.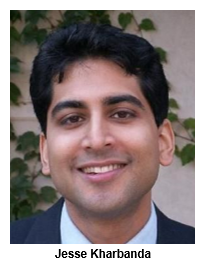 During these shows, host Nelson Price is joined by a co-host with insights to share. With decisions about the Paris Climate Accord sparking responses from Indiana's mayors and other public figures - and development possibilities along the White River igniting much discussion across Central Indiana - listeners will have the chance to ask questions of one of the state's top environmentalists.
Jesse Kharbanda, executive director of the Hoosier Environmental Council, the state's largest environmental policy organization, will be Nelson's co-host. The two will interview each other between phone calls from listeners, who are invited to call in with questions. The WICR-FM studio number is 317-788-3314.
A top issue for discussion between Nelson and Jesse: the White River, which has been a focus of civic leaders since the deepest history of Indianapolis, when founders of the new state capital dreamed of making it navigable for steamboats. An early governor, Noah Noble, even offered a prize of $200 to the first steamboat captain who could reach Indy with cargo. During our show, we will share details about an attempt to navigate the river in 1831 by Gen. Robert Hanna that became the laughingstock known as "Hanna's Folly."
In addition to tracing the history of the White River as a waste receptacle - factories like the former Kingan meat packing plant used it as a garbage dump - the show will explore the cleanup of the river and its Central Canal in recent years. Nelson will be asking Jesse, who has lead the Hoosier Environmental Council since 2007, for his reactions to ideas broached by business leaders and community groups for more retail and recreational use along the waterway. Characterizing the White River as "a largely underused asset," a cover story in the Indianapolis Business Journal last month described how public officials and community leaders have been "quietly traveling to other river cities" such as San Antonio, Texas, and Wilmington, N.C., "to see how they've turned their waterways into community assets."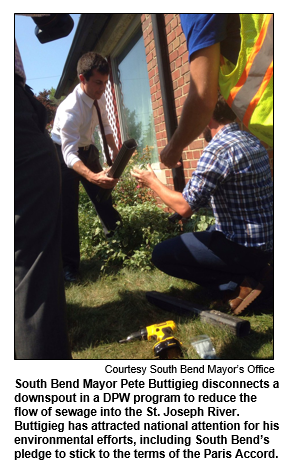 Turning to other environmental concerns, Nelson and Jesse will explore how civic leaders such as Carmel Mayor Jim Brainard, a Republican, and South Bend Mayor Pete Buttigieg, a Democrat, have stepped up their cities' commitments to fighting climate change in response to President Trump's decision to withdraw from the Paris Accord. In the context of these Hoosier state cities' efforts to reduce greenhouse gas emissions, Jesse will discuss the "barriers and promise" of solar energy in Indiana.
Jesse also will share insights about the so-called North Woods, part of Crown Hill Cemetery in Indianapolis until being sold to the Department of Veterans Affairs in 2016 for development as a site for interment of the cremated remains of US veterans. The old-growth forest has been saved thanks to a recent land swap that will allow the VA to develop another area within Crown Hill, and Jesse will discuss local environmental groups' hopes to turn the North Woods' 15-acre plot into a nature preserve for the enjoyment of the public. A Rhodes Scholar, Jesse recently received an honorary doctorate from DePauw University.
The show also will include brief histories of two of the best-known public parks in Indianapolis, Garfield Park on the Southside and Ellenberger Park on the Eastside.
The oldest park in the Indy Parks system, Garfield Park is featured in Nelson's visual history book Indianapolis Then and Now (Pavilion Books, 2015 revised edition). Garfield Park traces its beginnings to 1873, when the city purchased land from civic leaders who had created Southern Park, a harness racetrack, on the site. The park was renamed as a tribute to President James A. Garfield after his assassination in 1881. A conservatory, pagoda and sunken gardens (dedicated in 1916) made the park a popular destination.
Ellenberger Park in the Irvington neighborhood is on 42 acres of heavily-wooded, hilly land once owned by John Ellenberger, a farmer and civic leader of the late 1800s. The park was established in the early 1900s, according to an article about Ellenberger's history published on the Historic Indianapolis website. Urban planner George Kessler, a nationally renowned landscape architect, developed Ellenberger as part of the city's boulevard and park system and linked it via bridge to Pleasant Run Parkway. The first swimming pool at Ellenberger opened in 1930. An ice rink, which was popular for more than 40 years, closed in 2009.
Kessler, the namesake of Kessler Boulevard, primarily was based in St. Louis. That's also where Jesse Kharbanda, Nelson's co-host, grew up. Since moving to Indiana, he has been named by the Indianapolis Business Journal to its "Forty Under 40" roster of rising young business and professional leaders and has been the focus of a cover story in Nuvo Newsweekly. In addition to sharing insights about the White River and other topics during our show, Jesse will discuss the proposed Mounds Greenway, a plan to create a "greenbelt" between Anderson and Muncie.
Primarily, though, the show offers listeners the opportunity to phone in and ask questions of the two co-hosts. Reminder: The call-in number for the WICR-FM studio is 317-788-3314.
History Mystery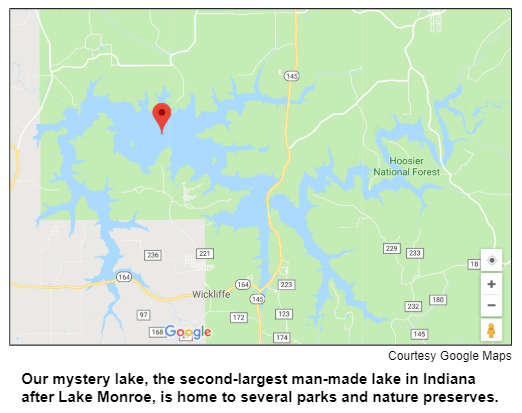 Monroe Lake southeast of Bloomington is the largest lake entirely located in Indiana. But Monroe Lake, a reservoir, is man-made. The largest natural lake entirely located in the state is Lake Wawasee near the town of Syracuse in far-northern Indiana.

Question: What is the state's second largest natural lake?

The call-in number is (317) 788-3314. Please do not call in to the show until you hear Nelson pose the question on the air, and please do not try to win the prize if you have won any other prize on WICR during the last two months. You must be willing to give your name and address to our engineer and be willing to be placed on the air, and you must answer the question on the air. The prize is a gift certificate to Story Inn in Brown County, courtesy of Story Inn, along with a pair of passes to the Indiana History Center in downtown Indianapolis, courtesy of the Indiana Historical Society.
Roadtrip: Squire Boone Village and Caverns near Corydon
Guest Roadtripper and food and travel writer Jane Ammeson suggests a Roadtrip to Squire Boone Village and Caverns. It's tucked away on a dirt road just south of Corydon in southern Indiana, our state's first capital. You'll have an opportunity to explore a cave as well as a restored village that dates back to the early 1800s.
Squire Boone was an explorer and woodsman, famed in his day for his exploits in opening up Indiana and Kentucky to European settlers. In this rural area near the Kentucky border, he established a small village with a gristmill and stores. Squire's older brother, Daniel Boone, achieved a lasting fame (including his own TV show!) after his death, but Squire faded into the mists of history. Or rather, he would have, if two spelunkers had not discovered his bones in a vast underground cave that Squire considered to be almost mystical.
Although Indiana and Kentucky are now peaceful lands, back in the late 1700s when the Boone boys first came here, the area was full of hostile Native Americans who naturally resented the invading frontiersmen. Of the first eight white men to enter Kentucky, Squire and Daniel were the only two to remain alive. And it was Squire who saved his older brother Daniel during one of the skirmishes.
Squire Boone discovered the cave that now bears his name during one of his forays into southern Indiana in 1790. While he was being chased by angry Shawnees, he found the cave and was able to hide there.
Years later, Squire Boone, returning with his wife, four grown sons and their families, constructed the mill, built a house and spent time in the awe-inspiring cave. On the foundation stones of his mill he carved the following inscription: "My God my life hath much befriended, I'll praise Him till my days are ended." Honored by Congress for his service during the Revolutionary War, Boone often found himself in hand-to-hand combat, including at the Battle of Fort Boonesboro. These battles resulted in his being wounded eleven times, including several wounds that were nearly fatal.
Squire Boone, who died at the age of 71, asked his children to bury him in one of the caverns underneath his village. And so they did when he died in 1815.
After his bones were discovered more than 160 years later, a coffin was shaped out of walnut to hold his remains, and it lies in one of the cave's vaults.
Visitors who descend into the cave and move through its rooms, past cascading waterfalls (more than a million gallons of water flow through the cave every day) eventually come into a room where the coffin and a tombstone marker sit in front of a set of bleachers. It is here that the cave guide tells the story of Boone and his cave.
Open to the public since 1973, just recently a new passageway was opened for touring. Squire Boone Caverns has the largest rimstone dam accessible to the public in the United States. You can also see a mill where grain is ground.
July 1, 2017 show - upcoming
Janet Allen, IRT history and the Indiana Theatre
Although Janet Allen has been artistic director of the Indiana Repertory Theatre since 1996, her involvement with the state's acclaimed, professional equity theater company actually extends clear back to 1980.
So Janet's upcoming designation as a Living Legend by the Indiana Historical Society not only provides an opportunity for Hoosier History Live to explore her impact. We also will delve into the evolution of the IRT, which was founded in 1972. The show also will explore the colorful history of the IRT's home, the Indiana Theatre, the Spanish Baroque-style theater that opened as a movie palace in the late 1920s on West Washington Street in downtown Indy.
Since becoming artistic director, Janet has significantly expanded the productions and services at the IRT, which was originally housed at another downtown landmark, the Athenaeum. (The inaugural production in 1972 was a performance of "Charley's Aunt", a farce written in the 1890s.) For 19 years, Janet has worked with the IRT's playwright-in-residence James Still to create 15 new works known as the Indiana Series. James has been a Hoosier History Live guest in connection with several of those Indiana-focused plays. Most recently, he was a guest on a 2015 show in connection with "April 4, 1968," his play about the impact of Bobby Kennedy's historic speech in Indy on the night Dr. Martin Luther King Jr. was assassinated.
Janet began at the IRT as its first dramaturg (literary manager) in 1980, the same year the theater company moved into the space previously occupied by the Indiana Theatre.
Built as the largest cinema in the state in 1927, the six-story Indiana Theatre eventually became the state's first with Panavision, 3-D capability and stereophonic sound. Classic movies such as Ben-Hur (1959) made their city premiere at the movie palace. Cinerama, the motion picture system that kicked off the widescreen trend, premiered at the Indiana Theatre in 1960; audiences were captivated by the extra-wide image projected onto a curved screen. Despite its glorious heritage, the Indiana Theatre deteriorated and was threatened with demolition before undergoing a renovation and reconfiguration to become the IRT's home.

Janet Allen, who lives in a cottage built during the 1850s in downtown Indy, is a native of Illinois. She has studied theater at Illinois State University, Indiana University and Exeter College. Her array of civic and artistic honors includes a Distinguished Hoosier Award.

In addition to Janet, the other Hoosiers who will be named Living Legends this year are Tamika Catchings, the recently retired star of the Indiana Fever who is considered one of the best women basketball players of all time; Mark Miles, president/CEO of Hulman & Co., who previously led the campaign by Indianapolis to host the 2012 Super Bowl; and civic leaders/philanthropists John and Sarah Lechleiter. The Living Legends gala will be at 5:30 pm July 28 at the Eugene and Marilyn Glick Indiana History Center, 450 W. Ohio St.
A note of support
'We hope to see it broadcast far and wide'
A particularly nice letter of support came in some time ago from authors James Alexander Thom and Dark Rain Thom. We like to re-read it from time to time!
To Whom it May Concern:

Last Spring, my wife and I were interviewed by Nelson Price on his Hoosier History radio program, as authors of frontier and Native American history books. Mr. Price's program was so well prepared and conducted that we feel it should be made available to students and general audiences as widely as possible. His program is well-researched, all questions pertinent to the chosen theme, and moves along briskly. Listeners called in with questions and comments that were intelligent and relevant, a sign of an avid audience.

As historical writers, we try to overcome the public's indifference to history, to bring alive in any way we can the important lessons of the past, and are enthusiastic about programs and writings that make those lessons interesting. The Hoosier History Live program does that so well that we hope to see it broadcast far and wide over this historically significant State of Indiana. It is an excellent program, worthy of extensive distribution and strong support.

James Alexander Thom & Dark Rain Thom, authors
Bloomington, Indiana
July 14, 2011
Help keep Hoosier history alive!
Thanks for your support
No, we're not going to rattle a tin cup, but if you'd like to be among those individuals and sponsors who value the fresh perspective that Hoosier History Live offers, please consider clicking the big yellow "Donate" button above, or visit our website's "Support the show" page and make a contribution.
Or, you may make out a check to "Hoosier History Live" and mail it to:
Hoosier History Live
P.O. Box 44393
Indianapolis IN 46244-0393
Your support goes toward our ongoing expenses, including website hosting, email marketing software, audio editing, audio archiving and a long list of other items that a media team of any size must have to keep operations going.
We are a small creative/technical group that keeps our history-journalism reporter, Nelson Price, working - creating an Indiana-history archive that grows each week in heft and value. Nelson gets the interviews, and he gets the facts right.
We have produced more than 400 episodes - and counting - of original Indiana history journalism.
We are swimming against the tide, in a media landscape where ethical and objective reporting, without bias, has for the most part fallen by the wayside.
For questions about becoming an underwriting sponsor (the underwriter level includes logos on our website and newsletter and spoken credits in the live show), contact our producer, Molly Head, at molly@hoosierhistorylive.org, or (317) 927-9101, or Garry Chilluffo, our media+development director, at gchill@hoosierhistorylive.org.
Thanks again to recent individual contributors: Suzann Owen, Roz Wolen, Carol Bacon, Michael J. Quinn, Sr., Jinsie Bingham, Jennifer Smith, Theresa and David Berghoff, Stacia Gorge, Sally Cook, Margaret Smith, Jo Ellen Meyers Sharp, John and Diana Iozzo, Margaret Smith, Tom and Linda Castaldi (Fort Wayne), Peggy Hollingsworth (Connersville), Jane "Janie" Hodge, Lorraine and Richard Vavul, Kathleen Angelone, Richard Vonnegut, Jim and Marjorie Kienle, Georgia Cravey and Jim Lingenfelter, Dennis Arbuckle, Rita Kohn, Don Willsey and Judy O'Bannon, John and Lena Snethen, Juliet Emanuel (New York City), Sharon Butsch Freeland, Daniel Craig, Chuck and Cheryl Hazelrigg, Stacia Gorge, and Jill Chambers.
Please consider taking a moment to support our unique-in-the-world content. No, we are not a non-profit organization - perhaps soon; that is an ongoing discussion - so we are not in a position to offer a tax deduction. Rather, we are simply a tiny corps of Indiana creators, private citizens who each week create an original radio show, newsletter and website about our great state's history.
Your support is our only support!
Volunteers needed
Calendar itemkeeper, listening-group host opportunities
Would you be interested in placing the Hoosier History Live show topic and dates and times and ways to listen on the Bicentennial calendar and various other free community calendars across the state? This is rather detailed online weekly public relations work, but it would help get the word out about our show. If interested, please email molly@hoosierhistorylive.org, and please include your phone number.
Would you be interesting in hosting or facilitating a listening group at Central Library in Indianapolis each week? You would be responsible for being there each week during the live show and making sure a listening device is available. And generally facilitating the discussion. If interested, please email molly@hoosierhistorylive.org, and please include your phone number.
Shows, we got shows
We have more than 400 Hoosier History Live radio shows completed, as a matter of fact. And we need to get show audio onto the website, which we are doing by and by, but we sure could use some sponsorship assistance as we edit and publish audio for each archived show. Take a look at the list below and check out all the opportunities for sponsoring a slice of original Hoosier History Live content on the Web.
No one else is doing anything quite like what we're doing. We are the nation's only live call-in radio program about history. We offer a permanent and growing archive of quality content, available for sponsorship opportunities.
If you are interested in becoming a sponsor of Hoosier History Live, click here or call Molly Head at (317) 927-9101 for more info.
What people are saying about Hoosier History Live
"Hoosier History Live does more to promote Indiana history than does any single source."
Andrea Neal, Indianapolis author and educator
"Hoosier History Live is a fun and interesting way to learn about the heart and soul of Indiana. No boring classes or books here! The production team does an outstanding job."
Judy O'Bannon, civic leader and public broadcasting producer
"The folks at Hoosier History Live are able to find great stories and the people to tell them - people and stories that you seldom hear on the national air."
Dr. James H. Madison, author and Indiana University history professor
"As museums and educational institutions scramble to make their offerings more interactive, more entertaining and more 'relevant' to today's digitally obsessed consumers, Hoosier History Live seems to have mastered that formula."
Glynis Worley, rural Bartholomew County listener
"Hoosier History Live is a perfect place to consider and reconsider history ... not just what happened in the past, but what it may mean in the present. Nelson Price is the perfect host: enthusiastic, curious and knowledgeable. Tune in to Hoosier History Live and be prepared to be surprised."
James Still, playwright in residence, Indiana Repertory Theatre
"Hoosier History Live is a fantastic opportunity for people to not only learn about history, but also become a part of the conversation. Much like our mission, the telling of Indiana's stories, Nelson and his guests wonderfully connect people to the past!"
John Herbst
President and CEO, Indiana Historical Society
"The links on the Friday Hoosier History Live enewsletter are a great way to learn more about history, and from a variety of sources."
Jill Ditmire
Omni Media Specialist
"Distilling life experience into stories is an art. Telling stories of life experience for Hoosiers past and present will shape the lives of young people and enrich the lives of all in our state. Mr. Nelson Price brings alive the life experience of notable Hoosiers in Hoosier History Live."
David T. Wong, Ph.D., President
DT Wong Consulting, LLC
Former Lilly research scientist who developed Prozac
"Nelson Price, more than anyone I know, infuses joy into the pursuit of history. And that joy rings out loud and clear on the radio show, Hoosier History Live."
Marsh Davis
President, Indiana Landmarks
"No, I haven't heard of another call-in talk radio show about history. Our airwaves are now full of the worst vitriol! Give me the phone number for the show. I want to call in!"
Ken Burns, speaking at a preview of his film "The War" at Indianapolis Hebrew Congregation, April 18, 2007