June 12, 2021
Moravian heritage of Hope, Indiana - Encore
Columbus, Ind., in Bartholomew County, south of Indianapolis, is known as a "Modernist Mecca" for its striking examples of midcentury architecture, which draw visitors from far and wide. The nearby small town of Hope in the county's northeast Haw Creek Township is much less well known, but has its own distinctive cultural heritage, which we explore in this encore of a show that originally aired in September of 2016. The show is guest-hosted by Hoosier History Live producer Molly Head.
Hope was founded in 1830 by Protestant Moravian Martin Hauser. Like many persecuted religious minorities seeking autonomy and religious freedom, Moravians moved into different parts of Europe and on to America, where they settled mostly in North Carolina and Pennsylvania. German was the language spoken by Moravians coming to America.
As Hope was originally founded, the church owned and ran the town. Somewhat similar to social experiments in New Harmony with communal property, the "congregational town" concept ended in Hope in 1837 when the town was opened up to individual property ownership, and non-Moravians also were allowed to settle there.
Some early residents of Hope were descendants of the settlers of the ill-fated Moravian Mission that operated near Anderson, Ind., along the White River, from 1801 to 1806. The mission's purpose was to bring Christianity to the Native Americans in the area. The mission members and its Native American "converts" were met with strong resistance by local tribes, and in particular by The Prophet, or Tenskwatawa, the brother of Shawnee leader Tecumseh. The Prophet, full of his own religious zeal, carried out "witch hunts" against converted Native Americans, and the Moravian missions in the area eventually disappeared.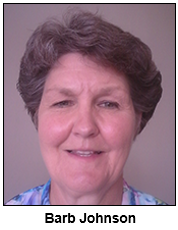 The Hope Moravian Church, founded in 1830 and originally housed in a log cabin on the town square, remains the only Moravian Church in Indiana. Many of its traditions continue today, such as display of the "putz," or elaborate Christmas scene in miniature, in the church at Christmastime, the tradition of hanging Moravian stars, and the making of Moravian sugar cakes, a type of sweet, raised coffee cake widely sold at local festivals.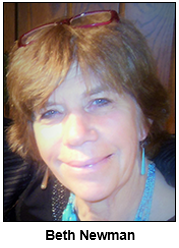 Since the 1830s, Hope Moravians have also gathered in God's Acre, the historic section of the Hope Moravian Church Cemetery, for the Easter Sunrise Service, which includes a trombone choir and a processional by all church members that involves singing songs and watching the sunrise.
Molly's guests include two retired Hope elementary school teachers who also are great storytellers: Barb Johnson and Beth Newman. Both Barb and Beth have taught 4th-grade Indiana history and also have played the role of schoolmarms at the Simmons School, which is a brick one-room schoolhouse that was moved from its original location in the country to the back yard of the Hope Elementary School in 1989. Guests Barb and Beth are also involved in the Yellow Trail Museum, the history museum located on the town square. Much of downtown Hope and surrounding residential areas is listed on the National Register of Historic Places.
Editor's note: Since the original airing of this show in 2016, Barb Johnson has passed away.
June 19, 2021 - Coming up
Paul Page on motorsports broadcasting and some wild rides
Not only did he recover from a harrowing helicopter crash that almost struck Speedway High School in 1977, he also had to cope earlier that year with the suicide of his mentor, Sid Collins, the original "Voice of the Indy 500" on the Indianapolis Motor Speedway Radio Network.
Veteran motorsports broadcaster Paul Page - who was inducted into the IMS Hall of Fame last month - will be Nelson's guest to share insights from his eventful life, including his close friendship with three-time Indy 500 winner Bobby Unser, who died in May at age 87. Unser periodically had been Paul's sidekick in the broadcast booth on both radio and TV.
Paul, 75, who semi-retired in 2016 but still can be frequently heard on the airwaves (sometimes billed as the "Voice Emeritus"), had a multi-faceted career that stretched beyond commentating about auto-racing and other sports. As a news reporter in April 1968, he was standing only a few feet from Bobby Kennedy when he made a historic speech in Indianapolis about Martin Luther King Jr.'s assassination.
These episodes - including his stint as a licensed paramedic (he participated in many emergency runs) - are described in Paul's new autobiography, Hello I'm Paul Page: It's Race Day in Indianapolis (Cardinal Publishing).
The book opens with the plummeting of the helicopter - a news chopper for WIBC Radio - in 1977 with Paul and two others aboard. Although all of them survived the crash of the aircraft onto the football field at Speedway High (the helicopter narrowly missed the school building), Paul suffered severe leg injuries and endured a long recovery.
After his return to broadcasting, he landed gigs with national TV and radio networks - including NBC Sports, ESPN and ABC Sports - and covered sports ranging from fencing to Sumo wrestling.
First and foremost, though, Paul always will be identified with motorsports broadcasting, particularly the Indy 500, which, he writes, has been his "obsession" since he first visited the Speedway as a 15-year-old in 1960.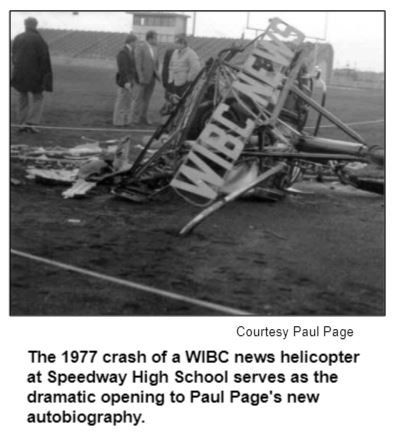 His enthusiasm has never waned, even during the 1973 race, generally considered one of the most disastrous in Indy 500 history. With massive crashes, two driver fatalities (as well as the death of a pit crew member) and weather delays that meant it took three days to complete, the 1973 race is described in Paul's new book. He also writes about his unexpected friendship that developed four decades later with the daughter of driver Swede Savage, who was among the 1973 fatalities. Paul escorted Savage's daughter, Angela, when she visited the Speedway in 2014, including to the site of her father's horrific crash.
During our show, Paul will discuss the 1973 race as well as his interviews with iconic drivers, including four-time winner A.J. Foyt, who is renowned for being, as Paul puts it, "intimidating." But he also describes episodes - including an incident that unfolded at Foyt's ranch in Texas where Paul was a houseguest - that demonstrate the driver's compassionate side.
In 1977, Paul and a colleague discovered the body of his mentor, Sid Collins, who had taken his own life. During the early 1950s, Collins had developed the concept for the IMS Radio Network and was able to convince long-time Speedway owner Tony Hulman of its merit.
In his book, Paul praises Hulman (1901-1977) for his kindness. He also celebrates the inclusive spirit of the Indy 500:
"It's a place for everyone: the wealthiest sponsors, owners and stars; the middle-class ticket holders, and the blue-collar fans in the infield."

Copyright 2021
What people are saying about Hoosier History Live
"... an intelligent, well-researched program..."
"I've loved listening to Hoosier History Live during the pandemic as an intelligent, well-researched program to escape the news for an hour."


-Lee Little, JD, MLS, Research Librarian, Indiana University
"...'Live' - and 'Lively' as well..."
"Hoosier History really is 'Live' - and 'Lively' as well. The program brings to new audiences the delight and wisdom that comes with knowing more of our past and our connections as Hoosiers."
James H. Madison, Emeritus History Professor, Indiana University
"... a compelling and engaging media project..."
"Molly Head and Nelson Price are Indiana-based visionaries who have created a compelling and engaging media project with Hoosier History Live. Podcasts, website, enewsletter, and live call-in radio show; it's all there!"


- Keira Amstutz, President and CEO, Indiana Humanities
"...a great way to represent what I do..."
"I have thoroughly enjoyed my experiences with Nelson Price and the Hoosier History Live team. I feel being on the show was a great way to represent what I do with motorsports history. I am particularly excited by the show's new distribution through a podcast and making it accessible live through the Web."
-Mark Dill, owner, FirstSuperSpeedway.com



"...great value to sponsors..."
"Hoosier History Live has amassed a vast library of content over the years, both with the show audio and newsletter material. I believe that the Hoosier History Live content has great value to sponsors and advertisers via widespread online distribution. Nowhere else do you find the fresh new material each week, the depth of stories, the richness of detail, and the long-term consistency."
- John McDonald, CEO, ClearObject in Fishers, Indiana, Inc. Magazine's fastest-growing IT company in Indiana for 2014, 2015, 2016 and 2017.
"...best Americana-themed show..."
"Hoosier History Live is the best Americana-themed show anywhere on radio!"
- John Guerrasio, former IRT actor
"...always a great show"
"Hoosier History Live is always a great show. We did a small sponsorship as a gesture of support, and I didn't think a little history show would have much impact. But many people mentioned to me that they had heard our credit on the radio."
G.B. Landrigan, Realtor, Certified Residential Specialist

"I love the podcasts..."
"I love the podcasts! I work on Saturdays and cannot always hear the live broadcasts. Sometimes I also like to listen a second time."


- Terri Gorney, Fort Wayne listener
"...fun and interesting..."
"Hoosier History Live is a fun and interesting way to learn about the heart and soul of Indiana. No boring classes or books here! The production team does an outstanding job."
Judy O'Bannon, civic leader and public broadcasting producer
"...does more to promote Indiana history..."
"Hoosier History Live does more to promote Indiana history than does any single source."
Andrea Neal, Indianapolis author and educator
"...infuses joy into the pursuit of history..."
"Nelson Price, more than anyone I know, infuses joy into the pursuit of history. And that joy rings out loud and clear on the radio show, Hoosier History Live."
Marsh Davis, President, Indiana Landmarks
"...enthusiastic, curious and knowledgeable..."
"Hoosier History Live is a perfect place to consider and reconsider history ... not just what happened in the past, but what it may mean in the present. Nelson Price is the perfect host: enthusiastic, curious and knowledgeable. Tune in to Hoosier History Live and be prepared to be surprised."
James Still, playwright in residence, Indiana Repertory Theatre
"...a great way to learn more about history..."
"The links on the Friday Hoosier History Live enewsletter are a great way to learn more about history, and from a variety of sources."
Jill Ditmire, Omni Media Specialist
"...I want to call in!

..

"No, I haven't heard of another call-in talk radio show about history. Our airwaves are now full of the worst vitriol! Give me the phone number for the show. I want to call in!"

Ken Burns, speaking at a preview of his film "The War" at Indianapolis Hebrew Congregation, April 18, 2007
"...interactive, more entertaining and more 'relevant'..."
"As museums and educational institutions scramble to make their offerings more interactive, more entertaining and more 'relevant', Hoosier History Live seems to have mastered that formula."
Glynis Worley, rural Bartholomew County listener
Podcast Listening 101: The Basics
We still broadcast live every Saturday on WICR 88.7, but more and more of our listeners are getting their Hoosier History Live shows by podcast - and it's easier than ever!
It's really this simple: If you have a smartphone, go to the Google search engine, click on the microphone button, and say "Hoosier History Live podcasts." Or if you don't use the microphone, type in the words "Hoosier History Live podcasts" at the Google search bar.You'll immediately get a list of recent shows to choose from. Click on one of them - and let the listening begin!
If you have a preferred podcast provider like Apple Podcasts or Stitcher, you can use their search function to call up Hoosier History Live as well. When you see our yellow Hoosier History Live logo, just click on the episode you want to listen to.
And don't forget to share! You can post links to our podcast on your social media page or send them by email or text.