July 30 show
Bicentennial: today's projects, yesterday's innovators
As Indiana celebrates its 200th birthday, Hoosier History Live periodically has been exploring a range of topics associated with the milestone.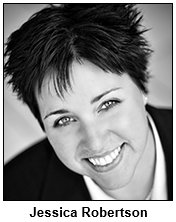 During this show, we will share updates about the major capital projects involved with the Bicentennial, including the creation of a Bicentennial Plaza at the Indiana Statehouse, and the plans to construct a building for the Indiana State Archives, which have been housed in a warehouse on the eastside of Indy - and vulnerable to deterioration.
We also will look at historic innovators with Indiana connections who are being honored in grassroots festivities across the state. They include engineer Octave Chanute, whose experiments with gliders on the Indiana Dunes during the 1890s inspired the Wright Brothers.
Our guests will include Perry Hammock, executive director of the Indiana Bicentennial Commission. He recently participated in an event in northwest Indiana honoring Chanute (1832-1910), who was born in Paris and was based in Chicago for many years. But Chanute conducted many of his most significant experiments with gliders at the Dunes near Miller Beach on Lake Michigan.
Nelson's guests also will include Jessica Robertson, the commissioner of the Indiana Department of Administration, which is overseeing the Bicentennial's major capital projects.
According to Perry Hammock, the Bicentennial Plaza originally was envisioned as a Centennial Plaza to salute the state's 100th birthday in 1916. Perry will share details about the evolution of the plaza, which will be the setting for a major, multi-sensory event - the Bicentennial Hoosier Homecoming - on Oct. 15. The festivities will include the return of the Bicentennial torch after it has traveled to all 92 counties.
Speaking of the torch: We will share details about the Hoosiers selected as torch bearers during its route, which begins Sept. 9 in Corydon. According to news accounts, the carriers total nearly 2,000 Hoosiers, including some who have been Hoosier History Live guests, such as filmmaker Angelo Pizzo of Hoosiers and Rudy fame.
In May 2015, Indiana State Archivist Jim Corridan and Stephen Towne, president of the Friends of the State Archives, joined Nelson for a show that explored the range of material (from the two Indiana Constitutions to prison records of John Dillinger) that is housed in the archives. The guests also discussed the dire need for a climate-controlled building to house the archives, following an appropriation of $25 million by the legislature. According to recent news accounts, the most likely site is located near the IUPUI campus.
Our previous shows exploring aspects of the Bicentennial have included a program last January with Perry Hammock and First Lady Karen Pence, the official Bicentennial ambassador, as Nelson's studio guests.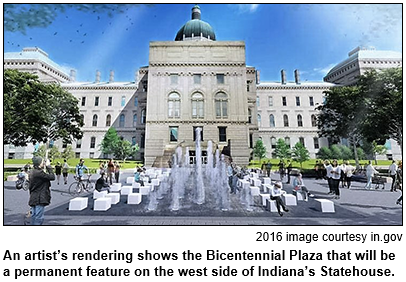 With Perry and Jessica, who oversees more than 200 state employees, we will explore - in addition to the Bicentennial Plaza and the planned archives building - the $2.5 million Statehouse Education Center that is being created in the Indiana State Library. The welcome center for visitors to the Indiana State Capitol is expected to be 1,800 square feet with exhibits; according to Perry, the idea for an education center dates to earlier restorations of the statehouse.
Bicentennial celebrations across the state are saluting historic innovators with Indiana connections. In addition to Chanute, whose 32-pound glider flew 480 feet and landed in Lake Michigan in 1896, we will explore:
Fort Wayne native Marion Donovan, a mother of two credited with inventing diapers with waterproof covers. During the 1940s, she was frustrated with the frequency that she needed to change her children's cloth diapers. Not only did she create a waterproof diaper (using a shower curtain), she eventually designed one with snap fasteners that replaced safety pins. Her diapers were patented in 1951.
Connersville native Howard Garns (1905-1989), an architect who loved puzzles. In the 1970s, he published (without bylines) puzzles that eventually gained popularity in Japan. According to the Bicentennial Commission, some of his puzzles in Japan were renamed Sudoko; Garns had died by the time they became internationally famous in the early 21st century.
And Ermal Cleon Fraze, a Delaware County native who invented a way to attach pull tabs to the tops of beer and soft drink cans. (According to folklore, Fraze was frustrated in 1959 at a picnic without can openers.) He sold the rights to his invention to the Aluminum Company of America.
Additional editorial assistance by Heather Kaufman-McKivigan.
Roadtrip: Marquette Park on Lake Michigan
Guest Roadtripper Suzanne Stanis of Indiana Landmarks will tell us about an impressive park along Lake Michigan in the Miller Beach area of Gary with ties to Octave Chanute.
Since its construction in the 1920s, Marquette Park, in the Miller Beach section of Gary, has seen countless weddings, proms, graduation parties and impromptu gatherings big and small. However, as Gary declined beginning in the late 1960s, so did its largest park. But thanks to a series of repairs and restoration work largely performed, the celebrations are back - and in a big way.
Two buildings dominate the landscape at Marquette Park: the Marquette Park Pavilion (opened as the Recreation Pavilion in 1924) and the Aquatorium (opened as the Gary Bathing Beach Pavilion in 1922), both designed by George W. Maher. The Pavilion features a combination of Prairie School and Italian Revival Styles, while the Aquatorium is a model of the Neoclassical Style.
The Aquatorium also houses a museum exhibit commemorating Octave Chanute - a French aviation pioneer who flight-tested his craft from the Gary dunes years before the Wright brothers' flight at Kitty Hawk - and the Tuskegee Airmen, a World War II-era African-American U.S. Army Air Forces squadron that trained at Chanute Air Force base in Illinois.
History Mystery
The Bicentennial torch relay, which begins Sept. 9, will go through all 92 counties in Indiana.
The county with the largest population is Marion County, the home of Indianapolis. But Marion County is not the largest county in terms of geographic size.
Question: Which of our counties is the largest in land size?
Hint: It's not in central Indiana.
To win the prize, you must call in with the correct answer during the live show and be willing to be placed on the air and be willing to give your contact info to our engineer. The call-in number is (317) 788-3314, and please do not call until you hear Nelson pose the question on the air. Please do not call if you have won a prize from any WICR show during the last two months.
The prize pack is a food and drink tour of downtown Indy, including gift certificates to Tin Roof, Bee Coffee Roasters and Sun King Brewery, all courtesy of Visit Indy.
Other side of the mic
Host Nelson Price to appear on WICR's Legally Speaking show
On Saturday, July 30, tune in to WICR-FM (88.7) one hour prior to Hoosier History Live to listen to Legally Speaking, the call-in legal advice show hosted by our friend, attorney Charles Braun.
Nelson will be Charles' guest to share insights about historic Indiana trials and court proceedings. Legally Speaking runs from 11 to 11:30 a.m.
Nelson will discuss the impact of some trials and court proceedings that have been the focus of Hoosier History Live shows; others are explored in Nelson's various books.
Our intrepid show host plans to talk about the trial resulting from the infamous Massacre at Fall Creek in 1824. For the first time in U.S. history, whites were convicted and executed for the slaughter of Native Americans as a result of the massacre near Pendleton. An alcohol-fueled mob slaughtered nine Seneca Indians, including women and children.
Nelson also will share insights about the trial during the 1920s that helped end the Ku Klux Klan stranglehold on Indiana politicians; KKK leader D.C. Stephenson was convicted of second-degree murder at the trial in Noblesville that involved an all-white, all-male jury.
Also during Legally Speaking, Nelson will discuss the so-called "trial of the century" in Indianapolis during the late 1950s. The lurid case involved a top business executive who was shot to death (in what was called "the Murder at the Meadows") by one of his two mistresses; the crime and resulting trial drew international attention.
We also will hear Nelson's insights about court proceedings during the 1980s that resulted from the crusade by Kokomo teenager Ryan White to attend school despite his AIDS diagnosis.
Thanks!
Underwriting the project
We are not staff members of any organization; rather, we are a small, independent production group trying to keep Hoosier History Live on the air, on the web and in your inbox. Your gift goes primarily to support those individuals who are working so hard on the project, as well as to help defray the costs of maintaining our website, our email marketing software and our audio editing costs.
If you believe in supporting local artists, writers, historians and performers, look no further!
It takes only seconds to help us out. Just click the yellow "Donate" button, above. Or, if you prefer the paper method, you may make out a check to "Hoosier History Live" and mail it to Hoosier History Live, P.O. Box 44393, Indianapolis, IN 46244-0393.
We also try to maintain some of those old-fashioned journalism principles about trying to keep editorial content separate from financial contributions.
For questions about becoming an underwriting sponsor (the underwriter level includes logos on our website and newsletter and spoken credits in the live show), contact our producer, Molly Head, at molly@hoosierhistorylive.org, or (317) 927-9101, or Garry Chilluffo, our media+development director, at gchill@hoosierhistorylive.org.
Also, the Irvington Library Listening Group continues to meet on a regular basis from noon to 1 p.m. on Saturdays to listen to and discuss the live show. If you think you would enjoy listening with fellow history lovers, just stop by the library at 5626 E. Washington St. in Indianapolis and ask for the listening group.
If you are interested in forming your own listening group, all you need is a relatively quiet room with comfortable chairs and either a radio or an online listening device. A weekly listening group is an easy way to get "regulars" into your organization or place of business.
The Central Library in Indianapolis is willing to provide a space for a listening group if someone would volunteer to host the group. For more info, contact producer Molly Head.
Aug. 6 show
Unheralded historic Olympians from Indiana
As the 2016 Summer Olympics kickoff in Rio de Janeiro, many links between Indiana athletes and the Olympic games are well remembered.
The gold-medal winning "Dream Team" of U.S. basketball players at the 1992 Barcelona Olympics included Larry Bird and Indiana Pacer Reggie Miller. At the 1960 Rome Olympics, Oscar Robertson was the star of the triumphant U.S. team.
Who can forget the connections between swimmer Mark Spitz, the sensation of the 1972 Munich Olympics, and Indiana University? Greenfield native Jaycie Phelps was just 16 years old when, as a member of the "Magnificent Seven" team during the 1996 Atlanta Olympics, she won a gold medal in gymnastics.
So rather than exploring those well-remembered Olympians, Hoosier History Live will dig deeper. With two Indiana-based sports historians as Nelson's studio guests, we will spotlight the Olympic careers and colorful lives of other Hoosiers dating back nearly to the beginning of the modern-era Olympics in 1896.
We will explore Hoosiers ranging from a Lafayette track and field star believed to be the first Hoosier to compete in the Olympics - he overcame childhood polio to win gold medals at the 1900 Olympics and subsequent games - to a North Central High School graduate who was part of the U.S. women's relay team that won gold in Atlanta in 1996.
Our guests will be Indianapolis-based author and sportswriter Pete Cava, a member of the International Society of Olympic Historians, and Greenwood-based journalist and TV producer Dan O'Brien. With Nelson, they will explore historic Olympians, including:
If those Olympians - as well as others from Indiana whom we will explore during the show - are not enough to whet your appetite, our guest Pete Cava will share insights about an astounding "drought" for the U.S.A. in a track event. Americans have not won the 1,500 meters (the so-called "metric mile") since their championship team took home the gold in 1906. That long-forgotten team included James Lightbody, a track star who attended high school in Muncie.
Celebration!
8-year soiree on Feb. 25 was historical fun
Photos continue to roll in from the Feb. 25 Hoosier History Live party to celebrate our 8 years on the air. This week's featured image is of Indianapolis Mayor Joe Hogsett with the four fine young musicians of the Herron String Quartet who provided such lovely music in the entry hall at Indiana Landmarks Center as the event got under way.
If you have a good photo that you would allow us to use for publication in our e-newsletter and website, please consider emailing it to us at news@hoosierhistorylive.org. Do include the name that is to receive credit.
Thanks again to corporate supporters Indiana Landmarks and Jacquie's Gourmet Catering, as well as event sponsor Core Redevelopment.
Thanks also to individual contributors Anne Laker, Jim and Marjorie Kienle, Dennis Arbuckle, Joe Young, Kathleen Angelone, J. Scott Keller, Jennifer Q. Smith of AvantGarb, Georgia Cravey and Jim Lingenfelter, Barbara and Michael Homoya, Margaret Smith, Peggy Hollingsworth, Lorraine Vavul, Rita Kohn and William McNiece.
Presenters included CEO of Indiana Landmarks Marsh Davis, Indianapolis Mayor Joe Hogsett, WICR program director Henri Pensis and Indiana Bicentennial Commission Executive Director Perry Hammock, as well as host Nelson Price and producer Molly Head of Hoosier History Live.
Catering was provided by Jacquie's Gourmet Catering, and entertainment was provided by Shirley Judkins, Herron High School String Quartet and Janet Gilray of Voices in Time. Thanks to corporate supporters Indiana Landmarks and Core Redevelopment.
As a nod to the many Indiana ethnic heritage shows produced by Hoosier History Live over the years, guests were invited to dress to portray their ethnic heritage. A shout-out to the Scots, Greeks, and Germans in attendance! And thanks to Jan Wahls for portraying May Wright Sewall.
Your encouragement and participation, on all fronts and in myriad ways, are what keep us going - on the air, in your in-box and on the web. Thanks!
Volunteers needed
Calendar itemkeeper, listening-group host opportunities
Would you be interested in placing the Hoosier History Live show topic and dates and times and ways to listen on the Bicentennial calendar and various other free community calendars across the state? This is rather detailed online weekly public relations work, but it would help get the word out about our show. If interested, please email molly@hoosierhistorylive.org, and please include your phone number.
Would you be interesting in hosting or facilitating a listening group at Central Library in Indianapolis each week? You would be responsible for being there each week during the live show and making sure a listening device is available. And generally facilitating the discussion. If interested, please email molly@hoosierhistorylive.org, and please include your phone number.
A note of support
'We hope to see it broadcast far and wide'
A particularly nice letter of support came in some time ago from authors James Alexander Thom and Dark Rain Thom. We like to re-read it from time to time!
To Whom it May Concern:

Last Spring, my wife and I were interviewed by Nelson Price on his Hoosier History radio program, as authors of frontier and Native American history books. Mr. Price's program was so well prepared and conducted that we feel it should be made available to students and general audiences as widely as possible. His program is well-researched, all questions pertinent to the chosen theme, and moves along briskly. Listeners called in with questions and comments that were intelligent and relevant, a sign of an avid audience.

As historical writers, we try to overcome the public's indifference to history, to bring alive in any way we can the important lessons of the past, and are enthusiastic about programs and writings that make those lessons interesting. The Hoosier History Live program does that so well that we hope to see it broadcast far and wide over this historically significant State of Indiana. It is an excellent program, worthy of extensive distribution and strong support.

James Alexander Thom & Dark Rain Thom, authors
Bloomington, Indiana
July 14, 2011
Shows, we got shows
We have more than 300 Hoosier History Live! radio shows completed, as a matter of fact. And we need to get show audio onto the website, which we are doing by and by, but we sure could use some sponsorship assistance as we edit and publish audio for each archived show. Take a look at the list below and check out all the opportunities for sponsoring a slice of original Hoosier History Live! content on the Web.
No one else is doing anything quite like what we're doing. We are the nation's only live call-in radio program about history. We offer a permanent and growing archive of quality content, available for sponsorship opportunities.
If you are interested in becoming a sponsor of Hoosier History Live!, click here or call Molly Head at (317) 927-9101 for more info.
What people are saying about Hoosier History Live!
"Hoosier History Live does more to promote Indiana history than does any single source."
Andrea Neal, Indianapolis author and educator
"Hoosier History Live is a fun and interesting way to learn about the heart and soul of Indiana. No boring classes or books here! The production team does an outstanding job."
Judy O'Bannon, civic leader and public broadcasting producer
"The folks at Hoosier History Live! are able to find great stories and the people to tell them - people and stories that you seldom hear on the national air."
Dr. James H. Madison, author and IU history professor
"As museums and educational institutions scramble to make their offerings more interactive, more entertaining and more 'relevant' to today's digitally obsessed consumers, Hoosier History Live! seems to have mastered that formula."
Glynis Worley, rural Bartholomew County listener
"Hoosier History Live! is a perfect place to consider and reconsider history ... not just what happened in the past, but what it may mean in the present. Nelson Price is the perfect host: enthusiastic, curious and knowledgeable. Tune in to Hoosier History Live! and be prepared to be surprised."
James Still, playwright in residence, Indiana Repertory Theatre
"Hoosier History Live! is a fantastic opportunity for people to not only learn about history, but also become a part of the conversation. Much like our mission, the telling of Indiana's stories, Nelson and his guests wonderfully connect people to the past!"
John Herbst
President and CEO, Indiana Historical Society
"The links on the Friday Hoosier History Live! enewsletter are a great way to learn more about history, and from a variety of sources."
Jill Ditmire
Omni Media Specialist
"Distilling life experience into stories is an art. Telling stories of life experience for Hoosiers past and present will shape the lives of young people and enrich the lives of all in our state. Mr. Nelson Price brings alive the life experience of notable Hoosiers in Hoosier History Live!"
David T. Wong, Ph.D., President
DT Wong Consulting, LLC
Former Lilly research scientist who developed Prozac
"Nelson Price, more than anyone I know, infuses joy into the pursuit of history. And that joy rings out loud and clear on the radio show, Hoosier History Live!"
Marsh Davis
President, Indiana Landmarks
"No, I haven't heard of another call-in talk radio show about history. Our airwaves are now full of the worst vitriol! Give me the phone number for the show. I want to call in!"
Ken Burns, speaking at a preview of his film "The War" at Indianapolis Hebrew Congregation, April 18, 2007