March 6, 2021 - coming up
Women, the Indiana General Assembly and state officials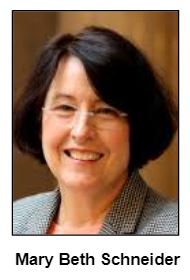 As Hoosier History Live salutes Women's History Month, we will explore a range of aspects associated with women who have served in the Indiana General Assembly and as state and federal officials from the Hoosier state.
What questions have been asked of women candidates for public office that have not been posed to their male counterparts? What's been the percentage of female lawmakers at the Indiana Statehouse? Why has Indiana's lieutenant governor frequently been a woman during the last 20 years, but a woman never has served as governor?
Not only will we delve into those questions, we even will look at the number of women honored with statues and marble busts at the Indiana Capitol Building, compared with those that commemorate men.
The latter issue was the focus of a column a few years ago by the acclaimed, retired political journalist who will be Nelson's guest in this show on women's history in Indiana. Beginning in 1991, Mary Beth Schneider covered every session of the General Assembly for the Indianapolis Star until 2013. She also covered national political conventions, presidential debates and the caucuses and primaries in Iowa, New Hampshire and other states.
During her career at the Star, which began in 1979, Mary Beth covered a variety of other beats and served as an assistant city editor; in 2019 and 2020, she wrote a weekly political column and edited stories for TheStatehouseFile.com, a news service run by Franklin College students.
According to state legislative records, women lawmakers make up about 21 percent of the current General Assembly. Of the nine members of the U.S. Congress from Indiana, two are women. Since 2003, when Gov. Joe Kernan appointed Kathy Davis, a Democrat from Indianapolis, as the first women lieutenant governor in Indiana's history (her successor, Becky Skillman, a Republican from Bedford, became the first woman elected to the position, serving two terms under Gov. Mitch Daniels), the state's No. 2 post has been held by a woman except for about nine months in 2016. That's when current governor Eric Holcomb had the job.
Some history facts:
Podcast Listening 101: The Basics
We still broadcast live every Saturday on WICR 88.7, but more and more of our listeners are getting their Hoosier History Life shows by podcast - and it's easier than ever!
It's really this simple: If you have a smartphone, go to the Google search engine, click on the microphone button, and say "Hoosier History Live podcasts." Or if you don't use the microphone, type in the words "Hoosier History Live podcasts" at the Google search bar.You'll immediately get a list of recent shows to choose from. Click on one of them - and let the listening begin!
If you have a preferred podcast provider like Apple Podcasts or Stitcher, you can use their search function to call up Hoosier History Live as well. When you see our yellow Hoosier History Live logo, just click on the episode you want to listen to.
And don't forget to share! You can post links to our podcast on your social media page or send them by email or text.

Get involved with Hoosier History Live!
Would you like to contribute prizes for our History Mystery? It's a great public relations move for your business or organization. Hoosier History Live listeners are an educated, sophisticated bunch - just the kind of customers or supporters you'd like to reach.
If you would like to contribute a History Mystery prize, we prefer items that can be mailed in a standard business envelope, such as a gift certificate or tickets.
Also, we are looking for a downtown or southside (near UIndy) restaurant that would like to host our show guests for lunch about 1:30 pm Saturdays after the live show. In exchange we will offer show underwriting.
And finally, if you would like to start a listening group to listen to the live show Saturday from noon to 1, it's a fun way to get people into your business or organization. Great for libraries, small businesses, and senior centers, too. All you need is a quiet room and a listening device. And an organizer.
Interested in any of these ideas? Contact molly@hoosierhistorylive.org for details.
Feedback from our supporters
"I love the podcasts..."
"I love the podcasts! I work on Saturdays and cannot always hear the live broadcasts. Sometimes I also like to listen a second time."


- Terri Gorney, Fort Wayne listener
"... a compelling and engaging media project..."
"Molly Head and Nelson Price are Indiana-based visionaries who have created a compelling and engaging media project with Hoosier History Live. Podcasts, website, enewsletter, and live call-in radio show; it's all there!"


- Keira Amstutz, President and CEO, Indiana Humanities
"...best Americana-themed show..."
"Hoosier History Live is the best Americana-themed show anywhere on radio!"
-John Guerrasio, former IRT actor
"...great value to sponsors..."
"Hoosier History Live has amassed a vast library of content over the years, both with the show audio and newsletter material. I believe that the Hoosier History Live content has great value to sponsors and advertisers via widespread online distribution. Nowhere else do you find the fresh new material each week, the depth of stories, the richness of detail, and the long-term consistency."
- John McDonald, CEO, ClearObject in Fishers, Indiana, Inc. Magazine's fastest-growing IT company in Indiana for 2014, 2015, 2016 and 2017.
"...always a great show"
"Hoosier History Live is always a great show. We did a small sponsorship as a gesture of support, and I didn't think a little history show would have much impact. But many people mentioned to me that they had heard our credit on the radio."
G.B. Landrigan, Realtor, Certified Residential Specialist

"...a great way to represent what I do..."
"I have thoroughly enjoyed my experiences with Nelson Price and the Hoosier History Live team. I feel being on the show was a great way to represent what I do with motorsports history. I am particularly excited by the show's new distribution through a podcast and making it accessible live through the Web."
-Mark Dill, owner, FirstSuperSpeedway.com

"...'Live'--and 'Lively' as well..."
"Hoosier History really is 'Live'--and 'Lively' as well. The program brings to new audiences the delight and wisdom that comes with knowing more of our past and our connections as Hoosiers."
James H. Madison, Emeritus History Professor, Indiana University
"...does more to promote Indiana history..."
"Hoosier History Live does more to promote Indiana history than does any single source."
Andrea Neal, Indianapolis author and educator
"...fun and interesting..."
"Hoosier History Live is a fun and interesting way to learn about the heart and soul of Indiana. No boring classes or books here! The production team does an outstanding job."
Judy O'Bannon, civic leader and public broadcasting producer
"...infuses joy into the pursuit of history..."
"Nelson Price, more than anyone I know, infuses joy into the pursuit of history. And that joy rings out loud and clear on the radio show, Hoosier History Live."
Marsh Davis, President, Indiana Landmarks
"...interactive, more entertaining and more 'relevant'..."
"As museums and educational institutions scramble to make their offerings more interactive, more entertaining and more 'relevant', Hoosier History Live seems to have mastered that formula."
Glynis Worley, rural Bartholomew County listener
"...enthusiastic, curious and knowledgeable..."
"Hoosier History Live is a perfect place to consider and reconsider history ... not just what happened in the past, but what it may mean in the present. Nelson Price is the perfect host: enthusiastic, curious and knowledgeable. Tune in to Hoosier History Live and be prepared to be surprised."
James Still, playwright in residence, Indiana Repertory Theatre
"...a great way to learn more about history..."
"The links on the Friday Hoosier History Live enewsletter are a great way to learn more about history, and from a variety of sources."
Jill Ditmire, Omni Media Specialist
"...I want to call in!

..

"No, I haven't heard of another call-in talk radio show about history. Our airwaves are now full of the worst vitriol! Give me the phone number for the show. I want to call in!"

Ken Burns, speaking at a preview of his film "The War" at Indianapolis Hebrew Congregation, April 18, 2007