December 14, 2019 - coming up
Meridian Street mansions in Indy history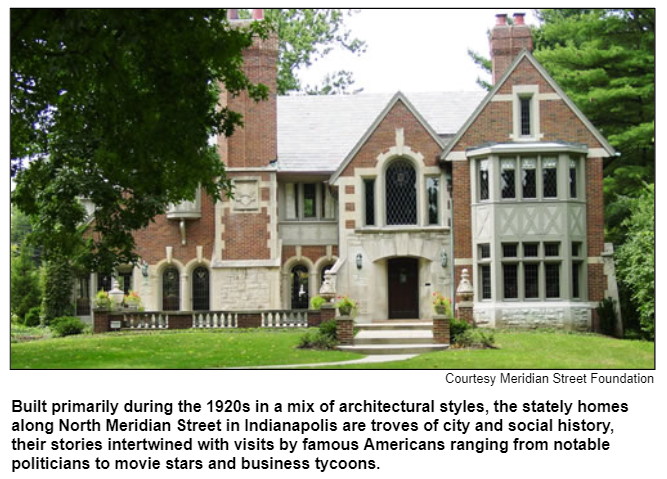 As showplace mansions built primarily during the 1920s with a mix of architectural styles, the stately homes along North Meridian Street in Indianapolis captivate motorists on one of the Hoosier capital's busiest streets. Not only is Meridian the city's east-west divider, the street is the route for U.S. 31 on the Northside.
The mansions in the North Meridian Historic District - 177 structures on both sides of the thoroughfare between 40th Street and Westfield Boulevard - are troves of city and social history, their stories intertwined with visits by famous Americans ranging from notable politicians like John F. Kennedy, Harry Truman and George H.W. Bush to movie stars and business tycoons.
With, in many cases, marble entryways, third-floor ballrooms, leaded glass windows, French doors, terraces, turrets, crystal chandeliers and carriage houses, the mansions will be the focus of our show as we explore more than 100 years of their history, including the 1960s and '70s, when the homes fell out of favor and often could be purchased for a pittance. The Meridian Street Foundation was formed in 1960 to protect the heritage of the homes; during the 1980s, the district was added to the National Register of Historic Places.
Nelson's studio guests will include Kassie Ritman, the author of two new, deeply researched books about the history of the mansions: Meridian Street, part of Arcadia Publishing's Images of America series, and Meridian Whispers (Knocking River Press).
Other guests will include civic leader Peggy Sabens, who lives in a Meridian Street mansion built between 1926 and 1929 that's considered to be among the district's best-preserved historic homes. Peggy, a former president of the Meridian Street Foundation, and her late husband, a physician, bought the mansion from an owner who had a direct connection to a celebrity unlikely to be associated with the elegant mansions: the pro wrestler known as Dick the Bruiser.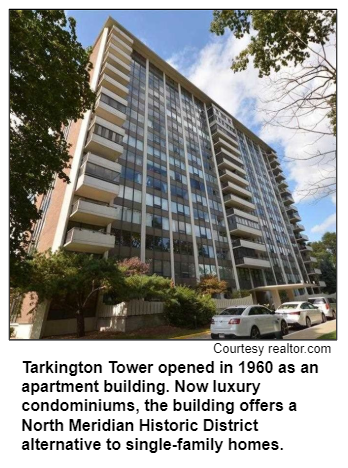 Her home was built in the Tudor style, as was the Meridian mansion that became the residence of Pulitzer Prize-winning novelist and playwright Booth Tarkington (1869-1946). Other mansions - which typically have landscaped gardens - were built in architectural styles ranging from French Renaissance and Southern Colonial to Colonial Revival, Italian Renaissance and Renaissance Revival.
Much as there is to explore about the mansions and their previous, illustrious owners - who included early auto-making families such as the owners of the Cole Motor Car Company and nationally known political figures like Bill Ruckleshaus, who died last month - we will broaden our scope to examine changing demographics over the years. Current owners of the historic houses include many families with young children.
We also will explore buildings in the North Meridian Historic District that are not single-family homes. They include Tarkington Towers, a high-rise that opened in 1960 as apartments and now is luxury condominiums, and a restaurant in the 5600 block of North Meridian that today is called The Meridian. Many listeners will remember the restaurant as Dodd's Townhouse, its long-time name under previous ownership. Part of the restaurant's structure was built as a log-walled farmhouse in 1900, according to Kassie's books.
The North Meridian Historic District includes both the current residence of Indiana's governor - a mansion at 4750 N. Meridian built in 1928 - and a former governor's mansion. The latter is a grand house in the 4300 block built in 1920 with buff-colored brick and a green-tiled roof that served as the governor's residence from 1945 through the early 1970s.
They're singing our praises!
"Hoosier History Live is the best Americana-themed show anywhere on radio!"
So says John Guerrasio, a professional actor who lives in London, England. We met John in 2008 when he played a role in the Indiana Repertory Theatre's production of The Ladies Man, a French farce by Georges Feydeau.
Even though he no longer lives in Indiana, John stays current with Hoosier History Live by listening to the show via podcast. He encourages other listeners to do the same - wherever they live. Listening by podcast means you can catch up on old shows, post shows on your social media accounts, and fit your listening to your own schedule.
Just go to hoosierhistorylive.org and look for recent shows linked in bold typeface at the top of the site. For older shows check out our archive page, where podcast links are available along with the original newsletter material for each show. You can also access Hoosier History Live podcasts via Apple's podcast app on your phone or iPad, or many other podcasting apps as well.
Whether you listen live on Saturdays or via podcast, we think you'll agree with John that Hoosier History Live is worth making a part of your day!
Want to support Hoosier History Live?
We offer a permanent and growing archive of quality online content, including easily accessible podcasts available a week after live air. Thanks to associate producer Mick Armbruster for directing our online audio distribution.
If you are interested in becoming a sponsor, click here or call Molly Head at (317) 927-9101. Sponsorship includes logos and links on our enewsletter and website, and voiced credits in the show. You can also of course make an individual contribution on the yellow button on the left side of this page. Support local journalism.

Feedback from our supporters
"...great value to sponsors"
"Hoosier History Live has amassed a vast library of content over the years, both with the show audio and newsletter material. I believe that the Hoosier History Live content has great value to sponsors and advertisers via widespread online distribution. Nowhere else do you find the fresh new material each week, the depth of stories, the richness of detail, and the long-term consistency."
- John McDonald, CEO, ClearObject in Fishers, Indiana, Inc. Magazine's fastest-growing IT company in Indiana for 2014, 2015, 2016 and 2017.
"...always a great show"
"Hoosier History Live is always a great show. We did a small sponsorship as a gesture of support, and I didn't think a little history show would have much impact. But many people mentioned to me that they had heard our credit on the radio."
G.B. Landrigan, Realtor, Certified Residential Specialist
August 2018
"...a great way to represent what I do..."
"I have thoroughly enjoyed my experiences with Nelson Price and the Hoosier History Live team. I feel being on the show was a great way to represent what I do with motorsports history. I am particularly excited by the show's new distribution through a podcast and making it accessible live through the Web."
-Mark Dill, owner, FirstSuperSpeedway.com
July 2018
What people are saying about Hoosier History Live
"Hoosier History really is 'Live'--and 'Lively' as well. The program brings to new audience the delight and wisdom that comes with knowing more of our past and our connections as Hoosiers."
James H. Madison
Emeritus History Professor
Indiana University
"Hoosier History Live does more to promote Indiana history than does any single source."
Andrea Neal, Indianapolis author and educator
"Hoosier History Live is a fun and interesting way to learn about the heart and soul of Indiana. No boring classes or books here! The production team does an outstanding job."
Judy O'Bannon, civic leader and public broadcasting producer
"Distilling life experience into stories is an art. Telling stories of life experience for Hoosiers past and present will shape the lives of young people and enrich the lives of all in our state. Mr. Nelson Price brings alive the life experience of notable Hoosiers in Hoosier History Live."
David T. Wong, Ph.D., President
DT Wong Consulting, LLC
Former Lilly research scientist who developed Prozac
"Nelson Price, more than anyone I know, infuses joy into the pursuit of history. And that joy rings out loud and clear on the radio show, Hoosier History Live."
Marsh Davis
President, Indiana Landmarks
"As museums and educational institutions scramble to make their offerings more interactive, more entertaining and more 'relevant', Hoosier History Live seems to have mastered that formula."
Glynis Worley, rural Bartholomew County listener
"Hoosier History Live is a perfect place to consider and reconsider history ... not just what happened in the past, but what it may mean in the present. Nelson Price is the perfect host: enthusiastic, curious and knowledgeable. Tune in to Hoosier History Live and be prepared to be surprised."
James Still, playwright in residence, Indiana Repertory Theatre
"Hoosier History Live is a fantastic opportunity for people to not only learn about history, but also become a part of the conversation. Much like our mission, the telling of Indiana's stories, Nelson and his guests wonderfully connect people to the past!"
John Herbst
President and CEO, Indiana Historical Society
"The links on the Friday Hoosier History Live enewsletter are a great way to learn more about history, and from a variety of sources."
Jill Ditmire
Omni Media Specialist
"No, I haven't heard of another call-in talk radio show about history. Our airwaves are now full of the worst vitriol! Give me the phone number for the show. I want to call in!"
Ken Burns, speaking at a preview of his film "The War" at Indianapolis Hebrew Congregation, April 18, 2007