Oct. 29, 2016 show
Capital move from Corydon to Indy and early roads
Have you ever wondered how, during an October in the 1820s, all of the money in the state treasury was moved through the Indiana wilderness from Corydon, our first state capital?
There were no Brink's armored vehicles, no Indiana State Police. And very few roads existed through the dense forest of towering trees that prevailed over much of early Indiana when the new capital city of Indianapolis was created. The site was chosen primarily for its central location as pioneers began to move north.
We will explore the transport of the state's property and money in October 1824. The treasury was kept in silver during the move by a caravan of horse-drawn covered wagons. The caravan included state officials and their extended families, some of whom slept by the silver (which was in crates) to protect it during the rigorous journey.
Also during our show, we will explore the creation of early roads through the wilderness to the new capital city, including a road that was crucial for the state capital's move.
The trip from Corydon to Indy - which takes about two hours today - lasted nearly two weeks then, even with a team of horses hailed as "none finer in Indiana."
The first two roads created in the wilderness to Indianapolis were known as Mauxferry (occasionally spelled Mauckferry) Road and the Madison State Road, sometimes called "Indiana's mother roads." There's a direct connection between them and today's Madison Avenue on the south side of Indianapolis.
We also will delve into the creation of Michigan Road. It was built in the 1830s to connect Ohio River towns with Indianapolis - and, eventually, to Lake Michigan.
Our guide for this time-traveling journey will be Jay Allen, an Indianapolis-based historic researcher and author who owns and lives in the historic Bates-Hendricks House, which is listed on the National Register of Historic Places. The original part of the home (one of the oldest in Indy) was built in the early 1820s.
Many of the details about the move of the precious treasury have endured thanks to the sister-in-law of Samuel Merrill, the state's treasurer. His sister-in-law, Mary Catherine Anderson (later Mary Catherine Naylor), wrote a memoir that included a description of the journey, on which she was a participant. In addition to the treasury, the property that was moved included the state's printing press.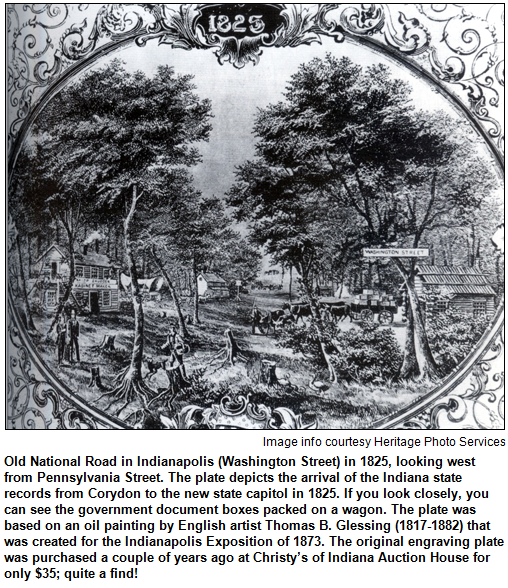 The creation of roads in the Indiana wilderness was hardly a breeze. Tall trees had to be felled, stumps removed (if possible) and muck endured.
On previous Hoosier History Live shows, we have explored the creation of the Old National Road (now U.S. 40 in Indiana) and the Lincoln Highway in northern Indiana.
The Mauxferry Road started at the Ohio River at the town of Mauckport, then went to Corydon. Completed in 1824 to Indianapolis, the Mauxferry Road was used to move the state's treasury and property from the old capital to the new.
Madison State Road was completed the next year, connecting Madison with Indianapolis. (At that point, Madison, as a bustling river town, was much larger than the new state capital in the wilderness.)
The Mauxferry and Madison State roads met - or joined with each other - before reaching Marion County, where the "mother road" became Madison Avenue. According to research by our guest Jay Allen, construction workers doing excavations on the south side of Indy during the 1920s were startled when they discovered a pioneer wooden road under Madison Avenue.
Michigan Road, built during the 1830s and often described as "one of Indiana's earliest highways", began as a dirt path through dense forest. It eventually connected Madison and Indy with South Bend and what became Michigan City on Lake Michigan.
According to the Historic Michigan Road Association, almost all of the original route survives of Michigan Road, which opened "the state to commerce and settlement." Michigan Road goes through 14 counties and cities, including Greensburg, Logansport, Rochester and Plymouth.
Our guest Jay Allen, an Indy native, is the former president of the Indiana Photographic Society and the Bates Hendricks Neighborhood Association. He runs a grandfather clock repair company.
Learn more:
Roadtrip: Finding Home at IRT
Our guest Roadtripper is none other than acclaimed Indiana Repertory Theatre equity actor David Alan Anderson, who will invite listeners to the Indiana Repertory's bicentennial production Finding Home: Indiana at 200, which runs through Nov. 20. Mr. Anderson has several roles, including pieces that cover Indiana Avenue, slavery and the underground railroad, basketball and the NAACP, and Ryan White.
Finding Home: Indiana at 200 is a collaboration of more than 30 Hoosier writers. The material is split into two evenings: blue and gold; and nearly 70 percent of the content is unique.
Come hear from Madame C.J. Walker, James Whitcomb Riley and other notable Hoosiers as they tell their stories, set to live music by the Grimm Family Band.
And our own Nelson Price will be facilitating a Q&A with the audience after the Sunday, Oct. 30 matinee performance at 2 p.m. and then again after the Nov. 8 performance at 6 p.m.!
History Mystery
A town located on the Old National Road (U.S. 40) in eastern Indiana was founded in the 1830s. Known for its antique shops and a historic district listed on the National Register of Historic Places, the town is named after a city in England.
The eastern Indiana town has a population of about 1,900 people. It has the word "city" in its name.
Question: What is the town on the Old National Road/U.S. 40?
The call-in number is (317) 788-3314. Please do not call into the show until you hear Nelson pose the question on the air, and please do not try to win the prize if you have won any other prize on WICR during the last two months. You must be willing to give your name and address to our engineer and be willing to be placed on the air.
The prize is a Family 4-Pack to Conner Prairie, including 4 tickets to the 1859 Balloon Voyage, courtesy of Conner Prairie.
Thanks!
Underwriting the project
We are not staff members of any organization; rather, we are a small, independent production group trying to keep Hoosier History Live on the air, on the web and in your inbox. Your gift goes primarily to support those individuals who are working so hard on the project, as well as to help defray the costs of maintaining our website, our email marketing software and our audio editing costs.
If you believe in supporting local artists, writers, historians and performers, look no further!
It takes only seconds to help us out. Just click the yellow "Donate" button, above. Or, if you prefer the paper method, you may make out a check to "Hoosier History Live" and mail it to Hoosier History Live, P.O. Box 44393, Indianapolis, IN 46244-0393.
We also try to maintain some of those old-fashioned journalism principles about trying to keep editorial content separate from financial contributions.
For questions about becoming an underwriting sponsor (the underwriter level includes logos on our website and newsletter and spoken credits in the live show), contact our producer, Molly Head, at molly@hoosierhistorylive.org, or (317) 927-9101, or Garry Chilluffo, our media+development director, at gchill@hoosierhistorylive.org.
Also, the Irvington Library Listening Group continues to meet on a regular basis from noon to 1 p.m. on Saturdays to listen to and discuss the live show. If you think you would enjoy listening with fellow history lovers, just stop by the library at 5626 E. Washington St. in Indianapolis and ask for the listening group.
If you are interested in forming your own listening group, all you need is a relatively quiet room with comfortable chairs and either a radio or an online listening device. A weekly listening group is an easy way to get "regulars" into your organization or place of business.
The Central Library in Indianapolis is willing to provide a space for a listening group if someone would volunteer to host the group. For more info, contact producer Molly Head.
Live from Hoosier Homecoming
200-year celebration was a live history blast
On Saturday, Oct. 15, 2016, Hoosier History Live transmitted our show "Live from Hoosier Homecoming" from the new Bicentennial Plaza at the Indiana Statehouse. Indiana's 200-year anniversary party offered up some great live interviews, including:
Perry Hammock, director of the Indiana Bicentennial Commission.
Mark Newman, state tourism director.
Jessica Robertson, state Director of Administration.
Lewis Ricci, Indiana Arts Commission director.
A host of torch bearers and historic re-enactors from around the state.
We were proud to participate in and document the historical opening of Bicentennial Plaza and associated events. Our day's challenges - always multitudinous when doing a live remote - included navigating through Secret Service-secured areas due to the current vice-presidential campaign of Indiana Gov. Mike Pence.
Big thanks to Henri Pensis, program director at WICR, who ran the "on location" board as host Nelson Price conducted live interviews. Thanks also to Hoosier History Live's own Garry Chilluffo and Molly Head for "corralling" guests for the live show.
We are looking for an organization or individual to sponsor the editing for the podcast of this show. If interested, contact molly@hoosierhistorylive.org.
Nov. 5, 2016 show - encore presentation
Maps of Indiana
On a map created in 1778, the name "Indiana" appears for a region that later became part of West Virginia. Other maps from the late 1700s and early 1800s reflect border disputes between Michigan, Ohio, Illinois and the Hoosier state.
During the early auto era, the first so-called "highway map" of Indiana may have been one distributed in 1919.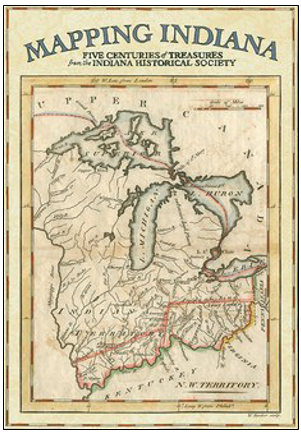 A map of Indiana's gravel roads was produced in 1895, while a bicycle route map helped 1901 travelers.
All of them are among the historic maps explored during this encore broadcast of a show from our Hoosier History Live archives (its original air date was Feb. 13, 2016). Nelson is joined in studio by two Indiana Historical Society staff members. Eric Mundell and Amy Vedra are co-authors of Mapping Indiana (IHS Press), a book that features 107 of the more than 1,700 maps in the society's collections. The maps include Old World depictions of North America, including the area that became Indiana.
"Early mapmakers often were working with unknown areas," notes Eric, a sixth-generation Hoosier who is the director of collections management at the IHS. Amy, his colleague, is a native of Griffith in northwest Indiana and the IHS director of reference services.
Among the oldest maps in the IHS collection, which spans five centuries, is one created in 1540 by Sebastian Munster, a well-known German mapmaker. Although its depiction of North America is "malformed", as Amy puts it, our guests report that the map has held up well because it, like others during the era, was created on "rag paper," a type of cloth.
In Indianapolis, early mapmakers included civic leader William Sullivan (1803-86), an engineer and surveyor who created hand-drawn "bird's-eye view" depictions of the Hoosier capital during the 1830s. Mapping Indiana also includes "bird's-eye view" depictions of such Hoosier cities as Lafayette, South Bend, Greencastle and Madison.
How to Drive to Brown County is the title of a map produced in 1918 for early motorists. The map includes "road conditions" information as it guides travelers to the isolated, hilly county then becoming known for its colony of artists that included Hoosier Group painter T.C. Steele.
Sanborn maps of cities were created for fire insurance purposes. Because they often include construction details of buildings such as their height, Sanborn maps have been extremely helpful to historic researchers.
According to our guest Eric Mundell, investors in the undeveloped region labeled "Indiana" (that later became a portion of West Virginia) on the 1778 map included Benjamin Franklin. A settlement planned for the area in the 1770s never happened.
But the word "Indiana" continued to pop up on maps of wilderness areas that eventually became parts of other states - indicating the name was being kept in mind as pioneers moved west.
Learn more:
Volunteers needed
Calendar itemkeeper, listening-group host opportunities
Would you be interested in placing the Hoosier History Live show topic and dates and times and ways to listen on the Bicentennial calendar and various other free community calendars across the state? This is rather detailed online weekly public relations work, but it would help get the word out about our show. If interested, please email molly@hoosierhistorylive.org, and please include your phone number.
Would you be interesting in hosting or facilitating a listening group at Central Library in Indianapolis each week? You would be responsible for being there each week during the live show and making sure a listening device is available. And generally facilitating the discussion. If interested, please email molly@hoosierhistorylive.org, and please include your phone number.
A note of support
'We hope to see it broadcast far and wide'
A particularly nice letter of support came in some time ago from authors James Alexander Thom and Dark Rain Thom. We like to re-read it from time to time!
To Whom it May Concern:

Last Spring, my wife and I were interviewed by Nelson Price on his Hoosier History radio program, as authors of frontier and Native American history books. Mr. Price's program was so well prepared and conducted that we feel it should be made available to students and general audiences as widely as possible. His program is well-researched, all questions pertinent to the chosen theme, and moves along briskly. Listeners called in with questions and comments that were intelligent and relevant, a sign of an avid audience.

As historical writers, we try to overcome the public's indifference to history, to bring alive in any way we can the important lessons of the past, and are enthusiastic about programs and writings that make those lessons interesting. The Hoosier History Live program does that so well that we hope to see it broadcast far and wide over this historically significant State of Indiana. It is an excellent program, worthy of extensive distribution and strong support.

James Alexander Thom & Dark Rain Thom, authors
Bloomington, Indiana
July 14, 2011
Shows, we got shows
We have more than 300 Hoosier History Live! radio shows completed, as a matter of fact. And we need to get show audio onto the website, which we are doing by and by, but we sure could use some sponsorship assistance as we edit and publish audio for each archived show. Take a look at the list below and check out all the opportunities for sponsoring a slice of original Hoosier History Live! content on the Web.
No one else is doing anything quite like what we're doing. We are the nation's only live call-in radio program about history. We offer a permanent and growing archive of quality content, available for sponsorship opportunities.
If you are interested in becoming a sponsor of Hoosier History Live!, click here or call Molly Head at (317) 927-9101 for more info.
What people are saying about Hoosier History Live!
"Hoosier History Live does more to promote Indiana history than does any single source."
Andrea Neal, Indianapolis author and educator
"Hoosier History Live is a fun and interesting way to learn about the heart and soul of Indiana. No boring classes or books here! The production team does an outstanding job."
Judy O'Bannon, civic leader and public broadcasting producer
"The folks at Hoosier History Live! are able to find great stories and the people to tell them - people and stories that you seldom hear on the national air."
Dr. James H. Madison, author and IU history professor
"As museums and educational institutions scramble to make their offerings more interactive, more entertaining and more 'relevant' to today's digitally obsessed consumers, Hoosier History Live! seems to have mastered that formula."
Glynis Worley, rural Bartholomew County listener
"Hoosier History Live! is a perfect place to consider and reconsider history ... not just what happened in the past, but what it may mean in the present. Nelson Price is the perfect host: enthusiastic, curious and knowledgeable. Tune in to Hoosier History Live! and be prepared to be surprised."
James Still, playwright in residence, Indiana Repertory Theatre
"Hoosier History Live! is a fantastic opportunity for people to not only learn about history, but also become a part of the conversation. Much like our mission, the telling of Indiana's stories, Nelson and his guests wonderfully connect people to the past!"
John Herbst
President and CEO, Indiana Historical Society
"The links on the Friday Hoosier History Live! enewsletter are a great way to learn more about history, and from a variety of sources."
Jill Ditmire
Omni Media Specialist
"Distilling life experience into stories is an art. Telling stories of life experience for Hoosiers past and present will shape the lives of young people and enrich the lives of all in our state. Mr. Nelson Price brings alive the life experience of notable Hoosiers in Hoosier History Live!"
David T. Wong, Ph.D., President
DT Wong Consulting, LLC
Former Lilly research scientist who developed Prozac
"Nelson Price, more than anyone I know, infuses joy into the pursuit of history. And that joy rings out loud and clear on the radio show, Hoosier History Live!"
Marsh Davis
President, Indiana Landmarks
"No, I haven't heard of another call-in talk radio show about history. Our airwaves are now full of the worst vitriol! Give me the phone number for the show. I want to call in!"
Ken Burns, speaking at a preview of his film "The War" at Indianapolis Hebrew Congregation, April 18, 2007