September 23, 2017
Cannon Ball Baker, dynamic motorcycle pioneer
Earlier this month, a historic marker was dedicated at a bungalow near Garfield Park in Indianapolis. The house once was the residence of a speed-loving daredevil nicknamed "Cannon Ball," whose exploits on the new invention of the motorcycle captivated America's imagination during the early 1900s.
In 1914, Erwin "Cannon Ball" Baker became one of the first motorcyclists to cross the country from California to New York. According to the book Forgotten Hoosiers (The History Press, 2015), when he accomplished the feat "only four miles of his transcontinental route were paved."
We will explore the colorful life of Cannon Ball Baker (1882-1960), who made more than 140 cross-country speed runs, many on an Indian motorcycle, the first American brand.
Nelson's guest will be Mark Swartz, owner of Cannon Ball Brewing Company on the near-northside of Indy. After researching Cannon Ball's impact on racing history, Mark decided to name his brewery at 1702 Bellefontaine St. in honor of the legendary Hoosier.
Mark helped in the crusade to get the Indiana Historical Bureau to erect a historic marker at Cannon Ball's former home in the Garfield Park neighborhood. The marker effort was led by Vickie Goens, the current owner of the bungalow, and her friend Stan Kiwor.
Baker's impact wasn't limited to motorcycles. He competed in the Indianapolis 500 in 1922 and became the first commissioner of NASCAR in 1947.
Nor were his exploits confined to the United States. Cannon Ball raced in Australia, Cuba, Panama, Jamaica and elsewhere overseas. He won a motorcycle sprint race at the Indianapolis Motor Speedway in 1909, the first year the racetrack was open.
Two Hollywood movies, The Cannonball Run (1981) and Cannonball Run II (1984), both starring Burt Reynolds, were loosely based on Baker's cross-country races.
The future inductee into the Motorsports Hall of Fame was born on a farm in Dearborn County in southeastern Indiana.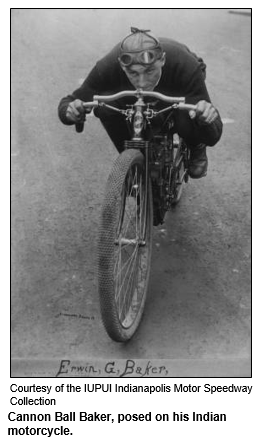 According to an article in The Indianapolis Star last April, Baker built the bungalow in Garfield Park in 1925, when he was at the peak of his cross-country racing achievements. Another historic marker is expected to be dedicated next year in Dearborn County near Baker's birthplace.
His pioneering, cross-country drive on an Indian motorcycle during May of 1914 involved traveling more than 3,000 miles from San Diego to New York City in 11-and-a-half days.
"Newspapers across the country covered the story and helped track his route," according to an Indiana Historical Bureau blog post about Cannon Ball.
When Baker accomplished the transcontinental feat - which involved crossing streams, riding on railroad ties and negotiating mountain ranges - he was hailed as a daredevil and dubbed "Cannon Ball." The nickname stuck permanently.
During interviews later in life, Baker claimed that when he raced through his home state of Indiana, authorities raised speed limits for one day to assist his record-smashing effort.
Before and after the 1914 adventure - during scores of races that often set speed and distance records - Cannon Ball would promote sponsors, including manufacturers of motorcycles or of their component parts, touting their brands en route. Occasionally he drove early automobiles, racing against trains.
Our guest Mark Swartz, who grew up in Indy, was a pilot and an aviation mechanic before opening Cannon Ball Brewing about 10 months ago. While living on the East Coast several years ago, Mark competed in motorcycle races.
"I love Cannon Ball's story," he says. "It's intertwined with racing history, my personal background and with Indianapolis history. Not enough people know about Cannon Ball today."
According to Garfield Park residents who spoke at the recent dedication of the historic marker, Cannon Ball Baker captivated children in the neighborhood during the final years of his life by describing his exploits as a racing pioneer. After he died of a heart attack at age 78 in 1960, Cannon Ball Baker was buried in Crown Hill Cemetery.
To learn more about Cannon Ball Baker, check out these sources:
History Mystery
The former home of Cannon Ball Baker in Indianapolis overlooks Garfield Park, which has well-known sunken gardens. Dedicated in 1916, the sunken gardens were designed by a nationally known landscape architect who put together the first comprehensive, city-wide plan for parks and boulevards in Indianapolis.
A German immigrant who primarily was based out of St. Louis, the landscape architect spent much time in Indianapolis and died in the Hoosier capital in 1923. After his death, a major boulevard in the city was named in his honor.
Question: Name the famous landscape architect who designed Garfield Park's sunken gardens.
The call-in number is (317) 788-3314. Please do not call in to the show until you hear Nelson pose the question on the air, and please do not try to win the prize if you have won any other prize on WICR during the last two months. You must be willing to give your name and address to our engineer and be willing to be placed on the air, and you must answer the question on the air. The prize is two tickets to the Indianapolis Scottish Highland Games on Oct. 14 in German Park in Indianapolis, courtesy of Scottish Society of Indianapolis, and four admissions to the Indy International Festival in November, courtesy of the Nationalities Council of Indiana.
Roadtrip: "Sweet Owen" County
Guest Roadtripper and public historian Glory-June Greiff tells us that Owen County - affectionately known as "Sweet Owen" to those who love it - is always a good place to wander, with its plentiful sites to see and places to eat. And when you need to work off those calories, Glory-June points out, you'll find plenty of hiking opportunities as well!
On the way to McCormick's Creek State Park - "certainly one of my favorite places to hike," Glory-June says - you can stop for a bite just off SR 67 at Millie McGee's Gosport Diner on Main Street in Gosport, which offers downhome Hoosier cooking at its best.
Or you can check out the Hilltop Family Restaurant, further along SR 67, just north of Spencer. Offering "comfort food...with a view," as their motto says, the restaurant dates back to 1948.
There are many lovely trails throughout McCormick's Creek State Park (Indiana's first!), from fairly easy to quite rugged. Dotted throughout its hills are numerous buildings constructed by the Civilian Conservation Corps (CCC) in the 1930s, some of which are listed in the National Register of Historic Places.
For the chance to see a more pristine natural environment (activities limited to hiking only), check out the Nature Conservancy's Green's Bluff Nature Preserve, a few miles south of McCormick's Creek off SR 43.
Don't leave Owen County without checking out its historic county seat, with its 19th century courthouse. Spencer native E. M. Viquesney was the sculptor of Spirit of the American Doughboy that graces the courthouse lawn. Just to the east of square is the old Carnegie library, which now houses the Owen County Heritage and Cultural Center.
Looking for a treat? Check out Diamond K Sweets on the courthouse square in Spencer. This family-owned business is the home of Fudge O'Bits, a unique fudge treat that comes in several flavors. Try their brittles, too; Glory-June's favorite is cashew. As a final thought, Glory-June can't help adding that "Their milkshakes are like nothing you've ever had!"
A note of support
'We hope to see it broadcast far and wide'
A particularly nice letter of support came in some time ago from authors James Alexander Thom and Dark Rain Thom. We like to re-read it from time to time!
To Whom it May Concern:

Last Spring, my wife and I were interviewed by Nelson Price on his Hoosier History radio program, as authors of frontier and Native American history books. Mr. Price's program was so well prepared and conducted that we feel it should be made available to students and general audiences as widely as possible. His program is well-researched, all questions pertinent to the chosen theme, and moves along briskly. Listeners called in with questions and comments that were intelligent and relevant, a sign of an avid audience.

As historical writers, we try to overcome the public's indifference to history, to bring alive in any way we can the important lessons of the past, and are enthusiastic about programs and writings that make those lessons interesting. The Hoosier History Live program does that so well that we hope to see it broadcast far and wide over this historically significant State of Indiana. It is an excellent program, worthy of extensive distribution and strong support.

James Alexander Thom & Dark Rain Thom, authors
Bloomington, Indiana
July 14, 2011
Shows, we got shows
We have more than 470 Hoosier History Live radio shows completed, as a matter of fact. We certainly welcome underwriting support to get more of our show audio online. Let's help support the hardworking Hoosiers who do the writing and editing for Hoosier History Live!
No one else is doing anything quite like what we're doing. We are the nation's only live call-in radio program about history. We offer a permanent and growing archive of quality content, available for sponsorship opportunities.
If you are interested in becoming a sponsor of Hoosier History Live, click here or call Molly Head at (317) 927-9101 for more info.
What people are saying about Hoosier History Live
"Hoosier History Live does more to promote Indiana history than does any single source."
Andrea Neal, Indianapolis author and educator
"Hoosier History Live is a fun and interesting way to learn about the heart and soul of Indiana. No boring classes or books here! The production team does an outstanding job."
Judy O'Bannon, civic leader and public broadcasting producer
"The folks at Hoosier History Live are able to find great stories and the people to tell them - people and stories that you seldom hear on the national air."
Dr. James H. Madison, author and Indiana University history professor
"As museums and educational institutions scramble to make their offerings more interactive, more entertaining and more 'relevant' to today's digitally obsessed consumers, Hoosier History Live seems to have mastered that formula."
Glynis Worley, rural Bartholomew County listener
"Hoosier History Live is a perfect place to consider and reconsider history ... not just what happened in the past, but what it may mean in the present. Nelson Price is the perfect host: enthusiastic, curious and knowledgeable. Tune in to Hoosier History Live and be prepared to be surprised."
James Still, playwright in residence, Indiana Repertory Theatre
"Hoosier History Live is a fantastic opportunity for people to not only learn about history, but also become a part of the conversation. Much like our mission, the telling of Indiana's stories, Nelson and his guests wonderfully connect people to the past!"
John Herbst
President and CEO, Indiana Historical Society
"The links on the Friday Hoosier History Live enewsletter are a great way to learn more about history, and from a variety of sources."
Jill Ditmire
Omni Media Specialist
"Distilling life experience into stories is an art. Telling stories of life experience for Hoosiers past and present will shape the lives of young people and enrich the lives of all in our state. Mr. Nelson Price brings alive the life experience of notable Hoosiers in Hoosier History Live."
David T. Wong, Ph.D., President
DT Wong Consulting, LLC
Former Lilly research scientist who developed Prozac
"Nelson Price, more than anyone I know, infuses joy into the pursuit of history. And that joy rings out loud and clear on the radio show, Hoosier History Live."
Marsh Davis
President, Indiana Landmarks
"No, I haven't heard of another call-in talk radio show about history. Our airwaves are now full of the worst vitriol! Give me the phone number for the show. I want to call in!"
Ken Burns, speaking at a preview of his film "The War" at Indianapolis Hebrew Congregation, April 18, 2007