Aug. 20, 2016 show
Calvin Fletcher, first major Indianapolis civic leader
He left his family's home in Vermont at age 17 and eventually, nearly penniless, made his way to Indianapolis in 1821 just as the new state capital was getting under way.
From that inauspicious start, Calvin Fletcher (1798-1866) became an attorney. A wealthy banker. A farmer and major landowner. A state legislator. And the first major civic leader in his adopted hometown.
Not to mention an abolitionist and the writer of an extensive diary that, since its publication in nine volumes by the Indiana Historical Society, has been a trove for anyone seeking insights about daily life in early Indianapolis.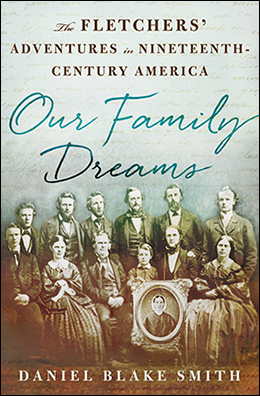 Fletcher's name has come up during many previous Hoosier History Live shows. They have ranged from a program in December 2014 that explored the evolution of outreach to families and children (during the 1830s, Fletcher helped found the city's first social service organization, which then was known as the Indianapolis Benevolent Society) to a program about the notorious Massacre at Fall Creek. (As an influential attorney, Fletcher was brought in to represent some of the white men accused of slaughtering Native Americans in Madison County.)
So isn't it time for us to explore the colorful life of the self-made early power broker whose name continues to live on nearly 200 years after he first showed up in Indy? The Fletcher Place Neighborhood on the near-Southside is on the former site of its namesake's 269-acre farm. On Virginia Street in that neighborhood, Calvin Fletcher's Coffee Company is just one of the other ways his legacy continues.
To explore the life and impact of Calvin Fletcher - as well as those of some descendants and members of his extended family - Nelson will be joined by two guests:
Daniel Blake Smith, the St. Louis-based author of a new book about the Calvin Fletcher and his family, Our Family Dreams: The Fletchers' Adventures in Nineteenth-Century America (St. Martin's Press). Dan, who also is a screenwriter and former American history professor, recently gave a presentation about his book at the Eugene and Marilyn Glick Indiana History Center in Indianapolis.
And Georgia Cravey, an Indianapolis-based historic researcher and scholar who lives in a historic home in Fletcher Place. A former reference librarian for the Indianapolis Public Library, Georgia was one of our guests on a show in November 2014 about the kidnapping of free blacks in early Indiana.
According to the Indiana Historical Society, Dan Blake Smith uses Fletcher's diary - as well as the family's letters, which also are found in IHS collections - "to demonstrate (that) the Fletchers dream, fret, fight and love in a way that is similar to many American families today."
Calvin Fletcher began his diary before he left Vermont, where his father, Jesse, had a "hardscrabble farm" and "struggled with debt and depression," as Dan Blake Smith puts it in Our Family Dreams. Calvin Fletcher continued writing his diary until days before his death.
During the Civil War, Calvin Fletcher supported the formation of the 28th Regiment U.S. Colored Troops, an infantry of African Americans from Indiana. As our guest Georgia Cravey will describe during our show, the recruits trained at Camp Fremont, which was set up on Fletcher's land.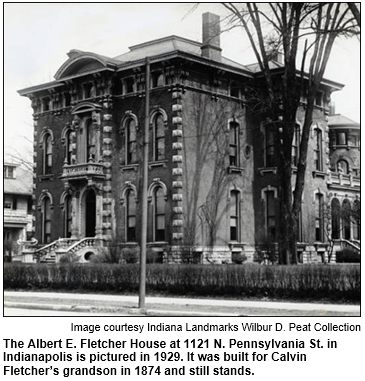 Georgia also will describe the vast expanse of Fletcher's land holdings, which included much of Brookside Park on the eastside of Indy, as well as Fletcher Place. In Our Family Dreams, Dan Blake Smith notes that in 1834 Fletcher even bought 1,200 acres in LaPorte County, "launching a long career of mostly profitable land speculation."
Nelson and his guests also will explore Fletcher's staunch religious beliefs. According to Georgia, he instructed a daughter that reading novels was unseemly; he also made his sons return money and retrieve a horse they had sold on the Sabbath. Calvin's close friends included Rev. Henry Ward Beecher, then the pastor at Second Presbyterian Church - and later a nationally influential preacher based in New York
Calvin Fletcher became the first practicing attorney in Indianapolis and helped organize Indiana's first state bank.
His first wife, Sarah Hill Fletcher, also kept a diary; they had had 11 children. After Sarah's death in 1854, Fletcher married his second wife, Keziah, a teacher who, like most of the Fletchers, highly valued education.
When Fletcher died in 1866, his funeral cortege to Crown Hill Cemetery stretched, according to Our Family Dreams, "for nearly a mile."
Learn more:
Additional research courtesy of Michael Armbruster.
Roadtrip: Selmier State Forest in Jennings County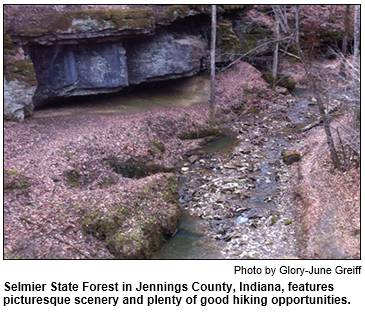 Guest Roadtripper and public historian Glory-June Greiff tells us: "Put on your hiking shoes and take a trip to Jennings County, about an hour and a half southeast of Indianapolis."
Says Glory, a longtime Indiana explorer: "A visit to the little-known Selmier State Forest, just a bit northeast of North Vernon, the county's largest town, will give you fine trails through forested lands and along the Muscatatuck River."
Break for lunch and stroll around the tiny county seat of Vernon, a very old town with lots of pre-Civil War architecture and a stunning courthouse that was built in 1859. Just northwest of the courthouse square is an impressive stone arch railroad overpass.
Vernon has some interesting restaurants for its tiny size; you might try the Log Cabin Inn on the south side of the courthouse square.
Walk off your meal at Muscatatuck County Park just on the northwest edge of Vernon on Highway 7 (between Vernon and North Vernon). Also on the Muscatatuck River, the park features a more rugged terrain plus several structures built by the Works Progress Administration, which worked on the property in the 1930s. Muscatatuck actually started out as a state park, our third, and briefly was named Vinegar Mills. Remnants of that early 19th-century mill site remain in the park.
History Mystery
Alexander Ralston, a surveyor and engineer, was hired to plan the new city of Indianapolis in the early 1820s. Previously, Ralston had helped French architect Pierre L'Enfant design Washington D.C. With his plan for Indiana's new state capital of Indianapolis, Ralston suggested the Mile Square, with a circular drive in the center.
Although he spent the rest of his life in Indianapolis after designing the city, Ralston was not a native American. He was born in another country and immigrated to the United States after the Revolutionary War.
Question: Where was Alexander Ralston born?
The call-in number is (317) 788-3314. Please do not call into the show until you hear Nelson pose the question on the air, and please do not try to win the prize if you have won any other prize on WICR during the last two months. You must be willing to give your name and address to our engineer and be willing to be placed on the air.
The prize is two admissions to the Rhythm Discovery Center, courtesy of Visit Indy, and two tickets to the Hoosier Hops and Harvest Craft Beer Festival in Brown County, courtesy of the Story Inn.
Thanks!
Underwriting the project
We are not staff members of any organization; rather, we are a small, independent production group trying to keep Hoosier History Live on the air, on the web and in your inbox. Your gift goes primarily to support those individuals who are working so hard on the project, as well as to help defray the costs of maintaining our website, our email marketing software and our audio editing costs.
If you believe in supporting local artists, writers, historians and performers, look no further!
It takes only seconds to help us out. Just click the yellow "Donate" button, above. Or, if you prefer the paper method, you may make out a check to "Hoosier History Live" and mail it to Hoosier History Live, P.O. Box 44393, Indianapolis, IN 46244-0393.
We also try to maintain some of those old-fashioned journalism principles about trying to keep editorial content separate from financial contributions.
For questions about becoming an underwriting sponsor (the underwriter level includes logos on our website and newsletter and spoken credits in the live show), contact our producer, Molly Head, at molly@hoosierhistorylive.org, or (317) 927-9101, or Garry Chilluffo, our media+development director, at gchill@hoosierhistorylive.org.
Also, the Irvington Library Listening Group continues to meet on a regular basis from noon to 1 p.m. on Saturdays to listen to and discuss the live show. If you think you would enjoy listening with fellow history lovers, just stop by the library at 5626 E. Washington St. in Indianapolis and ask for the listening group.
If you are interested in forming your own listening group, all you need is a relatively quiet room with comfortable chairs and either a radio or an online listening device. A weekly listening group is an easy way to get "regulars" into your organization or place of business.
The Central Library in Indianapolis is willing to provide a space for a listening group if someone would volunteer to host the group. For more info, contact producer Molly Head.
Aug. 27, 2016 show
History of police training in Indiana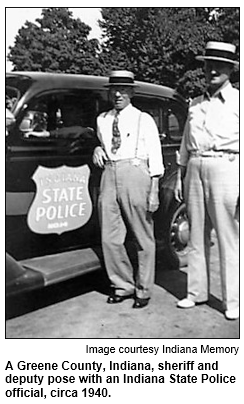 Our guest will be attorney and WICR-FM colleague Charles Braun, who has been training police officers on every level of law enforcement - from Indiana State Police officers to those on town and city forces across the state - for 39 years.
A popular instructor for decades at the Indiana Law Enforcement Academy in Plainfield, Charles is the host of Legally Speaking, the longest-running legal advice show on American radio.
During his distinguished career, Charles, a history lover and Fort Wayne native, has extensively researched the evolution of police training in Indiana since the 1800s.
During our show, he will describe the law enforcement scenario during the 1800s when many untrained citizens - akin to vigilantes - offered to help local law enforcement. Sometimes their offers were accepted - and sometimes major problems resulted.
"Prior to ... 1972, anyone could become a police officer in Indiana," Charles says. He notes that "Old West-style posses and bounty hunters" still can be formed in the state.
According to Charles, Indiana's two state constitutions - the first in 1816, the second in 1851 - established the elected office of county sheriff across the state. But the constitutions included few requirements for those seeking the post.
Among the courses Charles has taught to state, city and other police officers are classes on interpersonal communications. Beyond that, he played a key role in developing basic training, as well as in developing continuing education of Indiana's law enforcement officers.
So who better to share insights on this timely history topic?
As a history enthusiast, Charles' interests include the origins of county names across Indiana. He has joined Nelson on two previous Hoosier History Live shows - in May 2013 and September 2010 - to share insights about that topic.
He launched Legally Speaking in 1983. The call-in legal advice show airs at 11 a.m. Saturdays on WICR 88.7 FM in Indianapolis.
Celebration!
8-year soiree on Feb. 25 was historical fun
Photos continue to roll in from the Feb. 25 Hoosier History Live party to celebrate our 8 years on the air. This week's featured image is of Indianapolis Mayor Joe Hogsett with the four fine young musicians of the Herron String Quartet who provided such lovely music in the entry hall at Indiana Landmarks Center as the event got under way.
If you have a good photo that you would allow us to use for publication in our e-newsletter and website, please consider emailing it to us at news@hoosierhistorylive.org. Do include the name that is to receive credit.
Thanks again to corporate supporters Indiana Landmarks and Jacquie's Gourmet Catering, as well as event sponsor Core Redevelopment.
Thanks also to individual contributors Anne Laker, Jim and Marjorie Kienle, Dennis Arbuckle, Joe Young, Kathleen Angelone, J. Scott Keller, Jennifer Q. Smith of AvantGarb, Georgia Cravey and Jim Lingenfelter, Barbara and Michael Homoya, Margaret Smith, Peggy Hollingsworth, Lorraine Vavul, Rita Kohn and William McNiece.
Presenters included CEO of Indiana Landmarks Marsh Davis, Indianapolis Mayor Joe Hogsett, WICR program director Henri Pensis and Indiana Bicentennial Commission Executive Director Perry Hammock, as well as host Nelson Price and producer Molly Head of Hoosier History Live.
Catering was provided by Jacquie's Gourmet Catering, and entertainment was provided by Shirley Judkins, Herron High School String Quartet and Janet Gilray of Voices in Time. Thanks to corporate supporters Indiana Landmarks and Core Redevelopment.
As a nod to the many Indiana ethnic heritage shows produced by Hoosier History Live over the years, guests were invited to dress to portray their ethnic heritage. A shout-out to the Scots, Greeks, and Germans in attendance! And thanks to Jan Wahls for portraying May Wright Sewall.
Your encouragement and participation, on all fronts and in myriad ways, are what keep us going - on the air, in your in-box and on the web. Thanks!
Volunteers needed
Calendar itemkeeper, listening-group host opportunities
Would you be interested in placing the Hoosier History Live show topic and dates and times and ways to listen on the Bicentennial calendar and various other free community calendars across the state? This is rather detailed online weekly public relations work, but it would help get the word out about our show. If interested, please email molly@hoosierhistorylive.org, and please include your phone number.
Would you be interesting in hosting or facilitating a listening group at Central Library in Indianapolis each week? You would be responsible for being there each week during the live show and making sure a listening device is available. And generally facilitating the discussion. If interested, please email molly@hoosierhistorylive.org, and please include your phone number.
A note of support
'We hope to see it broadcast far and wide'
A particularly nice letter of support came in some time ago from authors James Alexander Thom and Dark Rain Thom. We like to re-read it from time to time!
To Whom it May Concern:

Last Spring, my wife and I were interviewed by Nelson Price on his Hoosier History radio program, as authors of frontier and Native American history books. Mr. Price's program was so well prepared and conducted that we feel it should be made available to students and general audiences as widely as possible. His program is well-researched, all questions pertinent to the chosen theme, and moves along briskly. Listeners called in with questions and comments that were intelligent and relevant, a sign of an avid audience.

As historical writers, we try to overcome the public's indifference to history, to bring alive in any way we can the important lessons of the past, and are enthusiastic about programs and writings that make those lessons interesting. The Hoosier History Live program does that so well that we hope to see it broadcast far and wide over this historically significant State of Indiana. It is an excellent program, worthy of extensive distribution and strong support.

James Alexander Thom & Dark Rain Thom, authors
Bloomington, Indiana
July 14, 2011
Shows, we got shows
We have more than 300 Hoosier History Live! radio shows completed, as a matter of fact. And we need to get show audio onto the website, which we are doing by and by, but we sure could use some sponsorship assistance as we edit and publish audio for each archived show. Take a look at the list below and check out all the opportunities for sponsoring a slice of original Hoosier History Live! content on the Web.
No one else is doing anything quite like what we're doing. We are the nation's only live call-in radio program about history. We offer a permanent and growing archive of quality content, available for sponsorship opportunities.
If you are interested in becoming a sponsor of Hoosier History Live!, click here or call Molly Head at (317) 927-9101 for more info.
What people are saying about Hoosier History Live!
"Hoosier History Live does more to promote Indiana history than does any single source."
Andrea Neal, Indianapolis author and educator
"Hoosier History Live is a fun and interesting way to learn about the heart and soul of Indiana. No boring classes or books here! The production team does an outstanding job."
Judy O'Bannon, civic leader and public broadcasting producer
"The folks at Hoosier History Live! are able to find great stories and the people to tell them - people and stories that you seldom hear on the national air."
Dr. James H. Madison, author and IU history professor
"As museums and educational institutions scramble to make their offerings more interactive, more entertaining and more 'relevant' to today's digitally obsessed consumers, Hoosier History Live! seems to have mastered that formula."
Glynis Worley, rural Bartholomew County listener
"Hoosier History Live! is a perfect place to consider and reconsider history ... not just what happened in the past, but what it may mean in the present. Nelson Price is the perfect host: enthusiastic, curious and knowledgeable. Tune in to Hoosier History Live! and be prepared to be surprised."
James Still, playwright in residence, Indiana Repertory Theatre
"Hoosier History Live! is a fantastic opportunity for people to not only learn about history, but also become a part of the conversation. Much like our mission, the telling of Indiana's stories, Nelson and his guests wonderfully connect people to the past!"
John Herbst
President and CEO, Indiana Historical Society
"The links on the Friday Hoosier History Live! enewsletter are a great way to learn more about history, and from a variety of sources."
Jill Ditmire
Omni Media Specialist
"Distilling life experience into stories is an art. Telling stories of life experience for Hoosiers past and present will shape the lives of young people and enrich the lives of all in our state. Mr. Nelson Price brings alive the life experience of notable Hoosiers in Hoosier History Live!"
David T. Wong, Ph.D., President
DT Wong Consulting, LLC
Former Lilly research scientist who developed Prozac
"Nelson Price, more than anyone I know, infuses joy into the pursuit of history. And that joy rings out loud and clear on the radio show, Hoosier History Live!"
Marsh Davis
President, Indiana Landmarks
"No, I haven't heard of another call-in talk radio show about history. Our airwaves are now full of the worst vitriol! Give me the phone number for the show. I want to call in!"
Ken Burns, speaking at a preview of his film "The War" at Indianapolis Hebrew Congregation, April 18, 2007