January 19, 2019 - coming up
Rev. Martin Luther King Jr. visits to Indiana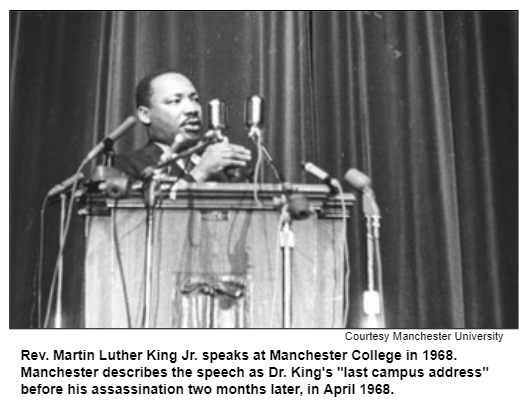 Both before he became a household name nationally and after he was a famous public figure, Rev. Martin Luther King Jr. made trips to Indiana. How those visits during the 1950s and '60s unfolded, where Rev. King stayed and other details, will be the focus of our show two days prior to Dr. Martin Luther King Jr. Day.
In February 1968, Dr. King spoke at Manchester College in northern Indiana to an "overflow audience," according to the small, private school affiliated with the Church of the Brethren. Now Manchester University, the school describes the speech as Dr. King's "last campus address" before his assassination two months later, in April 1968.
Nearly 10 years earlier, in 1958 when he was a young minister and civil rights leader in the South, 29-year-old Dr. King spoke in downtown Indianapolis at Cadle Tabernacle, a sprawling, Spanish-style structure that served as the site of conventions, religious gatherings, music concerts and a range of other events. Cadle Tabernacle, which was located at Ohio and New Jersey Streets, was demolished during the late 1960s.
In the decade between that speech and the talk at Manchester College near the end of his life, Dr. King periodically visited Indianapolis, often staying with the family of his close friend Rev. Andrew J. Brown (1921-1996), pastor of St. John's Missionary Baptist Church. Rev. Brown, one of Indiana's most prominent civil rights leaders of the era, marched with Dr. King in Selma, Ala., in 1965.
For our exploration of Dr. King's trips to Indiana - which also included a speech at Goshen College in 1960 - our studio guests will be:
Accounts about Dr. King's speech at Goshen College, which is affiliated with the Mennonite Church, describe it a "spellbinding lecture." The speech, which he delivered in 1960, occurred about one year after he had traveled to India to study Gandhi's techniques of nonviolence.
At Goshen College, Dr. King discussed nonviolence. He also called on religious leaders to more strongly advocate for civil rights; Dr. King described most churches across the country as "segregated islands."
Feedback from our sponsors
"...always a great show"
"Hoosier History Live is always a great show. We did a small sponsorship as a gesture of support, and I didn't think a little history show would have much impact. But many people mentioned to me that they had heard our credit on the radio."
G.B. Landrigan, Realtor, Certified Residential Specialist
August 2018
"...a great way to represent what I do..."
"I have thoroughly enjoyed my experiences with Nelson Price and the Hoosier History Live team. I feel being on the show was a great way to represent what I do with motorsports history. I am particularly excited by the show's new distribution through a podcast and making it accessible live through the Web."
-Mark Dill, owner, FirstSuperSpeedway.com
July 2018
What people are saying about Hoosier History Live
"Hoosier History really is 'Live'--and 'Lively' as well. The program brings to new audience the delight and wisdom that comes with knowing more of our past and our connections as Hoosiers."
James H. Madison
Emeritus History Professor
Indiana University
"Hoosier History Live does more to promote Indiana history than does any single source."
Andrea Neal, Indianapolis author and educator
"Hoosier History Live is a fun and interesting way to learn about the heart and soul of Indiana. No boring classes or books here! The production team does an outstanding job."
Judy O'Bannon, civic leader and public broadcasting producer
"Distilling life experience into stories is an art. Telling stories of life experience for Hoosiers past and present will shape the lives of young people and enrich the lives of all in our state. Mr. Nelson Price brings alive the life experience of notable Hoosiers in Hoosier History Live."
David T. Wong, Ph.D., President
DT Wong Consulting, LLC
Former Lilly research scientist who developed Prozac
"Nelson Price, more than anyone I know, infuses joy into the pursuit of history. And that joy rings out loud and clear on the radio show, Hoosier History Live."
Marsh Davis
President, Indiana Landmarks
"As museums and educational institutions scramble to make their offerings more interactive, more entertaining and more 'relevant', Hoosier History Live seems to have mastered that formula."
Glynis Worley, rural Bartholomew County listener
"Hoosier History Live is a perfect place to consider and reconsider history ... not just what happened in the past, but what it may mean in the present. Nelson Price is the perfect host: enthusiastic, curious and knowledgeable. Tune in to Hoosier History Live and be prepared to be surprised."
James Still, playwright in residence, Indiana Repertory Theatre
"Hoosier History Live is a fantastic opportunity for people to not only learn about history, but also become a part of the conversation. Much like our mission, the telling of Indiana's stories, Nelson and his guests wonderfully connect people to the past!"
John Herbst
President and CEO, Indiana Historical Society
"The links on the Friday Hoosier History Live enewsletter are a great way to learn more about history, and from a variety of sources."
Jill Ditmire
Omni Media Specialist
"Nelson Price, more than anyone I know, infuses joy into the pursuit of history. And that joy rings out loud and clear on the radio show, Hoosier History Live."
Marsh Davis
President, Indiana Landmarks
"No, I haven't heard of another call-in talk radio show about history. Our airwaves are now full of the worst vitriol! Give me the phone number for the show. I want to call in!"
Ken Burns, speaking at a preview of his film "The War" at Indianapolis Hebrew Congregation, April 18, 2007
Become a sponsor today!
We offer a permanent and growing archive of quality online content, including podcasts and our iTunes feed. Thanks to associate producer Mick Armbruster for directing our online audio distribution.
If you are interested in becoming a sponsor of our online show, click here or call Molly Head at (317) 927-9101. Local show only sponsorship is also available, which includes logos and links on our enewsletter, website, and voiced credits on our local show.