Home | About us | Support the show | Contact us | Archives | Listen
2019 | 2018| 2017 | 2016 | 2015 | 2014 | 2013 | 2012 | 2011 | 2010 | 2009 | 2008
Archives - 2019
The Hoosier History Live archives are now organized by year. See the links above for all 10 years of our show descriptions and resources.
To listen to podcasts of old shows, just click on the link right below the show's headline.
Brothels and streetwalkers in pre-1920 Indy: encore
Click here to listen to the podcast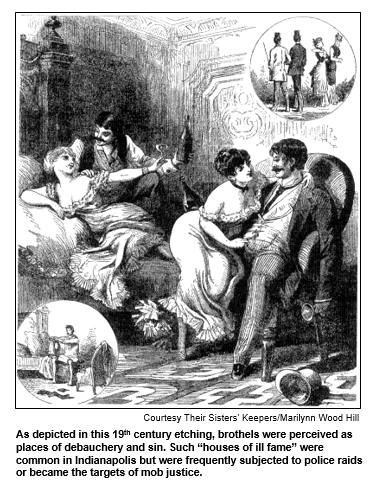 (May 18, 2019) In our quest to explore all aspects of our heritage, even the unsavory and notorious, this edition of Hoosier History Live delves into a seldom-examined topic: Red-light districts and prostitutes in Indianapolis at the turn of the last century.
To examine these aspects of the Hoosier state capital's social history, Nelson's studio guest on this encore show (originally broadcast July 8, 2017) is Paul Mullins, a popular professor in IUPUI's Department of Anthropology.
A historical archaeologist, Paul has researched and written about pre-1920 prostitution as part of a larger project titled "Invisible Indianapolis: Race, Memory, and Community Memory in the Circle City."
Along with co-director Susan Hyatt and a team that includes both undergraduate and graduate students, Paul has published the project's findings in a blog called Invisible Indianapolis.
The project's overarching goal: to show the historical impact of seemingly invisible urban social factors such as racial redlining, highway construction and gentrification.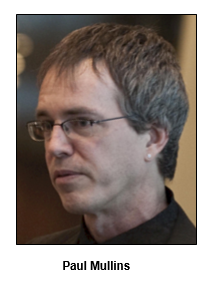 Paul has identified two major red-light districts in Indy during the late 1800s and early 1900s:
An area bounded by what is today Park Avenue (then called Liberty Street) and Market, East and Washington Streets.
A district at the site of what is now another hospitality building, the Indiana Convention Center. The district ran along Senate Avenue near Georgia Street.
"Prostitution probably always was an element of the early cityscape, but some of the earliest evidence for houses of prostitution comes in the 1850s," Paul writes in the blog.
He quotes an 1857 newspaper account of a shooting at a brothel managed by a "mysterious woman." After the shooting, he adds, the illicit business "became the target of mob justice when [the woman's] brothel was set afire by a mob of more than 200 people."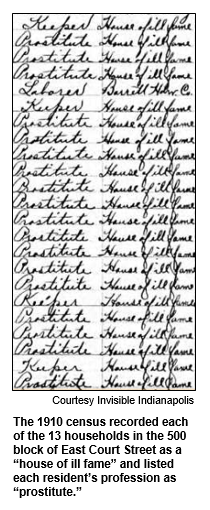 The census in 1870 and 1910 apparently even listed the occupations of some Indianapolis women as "prostitute." Others were listed in city directories as "seamstresses," but Paul's research indicates many of these actually were prostitutes, living in brothels (sometimes called "female boarding houses" by Sanborn Fire Insurance Company maps) raided by the police.

"The desperation of some women working as prostitutes was documented in a string of suicides and suicide attempts," Paul reports.

Paul Mullins is a past president of the Society for Historical Archaeology. For several years, Paul and his students could be seen during the summer months excavating sites near the IUPUI campus. Paul was a Hoosier History Live guest in 2009 when he was leading an excavation on the site of the long-demolished home of Madam Walker, the wealthy African-American entrepreneur and philanthropist.

According to Paul's research for Invisible Indianapolis, prostitutes often worked "in and around" Union Station during the late 1800s and early 1900s. (Before majestic Union Station opened during the 1880s, its predecessor, Union Depot, was the first train station in the country where competing railroad lines came together.)

Near the bustling train station, brothels were located among saloons and stores on South Street.

Farther east, a bygone street named East Court Street (now a parking lot between East and Park) had a cluster of brothels that Paul describes as "the city's most prominent concentration" of such businesses. In 1898, a Sanborn map "identified nearly every structure on East Court as a 'female boarding house,'" Paul writes, noting that at least 10 of these 16 homes listed in the 1899 city directory were brothels.

His blog describes attempts by local churches to encourage police raids of the brothels. Some of the churches also were active in the temperance movement.
Roadtrip: Indianapolis' Central Library
You might not think of a public library as a tourist destination, but guest Roadtripper Mick Armbruster recommends a sight-seeing visit to the Central Library in downtown Indianapolis. As the flagship of the Indianapolis Public Library system, this architectural gem offers outstanding examples of art, fascinating insights into history and an unparalleled view of the city skyline. Oh, and you might even check out some books during your visit as well!
Parking is available in an underground lot directly beneath the library from an entrance on Pennsylvania Street, or metered street parking is available. The main doors on the south side lead you to the library's original building, constructed in 1917 in classic Greek Doric style. Before you pass under the massive portico and through its enormous fluted columns, take a minute to gaze south at the American Legion Mall with its gilt statuary, gigantic American flag and fountains that all serve to memorialize the fallen soldiers of our nation's wars.
Once inside, take in the original library building's central hall (now called the Simon Reading Room). Its ceiling murals depict the history of written language, from the Rosetta Stone to the modern printing press, as well as scenes from Indiana's early exploration and settlement.
The heart of the modern Central Library is the massive, light-filled atrium that joins the original building to the modern glass tower that was added in 2007. Here you can pick up a snack in the cafe, people watch or make use of the library's free wifi Internet service. The atrium also provides access to the Learning Curve, the library's award-winning children's center, which offers state-of-the-art learning activities for kids.
Don't miss out on Mick's favorite part of the Central Library: the sixth floor of the modern building, which offers spectacular views of the city skyline. The sixth floor also houses the Special Collections Room, where history buffs can view such treasures as ancient Babylonian tablets, a leaf of a Gutenberg Bible, and signed copies of books by Booth Tarkington.
Willy T. Ribbs on making Indy 500 history
Click here to listen to the podcast.
(May 11, 2019) "The crowd went crazy," historian Donald Davidson recalls in a video about milestones at the Indianapolis Motor Speedway. "It was a truly historic moment."
He's referring to the electrifying moment on May 19, 1991 when, at the last possible opportunity, Willy T. Ribbs became the first African-American driver to qualify for the Indianapolis 500. An earlier qualification attempt by Willy, who was driving for Derrick Walker Racing, had failed because of engine troubles.
His trailblazing achievement at the Speedway - he eventually finished 32nd in the Indy 500 in 1991 - followed years of struggles, including harassment and even death threats when he competed in NASCAR races beginning in the late 1970s. His challenges are recounted in Uppity, a documentary film that had its world premiere in Indianapolis last year.
Willy, 64, discusses his life and racing career as Nelson's guest by phone from Texas, where he lives today. The son of an amateur race driver and plumbing contractor, Willy grew up in San Jose, Calif. In Uppity, Willy recalls how he announced as a 9-year-old that he wanted to be an Indy 500 or Formula One driver - even though he had no African-American role models.
During the 1980s, movie star Paul Newman, who had become a co-owner of racing teams, reached out to support him. Willy came to the Speedway in 1985, but an attempt to participate in a rookie orientation program didn't work out. In 1990, Willy started in several IndyCar races but failed to qualify for the Indy 500.
Like Willy, several other former Indy 500 drivers have been Hoosier History Live guests. They include Willy's friends Lyn St. James, who in 1992 became the second woman driver in the Indy 500 (Janet Guthrie was the first, in 1977) and Derek Daly, the Irish racer who settled in central Indiana and became a broadcast analyst. In 2016, Merle Bettenhausen was our studio guest to discuss his racing career and the tragedies that befell his family.
As a boy in California, Willy T. Ribbs was intrigued by motorcycle and auto race drivers who were his father's friends. To launch his career, he moved to England during the mid-1970s and competed in various racing circuits.
Uppity takes its title from one of the derogatory words that detractors used to describe Willy after he returned to the United States and sought to advance in auto racing.
"It wasn't a red-carpet ride," he has said of the challenges involved with his racing career. "But it's one that I'd do over again."
In addition to his history-making achievement in 1991 - which was the 75th running of the Indy 500 - he competed at the Speedway two years later. In 1993, Willy finished 21st in the Indy 500.
Roadtrip: Community mausoleums
Guest Roadtripper Jeannie Regan-Dinius invites us on a journey to the "mansions of the dead," the stately community mausoleums that were built early in the last century and grace the finer cemeteries of Indiana.
As Jeannie explains, the U.S. community mausoleum movement started in Ganges, Ohio in 1907. The buildings were celebrated for their beauty and engineering and hailed as a modern, sanitary means of disposing of a loved one's remains. Unlike private family mausoleums, community mausoleums sold individual niches to members of the public, with no requirement to belong to a particular family or social class.
About 40 community mausoleums were constructed in Indiana between 1907 and 1937, and about 35 remain today. These architectural gems illustrate innovative early-20th-century use of materials such as concrete combined with traditional finishes such as as marble, limestone and granite.
Jeannie's Roadtrip will take us to some of the most architecturally opulent community mausoleums around the Hoosier state. Don't be caught dead missing this fascinating journey to Necropolis!
History Mystery
For many years, women were considered bad luck at the Indianapolis Motor Speedway and were prohibited from the pit area and Gasoline Alley. A certain color also was considered bad luck at the race track.
So in 1977, when Janet Guthrie made international headlines by becoming the first woman to qualify for the Indianapolis 500, she deliberately competed in a race car of the "forbidden" color as a gesture of defiance against antiquated traditions.
Question: What was the color?
This week's prizes: a Family 4-Pack to the Indiana State Museum, courtesy of the Indiana State Museum, and a pair of tickets to the James Whitcomb Riley Museum Home in Indianapolis, courtesy of the Riley Museum Home.
Lakes, lakes and more northern Indiana lakes
Click here to listen to the podcast.
(May 4, 2019)
Lake James has been an enticing vacation and weekend destination for residents of northeast Indiana since the early 1900s, when those seeking rest and relaxation would take a train to the nearby town of Angola, then make their way to the scenic lake. By the 1920s, two dance halls and cottages had been built on the resort lake in Steuben County.
In LaPorte County, Hudson Lake has a colorful history that includes, during the 1830s, a cluster of cabins and shops on its shores that served as a stagecoach stop between nascent Detroit and Chicago.
Today, Olin Lake in LaGrange County has the largest undeveloped shoreline of all of Indiana's natural lakes.
They are among the lakes in northern Indiana that we explore during a show with a special format. Nelson's guests are a series of "lake correspondents" who phone in with reports about the heritage of natural lakes in northern Indiana.
As we noted during a show last summer about our state's two largest natural lakes - Lake Wawasee and Lake Maxinkuckee - most of the lakes in northern Indiana have glacial origins. Large lakes in southern Indiana, including Lake Monroe, are man-made.
Our lake correspondents include:
Jim Somers and Flaim Cupp, co-authors of the 2011 book A History of Lake James; both of their families are long-term property owners at the lake, which covers 1,229 acres and reaches a depth of 88 feet. They report that of about 800 cottages on Lake James today, about one-fourth are owned by year-round residents like Jim and Flaim.
Public historian Glory-June Greiff, who grew up at Hudson Lake. "LaPorte County is so lake-filled that you're bound to run into one just wandering the roads," she notes. "The county seat of LaPorte has at least five within its city limits."
Botanist Michael Homoya, who retired from the Indiana Department of Natural Resources. He shares insights about Olin Lake, which has a shoreline of about 2 miles in length. "Interesting wetlands border the lake, including a 'fen'," Michael reports, adding that a fen is a "natural community that is saturated with groundwater seepage flowing in a diffuse matter."
And Jim Nierman, who discusses Bass Lake, the state's third largest natural lake. Jim does commentary on history tours aboard trams that go around the lake, which is located in Starke County in far-northwest Indiana. Jim, who is 77, has been visiting the lake since he was a teenager during the 1950s. For more than 100 years, Bass Lake has been an enticing "escape," particularly for Chicago-area residents.
On the shore of Lake James, Pokagon State Park was established as an Indiana State Park in the 1920s, taking its name from illustrious leaders of the Potawatomi, a Native American tribe that once fished, hunted and lived across northern Indiana. During the 1920s, '30s and '40s, Big Band music attracted thousands of patrons to Lake James, according to Jim and Flaim. Motorboat racing has been a popular attraction for generations of lake-goers.
At Hudson Lake, the 1830s cluster of cabins was called Lakeport and, according to Glory-June, "vied unsuccessfully to become the county seat." She reports that 100 years later, Hudson Lake was a "happening place" again, with a casino (featuring performers such as jazz great Bix Beiderbecke) adjacent to the tracks of the South Shore Railroad running between South Bend and Chicago.
"Today," she says, "Hudson Lake is quiet, basking in its history."
Lake James, in contrast, is the site of scores of events, including sailboat races and an annual antique boat and car show organized by the Lake James Association. The association also presents "Centennial Cottage" awards to lake homes that, as Jim and Flaim put it, "have retained their original flavor for more than 100 years."
Bledsoe's Beach at Lake James - named after brothers who built a dance hall in 1919 - is often a hub of activity. During the 1960s, WOWO, an AM radio station based in Fort Wayne, broadcast live music during sock hops and record hops at the beach. Boat parades on holiday weekends and a seaplane "fly-in" at Pokagon State Park continue to this day.
History Mystery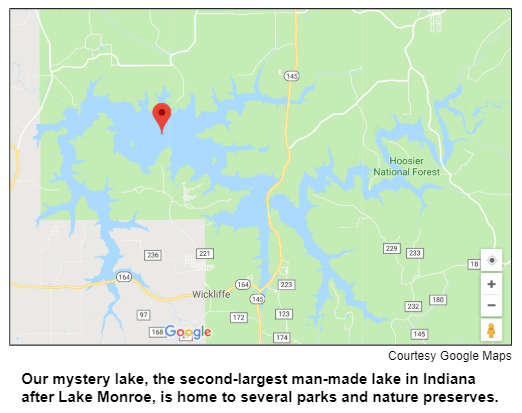 Lake Monroe, the largest man-made lake in Indiana, is located near Bloomington. The state's second largest man-made lake also is in southern Indiana.
A reservoir created by the Indiana Department of Natural Resources and the U.S. Army Corps of Engineers, the lake stretches across three counties in the far-southwestern region of the state. It was created by damming a river that has the same name as the lake. Several parks and nature preserves have been established around the lake. It covers 8,800 surface acres.
Question: What is the second-largest man-made lake in Indiana?
This week's prize: a pair of tickets to the 2019 Indiana Wine Fair at Story Inn in Brown County on May 11, courtesy of Story Inn.
A tour guide's fun facts about Indy 500 and pageantry
Click here to listen to the podcast.
(April 27, 2019) Who is the only person to participate, as a musician at an Indiana high school, in the Spectacle of the Bands at the Indianapolis Motor Speedway, then eventually compete as a race driver in the Indianapolis 500?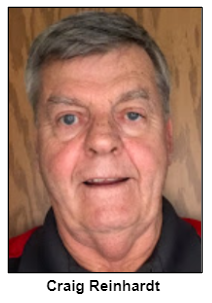 How did Purdue University begin their role as "host band" for the opening ceremonies at the racetrack - and how big is one of the band's most recognizable symbols, what's promoted as the "World's Largest Drum"?
And who has been the oldest winning driver in Indy 500 history?
The answers are among the fun facts about "The Greatest Spectacle in Racing" and its pageantry - including the 500 Festival Parade - that Nelson's studio guest share during our show. A tour guide at the racetrack, James Craig Reinhardt (who is known as "Craig") retired from his job as a Tampa businessman to move to the town of Speedway and indulge his lifelong dream of being affiliated with the world-famous race.
Craig is the author of two new books, both published by IU Press: The Winning Cars of the Indianapolis 500 and The Indianapolis 500: Inside the Greatest Spectacle in Racing.
As he does in his books, Craig explains the origins of the long-time "Gentlemen, start your engines!" command - and the controversy that unfolded when it was initially modified in 1977 as Janet Guthrie became the first woman driver to qualify for the race.
Craig says his interest in the Indy 500 was sparked during the early 1950s when his father took him to the race, which kicked off a string of more than a dozen such visits.
"I can still remember sleeping in our red and white Pontiac Star Chief on West 16th Street across from the main gate the night before a race," he says.
As a tour guide since 2014, he has kept notes about questions that the public frequently asks about the race and its storied venue, which led him to compile the answers in his two books.
According to The Winning Cars of the Indianapolis 500, the oldest champion driver since the first Indy 500 in 1911 was Al Unser Sr., who took the checkered flag in 1987 when he was 47 years and 360 days old.
According to The Indianapolis 500: Inside the Greatest Spectacle in Racing, the only person to be both a Spectacle of the Bands musician and a race driver was Johnny Parsons, who drove 12 times in the Indy 500 between 1974 and 1996. Before his racing career, Parsons was a trumpet player in the marching band at Scecina Memorial High School and participated in the pre-race musical festivities. (History fact: Parsons is the son of Johnnie Parsons, who won the Indy 500 in 1950.
Speaking of bands: The Purdue University All-American Marching Band has been the "host band" since 1919, making this the 100th anniversary for the tradition.
The well-known promotional phrase "Greatest Spectacle in Racing" dates to the mid-1950s. During our show, Craig describes its origin, as well as the annual involvement in pre-race festivities and the 500 Festival Parade of the Gordon Pipers, a Scottish/Celtic bagpipe band.
Some other fun facts from Craig's books:
Although the starting field of the Indy 500 has almost always consisted of 33 cars for several decades, the number fluctuated in earlier eras. In the 1933 race, there were 42 cars, the largest starting field ever.
The youngest victorious driver has been Troy Ruttman, who was just 22 years old when he won the race in 1952.
For 37 consecutive years beginning in 1950, a spectator from Arizona was the first in line when the IMS gates opened for practice in early May.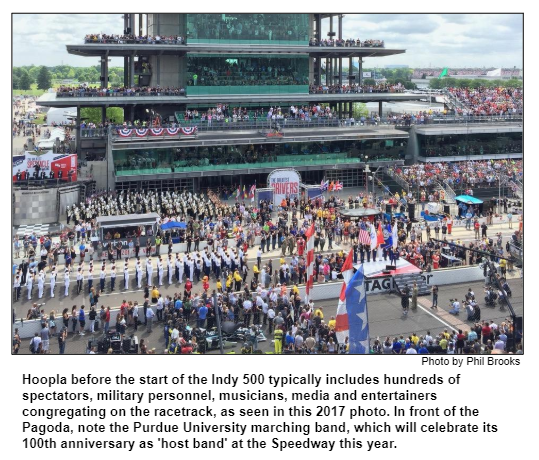 Roadtrip: Old buildings, historic bridges and a cool diner in Plainfield
Guest Roadtripper and film historian Eric Grayson suggests a visit to the town of Plainfield, just west of Indianapolis along the Old National Road in Hendricks County.
Eric tells us that the first thing we'll notice in Plainfield is that everything is named for the Quakers, thanks to the large role that the group (AKA the Religious Society of Friends) played in the town's history. Even the local laundry and the high school sports teams bear the name of Quaker!
As a film historian, Eric is quick to point out Plainfield's old Village West Theater, which opened in 1927 as the Prewitt Theater. This endangered landmark is one of the few surviving theaters on the National Road; it is currently not open to the public, but hopes are high that it can be restored and find a new way to serve the community!
After checking out downtown Plainfield, Eric suggests a walk on the trails along White Lick Creek, which crosses Main Street (US40) just west of the Village West Theater. Among the scenery on the trails you'll find lovely historic bridges, including a very large steel truss bridge. Many of them are repurposed, having been moved to the area to become pedestrian bridges in the town's trails network.
And if your stroll along White Lick Creek trails helps you work up an appetite for lunch, you can't beat The Oasis Diner, another historic gem: this 1950s roadside diner was moved four miles west on US 40 a few years ago and restored to its classic 1954 look.
Old buildings, historic bridges and lunch at a 1950s diner; sounds like the perfect Roadtrip for Hoosier History Live fans!


History Mystery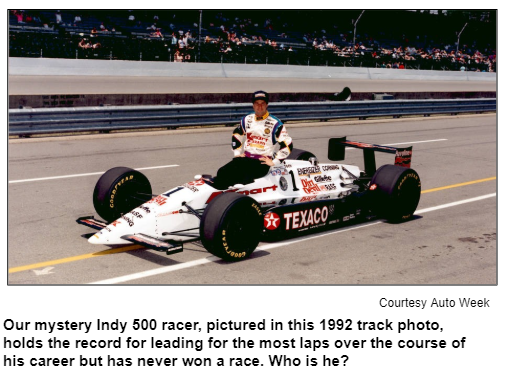 A well-known former racecar driver has the dubious distinction of leading for the most laps during Indy 500 races over the course of his career without ever winning.
According to The Winning Cars of the Indianapolis 500 by our guest James Craig Reinhardt, he led for a total of 431 laps in a nearly 20-year driving career at the Speedway that began in 1984.
Question: Who is the mystery Indy 500 driver who lead for the most laps, but never won?
Hint: He continues to be a high-profile figure as the owner of an IndyCar racing team.
This week's prize: a pair of tickets to the 2019 Indiana Wine Fair at Story Inn in Brown County on May 11, courtesy of Story Inn.
Please email molly@hoosierhistorylive.org if your business or organization would like to offer History Mystery prizes.
Talking historic renovation with Chief Justice Randy Shepard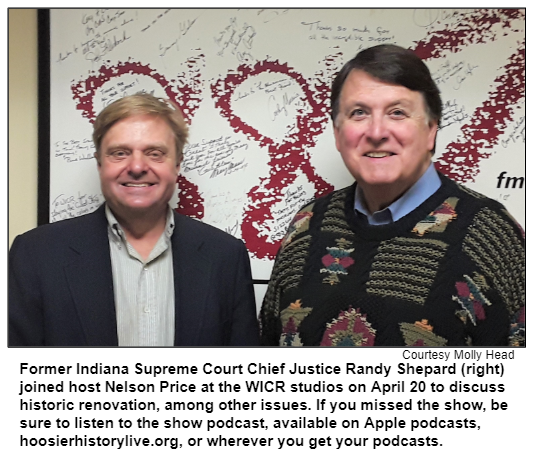 Former Supreme Court Chief Justice Randy Shepard on historic preservation
Click here to listen to the podcast.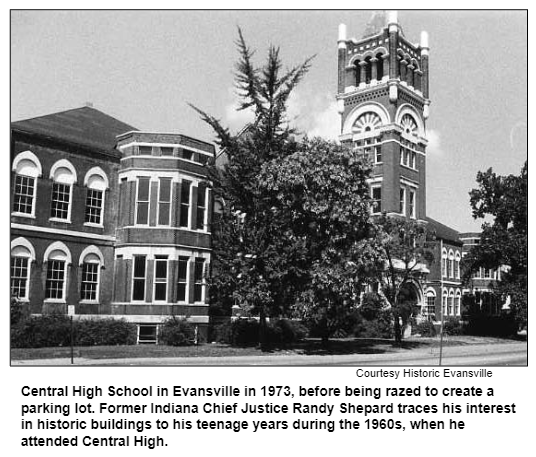 (April 20, 2019) Among distinguished Hoosiers in public life, few have been associated with historic preservation more closely - or longer - than former Indiana Supreme Court Chief Justice Randy Shepard.
A trustee for 11 years for the National Trust for Historic Preservation and a former board chair (and current honorary chair) of Indiana Landmarks, Justice Shepard grew up in Evansville. In an article about him in the March/April issue of Indiana Preservation, Justice Shepard traces his interest in historic buildings to his teenage years during the 1960s, when he marveled at historic architecture on his daily trip to Evansville Central High School, which was - and remains - among the oldest public high schools in continuous operation west of the Alleghenies. During the 1970s, the school moved to a new building, and Old Central was demolished to create a parking lot.
Justice Shepard, who was the longest-serving chief justice in Indiana history when he retired in 2012, is Nelson's studio guest to discuss the role of historic preservation in building stronger communities across Indiana.
Currently a visiting professor at the IU McKinney School of Law in Indianapolis, Justice Shepard also shares insights about Indiana's constitutional history, particularly on issues such as slavery and individual rights.
He also discusses the ways that state history likely influenced young Abraham Lincoln, who lived in southern Indiana from ages 7 to 21 - the future president's "formative years," as Justice Shepard puts it. Lincoln moved to what is now Spencer County from Kentucky with his parents and sister in 1816, the same year Indiana became a state.
A seventh-generation Hoosier, Justice Shepard has held several national leadership posts in the legal profession, including serving as chairman of the Conference of Chief Justices. He is a graduate of Princeton University and Yale University Law School. In the book Justices of the Supreme Court (Indiana Historical Society Press, 2010), he is praised for his "wisdom, plain English and independence."
According to the Indiana Preservation article, Justice Shepard's passion for preserving historic structures even had an impact on his family life. He met his wife, Ohio native Amy MacDonell, when she was visiting Evansville during National Historic Preservation Week.
Roadtrip: Donnell's Knoll in Johnson County
Guest Roadtripper Ken Marshall, educator and backroads Indiana "bon vivant," tells us about the history of Donnell's Knoll in Johnson County, located near the center point of the county at Centerline Road and Commerce Drive.
Donnell's Knoll, a natural landmark and meeting site, was used by the Lenape (Delaware) Native Americans as a campsite during their annual migration. The often swampy area was abundant with wild game and fish.
Early Johnson County pioneer George King later owned this area and originally earmarked it for the development of the town of Franklin. But a land swap with his brother-in-law, Simon Covert, who owned the land where Franklin College sits now, changed Franklin's location.
In 1841, the knoll became the home of J.H. Donnell, a doctor who moved to the area from Greenwood.
Today, Donnell's Knoll looks over a sweeping vista of central Indiana farmland. Tune in to the Roadtrip report to hear Ken share more details about this bucolic slice of Indiana history.
History Mystery
In 1984, the first woman to be a federal judge in Indiana was appointed. Although a native of Mishawaka in northern Indiana, she became a judge for the U.S. District Court of Southern Indiana.

Since then, she has been a civic leader, chairing the boards of the Indiana Historical Society, Conner Prairie and other organizations. Along with our guest, former Indiana Supreme Court Chief Justice Randy Shepard, she served on the Indiana Bicentennial Commission that oversaw celebrations and projects for the state's 200th birthday in 2016.

Question: Who is the first woman to serve as a federal judge in Indiana?

Hint: She discussed her trailblazing career on Hoosier History Live in 2014.

Prizes are two passes to the Indiana History Center, courtesy of Indiana Historical Society, and a gift certificate to Story Inn in Brown County, courtesy of Story Inn.

Please email molly@hoosierhistorylive.org if your business or organization would like to offer History Mystery prizes.

An artist who confronted segregation, and other painters
Click here to listen to the podcast
(April 13, 2019) It may seem remarkable that his abstract artwork often reflected harmony and balance, given the struggles he faced in establishing himself as a prominent artist.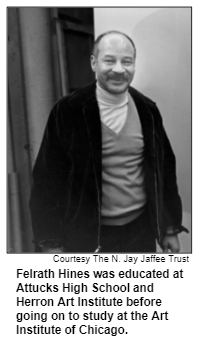 Indianapolis native Felrath Hines, who became the first African-American conservator of the Smithsonian National Portrait Gallery, worked during the Great Depression in a segregated company of the Civilian Conservation Corps (CCC) based in Bloomington. Before that, he graduated from Attucks High School in 1931; he was a member of the first four-year class at Attucks, which was created in the late 1920s as a separate high school for black students in Indianapolis. After his stint as a laborer with the CCC, Hines worked as a dining car waiter on railroad cars at night while attending the Art Institute of Chicago during the day.
Today, paintings by Hines (1913-1993) are exhibited at museums across the country, including the National Museum of African American History and Culture in Washington D.C. and the Indianapolis Museum of Art at Newfields. For several years, Hines worked with Georgia O'Keeffe as her private paintings restorer.
We explore the life and impact of Hines - as well as other artists - with two studio guests:
As a 13-year-old boy, Hines received scholarships to attend special Saturday classes at what was then called the Herron Art Institute. Despite segregation in Indianapolis schools and public places, Herron had established an open door policy at its inception in 1903 and did not discriminate on the basis of race, according to Rachel's book. At Herron, young Hines studied painting and drawing.

During his career, Hines fought against, as Rachel puts it, "being pigeonholed as a black artist" - even when turning down opportunities for his paintings to be included in exhibits of African American artwork hurt his career.

During our show, guest Mark Ruschman also discusses other notable painters, including two who attended Manual High School in Indianapolis during the early 1900s: William Edouard Scott (1884-1964) and John Wesley Hardrick (1891-1968). At Manual, both Scott and Hardrick studied under famous Hoosier Group painter Otto Stark.

Like Hines, Hardrick went on to attend Herron. Unlike Hines, whose career flourished after he focused on abstract art, Hardrick painted landscapes, still lifes and portraits. The Indiana State Museum and the Indianapolis Museum of Art own paintings by Hardrick, who lived in Indianapolis all of his life.

In contrast, Hines was based during the 1960s in New York City, where he befriended well-known jazz musicians like Billy Strayhorn. In 1972, Hines moved to the Washington D.C. area to become the conservator of the National Portrait Gallery.
Roadtrip: Angel Mounds State Historic Site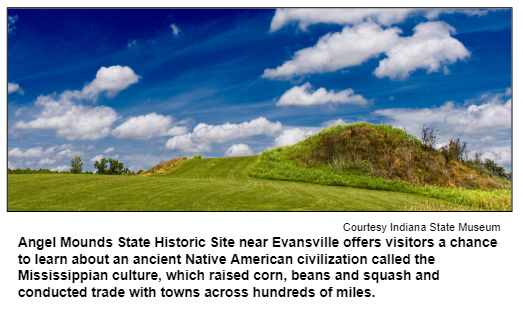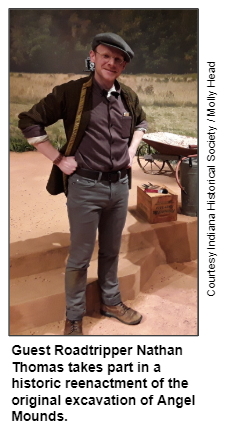 Guest Roadtripper and interpreter for the Indiana Historical Society Nathan Thomas invites us on a jaunt to Angel Mounds State Historic Site near Evansville.

Not to be confused with Mounds State Park in Anderson, Angel Mounds was the site of a large Native American town on the Ohio River that flourished from around 1000 to 600 years ago. At its largest point, the town was home to over 1000 inhabitants and held sway over a large swath of surrounding territory. Archeologists believe that the mounds themselves were the dwelling place of the chiefdom's upper class; the largest mound is over 600 feet long and around 30 feet tall.


Angel Mounds is just one of many towns that were occupied by a Native American civilization called the Mississippian culture, which raised corn, beans and squash and conducted trade with towns across hundreds of miles. The town was abandoned for unknown reasons around 1450. In the pioneer era, the area was used as farmland until Eli Lilly purchased it in 1938 for preservation.


Nathan tells us that the site was excavated beginning in the '30s as part of a joint project between Indiana Historical Society and the Works Projects Administration. Indiana University ran an archaeological field school at Angel Mounds from 1946-1964, and the state built an interpretive center there in 1971.

Today, visitors to Angle Mounds can see ancient artifacts from the area and experience a living history area portraying the site under excavation in late September 1939.


And if you can't make it down to the Evansville area, Nathan suggests we visit the current "You Are There 1939 - Exploring Angel Mounds" exhibit at the Indiana Historical Society.

Either way you make this archeological Roadtrip, you're going to dig Angel Mounds!





History Mystery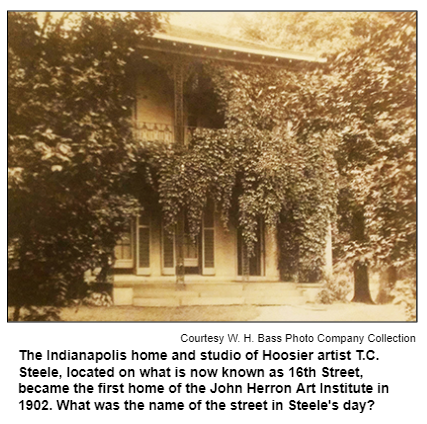 When what was then known as the Herron Art Institute opened in Indianapolis the early 1900s, the academy was located in the 100 block of East 16th Street. It is now the site of Herron High School, a charter school; the Herron Art Institute eventually evolved into IUPUI's Herron School of Art and Design and, in 2005, moved to a building on the Indianapolis campus.
During the 19th century, East 16th Street had a different name. In fact, famous Hoosier artist T.C. Steele lived on the property that became the Herron Art Institute. His estate was known by a name that reflected East 16th Street's historic name.
Question: What was East 16th Street called during the 19th century?
Hint: Today, a popular restaurant located farther east on the street has a name that pays tribute to the thoroughfare's historic name.
Please do not call in to the show until you hear Nelson pose the question on the air, and please do not try to win if you have won any other prize on WICR during the last two months. You must be willing to give your first name to our engineer, you must answer the question correctly on the air and you must be willing to give your mailing address to our engineer so we can mail the prize pack to you. Prizes: two passes to the Indiana State Museum, courtesy of the Indiana State Museum, and a gift certificate to Story Inn, courtesy of Story Inn.
Please email molly@hoosierhistorylive.org if your business or organization would like to offer History Mystery prizes.

Homing in on distinctive historic houses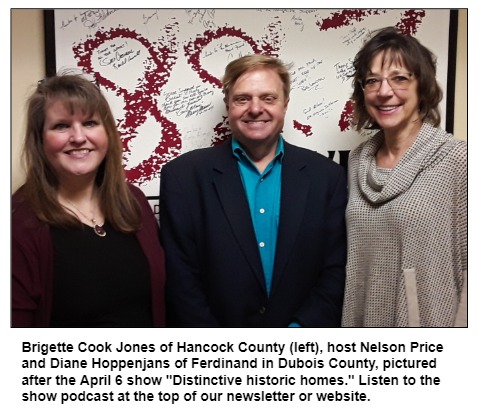 Distinctive historic homes
Click here to listen to the podcast.
(April 6, 2019) A rare octagon-shaped house was built for a widow with 12 children in a rural part of Hancock County in 1879. She saved silver dollars until she accumulated more than $2,300, enough for construction of the distinctive house for her large brood.
Now known as the Jane Ross Reeves Octagon House, the historic residence had deteriorated alarmingly and almost burned in a firefighter training exercise before several residents of the town of Shirley purchased the farmhouse during the late 1990s. They moved it into Shirley near the railroad depot. A 20-year restoration project has resulted in a house that's now listed on the National Register of Historic Places and can be toured by appointment, beginning every April.
An equally distinctive house is a Swiss chalet built in 1903 on Main Street in the scenic town of Ferdinand in Dubois County. The initial owner of the Wollenmann House, Dr. Alois Wollenmann, was a local physician who had been born in Switzerland and wanted a residence like those of his homeland; all of its features were European in design.
One unusual detail of the house reflected Dr. Wollenmann's medical practice, which he ran out of the home. He had a sliding panel installed in the front door so that he could assess the illness of patients before bringing them into his house. In the early 1900s, his son raised 11 children in the residence.
The Wollenmann House also was imperiled - it was placed on the 10 Most Endangered Sites list of Indiana Landmarks in 2010 - before being rescued. Purchased by a small group of Ferdinand residents, who then donated it to the Ferdinand Historical Society, the Wollenmann House also is listed on the National Register. Today, the distinctive chalet is home to Soup-N-Such, a café whose owners live the upstairs portion, where original features include a claw foot bathtub.
As we explore distinctive historic structures built as homes (or that have become residences), Nelson is joined by:
Hancock County historian Brigette Cook Jones, who discusses the Jane Ross Reeves Octagon House, which is celebrating its 140th anniversary this year. With 16 rooms, including several that are pie-shaped, it is believed to be one of just five octagonal homes that survive in Indiana. Like round barns, octagonal houses fell out of style.
And Diane Hoppenjans, past president of the Ferdinand Historical Society and vice president of Dubois County Tourism. Diane and her husband Alvin were among the residents who purchased the Wollenmann House to save the historic structure before donating it to the local historical society, which continues to own the chalet.
During our show, Diane also discusses another landmark in Ferdinand, which is in a region of Indiana known for its German heritage. It's a historic structure that's also on the town's Main Street; in the 19th Century, it was the residence and store of a family in the mercantile business.
In addition, Diane describes a community-wide project in which she's involved: the restoration of the historic Chapel of Our Sorrowful Mother. Built on a hill in the 1870s by German immigrants, the Catholic chapel overlooks St. Ferdinand Parish.
The Jane Ross Reeves Octagon House had decayed to the point that it essentially functioned as a run-down barn, housing hogs and cattle, before its move to Shirley and the painstaking renovation. Aside from its shape, the house has other distinctive features: it has four chimneys, and all 16 rooms have closets.
In addition to describing the colorful history of the octagonal house, Brigette shares details about a project underway at a site in Hancock County that's well-known to Hoosier history lovers: the James Whitcomb Riley Boyhood Home and Museum in Greenfield. Riley (1849-1916), the Hoosier poet, grew up in the house, which is on the National Register. A new, multi-use building is being constructed on the home museum's grounds.
Roadtrip: Learn about the Amish and Mennonites at Menno-Hof in Shipshewana
Did you ever wonder why the Amish dress as they do and don't drive cars, or what is the difference between the Amish and the Mennonites?
Guest Roadtripper and retired independent bookstore owner Kathleen Angelone invites us on a trip to visit Menno-Hof, a non-profit information center located in Shipshewana, Ind., near the far north-eastern corner of the Hoosier state. The Menno-Hof museum teaches visitors about the faith, life and history of the Amish and Mennonite communities.
Naturally enough, given the importance of agriculture for these two groups, the center is located in a huge red barn, where you can start your visit by watching a movie to see how the local community erected it in a one-day barn raising.
The Menno-Hof center relates the history of the Anabaptist movement, which dates to 16th century Switzerland; the Amish and Mennonites are direct descendants of early Anabaptists. The first several exhibits of the museum recreate important locales in Anabaptist history, including a dungeon where believers were tortured.
The center also covers more recent history, such as the Amish and Mennonites coming to America and early settlements. Kathleen says that there are loads of interactive displays which are "both interesting and informative."
And if shopping is your thing, you'll want to check out the museum's gift shop, which features handcrafted items made by local Amish and Mennonites.
History Mystery
Miniature houses are the focus of a museum in an Indiana city. In addition to tiny homes, artifacts at the museum include historic dollhouses and room boxes, including some created in the 1860s. Other collectibles also are exhibited.
The museum, which opened in the early 1990s, is located on Main Street in the Indiana city.
Question: What Indiana city is home to a museum focusing on miniature houses?
Prizes: four passes to the Indiana History Center, courtesy of Indiana Historical Society, and a gift certificate to Story Inn, courtesy of Story Inn.
Please email molly@hoosierhistorylive.org if your business or organization would like to offer History Mystery prizes.

That "Sinky" feeling: talking about a Hoosier musical great
A multi-talented composer called Sinky and other captivating musicians
Click here to listen to the podcast.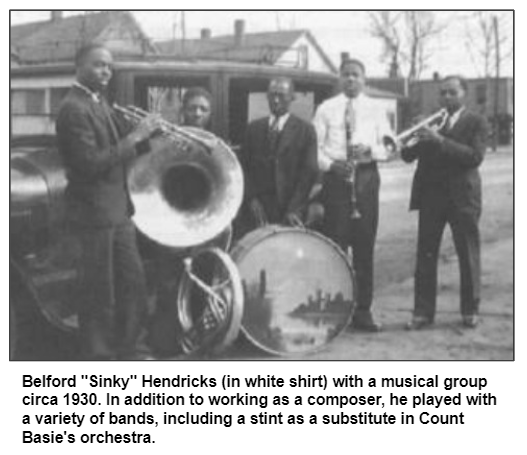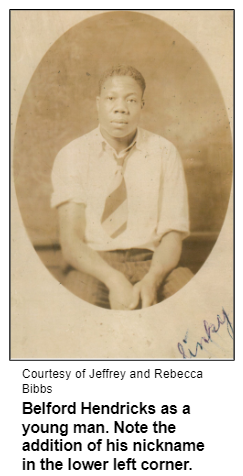 (March 30, 2019) The origins of his nickname, Sinky, are unknown.
And you may never have heard of Belford "Sinky" Hendricks (1909-1977), a native of Evansville who worked as one of that city's first African-American mail carriers during the 1930s before his career flourished as a composer, pianist, arranger and conductor.
Undoubtedly, though, you have heard some of the songs Sinky composed: "It's Just a Matter of Time" (which has been a major hit for several singers, including Randy Travis); "Looking Back," recorded by Nat King Cole; "Call Me," which is associated with Johnny Mathis, and "First Star I See Tonight," a song popularized by Patti Page.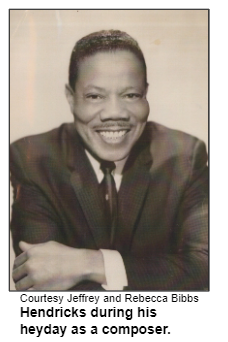 During the early 1960s, Sinky was the conductor and arranger for Aretha Franklin's first album at Capitol Records.
He also did the arrangements for "Ramblin' Rose," another Nat King Cole hit, "What A Difference A Day Makes," which reached No. 4 on the Hit Parade in 1959, and other songs that continue to be heard across the country today.
In addition to exploring the life and enduring impact of Sinky Hendricks, Hoosier History Live turns the spotlight on other African-American musicians with Indiana connections. Many are featured in Indianapolis Rhythm and Blues (Arcadia Publishing), a new book by David Leander Williams, a music historian who is among Nelson's studio guests.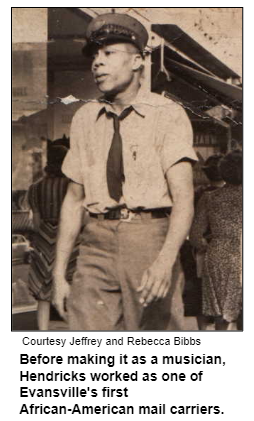 Other guests are two of Sinky Hendricks' relatives who have been researching his life: Jeffrey Bibbs, Sinky's nephew, who is an Eli Lilly & Co. retiree, and Rebecca Bibbs, Sinky's great-niece (and Jeffrey's daughter). Rebecca is a reporter for the Herald-Bulletin newspaper, which is based in Anderson, Ind.
Sinky studied music and science at Indiana State Teachers College (now Indiana State University), graduating in 1935. During the 1940s, he played the piano on "Toast and Coffee," a popular radio show in Evansville. That was followed by his national success, which unfolded when Sinky lived in Detroit, New York and other cities.
Other Hoosier musicians we focus on during the show will include:
The Peanut Boys, a singing, dancing and guitar-playing group that began as sidewalk performers outside the Madam Walker Theatre when the Indianapolis landmark opened during the late 1920s. The group later evolved into the Ink Spots, which became nationally known.
The Highlighters, a band that formed when its members were students at Attucks High School. The band went on to back up the Temptations, Martha and the Vandellas and other famous groups.
And Ron Howard, a singer who lived in Lockefield Gardens apartments and appeared in nearby nightclubs on Indiana Avenue. Relocating to New York, he chose a song by Indiana composer Hoagy Carmichael for his signature number: "Skylark."
Many of the touring, nationally known entertainers who performed at Indiana Avenue nightclubs - as well as local musicians during the 1940s - were booked by brothers Sea and Denver Ferguson, who are featured in David's book. Sometimes called the "Fathers of Indiana Avenue Entertainment," the Ferguson brothers even owned several popular nightspots, including the Cotton Club and the Sunset Terrace Ballroom, which David discusses during our show.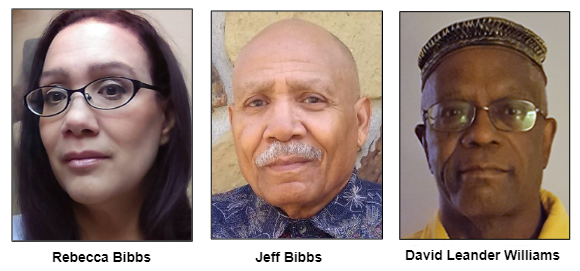 During the late 1940s, Sinky Hendricks' singing and piano playing on the "Toast and Coffee" radio show resulted in some trailblazing, according to Evansville Living magazine. Sinky was paired on the radio show with a white hostess, one of broadcasting's first interracial pairings in the country.
"It's Just a Matter of Time," which he co-wrote with Brook Benton in 1959, has been listed among the 100 most licensed songs of the 20th century, according to our guest Rebecca Bibbs. Sinky was still writing music when he died in 1977.
Roadtrip: Bailly Homestead and Chellberg Farm in northwest Indiana
Guest Roadtripper and travel writer Jane Ammeson, author of Lincoln Road Trip: The Back-Roads Guide to America's Favorite President, suggests that we visit Bailly Homestead and Chellberg Farm near Porter, Ind.
Bailly Homestead was established in 1822 as one of the only trading posts between Chicago and Detroit; Chellberg Farm, less than half a mile away, spans 150 years of the history of Northwest Indiana. Both are part of the Indiana Dunes National Lakeshore and have living history activities that are open to visitors. Chellberg Farm was once a part of the large Swedish settlement that lined the shores of Lake Michigan starting in the 1800s and stretching into the early 20th century.
Hiking trails connect the properties through a forest dominated by maple, beech, basswood, and oak trees. You can follow a stretch of the Little Calumet River, once a critical transportation route for early regional travelers, and explore the recently restored Mnoké Prairie for a glimmer of the vast stretches of pre-settlement grasslands.
With spring in the air, Jane says it's a great time to enjoy the outdoor attractions of the Bailly Homestead and Chellberg Farm. If the weather is good, you may even want to turn this Roadtrip into a weekend getaway and explore the many other attractions of the Indiana Dunes!
History Mystery
A popular, internationally known orchestra leader probably was the first to record a song composed by Evansville native Belford "Sinky" Hendricks. In 1938, the song was recorded by the orchestra leader, who, like Sinky, was a multi-talented musician known as a pianist and composer.
Based out of New York City beginning in the mid-1920s, the orchestra leader never lived in Indiana. But according to the book Indianapolis Rhythm and Blues by guest David Leander Williams, he made several appearances in Indianapolis during the heyday of nightspots on Indiana Avenue.
The orchestra leader enjoyed a career that spanned more than 50 years. He died in 1974, three years before the death of Sinky Hendricks. Like Sinky, he was known by a nickname. Although primarily identified with jazz, the orchestra leader, also like Sinky, enjoyed success in multiple genres of music.

Question: Who was the orchestra leader?

Prizes: four passes to the Indiana History Center, courtesy of Indiana Historical Society, and a gift certificate to Story Inn, courtesy of Story Inn.
Please email molly@hoosierhistorylive.org if your business or organization would like to offer History Mystery prizes.
Claypool Hotel and Hotel Lincoln: bygone Indy landmarks
Click here to listen to the podcast
(March 23, 2019) With the announcement that downtown Indianapolis will get a new high-rise hotel that, according to news accounts, will "change the city's skyline," Hoosier History Live will explore two grand hotels that were rivals for most of the early and mid-20th century.
When the elegant Claypool Hotel opened in 1903 at Washington and Illinois Streets, its lobby was touted as one of the largest in the world. During the next six decades, distinguished guests included Eleanor Roosevelt, Jack Benny, Dwight Eisenhower and Fort Wayne native Carole Lombard, who spent the last nights of her life at the Claypool.
The glamorous movie star was killed in 1942 when her plane crashed as she was returning to Hollywood from Indianapolis, where she had raised a record $2.5 million at war bond rallies.
Two sensational murders at the Claypool made international headlines: The notorious "dresser drawer murder" in 1954 (the body of teenage victim Dorothy Poore was found stuffed into a dresser drawer), and the unsolved slaying of Maoma Ridings, who was serving in the Women's Army Corps at Camp Atterbury, during WWII.
Hotel Lincoln opened in 1918 on the current site of Hyatt Regency (it later was known as the Sheraton Lincoln Hotel after an acquisition). At 15 stories, the hotel was the largest flatiron building ever constructed in Indiana, built on an acutely angled lot at the corner of West Washington Street and Kentucky Avenue. The adjacent stretch of Kentucky Avenue was later eliminated from the city street grid prior to construction of the Hyatt Regency.
Like the Claypool, the Lincoln hosted political conventions, including dozens of state legislators who stayed at the hotels during the General Assembly. Demolition of the Lincoln in 1973 involved the first use of controlled dynamite to raze a building in the entire state, according to an article written by historian Joan Hostetler for historicindianapolis.com.
Nelson's studio guest is John McDonald, the CEO of the information technology company ClearObject in Fishers; he is the author of Lost Indianapolis (Arcadia Publishing, 2002), which devotes a chapter to the lavish Claypool.
Two years after a devastating fire in 1967 caused the Claypool to close, the hotel was demolished. Guests at a "demolition ball" then bid on dozens of Claypool artifacts and mementos.
Other Claypool objects, however, remained in storage for decades; for example, the Carole Lombard Suite (furnishings from the room in which the actress stayed) eventually was purchased in 2000 by the Indianapolis Propylaeum.
Some history facts:
Before the Claypool was built, its site had been the location of a legendary hotel of the 19th century: the Bates House, which was constructed in the 1850s. None other than Abraham Lincoln stayed at the Bates House. As president-elect in 1861, traveling from Springfield, Ill., to his inauguration in Washington, Lincoln delivered a speech from the balcony of the Bates House that made national headlines.
According to Lost Indianapolis, a partnership that involved entrepreneur Edward Fay Claypool, the son of one of the first settlers of Connersville, Ind., initiated construction of the eight-story hotel, which had 450 guest rooms. Our guest John McDonald writes that the Claypool's furnishings and décor were "made of the best mahogany, brass and textiles available." Every room at the Claypool had a private bath, a luxury in 1903.
At the Hotel Lincoln, an Estey pipe organ was built specifically for the Travertine Room, the elegant dining room.
The new downtown hotel will be a Signia Hotel, a new brand created by Hilton. Expected to become one of the tallest buildings in the Hoosier capital, the hotel is planned for Pan American Plaza at Illinois and Georgia streets.
Expansions of the Claypool during its heyday eventual increased its capacity to 600 guest rooms. The hotel included two ballrooms, the Florentine Room and the Riley Room, which was named in honor of poet James Whitcomb Riley.
"From the first night, the Claypool had no trouble filling its guest list with the most powerful and influential," John McDonald writes.
Carole Lombard stayed at the hotel in January 1942 while making a series of major public appearances to sell war bonds at Monument Circle, Cadle Tabernacle and the Indiana Governor's Residence. Lombard, 33, and her mother were among the passengers killed when their plane from Indianapolis crashed into a mountain in Nevada. Her grief-stricken widower, movie icon Clark Gable, then quietly visited Indianapolis and may have stayed in the rooms that later became known as Carole Lombard Suite.
The Claypool's reputation never fully recovered from the "dresser drawer murder" in 1954. Dorothy Poore, the 18-year-old victim, had come to Indianapolis from her hometown of Clinton, Ind., in search of a job. A door-to-door salesman was convicted of the gruesome slaying.
The years after the shocking murder also were a lackluster era for Indy's downtown, another factor in the decline of both the Claypool and the Lincoln hotels.
That era resulted in the demise of other landmarks depicted in Lost Indianapolis, the book by our guest John McDonald. In addition to being the CEO of ClearObject, John is the chairman of the Indiana Technology and Innovation Policy Committee.
Roadtrip: The National Road and Terre Haute
Please note: this Roadtrip was originally scheduled for our March 9 show, but had to be postponed until this show.

Guest Roadtripper Glory-June Greiff invites us on a journey to explore the National Road, the nation's first truly interstate highway. In Indiana, the National Road runs from Richmond westward through Indianapolis and on to Illinois through Terre Haute, crossing the Wabash into West Terre Haute.


Terre Haute makes a great destination, but Glory-June suggests we make the most of the journey by taking our time as we travel along US40, which traces the course of the original National Road and reveals much of its 189 years of history. A good place to start is the Oasis Diner, moved from its earlier location four miles away to a new spot in downtown Plainfield. Glory-June says it's a great place to eat and soak up the 1950s-era vibe.

Other interesting stops for history-minded Roadtrippers traveling the old National Road include 19th century inns and great old houses, like Rising Hall west of Stilesville. Take time to check out the Clay County Courthouse (listed in the National Register) in downtown Brazil. And while you're there, stop by Lynn's Old Fashioned Soda Parlor at Lynn's Pharmacy.

Upon reaching Terre Haute, you have a wealth of things to see! Glory-June tells us that the new Vigo County Historical Society museum is soon to open on Wabash Avenue (US40), just across the street from the Clabber Girl Museum. A little farther west, on 7th Street, is the Swope Museum of Art, in sight of the glorious Indiana Theater, an old movie palace and architectural treasure.


In need of a pick-me-up before heading home? Glory-June recommends the Corner Grind on the corner of 7th and Wabash, a great coffee house adjacent to its sister business, the Cornerstone Cafe, featuring tasty sandwiches and soups.

That's just a taste of the many great things to do and see in Terre Haute; plenty of reasons to return!

History Mystery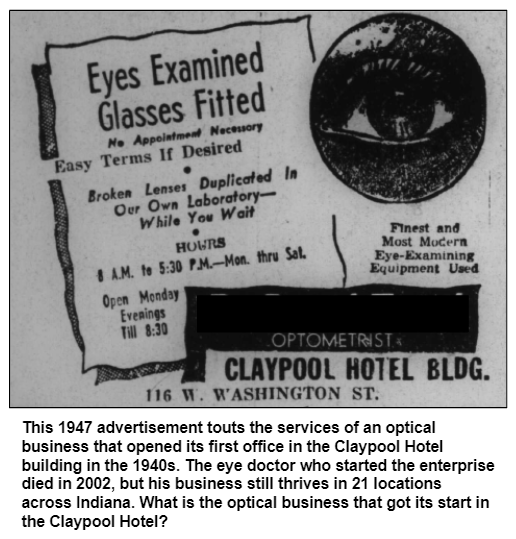 A well-known chain of optical stores in Indiana had its beginnings in the Claypool Hotel in Indianapolis. During the 1940s, an optometrist opened his first office in the Claypool. That office became the start of a chain of eye care stores, which still remains a family-owned business.
Even though the Claypool was demolished 50 years ago, the optical business today has more than 20 stores across Indiana.
Question: What is the optical business that got its start in the Claypool Hotel?

Please do not call in to the show until you hear Nelson pose the question on the air, and please do not try to win if you have Prizes: four passes to the Indiana History Center, courtesy of Indiana Historical Society, and two passes to GlowGolf, courtesy of GlowGolf.
Please email molly@hoosierhistorylive.org if your business or organization would like to offer History Mystery prizess.
Ask Nelson - plus the founding of Heartland Film Festival, Twin Aire history and more
Click here to listen to the podcast
(March 16, 2019) Periodically on Hoosier History Live, we open the phone lines so listeners can inquire about any aspect of our state's heritage.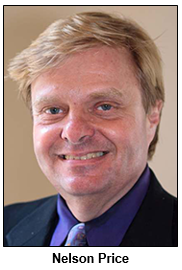 This time around, our host Nelson Price is joined by Indianapolis civic leader Jeff Sparks, who founded the Heartland Film Festival in the early 1990s to celebrate "life-affirming" movies and oversaw its evolution into a major cultural event. During the 1980s, Jeff helped launch the New Harmony Project, which brings playwrights and screenwriters to the historic town of New Harmony in southwestern Indiana to develop new works in a scenic, tranquil setting on the Wabash River.
Since stepping down as Heartland's CEO in 2013, Jeff has been involved in the revitalization of Twin Aire, a neighborhood on the southeastside of Indianapolis that's been in the news because it will be the site of the Indianapolis Community Justice Campus, including the Marion County courts.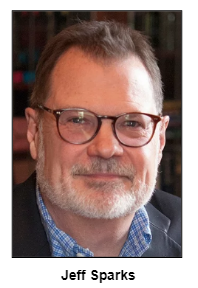 In between phone calls from listeners, Nelson interviews Jeff about the history of these diverse civic and cultural projects. Jeff describes their evolution in his new book, Changing Culture Through Stories (Sagamore Press), which traces some of his ideas about cultural change to his work with emotionally troubled teenagers at a residential treatment center.

As we spotlight Women's History Month, Jeff interviews Nelson about some notable Hoosier women, including a World War II aviator who is featured in the bestselling book The Greatest Generation.

Nelson also describes the history of Ellenberger Park, the hilly, sprawling park near Irvington on the eastside of Indy. We intended to spotlight historic Ellenberger during several shows a while back, including a program about the histories of various city parks, but ran short on time.
Twin Aire, long known for a drive-in movie theater and, in the 1950s, the site of one of the city's first strip shopping centers, has had "a crying need for new businesses," as Jeff puts it in Changing Culture Through Stories. Jeff's involvement began as a board member of Southeast Neighborhood Development Inc. (SEND), a community development organization.
Jeff is most closely identified with Heartland, which grew to involve more than 1,000 volunteers annually. When Jeff began planning to launch a film festival, he only had attended one of them - the Sundance Film Festival in Utah - just once.
During our show, Nelson asks Jeff about the involvement in Heartland of some Hollywood notables with Indiana connections, including Oscar-winning director Sydney Pollack (1934- 2008), whose credits included Tootsie (1982), Out of Africa (1985) and The Way We Were (1973).
The WWII aviator was Margaret Ray Ringenberg (1921-2008), who grew up in a rural area just northeast of Fort Wayne and became a WASP (Women's Airforce Service Pilot). At the war's conclusion, she was hired to drop 56,000 leaflets proclaiming "Japan Surrenders!" over Fort Wayne streets. Both newspapers in the city were on strike, so her historic "news drop" announced the war's end to residents of the state's second largest city.
Nelson interviewed Mrs. Ringenberg in 2002, when she was named a Living Legend by the Indiana Historical Society and, in her 80s, still competing in international races against other women pilots. Mrs. Ringenberg titled her memoir Girls Can't Be Pilots; an Aerobiography (Daedalus Press, 1998), alluding to what she was informed when she initially expressed interest in enrolling in flight school.
Roadtrip: Mathers Museum on the IU Bloomington campus
Guest Roadtripper Rachel Perry, art historian and fine arts curator emerita of the Indiana State Museum, recommends a visit to the Mathers Museum of World Cultures, which she calls "one of the best-kept secrets" on the Indiana University - Bloomington campus.
Located on Indiana Avenue just a few blocks north of Dunn Meadow, the Mathers is in easy walking distance of Sample Gates, Memorial Union, and other landmarks of the Bloomington campus.
Rachel tells us that the Mathers collection contains a fascinating array of artifacts from across the globe. Just a sampling: "musical instruments, North African, Middle Eastern, and Central Asian textiles and jewelry, South and Central American artifacts, Pawnee material culture, Indonesian puppets, and West African sacred and daily use artifacts."
Two particularly interesting exhibits among their current displays caught Rachel's eye:
"Hungry Planet: What the World Eats" is a traveling exhibit is based on the best-selling book by photographer Peter Menzel and writer Faith D'Aluisio, who sat down to dinner with 30 families in 24 different countries to document their meals and lives around food.
"Mexico Indigena" explores examples of the beautiful artistic traditions of the indigenous people of our neighboring nation to the south.
And if that "Hungry Planet" exhibit makes you yearn for a bite to eat, Kirkwood Avenue and Fourth Street, with their bounty of restaurant offerings, are only a ten minute walk away.
Come for the culture, stay for the food - sounds like a great Roadtrip!
History Mystery
In 1997, Heartland Film Festival began presenting an award in honor of a Hollywood star who had died earlier that year.
The movie actor, one of the most popular stars of the 20th Century, never lived in Indiana, but had a few indirect connections and coincidences associating him with the Hoosier state. For example, he was born in the town of Indiana, PA, located near Pittsburgh., in 1908.
Our guest Jeff Sparks developed a friendship with the late actor's family. In 2003, Jeff even was among the speakers at the unveiling of a commemorative postage stamp that depicted the Oscar-winning actor as part of the "Legends of Hollywood" series by the U.S. Postal Service.
Question: Who was the movie star?
Prizes: four passes to the Indiana History Center, courtesy of Indiana Historical Society, and a gift certificate to Story Inn, courtesy of Story Inn.
Highway 65 (and 70) revisited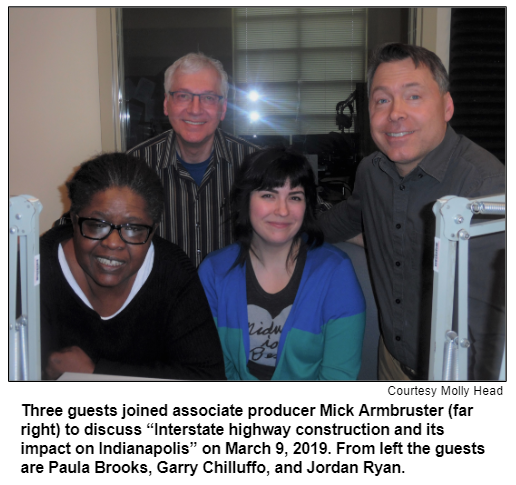 Party like it's 1899!
Annual bash celebrates 11 Years of making Hoosier History!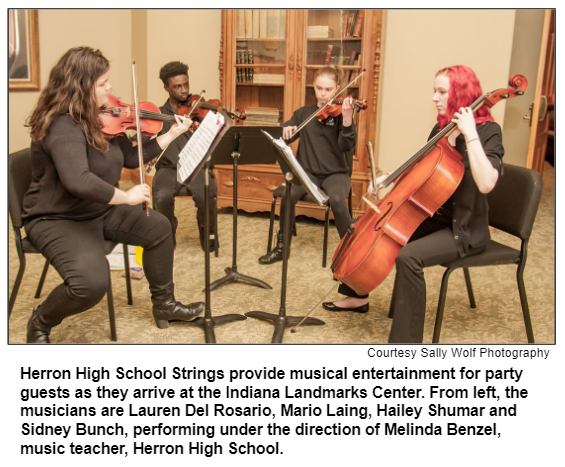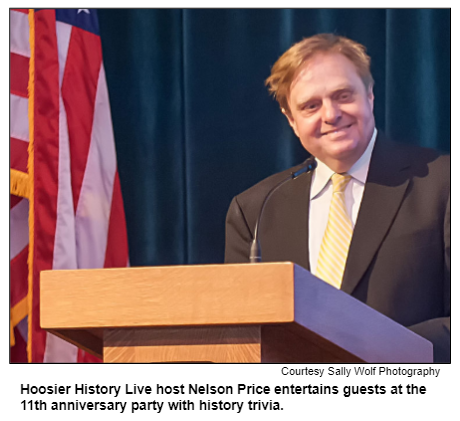 Interstate highway construction and its impact on Indianapolis
Click here to listen to the podcast.
(March 9, 2019) It's the largest engineered structure humans have ever built, covering a land mass the size of the state of Delaware. Along with the Great Wall of China, it's one of the few human creations that can be seen from space. In its entire length, it stretches 46,876 miles.
And you probably use it on a regular, if not daily, basis.
It's the Interstate highway system, and Indiana, true to its "Crossroads of America" official motto, has its share of the nation's federal highways - over 12,000 miles of them, criss-crossing the state and converging at Indianapolis, where Interstates 65, 69, 70, and 74 intersect. I-465 connects them all, circling the Hoosier capital and traversing 53 miles as it does so.
And while the nation's extensive network of well-engineered Interstate highways, which took over four decades to build, has brought undeniable benefits in the form of greater road safety and efficiency for personal travel and commerce, there's a darker side to the story.
Often unacknowledged by lovers of the open road are the high costs that Interstate highway construction wrought upon urban centers, where tens of thousands of American citizens lost their property to eminent domain, saw their neighborhood houses, schools and businesses bulldozed, and found themselves living next to an endless stream of noisy traffic.
Hoosier History Live associate producer and guest host Mick Armbruster delves into the impact of Interstate construction on the city of Indianapolis, looking at how it disrupted the lives of urban residents during the building phase and had long-lasting, far-reaching impacts on the city's development. Joining Mick in studio to discuss Indianapolis highway history are:
Jordan Ryan, who serves as Architectural Archivist and Curator of the City Bicentennjal project at the Indiana Historical Society. Jordan has conducted archival research into routing decisions made during the Interstate planning process in the late 1950s that brought the combined 65/70 inner loop to downtown Indianapolis, examining how those choices affected urban neighborhoods.
Paula Brooks, who as a child experienced firsthand the impact of Interstate construction on her Indianapolis neighborhood, Ransom Place. She is involved in current advocacy efforts regarding environmental justice and also works with Rethink 65/70, which seeks to influence plans by the Indiana Department of Transportation to redesign the Interstate 65/70 inner loop.
And Garry Chillufo, founding member and current president of Historic Urban Neighborhoods of Indianapolis (HUNI), a coalition that supports older neighborhoods by working with local government and serving as a forum for urban residents. Garry is also involved with the work of Rethink 65/70.
The dream of a national highway system that would unite the sprawling territory of the United States goes back all the way to the founding fathers; it was President Thomas Jefferson who signed the act establishing a National Road in 1806, with the goal of connecting the Potomac River at Cumberland, Maryland, to the Ohio River at Wheeling, Virginia (now West Virginia).
But it was the explosion of automobile ownership in the 1920s that spurred the massive growth in paved, graded highways that could accommodate high volumes of traffic traveling at ever increasing speeds.
Road building did not stall out during the Great Depression, thanks to billions provided by New Deal programs that put drought-stricken farmers to work constructing hundreds of miles of new highways. But it was during the era of post-war prosperity in the 1950s, with automobile ownership rising faster than the tail fins on Cadillacs, that highway construction got into high gear.
President Eisenhower, impressed by his post-war travels on Germany's Autobahn, saw the need for a national system of roads that could be used not only for personal travel and commerce, but for military preparedness in an era of growing Cold-War tensions. When Eisenhower signed the Federal-Aid Highway Act of 1956, he funded the Interstate highway system and set in motion a process that would revolutionize transportation in the United states.
But Eisenhower never envisioned the Interstate highways reaching into the inner urban core. Modeled on the Autobahn, his proposed system would have carried traffic only between and around cities, not through them.
Under pressure from members of Congress, however, who believed that urban freeway segments were essential to the needs of their constituents, Eisenhower relented and went forward with plans that brought major highways through the heart of America's cities - and left destruction and social upheaval in their wake.
Some Interstate history facts:
The Interstate highway system is the biggest public works project in the history of the United States.
Missouri was the first state to begin building a segment of Interstate highway, reconfiguring U.S. 40 into what was later designated the I-70 Mark Twain Expressway. The work began on on August 13, 1956.
In 2002, native Hoosier David Letterman launched a humorous campaign to rename I-465 in his honor. "Honest to God, would it kill ya to do this?" the comedian asked in reference to renaming the roadway the "David Letterman Expressway."

History Mystery
Interstate construction in downtown Indianapolis in the late 1960s and early 1970s required the demolition of dozens of historic buildings. One building on the city's Old Northside came close to destruction but was saved by the intercession of Eli Lilly, grandson of Colonel Eli Lilly - the pharmacist, chemist, and businessman who founded Eli Lilly and Company. The architecturally distinctive home, designed in the Second Empire style, was built in the 1860s and served over the years as the residence of two notable Indianapolis families, whose names the building is now known by.

The home was slated for demolition to make way for Interstate 65 construction when Eli Lilly, who had lived in a nearby home in the 1920s, provided money to have it purchased by the Historic Landmarks Foundation of Indiana (now Indiana Landmarks) and listed in the National Register of Historic Places. Because federal dollars were funding the Interstate construction, the route had to be moved south and the home was saved.


The home has been restored and serves as a venue for Indiana Landmarks programs, special events, and private rentals.

Question: What is the name of the historic home in the Old Northside neighborhood of Indianapolis that was in the pathway of Interstate 65 but was saved by the intercession of Eli Lilly?

Please do not call in to the show until you hear Mick pose the question on the air, and please do not try to win if you have won any other prize on WICR during the last two months. You must be willing to give your first name to our engineer, you must answer the question correctly on the air and you must be willing to give your mailing address to our engineer so we can mail the prize pack to you. The prize is a pair of tickets to the historic Athenaeum Tour, courtesy of Indiana Landmarks, and a certificate to Story Inn in Brown County, courtesy of Story Inn.

Please email molly@hoosierhistorylive.org if your business or organization would like to offer History Mystery prizes that can be easily mailed to contest winners.
Historic women in science: encore
Click here to listen to the podcast.
(March 2, 2019) Women from Indiana became pioneers in sciences ranging from physics to home economics during the early and mid-1900s. But they confronted myriad challenges, and their trailblazing efforts often have been ignored.
Hoosier History Live strives to fill in this historical void as we salute Women's History Month with this encore broadcast (original air date: March 11, 2017) of a show that spotlights the innovations of - and obstacles confronted by - a physicist from southern Indiana who pioneered new theories (but whose career was stalled because of McCarthyism during the Cold War) and two women associated with Purdue University who were pioneers in "bringing science into the home." One of them traveled across the Hoosier state during the World War I era to share research with farm women.
Nelson's guests include:
Jill Weiss, digital outreach manager at the Indiana Historical Bureau. She shares insights about Melba Phillips (1907-2004), a native of Hazleton, Ind., who became an internationally acclaimed physicist, worked to improve science education and, according to Jill, "advocated for women's place at the forefront of science research." Following World War II, Phillips and other scientists organized to prevent nuclear war. She was fired from university posts, though, after being accused of advocating subversive positions.
And Angie Klink, a Lafayette-based author and historian whose eight books include Divided Paths, Common Ground (Purdue University Press, 2011). It is a dual biography of Mary Matthews, who became the first dean of home economics at Purdue University, and Lella Gaddis, the first state leader of home demonstrations in agricultural extension.
"She hit the road to take research and knowledge ... directly to farm women, who often were isolated," Angie notes, referring to Gaddis. Prior to her outreach, what farm women knew about food preservation (a particularly important topic during World War I, when meat, sugar and other goods were in high demand), sanitation and nutrition often had just been "handed down by word-of-mouth from their mothers."
When Matthews was initially appointed a department chair of home economics in 1912 prior to becoming Purdue's first dean of the subject, "she had little support from the men in power at Purdue," Angie writes.
Melba Phillips, the physicist, encountered enormous challenges during her long career, but she rebounded and became the first woman president of the American Association of Physics Teachers in 1966.
More than 20 years later, according to a blog post that our guest Jill Weiss has written for the Historical Bureau, Brooklyn College publicly apologized for having fired Phillips during the 1950s. Eventually, the college even created a scholarship in her name.
Phillips, who had studied under Robert Oppenheimer and went on to write two physics textbooks, was living in Petersburg, Ind., when she died at age 97. During the 1950s, she refused to testify before a subcommittee of the U.S. Senate Judiciary Committee that was investigating internal security.
Jill's blog about her is titled "Melba Phillips: Leader in Science and Conscience." Phillips also is the subject of an episode of the IHB podcast Talking Hoosier History, which Jill helps produce.
According to Jill's blog, Melba Phillips graduated from high school at 15, then studied at Oakland City College (which became Oakland City University in 1985) in southern Indiana. Eventually, she earned a Ph.D. and became "known throughout the physics world" because of her contributions to the field.

As described in our guest Angie Klink's book Divided Paths, Lella Gaddis "tooled down the country roads past Indiana cornfields" to bring the latest science about vitamins, food preservation, sanitation and other topics to farm wives. On the running board of her Model T, Gaddis propped her demonstration suitcase - and held onto it as she traveled on the rural roads.

Divided Paths also tells the story of an unconventional "lady farmer," as Virginia Claypool Meredith was called during the late 1800s and early 1900s. During our show, we also will explore her pioneering career, which included becoming the first woman on Purdue's board of trustees in 1921.

When Virginia Claypool Meredith was 33 years old in 1882, she had to take over the running of a 115-acre cattle and sheep farm near Cambridge City, Ind, when her husband died unexpectedly, according to Angie's book. "She became a nationally recognized agricultural speaker and writer."



Roadtrip: Adams Mill in Carroll County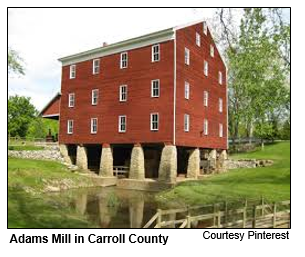 Guest Roadtripper and travel writer Jane Ammesonsuggests a trip to Adams Mill in Carroll County, about 60 miles north of Indianapolis. John Adams built the three-and-a-half story mill on Wildcat Creek in 1845-46 in Cutler, a tiny village near Lafayette.
Adams Mill is filled with historic treasures on all its floors, including a Conestoga Wagon and a canvas bathtub used by pioneers as they traveled out west. The mill also has the original milling equipment and artifacts from when it housed a post office. And just down a winding country road is the Adams Mill Covered Bridge, built in 1872.
Adams Mill was placed into the National Register of Historic Places in 1984. Open for tours, it is a fascinating look back in time when mills served the towns and outlying regions where they were located. And it's also one of the few survivors in the 21st century. At one time saw mills and grist mills dotted the landscape of Indiana, necessary for both grinding grain and sawing lumber for building. Now just about 13 remain.
Former Indy Mayor Ballard on electric car history and more
Click here to listen to the podcast.
(February 23, 2019) For several decades, each mayor of the Hoosier capital has had a relationship with the University of Indianapolis once his term in office has ended. Greg Ballard, who was elected to two terms as mayor of Indianapolis, is no exception; he currently serves as a Visiting Fellow at UIndy.
On this show, former Mayor Ballard describes his new role, reflect on his terms as mayor (which followed an unexpected victory in the 2007 election) and talks about historic aspects of one of his major areas of focus - electric cars - when he joins Nelson as studio guest.
Indiana-related aspects of electric car production involve modern history: During the 1990s, crucial components of General Motors' EV1, described as "one of the most technologically advanced" and fuel-efficient vehicles of the 20th Century, were made in two Indiana cities. A Delco Remy plant in Anderson produced the motors. The battery packs were made in Muncie, also at a Delco Remy factory.
The need to shift from oil as the primary transportation fuel is the focus of Less Oil or More Caskets (IU Press), a new book by former Mayor Ballard, who draws on observations from his 23-year career as a U.S. Marine, which included serving in the first Persian Gulf War.
In 2013, while serving as mayor, Greg Ballard was our studio guest to discuss historic connections between the Marines and the Hoosier state. He also shared insights about attending Cathedral High School (where he was a member of the Class of '72) during its final years as an all-male school located in downtown Indy.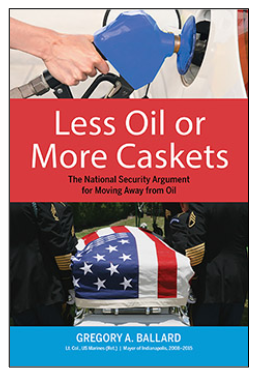 This time, former Mayor Ballard, a Republican, assesses his terms in office, including accomplishments and frustrations.
Documents, oral interviews and artifacts of former mayors are housed at UIndy's Institute for Civic Leadership & Mayoral Archives. Several former mayors, including Ballard's predecessor, Bart Peterson, a Democrat, have served on UIndy's board of trustees (Former Mayor Peterson was Nelson's studio guest on a show in 2015).
The history of electric cars stretches much further back than the 1990s production of the EV1. Early electric vehicles - powered by a battery charged by plugging it in - were built circa 1900 at the dawn of auto production.
As Ballard describes in his book, the challenges then involved the limitations of the vehicles; in the early 1900s, electric cars only could travel about 20 miles before requiring a recharge, severely limiting their range compared to gasoline-powered automobiles.
With substantial improvements in battery technology since that time, electric cars have made significant gains in range and efficiency. Less Oil or More Caskets is being promoted as a call to action to shift from gasoline to electricity in transportation, which former Mayor Ballard calls "the last industry dominated by the use of oil."
Blue Indy, an electric car-sharing program with a fleet of vehicles and charging stations across Indianapolis, is a visible legacy of the Ballard administration. As mayor, he struck a deal with a French company, Bollore, to bring the electric car service to the Hoosier capital.
Billed as the "first of its kind" in the country, Blue Indy was unveiled in 2014, with the all-electric cars showing up in designated, charger-accessible parking spaces the next year. Controversy ensued, with businesses and homeowners complaining that neighborhoods were not consulted about the loss of parking spaces that were given over to the electric cars and their charging stations.
Since then, the city has renegotiated some aspects of the Blue Indy contract, but critics continue to question the public demand for the car-sharing program and its benefits to the city.
In Less Oil or More Caskets, former Mayor Ballard traces his enthusiasm for all-electric vehicles to his stint as a Marine based in the Middle East. During a recent appearance on the syndicated TV show Inside Indiana Business, the former mayor said, "Eighty percent of the world's oil reserves are in the hands of monarchs." The United States, he added, only has 2 percent of the world's oil - meaning conversion to other sources of energy is crucial for economic as well as environmental reasons.
Greg Ballard grew up on the eastside of Indianapolis and attended Cathedral on a scholarship. He graduated from Indiana University before his 23-year career in the Marines, retiring in 2001 as a lieutenant colonel.
Roadtrip: New National Mascot Hall of Fame in Whiting
Lately it seems that sports team mascots are getting as much attention as the teams they represent. Just ask Gritty, the mascot of the Philadelphia Flyers hockey team, who made his debut last year and has become an Internet sensation and sought-after guest on the late-night talk show circuit.

To explore the exploding popularity of mascots, guest Roadtripper Jennifer Smith suggests an adventure at the National Mascot Hall of Fame, which opened last last year in Whiting, Ind., on the shores of Lake Michigan about halfway between Chicago and Gary.

Jennifer has more than a little experience with mascots. As the owner of Avant Garb, located in the Stutz Building in Indianapolis, she's a professional mascot maker who knows a thing or two about life-size, fuzzy characters designed to ratchet up the fevered devotion of sports fans. She also constructs mascots for corporations like Hewlett-Packard.

As Jennifer explains, the National Mascot Hall of Fame bills itself as an "interactive children's museum." Visitors can have fun trying out a T-shirt cannon, designing their own mascot, and tracing the historical development of mascots all the way back to Chinese dragons and Medieval court jesters.

And for those who dream of becoming mascots themselves, the Hall of Fame offers special events such as an upcoming "mascot boot camp" to help aspiring characters hone their craft.

Be sure to tune in to Jennifer's Roadtrip report to hear all about what a reviewer in Slate magazine called "one of the oddest museums I've ever visited."



History Mystery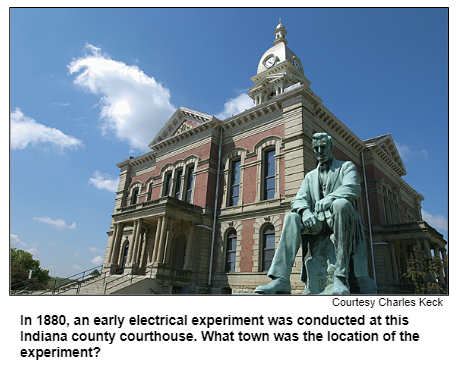 In 1880, a town in Indiana played a role in the history of electricity. The town, which often has promoted itself as the "First Electrified City in the World," was the site of one of the earliest experiments in electricity.
Four large arc lamps were set up in the dome of the county courthouse, which sits atop a hill in the town. The crude electricity "jumped" from one of the lamps to another - an experiment that amazed thousands of onlookers. The experiment in March 1880 made headlines around the world because even Paris, New York and London did not yet have electricity, and Thomas Edison was still refining his work with the incandescent light bulb.
Question: What is the Indiana town?

The prize is a pair of tickets to the historic Indianapolis City Market Catacombs Tour, courtesy of Indiana Landmarks, and a certificate to Story Inn in Brown County, courtesy of Story Inn.
Movies with obscure Indiana connections
Click here to listen to the podcast.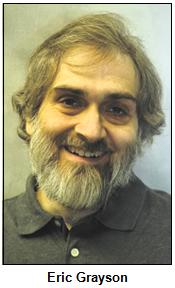 (February 16, 2019) Even though Close Encounters of the Third Kind was considered a blockbuster after its release in 1977, many Hoosiers may have forgotten its connection to Indiana. No scenes were filmed in the state, but the central characters were described as residents of Muncie.
In a scene played for laughs in Brother from Another Planet (1984), the protagonist, an alien who doesn't speak, encounters wide-eyed tourists from Indiana on a subway in New York City.
The Great Dan Patch (1949), a biopic about the world's greatest racehorse during the 1890s and early 1900s, is set in the Benton County town of Oxford. (Hoosier History Live explored the life of Dan Patch during a show in 2012.) But the movie wasn't filmed in Indiana; that's obvious because of the mountain range visible in scenes of Oxford, which is in a flat region of west central Indiana
In the 1953 version of the film Titanic, a fictional passenger on the doomed ocean liner is a student at Purdue University. Played by Robert Wagner, the character is described as a college tennis star.
Those are among movies that we spotlight with our guest, Indianapolis-based film historian and preservationist Eric Grayson. Known across Indiana for his popular screenings of vintage movies ranging from classics to films so rare that Eric owns the only existing copies (including some he salvaged before they were about to be destroyed), he has been described as a "walking encyclopedia" of movie lore.
In addition to talking about movies with obscure links to Indiana, during our show Eric shares insights about actors and directors with Hoosier connections who - unlike the more famous James Dean, Steve McQueen, Carole Lombard and other stars - are seldom discussed today.
They include Otis Harlan (1865-1940), a comedian and character actor from Martinsville. According to Eric, Harlan was featured in hundreds of silent movies and early talkies, including a film version of A Midsummer Night's Dream (1935). Harlan also provided the voice of the dwarf Happy in Disney's animated Snow White and the Seven Dwarfs (1937).
Richmond native Norman Foster (1903-1976), an actor who enjoyed greater success when he became a director, also was involved in Disney projects. Foster was associated with Orson Welles for many decades, serving as the director of the spy thriller Journey into Fear (1943) starring Welles, as well as several Charlie Chan mysteries. As an actor, Foster had a major role in Welles' final movie, The Other Side of the Wind, which began filming in 1970; it was uncompleted when Welles died in 1985 and finally was released in 2018 after being reconstructed by other filmmakers.
Both Foster and Harlan were in the cast of The Hoosier Schoolmaster (1935), a movie based on a 19th-century novel by Indiana author Edward Eggleston. The setting is southern Indiana after the Civil War.
Please note: This show was original scheduled for January 12 but had to be rescheduled due to severe weather.
History Mystery
A major Hollywood movie released in 1988 was set in Chicago, but many significant scenes actually were filmed in Indianapolis during the previous year.

The film's plot focuses on one of the most notorious scandals in baseball history. In 1919, Chicago White Sox players accepted bribes to lose the World Series. The movie, which starred John Cusack and Charlie Sheen, follows the unfolding of what became known as the "Black Sox scandal."

Historic Bush Stadium, still the home of the Indianapolis Indians during the 1980s, was the setting for many of the baseball sequences in the movie, standing in for the home field of the 1919 White Sox.

Question: What was the name of the baseball movie filmed at Bush Stadium?

The prize this week is a dvd of the newly remastered film Little Orphant Annie starring Colleen Moore and restored by Eric Grayson, courtesy of Eric Grayson. Don't miss this opportunity to win a copy of this cinematic treasure telling the story of a beloved James Whitcomb Riley poem!



Christmas is long past, but here's a Hoosier History Live wish list
Hoosier History Live is seeking a restaurant sponsor near UIndy, Fountain Square, or downtown. We like to treat our studio guests to lunch after the Saturday show, and we will offer a complimentary sponsorship in exchange for the opportunity to bring our guests to your restaurant to dine and to chat!
We like prizes for the History Mystery contest, too, ideally items that can be mailed in a standard business envelope. In return we will feature your logo and a link to your organization's home page in our newsletter and on our website, and a mention by Nelson on the air.
Also, if your business or organization would like to start a listening group during the live show, all you need is a quiet room and a radio, laptop or listening device and someone to facilitate the group. The Irvington Library has maintained a listening group open to the public for about eight years. This is a great opportunity for small busineses, libraries, or senior centers.
For all of the above, contact producer Molly Head at molly@hoosierhistorylive.org.
Roots tracing for African Americans
Click here to listen to the podcast
(February 9, 2019) Even with renewed, widespread interest in family history research - and the explosion of genealogical tools in recent years - challenges remain for those researching African American ancestry. Many of the challenges involve ancestors who were enslaved during the 19th century and earlier.
As Hoosier History Live salutes Black History Month, Nelson's studio guest is one of Indiana's top experts on African American roots-tracing. Indianapolis-based genealogist and librarian Nichelle M. Hayes is a past president of the Indiana African American Genealogy Group. Currently, she is the leader of the Center for Black Literature and Culture of the Indianapolis Public Library.
In this show, Nichelle shares advice and tips for tracing African American family histories. As a genealogist for more than 25 years, Nichelle conducts workshops about African American family history research and blogs about it and related topics.
In a recent blog post, Nichelle described her research into the death in 1933 of a great-aunt who lived in the Brightwood neighborhood of Indianapolis and died of tuberculosis. Information on the death certificate opened doors for Nichelle to learn about her ancestor's civic life.
"Genealogy is more than just birth and death dates," Nichelle writes. "It's fleshing the person out, so to speak."
To people beginning family history research, she recommends: "Start with yourself and work backwards."
In addition to examining U.S. Census data, records related to property ownership, probate and pensions also can be extremely helpful in illuminating the lives of ancestors, Nichelle says.
Among the resource books she recommends to African Americans are Black Roots: A Beginner's Guide to Tracing the African American Family Tree (Simon & Schuster, 2001) and A Genealogist's Guide to Discovering your African-American Ancestors (Genealogical Publishing Co., 2003).
Ancestory.com, another resource popular with genealogists for its extensive database of family tree information, has published Finding Your African American Ancestors: A Beginner's Guide (2001).
With Nichelle on hand to respond to questions from listeners embarking on roots-tracing adventures, we will open our phone lines earlier than usual during this show. The call-in number to the WICR-FM studio is 317-788-3314.
Roadtrip: Lincoln State Park in Spencer County
President Abraham Lincoln is our guest Roadtripper this week; he talks about his boyhood home in Spencer County, Ind., where he lived on a family farm from ages of 7 to 21. (Mr. Lincoln is portrayed by Danny Russel, an actor who interprets historical characters from Indiana's past.)

Illinois claims the title of the "Land of Lincoln," but Abe certainly spent his formative years here in the Hoosier state.

Mr. Lincoln tells us about Lincoln State Park in the beautiful forested hills of southwestern Indiana, where his mother, Nancy Hanks Lincoln, is buried, as well as his sister, Sarah Lincoln Grigsby. "All that I am, or hope to be, I owe to my angel mother," says Mr. Lincoln.

The park includes a replica of the Lincoln family farmstead. "Here I grew up," Mr. Lincoln has said of his Hoosier home.

The park is great for hiking, swimming, fishing, and camping. And while you're visiting Lincoln State Park, "Honest Abe" recommends you take a side trip to visit the Colonel Jones Home in nearby Gentryville, the historic residence of the merchant and Civil War officer who employed young Lincoln in a store there.



History Mystery
Hoosier notables honored at the Center for Black Literature and Culture at the Indianapolis Public Library include a broadcaster, columnist and civic leader who died in 2015. He was born in Chicago, but spent more than 40 years in Indianapolis, where he became a community activist and carved out a multimedia career.
At WTLC-AM (1310), he worked in various capacities, including station manager, but is probably best remembered for hosting a daily afternoon talk show. For many years, he wrote a weekly column for the Indianapolis Recorder newspaper. During the late 1990s, he was the host of a local TV talk show. In his various platforms, he questioned city and state officials about the impact of local issues on the African American community.
He was inducted into the Indiana Broadcast Pioneers' Hall of Fame before his unexpected death at age 64.
Question: Who was the famous Indianpolis-based African American broadcaster and columnist?
The prize is a gift certificate to Story Inn in Brown County, courtesy of Story Inn, as well as four tickets to the Indiana History Center, courtesy of the Indiana Historical Society.
French Lick, West Baden and The Wright Brothers
Click here to listen to the podcast.
(February 2, 2019) The rivalry during the early 1900s between two lavish hotels in the southern Indiana towns of French Lick and West Baden is almost as well known as the mineral waters they sold - marketed, respectively, as Pluto and Sprudel water. Far less remembered: The small towns also were archrivals on the basketball court because, until a consolidation fraught with controversy during the late 1950s, French Lick and West Baden each had their own high school.
Among the residents who witnessed the merger and the creation of what became Springs Valley High School - with a basketball team known as the Black Hawks - was a first-grade student in French Lick named Tim Wright. He grew up to become a public figure, known as the banjo- and guitar-playing sibling in The Wright Brothers Band, the Indiana-based group that has performed pop, country, rock and bluegrass music at the Grand Ole Opry, on national TV shows and even on the soundtrack of a Hollywood movie.
Tim Wright, who lives in Carmel now, has written a book, The Valley Boys: The Story of the 1958 Springs Valley Black Hawks, drawn from extensive interviews about the unfolding of the high school consolidation in the "twin cities" in Orange County. In addition to describing the social history of the school consolidation, Tim's book focuses on the basketball players themselves, former rivals who had to come together as one team.
He is Nelson's studio guest to discuss the merger that once was the talk of the state. The high schools' mascots had been the Red Devils (a nod to Pluto) for French Lick, and across the railroad tracks that separated the two town, the Sprudels (depicted as a wood gnome) for West Baden.
Tim also shares insights about the evolution of the Wright Brothers Band, who cut their first album in the early 1970s. Tim and his brother Tom, a vocalist, have been the core of the band, which has performed with headliners including Dolly Parton, Willie Nelson and Johnny Cash. The band also has performed the national anthem at Indianapolis Colts and Indianapolis Indians games.
During the 1950s, Tim and Tom Wright's grandfather ran a barber shop in French Lick that was a hub for chatter about the consolidation of the high schools, the blending of the basketball teams and the economic challenges of Springs Valley.
"Most folks in Orange County in the '50s considered themselves poor," Tim Wright notes in The Valley Boys. "There was no real industry, and wages were low."
In addition, the West Baden Springs Hotel - with a spectacular atrium touted as the "Eighth Wonder of the World" - had closed during the Great Depression. The landmark had various other owners over the years (including Jesuit priests and a culinary school), and did not reopen as a hotel until a spectacular restoration in 2007.
According to Tim's research, the combined population of the two towns was about 3,500 in 1958. Although wealthy visitors continued to patronize the French Lick Springs Hotel, which remained open, many assumed its glory era had passed.
Some history facts:
In the early 1950s, the West Baden Sprudels had been coached by Marvin Wood, who later became the basketball coach of another tiny school, Milan High School. In 1954, Wood was the coach for the legendary Milan team with Bobby Plump that won the state tournament.
John McDowell, a long-time bass guitarist and vocalist with the Wright Brothers Band (he sometimes is called the "third brother") is the nephew of Jimmy Mack, the former TV personality in Indianapolis who was the host of "Bandstand 13," a popular teen dance show during the 1960s. In 2016, Jimmy Mack, who is now 96, was a studio guest on Hoosier History Live.
The Wright Brothers Band can be heard on the soundtrack of Overboard (1987), a movie starring Goldie Hawn.
Known as the Wright Brothers Overland Stage Company when the band formed in 1972, the group has performed across the country. In Indiana, their performance venues have included the restored landmarks from Tim and Tom's boyhood, the French Lick and West Baden hotels.
The Wright Brothers gained national attention during the 1980s with their hit song "Made in the USA," which, as the title suggests, celebrates companies that manufactured their products in this country.
The brothers' father, Billy D. Wright, was a singer in southern Indiana. During the 1940s, he was a basketball star for the French Lick Red Devils, according to The Valley Boys.
For the book, Tim Wright interviewed one of the key figures involved in the aftermath of the consolidation of the rival high schools: Rex Wells, a West Baden native who, in his 20s, became the widely admired coach of the inaugural Springs Valley High School basketball team.
Wells is quoted as saying: "It was the team and not the school board that consolidated the two schools."
Roadtrip: Wilbur Wright Birthplace and Museum in Henry County
Our studio guest Tim Wright of The Wright Brothers Band sometimes has to clarify that there's no known kinship between his family and that of the "other" famous Wright Brothers - you know, the ones who had something to do with airplanes.
But the Wright Brothers who were pioneers in aviation also have an Indiana connection. Guest Roadtripper Ken Marshall, an educator and backroads Indiana "bon vivant," suggests a Roadtrip to the birthplace of Wilbur Wright, located a few miles north of I-70 in Henry County, twenty five miles northeast of Richmond.
The Wilbur Wright Birthplace and Museum preserves the house in which Wilbur Wright was born and seeks to educate the public by preserving and interpreting his life, family, and achievements. For fans of early aviation, perhaps the museum's most exciting display: a full-size replica of the 1904 Wright Flyer!
And to witness flyers of another type, Ken suggests a side trip to Summit Lake State Park, just a fifteen minute drive northeast from the Wright Birthplace toward Muncie. The park offers excellent birding: with its many low-lying wet meadows and prairies, you can spot such migratory species as the black tern, bald eagle, sandhill crane and American bittern, among others.
Be sure to listen in to join Ken for this gravity-defying Roadtrip adventure!
History Mystery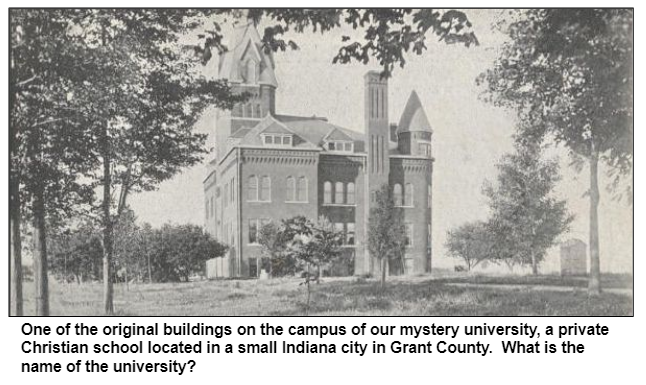 For more than 35 years, the Wright Brothers Band has performed at universities and colleges across the country. Campuses that have been the settings for performances by "Indiana's Band" have included Texas Tech, North Carolina State, Indiana University, Wabash College and Butler University.
The Wright Brothers also have performed at a private university located in a small Indiana city in Grant County. The university is an interdenominational, evangelical Christian school attended by about 2,000 students. The mascot of its sports teams is the Trojans.
Question: What is name of the university?
Please do not call in to the show until you hear Nelson pose the question on the air, and please do not try to win if you have won any other prize on WICR during the last two months. You must be willing to give your first name to our engineer, you must answer the question correctly on the air and you must be willing to give your mailing address to our engineer so we can mail the prize pack to you. The prize is a gift certificate to Story Inn in Brown County, courtesy of Story Inn, as well as four tickets to the Indiana History Center, courtesy of the Indiana Historical Society.

Exploring Indiana's Civil War governor
Indiana's Civil War governor and his historic house
Click here to listen to the podcast.
(January 26, 2019) He's been called the most consequential Indiana governor in state history. And a towering bronze statue of Gov. Oliver P. Morton stands in front of the Indiana State Capitol building.
But Morton - an ally of Abraham Lincoln who came close to being the Republican nominee for U.S. president in 1876 - was a controversial figure. Critics have contended that Morton (1823-1877) was practically a dictator who abused his powers as governor during the Civil War.
To explore the impact and colorful life of Morton, who served as a U.S. senator representing Indiana following his stint as governor, Nelson is joined by two distinguished guests:
Known as the "soldier's friend" and an ardent supporter of the Union Army cause, Morton even visited battlefields and traveled to Washington D.C. to plead with Lincoln to supply overcoats to shivering troops from Indiana. After the war, he was a fierce advocate for the civil rights of African Americans.
"His critics blasted him as a ruthless tyrant," Jim Fuller writes, noting that Morton was accused of exaggerating the threat of Copperheads and other Southern-sympathizing groups in Indiana as a means of rallying support for his expanded powers. He was also accused of misusing public funds and initiating "treason trials" in Indianapolis against his opponents.
Before the Civil War, Morton had been an attorney, practicing law in the house that Ron Morris is restoring. Morton was one of the early organizers of the Republican Party in Indiana and, before that, had helped form its predecessor, the People's Party.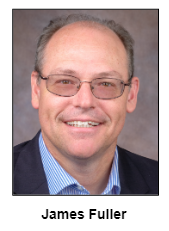 At the GOP convention in 1876 that ultimately settled on Rutherford B. Hayes as a compromise nominee for president, Morton "enjoyed widespread support," dropping out only after the sixth ballot, as Jim Fuller recounts in his biography. The enthusiasm for Morton as a presidential candidate persisted for several years, even after he had suffered a debilitating stroke that paralyzed his legs, rendering him unable to walk unassisted.
Thanks largely to Morton's dedication to the Northern cause during the Civil War, Indiana ranked second in the percentage of men of military age serving in the Union Army.
He was the target of at least one assassination attempt as governor, according to Jim Fuller's biography. As Morton was leaving the Indiana Statehouse after working late, a gunshot flew past his head. A second shot also narrowly missed him.

Elected to the U.S. Senate in 1867, Morton championed the rights of African Americans newly freed from slavery in the South and called for a Constitutional amendment to abolish the Electoral College. After suffering a second stroke, he died in Indianapolis in 1877 and is buried in Crown Hill Cemetery, "next to the Union soldiers for whom he had done so much," Jim Fuller notes.

Morton and his wife, Lucinda Burbank Morton, sold the house in Centerville in 1863. Our guest Ron Morris has been restoring the stately house - the only one of Morton's residences that still stands - to what it would have looked like during the 1849-1862 period.
History Mystery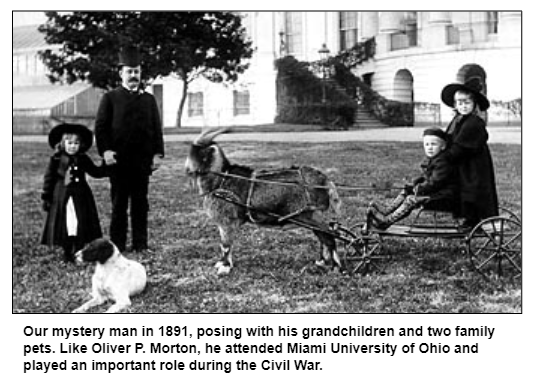 Oliver P. Morton, Indiana's governor during the Civil War, studied at Miami University in Oxford, Ohio, as a young man during the 1840s. He left after two years to become an apprentice to a lawyer.
Miami University in Ohio was the alma mater of another famous Hoosier political figure who, like Morton, had a connection to the Civil War.
Question: Who was the other important political figure from Indiana who attended Miami University and was connected to the civil war?
The prize is a gift certificate to Story Inn in Brown County, courtesy of Story Inn, as well as four tickets to the Indiana History Center, courtesy of the Indiana Historical Society.
Rev. Martin Luther King's visits to Indiana
Click here to listen to the podcast.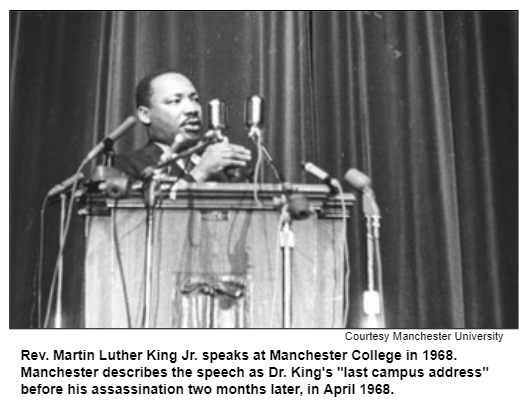 (January 19, 2019) Both before he became a household name nationally and after he was a famous public figure, Rev. Martin Luther King Jr. made trips to Indiana. How those visits during the 1950s and '60s unfolded, where Rev. King stayed and other details, are the focus of our show that aired two days prior to Dr. Martin Luther King Jr. Day.
In February 1968, Dr. King spoke at Manchester College in northern Indiana to an "overflow audience," according to the small, private school affiliated with the Church of the Brethren. Now Manchester University, the school describes the speech as Dr. King's "last campus address" before his assassination two months later, in April 1968.
Nearly 10 years earlier, in 1958 when he was a young minister and civil rights leader in the South, 29-year-old Dr. King spoke in downtown Indianapolis at Cadle Tabernacle, a sprawling, Spanish-style structure that served as the site of conventions, religious gatherings, music concerts and a range of other events. Cadle Tabernacle, which was located at Ohio and New Jersey Streets, was demolished during the late 1960s.
In the decade between that speech and the talk at Manchester College near the end of his life, Dr. King periodically visited Indianapolis, often staying with the family of his close friend Rev. Andrew J. Brown (1921-1996), pastor of St. John's Missionary Baptist Church. Rev. Brown, one of Indiana's most prominent civil rights leaders of the era, marched with Dr. King in Selma, Ala., in 1965.
For our exploration of Dr. King's trips to Indiana - which also included a speech at Goshen College in 1960 - our studio guests are:
Accounts about Dr. King's speech at Goshen College, which is affiliated with the Mennonite Church, describe it a "spellbinding lecture." The speech, which he delivered in 1960, occurred about one year after he had traveled to India to study Gandhi's techniques of nonviolence.
At Goshen College, Dr. King discussed nonviolence. He also called on religious leaders to more strongly advocate for civil rights; Dr. King described most churches across the country as "segregated islands."
Beginning in the mid-1950s, Dr. King began staying at the home of the Brown family during his trips to Indianapolis. According to Rev. Thomas Brown, the family began receiving threatening phone calls around the time of the early visits. So the Browns kept quiet about where Dr King was staying when he came to the Hoosier capital.
Rev. Andrew Brown was active in the Southern Christian Leadership Conference (SCLC), a civil rights advocacy organization; Dr. King served as its first president. Today, Rev. Thomas Brown is president of the Indiana Christian Leadership Conference, an affiliated chapter.
Just as streets have been named in honor of Dr. King in many Indiana cities - including Indianapolis, Evansville, South Bend, Gary and Elkhart - a street on the near-eastside of Indy was named Dr. Andrew J. Brown Avenue in 1986. In addition to serving as pastor of St. John's Missionary Baptist Church, which is located on the street named in his honor, Rev. Andrew Brown was one of the primary organizers of Indiana Black Expo during the early 1970s.
Exploring Rev. Martin Luther King's visits to Indiana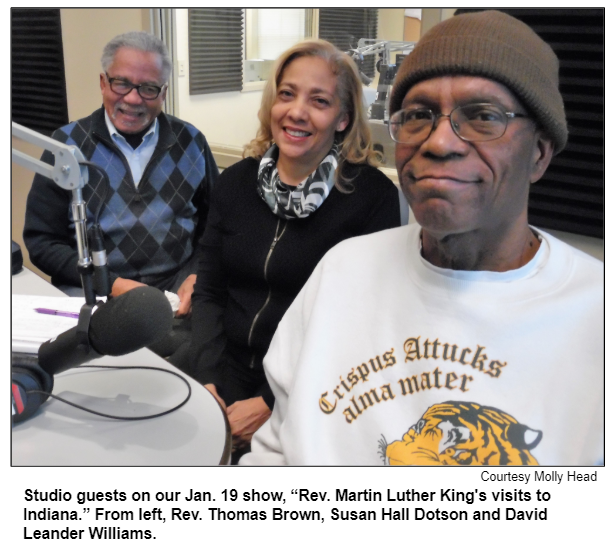 History Mystery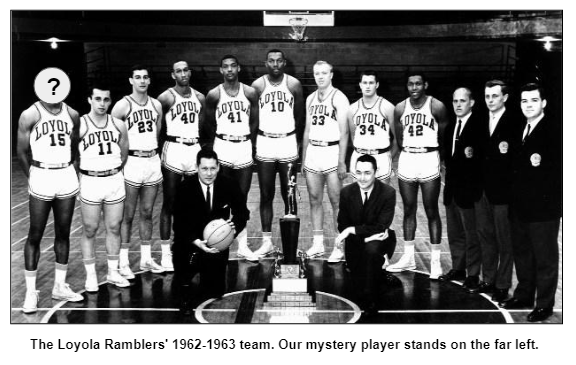 Major organizers of Indiana Black Expo in the early 1970s included Indianapolis civil rights leader Rev. Andrew Brown, a close friend of Dr. Martin Luther King Jr. and the father of our guest Rev. Thomas Brown. The inaugural Black Expo was a three-day event in 1971 attended by more than 50,000 people.
Celebrities featured at inaugural Expo events included a popular former player for the Indiana Pacers, which were then in the ABA (American Basketball Association). Our mystery player had been a basketball star at Loyola University in Chicago, leading the team to the 1963 NCAA championship. At the time of the inaugural Black Expo in 1971, he was working as the first African-American fundraiser for United Way of Central Indiana. During the 1970s, he became the first African-American sportscaster in the Indianapolis TV market.
In addition, he advocated for civil rights, working with the Southern Christian Leadership conference several years after Dr. King had served as the organization's first president.
Question: Who is our mystery man?

The prize pack is a gift certificate to Story Inn, courtesy of Story Inn, and four admissions to GlowGolf, courtesy of GlowGolf.

Bobby Plump, "Milan Miracle" shot-maker, to speak at Hoosier History Live 11th anniversary party!
Once in a great while, the little guy wins.
In 1954, in what became known as the "Milan Miracle," a basketball team from a small, rural high school beat out the favored teams to capture the Indiana state championship, a feat immortalized in the 1986 movie Hoosiers.
Legendary Hoosier Bobby Plump, who made the final, winning shot for the small Milan High School basketball team in 1954, will speak at Hoosier History Live's 11th anniversary party. The party will be held on Thursday, Feb. 28 from 5:00 to 7:30 pm at the Indiana Landmarks Center, 1201 N. Central Avenue, Indianapolis, IN 46202.
As our featured speaker, Bobby Plump will be helping to celebrate the success of another "small team" - the Hoosier History Live creative team. While quality journalism in newspapers, magazines and television news decreases, Hoosier History Live's independent production group continues to put out a compelling show and an informative newsletter each week.
And all the while expanding its reach as a podcast, available for free on iTunes and other popular podcast venues.
We invite all friends and supporters of Hoosier History Live to join the celebration as our guest. Come as you are, or (better yet!) dress in historic garb as your favorite character from the past. Watch our website for details and the RSVP form.
Thanks to our friends at Indiana Landmarks and Black Plate Catering for their support!
Avriel Shull, trail-blazing home builder and designer
Click here to listen to the podcast.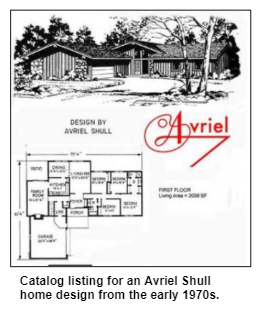 (January 5, 2019) To kick off the 11th year of Hoosier History Live with flair, we spotlight the impact of an Indiana architectural trail-blazer who had both pizzazz and spunk.
Beginning in the 1950s, when women home builders were a rarity, Avriel Shull designed and built mid-century modern homes in Carmel, Indianapolis and other cities. National periodicals eventually distributed the house plans of "Avriel" (she often was referred to by her first name only), with orders for her home patterns continuing long after she died in her mid-40s in 1976.
"Years before branding became an essential component of business success, Avriel was both a well-known company brand and a synonym for modern design," according to our guest, historian, researcher and preservationist Connie Zeigler, owner of C. Resources. Connie prepared the nomination for the National Register of Historic Places of the Thornhurst subdivision in Carmel, where Avriel designed 21 mid-century modern homes.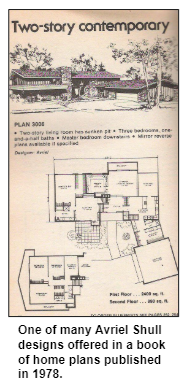 Just as Avriel's homes created something of a stir - with their floor-to-ceiling windows, sliding glass doors, vertical cedar siding and walled patios during an era noted for basic ranch houses - red-haired, charismatic Avriel drew attention on a personal level as well.
In 1951, Life magazine devoted a multi-page photo spread to her splashy wedding, during which Avriel entered amid a release of white birds; at 2 a.m., she lifted her white gown to perform the can-can.
Her husband was one of Indiana's best-known journalists of the era. An irreverent TV columnist for the Indianapolis News (and, before that, for the Indianapolis Times), R.K. Shull also answered reader questions in "Shull's Mailbag," which appeared in 260 newspapers across the country.
None of that overshadowed his wife, who, as Connie has written, "lived life at breakneck speed."
According to Connie, Avriel "often laid the stone herself on the houses she designed." As for an enduring architectural legacy, Connie notes that "At least 50, and probably more, of her houses are still standing in the Indianapolis area."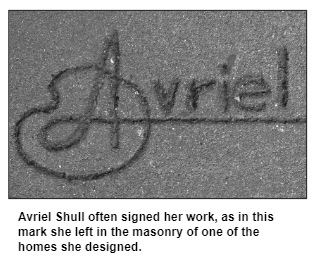 But Avriel was not an architect. In fact, although she studied at what was then the John Herron Art Institute during the 1940s, Avriel never earned a college degree.
In all of her Thornhurst subdivision houses - which were the focus of a 2017 home tour organized by the Carmel Clay Historical Society - Avriel featured modern fireplaces, some of which she built herself.
In a cover story about Avriel for a 2012 issue of Traces magazine published by the Indiana Historical Society, Connie notes that many of the fireplaces "had two-sided hearths opening into two different rooms."
Connie writes that for home interiors, Avriel chose vinyl-topped stools, tripod-legged lamps and sofas with hairpin legs, "unlike the ruffled sofas and overstuffed chairs of earlier eras." In many of the bathrooms, she painted murals - and added an elaborate "Avriel" as a signature to her work.
By the mid-1960s, Avriel landed contracts to design homes in upscale neighborhoods on the northside of Indianapolis including Avalon Hills, Crow's Nest, Meridian Hills and Sunset Lane. In the final years before her death shortly before her 45th birthday, Avriel was building houses in Brownsburg, Kokomo, Westfield and Evansville.
History Mystery
The multi-page photo essay about the wedding of home builder Avriel Shull in Life was one of many times during the 1950s that the magazine - which then was published weekly as one of the country's most widely read periodicals - focused on a topic related to Indiana.
In 1958, a six-page essay in Life described an Indiana city as "a thriving cesspool of vice." The illustrated article included descriptions of illegal gambling and prostitution in the Hoosier city.
For several years after the article's publication in 1958, it remained a topic of discussion in households across the state. Outraged and distraught, civic leaders in the Indiana city were quoted as worrying that it might cause "irreparable damage." Reacting to the Life article, a local newspaper published a front-page editorial with the headline: "A Low Blow If There Ever Was One."
Question: What Indiana city was the focus of the controversial article in Life magazine in 1958?
The prizes this week are four admissions to the Indiana History Center, courtesy of the Indiana Historical Society, and a gift certificate to Story Inn in Brown County, courtesy of Story Inn.