December 11, 2021
Quirky aspects of Indy history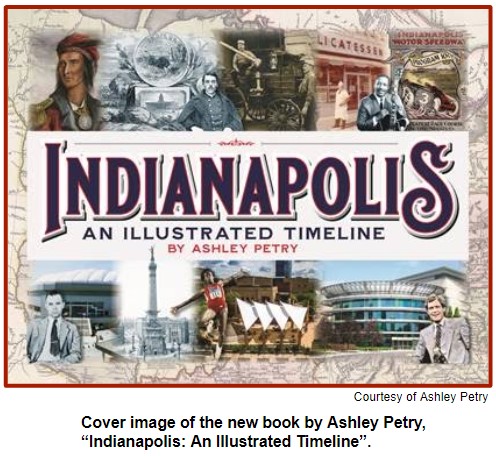 Strange, but true: A clog dancer on the vaudeville circuit became mayor of Indianapolis in 1910. Mayor Lew Shank resigned three years later and returned to vaudeville as a humorist, paired with a trained horse. In 1922, he easily won re-election as mayor of the Hoosier capital.
More strange, but true: The second governor's residence in Indianapolis was blamed for making the state's "first families" seriously ill beginning in 1839. Two of Indiana's first ladies died in the posh house, which had replaced a never-occupied governor's residence built at the center of what became Monument Circle.
And wait until you hear about how a group of law-breaking interlopers from Kentucky that disrupted the first Christmas Day in the new city of Indy in 1821.
A new book, "Indianapolis: An Illustrated Timeline", chronicles a vast range of milestones in the city's history, not just the quirky aspects. But the latter will be the focus of our show when the book's author, Indianapolis-based writer and copy editor Ashley Petry is Nelson's guest.
Known for his thunderous voice, humorist and clog dancer Lew Shank (1872-1927) not only had barnstormed on the vaudeville circuit, he had been an auctioneer (the most "spectacular" one in Indiana, according to newspaper accounts) before being elected mayor. On New Year's Eve 1921, he gave the first speech on local radio in Indianapolis; later, he was reported to have made the first blooper on live radio. "Do you mean to tell me that people can actually hear me over this damn dingus?" he asked during the broadcast.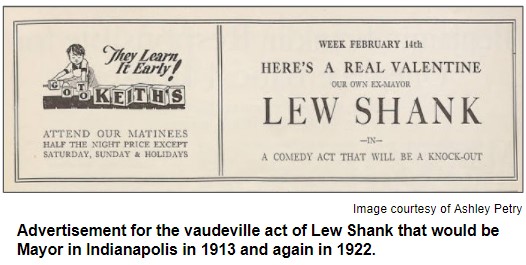 Nearly 100 years earlier, when the Hoosier capital was moved from Corydon to Indianapolis, a governor's residence was built in the center of the Circle (not yet Monument Circle). But no governors or their families ever moved in; according to well-known folklore, they didn't want to live in a 'fishbowl'.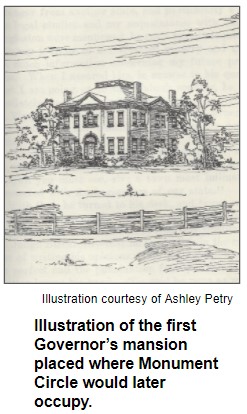 Less frequently discussed: The second governor's residence, a private home at the corner of Illinois and Market streets that the state purchased. "This building seemed cursed – or at least unhealthy," Ashely Petry writes. "Two governor's wives died in the house, and another was sick for her husband's entire term." The ill-fated house was abandoned and eventually demolished, just as the first governor's residence had been.
Surveyor Alexander Ralston had designated a governor's residence in the Circle when he platted the city in early 1821. Later that year, the first Christmas in town was disrupted at the only general store. According to "Indianapolis: An Illustrated Timeline", "four men from Kentucky arrived on a keelboat and tried to break into the store for liquor."
They were arrested, but no jail had been built in Indy yet. So the Kentucky men were held overnight in an abandoned cabin, but quickly escaped.
During our show, Ashley and Nelson will also discuss the Battle of Pogue's Run during the Civil War. It wasn't actually a battle, but rather a quirky episode in 1863 that ensued when members of the Knights of the Golden Circle, a pro-Confederacy secret society, were among those who attended a Democratic convention in Indianapolis. When they were taunted by Union soldiers, the conventioneers boarded trains.
"But soldiers stopped the trains and began to search for weapons", Ashely Petry writes. "Fearful of being branded as traitors, passengers tossed hundreds of guns and knives out the train windows into Pogue's Run below." Pogue's Run is an urban creek that empties into the White River.
Roadtrip: Anderson Museum of Art
Guest Roadtripper and artist Gary Brummitt, also a lifelong Anderson resident and former radio host, suggests we visit the Anderson Museum of Art in downtown Anderson. Gary tells us that "it's a former Carnegie Library, but it's really quite beautiful!" We're not sure exactly what he means by that, but we'll learn more on Saturday.

Andrew Carnegie provided a $50,000 grant for the building's construction, and it was built between 1902 and 1905. The building features a 35-foot high rotunda with a 40-foot stained glass domed ceiling and marble floors in the beaux arts style. It's also listed on the National Register of Historic Places.
From the Hoosier History archives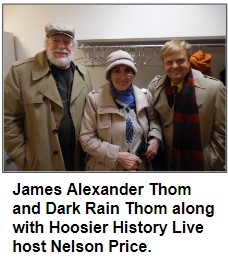 Historical fiction writers James Alexander Thom and Dark Rain Thom, along with Hoosier History Live host Nelson Price, at the December 2017 Holiday Author Fair at the Indiana History Center. Jim and Dark Rain were also spotted at this year's Holiday Author Fair; and both in fine form! The literary couple reside in a remote cabin in Owen County, Indiana.
Work opportunities available at Hoosier History Live
Sometimes people ask if there are opportunities to help us out work-wise and to help with the efforts of Hoosier History Live.
If you'd like to solicit History Mystery prizes, and keep Nelson informed of the prizes to be given out, and mail out the prizes, that would be real help. And financial compensation possible. For more information please contact molly@hoosierhistorylive.org.
And in the meantime, if your organization or business would like to offer prizes we would love to discuss that we well! Contact molly@hoosierhistorylive.org
Would you be interested in being the Roadtrip Producer? We do have a list of Roadtrippers, and this work is primarily done via email. As Roadtrip Producer, you would need to solicit and schedule the Roadtrippers, get their notes and possible images, and prepare the final Roadtrip article and image to go to our newsletter editor. You do need to have management and editing skills for this job, and the ability to meet deadlines. Financial compensation available. If interested contact molly@hoosierhistorylive.org
Nelson Price, host and historian
Molly Head, producer/general manager, (317) 506-7164 
Ryan DeRome, associate producer
Cheryl Lamb, administrative manager
Richard Sullivan, senior tech consultant
Pam Fraizer, graphic designer
Garry Chilluffo, consultant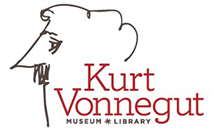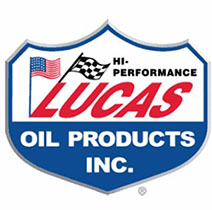 Please tell our sponsors that you appreciate their support!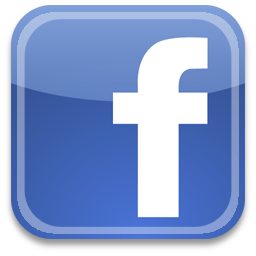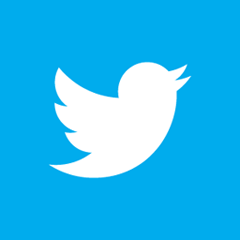 Acknowledgments to WICR-FM, Fraizer Designs, The Indiana Album, Monomedia, Indiana Historical Bureau, Indiana Landmarks, Henri Pensis, Kielynn Talley, Heather McIntyre , and many other individuals and organizations. We are independently produced and are self-supporting through organizational sponsorship and through individual contribution at the yellow button on our newsletter or website. For organizational sponsorship, which includes logos, links, and voiced credits in the show, contact Molly Head at (317) 506-7164 or email her at molly@hoosierhistorylive.org. Our media reach continues to grow via podcasting.
Thank you!
We'd like to thank the following recent individual contributors who make this show possible. A complete list of contributors by year in on our website.
Phil and Pam Brooks
Steve Giese
Rachel Perry
Dr. & Mrs. William H. Dick
John and Flo Stanton
Bob Levy and Kathy Alexander
Margaret and Stephen Smith
Laura and William Selm
Stacia Gorge
David Yount
Madalyn Kinsey
Charles Schisla
Anonymous
Greg Larson
David and Theresa Berghoff
Tom Swenson
Kathleen Angelone 
Dr. William McNiece
Michael Freeland and Sharon Butsch Freeland
Ryan Zumbahlen
© 2021 Hoosier History Live. All rights reserved.