October 23, 2021
Serial killer Belle Gunness and her La Porte murder farm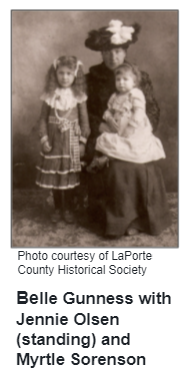 After the discovery that she had been embarking for years in the early1900s, on one of Indiana's most gruesome murder sprees, Belle Gunness has been considered among the most notorious female killers in U.S. history.
Many aspects of the life and crimes of Belle, a Norwegian immigrant, remain a mystery, including the total number of her victims, who included men, women and children. Experts suspect that more than 40 victims, including the dismembered bodies of Norwegian men who responded to a "lonely widow" advertisement that she placed in newspapers, were buried on her 43 – acre farm near La Porte in northern Indiana.
The still lingering mysteries include whether Belle secretly survived a massive fire in 1908 at her farmhouse, where the decapitated corpse of a woman was discovered amid the bodies. Was that Belle's corpse? Or did she murder an innocent women and use her body as a decoy to conceal her escape as authorities and relatives of other victims were finally closing in on her?
Those questions are among the topics that will be explored when Nelson is joined by Jane Simon Ammeson, author of the new book, America's Femme Fatale: The Story of Serial Killer Belle Gunness. The book delves into little known aspects of Belle's life, including her early, impoverished years on a farm in Norway, where she was born in 1859. She immigrated in the early 1880s to Chicago, where her spree of murders probably began, with the victims likely including her first husband.
In 1901, Belle purchased the farm near La Porte, where the Norwegian immigrant who eventually became her second husband died under suspicious circumstances. Belle began advertising in Norwegian – language newspapers as a widow seeking companionship, urging men to visit after cashing out their assets. In Jane Ammeson's book, she describes how Belle's victims possibly included adopted and foster children.
After the fire in 1908 and the discovery of multiple bodies when authorities began digging, the unsecured crime scene became tainted by throngs of onlookers. "Hordes of sightseers, sometimes 15,000 in one day, were allowed to traverse the crime scene," Jane notes in America's Femme Fatale. "The murder farm became a carnival scene, with gawkers arriving on special trains packed to capacity."
In 2008, the headless body that may have been Belle's corpse was taken to the University of Indianapolis for analysis by forensic pathologists. The DNA analysis apparently was inconclusive, Jane reports in her book.
Belle Gunness, who was nearly 6 feet tall, used various methods to murder her victims, including bludgeoning some with an ax and poisoning others. In America's Femme Fatale, Jane describes how a local sheriff was probably paid by Belle to help deflect suspicions about her activities, although he likely was unaware of the extent of the gruesome crimes.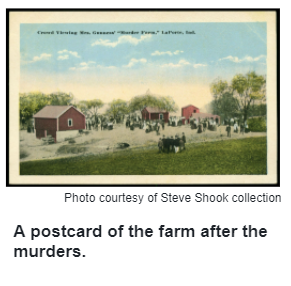 But when a wheat farmer in South Dakota responded to one of her ads, traveled to La Porte and vanished, his brother persisted with an investigation. The inferno that ensued at the farmhouse was arson, set by pouring kerosene in the cellar. As Jane Ammeson notes in America's Femme Fatale, speculation immediately began that Belle had used a "body double" to fake her death in the fire.

Jane has been a regular Roadtrip correspondent and a guest on previous Hoosier History Live shows, including a program in 2019 about one of her other books, Lincoln Road Trip, which explores sites in Indiana and other sites associated with Abraham Lincoln.
Roadtrip: Historic New Carlisle's new museum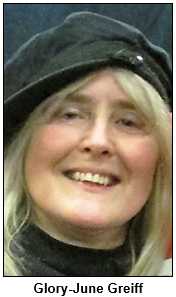 Guest Roadtripper and public historian Glory-June Greiff suggest a Roadtrip to northern Indiana to see the charming small town where the old Lincoln Highway and Michigan Road meet. Yes, that's why the town is there! And she tells us that the community opened a great little museum last year.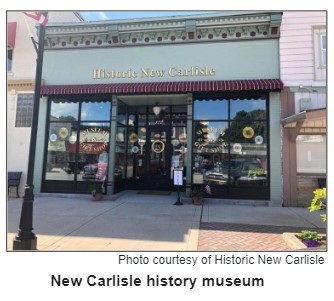 Most of New Carlisle is listed in the National Register as a historic district, and it's small enough for a pleasant walk around to view the many historic houses and commercial buildings that contain many interesting restaurants and shops. Glory tells us not to miss Feeney's Hometown Goods, housed in former lawyer's offices (for which it is named), just across the street from the museum. Its entire stock consists of the work of regional artists and artisans, a wonderful place to purchase one–of–a–kind gifts for yourself or a special someone!
Hungry? You may be surprised to find an incredible old-world restaurant,
Moser's Austrian Cafe
, housed in a beautiful historic building in the heart of New Carlisle's downtown. Yummy!
Hoosier History Live is serious about needing financial help
Hoosier History Live does not just simply "happen". Every month we have fixed costs to maintain, such as updating our website, keeping our newsletter current, creating our weekly podcasts, and maintaining social media. We enjoy creative freedom as an independently produced project. We think we have a media voice like no other.

The thing about professionals is that we always make everything look so easy. Which is deceiving in that we really work very hard.

Would you like to help us finish out the year with our full features, such as weekly newsletter, podcasts, and social media? And would you also be okay with some of your funding going into preserving and distributing our show archives? We are proud of the work we do, weekly, monthly, and year after year. We are also committed to preserving our show archives and making sure all our podcasts are free to listen to and available to all.

Thus far we have been unsuccessful in finding a larger organization to partner with and to help us market and distribute our archives. But never say never; that is still a possibility! Currently we are just too small a group of people, with few resources, to get that all done on our own.

For individual contributions, just visit the yellow "donate" button on our e-newsletter or website. Prefer paper? Visit Support the show! For organizational sponsorship, which includes logos, links, and voiced credits in the show and in podcasts, email molly@hoosierhistorylive.org, or call or text (317) 506-7164.

What people are saying about Hoosier History Live
"...'Live' - and 'Lively' as well..."
"Hoosier History really is 'Live' - and 'Lively' as well. The program brings to new audiences the delight and wisdom that comes with knowing more of our past and our connections as Hoosiers." James H. Madison, Emeritus History Professor, Indiana University
"...best Americana-themed show..."
"Hoosier History Live is the best Americana-themed show anywhere on radio!"
- John Guerrasio, former IRT actor
"...always a great show"
"Hoosier History Live is always a great show. We did a small sponsorship as a gesture of support, and I didn't think a little history show would have much impact. But many people mentioned to me that they had heard our credit on the radio."
G.B. Landrigan, Realtor, Certified Residential Specialist
"... an intelligent, well-researched program..."
"I've loved listening to Hoosier History Live during the pandemic as an intelligent, well-researched program to escape the news for an hour."


-Lee Little, JD, MLS, Research Librarian, Indiana University
"... a compelling and engaging media project..."
"Molly Head and Nelson Price are Indiana-based visionaries who have created a compelling and engaging media project with Hoosier History Live. Podcasts, website, enewsletter, and live call-in radio show; it's all there!"


- Keira Amstutz, President and CEO, Indiana Humanities
"...a great way to represent what I do..."
"I have thoroughly enjoyed my experiences with Nelson Price and the Hoosier History Live team. I feel being on the show was a great way to represent what I do with motorsports history. I am particularly excited by the show's new distribution through a podcast and making it accessible live through the Web."
-Mark Dill, owner, FirstSuperSpeedway.com



"...great value to sponsors..."
"Hoosier History Live has amassed a vast library of content over the years, both with the show audio and newsletter material. I believe that the Hoosier History Live content has great value to sponsors and advertisers via widespread online distribution. Nowhere else do you find the fresh new material each week, the depth of stories, the richness of detail, and the long-term consistency."
- John McDonald, CEO, ClearObject in Fishers, Indiana, Inc. Magazine's fastest-growing IT company in Indiana for 2014, 2015, 2016 and 2017.
"I love the podcasts..."
"I love the podcasts! I work on Saturdays and cannot always hear the live broadcasts. Sometimes I also like to listen a second time."


- Terri Gorney, Fort Wayne listener
"...fun and interesting..."
"Hoosier History Live is a fun and interesting way to learn about the heart and soul of Indiana. No boring classes or books here! The production team does an outstanding job."
Judy O'Bannon, civic leader and public broadcasting producer
"...does more to promote Indiana history..."
"Hoosier History Live does more to promote Indiana history than does any single source."
Andrea Neal, Indianapolis author and educator
"...infuses joy into the pursuit of history..."
"Nelson Price, more than anyone I know, infuses joy into the pursuit of history. And that joy rings out loud and clear on the radio show, Hoosier History Live."
Marsh Davis, President, Indiana Landmarks
"...enthusiastic, curious and knowledgeable..."
"Hoosier History Live is a perfect place to consider and reconsider history ... not just what happened in the past, but what it may mean in the present. Nelson Price is the perfect host: enthusiastic, curious and knowledgeable. Tune in to Hoosier History Live and be prepared to be surprised."
James Still, playwright in residence, Indiana Repertory Theatre
"...a great way to learn more about history..."
"The links on the Friday Hoosier History Live enewsletter are a great way to learn more about history, and from a variety of sources."
Jill Ditmire, Omni Media Specialist
"...I want to call in!

..

"No, I haven't heard of another call-in talk radio show about history. Our airwaves are now full of the worst vitriol! Give me the phone number for the show. I want to call in!"

Ken Burns, speaking at a preview of his film "The War" at Indianapolis Hebrew Congregation, April 18, 2007
"...interactive, more entertaining and more 'relevant'..."
"As museums and educational institutions scramble to make their offerings more interactive, more entertaining and more 'relevant', Hoosier History Live seems to have mastered that formula."
Glynis Worley, rural Bartholomew County listener
Podcast Listening 101: The Basics
We still broadcast live every Saturday on WICR 88.7, but more and more of our listeners are getting their Hoosier History Live shows by podcast - and it's easier than ever!
It's really this simple: If you have a smartphone, go to the Google search engine, click on the microphone button, and say "Hoosier History Live podcasts." Or if you don't use the microphone, type in the words "Hoosier History Live podcasts" at the Google search bar.You'll immediately get a list of recent shows to choose from. Click on one of them - and let the listening begin!
If you have a preferred podcast provider like Apple Podcasts or Stitcher, you can use their search function to call up Hoosier History Live as well. When you see our yellow Hoosier History Live logo, just click on the episode you want to listen to.
And don't forget to share! You can post links to our podcast on your social media page or send them by email or text.