March 25, 2023
Women of historic Irvington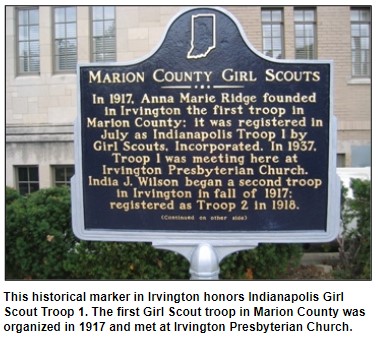 The first Girl Scout troop in Indianapolis. The first African American woman to graduate from an Indiana college. A suffragist who became a top leader of women's groups in the state. And the founders of the first Black sorority at a predominantly white college in the country.
All of those women and girls had a deep connection to Irvington, the historic neighborhood on the eastside of Indianapolis. As Hoosier History Live salutes Women's History Month, they are among the women whom we will spotlight when Nelson is joined by Sampson Levingston, founder of Through 2 Eyes, a history storyteller who does popular "walk and talk'' tours through diverse Indianapolis neighborhoods, including Irvington.
Sampson has researched the historic women and girls whom we will describe, including Indianapolis Girl Scout Troop 1. The first Girl Scout troop in Marion County was formed in 1917, just five years after the organization had been founded nationally. The local scouts initially got together in private homes. They eventually began meeting regularly at Irvington Presbyterian Church, where an Indiana historical marker commemorates the trail-blazing troop.
Another trail-blazer, Gertrude Mahorney, became the first African American woman in Indiana to graduate from an Indiana college when she received a bachelor's degree from Butler University in 1887. For more than 50 years, from the 1870s into the 1920s, Butler was located in Irvington, where Gertrude Mahorney lived. She went on to receive a master's degree from Butler and became a teacher at schools in Ohio and Indiana.
Butler also was the alma mater of Grace Julian Clarke (1865-1938), a suffragist who became influential across Indiana and beyond. In addition to working for years for passage of the 19th Amendment that extended voting rights to women, Grace Julian Clarke headed up several statewide women's groups, including the forerunner of the League of Women Voters of Indiana. Our guest Sampson Levingston has created several YouTube videos related to his walking tours, including a video about Grace Julian Clarke, OUR WOMEN ARE TOUGH, who lived in Irvington for much of her life. In addition to her tireless advocacy on behalf of women, she also was an international peace activist.
Sampson has led more than 400 history walking tours since 2020. He also has been a previous Hoosier History Live guest, including on a program about Indiana sites listed in The Green Book. It was an annual guidebook for African American motorists from the mid-1930s through the mid-1960s, an era of widespread discrimination.
In the 1920s, when the Ku Klux Klan had a stranglehold on Indiana politics, its downfall was hastened with a deathbed account of an Irvington woman, Madge Oberholtzer. With Sampson, we will spotlight Madge Oberholtzer again. She was the focus of a Hoosier History Live show in 2021 when Nelson's guest was Charlotte Ottinger, the author of a deeply researched biography, titled Madge, published by the Irvington Historical Society. Madge Oberholtzer had been raped by D.C. Stephenson, the grand dragon of the KKK; her brave account of his brutality resulted in his arrest.
Madge Oberholtzer had attended Butler at its Irvington campus, as did seven African American women who became trail blazers in 1922. They founded Sigma Gamma Rho, the first Black sorority in the country founded on a predominately white campus. Sampson Levingston will share insights about the Sigma Gamma Rho sorority sisters during our show.

In 2022, more than 6,000 members of Sigma Gamma Rho from across the country attended events in Indianapolis to mark the sorority's 100th anniversary. During the gathering, an Indiana state historical marker was unveiled in Irvington to commemorate the founding of the sorority.



Roadtrip: Schroeder Saddletree Museum in Madison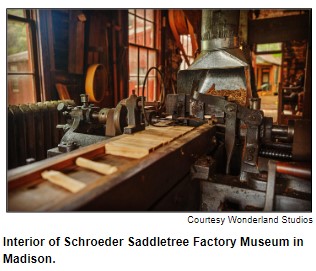 Guest Roadtripper and food and travel writer Jane Simon Ammeson, who can be followed at Travel/Food, tells us that "If you're one of the majority of Americans who don't know what a saddletree is, that's understandable". Though once saddletrees were of significant importance, let's face it, who now has ever heard of such a thing. But consider that Madison, a riverport city in southeastern Indiana on the Ohio River, once had 12 saddletree manufacturers including what is now the Schroeder Saddletree Museum at 106 Milton Street, the last saddletree factory in America.
"Madison's entire downtown is a National Register historic district, consisting of over 1,700 contributing structures. Really, if anyone was going to have a saddletree factory open for tours where visitors can see the original machinery and watch the manufacturing process that produced wooden saddle frames, horse collars, clothespins, and other products, then it would certainly be Madison."
And we're not horsing around!
Hoosier History Live is an independent production group

We probably can't say often enough that we are an independent production group, and that we make our own business and editorial decisions! Please don't necessarily contact the radio station for help. Our contact information is on our website at www.hoosier history live.org, where you can also sign up for our free weekly enewsletter. You can also follow us on Facebook or Twitter at Hoosier History Live. Look for our yellow logo to make sure you are at the right place!
Would your business or organization like to offer prizes for the History Mystery on air question? Your business or organization gets an on-air mention by Nelson! Prizes must fit in a standard business envelope, as they are "snail mailed" to winners. Email our producer at molly@hoosierhistorylive.org for more info.
Here's a marketing idea. Would your business or library or residence like to have a listening group to listen to the live show on Saturdays noon to one pm? It's a great way to get people involved. All you need is a listening device, such as a laptop or radio or cell phone, and a quiet place with chairs to listen, and someone to facilitate the group. As an example, before Covid there were listening groups at the Irvington Library and the Central Library in Indianapolis.
This is an activity that you must organize yourselves! However, if you ARE hosting a listening group, email molly@hoosierhistorylive.org so we can promote it. This is especially a good activity for seniors.
Are you a restaurant near the University of Indianapolis on the south side, or is your restaurant downtown? Is your restaurant open Saturdays at 1 pm? Are you willing to offer a place for Nelson and guests to go lunch after the show? If so, please contact molly@hoosierhistorylive.org.
Power lunch at Don Gusto


Lunch after the "Funeral business evolution and civic involvement in Indy" March 18 show at Don Gusto Mexican restaurant on the northwest corner of S. Meridian and Hanna, near UIndy. Left to right are host Nelson Price, Julie Buchanan, Caran Keller, producer Molly Head, Scott Keller, and show guest Bruce Buchanan.

Who can you see in this "Hoosier History Live Photo Album" . . .
Swipe through these photos gleaned from the last fourteen years of Hoosier History Live production!
And would you believe that radio technology has completely changed tech wise since we first went on the air in 2008 at WICR? Can you find Bobby Plump, Chris Gahl, Connie Zeigler, Tom Ridley, Bonnie Britton, Tiffany Benedict Browne, Eunice Trotter, David Baker, Lefty Huntzinger, Keira Amstutz, Cowboy Bob, Janie of "Popeye and Janie", K.P. Singh, Pam Fraizer, and Dark Rain Thom? The voices of so many Hoosiers blended together over the years to make Hoosier History Live such a unique archive.
And thanks to Richard Sullivan of Monomedia for creating this group of images.

Who We Are
Hoosier History Live is an independent production group. We raise our own money and we control our content. We make our own editorial decisions, much like a newspaper. Our goal is to deliver an interesting and compelling show, newsletter, and show podcast to you every week. Regardless of the challenges.
You can always visit the yellow contribution button here, which we believe supports the quality journalism that Hoosier History Live offers.
What people are saying about Hoosier History Live
"From a Hoosier who knows her books..."
"Fills a niche for the lover of Indiana history."
- Kathleen Madinger Angelone, retired bookstore owner
"...a great way to learn more about history..."
"The links on the Friday Hoosier History Live enewsletter are a great way to learn more about history, and from a variety of sources."
- Jill Ditmire, Omni Media Specialist
"...'Live' - and 'Lively' as well..."
"Hoosier History really is 'Live' - and 'Lively' as well. The program brings to new audiences the delight and wisdom that comes with knowing more of our past and our connections as Hoosiers."
- James H. Madison, Emeritus History Professor, Indiana University
"Another Hoosier History Live endorsement from a Hoosier in California ..."
"Hoosier History Live is a bright spot in my media constellation. I also frequently forward your weekly enewsletters to friends around the globe. I may now be a Californian, but my Hoosier interest is endless. The podcasts and streaming are good tools. By all means, persevere!"
- Tom Cochrun, former news anchor, WTHR-TV Channel 13 Indianapolis
"... a compelling and engaging project..."
"Molly Head and Nelson Price are Indiana-based visionaries who have created a compelling and engaging media project with Hoosier History Live. Podcasts, website, enewsletter, and live call-in radio show; it's all there!"
- Keira Amstutz, President and CEO, Indiana Humanities
"...does more to promote Indiana history..."
"Hoosier History Live does more to promote Indiana history than does any single source."
- Andrea Neal, Indianapolis author and educator
"...always a great show"
"Hoosier History Live is always a great show. We did a small sponsorship as a gesture of support, and I didn't think a little history show would have much impact. But many people mentioned to me that they had heard our credit on the radio."
- G.B. Landrigan, Realtor, Certified Residential Specialist
"... an intelligent, well-researched program..."
"I've loved listening to Hoosier History Live during the pandemic as an intelligent, well-researched program to escape the news for an hour."


-Lee Little, JD, MLS, Research Librarian, Indiana University
"...a great way to represent what I do..."
"I have thoroughly enjoyed my experiences with Nelson Price and the Hoosier History Live team. I feel being on the show was a great way to represent what I do with motorsports history. I am particularly excited by the show's new distribution through a podcast and making it accessible live through the Web."
-Mark Dill, owner, FirstSuperSpeedway.com



"...great value to sponsors..."
"Hoosier History Live has amassed a vast library of content over the years, both with the show audio and newsletter material. I believe that the Hoosier History Live content has great value to sponsors and advertisers via widespread online distribution. Nowhere else do you find the fresh new material each week, the depth of stories, the richness of detail, and the long-term consistency."
- John McDonald, CEO, ClearObject in Fishers, Indiana, Inc. Magazine's fastest-growing IT company in Indiana for 2014, 2015, 2016 and 2017.
"I love the podcasts..."
"I love the podcasts! I work on Saturdays and cannot always hear the live broadcasts. Sometimes I also like to listen a second time."


- Terri Gorney, Fort Wayne listener
"...infuses joy into the pursuit of history..."
"Nelson Price, more than anyone I know, infuses joy into the pursuit of history. And that joy rings out loud and clear on the radio show, Hoosier History Live."
- Marsh Davis, President, Indiana Landmarks
"...enthusiastic, curious and knowledgeable..."
"Hoosier History Live is a perfect place to consider and reconsider history ... not just what happened in the past, but what it may mean in the present. Nelson Price is the perfect host: enthusiastic, curious and knowledgeable. Tune in to Hoosier History Live and be prepared to be surprised."
- James Still, playwright in residence, Indiana Repertory Theatre
"...I want to call in!

..

"No, I haven't heard of another call-in talk radio show about history. Our airwaves are now full of the worst vitriol! Give me the phone number for the show. I want to call in!"

- Ken Burns, speaking at a preview of his film "The War" at Indianapolis Hebrew Congregation, April 18, 2007
"...interactive, more entertaining and more 'relevant'..."
"As museums and educational institutions scramble to make their offerings more interactive, more entertaining and more 'relevant', Hoosier History Live seems to have mastered that formula."
- Glynis Worley, rural Bartholomew County listener
Podcast Listening 101: The Basics
We still broadcast live every Saturday on WICR 88.7, but more and more of our listeners are getting their Hoosier History Live shows by podcast, and it's easier than ever!

It's really this simple: If you have a smartphone, go to the Google search engine, click on the microphone button, and say "Hoosier History Live podcasts." Or if you don't use the microphone, type in the words "Hoosier History Live podcasts" at the Google search bar.You'll immediately get a list of recent shows to choose from. Click on one of them and let the listening begin!

If you have a preferred podcast provider like Apple Podcasts or Stitcher, you can use their search function to call up Hoosier History Live as well. When you see our yellow Hoosier History Live logo, just click on the episode you want to listen to.

And don't forget to share! You can post links to our podcast on your social media page or send them by email or text.