January 28, 2023
Calvin Fletcher, first prominent civic leader in Indianapolis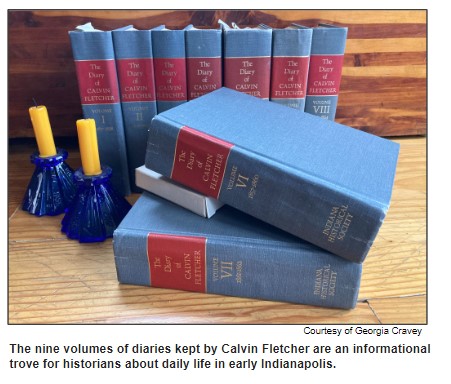 When he arrived in the brand new city of Indianapolis in 1821, Calvin Fletcher was nearly penniless. Yet he went on to become the first attorney in the new state capital city, a banker, a state legislator and a wealthy landowner. Fletcher, who was passionately anti-slavery, also became the first major civic leader in his adopted hometown.
To top it off, Fletcher (1798-1866) wrote an astounding, nine-volume diary. Since its publication by the Indiana Historical Society, the extensive diary has become a trove for anyone seeking insights about daily life in early Indianapolis. In his diary, Fletcher described everything from the weather to events, large and small, in Indianapolis.
A native of Vermont (Fletcher was just 17 when he left his family's home), the self-made early power broker became the patriarch of a family that was prominent in the city for many generations. As his wealth increased, Calvin Fletcher moved into various houses, but for a long period he lived at Wood Lawn, a farmhouse he built on his 269-acre farm in what's now the Fletcher Place Neighborhood just south of downtown Indy. Fletcher also owned vast amounts of property elsewhere in the city and state, including large tracts of farmland in Hamilton County.
Outraged by slavery (he called it "a curse upon the land"), Fletcher actively supported the formation during the Civil War of the 28th Regiment U.S. Colored Troops, an infantry of African Americans from Indiana. The recruits trained at Camp Fremont, which was set up on his land in Fletcher Place. Calvin Fletcher was an ally of Rev. Willis Revels, the pastor of Bethel African Methodist Episcopal Church, who was the recruiting officer for the 28th Regiment.
To share insights about Calvin Fletcher's colorful life and major impact, Nelson will be joined by Indianapolis-based historic researcher Georgia Cravey, a retired librarian. Georgia, who has read all nine volumes of Fletcher's diary at least twice, lives in a historic house in Fletcher Place.
Calvin Fletcher had 11 children with his first wife, Sarah Hill Fletcher, who managed a maple syrup camp in Indianapolis. Sarah also kept a diary. After her death in 1854, he married his second wife, Keziah, a teacher who, like most of the Fletchers, highly valued education. Calvin Fletcher, though, had only limited schooling when he was growing up in New England.
In Indianapolis, which was platted in the wilderness in 1821 just months before Fletcher's arrival, he became the first practicing attorney. He also helped organize Indiana's first state bank; several of his descendants were prominent bankers for many generations. In addition, Fletcher served as a state senator in the Indiana General Assembly.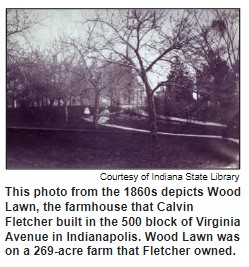 As a civic leader, he helped start some of the city's first charitable organizations, including what in the 1830s was called the Indianapolis Benevolent Society. As the nonprofit evolved, it had other names, primarily Families First; since a merger in 2022 with the Children's Bureau, it is called Firefly Children and Family Alliance. Hoosier History Live explored the history of Families First and the Children's Bureau during a show in December 2014.
Although Calvin Fletcher's houses, including Wood Lawn, are long gone, his name continues in various ways in Indianapolis. Examples include Fletcher Avenue and Calvin Fletcher's Coffee Company in Fountain Square, the neighborhood that borders Fletcher Place.
His ally and friend Willis Revels was a physician in addition to being an influential pastor at Bethel AME, the first Black church in Indianapolis. Rev. Revels (1810-1879) and Fletcher, a devout Methodist, became advocates for the 28th Regiment U.S. Colored Troops. A historic marker in Fletcher Place honors the site of Camp Fremont. Another marker in the neighborhood describes the impact of Calvin Fletcher.
One of Fletcher's direct descendants, his great-great granddaughter Lillian Fletcher Klein, died in December at age 96. Known as "Poppy", she was a civic leader and an advocate for women's rights in Indianapolis, where she was a lifelong resident.
According to a book about the extended Fletcher family, Our Family Dreams: The Fletchers' Adventures in Nineteenth Century America (St. Martin's Press, 2016), when Calvin Fletcher died in 1866, his funeral cortege "stretched for nearly a mile."
Roadtrip: "Lost Road Grave" in Boone County
Guest Roadtripper and educator Ken Marshall tells us about the mystery of the "Lost Road Grave" in Boone County near Mechanicsburg. Ken tells us that "It was the summer of 1854 and Edward Shepherd who lived along Lost Road was paid a visit one late afternoon by his father Mr. Edward Shepherd Sr. who was very sick. Unfortunately, Edward Shepherd Jr. became sick as well. The next day Mr. Shepherd Sr. died of his unknown illness.
A grave was dug at the nearby Mechanicsburg Cemetery. Before Mr. Shepherd the elder could be removed from the house and buried by his son, Shepherd Jr died as well.
Doctors in the area had declared that a Cholera epidemic could be imminent, and fear was sweeping through the area. Residents were terrified that two Shepherds (father and son) had passed away within days of each other. Both diseased bodies remained in the house, and it was assumed by neighbors that they had contracted Cholera and died.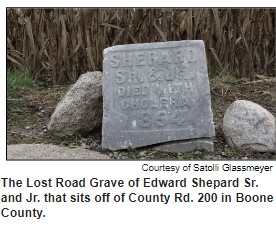 Rather than carting the two diseased bodies all the way to the Mechanicsburg Cemetery, the panicked locals decided to drag the bodies out of the house and bury the father and son (one in a coffin, the other in a box) in a hastily dug grave on the other side of the road. There is no record of cholera sweeping through the area despite rumors in 1854. It was later determined that the two men may have died of Ptomaine poisoning.
In later years, the family of the Shepherds had the grave covered by a concrete slab. To this day the two men are still buried across from where the home of Edward Sheperd Jr. once stood, and just a few feet from daily drivers."
The "Lost Road" is now numbered as County Road 200 East in Boone County, Indiana, and the Lost Road Grave is about half a mile north of State Road 47. Or if you would like to visit the graves of the Shepherd father and son, here 's a Google map to help you: The Lost Road Grave of Shepard Sr. and Jr.
Who can you see in this "Hoosier History Live Photo Album" . . .
Swipe through these photos gleaned from the last fourteen years of Hoosier History Live production!
And would you believe that radio technology has completely changed tech wise since we first went on the air in 2008 at WICR? Can you find Bobby Plump, Chris Gahl, Connie Zeigler, Tom Ridley, Bonnie Britton, Tiffany Benedict Browne, Eunice Trotter, David Baker, Lefty Huntzinger, Keira Amstutz, Cowboy Bob, Janie of "Popeye and Janie", K.P. Singh, Pam Fraizer, and Dark Rain Thom? The voices of so many Hoosiers blended together over the years to make Hoosier History Live such a unique archive.
And thanks to Richard Sullivan of Monomedia for creating this group of images.

Who We Are
Hoosier History Live is an independent production group. We raise our own money and we control our content. We make our own editorial decisions, much like a newspaper. Our goal is to deliver an interesting and compelling show, newsletter, and show podcast to you every week. Regardless of the challenges.
You can always visit the yellow contribution button here, which we believe supports the quality journalism that Hoosier History Live offers.
What people are saying about Hoosier History Live
"From a Hoosier who knows her books..."
"Fills a niche for the lover of Indiana history."
- Kathleen Madinger Angelone, retired bookstore owner
"...a great way to learn more about history..."
"The links on the Friday Hoosier History Live enewsletter are a great way to learn more about history, and from a variety of sources."
- Jill Ditmire, Omni Media Specialist
"...'Live' - and 'Lively' as well..."
"Hoosier History really is 'Live' - and 'Lively' as well. The program brings to new audiences the delight and wisdom that comes with knowing more of our past and our connections as Hoosiers."
- James H. Madison, Emeritus History Professor, Indiana University
"Another Hoosier History Live endorsement from a Hoosier in California ..."
"Hoosier History Live is a bright spot in my media constellation. I also frequently forward your weekly enewsletters to friends around the globe. I may now be a Californian, but my Hoosier interest is endless. The podcasts and streaming are good tools. By all means, persevere!"
- Tom Cochrun, former news anchor, WTHR-TV Channel 13 Indianapolis
"... a compelling and engaging project..."
"Molly Head and Nelson Price are Indiana-based visionaries who have created a compelling and engaging media project with Hoosier History Live. Podcasts, website, enewsletter, and live call-in radio show; it's all there!"
- Keira Amstutz, President and CEO, Indiana Humanities
"...does more to promote Indiana history..."
"Hoosier History Live does more to promote Indiana history than does any single source."
- Andrea Neal, Indianapolis author and educator
"...always a great show"
"Hoosier History Live is always a great show. We did a small sponsorship as a gesture of support, and I didn't think a little history show would have much impact. But many people mentioned to me that they had heard our credit on the radio."
- G.B. Landrigan, Realtor, Certified Residential Specialist
"... an intelligent, well-researched program..."
"I've loved listening to Hoosier History Live during the pandemic as an intelligent, well-researched program to escape the news for an hour."


-Lee Little, JD, MLS, Research Librarian, Indiana University
"...a great way to represent what I do..."
"I have thoroughly enjoyed my experiences with Nelson Price and the Hoosier History Live team. I feel being on the show was a great way to represent what I do with motorsports history. I am particularly excited by the show's new distribution through a podcast and making it accessible live through the Web."
-Mark Dill, owner, FirstSuperSpeedway.com



"...great value to sponsors..."
"Hoosier History Live has amassed a vast library of content over the years, both with the show audio and newsletter material. I believe that the Hoosier History Live content has great value to sponsors and advertisers via widespread online distribution. Nowhere else do you find the fresh new material each week, the depth of stories, the richness of detail, and the long-term consistency."
- John McDonald, CEO, ClearObject in Fishers, Indiana, Inc. Magazine's fastest-growing IT company in Indiana for 2014, 2015, 2016 and 2017.
"I love the podcasts..."
"I love the podcasts! I work on Saturdays and cannot always hear the live broadcasts. Sometimes I also like to listen a second time."


- Terri Gorney, Fort Wayne listener
"...infuses joy into the pursuit of history..."
"Nelson Price, more than anyone I know, infuses joy into the pursuit of history. And that joy rings out loud and clear on the radio show, Hoosier History Live."
- Marsh Davis, President, Indiana Landmarks
"...enthusiastic, curious and knowledgeable..."
"Hoosier History Live is a perfect place to consider and reconsider history ... not just what happened in the past, but what it may mean in the present. Nelson Price is the perfect host: enthusiastic, curious and knowledgeable. Tune in to Hoosier History Live and be prepared to be surprised."
- James Still, playwright in residence, Indiana Repertory Theatre
"...I want to call in!

..

"No, I haven't heard of another call-in talk radio show about history. Our airwaves are now full of the worst vitriol! Give me the phone number for the show. I want to call in!"

- Ken Burns, speaking at a preview of his film "The War" at Indianapolis Hebrew Congregation, April 18, 2007
"...interactive, more entertaining and more 'relevant'..."
"As museums and educational institutions scramble to make their offerings more interactive, more entertaining and more 'relevant', Hoosier History Live seems to have mastered that formula."
- Glynis Worley, rural Bartholomew County listener
Podcast Listening 101: The Basics
We still broadcast live every Saturday on WICR 88.7, but more and more of our listeners are getting their Hoosier History Live shows by podcast, and it's easier than ever!

It's really this simple: If you have a smartphone, go to the Google search engine, click on the microphone button, and say "Hoosier History Live podcasts." Or if you don't use the microphone, type in the words "Hoosier History Live podcasts" at the Google search bar.You'll immediately get a list of recent shows to choose from. Click on one of them and let the listening begin!

If you have a preferred podcast provider like Apple Podcasts or Stitcher, you can use their search function to call up Hoosier History Live as well. When you see our yellow Hoosier History Live logo, just click on the episode you want to listen to.

And don't forget to share! You can post links to our podcast on your social media page or send them by email or text.