May 30, 2020 - coming up
Tamika Catchings, history maker: encore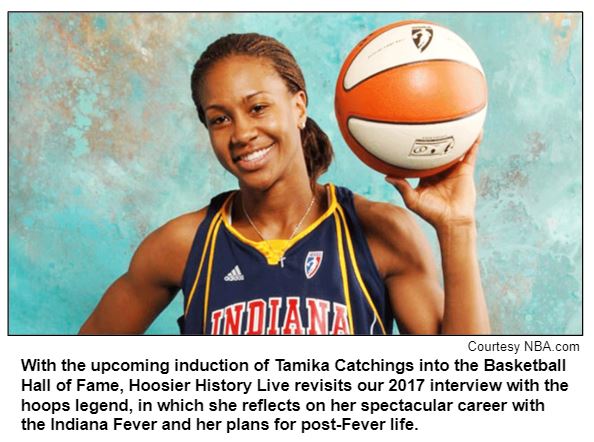 With the highly anticipated induction of Tamika Catchings into the Naismith Memorial Basketball Hall of Fame coming up this summer, Hoosier History Live is taking a look back at the challenges the Indiana Fever legend confronted during her spectacular career as a player, as well as her aspirations for post-Fever life.
Since the original broadcast of this show in 2017 - one year after she retired as a player - Tamika has been named general manager and vice president of operations for the Fever. In August, the honor that she has called a "storybook ending" is expected to unfold with her enlistment into the Hall of Fame.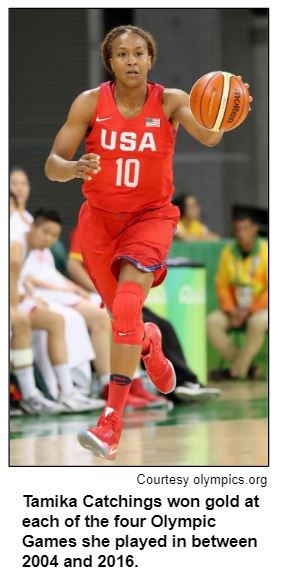 She will be inducted along with other basketball superstars, including her lifelong friend Kobe Bryant, whose posthumous membership comes after he was killed in a helicopter crash in January. During this interview with our host Nelson, Tamika talks about the childhood bond with Bryant that began when they were growing up in Italy, where their fathers played pro basketball.
Tamika went on to be one of the most beloved athletes in Indiana history - and not only because she was considered to have been one of the best female professional basketball players ever. Nor is it merely because she won four Olympic gold medals.
Tamika Catchings is regarded as an inspirational figure even by admirers who never have attended an Indiana Fever game.
Born with a profound hearing impairment that caused her to be bullied as a child, Tamika established her Catch the Stars Foundation in 2004 to help young people confronted by challenges. She wrote an autobiography, Catch a Star (Revell Publishing, 2016) in which she describes how she was discouraged from chasing dreams.
Tamika, now 40, was named a Living Legend by the Indiana Historical Society in 2017. Also that year, her jersey (No. 24) became the first to be permanently retired by the Indiana Fever; her entire 15-year playing career in the WNBA was spent with the team.
During our show, Tamika talks about a range of aspects of her life and career, which included a role that surprised many: tea shop proprietor. In 2017, Tamika bought the Tea's Me Cafe on the near north side of Indianapolis after learning that the owners intended to shutter it. She had been a longtime patron and didn't want the cafe to close.
A year earlier, she married her husband, Parnell Smith, in a small ceremony in downtown Indy. She became a commentator for ESPN's SEC network. And in 2017, Tamika gave the commencement address at IUPUI.
"If anyone can do it, you can," she repeated to the graduates as a refrain throughout her speech.
Although her father, Harvey Catchings, enjoyed a 12-year career with the NBA and then played pro basketball overseas, the WNBA didn't even exist until Tamika was 16 years old.
By then, she had moved multiple times, spending her formative years everywhere from Italy to Texas as the family was continually uprooted because of her father's career. In Catch a Star, which Tamika wrote with Ken Petersen, she describes how she was perceived at the succession of new schools:
"Tamika Catchings was still just an odd-looking girl with big box hearing aids over her ears."
She went on to lead the Fever to a national championship in 2012, win four Olympic gold medals (the most recent at the 2016 Rio Olympics) as a key player on Team USA and receive the ESPN Humanitarian Award.
"Tamika has been a shining light in the community, a tireless worker and a tremendous role model not only for young athletes, but for everyone," writes Tony Dungy, the former Indianapolis Colts coach, in the introduction to Catch a Star. "She is one of the rare superstar athletes who really 'get it.'"
Tamika was drafted by the Indiana Fever in 2001 after leading the University of Tennessee's team to a national championship. At Tennessee, she had suffered a severe leg injury, but in Indianapolis she rebounded and excelled with the Fever, overcoming what Tamika describes in her autobiography as painful shyness during her youth.
"The name-calling, the put-downs, all the being singled out and set apart was too much," she writes in Catch a Star, referring to childhood teasing because of the hearing aids she wore.
When she launched her Catch the Stars Foundation, Tamika's goal was to help disadvantaged and challenged youth. In recent years, the foundation has expanded its mission to "empower youth to achieve their dreams by providing goal-setting programs that promote literacy, fitness and mentoring," as stated on the organization's website.
June 6, 2020 - coming up
Early malaria epidemic in Indy, plus past visions for city's future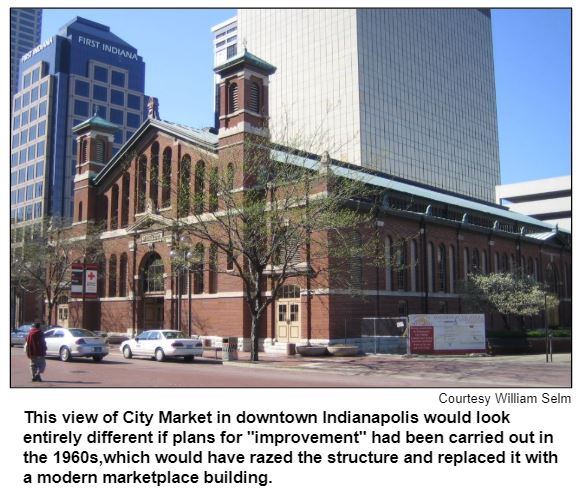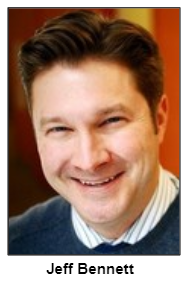 As the city of Indianapolis celebrates its 200th birthday - and on the eve of what was supposed to have been a mass, public kickoff event for the Bicentennial era of the Hoosier capital - Hoosier History Live will explore a malaria epidemic during the early 1820s that almost wiped out the city just as it was getting underway.
We also will look back on the city's history at various proposals for its improvement, including some ideas that fizzled or needed to be reworked.
A Bicentennial era (2020-2021) launch had been planned for June 7 that involved a major public community gathering on Monument Circle. Instead, as our guest Deputy Mayor Jeff Bennett explains, civic leaders have been conferring to come up with a celebratory kickoff that can happen amid COVID-era public health guidelines. Jeff will share details during our show.
But the coronavirus pandemic certainly isn't the first public health crisis Indianapolis has faced. During the summer of 1821, the new city confronted a devastating malaria epidemic that killed 72 men, women and children, according to Indianapolis: The Story of a City by Edward A. Leary. Dozens of terrified residents packed up and left.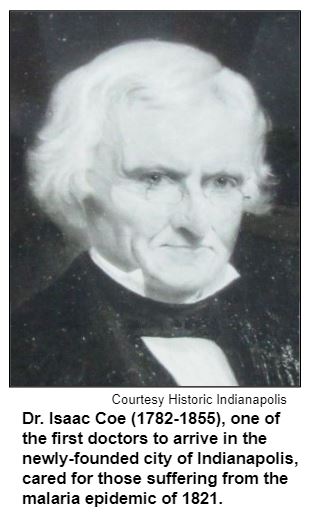 Many victims were nursed back to health by Dr. Isaac Coe (1782-1855), a Rutgers-educated New Jersey native who was the second physician to arrive in the city. Dr. Coe scolded state leaders for choosing a swampy site as the location for the new state capital merely because it was the geographic center of Indiana. More than 20 of the children who died in the malaria epidemic were buried in Plague Cemetery, the city's first graveyard. A commemorative plaque marks the approximate site of the cemetery on the campus of today's IUPUI.
Despite that inauspicious start, the city endured. During the next 200 years, visionaries proposed various plans for Indianapolis and its historic sites. Our guest Jeff Bennett will discuss some plans involving transformations for City Market at E. Market and N. Alabama streets that never unfolded.
Nelson and Jeff also will discuss Lockerbie Fair, a proposal first suggested in the late 1950s by city planners to transform the Lockerbie Square neighborhood into a historic "theme park" with costumed reenactors. The concept gained steam as interest in history increased with the buildup to the U.S. Bicentennial in 1976.
However, the Lockerbie Fair plan drew strenuous protests from historic preservationists, who wanted to protect Lockerbie as a residential neighborhood and were restoring its 19th century cottages. Opposition from Indiana Landmarks (then the Historic Landmarks Foundation of Indiana) was a key factor in causing the Lockerbie Fair concept to be scuttled.
Deputy Mayor Jeff Bennett was our guest last January for a show about how the Centennial of Indianapolis was celebrated in 1920 as well as the 150th birthday festivities in the early 1970s.
Preserving history for the future: Indiana Memory and Digital Public Library
For twelve years Hoosier History Live has been working hard to bring our listeners fascinating stories about the heritage of our beloved state, but we know that someday we ourselves will be a part of history. As an example, as many as 8 percent of the guests who have appeared on our show are now deceased. And many of our old shows are on CDs safely stored away, ready for digital archiving.
That's why we're so excited about our partnership with Indiana Memory and the Digital Public Library of America. Both projects seek to preserve and provide access to valuable primary sources that make up the culture and history of our state and the nation at large.
Working with the Indiana State Library we've begun uploading and cataloging digital files of our radio shows and weekly newsletters so that they can be available for research now and in the future.
And while we believe that this project is of great value, the cataloging and archival work that it requires is straining our already stretched budget.
Won't you consider making a donation to support our work on the Indiana Memory and DPLA projects? All you have to do is scroll up and hit the yellow "Donate" button.
That way, your grandchildren will be able to enjoy Hoosier History Live as much as you do.
Get involved with Hoosier History live!
Would you like to contribute prizes for our History Mystery? It's a great public relations move for your business or organization. Hoosier History Live listeners are an educated, sophisticated bunch - just the kind of customers or supporters you'd like to reach.
If you would like to contribute a History Mystery prize, we prefer items that can be mailed in a standard business envelope, such as a gift certificate or tickets.
Also, we are looking for a downtown or southside (near UIndy) restaurant that would like to host our show guests for lunch about 1:30 pm Saturdays after the live show. In exchange we will offer show underwriting.
And finally, if you would like to start a listening group to listen to the live show Saturday from noon to 1, it's a fun way to get people into your business or organization. Great for libraries, small businesses, and senior centers, too. All you need is a quiet room and a listening device. And an organizer.
Interested in any of these ideas? Contact molly@hoosierhistorylive.org for details.
Feedback from our supporters
"I love the podcasts..."
"I love the podcasts! I work on Saturdays and cannot always hear the live broadcasts. Sometimes I also like to listen a second time."


- Terri Gorney, Fort Wayne listener
"... a compelling and engaging media project..."
"Molly Head and Nelson Price are Indiana-based visionaries who have created a compelling and engaging media project with Hoosier History Live. Podcasts, website, enewsletter, and live call-in radio show; it's all there!"


- Keira Amstutz, President and CEO, Indiana Humanities
"...best Americana-themed show..."
"Hoosier History Live is the best Americana-themed show anywhere on radio!"
-John Guerrasio, former IRT actor
"...great value to sponsors..."
"Hoosier History Live has amassed a vast library of content over the years, both with the show audio and newsletter material. I believe that the Hoosier History Live content has great value to sponsors and advertisers via widespread online distribution. Nowhere else do you find the fresh new material each week, the depth of stories, the richness of detail, and the long-term consistency."
- John McDonald, CEO, ClearObject in Fishers, Indiana, Inc. Magazine's fastest-growing IT company in Indiana for 2014, 2015, 2016 and 2017.
"...always a great show"
"Hoosier History Live is always a great show. We did a small sponsorship as a gesture of support, and I didn't think a little history show would have much impact. But many people mentioned to me that they had heard our credit on the radio."
G.B. Landrigan, Realtor, Certified Residential Specialist

"...a great way to represent what I do..."
"I have thoroughly enjoyed my experiences with Nelson Price and the Hoosier History Live team. I feel being on the show was a great way to represent what I do with motorsports history. I am particularly excited by the show's new distribution through a podcast and making it accessible live through the Web."
-Mark Dill, owner, FirstSuperSpeedway.com

"...'Live'--and 'Lively' as well..."
"Hoosier History really is 'Live'--and 'Lively' as well. The program brings to new audience the delight and wisdom that comes with knowing more of our past and our connections as Hoosiers."
James H. Madison, Emeritus History Professor, Indiana University
"...does more to promote Indiana history..."
"Hoosier History Live does more to promote Indiana history than does any single source."
Andrea Neal, Indianapolis author and educator
"...fun and interesting..."
"Hoosier History Live is a fun and interesting way to learn about the heart and soul of Indiana. No boring classes or books here! The production team does an outstanding job."
Judy O'Bannon, civic leader and public broadcasting producer
"...infuses joy into the pursuit of history..."
"Nelson Price, more than anyone I know, infuses joy into the pursuit of history. And that joy rings out loud and clear on the radio show, Hoosier History Live."
Marsh Davis, President, Indiana Landmarks
"...interactive, more entertaining and more 'relevant'..."
"As museums and educational institutions scramble to make their offerings more interactive, more entertaining and more 'relevant', Hoosier History Live seems to have mastered that formula."
Glynis Worley, rural Bartholomew County listener
"...enthusiastic, curious and knowledgeable..."
"Hoosier History Live is a perfect place to consider and reconsider history ... not just what happened in the past, but what it may mean in the present. Nelson Price is the perfect host: enthusiastic, curious and knowledgeable. Tune in to Hoosier History Live and be prepared to be surprised."
James Still, playwright in residence, Indiana Repertory Theatre
"...a great way to learn more about history..."
"The links on the Friday Hoosier History Live enewsletter are a great way to learn more about history, and from a variety of sources."
Jill Ditmire, Omni Media Specialist
"...I want to call in!

..

"No, I haven't heard of another call-in talk radio show about history. Our airwaves are now full of the worst vitriol! Give me the phone number for the show. I want to call in!"

Ken Burns, speaking at a preview of his film "The War" at Indianapolis Hebrew Congregation, April 18, 2007