February 29, 2020
Flourishing at 90-something: encore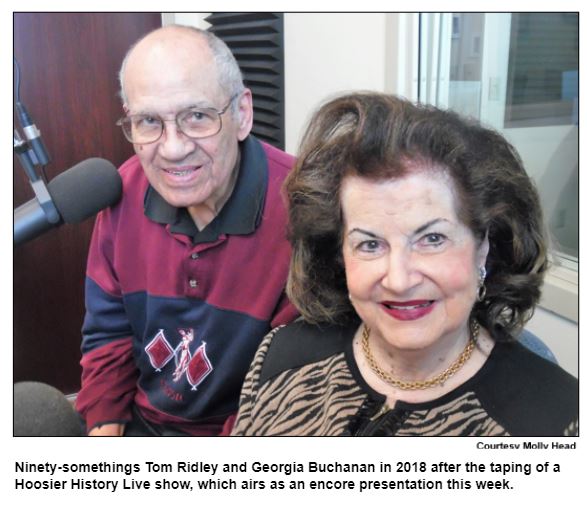 Hoosiers who have celebrated more than 90 birthdays have lived through a lot of state history. Not only have they been eyewitnesses to the great milestones of the 20th century, many have remained hale and hearty far beyond the average American lifespan. Those who continue to enjoy an active life into their tenth decade undoubtedly have insights and advice to share with the rest of us.
To tap these insights - including what expectations to let go of and how to keep thriving mentally and physically - the format for this show is a round-table discussion with two guests in their 90s.
The guests, their ages when the show was originally broadcast in March of 2018, and their backgrounds are as follows:
Indianapolis civic leader Georgia Buchanan, 91, the author of the book How to Live Beyond 90 without Falling Down (IBJ Book Publishing). The daughter of Greek immigrants who came to Indy during the 1920s, Georgia has long been active in Special Olympics and other non-profit organizations. She also was a guest on Hoosier History Live shows in July 2012 about the history of Special Olympics in Indiana and in August 2009 about Greek heritage in the state.
And Tom Ridley, 95, who grew up near Indiana Avenue in Indianapolis. In 1927, when he was five years old, his parents brought him to opening events at what is now the Madam Walker Legacy Center. Mr. Ridley continues to be the historian and a guide at the Walker Theatre; he was our guest in 2016 to describe his memories about the early years of the theater and the heyday of the local jazz scene. He also talked about his World War II experiences, which included serving in an all-black military unit that landed on Utah Beach on D-Day in 1944.
During this show, our guests share life lessons and a range of tips about how to flourish after age 90, a demographic that is growing rapidly. According to Georgia's book, the number of Americans aged 90 and older has tripled in the past 30 years.
Georgia Buchanan's son, Bryan Hadin, was born in 1963 with special needs. For many years, he participated in various competitions with Special Olympics. Georgia is also a long-time arts advocate; her career as a print and broadcast journalist included media work in Indianapolis and in Washington D.C.
Our guest Tom Ridley, who was born in 1922, lives in the Ransom Place neighborhood, not far from where he grew up. He met his late wife when they were in kindergarten; she went on to become an IPS teacher. His father-in-law was a musician in clubs on Indiana Avenue.
Contrary to prevailing stereotypes about the elderly, our guests are active on the Internet, continue to drive and live independently. Both are widely known for their energy and enthusiasm.
Editor's note: Due to WICR scheduling conflicts, this encore show has been shortened to 45 minutes.

March 7, 2020 - coming up
Women's Suffrage: strides, setbacks and a first lady's role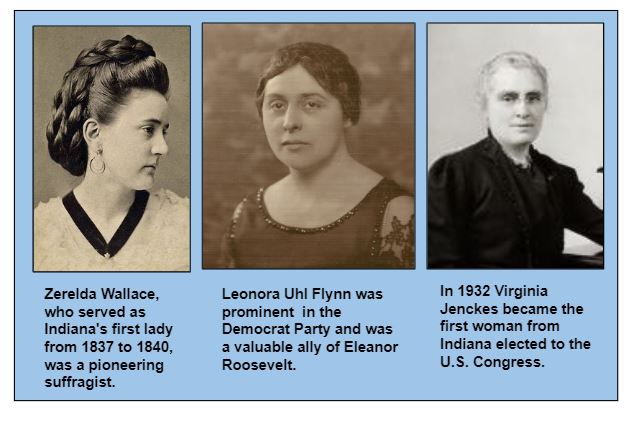 As Hoosier History Live salutes Women's History Month, we will spotlight Indiana suffragists - including a former first lady of the state - whom we have not previously explored.
We took a deep dive into the women's rights crusade during our Jan. 18 show, and now we delve into strides Hoosier women made in the political arena after achieving the right to vote in 1920. But there also were setbacks, including some that already had occurred by the late 1920s.
Virginia Jenckes, a widow who managed her family's farm near Terre Haute, became the first woman from Indiana elected to the U.S. Congress in 1932. During that era, Logansport resident Leonora Uhl Flynn rose to prominence on the Democratic National Committee and became a valuable ally of Eleanor Roosevelt.
Long before that, Zerelda Wallace, who served as Indiana's first lady from 1837 to 1840, was a pioneering suffragist. She also was the stepmother of Gen. Lew Wallace, author of the blockbuster bestseller Ben-Hur published in 1880.
Those women will be among the trail-blazers discussed in our periodic series as the Indiana Women's Suffrage Centennial, a statewide network of women's and history organizations, celebrates the upcoming 100th anniversary of the ratification of the 19th Amendment on Aug. 26, 1920. Nelson will be joined by two guests:
Lisa Hendrickson, an Indianapolis-based editor, writer and owner of Lisa Hendrickson Communications. She has researched various Indiana suffragists and aspects of the women's rights movement during the late 19th and early 20th centuries.<
And Larry Paarlberg, director of the General Lew Wallace Study & Museum in Crawfordsville. He will share insights about Zerelda Wallace, who was married to Indiana's sixth governor, David Wallace. More than 15 years after her husband's death in 1859, Zerelda Wallace became a forceful proponent for women's voting rights and was elected the first president of the Equal Suffrage Society of Indianapolis.
Zerelda Wallace was "Gentle in spirit and proper in demeanor [yet] ardent in her beliefs," according to Indiana's 200: The People Who Shaped the Hoosier State (Indiana Historical Society Press, 2016). A historic marker on Fort Wayne Avenue in downtown Indianapolis commemorates Zerelda Wallace, who died in 1901 - and, thus, never enjoyed the right to vote.
Even after the 1920 landmark for suffrage, the path for women in politics was bumpy. According to research by our guest Lisa Hendrickson, by the late 1920s women already were "losing ground" in leadership positions in both political parties; for example, 33 percent fewer women attended the Democratic National Convention in 1928 compared to four years previously.
Viriginia Jenckes, a Democrat, served three terms in Congress following her historic victory in 1932. She promised to go to Washington as "the friend of the farmer and the working man."
Her campaign manager was her 19-year-old daughter.
Get involved with Hoosier History live!
Would you like to contribute prizes for our History Mystery? It's a great public relations move for your business or organization. Hoosier History Live listeners are an educated, sophisticated bunch - just the kind of customers or supporters you'd like to reach.
If you would like to contribute a History Mystery prize, we prefer items that can be mailed in a standard business envelope, such as a gift certificate or tickets.
Also, we are looking for a downtown or southside (near UIndy) restaurant that would like to host our show guests for lunch about 1:30 pm Saturdays after the live show. In exchange we will offer show underwriting.
And finally, if you would like to start a listening group to listen to the live show Saturday from noon to 1, it's a fun way to get people into your business or organization. Great for libraries, small businesses, and senior centers, too. All you need is a quiet room and a listening device. And an organizer.
Interested in any of these ideas? Contact molly@hoosierhistorylive.org for details.
More praise for Hoosier History Live
"Molly Head and Nelson Price are Indiana-based visionaries who have created a compelling and engaging media project with Hoosier History Live. Podcasts, website, enewsletter, and live call-in radio show; it's all there!"

- Keira Amstutz, President and CEO, Indiana Humanities
They're singing our praises!
"Hoosier History Live is the best Americana-themed show anywhere on radio!"
So says John Guerrasio, a professional actor who lives in London, England. We met John in 2008 when he played a role in the Indiana Repertory Theatre's production of The Ladies Man, a French farce by Georges Feydeau.
Even though he no longer lives in Indiana, John stays current with Hoosier History Live by listening to the show via podcast. He encourages other listeners to do the same - wherever they live. Listening by podcast means you can catch up on old shows, post shows on your social media accounts, and fit your listening to your own schedule.
Just go to hoosierhistorylive.org and look for recent shows linked in bold typeface at the top of the site. For older shows check out our archive page, where podcast links are available along with the original newsletter material for each show. You can also access Hoosier History Live podcasts via Apple's podcast app on your phone or iPad, or many other podcasting apps as well.
Whether you listen live on Saturdays or via podcast, we think you'll agree with John that Hoosier History Live is worth making a part of your day!
Want to support Hoosier History Live?
We offer a permanent and growing archive of quality online content, including easily accessible podcasts available a week after live air. Thanks to associate producer Mick Armbruster for directing our online audio distribution.
If you are interested in becoming a sponsor, click here or call Molly Head at (317) 927-9101. Sponsorship includes logos and links on our enewsletter and website, and voiced credits in the show. You can also of course make an individual contribution on the yellow button on the left side of this page. Support local journalism.

Feedback from our supporters
"...great value to sponsors"
"Hoosier History Live has amassed a vast library of content over the years, both with the show audio and newsletter material. I believe that the Hoosier History Live content has great value to sponsors and advertisers via widespread online distribution. Nowhere else do you find the fresh new material each week, the depth of stories, the richness of detail, and the long-term consistency."
- John McDonald, CEO, ClearObject in Fishers, Indiana, Inc. Magazine's fastest-growing IT company in Indiana for 2014, 2015, 2016 and 2017.
"...always a great show"
"Hoosier History Live is always a great show. We did a small sponsorship as a gesture of support, and I didn't think a little history show would have much impact. But many people mentioned to me that they had heard our credit on the radio."
G.B. Landrigan, Realtor, Certified Residential Specialist
August 2018
"...a great way to represent what I do..."
"I have thoroughly enjoyed my experiences with Nelson Price and the Hoosier History Live team. I feel being on the show was a great way to represent what I do with motorsports history. I am particularly excited by the show's new distribution through a podcast and making it accessible live through the Web."
-Mark Dill, owner, FirstSuperSpeedway.com
July 2018
What people are saying about Hoosier History Live
"Hoosier History really is 'Live'--and 'Lively' as well. The program brings to new audience the delight and wisdom that comes with knowing more of our past and our connections as Hoosiers."
James H. Madison
Emeritus History Professor
Indiana University
"Hoosier History Live does more to promote Indiana history than does any single source."
Andrea Neal, Indianapolis author and educator
"Hoosier History Live is a fun and interesting way to learn about the heart and soul of Indiana. No boring classes or books here! The production team does an outstanding job."
Judy O'Bannon, civic leader and public broadcasting producer
"Distilling life experience into stories is an art. Telling stories of life experience for Hoosiers past and present will shape the lives of young people and enrich the lives of all in our state. Mr. Nelson Price brings alive the life experience of notable Hoosiers in Hoosier History Live."
David T. Wong, Ph.D., President
DT Wong Consulting, LLC
Former Lilly research scientist who developed Prozac
"Nelson Price, more than anyone I know, infuses joy into the pursuit of history. And that joy rings out loud and clear on the radio show, Hoosier History Live."
Marsh Davis
President, Indiana Landmarks
"As museums and educational institutions scramble to make their offerings more interactive, more entertaining and more 'relevant', Hoosier History Live seems to have mastered that formula."
Glynis Worley, rural Bartholomew County listener
"Hoosier History Live is a perfect place to consider and reconsider history ... not just what happened in the past, but what it may mean in the present. Nelson Price is the perfect host: enthusiastic, curious and knowledgeable. Tune in to Hoosier History Live and be prepared to be surprised."
James Still, playwright in residence, Indiana Repertory Theatre
"Hoosier History Live is a fantastic opportunity for people to not only learn about history, but also become a part of the conversation. Much like our mission, the telling of Indiana's stories, Nelson and his guests wonderfully connect people to the past!"
John Herbst
President and CEO, Indiana Historical Society
"The links on the Friday Hoosier History Live enewsletter are a great way to learn more about history, and from a variety of sources."
Jill Ditmire
Omni Media Specialist
"No, I haven't heard of another call-in talk radio show about history. Our airwaves are now full of the worst vitriol! Give me the phone number for the show. I want to call in!"
Ken Burns, speaking at a preview of his film "The War" at Indianapolis Hebrew Congregation, April 18, 2007