December 03, 2022
Evolution of foreign-born Hoosiers and the International Center: 50 years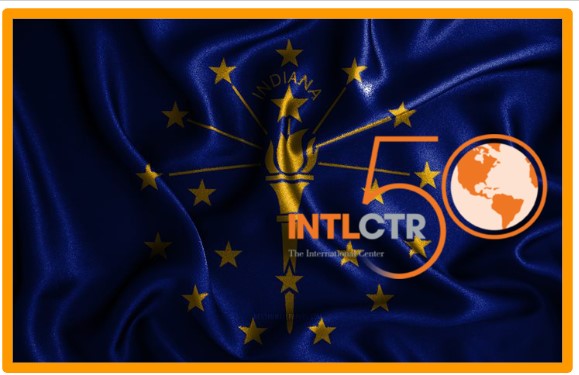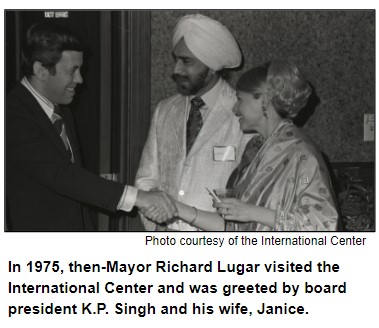 In the early 1970s, the top homeland countries for foreign-born Hoosiers were Germany, Poland and Canada. Fifty years later, the top countries of origin are Mexico, India and China. Those rankings come courtesy of the International Center, a nonprofit that offers programs and services related to Indiana's international communities. The center began in the early 1970s as primarily a volunteer-run organization serving only Indianapolis. Now, with a staff of more than 20 and a statewide focus, it's about to turn 50 years old.
Responding to the milestone, Hoosier History Live will explore the evolution of Indiana's foreign-born population as well as of the International Center itself, with Martin Baier, its president and CEO, joining Nelson as his studio guest. A native of Germany and a veteran of the German Air Force, Martin also currently serves as the honorary counsel of France to Indiana.
For part of the show, Martin and Nelson also will be joined by Caterina Cregor Blitzer, who was the International Center's president from 1996 through 2006. A native of Italy and a freelance translator and editor fluent in multiple languages, Caterina led the center through a period of growth as Indiana became increasingly diverse.
According to the center, the foreign-born population of Indiana has increased by a whopping 328 percent since 1970. (The state's overall population has increased by 29 percent during that period.)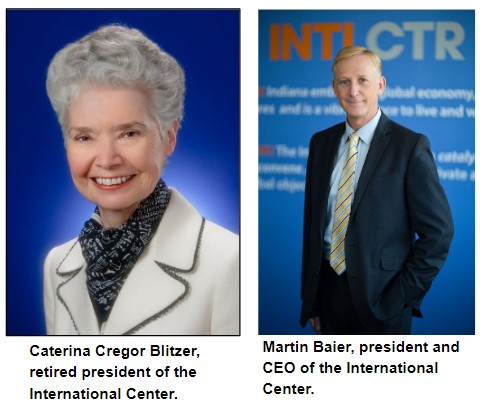 As the change in the top homeland countries indicates, significantly greater numbers of foreign-born Hoosiers are people of color. Rather than coming primarily from European countries like Germany and Poland, many now come from Asia and Africa.
The International Center's analysis indicates that, after Mexico, India and China, the top homelands of foreign-born Hoosiers in 2020 were Burma, the Philippines, Nigeria and El Salvador. In contrast, the top homelands in 1970, after Germany, Poland and Canada, were Yugoslavia, England and Mexico.
Using data from the 2020 Census, the International Center reports that, in 1970, 80 percent of foreign-born Hoosiers were white. In contrast, 63 percent in 2020 were non-white.
Our guest Caterina Cregor Blizter notes that the idea for the International Center was conceived after then-Indianapolis Mayor Richard Lugar and civic leaders reacted to the need for interpreters and translators in 1971. That's when the Hoosier capital hosted the International Conference on Cities attended by 500 delegates from around the world.
One of the key founders of the International Center was well-known artist and architect K.P. Singh, who was Nelson's guest in 2010 for one of the early shows in our rotating series about ethnic heritage and immigration to Indiana. K.P. shared insights about Sikh heritage in Indiana. Our popular series has explored heritage groups ranging from Korean immigration to Indiana to, most recently, Ukrainian immigration and Arabs in Indianapolis, then and now.
As the International Center prepares to celebrate its 50th anniversary, it has announced various projects. In December of 1972, the Indianapolis Star predicted that after the center opened, the city would have a "window on the world". The center was officially established in March 1973 and initially known as the International Center of Indianapolis.
Roadtrip: Tour boats of northern Indiana
Guest Roadtripper and attorney Tim Shelly of Elkhart, and former board chair of Indiana Landmarks, tells us that "Northern Indiana is peppered with dozens of recreational lakes and crisscrossed by several navigable rivers. If one owns waterfront property or their own boat, these bodies of water provide hours of enjoyment to those lucky persons. If you don't own lakefront property or a boat, you are still able to experience being on the water by cruising on one of four large public tour boats sailing in northern Indiana: The Dixie, Indiana's oldest stern wheeler, docks on Webster Lake in North Webster, the Elkhart River Queen plies the Upper St. Joseph River in its namesake community, Monticello's Madam Carroll voyages Lake Freeman, and the S.S. Lillypad II, explores Lake Wawasee in Syracuse. Each member of this fleet provides those landlocked with the chance to experience a special day on the water.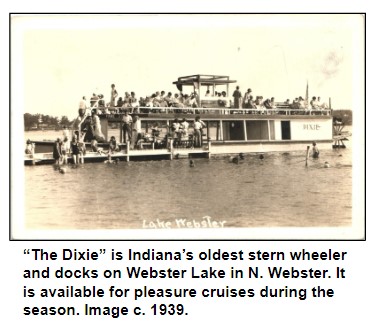 These boats offer public cruises on a regular basis, some daily or weekly, from mid-spring until later fall. All boats offer special voyages, such as dinner, sunset, concert and party themed tours and all boats are also available to charter for special occasions; such as weddings and family or school reunions. Uniquely, the Madam Carroll provides year round dockside entertainment in its lounge.
Additionally, these vessels annually host patriotic themed events on Memorial Day, the 4th of July, and then, a veteran's recognition cruise in the fall. The red, white and blue celebrations include an entourage of flag decked private boats, large ensembles playing Taps, and special displays and salutes from waterfront property owners.
All four of these historic boats, from the century old Dixie to the 30 year old Lillypad II, provide the public a chance to get out and enjoy the water, whether it's to glimpse and smell the colors of spring tree blossoms, escape the heat of July and August, to take in the changing fall foliage, or simply to enjoy the different activities and views from the water. A few hours spent on any of these boats is time well spent." Listen to Tim this Saturday on the radio or on your favorite streaming device!
Nelson featured speaker at St. Margaret's Guild holiday luncheon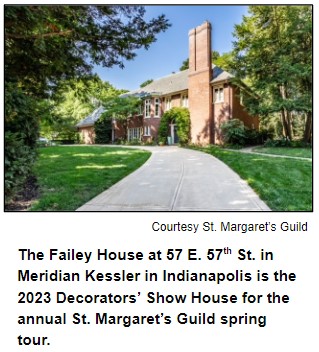 This year the St. Margaret's Hospital Guild has selected the Failey House in Meridian Kessler in Indianapolis to be the featured historic home on its spring Decorators' Show House and Gardens tour. The home was owned by the Failey family for 84 years and was designed Willard C. Osler. Touring the historic house will help St. Margaret's Guild with its goal of raising $1 million dollars for Eskenazi Health's Behavioral Health Academy.
Hoosier History Live host and historian Nelson Price, also the author of "Indiana Legends", will be the featured speaker at the St. Margaret's Guild holiday luncheon on Dec. 9 at the Woodstock Club. Nelson will be speaking about historic women from Indiana, as well as about contemporary notables he has interviewed.
Who can you see in this "Hoosier History Live Photo Album" . . .
Swipe through these photos gleaned from the last fourteen years of Hoosier History Live production!
And would you believe that radio technology has completely changed tech wise since we first went on the air in 2008 at WICR? Can you find Bobby Plump, Chris Gahl, Connie Zeigler, Tom Ridley, Bonnie Britton, Tiffany Benedict Browne, Eunice Trotter, David Baker, Lefty Huntzinger, Keira Amstutz, Cowboy Bob, Janie of "Popeye and Janie", K.P. Singh, Pam Fraizer, and Dark Rain Thom? The voices of so many Hoosiers blended together over the years to make Hoosier History Live such a unique archive.
And thanks to Richard Sullivan of Monomedia for creating this group of images.

Who We Are
Hoosier History Live is an independent production group. We raise our own money and we control our content. We make our own editorial decisions, much like a newspaper. Our goal is to deliver an interesting and compelling show, newsletter, and show podcast to you every week. Regardless of the challenges.
You can always visit the yellow contribution button here, which we believe supports the quality journalism that Hoosier History Live offers.
What people are saying about Hoosier History Live
From a Hoosier who knows her books...
"Fills a niche for the lover of Indiana history."
- Kathleen Madinger Angelone, retired bookstore owner
Another Hoosier History Live endorsement from a Hoosier in California ...
"Hoosier History Live is a bright spot in my media constellation. I also frequently forward your weekly enewsletters to friends around the globe. I may now be a Californian, but my Hoosier interest is endless. The podcasts and streaming are good tools. By all means, persevere!"
- Tom Cochrun, former news anchor, WTHR-TV Channel 13 Indianapolis
"... a compelling and engaging project..."
"Molly Head and Nelson Price are Indiana-based visionaries who have created a compelling and engaging media project with Hoosier History Live. Podcasts, website, enewsletter, and live call-in radio show; it's all there!"
- Keira Amstutz, President and CEO, Indiana Humanities
"...'Live' - and 'Lively' as well..."
"Hoosier History really is 'Live' - and 'Lively' as well. The program brings to new audiences the delight and wisdom that comes with knowing more of our past and our connections as Hoosiers."
- James H. Madison, Emeritus History Professor, Indiana University
"...always a great show"
"Hoosier History Live is always a great show. We did a small sponsorship as a gesture of support, and I didn't think a little history show would have much impact. But many people mentioned to me that they had heard our credit on the radio."
- G.B. Landrigan, Realtor, Certified Residential Specialist
"... an intelligent, well-researched program..."
"I've loved listening to Hoosier History Live during the pandemic as an intelligent, well-researched program to escape the news for an hour."


-Lee Little, JD, MLS, Research Librarian, Indiana University
"...a great way to represent what I do..."
"I have thoroughly enjoyed my experiences with Nelson Price and the Hoosier History Live team. I feel being on the show was a great way to represent what I do with motorsports history. I am particularly excited by the show's new distribution through a podcast and making it accessible live through the Web."
-Mark Dill, owner, FirstSuperSpeedway.com



"...great value to sponsors..."
"Hoosier History Live has amassed a vast library of content over the years, both with the show audio and newsletter material. I believe that the Hoosier History Live content has great value to sponsors and advertisers via widespread online distribution. Nowhere else do you find the fresh new material each week, the depth of stories, the richness of detail, and the long-term consistency."
- John McDonald, CEO, ClearObject in Fishers, Indiana, Inc. Magazine's fastest-growing IT company in Indiana for 2014, 2015, 2016 and 2017.
"I love the podcasts..."
"I love the podcasts! I work on Saturdays and cannot always hear the live broadcasts. Sometimes I also like to listen a second time."


- Terri Gorney, Fort Wayne listener
"...does more to promote Indiana history..."
"Hoosier History Live does more to promote Indiana history than does any single source."
- Andrea Neal, Indianapolis author and educator
"...infuses joy into the pursuit of history..."
"Nelson Price, more than anyone I know, infuses joy into the pursuit of history. And that joy rings out loud and clear on the radio show, Hoosier History Live."
- Marsh Davis, President, Indiana Landmarks
"...enthusiastic, curious and knowledgeable..."
"Hoosier History Live is a perfect place to consider and reconsider history ... not just what happened in the past, but what it may mean in the present. Nelson Price is the perfect host: enthusiastic, curious and knowledgeable. Tune in to Hoosier History Live and be prepared to be surprised."
- James Still, playwright in residence, Indiana Repertory Theatre
"...a great way to learn more about history..."
"The links on the Friday Hoosier History Live enewsletter are a great way to learn more about history, and from a variety of sources."
- Jill Ditmire, Omni Media Specialist
"...I want to call in!

..

"No, I haven't heard of another call-in talk radio show about history. Our airwaves are now full of the worst vitriol! Give me the phone number for the show. I want to call in!"

- Ken Burns, speaking at a preview of his film "The War" at Indianapolis Hebrew Congregation, April 18, 2007
"...interactive, more entertaining and more 'relevant'..."
"As museums and educational institutions scramble to make their offerings more interactive, more entertaining and more 'relevant', Hoosier History Live seems to have mastered that formula."
- Glynis Worley, rural Bartholomew County listener
Podcast Listening 101: The Basics
We still broadcast live every Saturday on WICR 88.7, but more and more of our listeners are getting their Hoosier History Live shows by podcast, and it's easier than ever!

It's really this simple: If you have a smartphone, go to the Google search engine, click on the microphone button, and say "Hoosier History Live podcasts." Or if you don't use the microphone, type in the words "Hoosier History Live podcasts" at the Google search bar.You'll immediately get a list of recent shows to choose from. Click on one of them and let the listening begin!

If you have a preferred podcast provider like Apple Podcasts or Stitcher, you can use their search function to call up Hoosier History Live as well. When you see our yellow Hoosier History Live logo, just click on the episode you want to listen to.

And don't forget to share! You can post links to our podcast on your social media page or send them by email or text.