October 01, 2022
Cemeteries and their historic landscaping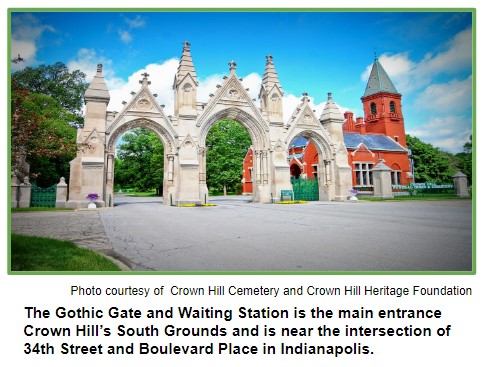 Just as cities and small towns in Indiana have evolved during more than 200 years of statehood, so have their cemeteries. Hoosier History Live will explore that evolution, particularly the changes in the ways cemeteries have been designed and landscaped.
This will include a look at the Rural Cemetery Movement that began in the mid-1800s and involved creating professionally designed cemeteries in park-like settings. Several of the largest cemeteries in the state, from Indianapolis and Fort Wayne to Terre Haute and Evansville, were created as part of the Rural Cemetery Movement.
Before that movement, graveyards in the early 1800s were much different, says Jeannie Regan-Dinius, director of historic preservation at Crown Hill Heritage Foundation in Indianapolis. She will be Nelson's guest to share insights about the evolution of cemetery design as well as challenges that currently confront cemeteries across the state as, in her words, they "struggle with the historic landscape, the upkeep of tombstones, mausoleums and the natural environment. The debate over which is more important, the landscape or the tombstones, pulls on funds, volunteer time and decisions made."
In the early 1800s, burials were typically done on church-owned land or in town cemeteries, Jeannie notes. "Graves were laid facing east and west, with the head to the west. All available space was used, with burials very close together and, at times, on top of each other."
As cities and towns grew, their cemeteries began to fill up. Burial grounds then moved out of the center of the cities. Jeannie notes this spawned the Rural Cemetery Movement. "These cemeteries were professionally designed, followed topography, had burials facing a variety of directions, and encouraged plantings."
In Indiana, the movement included the creation of Lindenwood Cemetery in Fort Wayne and Oak Hill Cemetery in Evansville during the 1850s. Others are Highland Lawn Cemetery in Terre Haute, which was created in the 1880s, and Crown Hill Cemetery in Indianapolis.
Created during the 1860s, Crown Hill became (and remains) the third largest private cemetery in the country. Hoosier History Live explored the history of Crown Hill during a show in 2014.
"Even in communities without the funds to create the professionally landscaped, park-like settings, they used hints of the (Rural Cemetery Movement) in their local cemeteries," Jeannie Regan-Dinius says.
Before joining the staff at the Crown Hill Heritage Foundation in July, Jeannie had an extensive background in historic cemetery preservation and research at Indiana DNR's Division of Historic Preservation and Archaeology. She also was involved in Underground Railroad research with the state. Her civic endeavors include serving for more than six years on the board of the Indiana Women's History Association and a stint on the board of the Indiana Historical Society.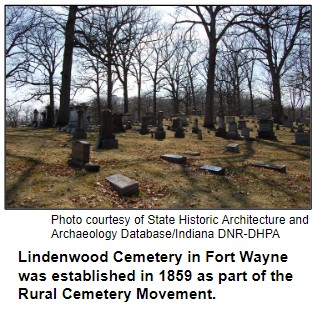 Roadtrip: Crystal Springs Creamery in Osceola
Guest Roadtripper and author and travel writer Jane Ammeson recommends a visit to Crystal Springs Creamery in Osceola. It's between South Bend and Elkhart in the northern part of the state. As she tells us, "Though it seems far from anywhere, the creamery is a bustling place. The farm store, located in a large 40-year-old barn, also sells fresh produce, grass-fed beef and pork, pastries from the Amish-owned and operated Country Lane Bakery in nearby Middlebury, jars of canned goods including jams and pickles, and the products produced from the farm's 300 dairy cows. These include yogurts, squeaky cheese curds (the squeak tells you they're fresh), butter, and flavored milks such as banana, root beer, and orange in glass bottles and made using Low Temperature Vat Pasteurization, an old-fashioned method."
"Our biggest sellers are chocolate, of course," said Tim Martin who runs the farm along with his two sons, Troy and Donovan. Martin says he started making cheese because he wanted to take his milk directly to the people.
The Martins are into sustainable practices: the glass milk jars are returnable, and the whey from the 1300 pounds of cheese they produce each week is used in the cow feed and to fertilize the fields.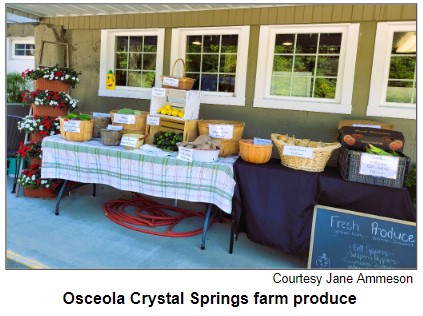 "Also, milk just tastes better in glass bottles. It really does. And the creamery is one of the stops on Indiana Foodways Cheese Trail."
Hoosier History Live looks back . .
. . . to our show "Persimmons and Pawpaws with Jo Ellen Meyers Sharp" originally recorded live at WICR studios on August 12, 2017. The nip of fall is in the air, and aren't you glad Hoosier History Live has painstakingly preserved all of our show audio and enewsletters over the years? True, some of our old work is held together with straw and baling wire, and radio technology has completely changed since we first went on the air in January of 2008. And some of you tell us that you listen to us entirely on podcast, which we are trying to get a handle on.
At any rate, here you can have a listen to the Persimmons and Pawpaws show while you check out that new recipe for persimmon pudding!
Who We Are
Hoosier History Live is an independent production group. We raise our own money and we control our content. We make our own editorial decisions, much like a newspaper. Our goal is to deliver an interesting and compelling show, newsletter, and show podcast to you every week. Regardless of the challenges.
You can always visit the yellow contribution button here, which we believe supports the quality journalism that Hoosier History Live offers.
What people are saying about Hoosier History Live
Another Hoosier History Live endorsement from a Hoosier in California . .
"Hoosier History Live is a bright spot in my media constellation. I also frequently forward your weekly enewsletters to friends around the globe. I may now be a Californian, but my Hoosier interest is endless. The podcasts and streaming are good tools. By all means, persevere!"
- Tom Cochrun, former news anchor, WTHR-TV Channel 13 Indianapolis
"... a compelling and engaging project..."
"Molly Head and Nelson Price are Indiana-based visionaries who have created a compelling and engaging media project with Hoosier History Live. Podcasts, website, enewsletter, and live call-in radio show; it's all there!"
- Keira Amstutz, President and CEO, Indiana Humanities
"...'Live' - and 'Lively' as well..."
"Hoosier History really is 'Live' - and 'Lively' as well. The program brings to new audiences the delight and wisdom that comes with knowing more of our past and our connections as Hoosiers."
- James H. Madison, Emeritus History Professor, Indiana University
"...always a great show"
"Hoosier History Live is always a great show. We did a small sponsorship as a gesture of support, and I didn't think a little history show would have much impact. But many people mentioned to me that they had heard our credit on the radio."
- G.B. Landrigan, Realtor, Certified Residential Specialist
"... an intelligent, well-researched program..."
"I've loved listening to Hoosier History Live during the pandemic as an intelligent, well-researched program to escape the news for an hour."


-Lee Little, JD, MLS, Research Librarian, Indiana University
"...a great way to represent what I do..."
"I have thoroughly enjoyed my experiences with Nelson Price and the Hoosier History Live team. I feel being on the show was a great way to represent what I do with motorsports history. I am particularly excited by the show's new distribution through a podcast and making it accessible live through the Web."
-Mark Dill, owner, FirstSuperSpeedway.com



"...great value to sponsors..."
"Hoosier History Live has amassed a vast library of content over the years, both with the show audio and newsletter material. I believe that the Hoosier History Live content has great value to sponsors and advertisers via widespread online distribution. Nowhere else do you find the fresh new material each week, the depth of stories, the richness of detail, and the long-term consistency."
- John McDonald, CEO, ClearObject in Fishers, Indiana, Inc. Magazine's fastest-growing IT company in Indiana for 2014, 2015, 2016 and 2017.
"I love the podcasts..."
"I love the podcasts! I work on Saturdays and cannot always hear the live broadcasts. Sometimes I also like to listen a second time."


- Terri Gorney, Fort Wayne listener
"...does more to promote Indiana history..."
"Hoosier History Live does more to promote Indiana history than does any single source."
- Andrea Neal, Indianapolis author and educator
"...infuses joy into the pursuit of history..."
"Nelson Price, more than anyone I know, infuses joy into the pursuit of history. And that joy rings out loud and clear on the radio show, Hoosier History Live."
- Marsh Davis, President, Indiana Landmarks
"...enthusiastic, curious and knowledgeable..."
"Hoosier History Live is a perfect place to consider and reconsider history ... not just what happened in the past, but what it may mean in the present. Nelson Price is the perfect host: enthusiastic, curious and knowledgeable. Tune in to Hoosier History Live and be prepared to be surprised."
- James Still, playwright in residence, Indiana Repertory Theatre
"...a great way to learn more about history..."
"The links on the Friday Hoosier History Live enewsletter are a great way to learn more about history, and from a variety of sources."
- Jill Ditmire, Omni Media Specialist
"...I want to call in!

..

"No, I haven't heard of another call-in talk radio show about history. Our airwaves are now full of the worst vitriol! Give me the phone number for the show. I want to call in!"

- Ken Burns, speaking at a preview of his film "The War" at Indianapolis Hebrew Congregation, April 18, 2007
"...interactive, more entertaining and more 'relevant'..."
"As museums and educational institutions scramble to make their offerings more interactive, more entertaining and more 'relevant', Hoosier History Live seems to have mastered that formula."
- Glynis Worley, rural Bartholomew County listener
Podcast Listening 101: The Basics
We still broadcast live every Saturday on WICR 88.7, but more and more of our listeners are getting their Hoosier History Live shows by podcast, and it's easier than ever!

It's really this simple: If you have a smartphone, go to the Google search engine, click on the microphone button, and say "Hoosier History Live podcasts." Or if you don't use the microphone, type in the words "Hoosier History Live podcasts" at the Google search bar.You'll immediately get a list of recent shows to choose from. Click on one of them and let the listening begin!

If you have a preferred podcast provider like Apple Podcasts or Stitcher, you can use their search function to call up Hoosier History Live as well. When you see our yellow Hoosier History Live logo, just click on the episode you want to listen to.

And don't forget to share! You can post links to our podcast on your social media page or send them by email or text.