June 03, 2023
Before Ellis Island: immigration and Benjamin Harrison - Encore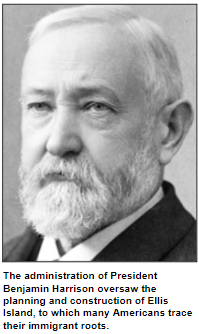 During a show five years ago, Hoosier History Live explored the connections between Indiana and Ellis Island, the gateway to America for generations of immigrants. The receiving center for aspiring Americans in New York Harbor opened in 1892 during the administration of President Benjamin Harrison, the only president elected from Indiana.
As a kind of prequel to that show, in this encore of a program broadcast in July 2022, we delve into the immigration scenario that led the federal government to open Ellis Island, including controversies at its predecessor, Castle Garden on lower Manhattan in New York City. The country's first official immigration center, Castle Garden, was operated by New York officials.
We also will explore the Chinese Exclusion Act of 1882, which Harrison opposed as a U.S. senator from Indiana. The Chinese Exclusion Act, which suspended the immigration of skilled and unskilled Chinese laborers, passed without Harrison's support. According to Nelson's guest, Harrison was labeled the "pro-Chinese candidate" of the Republican Party in his presidential campaign of 1888.
Jennifer Capps, the veteran curator at the Benjamin Harrison Presidential Site in Indianapolis, also will share some insights about Angel Island, a center on the West Coast where immigrants were detained and interrogated. Angel Island opened in 1910, nine years after Harrison's death. In addition to receiving immigrants from Asian countries, Angel Island also was an entry point to America for Canadians, Mexicans, Central and South Americans and Australians.
As Jennifer will explain during our show, major fires at the processing centers, including infernos at Ellis Island in 1897 and at Angel Island in 1940, destroyed the records of thousands of immigrants. The fire at Ellis Island also resulted in the loss of records of many immigrants who had entered previously at Castle Garden.
Last summer, a naturalization ceremony for new American citizens was held at the Benjamin Harrison Presidential Site, along with the dedication of a new, outdoor Citizenship Plaza on the lawn south of the restored home of Harrison and his wife, Caroline Scott Harrison. The plaza's features include a Book of History that lists the new Hoosiers who became citizens at the site, where a naturalization ceremony is an annual event in July.
During our show, Jennifer will share accounts of some shockingly crude medical exams, including eyelid exams performed with instruments that had not been sterilized. At Ellis Island. Immigrants often were turned away if they could not pass various tests, some of which were surreptitious, including the assessments of aspiring Americans as they walked or hobbled up and down staircases at Ellis Island.
According to some estimates, about 22 million immigrants passed through Ellis Island during the years between 1892 and 1924, its peak period as the country's "door", particularly for Europeans. (Ellis Island remained open as a receiving center until 1954. During its final 30 years, limitations on immigration and the creation of other points of entry meant that far fewer immigrants were handled at the island.)
Its predecessor, Castle Garden, was shut down in 1890 by Benjamin Harrison's secretary of the treasury after corruption scandals. According to Ellis Island: Gateway to the American Dream, newspaper investigations in the 1880s determined that "swindlers who had long lurked outside the receiving station had now insinuated themselves inside and that cheating, misleading and stealing were running rampant."
Castle Garden had operated for 35 years, opening in 1855 at the lower tip of Manhattan.
Roadtrip: Whitewater Valley Railroad
Guest Roadtripper Jeff Kamm, a teacher at Plainfield Community Schools and author of "Classic Restaurants of Indianapolis", will be taking a ride on the Whitewater Valley Railroad. It's a historic passenger train offering trips from Connersville to Metamora. Check the website to book train rides which run through December!
The railroad traces its roots back to the canal days in Indiana. The Whitewater Canal opened in 1845, connecting the towns of Hagerstown and Lawrenceburg. The canal eventually was a failure, flooding in 1847 and causing washouts, and it was never reopened between Brookville and Lawrenceburg.
By the 1860's trains had become the preferred method of transportation for goods and people. The Indianapolis Cincinnati Railroad laid tracks along the former canal towpath, and the line operated many years, eventually becoming a part of the New York Central Railroad. Railroad mergers in the 1960s and 1970s saw the formation of Conrail. The line was abandoned in 1972 in favor of other routes.
A non-profit was set-up in 1974 to offer scenic passenger excursions. By 1984, The Whitewater Valley Railroad had acquired ownership of the right-of-way. Metamora is a restored canal town and features many shops, working canal locks, and a grist mill.

Trivia prizes and southside restaurant sought
Would your business or organization like to offer prizes for our trivia on air question? Or, are you a restaurant on the southside of Indy, or near the University of Indianapolis, and open on Saturdays at 1 pm? Would you like to host Hoosier History Live guests for lunch after the show on Saturday? Contact molly@hoosierhistorylive.org for details.
Spring pilgrimage tours the treasures of far eastern Indiana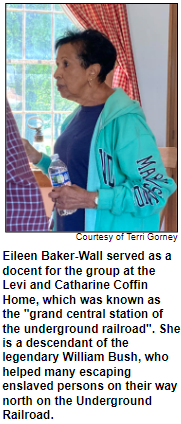 Hoosier History Live host and historian Nelson Price provided commentary on a motor coach tour on Saturday May 20, sponsored by the Society of Indiana Pioneers. Highlights of the tour included the James Whitcomb Riley boyhood home in Greenfield, the Starr Gennett Walk of Fame in Richmond, and the Levi and Catharine Coffin State Historic Site in Fountain City, just north of Richmond.
In addition to Nelson, some of the tour commentary was provided by former Hoosier History Live show guests Jim Fadely, who was a guest on the "French Lick and West Baden Springs Hotels" show in 2010, and by Bob Jacobsen, who was a guest on "The Jazz Heritage of Richmond" 2013 show. Jill Chambers, who was a guest on the "History of Women's Voting Rights" show in 2015, participated in the tour.
The Society of Indiana Pioneers hosts motor coach tours in the spring and fall of each year. Booking information is through the tour's organizer, Sue Thomson of Thomson Travel. More information at thomsontravel@gmail.com.
Who can you see in this "Hoosier History Live Photo Album" . . .
Swipe through these photos gleaned from the last fourteen years of Hoosier History Live production!
And would you believe that radio technology has completely changed tech wise since we first went on the air in 2008 at WICR? Can you find Bobby Plump, Chris Gahl, Connie Zeigler, Tom Ridley, Bonnie Britton, Tiffany Benedict Browne, Eunice Trotter, David Baker, Lefty Huntzinger, Keira Amstutz, Cowboy Bob, Janie of "Popeye and Janie", K.P. Singh, Pam Fraizer, and Dark Rain Thom? The voices of so many Hoosiers blended together over the years to make Hoosier History Live such a unique archive.
And thanks to Richard Sullivan of Monomedia for creating this group of images.



What people are saying about Hoosier History Live
"From a Hoosier who knows her books..."
"Fills a niche for the lover of Indiana history."
- Kathleen Madinger Angelone, retired bookstore owner
"...a great way to learn more about history..."
"The links on the Friday Hoosier History Live enewsletter are a great way to learn more about history, and from a variety of sources."
- Jill Ditmire, Omni Media Specialist
"...'Live' - and 'Lively' as well..."
"Hoosier History really is 'Live' - and 'Lively' as well. The program brings to new audiences the delight and wisdom that comes with knowing more of our past and our connections as Hoosiers."
- James H. Madison, Emeritus History Professor, Indiana University
"Another Hoosier History Live endorsement from a Hoosier in California ..."
"Hoosier History Live is a bright spot in my media constellation. I also frequently forward your weekly enewsletters to friends around the globe. I may now be a Californian, but my Hoosier interest is endless. The podcasts and streaming are good tools. By all means, persevere!"
- Tom Cochrun, former news anchor, WTHR-TV Channel 13 Indianapolis
"... a compelling and engaging project..."
"Molly Head and Nelson Price are Indiana-based visionaries who have created a compelling and engaging media project with Hoosier History Live. Podcasts, website, enewsletter, and live call-in radio show; it's all there!"
- Keira Amstutz, President and CEO, Indiana Humanities
"...does more to promote Indiana history..."
"Hoosier History Live does more to promote Indiana history than does any single source."
- Andrea Neal, Indianapolis author and educator
"...always a great show"
"Hoosier History Live is always a great show. We did a small sponsorship as a gesture of support, and I didn't think a little history show would have much impact. But many people mentioned to me that they had heard our credit on the radio."
- G.B. Landrigan, Realtor, Certified Residential Specialist
"... an intelligent, well-researched program..."
"I've loved listening to Hoosier History Live during the pandemic as an intelligent, well-researched program to escape the news for an hour."


-Lee Little, JD, MLS, Research Librarian, Indiana University
"...a great way to represent what I do..."
"I have thoroughly enjoyed my experiences with Nelson Price and the Hoosier History Live team. I feel being on the show was a great way to represent what I do with motorsports history. I am particularly excited by the show's new distribution through a podcast and making it accessible live through the Web."
-Mark Dill, owner, FirstSuperSpeedway.com



"...great value to sponsors..."
"Hoosier History Live has amassed a vast library of content over the years, both with the show audio and newsletter material. I believe that the Hoosier History Live content has great value to sponsors and advertisers via widespread online distribution. Nowhere else do you find the fresh new material each week, the depth of stories, the richness of detail, and the long-term consistency."
- John McDonald, CEO, ClearObject in Fishers, Indiana, Inc. Magazine's fastest-growing IT company in Indiana for 2014, 2015, 2016 and 2017.
"I love the podcasts..."
"I love the podcasts! I work on Saturdays and cannot always hear the live broadcasts. Sometimes I also like to listen a second time."


- Terri Gorney, Fort Wayne listener
"...infuses joy into the pursuit of history..."
"Nelson Price, more than anyone I know, infuses joy into the pursuit of history. And that joy rings out loud and clear on the radio show, Hoosier History Live."
- Marsh Davis, President, Indiana Landmarks
"...enthusiastic, curious and knowledgeable..."
"Hoosier History Live is a perfect place to consider and reconsider history ... not just what happened in the past, but what it may mean in the present. Nelson Price is the perfect host: enthusiastic, curious and knowledgeable. Tune in to Hoosier History Live and be prepared to be surprised."
- James Still, playwright in residence, Indiana Repertory Theatre
"...I want to call in!

..

"No, I haven't heard of another call-in talk radio show about history. Our airwaves are now full of the worst vitriol! Give me the phone number for the show. I want to call in!"

- Ken Burns, speaking at a preview of his film "The War" at Indianapolis Hebrew Congregation, April 18, 2007
"...interactive, more entertaining and more 'relevant'..."
"As museums and educational institutions scramble to make their offerings more interactive, more entertaining and more 'relevant', Hoosier History Live seems to have mastered that formula."
- Glynis Worley, rural Bartholomew County listener
Podcast Listening 101: The Basics
We still broadcast live every Saturday on WICR 88.7, but more and more of our listeners are getting their Hoosier History Live shows by podcast, and it's easier than ever!

It's really this simple: If you have a smartphone, go to the Google search engine, click on the microphone button, and say "Hoosier History Live podcasts." Or if you don't use the microphone, type in the words "Hoosier History Live podcasts" at the Google search bar.You'll immediately get a list of recent shows to choose from. Click on one of them and let the listening begin!

If you have a preferred podcast provider like Apple Podcasts or Stitcher, you can use their search function to call up Hoosier History Live as well. When you see our yellow Hoosier History Live logo, just click on the episode you want to listen to.

And don't forget to share! You can post links to our podcast on your social media page or send them by email or text.