You can listen to Hoosier History Live! live on the air each Saturday, or listen online at the WICR website during the broadcast. We invite you to visit our website!
Feb. 12 show
Songs of our ancestors as they journeyed here
They came here via the Ohio River, the Old National Road and the Cumberland Gap. As the early settlers rowed, walked and rode to Indiana, they often sang. Janet Gilray, an Indianapolis-based musician and teacher, researched the folk tunes of pioneers - and now has developed creative ways to teach American history to children by using the lyrics of the songs.
Janet - who sings, plays the guitar and has performed early American folk music at festivals across the state - will join Nelson in studio along with two Hoosier children who have performed with her and learned about history in the process. They are Alec Hurtubise, a 15-year-old banjo player who attends Heritage Builders Home School Association, and Leslie Gamero, a 10-year-old vocalist who is a student at Holy Cross Central School. As a special treat, Janet, Alec and Leslie plan to perform excerpts from an early folk song titled A Hoosier That's True, as well as Across the Wide Missouri (Oh, Shenandoah).
Janet is a former sixth-grade teacher at Holy Cross, where her students included many Hispanic children from immigrant families. She also has taught children of migrant farm workers in California, experiences that propelled her to explore creative ways to teach American history.
Her new book, Janet Gilray's Voices in Time, features lesson plans about history derived from folk songs, as well as a companion music CD of the tunes cherished by pioneers. History, she says, is "embedded" in folk music.
"Songs are a reflection of ancestral thought and emotion, and also describe the environments of those living during the time," Janet writes in Voices in Time. "Song may be the most ancient form of transferring culture and lessons from one time period to another."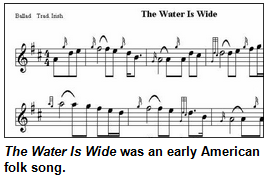 All of the folk songs featured in Voices in Time are more than 100 years old. They include Wabash Cannonball, a "train song" that became popular with the arrival of railroads. At towns with depots, the periodic arrival of trains "with mail, passengers and merchandise," as Janet writes, became an "event" that drew residents to the train station - and merited celebration in song.
Even though she grew up in Indianapolis, Janet says she was unaware of A Hoosier That's True, a now-obscure but once popular folk tune, until a musician in California told her about it.
"It's a classic example of a song that travels without borders," she notes.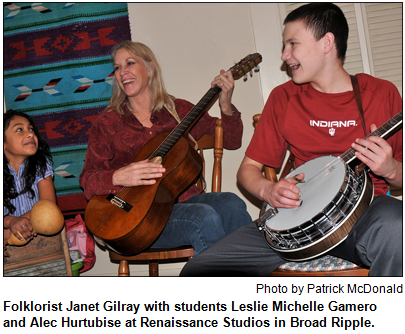 And even though the lyrics of Oh Shenandoah! obviously focus on the Missouri River, she says the tune was sung by pioneers as they traveled on the Ohio River to Indiana as well as points west. "The Ohio River," she says, "was like the freeway of its time."
Immediately following our Feb. 12 live broadcast, Big Hat Books at 6510 Cornell Ave. in Broad Ripple will be holding a meet and greet and "come bring instruments and sing along" for children and adults. The event is scheduled from 1:30 to 3 p.m., and this week's show stars, Alec and Leslie, will be performing.
Janet also will have a sing-along and Voices in Time book signing March 12 at Black Dog Books in Zionsville. She also is scheduled to perform American folk songs at the Pioneer Village during the Indiana State Fair.
And the young folks joining her on Hoosier History Live! already have amassed credits of their own. Alec, who took up the banjo at age 4, has performed at the annual bluegrass festival in Bean Blossom. Both Leslie and Alec have joined Janet for recordings at Renaissance Studios in Broad Ripple.
History Mystery question
During the 1800s, many pioneers who traveled to Indiana made their journey with a special type of covered wagon. Drawn by horses or oxen, the wagons had broad wheels and were designed to resemble boats. Sometimes they even were used to cross rivers. Although this type of covered wagon originally was made in Pennsylvania, by the late 1800s the largest manufacturer of them was Studebaker Brothers, based in South Bend.
Question: Name the type of covered wagon.
To win the prize, you must call in with the correct answer during the live show. The call-in number is (317) 788-3314, and the prize is a pair of tickets to the Benjamin Harrison Home, courtesy of the ICVA.
Roadtripper: Orchid Escape in Evansville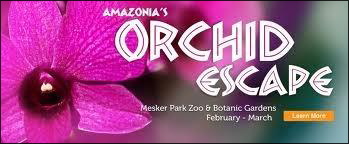 Roadtripper Chris Gahl of the ICVA recommends that we visit the tropics this weekend at the Mesker Park Zoo & Botanic Gardens in Evansville for the opening of a new special exhibit, Orchid Escape. Immerse yourself in hundreds of rare orchid flowers from South America, all in the 75 degree temperature of Amazonia, the Zoo's indoor rainforest. Orchid Escape will be open for only a short time, until March 12.
The Mesker Park Zoo is open all year, so be sure not to miss the zoo's other exhibits. Winter admission is $6.50 for adults and $5.50 for children. The zoo is open daily 9 a.m. to 4 p.m.
Our Feb. 17 soiree celebrates three years on the air!
Can you believe it? Hoosier History Live! has been on the air for three years!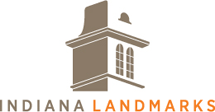 Come join in the festivities as we celebrate history-making, past and future, at the Morris-Butler House, 1204 N. Park Ave. in Indianapolis, on Thursday, Feb. 17 from 5 to 8 p.m. And a high of 52 degrees is forecast for Thursday!
You can click here to RSVP.
Thanks to our hosts, Indiana Landmarks. We also thank Historic Urban Neighborhoods of Indianapolis for providing the birthday cake.
Stop by anytime during the event. We will be delighted to see you!
Your team on the Hoosier History Live! e-project,
Nelson Price, host and creative director
Molly Head, producer, (317) 927-9101
Chris Gahl, Roadtripper
Richard Sullivan, webmaster and tech director
Pam Fraizer, graphic designer
Garry Chilluffo, creative consultant
Please tell our sponsors that you appreciate their support: Broad Ripple Brewpub, Nestle Inn, Yats restaurants, Indiana Historical Society, Lucas Oil and Story Inn.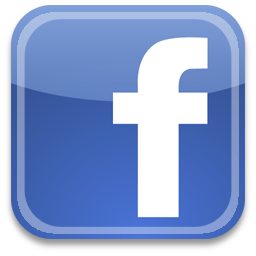 Acknowledgments to Print Resources, Indianapolis Marion County Public Library, Monomedia, Indiana Humanities Council, Indianapolis Convention & Visitors Association, WICR-FM, Fraizer Designs, Chelsea Niccum and many other individuals and organizations. We are an independently produced program and are self-supporting through organizational sponsorships, grants and through individual tax-deductible contributions through the Indiana Humanities Council. Visit our website to learn how you can support us financially.
Feb. 19 show
Indianapolis City Market then and now
Does it seem as though evolving lifestyles and various renovations are continually upsetting the apple cart at Indianapolis City Market? With all sorts of changes brewing (or recently accomplished) - including the opening of what may be the first and only bar in the historic marketplace - Hoosier History Live! is revisiting the landmark built in 1886.
Nelson will be joined in studio by Jim Reilly, who became executive director of City Market in October 2008 and has overseen the opening of Tomlinson Tap Room, which serves up Indiana-brewed beers. Its name is a historic salute to Tomlinson Hall, a massive civic building that adjoined City Market until it was destroyed by a raging fire in 1958.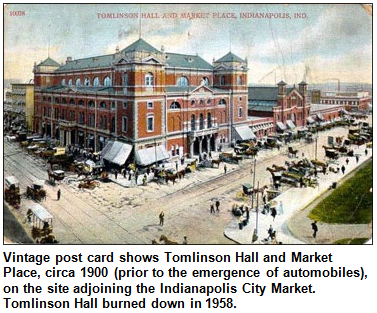 Not only will Jim share insights about the historic fire (only Tomlinson Hall's doorway arch remains, serving as the entryway to City Market's courtyard), he also has dreams for the mysterious, long-unused catacombs beneath the marketplace. Would you believe that, according to Jim, the temperature in the catacombs never dips below 50 degrees, even during bone-chilling winters like we've been enduring?
As part of the show's "then/now" theme, Jim also will share updates on the $2.7 million renovation, which includes the $800,000 project that's planned to transform City Market's east wing into a bicycle hub with showers.
He welcomes listener questions and understands the frustrations with the seemingly endless attempts to revive the historic marketplace that once bustled with generations of immigrant families who sold fresh fruit, vegetables, bakery goods, poultry and meat.
It seems like only yesterday - actually, it was 2007 - when City Market underwent a $2.5 million renovation. (Fun fact: In 1886, City Market was built for $29,225.) As Hoosier History Live! listeners learned when Dale Kenney, who served as market master in the 1970s, was our studio guest, its site on East Market Street was an outdoor marketplace at the very beginnings of the city in the 1820s, long predating the building's construction.
"As far as I know, the Tomlinson Tap Room is the first and only bar establishment to be located in the City Market, though," Jim Reilly says. "If any of your listeners have information to the contrary, I would love to know the details."
We'd also savor "then or now" memories, insights and suggestions involving the landmark. By the way, this is not Jim Reilly's first time at the rodeo. Although he wasn't at City Market during its previous renovation, he served as executive director from 1994 to 2001. A native of Pennsylvania, Jim moved to Indy in the 1970s to work for what's now Simon Property Group. He has visited urban marketplaces from Seattle to Boston.
© 2011 Hoosier History Live! All rights reserved.