April 14, 2018
Reno Brothers, notorious train robbers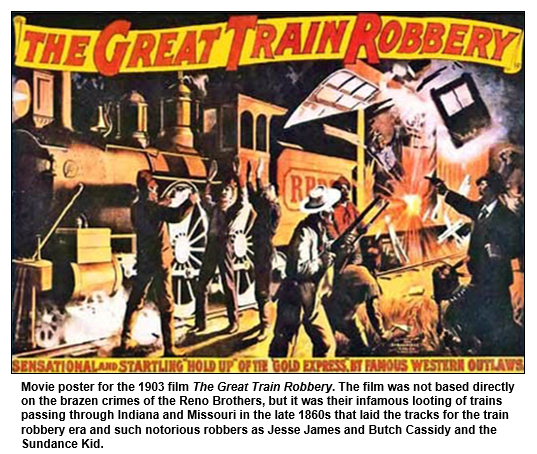 Shortly after the Civil War, a notorious crime spree unfolded across the Midwest that included the country's first robbery of a moving train. The perpetrators were bandits in a gang organized by brothers who grew up on a farm near Seymour, Ind., in Jackson County. The outlaws also pulled off what may have been the first peacetime train robbery in U.S. history.
The notorious Reno Brothers - whose history-making train robbery occurred on Oct. 6, 1866 - will be the focus of our show. The gang included brothers Frank, John, Simeon ("Sim") and William Reno, who had begun looting businesses before the Civil War.
Their most infamous crime occurred May 22, 1868 as the Jefferson, Madison & Indianapolis Railroad train was proceeding through Marshfield, Ind., about 17 miles south of Seymour. The Renos and their gang boarded the train, overpowered the engineer, threw one of his co-workers out a door, broke into an express car and eventually made off with about $96,000.
As train robberies and other crimes by the Reno gang persisted, Jackson County residents formed vigilante committees. Pinkerton detectives were hired to capture the gang.
To describe the Reno Brothers' crime spree, William "Bill" Bell, a retired law enforcement officer based in Indianapolis, will be Nelson's studio guest. Bill, who writes for several magazines about the Old West, has researched and written about the Reno Brothers for Wild West magazine. In a 38-year career, Bill worked as a police officer, deputy sheriff, U.S. border patrolman and as a U.S. Customs worker. He is a member of the Scarlet Mask Vigilance Society, which is named after one of the vigilante organizations that, as Bill puts it, "finally put a stop to the depredations of the notorious Reno Brothers."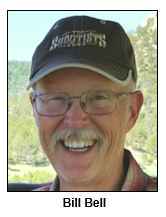 According to Bill's research, the Reno family came to Indiana in 1813, when the grandfather of the brothers arrived from Kentucky. Frank, John, Sim and William Reno grew up on a 1,200-acre farm. Another brother, Clinton, and a sister, Laura, "apparently never entered into the illicit activities of their siblings," Bill writes.
As an early headquarters, the Reno Brothers and their gang used a dilapidated building in the small Jackson County town of Rockford; later, their base was a hotel in Seymour. Before the historic train robberies, the Renos committed a series of post office robberies and murders.
According to Bill Bell's article, the Reno gang's robbery of an Ohio & Mississippi Railroad train as it left the Seymour depot in 1866 means that the brothers can be blamed for "opening the door to the train robbery era, which featured Jesse and Frank James, and, later, Butch Cassidy and the Sundance Kid."
The Reno Brothers were suspects in arson fires that swept through Seymour and in the slayings of residents who could have testified against them in court.
In 1868, several members of the Reno gang, including Frank, William and Sim Reno, were captured in separate apprehensions. They were taken to New Albany, the Ohio River town in Floyd County with a "big stone jail, considered the strongest in southern Indiana," according to Bill's article. (John Reno had been arrested previously and was imprisoned in Missouri, where members of the Reno Gang had robbed banks and a county treasurer's office.)

Determined to make the Reno Brothers pay for their crimes, nearly 100 members of a vigilante society in Jackson County took trains to New Albany one night in December. The vigilantes showed up at the Floyd County jail at about 3 a.m., masked and armed with revolvers and clubs. They overpowered the jailers, the Floyd County sheriff and Floyd County commissioners, and dragged Frank, William and Sim Reno one-by-one out of their cells and executed them by hanging. After the lynchings, the vigilantes returned by train by Seymour.

The bodies of the three Reno Brothers who had been lynched were turned over to their sister Laura and were buried side by side in Seymour City Cemetery. The fenced graves of the infamous bandits can be visited by going up a stone walkway from 9th St in Seymour.

To learn more about the Reno Brothers' lasting impact on American culture, listen to "The First Train Robbery," a bluegrass song written by Chris Stout and performed here by Larry Cordle.

History Mystery
During the 1930s, John Dillinger drew national attention - and designation as "Public Enemy No. 1" - for bank robberies across his home state of Indiana and beyond.
Dillinger's biggest heist was from the robbery of a bank in an Indiana city that's home to a university. The robbery occurred in October of 1933, and Dillinger and his gang absconded with a haul of about $75,000 in cash and bonds.
When authorities were alerted that Dillinger had robbed the bank, roadblocks were set up near the university town. Even so, Dillinger and his gang managed to escape from the area in their getaway car.
The bank robbery in the university town was recreated in the movie Public Enemies (2009) starring Johnny Depp as the Indianapolis-born outlaw.
Question: What was the university town?
Hint: It was not Bloomington or West Lafayette.
The call-in number is (317) 788-3314. Please do not call in to the show until you hear Nelson pose the question on the air, and please do not try to win if you have won any other prize on WICR during the last two months. You must be willing to give your first name to our engineer, you must answer the question correctly on the air and you must be willing to give your mailing address to our engineer so we can mail the prize pack to you. The prize is two passes to the Indiana History Center, courtesy of the Indiana Historical Society, and a gift certificate to the Story Inn in Brown County, courtesy of Story Inn, and two tickets to the Seiberling Mansion in Kokomo, courtesy of the Howard County Historical Society.
Roadtrip: Bethel AME Church in Richmond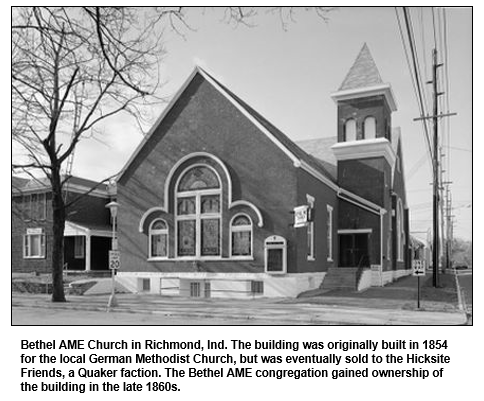 Guest Roadtripper Casey Pfeiffer, historical marker program director at the Indiana Historical Bureau, invites listeners to learn about the Bethel AME Church at 200 S. 6th St. in Richmond, Ind.
Bishop William Paul Quinn, a traveling missionary and preacher, organized the AME congregation in Richmond in 1836. Quinn was instrumental in establishing the African Methodist Episcopal Church in free and slave states prior to the Civil War. In 1844, the AME General Conference elected him its Fourth Bishop.
The building was originally built in 1854 for the local German Methodist Church, but was eventually sold to the Hicksite Friends, a Quaker faction. The Bethel AME congregation gained ownership of the building in the late 1860s.
The Indiana Historical Bureau is working with Bethel AME and the City of Richmond on the installation of a new state historical marker commemorating Bishop Quinn. The marker will be dedicated in June at Bethel AME Church.
Prizes solicited for History Mystery contest
If your business or organization would like to contribute prizes for our History Mystery contest, we would love to have them! Ideally they fit in a standard mailing envelope, such as coupons or vouchers.
Your organization gets a mention on the air by Nelson, as well as a link to your website on our enewsletter and website! If interested, contact producer Molly Head at molly@hoosierhistorylive.org.
Thanks to Peggy Hollingsworth for obtaining the Seiberling Mansion tickets for us to give away as prizes; we encourage our readers to get out and explore Indiana!
Nelson Price, host and historian
Molly Head, producer/project manager, (317) 927-9101
Michael Armbruster, associate producer
Cheryl Lamb, marketing and administrative manager
Richard Sullivan, senior tech consultant
Pam Fraizer, graphic designer
Garry Chilluffo, special events consultant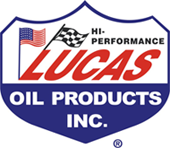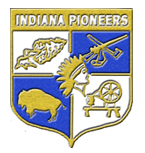 Please tell our sponsors that you appreciate their support!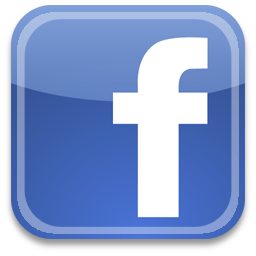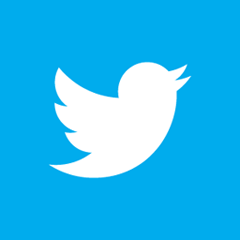 Acknowledgments to Monomedia, Visit Indy, WICR-FM, Fraizer Designs, Heritage Photo & Research Services, Henri Pensis, Chris Shoulders and many other individuals and organizations. We are an independently produced program and are self-supporting through organizational sponsorships and individual contributions. We do not receive any government funding. Visit our website to learn how you can support us financially. Also, see our Twitter feed and our Facebook page for regular updates. And thanks to the Indiana University Bicentennial for sponsoring the podcast of the "Faculty war of 1832: Early IU history" show. Any of our podcasts can be sponsored for a nominal fee.
Thank you!
We'd like to thank the following recent, new and renewal contributors whose donations help make this show possible!
Chuck and Karen Bragg.
Joseph Young III.
Andy Hein.
Rita Kohn.
Dennis and Catherine Krauser.
Margaret Smith.
Lorraine and Philip Vavul.
Jim and Marjorie Kienle.
Peggy Hollingsworth.
Dennis Arbuckle.
The Chatterbox/David Andrichik.
Eunice Trotter.
Scott Keller.
Link Ludington.
David Buchanan.
Doug Brooks.
Tom and Linda Castaldi.
Marion Wolen.
April 21, 2018 - Upcoming
Zionsville town history: encore presentation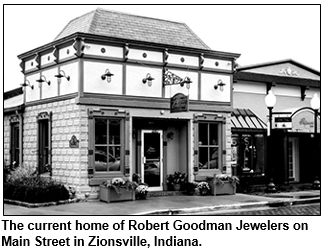 Zionsville probably is best known for its Main Street, which has been described for decades as "quaint" and "charming."
So during this encore of a show originally broadcast Nov. 12, 2016, we explore the evolution of Main Street in Zionsville, where the 1950s was a pivotal era for creating a "colonial village" theme among the street's merchants. Also on the show, we dig deeper into the history of the Boone County town, which was founded during the early 1850s.
For this program in our rotating series about town and county histories across Indiana, Nelson's studio guests are Marianne Doyle, who lives in a Civil War-era home in Zionsville, and Lynne Brown Manning, a fourth-generation Zionsville resident who is president of the Zionsville Historical Society. Marianne had been the Boone County historian for 19 years when our show originally was broadcast; since then, she has retired from that position.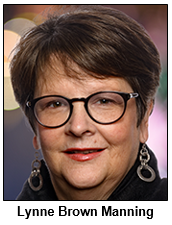 Lynne's grandmother founded the historical society. Her mother was executive director of the Greater Zionsville Chamber of Commerce for part of the era when the business revival - known as the "miracle on Main Street" movement - unfolded.
According to Marianne, the town's current population is around 28,000. The area primarily was farmland and wilderness prior to the mid-1800s, when promoters of a railroad between Indianapolis and Lafayette encouraged settlement.
Railroad promoters included William Zion, an early settler and business leader in Lebanon (he became the new town's namesake, even though he never lived in the village) and landowners Mary Hoover Cross and her husband, Elijah Cross. Zionsville became a stop for trains, with tracks initially located right on Main Street.
Prior to the railroad, the building of Michigan Road was a key factor in the evolution of Boone County and Zionsville. An early village along the Michigan Road in Boone County - known as Eagle Village - was the forerunner of Zionsville, Marianne says.

During our show, we explore the impact of the interurban rail system on Zionsville as well as the bricking of Main Street in 1911.

Our guests Lynne Manning and Marianne Doyle are the co-founders of the Zionsville Little Theatre Company. Lynne also is the drama club director for Zionsville West Middle School. Both of our guests have served as board members of the Maplelawn Farmstead in Zionsville.





© 2018 Hoosier History Live. All rights reserved.