May 26 2018
International aspects of early Indy 500s
In 2017, the Indianapolis 500 was won by a driver born in Japan. Over the last 15 years, victorious drivers in the "Greatest Spectacle in Racing" have included natives of Colombia, Brazil, Scotland, England and New Zealand.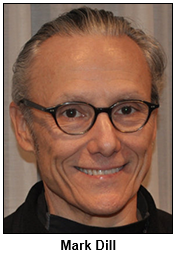 So while race fans are probably well aware of the prominence of foreign drivers in recent years, they may not know that the impact of international racers was nearly as significant during the early era of the Indianapolis Motor Speedway, beginning just a few years after the inaugural Indy 500 in 1911.
The early streak of victories by drivers born overseas - and racecar entries by automakers based in foreign countries - preceded a "drought" of foreign winners that lasted about 45 years during the middle of the 20th century.
In 1913, the Indy 500 was won by a Frenchman driving a car made in his homeland. Other European entries that year included competitors from England and Italy.
Another driver from France won the Indy 500 in 1914. The next year, an Italian sped to Victory Lane. Then came the fabled Chevrolet Brothers, who had lived in France and Switzerland. Two of the three Chevrolet brothers, who died nearly penniless, are buried in the Holy Cross and St. Joseph Cemetery on the southside of Indy.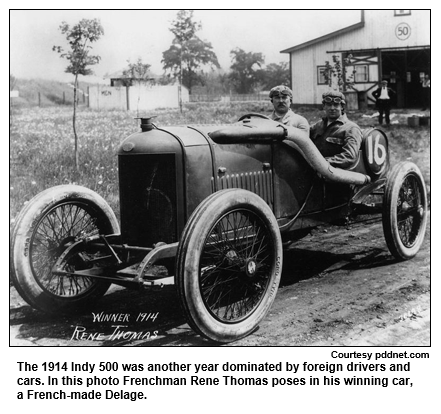 Indianapolis native Mark Dill, an auto racing historian and marketer now based in Cary, N.C., will be Nelson's studio guest to describe the international drivers and overseas automakers who competed in early Indy 500s. Mark has written an article about the history of early drivers for the racetrack program that will be distributed at this year's Indy 500; he oversees an extensively researched and illustrated website about auto racing history.
Mark notes that "1913 was a pivotal year, distinguished as being the first to attract international factory entries." The race was won that year by Jules Goux of France; his car was a French-made Peugeot.
"Legend has it that Goux consumed six pints of Champagne during pit stops," Mark says, "but the reality is probably a different story. Goux competed in five Indianapolis 500s, finishing first, fourth and third in his first three efforts."
Three of his competitors in the 1913 race drove Isottas manufactured in Italy. "The Isottas traveled across the Atlantic Ocean aboard the Lusitania and arrived just three days before the race," Mark explains. (Two years later the Lusitania, a British ocean liner, was torpedoed by Germans during World War I.)
Of the Indy 500 in 1914, Mark says: "The French dominated, finishing in the top four places." The triumphant drivers included winner Rene Thomas, who drove a Delage made in France.
The next year, the winner at the Speedway was Ralph DePalma, who had been born in Italy.
"DePalma was as American as Mario Andretti," Mark explains, noting that "Race promoters liked to bill him as the 'Italian champion,' even though he did not grow up racing there. IMS was keenly interested in attracting European car companies in the earliest years. The idea was that it would create more interest for fans and a better measuring stick for U.S. car companies in product improvement."
This was the era of the three Chevrolet brothers: Louis, Arthur and Gaston, founders of the Chevrolet Motor Company. Although Louis is considered to have been the most successful driver among the three, youngest brother Gaston was the sibling who captured the checkered flag at the Speedway, winning the Indy 500 in 1920.
During our show, Mark will discuss the dramatic lives of the Chevrolet brothers. He also will explore some of the reasons for the long drought - following Gaston's win in 1920 - of foreign-born winners of the Indy 500. The drought lasted almost without interruption until the victory in 1965 by popular Jimmy Clark of Scotland.
Mark Dill was a guest on Hoosier History Live two years ago for a show that also focused on Indy 500 drivers, but looked at the opposite end of the spectrum of drivers' origins. That show highlighted Indiana natives who won - or became fan favorites - in early Indy 500s.
In 1917, the Indy 500 was canceled due to World War I. Mark Dill is among the historians who contend that Louis Chevrolet might have won that 500, noting that the eldest brother was on an impressive streak in 1917, roaring to victory in several other races.
Known for his fiery temperament, Louis Chevrolet clashed with his business partners and abruptly quit the company that bore the Chevrolet name, "forsaking any rights to the car brand or stock ownership," Mark notes.
Louis Chevrolet also clashed with his brother Arthur, who moved to Louisiana. That's where Arthur committed suicide in 1946 and is buried in an unmarked grave. For several years, racing enthusiasts had incorrectly assumed Arthur was buried at Holy Cross Cemetery with Louis and Gaston, who had settled in Indianapolis.
Gaston was killed during a race in Beverly Hills in 1920, several months after winning that year's Indy 500. All three Chevrolet brothers - particularly Louis and Arthur - were regarded as brilliant mechanics.
Roadtrip: Route 32 Auctions in Crawfordsville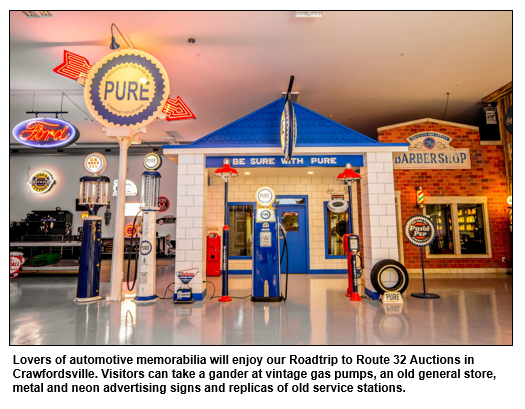 If old gas station memorabilia is your passion, guest Roadtripper and travel and food writer Jane Ammeson recommends a stop at Route 32 Auctions in Crawfordsville. You'll see vintages gas pumps, an old general store, metal and neon advertising signs and replicas of old service stations. Here's a place that truly evokes Indiana's auto heritage!
The collection also includes rows of the differently colored Standard Oil crowns that once topped gas pumps, a rare two-pump oil cart and an even rarer Satam 4-Door Cabinet Petrol Pump.
Route 32 Auctions is open to the public Monday through Friday from 9 a.m. to 5 p.m., and "lookers" are welcome: there's no pressure to buy anything. The business is run by avid collectors Kevin and Jill Parker of Crawfordsville.
Jane reminds us that back in the 1920s and 1930s, Crawfordville had a Nash dealership and you could fill your tank at one of the 40 or so Parker Red Hat gas stations in the area.
"There's beauty in these wonderful artifacts!" says Jane.
History Mystery
A landmark at the Indianapolis Motor Speedway is a Japanese-style structure that locals and fans worldwide refer to as "the Pagoda," as our guest, auto racing historian Mark Dill, has noted.
The original Pagoda at the racetrack opened in 1913 as a building for Speedway officials, the press and telegraph operators. Painted green and white and made of wood, the first Pagoda burned to the ground in 1925. A new Pagoda was constructed in time for the Indianapolis 500 in 1926.
By the mid-1950s, however, a taller, modernistic structure made of steel had replaced the Pagoda; that building stood for more than 40 years. It was demolished to make way for the current Pagoda, which was completed in 2000. Designed as a tribute to the racetrack's heritage and painted green and white like the original, the current Pagoda is 153 feet tall.
Question: Name the steel structure replaced by the current Pagoda.
The call-in number is (317) 788-3314. Please do not call in to the show until you hear Nelson pose the question on the air, and please do not try to win if you have won any other prize on WICR during the last two months. You must be willing to give your first name to our engineer, you must answer the question correctly on the air and you must be willing to give your mailing address to our engineer so we can mail the prize pack to you. The prize is a gift certificate to the Story Inn in Brown County, courtesy of the Story Inn, and tickets to the Seiberling Mansion in Kokomo, courtesy of the Howard County Historical Society.

In studio last week...
Nelson Price, host and historian
Molly Head, producer/project manager, (317) 927-9101
Michael Armbruster, associate producer
Cheryl Lamb, marketing and administrative manager
Richard Sullivan, senior tech consultant
Pam Fraizer, graphic designer
Garry Chilluffo, special events consultant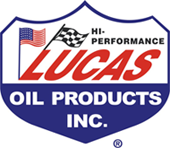 Please tell our sponsors that you appreciate their support!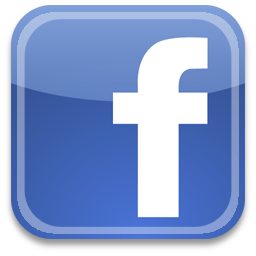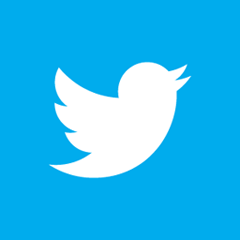 Acknowledgments to Monomedia, Visit Indy, WICR-FM, Fraizer Designs, Heritage Photo & Research Services, Henri Pensis, Chris Shoulders and many other individuals and organizations. We are an independently produced program and are self-supporting through organizational sponsorships and individual contributions. We do not receive any government funding. Visit our website to learn how you can support us financially. Also, see our Twitter feed and our Facebook page for regular updates. And thanks to the Indiana University Bicentennial for sponsoring the podcast of the "Faculty war of 1832: Early IU history" show. Any of our podcasts can be sponsored for a nominal fee.
Thank you!
We'd like to thank the following recent, new and renewal contributors whose donations help make this show possible!
Daniel Craig
In memory of Elizabeth Meyer Strain Gunn by Roz Wolen
Margaret Smith
Stacia Gorge
Robin Jarrett
June 2, 2018 - Upcoming
Great American Songbook Foundation's evolution
At the end of January, the widow of the shopping mall magnate who co-owned the Indiana Pacers announced she was donating a 107-acre estate to the Great American Songbook Foundation based in Carmel. Since then the foundation, which was founded by acclaimed entertainer and music historian Michael Feinstein, has been exploring whether a museum could be developed on the Asherwood estate.
That's the most recent chapter in the rapid evolution of the songbook foundation, which is affiliated with the Center for the Performing Arts in Carmel.
With a mission to "preserve and elevate" the legacy of pop, jazz, Broadway and Hollywood music from the 1920s through the 1960s, the Great American Songbook Foundation now has more than 100,000 donated items. They include the papers of composer Meredith Wilson (best known for The Music Man) and entertainer Ray Charles, as well as the piano of composer Johnny Mercer.
As we spotlight the foundation - including its programs for aspiring performers and, at the other end of the age spectrum, for early-onset Alzheimer's patients - Nelson will be joined in studio by Chris Lewis, the foundation's executive director, and Lisa Lobdell, its archivist.
Our show will precede a foundation program this summer that's been drawing attention far beyond Indiana's borders: the Songbook Academy, an internship program for high school singers interested in performing Great American Songbook music.
The foundation's archive began with the personal collection of Michael Feinstein, a five-time Grammy Award nominee. For decades, he had been given artifacts (often by fellow celebrities) ranging from original sheet music and orchestrations to theatrical memorabilia. An example (with a Hoosier connection) was mentioned in a 2011 article in The New York Times about the foundation: A limited-edition score of Red, Hot and Blue, a 1937 Broadway musical - signed by its composer, Indiana native Cole Porter - was given to Feinstein by the show's star, Bob Hope.

Could such treasures end up in a museum at Asherwood, the estate formerly owned by Mel Simon, who died in 2009, and his wife Bren?

Nelson will ask his guests about that possibility for the estate, which includes a mansion of 50,000 square feet. An article in The Indianapolis Star about an April fund-raiser at Asherwood quoted our guest Chris Lewis as describing Bren Simon's gift of the estate as "transformative" for the songbook foundation.

Our guest Lisa Lobdell is credited with initiating Perfect Harmony, one of the foundation's on-going programs. Based on aspects of music therapy, Perfect Harmony uses Great American Songbook tunes in interactive ways with Indiana residents who are in the early stages of Alzheimer's.


© 2018 Hoosier History Live. All rights reserved.