Saturdays, noon to 1 p.m. ET on WICR 88.7 FM.
Or stream audio live from anywhere on WICR Online!
You can listen to recent shows by clicking the podcast links below, or check out our extensive archive of past shows available as podcasts.
In case you missed our October 9 show, "Weird and spooky stories from Wabash county"
Podcast Coming Soon
In case you missed our October 2 show, "A flock of bird issues in Indiana"
Click here to listen to the podcast.
In case you missed our September 25 show, "Indy wife of Treasure Island's Robert Louis Stevenson: encore"
Click here to listen to the podcast.

October 16, 2021
World War I and Hoosiers: their diaries and letters
The soldier who fired the first American shot during World War I was a Hoosier. Because initial reports from France did not include the soldier's name, they only indicated that he was from South Bend. A media frenzy ensued in October 1917 to determine his identity, with widespread misinformation that was repeated for years.
Also in 1917, a nurse who had been born on a farm near Elkhart signed up with the American Red Cross to treat wounded soldiers at a military hospital in France. She became accustomed to nursing soldiers who had been injured by gas, a new form of warfare in World War 1. About 60 percent of the hospital's patients suffered from gas-related injuries; in many cases, their lungs and respiratory systems were barely functioning.
The compelling stories about Alex Arch, the soldier from South Bend with the historic distinction, and Maude Essig, the nurse from the Elkhart area who worked in a base hospital that became overwhelmed with casualties, will be explored during our show. Nelson's guest will be Dawn Bakken, the editor of a new book, Fighting Hoosiers (I.U. Press), that draws on the diaries, letters and memoirs of men and women from Indiana who served during what initially was known as "the Great War". Dawn is the associate editor of the Indiana Magazine of History, which has an archive filled with diaries, letters and memoirs.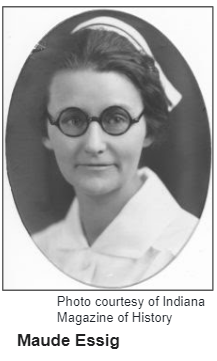 A memoir written by Maude Essig, the nurse, was not discovered until after her death at age 96 in 1981. In addition to tending to soldiers injured by gas, she had to treat many who were suffering from the Influenza Epidemic of 1918. Dawn and Nelson will discuss the impact of that pandemic on base hospitals during the war. Hoosier History Live has done several previous shows about the 1918 epidemic, most recently a program in 2020 that focused on its second and third waves, which were unexpected.
In a diary excerpted in Fighting Hoosiers, Guy Connor, a sailor from northeastern Indiana, writes about the challenges of dealing with influenza outbreaks on convoy ships. Connor, a radio operator and telegrapher on a battleship, also discusses the challenges with receiving and sending radio signals. So Dawn and Nelson will explore how technology changed during World War 1.
They also will discuss the diary of Rochester Indiana, native Kenneth Baker, a private in the Army Signal Corps who was responsible for installing telephone lines in France. As Dawn puts it in Fighting Hoosiers, Baker describes "crawling across fields in all kinds of weather and at all times of night to replace circuits and relay bales of telephone wire."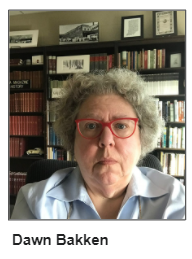 In addition to his World War I service, Baker became an officer in World War II. Fighting Hoosiers includes letters and other accounts from both world wars, but we are focusing on World War I because, during several previous shows, World War II veterans from Indiana have been studio guests. They have included a show in 2018 with South Bend native Jim Powers, a radio operator on a B-24 bomber who became a well-known basketball coach after the war.
South Bend was the adopted hometown of Alex Arch, who eventually achieved fame for firing the first American shot in World War 1. Before the war, he had immigrated to Indiana from Hungary. After he returned from the front, Arch was used to sell war bonds, called Liberty Loans. A street in South Bend was named in his honor.
Hoosier History Live has explored other Indiana connections to World War I during previous shows. They have included a program in 2017 when Nelson was joined by board members of the Indiana World War 1 Centennial Committee.

Roadtrip: The Carnegie Center in New Albany
Guest Roadtripper Sampson Levingston of through2eyes gives walking tours of African American history spots around Indiana, and he suggests a Roadtrip to The Carnegie Center for Art and History at 201 E. Spring St. in New Albany. One of the many Carnegie libraries now serving as a museum, admission here is always free, and the Center features many compelling stories from the surrounding area.
A special exhibit tells the story of Lucy Higgs Nichols (1838 – 1915), an escaped slave from Tennessee who, during the Civil War, joined the nearby Union Army when it was near her former home in Tennessee. She stayed with the army throughout the course of the war working as a nurse. Affectionately known as "Aunt Lucy", her sole photo shows her surrounded by veterans of the 23rd Indiana Volunteer Infantry Regiment, of the Army of the Tennessee in later years.
Hoosier History Live is serious about needing financial help
Hoosier History Live does not just simply "happen". Every month we have fixed costs to maintain, such as updating our website, keeping our newsletter current, creating our weekly podcasts, maintaining social media, and more. Many of our principals are simply working without pay.
Why? We enjoy doing things well, and we think we are making a significant cultural contribution. As an independently produced project, we have some creative freedom that other organizations don't necessarily have.
The thing about professionals is that they always make everything look so easy. Which is deceiving, because we really work very hard.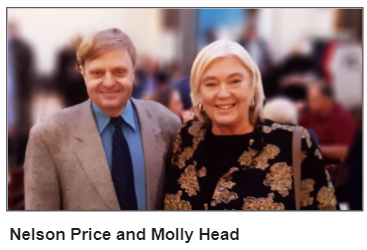 Would you like to help us finish out the year? And would you also be okay with some of your funding going into preserving and distributing our show archives? We at Hoosier History Live are extremely proud of the work we do weekly, and year after year. We are also committed to preserving our show archives and making sure all of our produced podcasts are available and free to all.
Thus far we have been unsuccessful in finding a larger organization to partner with and to help us market and distribute our archives. But never say never; that is still a possibility! Currently we are just too small a group of people, with few resources, to get that all done on our own.
For individual contributions, just visit the yellow "donate" button on our e-newsletter or website. Prefer paper? Visit Support the show! For organizational sponsorship, which includes logos, links, and voiced credits in the show and in podcasts, email molly@hoosierhistorylive.org, or call or text (317) 506-7164.
Nelson Price, host and historian
Molly Head, producer/general manager, (317) 506-7164 
Ryan DeRome, associate producer
Cheryl Lamb, administrative manager
Richard Sullivan, senior tech consultant
Pam Fraizer, graphic designer
Garry Chilluffo, consultant
Please tell our sponsors that you appreciate their support!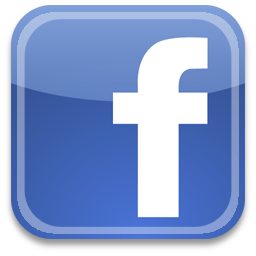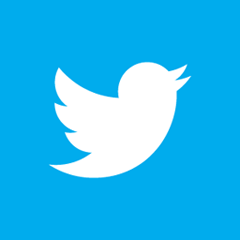 For organizational sponsorship, which includes logos, links, and voiced credits in the show and in podcasts, email molly@hoosierhistorylive.org, or call or text (317) 506-7164  for information. Our podcast listens are increasing and we are being distributed on Indiana Memory and the National Digital Public Library. Grow with us as our podcast and internet presence expands! Thanks also to Visit Indy, Fraizer Designs, WICR-FM, Henri Pensis, Genesis Brown, Kielynn Tally, Heather McIntyre, Justin Clark, and many other individuals and organizations.

Thank you!
We'd like to thank the following recent, new and renewal contributors whose gifts help make this show possible!
David and Theresa Berghoff
Charles Schisla
Ann Frick
David Yount
Tom Swenson
John Stanton
Kathleen Angelone 
Tim and Meg Shelly
Dr. William McNiece
Michael Freeland and Sharon Butsch Freeland
David E. and Lynne J. Steele
Greg Larson
Ryan Zumbahlen
Melissa Martin 
Copyright 2021
Share this email
Manage your preferences | Opt out using TrueRemove®
Got this as a forward? Sign up to receive our future emails.
View this email online.
This email was sent to [% member:email %].
Continue receiving our emails, add us to your address book.