October 23, 2021
Serial killer Belle Gunness and her La Porte murder farm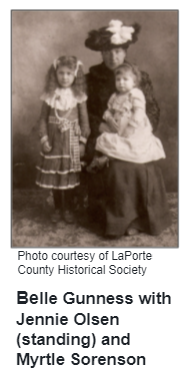 After the discovery that she had been embarking for years in the early1900s, on one of Indiana's most gruesome murder sprees, Belle Gunness has been considered among the most notorious female killers in U.S. history.
Many aspects of the life and crimes of Belle, a Norwegian immigrant, remain a mystery, including the total number of her victims, who included men, women and children. Experts suspect that more than 40 victims, including the dismembered bodies of Norwegian men who responded to a "lonely widow" advertisement that she placed in newspapers, were buried on her 43 – acre farm near La Porte in northern Indiana.
The still lingering mysteries include whether Belle secretly survived a massive fire in 1908 at her farmhouse, where the decapitated corpse of a woman was discovered amid the bodies. Was that Belle's corpse? Or did she murder an innocent women and use her body as a decoy to conceal her escape as authorities and relatives of other victims were finally closing in on her?
Those questions are among the topics that will be explored when Nelson is joined by Jane Simon Ammeson, author of the new book, America's Femme Fatale: The Story of Serial Killer Belle Gunness. The book delves into little known aspects of Belle's life, including her early, impoverished years on a farm in Norway, where she was born in 1859. She immigrated in the early 1880s to Chicago, where her spree of murders probably began, with the victims likely including her first husband.
In 1901, Belle purchased the farm near La Porte, where the Norwegian immigrant who eventually became her second husband died under suspicious circumstances. Belle began advertising in Norwegian – language newspapers as a widow seeking companionship, urging men to visit after cashing out their assets. In Jane Ammeson's book, she describes how Belle's victims possibly included adopted and foster children.
After the fire in 1908 and the discovery of multiple bodies when authorities began digging, the unsecured crime scene became tainted by throngs of onlookers. "Hordes of sightseers, sometimes 15,000 in one day, were allowed to traverse the crime scene," Jane notes in America's Femme Fatale. "The murder farm became a carnival scene, with gawkers arriving on special trains packed to capacity."
In 2008, the headless body that may have been Belle's corpse was taken to the University of Indianapolis for analysis by forensic pathologists. The DNA analysis apparently was inconclusive, Jane reports in her book.
Belle Gunness, who was nearly 6 feet tall, used various methods to murder her victims, including bludgeoning some with an ax and poisoning others. In America's Femme Fatale, Jane describes how a local sheriff was probably paid by Belle to help deflect suspicions about her activities, although he likely was unaware of the extent of the gruesome crimes.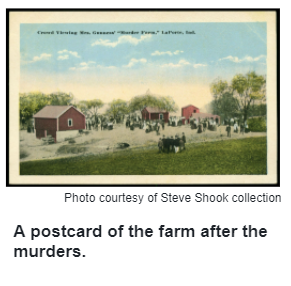 But when a wheat farmer in South Dakota responded to one of her ads, traveled to La Porte and vanished, his brother persisted with an investigation. The inferno that ensued at the farmhouse was arson, set by pouring kerosene in the cellar. As Jane Ammeson notes in America's Femme Fatale, speculation immediately began that Belle had used a "body double" to fake her death in the fire.
Jane has been a regular Roadtrip correspondent and a guest on previous Hoosier History Live shows, including a program in
2019
about one of her other books,
Lincoln Road Trip
, which explores sites in Indiana and other sites associated with Abraham Lincoln.
Roadtrip: Historic New Carlisle's new museum y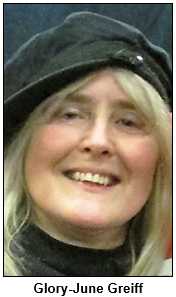 Guest Roadtripper and public historian Glory-June Greiff suggest a Roadtrip to northern Indiana to see the charming small town where the old Lincoln Highway and Michigan Road meet. Yes, that's why the town is there! And she tells us that the community opened a great little museum last year.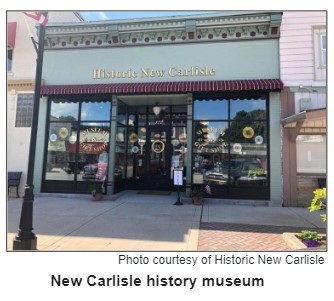 Most of New Carlisle is listed in the National Register as a historic district, and it's small enough for a pleasant walk around to view the many historic houses and commercial buildings that contain many interesting restaurants and shops. Glory tells us not to miss Feeney's Hometown Goods, housed in former lawyer's offices (for which it is named), just across the street from the museum. Its entire stock consists of the work of regional artists and artisans, a wonderful place to purchase one–of–a–kind gifts for yourself or a special someone!
Hungry? You may be surprised to find an incredible old-world restaurant,
Moser's Austrian Cafe
, housed in a beautiful historic building in the heart of New Carlisle's downtown. Yummy!
Hoosier History Live is serious about needing financial help
Hoosier History Live does not just simply "happen". Every month we have fixed costs to maintain, such as updating our website, keeping our newsletter current, creating our weekly podcasts, and maintaining social media. We enjoy creative freedom as an independently produced project. We think we have a media voice like no other.
The thing about professionals is that we always make everything look so easy. Which is deceiving in that we really work very hard.
Would you like to help us finish out the year with our full features, such as weekly newsletter, podcasts, and social media? And would you also be okay with some of your funding going into preserving and distributing our show archives? We are proud of the work we do, weekly, monthly, and year after year. We are also committed to preserving our show archives and making sure all our podcasts are free to listen to and available to all.
Thus far we have been unsuccessful in finding a larger organization to partner with and to help us market and distribute our archives. But never say never; that is still a possibility! Currently we are just too small a group of people, with few resources, to get that all done on our own.
For individual contributions, just visit the yellow "donate" button on our e-newsletter or website. Prefer paper? Visit
Support the show!
For organizational sponsorship, which includes logos, links, and voiced credits in the show and in podcasts, email molly@hoosierhistorylive.org, or call or text (317) 506-7164.
Nelson Price, host and historian
Molly Head, producer/general manager, (317) 506-7164 
Ryan DeRome, associate producer
Cheryl Lamb, administrative manager
Richard Sullivan, senior tech consultant
Pam Fraizer, graphic designer
Garry Chilluffo, consultant
Please tell our sponsors that you appreciate their support!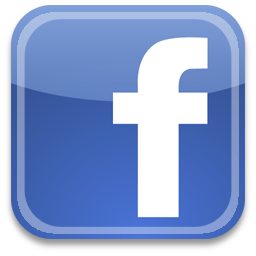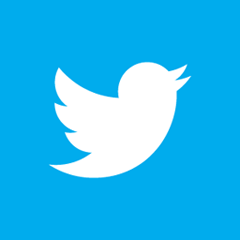 For organizational sponsorship, which includes logos, links, and voiced credits in the show and in podcasts, email molly@hoosierhistorylive.org, or call or text (317) 506-7164  for information. Our podcast listens are increasing and we are being distributed on Indiana Memory and the National Digital Public Library. Grow with us as our podcast and internet presence expands! Thanks also to Visit Indy, Fraizer Designs, WICR-FM, Henri Pensis, Genesis Brown, Kielynn Tally, Heather McIntyre, Justin Clark, and many other individuals and organizations.

Thank you!
We'd like to thank the following recent, new and renewal contributors whose gifts help make this show possible!
Madalyn Kinsey
David and Theresa Berghoff
Charles Schisla
Ann Frick
David Yount
Tom Swenson
John Stanton
Kathleen Angelone 
Tim and Meg Shelly
Dr. William McNiece
Michael Freeland and Sharon Butsch Freeland
David E. and Lynne J. Steele
Greg Larson
Ryan Zumbahlen
Melissa Martin 
Copyright 2021