March 12, 2022
Pamela Bliss and outdoor murals across Indiana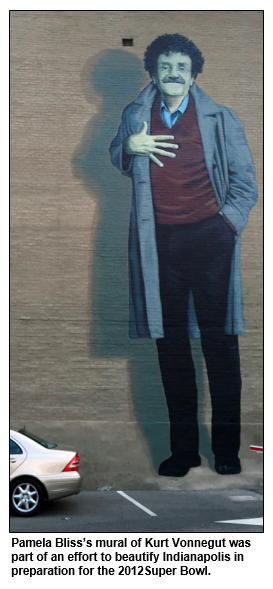 In Seymour, she is known first and foremost for her outdoor mural of John Mellencamp. The eye-catching mural in the rock star's hometown is 35 feet tall and 52 feet wide.
In Greenfield, artist Pamela Bliss has drawn attention for "Tall Tales", a mural that also is 35 feet tall. As a salute to the agricultural heritage of Hancock County, the mural depicts three generations of Hoosiers at a farm fence, with an older man in overalls gesturing as he shares a yarn with two younger listeners.
In downtown Indianapolis, Pamela is known for several outdoor murals. Her most recently completed artwork includes larger-than-life depictions of Reggie Miller, the former Indiana Pacer, and the late Eva Kor, the Holocaust survivor who crusaded for forgiveness during the final years of her life.
All of those high-profile murals have been completed since 2017 when Pamela was a Hoosier History Live guest and shared insights about her creative process and the murals that had been done at that point. They included two outdoor murals in Indianapolis that have become almost iconic and can be glimpsed in many promotional campaigns for the Hoosier capital: a 38-feet tall mural of literary great Kurt Vonnegut and "Jazz Masters of Indiana Avenue", a collage of several legendary performers with their musical instruments.
Those two widely acclaimed murals were commissioned in the build-up to the Super Bowl that Indy hosted in 2012, meaning the murals are now "aging out" because of a 10-year lifespan. Questions about the fate of the artwork have made headlines recently in the Indianapolis Star and the Indianapolis Business Journal.
So the lifespan of outdoor artwork, as well as the murals that Pamela has created across Indiana during the last five years, will be among the topics when she returns as our guest. There's also a Women's History Month aspect with this show.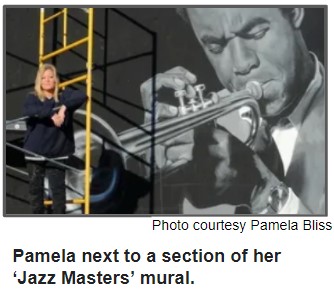 "Did you know a woman painted that?" one man asked another pedestrian, unaware that Pamela was standing nearby. He was referring to the Mellencamp mural, which the rock star, who lives in the Bloomington area, autographed during a visit to Seymour. The mural features two images of Mellencamp, a guitar and the quote: "I was born in a small town".
Pamela Bliss lives in Indianapolis, but grew up in the far-eastern Indiana town of Cambridge City, where her outdoor murals also can be seen. Other Indiana towns with outdoor murals created by Pamela include: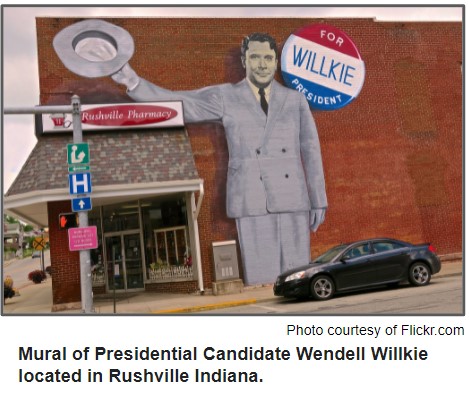 Knightstown, where her mural depicts a scene from the movie "Hoosiers" (1986). The former gym for Knightstown High School was the setting for pivotal scenes in the film. Pamela, who was about to start work on the Knightstown mural when she was our guest five years ago, explained then that Knightstown residents were being invited to vote on the scene they wanted her to depict.
Dunkirk, a town in eastern Indiana that was a hub of the glass-making industry more than 100 years ago. Pamela says her artwork in Dunkirk is one of her largest murals at 135 feet in length.
And Rushville, where she has created a mural of Wendell Willkie, the 1940 Republican candidate for the U.S. presidency who was defeated by Franklin D. Roosevelt. Although Willkie was born in Elwood, he later lived in Rushville and based his presidential campaign there.
Her murals are commissioned by various sources, including non-profit organizations and the private owners of the buildings on which she paints them. She also has created indoor murals, including depictions of former Pacers players inside Bankers Life Fieldhouse.
Her outdoor mural of Reggie Miller is 60 feet tall and was completed in 2018. Although Miller did not see it until several months after the mural was finished, he publicly expressed his approval and stood in front of it to pose for photos with his arms outstretched.
Roadtrip: The Milwaukee Trail in Bedford
Guest Roadtripper Richard Vonnegut, history enthusiast and "connoisseur of Indiana trails" suggests we visit Bedford in southern Indiana in Lawrence County, and its beautiful and scenic Milwaukee Trail.
He tells us that "The Milwaukee Road" was the nickname of a once thriving railway line that ran through Bedford to the Pacific Coast. The scenic and intriguing railroad corridor is now the "Milwaukee Road Transportation Trailway." It's an 11-mile rail-trail that goes from Bedford to Williams, a community on the East Fork of the White River, and can be used for walking or biking. Richard continues that the small town of Williams has a good bait shop and a dam which makes for excellent fishing in the White River. Indeed, the river, the limestone cliffs, rock outcroppings, and the trees make this trailhead the most scenic in Indiana.
You probably also know that Bedford is known as the "Limestone Capital of the World." The geology and rocks in the area evolved into massive and excellent limestone formations. The famous stone is recognized worldwide for its building qualities; easy to cut and hardens into a very solid rock. In Bedford, many buildings, including churches, are made of this limestone. Outside of Bedford many notable buildings are built with Bedford limestone, including 36 state capitol buildings, many federal buildings in Washington DC, and the Empire State Building in New York City. "You might say that 36 state capitols come from the bowels of Bedford" quipped Richard, in an inelegant attempt at alliteration. He doesn't quite hold a candle to his more famous Indiana literary relative, Kurt Vonnegut Jr.
Finally, Richard tells us that in pioneer days, the stone was worthless. Horses and wagons did not have the strength to transport the heavy stones.
Fun ways you can help Hoosier History Live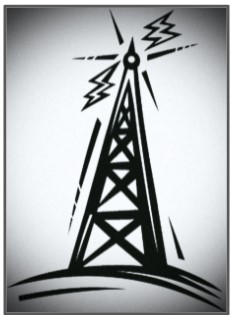 Would your organization or business like to offer prizes for our History Mystery contest? Email
molly@hoosierhistorylive.org
for the particulars. We think it's a great way for your business or organization to get a little publicity. We've found it's easiest for us to mail prizes, like tickets or vouchers, that fit in a standard business envelope.
Listening groups are a great way to bring people into your library, coffee shop, museum, or business every Saturday at noon. Maybe they will also buy something or check out a book! Boy, we have all certainly missed interaction with other humans! All you need is a quiet room or space with chairs, a cell phone or other listening device, and someone to facilitate the listening group to listen to Hoosier History Live as it airs. That means making sure the room is accessible every Sat. and making sure that the listening device is available. Plus, members of your group can even call into the show.
In the past, Central Library and Irvington Library in Indianapolis have hosted regular listening groups. Obviously, the show can be streamed about anywhere, except perhaps in the middle of the Hoosier National Forest where there is no signal. But! your business or organization must facilitate this, not Hoosier History Live staff. For ideas, contact molly@hoosierhistorylive.org Be sure to let Molly know as well if you are doing this so that we can promote it in our media.
Nelson Price, host and historian
Molly Head, producer/general manager, (317) 506-7164 
Ryan DeRome, associate producer
Cheryl Lamb, administrative manager
Richard Sullivan, senior tech consultant
Pam Fraizer, graphic designer
Garry Chilluffo, consultant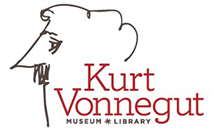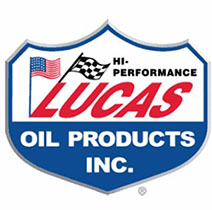 Please tell our sponsors that you appreciate their support!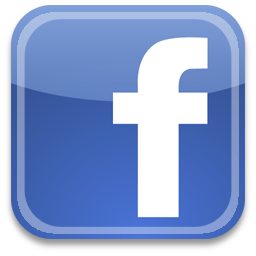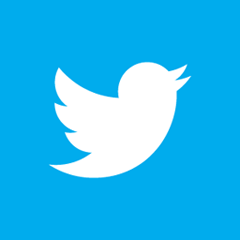 Acknowledgments to WICR-FM, Fraizer Designs, The Indiana Album, Monomedia, Indiana Historical Bureau, Indiana Landmarks, Henri Pensis, Kielynn Talley, Genesis Brown, Heather McIntyre, and many other individuals and organizations. We are independently produced and are self-supporting through organizational sponsorship and through individual contribution at the yellow button on our newsletter or website. For organizational sponsorship, which includes logos, links, and voiced credits in the show, contact Molly Head at (317) 506-7164 or email her at molly@hoosierhistorylive.org. Our media reach continues to grow via podcasting.
Thank you!
We'd like to thank the following recent individual contributors who make this show possible. For a full list of contributors over the years, visit  Support the Show on our website.

Serita Borgeas
Jill Lough Chambers
Barbara Stillwell
Joseph B. Young III
Yetta Wolen
Dr. James Madison
Dr. William McNiece
Michael Freeland and Sharon Butsch Freeland
© 2022 Hoosier History Live. All rights reserved.