April 30, 2022
First families to arrive in Marion County
First off, it should be noted that Native Americans lived in the dense forests and marshlands of the land that became Marion County before any settlers of European heritage arrived. In particular, the Lenape tribe of Indians (called the Delaware by white settlers) had established villages in the central Indiana region.

Then other people began to filter into the wilderness of Marion County circa 1820. At some point in early 1819, a basket maker named Ute Perkins wandered through and built a cabin. He didn't stay too long; historians say he felt lonely and isolated in the dark woods and left to settle in Rush County.

It's still a matter of debate about which of two pioneers, John McCormick or George Pogue, arrived first in early 1820 in the area that eventually became the new city of Indianapolis. Both men had been living in Connersville, both built cabins where they lived with their families in the future Indianapolis site, and both have been credited with being the first permanent white settlers of the city. Pogue, a blacksmith, vanished without a trace in April 1821. By then, other pioneer families had come to the county that eventually would become the state's most populous.
Marion County historian Steve Barnett will be Nelson's guest on this show to share insights about these "first families" of Marion County. Who were they, where did they come from and what did they do once they settled in the area?

Our show will take a broader look than some previous Hoosier History Live shows that have focused on specific historic individuals. For a show in 2013, our spotlight was on surveyor Alexander Ralston, who was hired to design the city of Indianapolis in 1821. In 2021, we explored the life of Chaney Lively, Ralston's housekeeper and clerk, who is considered to have been the first African American woman to live in Indianapolis. In 2019, Mike Todd, a descendant of the McCormicks, was our guest to discuss a ledger that his ancestor kept.

Because land was not offered for sale as city lots until 1821, our guest Steve Barnett and other historians have noted that those settlers who built cabins before then technically were squatters. In a column earlier this year in the Weekly View, a newspaper that serves the eastside of Indianapolis, Steve noted that a census taken in August 1820 recorded 327 families in the future Marion County.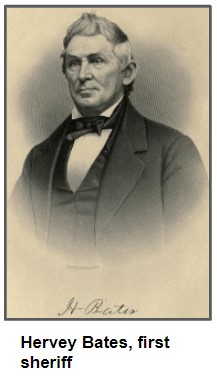 Early settlers included Hervey Bates, who became the first sheriff in Marion County. But he may be best remembered for later constructing and owning the Bates House, a hotel where Abraham Lincoln stayed in 1861. Other early settlers in Marion County included James Blake, a dry goods store owner and Sunday school teacher who is credited with bringing the first piano to Indianapolis; James Ray, who became the county's first clerk, and two doctors.

Ute Perkins, the basket maker who preceded all of them, followed a trail that later became Brookville Road. According to our guest Steve Barnett's column, Perkins briefly stopped at a Lenape village. Hoosier History Live explored the Lenape heritage in Indiana on a show in 2014.

The cabins that McCormick and Pogue built for their families were not next to each other. A boulder with a commemorative plaque marks the site of McCormick's cabin in what is now White River State Park. Pogue's cabin was on the bank of the creek that was named Pogue's Run after his mysterious disappearance. According to folklore, Pogue had left his cabin to search for his horses, which were missing. "He was never seen again and was presumed to have met with foul play", Steve Barnett noted in his column.

Steve, who is executive director of the Irvington Historical Society, has been a guest on several of our previous shows. They include a show in 2021 about early nicknames for Indianapolis and its neighborhoods.
Roadtrip: Abbott's Candies in Hagerstown
Guest Roadtripper Sarah Halter, Executive Director of the Indiana Medical History Museum in Indianapolis, suggests a sweet trip to the oldest candy store still in operation in Indiana. It's Abbott's Candies in Hagerstown, still going strong since 1890.
Abbott's is famous for its handmade caramels and chocolates, which visitors can watch being made in the store area, and the recipes have not changed. The caramels are still cooked in copper pots over an open flame and then sliced and hand wrapped by hand, using the recipes of founder W.C. Abbott.
If you don't want to drive to Hagerstown, Abbott's can also be found on the northside of Indianapolis in Clearwater Shoppes.
Pandemic allows artist to pursue calling
Pamela Fraizer of Fraizer Designs has been Hoosier History Live's graphic designer since our show's inception. But the downturn of business during the pandemic created opportunity and allowed Pam the time to pursue her dream of creating and exhibiting collections of original themed portraits. Her first collection is entitled "Legends of Starr-Gennett Studios" and features portraits of the musical pioneers of Richmond, Indiana's historic recording studio.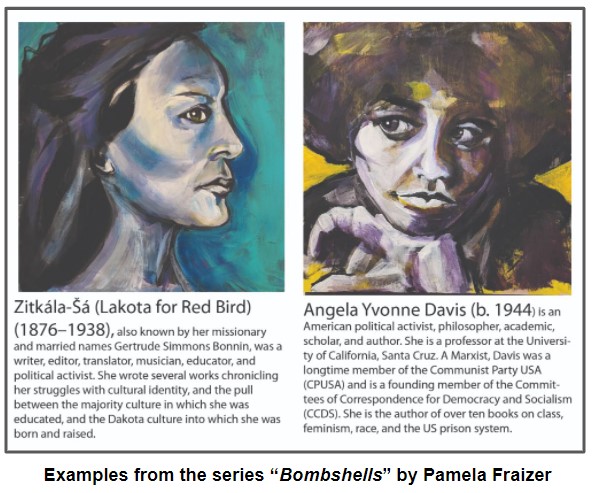 Her second collection is entitled "Bombshells" was originally a commission for a portrait of Ruth Bader Ginsburg, and later developed into a collection of portraits of influential women who lived, as Pam says, "with intent and purpose". She has exhibited "Bombshells" at Robert Goodman Jewelers in Zionsville and at the Morrison-Reeves Library in Richmond. Pam is presenting a one-woman show on July 29 from 6 to 8 p.m. at the Union City Arts Depot at 115 N. Howard Street in Union City, Indiana.
Who We Are
Hoosier History Live is an independent production group, much like the film "Coda" which won Best Picture, Best Supporting Actor, and Best Adapted Screenplay at the 94th Academy Awards. We raise our own money and we control our content. When we ask for sponsorship money or contributions, we are asking you to help sustain us.
We are "open source" in that our newsletter and website links to any and all organizations.
We do make our own editorial decisions, much like a newspaper. Our goal is to deliver an interesting and compelling show, newsletter, and show podcast to you every week. Regardless of the challenges.
You can always visit the Support page by clicking on the yellow contribution button here:
Cheryl Lamb, administrative manager
Richard Sullivan, senior tech consultant
Pam Fraizer, graphic designer
Garry Chilluffo, consultant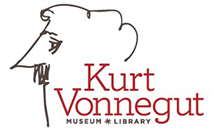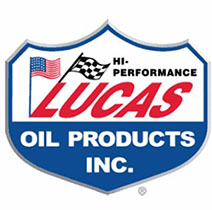 "...Fills a niche..."
"Hoosier History fills a niche for the lover of Indiana history." Kathleen Madinger Angelone
"... a compelling and engaging project..."
"Molly Head and Nelson Price are Indiana-based visionaries who have created a compelling and engaging media project with Hoosier History Live. Podcasts, website, enewsletter, and live call-in radio show; it's all there!"
- Keira Amstutz, President and CEO, Indiana Humanities
Please tell our sponsors that you appreciate their support!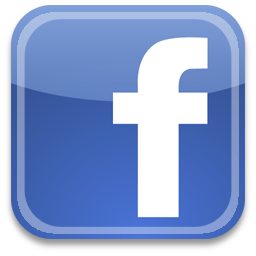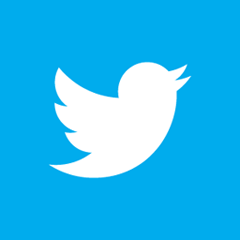 Acknowledgments to WICR-FM, Fraizer Designs, The Indiana Album, Monomedia, Indiana Historical Bureau, Indiana Landmarks, Henri Pensis, Kielynn Tally, Genesis Brown, Leticia Vasselli, Heather McIntyre, and many other individuals and organizations. We are independently produced and are self-supporting through organizational sponsorship and through individual contribution at the yellow button on our newsletter or website. For organizational sponsorship, which includes logos, links, and voiced credits in the show, contact Molly Head at (317) 506-7164 or email her at molly@hoosierhistorylive.org. Our media reach continues to grow via podcasting.
Thank you!
We'd like to thank the following recent individual contributors who make this show possible. For a full list of contributors over the years, visit  Support the Show on our website.

Elizabeth Ulen
Beth Ann Broadhurst
Marion Wolen
Charles Schisla
Jane Simon Ammeson
Serita Borgeas
Jill Lough Chambers
Barbara Stillwell
Joseph B. Young III
Yetta Wolen
Dr. James Madison
Dr. William McNiece
Michael Freeland and Sharon Butsch Freeland
© 2022 Hoosier History Live. All rights reserved.