September 24, 2022
Parke County: more than covered bridges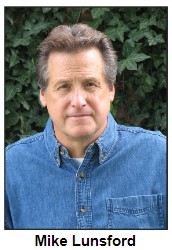 As many Hoosiers begin to focus on the picturesque county in far-western Indiana that touts itself as the "Covered Bridge Capital of the Country", Hoosier History Live will spotlight colorful and trail-blazing historic men and women from Parke County and the nearby area. Our guest will be a popular author, storyteller and photographer based in Parke County, which hosts an annual Covered Bridge Festival every October.
The historic characters will include an eccentric, homeopathic doctor who (according to folklore) buried his money around his Parke County property before he died in the late 1940s; Mordecai "Three-Finger" Brown, a farm boy with a mangled hand (from two accidents, including a mishap with a corn thresher) who went on to become the star pitcher for the Chicago Cubs in the 1908 World Series, and a glamorous Broadway and silent movie actress who ended up penniless. When Valeska Suratt died in 1962, she was buried in an unmarked grave at Highland Lawn Cemetery in Terre Haute; a headstone was finally erected a few months ago after a local fund-raising campaign.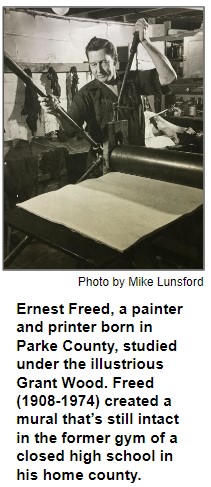 When Mike Lunsford, the author of several books including "This Old World" and "Field Notes and Other Stories" is Nelson's guest, he also will share insights about the first woman architect licensed in Indiana; a painter/printmaker who created a mural that remains in the gym of a closed high school in Parke County, and a physician who was an early pioneer of the X-ray machine. Mike Lunsford has researched and written about all of these historic figures for the Terre Haute Tribune Star newspaper or Terre Haute Living magazine.
A retired English and American history teacher who writes in a cabin on his 15 wooded acres in Parke County, Mike lives near the former residence of Wallace "Doc" Wheat, a homeopathic doctor who once was one of the best-known physicians in the region. Doc Wheat was so popular during the 1920s and '30s that the road to his home office "was backed up a quarter mile in either direction with Model Ts" driven by his patients, Mike has written. Even so, Doc Wheat, who made many of his own medicines and distrusted banks, became renowned for what he may have left behind: money that he might have buried around his property. According to Mike, visitors have scoured every square inch of the land with metal detectors since Doc Wheat's death.
He died in 1948, as did Mordecai "Three-Finger" Brown, who was born in tiny Nyesville in 1876 and captivated the nation during the early 1900s as the star pitcher on two World Series championship teams. The public was fascinated with his disfigured right hand, which was said to be an asset, giving his curveball a sharp, downward break. After enduring two childhood accidents, Brown worked as a coal miner in Parke County and got his start on semi-pro baseball teams. Brown became the dominant pitcher in the major leagues during his era and eventually was inducted into the Baseball Hall of Fame. According to an article by our guest Mike Lunsford, Brown returned to western Indiana after his retirement as a baseball player; he spent more than 20 years running a fuel station that served as a gathering place in Terre Haute.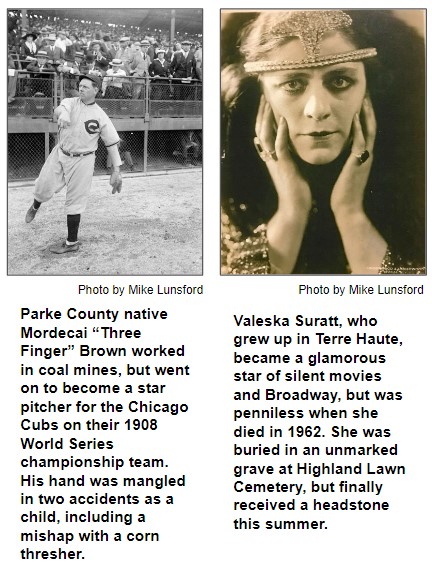 Terre Haute (in Vigo County, which borders Parke County) was the hometown of Valeska Suratt, a vaudeville and Broadway star who wrote a fashion advice column. Beginning in 1915, she also starred in 11 silent movies, including one with Charlie Chaplin and another in which she had 150 costume changes, according to an article by Mike Lunsford. Sadly, almost all of her films are considered "lost". Her career dropped off sharply in the 1920s when she was involved in a lawsuit against legendary director Cecil B. DeMille.

During our show, Mike also will discuss the lives and careers of:

Juliet Peddle (1899-1979), the first woman to be licensed as an architect in Indiana. "Extraordinarily independent, she believed architecture must have an artistic quality and spent much of her life trying to preserve older buildings as part of our heritage," Mike says. For much of her career as an architect, Peddle was based out of Terre Haute; she designed at least one house in Parke County.
Dr. Frank Wiedemann (1872-1961), a physician in Terre Haute who was an early pioneer of the X-ray machine during the 1890s. A believer in the "joy of healing", he was among the first doctors in the country to promote the use of music as a therapeutic agent, Mike says.
And Parke County native Ernest Freed (1908-1974), a prominent painter and printmaker who studied under the illustrious Grant Wood. Although Freed was based in California for much of his career, he painted a distinctive mural during the Great Depression in the gym of the former Mecca High School in Parke County. Mike describes the mural, which remains in place, as "an artistic gem in a most unlikely spot".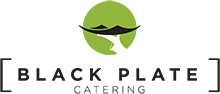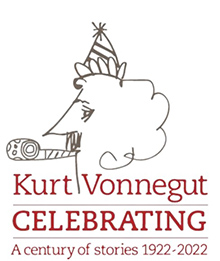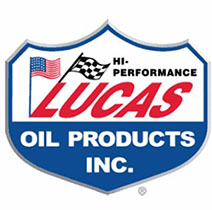 Your contributions helps keep Hoosier History Live on the air, on the web and in your inbox!

We'd like to thank the following recent individual contributors who make this show possible. For a full list of contributors over the years, visit  Support the Show on our website.

Florence and John Stanton
Aleta Hodge
Peggy Hollingsworth
Lorraine Phillips Vavul
Margaret Smith
Jane Hodge
Jeff Price
Joe Young
Sue and Craig Thomson
Richard Vonnegut
Jim Lindgren
Ken and Luan Marshall
Roadtrip: Tombstones carved by Henry Cross
Guest Roadtripper Mark Haworth, amateur historian and owner of M. Haworth Antiques, suggests a visit to Harmony, New Bellsville and Melott Cemeteries, which dot the countryside between Bartholomew and Brown County. Mark tells us "Many of the cemetery names reflect towns which no longer exist, and others named for the churchyards in which they reside. Upon entering any of these cemeteries, you are met with the usual array of lovely Victorian stones created in limestone, marble, and granite, often adorned with hands pointing upward as was typical of stones of the period. However, your eyes cannot help but be drawn to many monuments of sandstone, with carving the quality of which one would expect to see in a museum.
These stones were created by an Indiana born farmer by the name of Henry Cross, active as a stone carver in the years 1852-1862. How do we know who the carver of these beautiful stones was? It is thanks to the research of Hoosier born writer, sculptor, and art teacher W. Douglas Hartley. Hartley became fascinated with these stones after a chance discovery of what turned out to be Cross's earliest known work, the headstone of George R. Godson, in the Harmony Burial Ground and eventually documented his findings in a book published by the Indiana Historical Society in 1966 titled The Search for Henry Cross. Many of you may recognize the author's name as the editor of a wonderful book of photos, Otto Ping: Photographer of Brown County, 1900-1940, also published by the Indiana Historical Society in 1994. Hartley's friendship with Ping was instrumental in piecing together this interesting story.
You have also likely heard of the famous Brown County Stone Head, which was a road marker carved and signed by Henry Cross in 1851 in Van Buren Township in Brown County and gave directions and mileage to Columbus, Indianapolis, Fairfax and Sparkesferie, the latter two of which no longer exist. The statue was decapitated in 2016 and the head has not yet been recovered.
Hoosier History Live looks back . .
. . at our February 2019 annual party at Indiana Landmarks Center.
Kathleen Madinger Angelone portrayed Amelia Earhart, the famous aviator who was a sort of visiting-celebrity-in-residence at Purdue University two years before she vanished in 1937. On September 15, 2012, Hoosier History Live did a live show entitled "Amelia Earhart and her Indiana connections" with guest Purdue staff writer and historian John Norberg. Click here for the show enewsletter.
And to Kathleen's right is Lorraine Phillips Vavul, who lives in the Meridian Park neighborhood in Indianapolis. It was the focus of an August 21, 2010 show. Click here for the show enewsletter.

Cheryl Lamb, administrative manager
Richard Sullivan, senior tech consultant
Pam Fraizer, graphic designer
Kathleen Madinger Angelone, Garry Chilluffo, consultants
"...best Americana-themed show..."
"Hoosier History Live is the best Americana-themed show anywhere on radio!"
- John Guerrasio, former IRT actor
"...fun and interesting..."
"Hoosier History Live is a fun and interesting way to learn about the heart and soul of Indiana. No boring classes or books here! The production team does an outstanding job."
- Judy O'Bannon, civic leader and public broadcasting producer
Please tell our sponsors that you appreciate their support!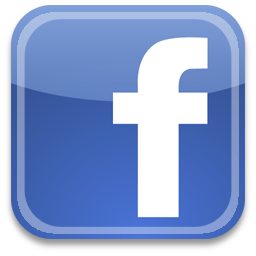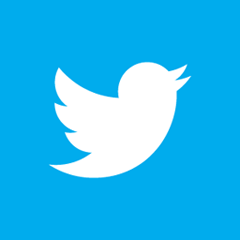 Acknowledgments to WICR-FM, Fraizer Designs, The Indiana Album, Monomedia, Indiana Historical Bureau, Indiana Landmarks, Henri Pensis, Kielynn Tally, Genesis Brown, Leticia Vasselli, Heather McIntyre, and many other individuals and organizations. We are independently produced and are self-supporting through organizational sponsorship and through individual contribution at the yellow button on our newsletter or website. For organizational sponsorship, which includes logos, links, and voiced credits in the show, contact Molly Head at (317) 506-7164 or email her at molly@hoosierhistorylive.org. Our media reach continues to grow via podcasting.
© 2022 Hoosier History Live. All rights reserved.