Roadtrip: Jug Rock in Martin County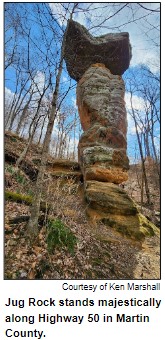 Guest Roadtripper and veteran broadcaster Ken Marshall suggests a visit to an unusual rock formation along Highway 50 just north of Shoals, Indiana. Shoals is in Martin County in south central Indiana. Jug Rock is a table rock formation oddly set in the gentle woodlands, and it slightly resembles a jug. Geologists have named the area surrounding it the Mansfield Formation.

Jug Rock stands alone in a quiet forest with no open fields or similar rock formations nearby. It is forty-two feet high down in a valley and supports, on its top, a flat projecting layer which is called the "stopper." It is composed of sandstone and is the largest free-standing table rock formation in the United States east of the Mississippi River.

The strange rock can easily be missed due to foliage and trees in spring and summer weather. The surrounding area is part of the Hoosier National Forest.

To find Jug Rock, Ken tells us to drive slowly on Highway 50 north of the town of Shoals until you see a street sign for Albright Lane. Pull off the highway there and park in the tiny gravel parking spot. Ken also tells us there is a steep walk down to the base of Jug Rock, and that you should have your hiking shoes on as you walk down to the base to explore or photograph.

Incidentally, the local high school sports teams are called the "Jug Rox" and the school mascot is the "Roxer Boxer".

While searching for Jug Rock, Ken also found a great local restaurant called Velma's Diner for lunch. Happy Roadtripping!




Hoosier History Live is an independent production group

Why is Hoosier History Live an outstanding media product? Because we are independent, and we because we make our own business and editorial decisions. We control our quality as best we can. Basically, producer Molly Head makes the business decisions and manages the project. And, she created Hoosier History Live! Host Nelson Price selects and researches the main show topic and guest. And is, of course, the effervescent on-air talent. Where else are you going to learn about history and be entertained all at the same time?
All of our contact information is on our website at www.hoosier history live.org, where you can also sign up for our free weekly enewsletter. You can also follow us on Facebook or Twitter at Hoosier History Live. Look for our yellow logo to make sure you are at the right place!
There are ways to help us. Would your business or organization like to offer prizes for the History Mystery on air question? You get an on-air mention by Nelson! Prizes must fit in a standard business envelope, as they are "snail mailed" to winners. Email our producer at molly@hoosierhistorylive.org for more info.
Would your business or library or residence like to have a listening group to listen to the live show on Saturdays noon to one pm? It's a great way to get people involved. All you need is a listening device, such as a laptop or radio or cell phone, and a quiet place with chairs to listen, and someone to facilitate the group. Contact molly@hoosierhistorylive.org for advice on setting this up.
Are you a restaurant near the University of Indianapolis on the south side, or is your restaurant downtown? Is your restaurant open Saturdays at 1 pm? Are you willing to offer a place for Nelson and guests to go lunch after the show? If so, please contact molly@hoosierhistorylive.org.
Sometimes the news today is pretty dreary, and American society seems to become more and more fractionalized. Hopefully, as readers, listeners, and fans, you believe that Hoosier History Live is a project worthy of respect and support.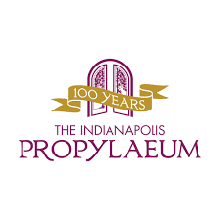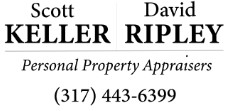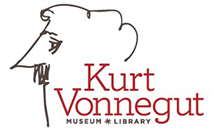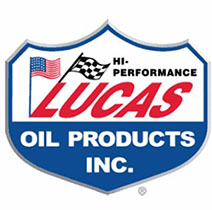 We'd like to thank the following recent individual contributors who make this show possible. For a full list of contributors over the years, visit  Support the Show on our website.


Rachel Berenson Perry
Kevin Murray
Susan Bielawski in memory of Jane Bielawski
Jill Lough Chambers
Sandra Hurt
Tom Swenson
Peggy Hollingsworth
Mike Freeland and Sharon Butsch Freeland 
Dr. William McNiece
Robin Winston
Ann Frick
James Fadely
In memory of William (Bill) Mihay by Bob Wakefield
Florence and John Stanton
Aleta Hodge
Lorraine Phillips Vavul
Margaret Smith
Jane Hodge
Jeff Price
Please tell our sponsors that you appreciate their support!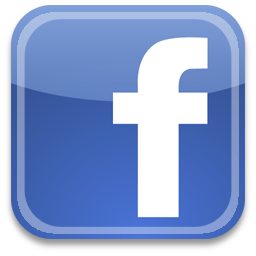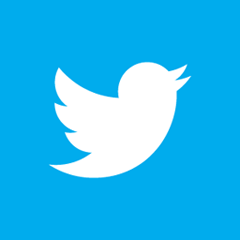 Acknowledgements to WICR-FM, Fraizer Designs, Monomedia, Henri Pensis, Leticia Vasselli, Heather McIntyre, and many other individuals and organizations. We are independently produced and are self-supporting through organizational sponsorship and through individual contribution at the yellow button on our newsletter or website. For organizational sponsorship, which includes logos, links, and voiced credits in the show, contact Molly Head at (317) 506-7164 or email her at molly@hoosierhistorylive.org.
© 2023 Hoosier History Live. All rights reserved.