June 24, 2023
World War I, Hoosiers and a documentary
To spotlight seven diverse Hoosiers who, amid great personal sacrifices, served in World War I, Hoosier History Live will feature as guests the Bloomington-based director and a producer of a new documentary that features them.
Six soldiers and a nurse from Indiana are the focus of "Over There: Hoosier Heroes of the Great War", which is expected to be shown on various PBS-TV stations across Indiana by the end of the year. The Hoosiers featured in the documentary by Blue Ace Media include some who were killed on battlefields in France, often amid acts of outstanding bravery.
Maj. Samuel Woodfill (1883-1951), who was born on a farm near Madison, Ind., received multiple accolades for his heroism, including the Medal of Honor, and likely would have become a nationally known public figure but, as a shy and modest man, did not like attention. Lottie May Berry (1888-1917) left a comfortable life in Indianapolis to become a nurse overseas for the American Red Cross; she died shortly after arriving in France. Lt. Aaron Fisher (1892-1985), who grew up in the historic African American community of Lyles Station, Ind., was acclaimed for multiple acts of courage in an infantry regiment in the U.S. Army, which was segregated during World War I.
To share insights about their stories and other aspects of World War I, Nelson will be joined by two guests:
Jo Throckmorton, the director and producer of "Over There" and the owner of Blue Ace Media, a video, advertising and media production agency in Bloomington. Although the broadcast dates for "Over There" have not been finalized, Jo says the one-hour documentary is expected to be shown on several PBS stations across Indiana, including WFYI in Indianapolis, WTIU in Bloomington, WIPB in Muncie and WYIN in Gary, before Veterans Day.

And Jim Silberstein, a producer of "Over There" who owns a commercial real estate leasing company in Bloomington.
"Over There" features newly restored archival footage as well as dramatic reenactments of World War I battlefield scenes. Jo Throckmorton, who traveled to former battlefields in France, also interviewed historians and relatives of the Hoosiers who served in the war.
Hoosier History Live has explored aspects of World War I in previous shows. They include programs in 2017 connected to the 100th anniversary of the U.S. entry into the "war to end all wars", and in 2014, when the conflict began in Europe.
One of the first U.S. soldiers to die was James Gresham (1893-1917) from Evansville, who was killed in hand-to-hand combat in France. Gresham, whose story is featured in "Over There", was initially buried in France but, like several other Hoosiers in the documentary, disinterred and reburied in Indiana. Louis Rupholdt (1898-1918), who had been a carpenter in Goshen, was just 19 years old when nearly his entire platoon was annihilated by Germans; he was posthumously awarded the Distinguished Service Cross.
Aaron Fisher, the soldier from Lyles Station, also was awarded the Distinguished Service Cross. The French government honored Fisher with the Croix de Guerre for his heroism, which included rallying his forces (despite being severely wounded) against what were described as "almost impossible odds". Fisher eventually served more than 30 years in the Army.
Sam Woodfill, the Medal of Honor recipient, also had a long military career and had been in the Army for 10 years even before World War I. His heroics as an officer included rushing ahead of his company amid heavy fire, shooting and capturing enemy soldiers.
He is buried in Arlington National Cemetery. Lottie May Berry, the nurse, was buried in France, where she died of pneumonia.
Our guest Jo Throckmorton, in an interview with the Bloomington Herald-Times, described the Hoosiers featured in "Over There" as "just ordinary people called upon to do extraordinary things".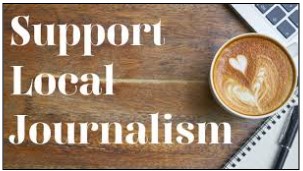 Your contributions help keep Hoosier History Live on the air, on the web and in your inbox!