July 22, 2023
Rowdy areas of Indy: some bygone pockets


Roadhouses, saloons and gambling were part of the wildness during the late 1800s and early 1900s at Brighton Beach, a long-forgotten, notorious area just west of downtown Indianapolis. Newspapers in the 1890s called Brighton Beach (where enticements included "chuck-a-luck", a game of chance played with dice) "one of the toughest places in town".
Ed Fujawa, an Indianapolis attorney and founder of Class900 Indy, a blog about city history, has researched some bygone rowdy pockets of Marion County, including Brighton Beach, which was located north of W. 16th Street and west of today's I-65. The area now primarily consists of infrastructure for the Indianapolis Water Company.
"The infamous reputation of the Beach, and its saloons and roadhouses, continued to grow (during the 1880s), as did a criminal element", Ed Fujawa wrote in a recent blog post. "Reports of crime were frequent. Robberies, assaults, stabbings, even murders, were reported."
A knife fight outside a roadhouse in Brighton Beach during the summer of 1894 drew particularly notoriety. The sensational fight involved the heir of an affluent Indianapolis family, who subsequently was put on trial for murder. Police raids in 1914, followed later by Prohibition, resulted in the eventual demise of the nightspots and near-total disappearance of the Brighton Beach name, according to Ed Fujawa.
Thanks to his extensive research, often into overlooked aspects of Indy city history, Ed has been a guest on previous Hoosier History Live shows. They include a program last September about early challenges to navigate the White River and a show in 2021 about a bear pit at Riverside Park and other bygone animal attractions.
On this new show with Ed about rowdy pockets of Marion County during the late 1800s and early 1900s, he plans to share details about Shannon's Lake (or Shannon Lake; Ed notes the lake has had various names) in addition to Brighton Beach. A lake on the far Southwest side of the county, Shannon's Lake and the area that surrounded it became a popular destination beginning in the late 1800s, Ed says.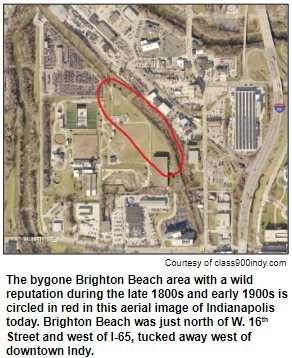 Fishing in the lake was an attraction, but so, Ed wrote, were "wild parties, drinking, and, later gambling". The rowdy behavior around the lake, which is near W. Stop 11 Road and Bluff Road, ended during the 1940s, according to Ed.
By then, Brighton Beach had basically vanished after starting with a bang during the 1880s, even though it never was an actual neighborhood, Ed says.
"Alcohol was always a major driver of the frivolities at Brighton Beach, and spawned the construction of the various saloons and roadhouses, also called 'resorts'," Ed wrote in his blog post. "These establishments not only served alcohol, but also provided a base of operations for the gambling which was also popular at the Beach."
The headline-making knife fight at Brighton Beach happened in July of 1894. Indianapolis resident Winifred Smith, who had been left a sizable inheritance by his stepfather, was accused in the fatal stabbing of Weston Thomas, a visitor to the city who had been patronizing the saloons at Brighton Beach. Each man apparently felt he had been insulted by the other, according to the class900indy blog post, drawing on newspaper accounts. Smith eventually was found guilty of killing Thomas outside a roadhouse.
In addition to the saloons and roadhouses, Brighton Beach also was the site of baseball games after a ballpark was constructed. According to Ed's blog, the games featured "local teams, both semi-pro and amateur, including teams playing in local commercial leagues, where local businesses would field teams against one another".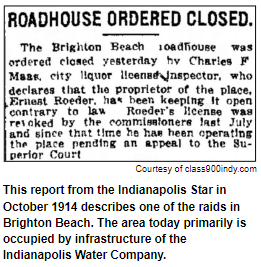 The heyday of the ballpark was short-lived as better stadiums were constructed elsewhere in the city during the early 1900s. Rowdy behavior, though, persisted at Brighton Beach, with a massive raid by police at a roadhouse in 1914 resulting in 42 arrests (28 men and 14 women), according to Ed's research.
By then, the water company had been buying up property in the area. Ed wrote: "The operations at the Beach began to fade, possibly due to the passage of Prohibition in 1919. By the 1930s, the Beach was quieter and is rarely mentioned in local newspapers."
At Shannon's Lake, the lake and surrounding area during the 1930s attracted two different groups, Ed wrote; "Those there to drink and gamble, and those there for more family-oriented programming like picnicking and day trips."
"Both Nelson Price and Molly Head do the public a great service with the creation of independent media project Hoosier History Live. The program adds considerably to the public IQ, at a time when intelligence is much needed."
- Tom Cochrun, former news anchor, WTHR-TV Channel 13 Indianapolis
Your contributions help keep Hoosier History Live on the air, on the web and in your inbox!