July 29, 2023
Ask Nelson – and Ray Boomhower, too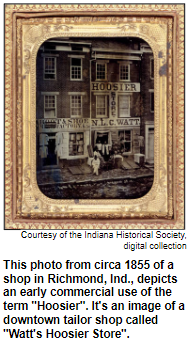 How in blazes did the term "Hoosier" originate? Theories abound. Although many historians say the derivation likely will never be known for certain, an Indiana legislator earlier this year attempted to get his preferred theory endorsed by the General Assembly as the state's official explanation.
In the wake of that attempt, which was unsuccessful, our host Nelson Price and a colleague, historian and author Ray Boomhower of the Indiana Historical Society, will discuss the various theories about the beginning of "Hoosier", which has been traced back at least to the 1830s as a synonym for residents of Indiana.
That's one of the topics that Ray and Nelson will tackle during this show, which primarily will be an opportunity for listeners to call with any questions or comments about our state's heritage. The WICR-FM (88.7) studio number to call is 317-788-3314; in between the listener phone calls, the two authors and historians will interview each other. Because Nelson and Ray have been newspaper and magazine journalists (Ray is the editor of Traces of Indiana and Midwestern History, the magazine published by the historical society), they will share insights about some historic Indiana journalists in addition to discussing the "Hoosier" derivation.
The proposed legislation sponsored earlier this year by Indiana Rep. J.D. Prescott, R.-Union City, would have declared that the term's namesake was Harry Hoosier, an African American preacher who was born enslaved in Maryland, probably circa 1750. As an itinerant Methodist minister, Harry Hoosier moved west, and, as the theory goes, many of his followers became known as "Hoosiers".
But that's just one possibility. As Ray and Nelson will discuss, others abound, including that pioneers would respond to a knock on their cabins' doors with the question, "Who's there?", which, when slurred, sounded like "Who's yere?" or "Hoosier". As Ray noted in a 2015 post on his blog for the historical society, James Whitcomb Riley, who became famous as the "Hoosier Poet", suggested the term might have originated from a vicious fight in a frontier tavern. After a brawler's ear was cut off and found on the ground, people would have asked, "Whose ear?"
The wilderness of the pioneer era was the setting for many of the historical novels written by bestselling author and journalist James Alexander Thom, who died last January at age 89. During our show, Nelson will share insights about James Alexander Thom, whose books include "Follow the River" (1981), which is now in its 50th printing. He was a guest several times on Hoosier History Live, often with his wife, Dark Rain Thom, who is of Shawnee heritage. Their appearances included a show in 2011 in which they discussed "Warrior Woman", a book they co-wrote about a real-life Shawnee leader. The couple lived in an Owen County log cabin that Jim Thom built using materials from the 19th century. Earlier in his life, he worked as a journalist for the Indianapolis Star and other publications.
As part of the discussion of Indiana journalists, Ray Boomhower will talk about Wallace Terry (1938-2003), who grew up in Indianapolis, where he became the first Black editor of the student newspaper at Shortridge High School. Wallace Terry went on to become an acclaimed journalist and historian best known for his book "Bloods" (1984) about Black soldiers in the Vietnam War. Ray plans to write a biography of Wallace Terry, who early in his career worked at the Washington Post, where he covered the burgeoning civil rights movement in the 1960s. Ray notes that Dr. Martin Luther King was the godfather to Wallace Terry's son.
Other historic journalists Ray plans to discuss during our show include John Bartlow Martin (1915-1987), who wrote for the former Indianapolis Times newspaper before becoming a speechwriter for several presidential candidates, including John F. Kennedy. In April 1968, Martin was in Indianapolis with Bobby Kennedy when he delivered a famous speech from a flatbed truck to break the news about the assassination of Dr. King to a crowd of Hoosiers, although Martin wasn't at the speech site. That episode is described in Ray Boomhower's book Robert F. Kennedy and the 1968 Indiana Primary.
Primarily, though, this show will be an opportunity for listeners to ask any questions about Indiana's heritage to Ray and Nelson. Both of them have written several Indiana-focused books and biographies of Hoosiers.
"Both Nelson Price and Molly Head do the public a great service with the creation of independent media project Hoosier History Live. The program adds considerably to the public IQ, at a time when intelligence is much needed."
- Tom Cochrun, former news anchor, WTHR-TV Channel 13 Indianapolis
Your contributions help keep Hoosier History Live on the air, on the web and in your inbox!