August 05, 2023
WW II letters from small-town Hoosiers

Even though a couple from the town of Auburn in far-northeastern Indiana married after World War II, their letters included in a new book, "Army Guy, Red Cross Gal", are not love letters. Because they weren't even dating each other before they went overseas, their descriptive letters were not written to each other.
Instead, the "Army guy", who became a military police lieutenant with Gen. George Patton's Third Army, wrote to his Indiana family members about his wartime experiences, including becoming ensnared in the historic Battle of the Bulge and witnessing the horrors at the Buchenwald concentration camp.
Meanwhile, the "Red Cross gal", wrote to her family about her experiences, which involved being stationed in Italy and working at a sprawling sports complex that Fascist dictator Mussolini had built.
To discuss the lives and letters of the couple, another resident of Auburn, the co-author of "Army Guy, Red Cross Gal", will be Nelson's guest. Barbara Olenyik Morrow is the author of seven books, most focusing on Indiana history. In "Army Guy, Red Cross Gal", she inserts narrative passages between the letters that illuminate a range of episodes during World War II. She notes that nearly 12,000 people from Indiana were killed during the war, including nearly 100 from DeKalb County, where Auburn is the county seat.
Bill Husselman, an attorney in Auburn, and Mary Brandon, who had been working as a music teacher at the town's four public schools before the war, both survived. So did their letters, which one of their daughters, Ellen England, read with fascination following her parents' deaths decades after the war. She is Barb Morrow's co-author on the new book that features the letters.
"I am rather lonesome, as all my buddies have gone", Bill Husselman wrote to his parents at one point. But, as Barb Morrow plans to note during our show, not all of the letters are poignant or grim; some are even humorous or provide insights about pop culture during the war.
As a Red Cross staff worker, Mary Brandon was not a nurse. "Unlike in World War I, when the Red Cross maintained its own nursing corps abroad," Barb Morrow writes, "the military had decided by World War II that it would take responsibility for all medical care of troops on foreign soil". So the Red Cross workers were tasked with boosting troop morale overseas, operating recreation clubs and rest centers.
For research, our guest Barb Morrow traveled to Europe to visit many of the sites described in the letters by Bill Husselman and Mary Brandon as well as to places in the United States where they received training. She also researched Hoosiers who are referenced in the letters, including a soldier from Flora, Ind., who died of sunstroke while receiving training with Bill's unit during 100-degree heat in Mississippi.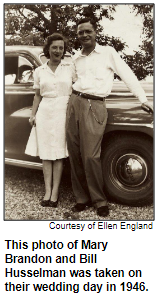 In a letter Bill wrote after his battalion with the Third Army reached Buchenwald, where more than 56,000 prisoners had died of disease, beatings and execution (there were about 21,000 survivors on the premises when his battalion arrived), Bill told his parents: "What I saw left me physically and mentally sick."

Although Bill and Mary never crossed paths in Europe, they began dating in Auburn when they returned to their hometown after the war. They married in 1946; their stashes of letters were kept in storage for decades.

"I want to encourage people not to automatically consign to the dumpster any old letters they may come across when cleaning out their parents and grandparents' homes," Barb Morrow says. "Rich history may be embedded in the letters."

Barb Morrow has been a Hoosier History Live guest in connection with one of her previous books, Hardwood Glory: A Life of John Wooden. She was a guest on a show in 2014 about the life of Wooden, who grew up in Martinsville and was a star basketball player at Purdue University before becoming one of history's greatest college basketball coaches at UCLA.
"Both Nelson Price and Molly Head do the public a great service with the creation of independent media project Hoosier History Live. The program adds considerably to the public IQ, at a time when intelligence is much needed."
- Tom Cochrun, former news anchor, WTHR-TV Channel 13 Indianapolis
Your contributions help keep Hoosier History Live on the air, on the web and in your inbox!