September 09, 2023
Larry Bird: the life and career of an Indiana icon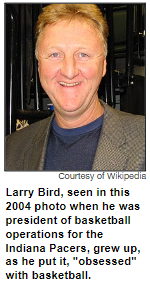 Following up last week's show about the lavish French Lick Springs Hotel, Hoosier History Live will focus on the southern Indiana town's other claim to national fame. French Lick, of course, is the hometown of the basketball superstar often called "Larry Legend". He also became known as "The Hick from French Lick".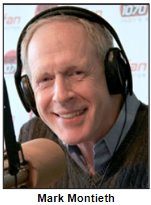 Larry Bird persevered through significant challenges in his youth (including an impoverished family and a tragedy) to become one of the greatest players in NBA history. Before that, he was a sensational player at Springs Valley High School, then reaped national fame at Indiana State University. After his playing career, he coached the Indiana Pacers, lifting the team to unprecedented success, then served in top management for the organization. His triumphs also include playing on America's Dream Team One in the 1992 Barcelona Olympics (the first time NBA players were permitted in the Olympic games), even though he was in excruciating pain.
Our guide as we explore Larry Bird's life and career will be veteran sports journalist Mark Montieth, currently a sports columnist for the Indianapolis Business Journal. As the former Pacers beat reporter for the Indianapolis Star, Mark covered all three seasons the team was coached by Bird, who took them to their debut in the NBA Finals in 2000. Mark has a trove of podcast interviews with (and stories about) Indiana sports notables at markmontieth.com He has been a previous Hoosier History Live guest, including on a show in 2017 about the early years of the Pacers in connection with one of his books, Reborn: The Pacers and the Return of Pro Basketball to Indiana.
"He's a more sensitive person than most people realize", Mark says of Larry Bird. "He was tough as a player, but empathizes with people who grew up without advantages, similar to the way he grew up. A real champion of underdogs if they are working to improve themselves."
The fourth of six children in an impoverished family, the future Naismith Memorial Basketball Hall of Famer coped with a series of challenges in French Lick, where he was born in 1956. His family could not even afford a car; several years after his parents divorced, his father committed suicide. As a boy, Larry Bird became obsessed with basketball.
"I played when I was cold and my body was aching and I was so tired", Bird later told Sports Illustrated. "I don't know why. I just kept playing and playing . . . I guess I always wanted to make the most of it."
Yet, in his autobiography, Bird Watching, he described the announcement in August 1992 of his retirement as a player as "one of the happiest moments of my life". That's because he had been playing with constant back pain for 10 years, he revealed. "No matter what I did – whether I was standing up, sitting down, lying down, leaning over – I couldn't escape it."
Although Larry Bird is known as an introverted personality ("he hates people making a fuss over him," Mark Montieth notes), he has been attracting attention ever since his years at Springs Valley High School. At Indiana State, he electrified the Terre Haute campus by taking the Sycamores to an undefeated regular season (1978-79), then to the NCAA finals, where they lost to a Michigan State team led by his career-long rival and friend Magic Johnson. During his junior year at ISU, Sports Illustrated featured Bird on its cover, calling him college basketball's best-kept secret. In his autobiography, Bird called the day the magazine hit newsstands "the day I lost my privacy forever". Today, a 15-foot bronze sculpture of Larry Bird (who is 6-feet-9) stands on the ISU campus; the sculptor, Terre Haute artist Bill Wolfe, was a Hoosier History Live guest on a show in 2016.

As a sensational NBA player, Bird led the Boston Celtics to NBA championships in 1981, 1984 and 1986. Along with the other superstars on the Dream Team in the 1992 Olympics (the Basketball Hall of Fame called the team "the greatest collection of basketball talent on the planet"), Bird won a gold medal.

He was retired and living in Naples, Fla., when the offer to coach the Pacers was extended in 1997. Bird, who had never coached before, signed a multi-year contract. He became a sports hero all over again in his home state, particularly after coaching the Pacers to their debut in the NBA Finals in 2000.

After stints in top management, including as president of basketball operations for the Pacers, Bird retired in 2017, although he continued as a consultant.

At the end of 1999, in a massive reader participation project at the Indianapolis Star, readers were asked to vote for the "10 Greatest Hoosiers of the 20th Century". Thousands of readers voted to include Larry Bird among the 10 "greatest", along with such historic notables as Eli Lilly, Madam Walker and Cole Porter.
"Both Nelson Price and Molly Head do the public a great service with the creation of independent media project Hoosier History Live. The program adds considerably to the public IQ, at a time when intelligence is much needed."
- Tom Cochrun, former news anchor, WTHR-TV Channel 13 Indianapolis
Your contributions help keep Hoosier History Live on the air, on the web and in your inbox!