October 14, 2023
Frontier conflicts about religion in pioneer Indiana

A controversy about religion divided churches, communities and even families in southern Indiana during the early 1800s. The conflict among Baptists even affected the church that young Abraham Lincoln attended with his family in what is now Spencer County.
Our guest Randy Mills, a retired distinguished professor at Oakland City University in southern Indiana, has researched and written about the fights, which involved missionaries sent to the then-Western frontier (which included Indiana) from the East as well as foreign and domestic missions. According to Randy Mills, a Midwest historian, some historians suspect the bickering that impacted Little Pigeon Baptist Church, which young Abe Lincoln attended, may have caused the future president to avoid formal religious affiliations later in life.
"At the heart of the bitter conflict was a frontier preacher named Daniel Parker whose violent preaching against mission efforts split churches, communities and families," Randy Mills says. In an article that he wrote for Indiana Magazine of History, Randy Mills noted the feud among congregations was triggered by the arrival in the frontier of a Baptist missionary, John Mason Peck, from New England.
Parker traveled from one small Baptist church to another in Indiana and southern Illinois, "revving up harsh feelings toward missionary efforts" and against Peck, Randy says. At a church in Gibson County, Ind., a "showdown" between Parker and Peck included a five-hour debate.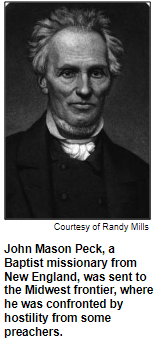 According to Randy's article, the fight involved "an array of political, economic, regional and cultural considerations". Some of the frontier Baptists resented what they felt was a condescending attitude of their counterparts from the East, who advocated for "an educated clergy". In contrast, Parker, a powerful speaker who was uneducated, and his supporters "did not see the need for a minister to have much formal schooling." According to Randy, Abe Lincoln's father, Thomas Lincoln, was a strong supporter of Parker.
Randy Mills is the author of ten books, including Christ Tasted Death for Every Man, that describes the controversy among frontier Baptists. He is the co-author, with his wife Roxanne, of Summer Wind, which focuses on letters written to and from a soldier in the Vietnam War; they were among the guests on a Hoosier History Live show in 2017 about Hoosiers in that war. Randy Mills also was the guest in 2021 on a show about outlaw gangs in 19th century Indiana. Randy and Roxanne Mills live in Ferdinand, Ind.
In southern Indiana during the early 1800s, frontier ministers feared they would be overshadowed by missionaries from the East, including Peck, a young pastor from Connecticut. Another issue that divided Baptists concerned money, Randy noted. "Churches on the frontier did not want their hard-earned money going east."
Thomas Lincoln and his wife, Nancy Hanks Lincoln, moved their family from Kentucky to southern Indiana in 1816 when Abe Lincoln was 7 years old. They settled in the community of Little Pigeon Creek.
"Hoosier History Live is a bright spot in my media constellation. I also frequently forward your weekly enewsletters to friends around the globe. I may now be a Californian, but my Hoosier interest is endless. The podcasts and streaming are good tools. By all means, persevere!"
- Tom Cochrun, former news anchor, WTHR-TV Channel 13 Indianapolis
Your contributions help keep Hoosier History Live on the air, on the web and in your inbox!