April 23, 2022
CIA operative during Cold War from Crawfordsville
During the 1950s and '60s, a Hoosier from Crawfordsville could not tell people where he worked. His employer was the Central Intelligence Agency (CIA), which Benjamin Evans only could reveal beginning in 1970 when he was named executive secretary of the agency and no longer undercover.
Before that, his assignments included a post in Cuba during the rise of Fidel Castro. And in the aftermath of World War II, he was based in Japan as a military officer and part of the U.S. occupation force. By then, Evans had been trained in psychological warfare, known as "psywar" and a major focus as the Cold War era began.

"Cold War traumas are on many folks' minds (currently)," notes Douglas Wissing, author of Gentleman in the Shadows, a biography of Benjamin Evans. Doug will be Nelson's guest as Hoosier History Live explores the life and CIA career of Evans, who died in 1987.
He was born in 1924 in Crawfordsville, where his parents were among the city's most affluent residents. An Eagle Scout and a state oratory champion, Evans attended Culver Military Academy and Crawfordsville High School. Then he became a cadet at the U.S. Military Academy at West Point. Years later, as a covert officer with the CIA, Evans "refused to attend West Point reunions so he would not have to deceive classmates about his work," Doug writes in Gentleman in the Shadows. Some details about Evans' work for the CIA still remain classified. For his biography, Doug Wissing relied on declassified CIA documents, archives of Evans' family, and interviews with family members and other sources. Evans' widow, Jan, was an heiress from a wealthy family in Washington D.C.

She helped maintain her husband's cover as a low-level diplomat (rather than a CIA operative) when they lived in Havana during the late 1950s. That volatile period was right after Castro's revolutionary government seized control of Cuba.
In his book, Doug notes that Evans was among the last Americans to leave the U.S. embassy in Havana in early 1961, just before the Bay of Pigs "fiasco" in Cuba. By the time of the Bay of Pigs in April 1961, which involved about 1,400 American-trained Cuban counter-revolutionaries and a handful of CIA officers in an unsuccessful invasion, Evans was posted in Washington D.C. and not directly involved.
Roadtrip: The Seven Pillars of the Mississinewa River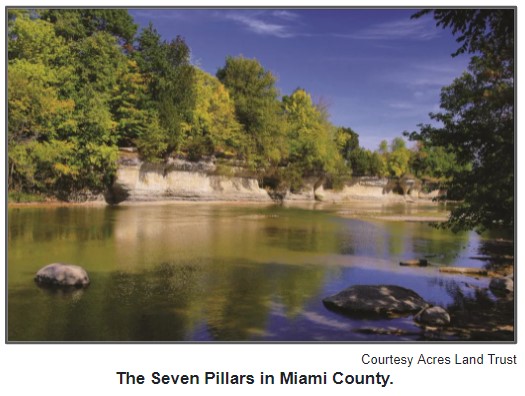 Guest Roadtripper, educator, and broadcast veteran Ken Marshall suggests a Roadtrip to The Seven Pillars, known locally simply as "The Cliffs", which are about four miles southeast of Peru along the Mississinewa River. This magnificent formation was created over the centuries as wind and water eroded the limestone, carving rounded buttresses and alcoves into the north bluff of the river.
The Frances Slocum Trail, which runs along the north side of the Mississinewa River, passes along the top of the formation. The view from atop the Pillars is a spectacular view of the area from as high as fifty feet above the river! But the best view from which to see the full splendor of the pillars is from the south bank across the river.
The Miami Nation People have always held and continue to hold this as a sacred formation. During pre and early contact with Europeans and Americans, the Miami often held council meetings and other activities within these isolated rooms. At one point there was even a trading post operating from the site. Today, the Miami Tribe owns land on the south bank of the Mississinewa River, directly across from the Seven Pillars, where they conduct sacred longhouse ceremonies as well as host annual Miami Heritage Days at the Pillars.
To see the Seven Pillars for yourself, follow Indiana 124 east from Peru to the Frances Slocum Trail road, turn south and travel about two miles. To visit the south bank, follow Indiana 124 from Peru to 300 East, turn south and proceed to Mississinewa Road. Turn east and follow this along the river for about one and a half miles.
Pandemic allows artist to pursue calling
Pamela Fraizer of Fraizer Designs has been Hoosier History Live's graphic designer since our show's inception. But the downturn of business during the pandemic created opportunity and allowed Pam the time to pursue her dream of creating and exhibiting collections of original themed portraits. Her first collection is entitled "Legends of Starr-Gennett Studios" and features portraits of the musical pioneers of Richmond, Indiana's historic recording studio.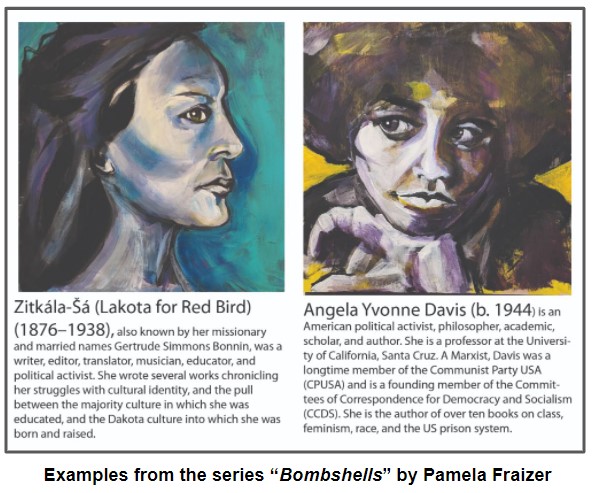 Her second collection is entitled "Bombshells" was originally a commission for a portrait of Ruth Bader Ginsburg, and later developed into a collection of portraits of influential women who lived, as Pam says, "with intent and purpose." She has exhibited "Bombshells" at Robert Goodman Jewelers in Zionsville and at the Morrison-Reeves Library in Richmond. Pam will give an artist's talk on July 29 from to 8 p.m. at the Union City Arts Depot at 115 N. Howard Street in Union City, Indiana.
Around Town with Tom Ridley and David Leander Williams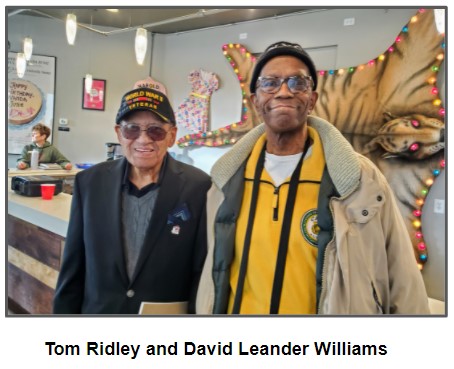 Caught cozying up to the Wanda June Bar at the Kurt Vonnegut Museum on April 10 were old friends and former Hoosier History Live guests Tom Ridley (L) and David Leander Williams (R). Tom Ridley, who turns 100 on December 19 of this year, lives in the Ransom Place neighborhood and attended the grand opening week of the Madam Walker Theater in 1927 as a 5-year-old boy. He's been a historian at the Madam Walker Legacy Center for decades, and was a guest on Hoosier History Live for our "Flourishing at 90-something" show. Click here to listen to the podcast.
To his right is David Leander Williams, also an author and historian, who has appeared on several of our shows and is an expert on Indiana Avenue jazz history. His most recent appearance was on "African Americans in Indianapolis during the 1800s." Click here to listen to the podcast.
Who We Are
Hoosier History Live is an independent production group, much like the film "Coda" which won Best Picture, Best Supporting Actor, and Best Adapted Screenplay at the 94th Academy Awards. We raise our own money and we control our content. When we ask for sponsorship money or contributions, we are asking you to help sustain us.
We are "open source" in that our newsletter and website links to any and all organizations.
We do make our own editorial decisions, much like a newspaper. Our goal is to deliver an interesting and compelling show, newsletter, and show podcast to you every week. Regardless of the challenges.
You can always visit the Support page by clicking on the yellow contribution button here:
Cheryl Lamb, administrative manager
Richard Sullivan, senior tech consultant
Pam Fraizer, graphic designer
Garry Chilluffo, consultant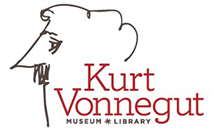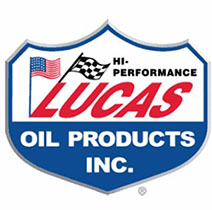 "...Fills a niche..."
"Hoosier History fills a niche for the lover of Indiana history." Kathleen Madinger Angelone
"... a compelling and engaging project..."
"Molly Head and Nelson Price are Indiana-based visionaries who have created a compelling and engaging media project with Hoosier History Live. Podcasts, website, enewsletter, and live call-in radio show; it's all there!"
- Keira Amstutz, President and CEO, Indiana Humanities
Please tell our sponsors that you appreciate their support!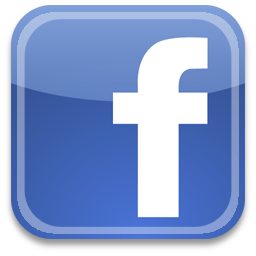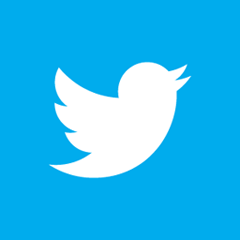 Acknowledgments to WICR-FM, Fraizer Designs, The Indiana Album, Monomedia, Indiana Historical Bureau, Indiana Landmarks, Henri Pensis, Kielynn Tally, Genesis Brown, Leticia Vasselli, Heather McIntyre, and many other individuals and organizations. We are independently produced and are self-supporting through organizational sponsorship and through individual contribution at the yellow button on our newsletter or website. For organizational sponsorship, which includes logos, links, and voiced credits in the show, contact Molly Head at (317) 506-7164 or email her at molly@hoosierhistorylive.org. Our media reach continues to grow via podcasting.
Thank you!
We'd like to thank the following recent individual contributors who make this show possible. For a full list of contributors over the years, visit  Support the Show on our website.

Elizabeth Ulen
Beth Ann Broadhurst
Marion Wolen
Charles Schisla
Jane Simon Ammeson
Serita Borgeas
Jill Lough Chambers
Barbara Stillwell
Joseph B. Young III
Yetta Wolen
Dr. James Madison
Dr. William McNiece
Michael Freeland and Sharon Butsch Freeland
© 2022 Hoosier History Live. All rights reserved.