Revisit:
The Green Book and Indiana sites
Click here to listen to the podcast.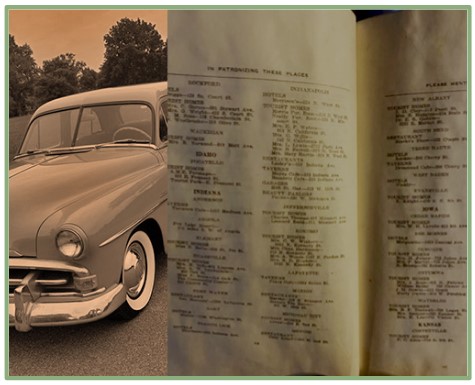 The Green Book was an annual guidebook for African America motorists during an era of widespread discrimination. Published from the mid-1930s through the mid-1960s, the Green Book listed hotels, restaurants, gasoline stations and other sites that welcomed all travelers.

Because sites across Indiana were included in most editions of the book that became known as the "bible of Black traveling", Hoosier History Live will explore them with a popular guide for Indiana history tours. On this show originally broadcast Dec. 18, 2021, Sampson Levingston of Through2Eyes is Nelson's guest to share insights about the impact of The Green Book and about the Indiana sites, many of them long gone.

A history storyteller known as the "walk and talk guy", Sampson owns a 1940 edition of the Green Book, which lists sites in nearly 20 Indiana cities and towns. Indianapolis had the most sites (with 13), followed by Evansville (5), Kokomo (4) and New Albany (3). Several cities and towns had just a single site listed.

But, in the case of Angola in far northeastern Indiana, that single listing was for an entire resort community that's still flourishing. Fox Lake, a resort consisting of cottages built beginning in the mid-1930s, became a seasonal refuge for African Americans who were prohibited from owning or renting summer residences at other lakeside communities.
At the opposite end of the state, southern Indiana, a hotel in West Baden was built for African American guests who were not welcomed at lavish resort hotels in the region. So the Waddy Hotel was listed in several editions of the Green Book; its celebrity guests included world heavyweight boxing champion Joe Louis. The Waddy Hotel burned in 1951 and was never rebuilt, according to Indiana Landmarks.
Even though many sites no longer stand, the Green Book has attracted renewed public interest since the success of the 2018 movie The Green Book that featured an Academy Award-winning performance by actor Mahershala Ali. He portrayed an acclaimed jazz musician traveling during the early 1960s through the Deep South.
In Indianapolis, our guest Sampson Levingston leads walking tours on Indiana Avenue as well as in the nearby Ransom Place neighborhood; both had sites frequently listed in the Green Book.
And Hoosier History Live DOES need financial help. We are the little guys, and we have a unique voice, and are doing so much with so little.