November 04, 2023
First cookbook published in Indiana and food fashions of 1840s and '50s- Encore

With the approach of Thanksgiving, Hoosier History Live will spotlight the trail-blazing woman who wrote the first cookbook published in Indiana. Also on the menu: We will explore food fashions of the mid-18th century era when the cookbook came out.
The author was Angelina Collins (1805-1885), who was living in New Albany, Ind., when her popular cookbook was published in 1851. Titled "Mrs. Collins' Table Receipts" (and retitled "The Great Western Cookbook" when it was reprinted in New York later during the 1850s), the cookbook "is an excellent reflection of the dishes served in middle class homes in mid-century Indiana", our guest says. (The word "receipts", as in the title of the book, was often used during the era to refer to recipes.)
Our guest on this encore show (originally broadcast last Feb. 25) is Indianapolis-based food historian Sheryl Vanderstel, an expert on foodways of late 18th century America through the pre-Civil War era. With more than 20 years of experience as a historic consultant to museums and historical societies in researching and developing programs, Sheryl helped launch the hearthside dinners at Conner Prairie Interactive History Park.
In doing research, Sheryl says she became captivated by the colorful life of Angelina Collins, whose recipes indicate that she was paying attention to current events and was broad-minded. One of her recipes was titled "Succotash a La Tecumseh", a reference to the great Native American leader who was based in Indiana. Sheryl notes that, during the early 19th century, Tecumseh, a Shawnee who almost succeeded in uniting diverse Native American tribes in a confederation, "was vehemently hated by the western and southern whites . . . The fact that she used his name in the title of the recipe indicated he had moved out of hated status and into a hero".
The recipe is for what Sheryl calls a "classic succotash" of lima beans and corn cooked together. Angelina Collins concludes the recipe with the comment: "This is a real western dish".
Other recipes in "Mrs. Collins' Table Receipts" include one for "Sausage Hoosier Fashion". Sheryl describes the dish as "a casserole of potatoes, sausage, ham and bread layered, covered with water and butter, and stewed slowly." The cookbook also includes a recipe titled "Indiana Sauce"; it is made of horseradish, mustard, salt, celery seed, cayenne and minced onion in vinegar.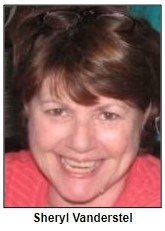 During our show, Sheryl Vanderstel will explain why few cookbooks were published during the era when Angelina Collins put hers together. In other states then, published cookbooks included "Kentucky Housewife" and "Virginia Housewife". Sheryl notes the mid-18th century cookbooks seldom included recipes for "common things like biscuits. It was assumed the cook had her own family recipe for such".
Angelina Collins was born in Petersburg, Va., where her father had been a wealthy merchant. But he lost his fortune just before her birth in 1805 and died six years later, leaving his family nearly destitute. Before arriving in Indiana, Angelina worked as a teacher and even wrote a novel. She eventually married a lawyer, James Collins; the couple lived in Paoli, Ind., before settling in New Albany. In addition to raising their five sons and writing a cookbook, Angelina Collins became active in the abolition and temperance movements. She also wrote poetry and a second novel.
Our guest Sheryl Vanderstel says she admires her on several levels. "Nineteenth century cookbooks are a study in plagiarism", Sheryl says. "So, I have checked Mrs. Collins' recipes against many of the mid-century cookbooks. I have found only one that she seems to have lifted a few recipes from."
Among Angelina Collins' recipes is one with a title that Sheryl says reflects her interest in current events: "California Soup". Sheryl explains, "This is a traditional recipe for what is called 'portable soup' --- actually, what we would call bullion cubes. Her naming it 'California Soup' is an indication that she was aware of the mass exodus of Americans to the Western gold fields".
Sheryl Vanderstel has been a previous guest on Hoosier History Live show about foods of the Indiana pioneers in April 2020 and a sequel in June of that year. She is a member of organizations including the Caroline Scott Harrison Chapter of the Daughters of the American Revolution and the Society of Indiana Pioneers. Sheryl and her husband, historian David Vanderstel, live in the Irvington neighborhood of Indianapolis.
"Hoosier History Live is a bright spot in my media constellation. I also frequently forward your weekly enewsletters to friends around the globe. I may now be a Californian, but my Hoosier interest is endless. The podcasts and streaming are good tools. By all means, persevere!"
- Tom Cochrun, former news anchor, WTHR-TV Channel 13 Indianapolis
Your contributions help keep Hoosier History Live on the air, on the web and in your inbox!