Home | About us | Support the show | Contact us | Archives | Listen
2018 | 2017 | 2016 | 2015 | 2014 | 2013 | 2012 | 2011 | 2010 | 2009 | 2008
Archives - 2008
Indy's crown jewel, the Circle Theatre


(Clip length 3:53)
(Aug. 16, 2008) - Did you know the Circle Theatre on Monument Circle was considered one of the most lavish silent movie palaces west of New York when it opened in 1916? Listen to three generations discuss Indy's crown jewel, The Circle Theatre, on our August 16, 2008 show.
Dave L. Smith, former host of WISH-TV's popular When Movies Were Movies series, Chris Gahl, our "Roadtripper" and Nelson Price talk about the impact of the Circle Theatre on the Circle City.
Sears kit homes


(Clip length 1:33)
(April 5, 2008) - Listen to our April 5, 2008 Sears Kit Homes show with Guest Paul Diebold of the Indiana Department of Natural Resources.
Caller shares with our guest Paul about a kit home with an indoor/outdoor fish pool.
A town under water: Elkinsville


(Show length 27:47)
(June 7, 2008) - For more than a century, Elkinsville, Ind., was a small, peaceful farming town nestled amid the rolling hills of southwestern Brown County. Because of the construction of Lake Monroe in the 1960s, all of the residents of Elkinsville were forced to move. Among the families who moved were Raymond and Marie Lucas, along with their four children, Forrest, Carol, Connie and Brenda. Both "in studio" and via telephone, the Lucas siblings tell the story of their early years in Elkinsville. Forrest, the eldest, went on to become the CEO of Lucas Oil.
There's treasure buried everywhere in the Hoosier History Live! website ...
In the Elkinsville show audiocast, you can hear the thunder and lightning in the background. It was recorded at 11:30 a.m. to noon on the day of the June 6, 2008 flood. The basement of Brenda (youngest sister) was flooded when she came up from Columbus, Ind., to Indy to do the show — although, as she later said, it would have flooded anyway, whether she came to Indy or not. It took Carol and Brenda something like 10 hours to drive back to back to Columbus.
The blizzard of 1978
(Jan. 16, 2008) - Listen to Survival Tales from the the Blizzard of January 1978 on its 30th anniversary, Jan. 16, 2008.
Craig Widener, former chief operating officer of the Indianapolis chapter of the American Red Cross, shares how the city opened its Red Cross Shelter to stranded Greyhound passengers:
Caller talks about being stranded at O'Malia's grocery store in Carmel:
Hoosier History Live! celebrates its first year on the air
Peggy Sabens of the Meridian Street Foundation, host Nelson Price, Chris "The Roadtripper"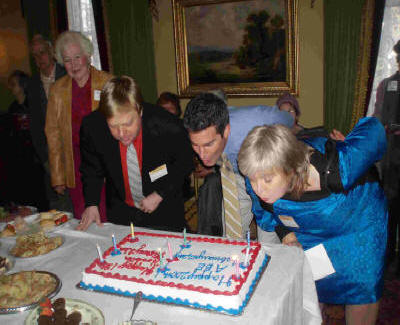 Gahl and producer Molly Head blow out their first-year birthday cake candles presented to them by the Meridian Street Foundation.
The party for Hoosier History Live! at the Morris-Butler House was sponsored by the Historic Landmarks Foundation of Indiana on Abe's 200th birthday, Feb. 12.
President Marsh Davis of Historic Landmarks Foundation of Indiana said, "It was great to see the old house come to life."
(Photo by Bill Holmes.)
Hoosier history as heard on our show
Antiquing across Indiana

'Tis prime season to explore Indiana-made antiques as well as to share a potpourri of tips and advice about antiquing across Hoosierland. Nelson was joined in studio by the ideal guest to weigh in: antiques maven Lynn Hopper who writes the popular "Antiques & Collectibles" column in The Indianapolis Star. Lynn chated about cherished Indiana-made collectibles, including Wooten Desks, Hoosier Cabinets (regular listeners will recall that their history was the focus of a recent Hoosier History Live! show), Greentown Glass (to left) and Uhl Pottery (to right).
She also is brimming with tips about antique-hunting, a passion for so many Hoosiers. "Always Look on the Bottom!" is the title of an advice-filled presentation that Lynn gives to fellow enthusiasts. Please note that Lynn does not do appraisals, on or off the air. This show came just in time to spotlight the 40th anniversary of the Hoosier Antiques Expo which returned to the Indiana State Fairgrounds Sept. 11-13. "In the world of antiques, 40 years is a long time – to stay in business," Lynn wrote in a recent column. As Lynn also wrote in a recent column, "Antiques and history go hand in hand."
Donner Party tragedy, Indiana links and lessons learned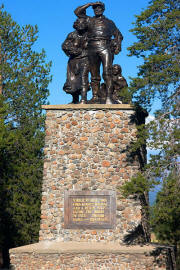 It's been called one of the greatest tragedies in the history of Westward migration. The Donner Party tragedy's most gruesome aspects occurred in the Sierra Nevada mountains during the brutal winter or 1846-47, but there are some Hoosier links with the ill-fated wagon train. Nelson's studio guest not only explained the Indiana connection, he shared lessons derived (in conflict resolution, leadership selection, and group decision-making) from the tragedy that involved stranded, California-bound pioneers, some of whom eventually resorted to cannibalism. Although group leader George Donner was born in North Carolina and, as a 62-year-old farmer, was based in Springfield, Ill., when the expedition headed West, he had lived for several years in Greensburg, Indiana. In fact, Nelson's guest, Hoosier business consultant and speaker Karl Ahlrichs is a descendant of George Donner, one of whose wives is buried in Indiana. (A subsequent wife, Donner's third, accompanied the California-bound group.) The "Donner" name not only is on sites in California (including what is now known as Donner Pass, where some of the more than 40 deaths occurred). It also is on parks and buildings in southern Indiana because of the influence of the extended family in this state. After researching what happened with the Donner Party and why, Karl explained how he uses this historic episode to enhance decision-making and critical thinking skills. (Photo courtesy: Donner Memorial State Park)
Underground Railroad heritage across Indiana: myths and reality
Oral histories, diaries, notations in family Bibles, and letters. All of those have been crucial in figuring out which historic homes, inns, taverns, and other buildings may have been stops on the Underground Railroad – and which ones probably were not, according to Indiana Freedom Trails, Inc. But exaggerations and misconceptions abound. To hear some folks tell it, almost all 19th century homes with cellars, attics or other hiding places were used in the crusade to help African-Americans escape from slave owners in the South. How do we separate myth from fact? How can you verify folklore about an old building? And did you know that one of the nation's best-known abolitionists and women's rights activists Sojourner Truth had connections to Indiana?
To share insights on these and other aspects of the Underground Railroad, historic researcher and genealogist Dona Stokes-Lucas of Indianapolis joined Nelson in studio. Dona, who is on the board of directors of Indiana Freedom Trails, Inc., helped organize a national Underground Railroad Conference 2009 set for Sept. 16-19 at the Hilton Indianapolis North, 8181 N. Shadeland Ave. Indiana Freedom Trails is a diverse group that seeks to identify, verify and preserve Hoosier sites that were part of the Underground Railroad network.
(Image of Sojourner Truth courtesy of Mathew Brady Studio, albumen silver print c. 1864, National Portrait Gallery.)
High school hoops, mascots and history
Why was West Baden High School's basketball team called The Sprudels? What Hoosier teams, then or now, were known as the Epsom Salts, the Pimento Peppers, and the Blue Jeans? And why are we doing a show about Hoosier hoops in August? Well, it's because of a brand new book, Hoosiers All: Indiana High School Basketball Teams (Hawthorne Publishing, $25), which is being touted as a definitive exploration of all boys and girls high school basketball teams that ever existed, including those at long-shuttered schools in small towns.
Nelson was joined in studio by Hoosiers All author Emerson Houck, a retired Eli Lilly & Co. executive who also has headed up a hospital auditing firm and is a trustee emeritus of Hanover College. His book – for which Emerson spent years traveling to small towns across Indiana with his wife Jane – was launched as part of a 2009 gala at the Indiana High School Basketball Hall of Fame in New Castle. He says some mascot names are obvious if you know local folklore: the Elnora Owls is a result of Elnora's nickname as "owl town" because of an abundance of the birds in the environs. But why are Vincennes teams known as the Alices? Expect us also to explore the Banquo Ghosts, Bedford Stonecutters, and Stinesville Quarry Lads. It also may surprise folks to learn many Hoosier high schools had girls basketball teams during the 1920s. We'll ask Emerson why the girls teams vanished for generations, only to be revived with Title IX in the 1970s. This show was a slam-dunk. It was enlightening, informative – and fun.
Greek history in Indiana
Hoopah! Don't you enjoy our rotating series about ethnic immigration to the Hoosier state? Previous shows have explored our German history and our Scottish heritage. Now, Hoosier History Live! turns to all things Greek in Indiana, including Holy Trinity Greek Christian Orthodox Church. Georgia Gianakos Buchanan, who joined Nelson in studio, is one of the best-known Hoosiers of Greek heritage. A former president of Indiana Special Olympics, an arts advocate, fund raiser for charities, and a writer, Georgia is a first-generation Greek-American whose parents emigrated here in the 1920s. Her father opened a restaurant in a near-Westside neighborhood known as "The District" that was home to many Greek families. Georgia is the author of Paved With Gold, a new edition of her novel about Greek-Americans that originally was published in 1979. She was our guide as we explored why Greeks came to the Hoosier state, where they settled, the jobs they undertook, and the culture they have strived to preserve. Holy Trinity, which grew from a handful of families at the parish's beginnings in 1910, now has more than 2,000 members.
Fun facts: The church originally was located on the site today of the Indiana History Center at West and New York streets. (Check out the historical marker there.) In the early 1960s, Holy Trinity moved to its long-time home at 40th and Pennsylvania; now, the church is at an eye-catching, new building with a Byzantine dome in western Carmel.
Al Green's, the Paramount, Eastgate and other bygone landmarks of Eastside Indy
Remember Al Green's Famous Food, the once-wildly popular drive-in restaurant on East Washington Street? Even though food service was so slow it became a standing (or sitting) joke among motorist-customers, Al Green's was packed for several generations and sported a towering, neon sign that could be seen for miles at night. You also may fondly remember the glorious heyday of Eastgate Shopping Center, long before it devolved into being Eastgate Consumer Mall and endured a prolonged demise. You probably DON'T remember Wonderland Amusement Park, a sprawling entertainment center with diving horses, a beer garden, "dream-like" architecture, and thrill rides; the amusement park on East Washington Street had a fleeting (but huge) heyday before burning to the ground in 1911. These and other bygone landmarks on Eastside Indy will be our show's focus.
Nelson's guest, author Julie Young, whose new visual history book, Eastside of Indianapolis: A Brief History (The History Press), includes those warmly remembered landmarks. Also featured are the Rivoli Theater (believe it or not, it once was a beloved, revival movie house), the Paramount Music Palace (its pipe organ was stunning), and the Eastwood, a movie theater with a massive, curved screen that made it "the" place to see "Star Wars" in the 1970s. Julie grew up on the Eastside, as did Nelson, who is quoted in the book.
1918 influenza epidemic and Indiana
Swine flu has been a big worry, with lots of references to the devastation and dread associated with one of the world's worst epidemics. It was the influenza virus of 1918, which followed World War I and ravaged North America and Europe. But what was the impact in Indiana? Were there ramifications here beyond the loss of lives? Hoosier historian Bill Beck joined Nelson to share insights about the 1918 influenza epidemic, a "hot" history topic now. In fact, just a few hours after our show on July 18th, Bill spoke about the 1918 epidemic in a program open to the public at the Indiana Medical History Museum, 3045 E. Vermont St. Here's one way the 1918 epidemic impacted Indiana: According to Bill, the widespread deaths created a national boom in sales of coffins made by Batesville Casket Co. in southern Indiana.
Dillinger and Mooresville town history

Amid the hype about outlaw John Dillinger and the new movie "Public Enemies" starring Johnny Depp, Nelson explored the heritage of the Morgan County town where the bank robber spent many of his formative years and first slid into a life of crime. Mooresville, which is located ten miles southwest of Indianapolis, has a rich heritage even aside from its association with the youthful Dillinger; to share it, Hoosier History Live! lined up a studio visit from a lifelong resident steeped in his hometown's history and folklore. Don Adams is a retired history teacher at Mooresville High School. Don grew up in a house once owned by one of Mooresville's other notable residents: watercolor artist Paul Hadley the designer of the state flag of Indiana. Don and Nelson also discussed how Mooresville feels about its link with Dillinger, who moved there as a teenager with his father and stepmother. This show is part of our rotating series of town histories; previous shows have focused on Greencastle, Madison, Sheridan, Greenfield, and the bygone town of Elkinsville.
Filming of movie about 1911 inaugural 500 Mile Race
Following on the heels of our recent show about the colorful life of Indianapolis Motor Speedway founder Carl Fisher Hoosier History Live! explored an exciting, current project about a milestone in Indy city history. Nelson was joined in studio by businessman and motor sports enthusiast Roger Brummett, who, as associate producer, is helping arrange the funding for a major movie now in production about the inaugural Indianapolis 500 in 1911, a race that was extremely controversial. (Photo Courtesy: Al Weatherburn). The $35 million movie is sparking a lot of excitement. The screenplay is by none other than Angelo Pizzo of Bloomington, who wrote Hoosiers (1986) and Rudy (1993), smash-hit movies about other Indiana sports legends. A racetrack designed to resemble the Speedway of 1911 is expected to be built in Newton County for the movie, which will feature Carl Fisher as a major character. According to Donald Davidson's Official History of the Indianapolis 500, the winner of the inaugural 500, Ray Harroun, always thought of himself more as an engineer and inventor than a race driver. He's believed to have been the very first person to use a rearview mirror when he installed one on his Marmon Wasp that won the first 500.
Artists who stayed here: their challenges in making it
The Indiana State Museum is touting a new exhibition as the first major one ever to explore the challenges that have confronted artists who opt to remain in the Midwest. According to fine arts curator Rachel Perry, the exhibit, titled Making It in the Midwest: Artists Who Chose to Stay "brings together an important array of historical works, many of which are in private collections and have not been seen publicly for decades."
Rachel is the author of a lavishly illustrated book about some of the most illustrious artists who stayed. Her book, T.C. Steele and the Society of Western Artists, 1896-1914 (IU Press), examines the legendary Steele and his painting techniques as well as his role as a catalyst for Brown County's art colony. (Fun fact: Rachel knows that scenic turf well. She's a longtime resident of rural Brown County.) The exhibit features about 50 paintings from the Society of Western Artists, which formed in the late 1800s to bring greater attention to works created in the Midwest. They organized annual exhibitions that attracted national notice. Even so, Rachel notes, "Hoosier artists today continue to struggle to build their careers and sustain their artistic passions while remaining in Indiana." (Photo Courtesy: Indianapolis Museum of Art)
Digging up history: Madam Walker home, Ransom Place and two-story outhouse
What artifacts are buried at the site of Madam Walker's long-demolished house? What about at the former sites of homes built in the late 1800s in the near-Westside neighborhood known today as Ransom Place? And what about a legendary (or notorious) two-story outhouse that "serviced" low-income, multi-family dwellings as recently as the 1940s? Every summer, an archaeological dig overseen by Paul Mullins has tackled each of those questions. Paul, an associate prof of anthropology and director of IUPUI's archaeology field school was Nelson's studio guest and explored the fascinating excavations into Hoosier history that his students undertake.
This summer, Paul & crew are in the midst of a much-publicized dig in the 600 block of N. West Street to find artifacts linked to the home and office of Madam Walker. Experts think Madam Walker, who died in 1919, may have been the first African-American woman to become a millionaire as a result of her hair care and beauty products. The daughter of former slaves, Madam Walker was born in the Deep South in 1867, just two years after the Civil War. She moved to Indianapolis in 1910 to launch her company; initially, Madam and her husband, C.J. Walker, lived in a rental house. By May 1911, she had become sufficiently prosperous to buy a spacious, two-story house that had been built in the 1870s by a white couple from New Hampshire. (More than 150 guests attended the Walkers' housewarming party. A harpist entertained, and the home was decorated with palms.) Since May 2009, Paul and his IUPUI students have been digging on the site of the Walker residence, which was razed in the mid-1960s.
A few summers ago, Paul and his students excavated in the 900 block of California Street, searching for artifacts related to homes built in the 1870s for working-class, multi-ethnic families. Paul emphasizes that, until about 1920, the near-Westside was much more diverse than people realize, with many German, Irish and Greek immigrants living in the neighborhood. Hundreds of these homes were later demolished, particularly as IUPUI developed. Today, the Ransom Place Historic District is, he says, "the only surviving remnant" of what had been a densely populated residential area.
And then there's the two-story outhouse, a photo of which is featured in many Indianapolis history books, including Nelson's Indianapolis Then and Now (thanks to his collaborator, photo historian Joan Hostetler). Serving multi-family households living in poverty and ignored by many city leaders, the unusual privy was located on property that's now part of the IUPUI campus. The privy stood in the 400 block of University Boulevard (it was called Agnes Street until being renamed in the 1980s), today the site of IUPUI's new Campus Center.
A few summers ago, well before the Campus Center construction, Paul and his students went digging to find artifacts related to the outhouse. He says determining the precise locations of outhouses is relatively easy. That's because generations of people tended to use privies as makeshift Dumpsters, tossing mounds of trash in them. Paul & crew found everything from a "lucky" coin popular in the 1930s to Milk of Magnesia bottles, Jergens hand lotion, and animal bones.
Nelson spoke to Paul about the insights these digs have revealed about our culture from earlier eras as well as, including the amazing life of Madam Walker. By the way, she spent the final two years of her life based in the New York City area, dividing her time between a Harlem townhouse and an Irvington-on-Hudson mansion. (Her home on West Street continued as her company's office for many years.) Artifacts excavated this summer become the property of the Madame Walker Theatre Center, which is located on Indiana Avenue just north of the dig site. (Photos Courtesy of IUPUI Anthropology Department)
At 90, P.E. MacAllister of MacAllister Machinery Co. reflects on Indianapolis civic history
In July 90-year-old Indianapolis business leader and philanthropist P.E. MacAllister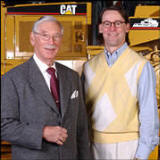 was named a Living Legend by the Indiana Historical Society. Mr. MacAllister will join an illustrious class of Legend inductees that also will include Indiana Pacers commentator Bobby "Slick" Leonard, who coached the team during its triumphant era in the bygone ABA league; Olympics organizer Anita DeFrantz, a Shortridge High School graduate who won a bronze medal as a rower in the 1976 Montreal Olympics, then became an attorney and rose to the top ranks of the International Olympics Committee; and shopping mall magnates Herb and Mel Simon. (Photo to the left: P.E. & Chris MacAllister)
Anticipating the Living Legends gala (for which Nelson serves on the selection/organizing committee), Mr. MacAllister visited Hoosier History Live! to reflect on the state where he's had a tremendous impact as a civic leader.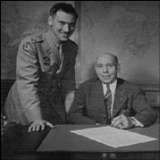 Now chairman of the board of MacAllister Machinery Co., which was founded by his father in 1945 during the post-World War II business boom, Mr. MacAllister has focused his civic interests on everything from the Indianapolis Opera Company to public parks, hospitals, Scottish heritage groups, and efforts to honor veterans. (Mr. MacAllister served in the U.S. Army air Corps during World War II.) Nelson tapped into his insights on an array of civic and historical topics from his vantage point of 90 years.
(Photo to the right: father and son, P.E. & E.W. MacAllister)
Kitchen history and the Hoosier cabinet
Pioneer kitchens. Indiana as a hub of furniture making in the 1800s because of its dense hardwood forests. And the debut, marketing, explosion in popularity, and eventual decline of the Hoosier Cabinet, an innovative piece of furniture manufactured in Henry County from the 1890s through the 1930s that "came to alter the course of kitchen history", as a new book puts it.
All of these aspects of our heritage are explored in The Hoosier Cabinet in Kitchen History (IU Press) written by Nancy Hiller, a Bloomington cabinetmaker. A social historian and the owner of NR Hiller Design Inc., Nancy joined Nelson in studio to explore how settlers initially arrived in the Indiana Territory – primarily on foot, with their wagons filled with cooking pots and other supplies, unlike the popular image, as her book puts it, of "a horse-drawn version of a ride we might enjoy in an SUV on Interstate 70 today." From there, Nancy and Nelson will explore the development of kitchens and the way women's work lives evolved, along with the marketing of the Hoosier Cabinet as a revolutionary "step-saver". According to Nancy's book, more than 2 million had been sold by 1920, meaning Hoosier Cabinets (which eventually were produced by non-Indiana businesses as well as by the Hoosier Manufacturing Company based in Albany and New Castle) could be found in one in ten American homes. Their appeal rapidly declined in the 1930s – Nancy and Nelson will discuss why – but Hoosier Cabinets remain treasures for collectors and many kitchen lovers. Nancy still recalls her mother's delight at discovering one in the Miami city dump in the 1960s.
St. Joseph neighborhood in Indianapolis history
Following on the heels of our shows about other historic Indianapolis neighborhoods -Woodruff Place, Herron-Morton Place, and the North Meridian Mansions – is an exploration of diverse, urban St. Joseph Neighborhood on downtown Indy's near-Northside.
Our studio guests were two well-known leaders of the neighborhood, both long involved in historic preservation: photographer Garry Chilluffo, president of the St. Joseph Historic Neighborhood Association (and, not so incidentally, Nelson's collaborator on the ever-popular Indianapolis Then and Now book), and artist Leah Orr, who has won many awards for her work as a social activist and her historic research. An activist for the homeless, Leah has lived for nearly 30 years in St. Joseph, which is roughly bounded by Fort Wayne and Central avenues, Pennsylvania Street and I-65.
A mixed-use neighborhood that includes everything from Civil War-era cottages, turn-of-the-last-century row houses, and historic commercial buildings, St. Joseph has residential architecture that spans almost the entire history of Indianapolis, from Italianate and Queen Anne to Renaissance Revival. As the neighborhood has pulled itself out of a decline in the mid-20th Century, its colorful recent history has included crusades for historic preservation. (Leah once stopped a bulldozer in action!) Esteemed for his architectural and commercial photography, Garry has visually documented much of the neighborhood he calls home.
Playwright James Still on William Conner's legacy and interpreting history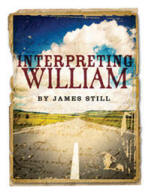 The dramatic story of Hoosier pioneer William Conner, of Conner Prairie fame, has been told in many ways, but which interpretation is correct? And who gets to make the historic call, not only with Conner's life but with the presentation of any slice of our past? We at Hoosier History Live! were thrilled to be able to call in a big gun to tackle these and other challenges about history, Indiana Repertory Theatre's playwright-in-residence James Still, whose new drama, Interpreting William, runs through May 31 and grapples with similar themes.
Although James didn't grow up in Indiana and isn't based here full-time – he grew up in Kansas, where his dad was a high school history teacher, and he now lives on the West Coast – James certainly qualifies as an honorary Hoosier (and an Indiana history expert!) by now. The central character in Interpreting William is a contemporary historian on deadline who is confronted by mysteries in the complicated personal life of Conner (1777-1855). The play is James' ninth IRT production. Many of them, including his acclaimed adaptation of Booth Tarkington's The Gentleman from Indiana and last year's Looking Over the President's Shoulder, have touched on Hoosier historical figures.

Nelson spoke with James about the challenges in interpreting history, how to capture an audience's interest in it, and his take on Conner, who stayed here while his first wife (a Lenape, or Delaware, Indian) and their six children were "re-settled" to the West. (Conner then married a white woman, with whom he had 10 more children.) In Interpreting William, the historian character is confronted with challenges after visiting Conner Prairie, the interactive outdoor history park, which has partnered with the IRT for James' play.
Bluegrass music heritage in Indiana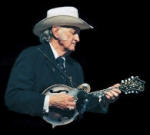 Even though Indiana may not be the primary state associated with bluegrass, its heritage here has been rich, deep, and includes a hugely popular annual festival that every June turns tiny Bean Blossom in scenic Brown County into heaven for devotees of the music. Who better to share folklore about the links between Hoosiers, bluegrass music, and its legendary "father," Bill Monroe, than WICR-FM's own Cary Allen Fields, host of The Fields of Bluegrass Radio Hour featured on the popular Friday Night Folk show, and Col. James Peva, author of Bean Blossom: Its People and Its Music, a visual history of the town that's been a site for bluegrass performances ever since 1940. Col. Peva also is the official historian for the Bill Monroe Music Park. Cary is a guitarist/bassist/singer who writes for Bluegrass Now magazine. They shared insights about Monroe (1911-1996), whom Cary first met as a young boy.
The festival in Bean Blossom, the longest continuously running bluegrass festival in the world, celebrated its 40th anniversary in 2006. Col. Peva, a retired colonel for the Indiana State Police and an associate professor emeritus at IU, has attended every festival since its inception.
Befriending Bill Monroe when he hired him to play at a pistol match banquet, Col. Peva originated the campaign for a commemorative postage stamp honoring Monroe a few years ago.
County courthouses with architect Jim Kienle
Nelson explored the architectural gems known as "the magnificent 92": the majestic courthouses that dominate town squares across Indiana. His guest, Indianapolis architect and historic preservationist ,Jim Kienle, is known for his award-winning restoration work. Jim, president of James T. Kienle & Associates, is in the midst of restoring the Orange County Courthouse in Paoli; built in 1850, it is the state's second oldest courthouse in continuous use and is seen annually by thousands of travelers who visit the nearby resort hotels in French Lick and West Baden. As the lavishly illustrated book Magnificent 92 (IU Press, 1991) puts it, Hoosier towns "seemed to compete with one another for splendor and expense" in constructing their courthouses during the 1800s and early 1900s.
Wine and winery heritage in Indiana
Substituting as host (Nelson was out of town) was the Wine Maven herself, Jill Ditmire.
Jill is an Omnimedia Wine Specialist who shares her wine wit and wisdom in print, radio and television. She is an AWS Certified Wine Judge and owner of Mass Ave Wine Shoppe in downtown Indianapolis. Her guests were Tia Agnew and Brett Canady, owners of New Day Meadery in Elwood, Indiana, who make hand crafted honey wines, as well as Jim Bulter, author of Indiana Wines: a History ( I.U. Press). According to Jim's book, a Frenchman from Switzerland named James Dufour arrived in America in 1796, looking for land for a colony of 'vinedressers.' The group first settled in Kentucky, but then purchased land in the Indiana Territory on the north bank of the Ohio River. In the town they called Vevay, the Swiss winegrowers successfully produced America's first commercial wines.
Greencastle town history
On our rotating series of town histories – Hoosier History Live! has explored Greenfield, Clark County, Madison, and Sheridan – on this show Nelson was joined by Greencastle civic leader and historian Jinsie Bingham, a seventh-generation Greencastle Putnam County resident, who is a broadcasting executive. Her parents inadvertently (and innocently!) figured in John Dillinger's infamous robbery of a Greencastle bank in 1933 during which he escaped with the largest heist of his criminal career.
The bank building still stands, along with several other historic structures on or near Greencastle's town square. Nelson spoke with Jinsie about early pioneer settlements in the Greencastle area and the role of the National Road; the town's great fire of 1874; the Putnam County Courthouse and its distinctive sculpture of a World War I doughboy; the legendary Monon Bell rivalry between DePauw in Greencastle and Wabash College in Crawfordsville, and the area's extensive nature park. There's also a new Putnam County Museum; Jinsie is a board member of the museum as well as an inductee in the Indiana Broadcasters Hall of Fame. She owns Radio Greencastle and served as the first woman president of the Greencastle Rotary Club.
On Greencastle's website is a free six-part "Our Town" video (a WTIU production)
Quirky characters from Indiana
The 19th state has produced its share of cult figures. We explored two of them: Humorist/author/radio personality Jean Shepherd from Hammond (best remembered for the holiday movie favorite "A Christmas Story"), and William Dudley Pelley, a right-wing political extremist of the 1930s and '40s (he founded a group known as the Silver Shirts) who also became a well-known psychic and believer in the occult. Pelley spent his final years in Noblesville and is buried there. What do Shepherd and Pelley have in common, aside from being (to borrow a word used by our studio guest) curmudgeons?
Well, our guest, IRT actor John Guerrasio, is an expert in both of these quirky characters. John grew up in New York City listening to Shepherd's late-night radio monologues about his Hammond boyhood, tales that are said to have influenced top humorists such as Jerry Seinfeld. A Christmas Story (1983) was drawn from a bestselling book titled "In God We Trust, All Others Pay Cash" by Shepherd, who died in 1999 after years of semi-seclusion.
In addition to researching Shepherd, John has spent years working on a screenplay about Pelley (1890-1965), who sympathized with the Nazis and served a stint in federal prison for sedition during World War II. That prison stint interrupted his life in Noblesville. After his release from prison, Pelley focused on his enterprise as a psychic, conducted séances in his Noblesville garage, and sent material about the occult to followers around the country.
Hallie Bryant on Harlem Globetrotters history
This March, with the state in the midst of "March Madness," Hoosier History Live! took a fresh perspective on basketball history courtesy of a studio guest who has been a star at just about every level of the game, including high school (Attucks) and college (IU). Recently honored by the Harlem Globetrotters as the 28th player to be inducted into the team's Ring of Legends during a game at Conseco Fieldhouse, Hallie Bryant shared with us about the links between Hoosiers and the world-famous team that combines athleticism with entertainment.
Amazingly, Hallie was one of four teammates from Attucks High School's remarkable Class of '53 who ended up touring the world as Globetrotters. In Hallie's case, it meant traveling to 82 countries during 13 barnstorming seasons as a player and another 14 in public relations.
Launched on the Southside of Chicago (despite the "Harlem" in the name) in the late 1920s, the Globetrotters have had links to Hoosiers almost from the beginning. Following Hallie's triumphs as a star player at IU (he co-captained the team in 1957 and set what was then a school record for free throws), the NBA offered limited opportunities, particularly for black players – but the Globetrotters were a showcase.
Today, as he enjoys a series of accolades (his jersey, along with those of other former stars from Attucks and Washington high schools, was retired during half-time celebrations a few weeks ago), Hallie is a popular motivational speaker, businessman, and the author of Hallie's Comet: Breaking the Code a self-help book that draws on his rich experiences, including those that we will explore with the Globetrotters.
Hallie Bryant's bio at the official website for the Harlem Globetrotters
Victorian-era mourning customs and folklore
Queen Victoria wasn't a Hoosier, but the way she reacted to the death of Prince Albert in 1861 eventually affected Indiana residents. She set the standard for strict guidelines of mourning etiquette that dictated everything from the bereaved's apparel to the way coffins were displayed – and how the deceased were photographed.
Our studio, Sheila Riley, an expert on Victorian-era mourning customs, who also is director of collections at the Children's Museum of Indianapolis, spoke with Nelson about all aspects of Victorian-era folklore about death and mourning, from social behavior to jewelry.
For more information visit the National Museum of Funeral History in Houston, which Shelia says has an extraordinary collection of artifacts related to mourning.
A political trailblazer for Hoosier women: Marge O'Laughlin
She began running for public office after leaving her husband and taking their seven children with her. The youngest child was 2 years old. From those unlikely beginnings more than 40 years ago, Marge O'Laughlin eventually rose in the 1980s to attain what was then the highest-ranking political office ever for a woman in Indiana. And when popular "Marge O" won re-election as State Treasurer in 1990, she was the top vote-getter on the state GOP ticket.
"Marge O" joined Nelson in studio to explore the challenges, influences, and strategies for success that have been part of her eventful life, from her days at Shortridge High School in the late 1940s (she and future US Sen. Richard Lugar were fellow cellists in the orchestra) to stints as a Northside housewife, Marion County clerk, Supreme Court clerk, and, eventually, the official in charge of state investments as Indiana's treasurer. The political pioneer once told Nelson, "I'm a great one for the art of the possible."
Oscars heritage and Indiana
Are you assuming there's no Hoosier connection to the Academy Awards. To the contrary, there's a deep Oscar heritage with Hoosiers, which we explored with two well-known movie experts: Jeff Sparks, president and founder of the widely praised Heartland Film Festival, and Bonnie Britton, former movie critic for The Indianapolis Star. Their "Oscars & Indiana" fodder included the 50th anniversary of the "Best Picture" winner of 1959, Ben Hur, which was based on the spectacularly successful novel by Lew Wallace of Crawfordsville. Ben Hur won 11 Oscars, which set a record then.
Bonnie, Jeff and Nelson also discussed the parallels between the posthumous nomination for Heath Ledger and those for Fairmount's James Dean, who had been killed in a car crash before he was nominated for East of Eden and Giant. Then there are the four Academy Awards won by the late filmmaker Robert Wise, who grew up in Winchester and Connersville; he went on to direct The Sound of Music, West Side Story, and an astonishing array of other hits.
And speaking of anniversaries, it's been 30 years since the 1979 release of Breaking Away, which won an Academy Award for the late screenwriter Steve Tesich, who grew up in East Chicago and based the movie on his experiences as an IU student. Other previous Oscar winners with Hoosier connections include actor Karl Malden, composer Hoagy Carmichael, and actress Anne Baxter.
Fox Lake, one of the few resorts in the country for African-Americans during the 1930s and 1940s
During the 1930s and 1940s, an era when African-Americans were prohibited from buying property at popular lakeside resorts in northern Indiana and elsewhere, a group of Hoosiers decided to create their own summer community near Angola in the state's far-Northeastern corner. So began the fascinating story of tranquil Fox Lake, one of the few resorts in the country then for African-Americans. Fox Lake is listed on the National Register of Historic Places.
Nelson's studio guests, two Indianapolis-area natives for whom Fox Lake became their summer home throughout their childhood and teenage years, were Joanna Flowers, an administrator for state government who now takes her grandchildren to the family cottage that her parents built in 1948, and Edwyna Ratcliff, whose family never owned property at Fox Lake, but who began accompanying friends to the resort when the secluded community didn't even have electricity yet. As Fox Lake grew, attracting African-American residents from Chicago, Detroit and various cities in Ohio, the resort eventually included a clubhouse that featured dances and performances by well-known musicians, a restaurant, a pier, and tennis courts.
Lincoln in Indiana: youth speak out
This is considered the "Year of Lincoln" across the country because of his 200th birthday on February 12. To highlight the character-shaping and life-impacting events that happened during his often-overlooked years in the new Hoosier state (Abe moved to the southern Indiana wilderness with his family in 1816, the same year we became a state), Nelson called on some young people – and their well-known teacher -- who have been immersing themselves in Lincoln and Indiana lore.
Nelson's guests were Andrea Neal, his former colleague (and fellow Hoosier history lover) at The Indianapolis Star, where she was editor of the editorial pages. These days, Andrea is a history teacher at St. Richard's Episcopal School in Indianapolis, which has been named one of the state's "Lincoln Bicentennial Schools" by the federal bicentennial commission for the 200th birthday. He spoke with Andrea and her two students, who joined her in studio, about a candlelight vigil in which they plan participate on the eve of the birthday. Mostly, though Andrea and two eighth graders at St. Richard's, Courtney Burke and Caroline Tucker, explored on the air young Abe's eventful years as Hoosier (his family didn't move to Illinois until he was 21), which included everything from the death of his beloved mother, adjustments to a stepparents and step-siblings, as well as his beginnings as a young speechmaker and his masterful use of humor.
Vintage photos of African-American daily life
As Hoosier History Live! saluted Black History Month, we focused on a treasure trove. More than 700,000 historic photos, many never seen in public, were in the private collection of the late New York eye surgeon, Dr. Stanley Burns.
Nelson's studio guest Modupe Labode an assistant professor of museum studies and history at IUPUI was assigned to sift through these thousands of images to create the exhibit "Shadows and Substance: African-American Photographs from the Burns Archive" that opened January 19, 2009 at the Indiana State Museum, and covers African-American life from the 1840s through the 1960s. The Burns Archive Website: www.burnsarchive.com
Town history of Madison, Indiana
Hoosier History Live! focused on the heritage of the scenic town on the Ohio River that was the Hoosier state's leading city for much of the first half of the 1800s. Our guide was studio guest Wayne Sanford a Madison enthusiast who frequently gives lively presentations about various aspects of the town, including its famous Lanier Mansion as well as the impact of railroads on the city, where the downtown area (a grand total of 133 blocks) has been designated one of the largest national historic landmarks in the entire country. Expect to see the spotlight shine a lot in upcoming months on the town that's a historic gem. Madison incorporated in 1809, meaning next year is its 200th anniversary; celebrations galore are planned. www.historicmadisoninc.com
Jewish history in Indiana
Trent Pendley, president of the Indiana Jewish Historical Society, a Porter County writer, jeweler and historian, talked about the various waves of Jewish immigration to the state, including Indiana's firsts Jewish settlers, as well as areas in the state where Jews were forbidden to buy property. According to Peopling Indiana: The Ethnic Experience (Indiana Historical Society Press, 1996), about 80 percent of the state's Jewish population today lives in the Indianapolis metro area, the northwest Indiana metro area, South Bend, Fort Wayne, and Evansville, in that order. But did you know that smaller Wabash, Indiana, once had a thriving Jewish community? According to The Encyclopedia of Indianapolis (IU Press, 1994)Jews have comprised about 2 percent of the Hoosier capital's population for most of the city's history. Trent, an IU grad, is the author of an in-depth article, "Jewish History of Indiana Dunes County, 1830-1950," featured in the Indiana Jewish History journal from the Indiana Jewish Historical Society.
Cemetery history in Indiana
Cemeteries have a rich history in Indiana and have been in the news recently with the move of tombstones and human remains from a mid-1800s cemetery in the Castleton area of Indianapolis to Crown Hill Cemetery to allow for the widening of I-69 near its interchange with I-465. Our studio guest, Jeannie Regan-Dinius of the Indiana Division of Natural Resources helped oversee the reburial. Nelson spoke with Jeannie about the history of Crown Hill (the country's third largest cemetery) and its predecessor, Greenlawn Cemetery, which was located near White River and prone to flooding. We also discussed magnificent Green Hill Cemetery near Bedford that has unforgettable, personalized monuments created by generations of stone cutters in the community.
Scottish heritage in Indiana
Dr. Lee Cloe, a charter member – and secretary emeritus – of the Scottish Society of Indianapolis, was our guide, as we explored why Scots immigrated to Indiana, where they settled, the jobs they undertook, and their contributions to Hoosier culture.
Silent-movie stars and theaters in Indiana
Circle Theatre on Monument Circle was considered one of the first silent movie palaces west of New York when it opened in 1916. One of the top stars of the silent screen, Monte Blue, grew up in an orphanage in Knightstown, Indiana and that Rudolph Valentino's leading lady in the movie that shot him to stardom was a native of Vincennes.
David L. Smith, a Ball State Professor Emeritus, former host of WISH-TV's popular "When Movies Were Movies" series, and author of the definitive book Hoosiers in Hollywood (2006, Indiana Historical Society Press) explored Hoosier connections to silent movie stars and theaters. You can visit Dave's website at www.whenmoviesweremovies.com
Bush Stadium history
When Bush Stadium was built on W. 16th Street in 1931, it was considered one of the country's best minor-league baseball parks. As the longtime home of the Indianapolis Indians, as well as various teams in the old Negro leagues, Bush became much loved and served as the historic setting for the movie Eight Men Out (1988), which recently celebrated its 20th anniversary.
Historic Landmarks Foundation of Indiana has placed the empty stadium on its list of 10 Most Endangered Places in the state. Mark Dollase, Landmark's vice president of preservation services, said Bush barely escaped demolition by a potential developer last year.
Elvis's last concert
Among the Hoosiers who attended Elvis Presley's final concert on June 26, 1977 – 31 years ago this month – were two reviewers Zach Dunkin who pioneered local rock n' roll coverage with his Rock Pile column in the old Indianapolis News (he gave The King's concert at Market Square Arena a devastating review), and Rita Rose who then was a concert reviewer for The Indianapolis Star. After Elvis' performance in a gold and white jumpsuit at MSA he stopped touring and died two months later.
For months Zach (who now is a travel writer for The Star) received hate mail for his blistering review, although he helped organize the group that lobbied for the display commemorating the final Elvis concert at the site of MSA, which was imploded in 2001.
Rita, who retired from The Star last year, now has written a cover story for The Indiana Historical Society's Publication Traces of Indiana and Midwestern History that includes interviews with an assortment of the 18,000 people in the audience that fateful night. Their reactions to The King may vary, but, as Rita puts it in her retrospective, "one thing is abundantly clear; Elvis will never leave the building. Even if the building ... is no longer standing."
Read Rita Rose's cover story published by The Indiana Historical Society's magazine Traces of Indiana and Midwestern History in the spring 2008 issue here
More Links for your inner Elvis enthusiast:
Appears to be home video of the concert in Indianapolis, with real audio
http://www.youtube.com/watch?v=21Ml2ms4fw4&NR=1
Close-up of Elvis Historical Marker at MSA site
http://www.hmdb.org/marker.asp?marker=538
Video of MSA implosion (why does this stuff fascinate us?)
http://www.youtube.com/watch?v=Bvsp5UOcuw0
Town history of Speedway
On May 3, Nelson's guest Speedway native Chuck Bennett, a teacher at Speedway High School steered us through Speedway's heritage. He lives in a historic house that once was the home of the city's original platter. In a strange twist of fate, Mr. Bennett's front door even came from the Allison Mansion, the home of International Motor Speedway co-founder James Allison.
Speedway's was as a "horseless" town after the first 500-Mile Race was launched in 1911. The first competitive race at the track occurred two years earlier in 1909. That race involved hot air balloons, not cars, with Speedway co-founder Carl Fisher among the contestants.
Last year, Mr. Bennett taught history at Speedway Junior High School and supervised his students as they set up a Website about the town's historical neighborhood. To see aerial photos of the town taken decades ago as well as photos of historic homes as they look today, click here
Mr. Bennett suggests the following Websites for exploring the heritage of the town and racetrack:
Town site: www.townofspeedway.org
Schools site: www.speedwayschools.org
Indianapolis Motor Speedway: www.indianapolismotorspeedway.com