Home | About us | Support the show | Contact us | Archives | Listen
2018 | 2017 | 2016 | 2015 | 2014 | 2013 | 2012 | 2011 | 2010 | 2009 | 2008
Archives - 2017
Bygone restaurants and supper clubs in Indy: the sequel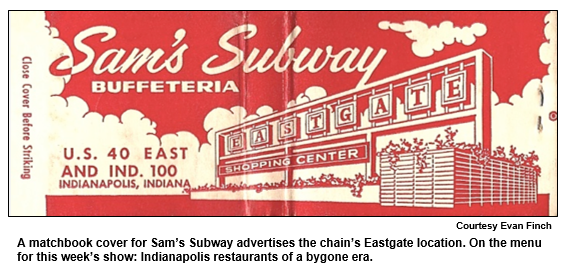 (Dec. 30, 2017) The platter was overloaded when we welcomed the New Year 2017 by serving up a show about Bygone restaurants in Indy.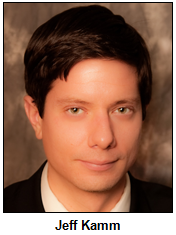 So, in what seems to be an end-of-the-year tradition for Hoosier History Live, Nelson and his guests again delve into table talk about popular Indianapolis eateries from days gone by, ranging from drive-ins and diners to posh restaurants. Included in the feast: a type of dining establishment that wasn't even on the menu last year - supper clubs of the sort popular during the 1950s and '60s. In Indianapolis, many of them had addresses on North Meridian Street.
Also on the bill of fare: restaurants in the Indy area that have closed during the last year.
Returning to Hoosier History Live are two guests who made the New Year 2017 show such a treat:
Jeff Kamm, an Indy-based history buff and author of Classic Restaurants of Indianapolis (The History Press, 2016). Jeff, who has a background in the hospitality industry, now is a financial advisor with Prudential of Indiana. In addition to featuring landmark restaurants that remain open, his book digs into long-gone eateries like two locally-owned chains: Sam's Subway (its locations, Jeff writes, offered "deli lunches, lavish dinners and swanky nightlife") and Huddle Restaurants, family-focused eateries that were open 24 hours daily during an era when that was unusual.
And Terry Kirts, the dining critic for Indianapolis Monthly magazine; his culinary articles and restaurant reviews also have appeared in Nuvo, Indianapolis Dine and other publications. An accomplished poet, Terry also is a senior lecturer in creative writing at IUPUI.
In addition to Sam's Subway and the Huddle chain, we explore Merrill's Hi-Decker, a drive-in that was located near the Indiana State Fairgrounds and, during the late 1950s, featured a disc jockey in a studio perched atop the circular building.
A much longer-lasting restaurant discussed during the show: the Hawthorn Restaurant, which Jeff's book describes as "a fixture at 16th and Meridian for over 30 years," beginning in 1942. "The pretty white building featured a covered porte-cochere and expansive bay windows for diners to view the bustling traffic. The main dining room was centered on a large apple tree."
North Meridian also was the hub for supper clubs in Indy. They included The Keys, which was located in a mansion built circa 1890 and had a cocktail lounge, restaurant and upstairs piano bar; and The Embers, which was founded by local businessman William Ball, who also had partial ownership in the Huddle restaurants and the Haag drugstore chain. We also explore LaRue's, which was one of the first post-World War II nightclubs in the Hoosier capital and was located on Pennsylvania Street, one block east of Meridian, also in an historic mansion that eventually was demolished.
Our guests share insights about why supper clubs almost entirely vanished, here and across the country. They also discuss Indianapolis restaurants that closed in 2017 despite, in some cases, long histories and devoted patrons.
In May, The Elbow Room, a pub at that opened in 1933 with the repeal of Prohibition, shut down. The Elbow Room had been a fixture at 605 N. Pennsylvania through eight decades of the evolution of downtown Indy.
At the other end of downtown - and at the other end of the price spectrum - Cerulean Restaurant was scheduled to close on the first day of 2018. The fine dining establishment was located in The Alexander, a boutique hotel that opened in 2013. 2017 also saw the closing of Barcelona Tapas downtown and, in Fountain Square, B's Po Boy, which served Cajun food, offered outdoor seating and had adjacent bocce ball courts that often were crowded with players.
Returning to the theme of restaurants from a previous era: For many decades beginning in the early 1950s, Knobby's Restaurant was a locally owned chain with popular drive-in options. (The drive-in component had long been eliminated by the time the last Knobby's, located on North Keystone Avenue and 52nd Street, closed in 2001.)
On this edition of Hoosier History Live, our host Nelson, whose family frequently patronized Knobby's during his boyhood in Indy, shares a little-known tidbit: the origin of the Knobby's name.
History Mystery
In some Indiana cities, former Carnegie Libraries have reopened as restaurants during the last 25 years. They include the Carnegie Library in Carmel, which was built in 1913. After being closed as a library, it opened as Woody's Library Restaurant in 1998 and continues to serve patrons.
In another small city in central Indiana, the historic Carnegie Library was built in 1904. It opened as a popular restaurant in 1999 and, like the library-turned-dining spot in Carmel, continues to serve patrons.
Hint: Also like Carmel, the city is in a county that shares a border with Marion County.
Question: What is the city?
The call-in number is (317) 788-3314. Please do not call in to the show until you hear Nelson pose the question on the air, and please do not try to win if you have won any other prize on WICR during the last two months. You must be willing to give your first name to our engineer, you must answer the question correctly on the air and you must be willing to give your mailing address to our engineer, so we can mail the prize pack to you. The prize is a gift certificate to Story Inn, courtesy of Story Inn; and two admissions to GlowGolf, courtesy of GlowGolf.
Roadtripper: Covington in west central Indiana
Guest Roadtripper Joan Hostetler of The Indiana Album and Heritage Photo & Research suggests that we explore the small town of Covington. It's the seat of Fountain County and is located just off I-74 in west central Indiana. Joan says that the town is famous for its courthouse murals, which were a Works Progress Administration project in the late 1930s. The murals were painted by Eugene Savage, who was a Covington native, and other local artists, mostly women; the murals depict the settlement of west Indiana. As Joan assures us, the murals are "worth a visit!"

After looking over the murals in the courthouse, Joan says, "Take some time to wander the courthouse square and explore its many little shops. Be sure not to miss the restored Clerk's Building." The Federal style, red-brick building was constructed in the 1840s for government offices and now serves as an historical museum.

On your way out of town, Joan recommends checking out the Beef House, which now offers dinner theater as well as fine dining. The coming season's shows include a Patsy Cline revue, Newsies, and Neil Simon's The Odd Couple.
Toys, toys and more toy heritage: encore broadcast
(Dec 23, 2017 ) As every mother's child knows, Christmas is all about the toys. So while the Hoosier History Live crew is off sipping cocoa this week, we're giving listeners the chance to revisit our 2016 show exploring nationally known toys with Hoosier connections. As Nelson and his guest make clear, Indiana's heritage of children's toys has not just been fun and games.
Consider an early gyroscope, the Pet Tornado, cartoon characters Garfield and Clifford the Big Red Dog, Raggedy Ann, Lincoln Logs and croquet sets made in the 1870s, as well as a digital "animated version of the rubber duck" enjoyed today. All of them have deep Hoosier roots.
To explore enough Indiana toy connections to fill a playroom, Nelson is joined by studio guest Kara Kavensky, a marketing and communications specialist who has researched the links between nationally distributed toys and Hoosiers.
(When this show originally was broadcast on Jan. 20, 2016, her name was Kara Reibel; she was the community relations specialist at Carmel-based pi lab, creators of Edwin the Duck. It's a computer app-enhanced children's educational toy.)
According to Kara, the original Gyroscope was first manufactured in 1917 by Hoosiers. The gyroscope - as well as the Pet Tornado, the Original Blocks and Marbles and other "nostalgia toys" - are made today by TEDCO Toys in Hagerstown, Ind.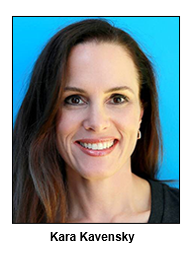 The South Bend Toy Company, which began by making croquet sets and expanded to products such as rocking horses known as "Shoo Fly Rockers," was one of the northern Indiana city's largest employers for more than 100 years. (After a series of corporate acquisitions and mergers, the plant in South Bend shut down in 1985.)
And talk about a big footprint: Guinness World Records lists Garfield, the comic strip about a cantankerous cat created by Jim Davis, who grew up on a farm near Fairmount, as the most widely syndicated comic strip in the world.
Jim Davis and his team at PAWS Inc., which is headquartered on a wooded retreat near the town of Albany, draw the strip and create an array of Garfield products such as dolls with suction-cup paws, books and posters.
Clifford the Big Red Dog was created by Kokomo native Norman Bridwell, who died in 2014 at age 86. Bridwell attended the Herron School of Art, then moved to the East Coast and reaped widespread success with Clifford, the slightly clumsy main character in read-aloud books for young children and a TV series. The books have been translated into 13 languages.
Some fun facts related to our toy heritage:
The Garfield balloon in the Macy's Thanksgiving Day Parade in 2015 was filled with 18,907 cubic feet of helium, making it the biggest parade balloon in history at that time, according to Kara's research.
The "Original Blocks and Marbles" toys distributed by TEDCO include blocks made by Amish residents of Wayne County.
Raggedy Ann was created by Johnny Gruelle (1880-1938), who grew up in the Lockerbie neighborhood of Indianapolis and was a cartoonist for The Indianapolis Star for several years before moving to the East Coast. Raggedy Ann made her debut in a book published in 1918; the dolls initially were spinoff products, hand-made by Gruelle family members with small hearts sewn into their chests. Gruelle descendants have told Nelson that the inspiration for the famous character was Johnny's recollection of his two favorite poems by family friend James Whitcomb Riley: Little Orphant Annie and The Raggedy Man.
RoadTripper: Greensburg - more than a courthouse tree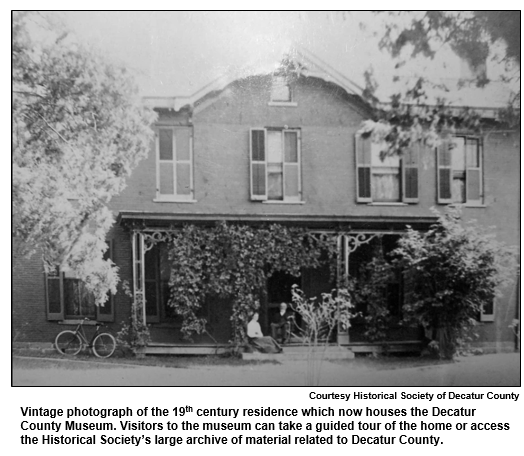 Guest Roadtripper John Pratt, a history teacher at Greensburg High School, suggests a Roadtrip to his hometown of Greensburg. Every visit to the small town of 11,000, southeast of Indianapolis in Decatur County, begins at the downtown courthouse to take a glimpse at the famous tree growing from the courthouse tower. But there is much more to see.
The town square is filled with restaurants, antique stores and an art gallery. A short walk to 413 N. Franklin St. takes you to the Italianate Greek Revival home of B.B.Harris, a member of Morgan's Raiders. And across the street is the Porter Oliger-Pearson Funeral Home. The funeral home building is the former home of former Lieutenant Governor Will Cumback, who cast Indiana's first ever Republican electoral vote, which went to his friend Abraham Lincoln.
While exploring the town square, be sure to check out the historical marker to Carl Fisher. As any self-respecting devotee of Greensburg knows, Carl Fisher, co-founder and president of the Indianapolis Motor Speedway, was born in Greensburg in 1874. Interested listeners can check out the podcast of our 2009 show about Carl Fisher with guest Glory-June Greiff.
Heading south, you can enter the Decatur County Historical Museum, filled with a treasure trove of early Native American artifacts and local historical items. One block further south takes you back to the courthouse square, where presidential candidate Robert Kennedy gave a speech in 1968 as he marveled at the mulberry tree on top. Directly across the street, no visit is complete without a visit to Storie's Family Restaurant, the famous local eatery known for tenderloin sandwiches and homemade pie.
Hoosier History Live holiday dinner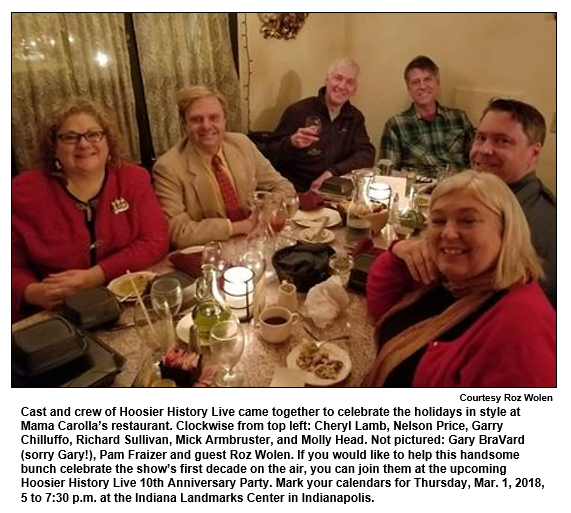 Vietnam War and Hoosiers: special perspectives
(December 16, 2017) Following our November 11 2017 show featuring special perspectives on World War II - and in the wake of the 2017 Ken Burns documentary - we share insights about the Vietnam War and its impact from the vantage point of Hoosiers.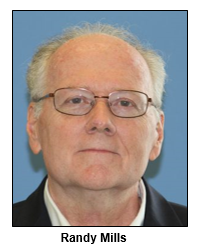 In January of 1968, Dick Wolfe, a 23-year-old Army private from southern Indiana, was killed in action in a small Vietnamese village. His letters to his family and friends in his hometown of Princeton, Ind., and their letters to him, are included in a new book, Summer Wind: The Road from Indiana to Xom Bung (Cardinal Publishing, 2017) by Randy Mills and Roxanne Mills. Randy, a historian and professor of social sciences at Oakland City University in southern Indiana, and Roxanne, an associate professor of English at the university, join Nelson as studio guests for this show.
So does Ken Marshall, a Franklin resident who hosts a Saturday morning talk show for White River Broadcasting that airs on WCSI-AM in Columbus. Ken, who grew up in Indianapolis, enlisted in the Army in 1970, trained as a medic and was assigned to a hospital in Okinawa. He treated Army soldiers, Marines and others injured in Vietnam. Ken also became a disc jockey on a radio station in Okinawa, helped start a community theater funded by the Army and worked on a USO tour that visited islands in the Pacific Ocean during the war.
In addition to exploring the experiences of Hoosiers overseas during the war, we delve into life on the homefront in Indiana, including the effects of the draft on Hoosier families. In Summer Wind, Randy and Roxanne Mills point out that the draft in Princeton and surrounding Gibson County "was not always even-handed." Local sports heroes, for example, often were exempted from military service when doctors discovered what they termed old sports injuries. Of the 27 million American men who came of draft age during the war, they write, "60 percent, or 16 million, escaped military service."
Their book emphasizes that many of those who served in the military were from blue-collar families, including Dick Wolfe. An avid drag racer, he had dropped out of Princeton High School. Next came the unexpected pregnancy of a 17-year-old girlfriend and the birth of his son in March 1967. After that, Dick Wolfe returned on a furlough from infantry training to get married.
His letters in Summer Wind were written from July 1967 to January 1968, when he was killed on patrol amid confusing circumstances. During the show, Roxanne and Randy Mills discuss the challenges involved in writing factual accounts of combat deaths. In addition to Dick Wolfe's letters, Randy and Roxanne used military reports, diary and journal entries and a series of interviews to write Summer Wind. The book's title refers in part to a Frank Sinatra hit song of the era played frequently on the transistor radios carried by Dick Wolfe and fellow members of Alpha Company, Second Battalion of the 18th Infantry.
Summer Wind includes a letter written by Dick Wolfe during the Christmas season of 1967 - one month before he was killed - in which he urges his parents not to feel sorry for him. The letter tells of one of his infantry comrades, a medic, who tended a shabby, artificial Christmas tree mounted on an ammunition box. (The medic would die during the same battle as Dick Wolfe.)
At the hospital in Okinawa where our guest Ken Marshall was a medic, various Army agencies and the American Red Cross extended valuable support to wounded soldiers and their families. According to Ken, he also observed how government statistics could be manipulated to distort the number of casualties.
During our show, Ken shares brief excerpts about combat experiences from a recent speech by a Hoosier veteran of the war. In addition to hosting his radio talk show, "Saturday Morning Live with Ken Marshall" for 23 years, Ken has been an adjunct professor at Ball State University, Franklin College and other colleges.
Our guests Randy and Roxanne Mills are the authors of other military history books. For Summer Wind, they not only interviewed friends and relatives of Dick Wolfe - including his closest buddy from Princeton, who also served in combat during the Vietnam War - they tracked down photos that Wolfe took in the swamps and jungles.
"His many letters home," they write, "rarely censored the perils of fighting in Vietnam."
History Mystery
In addition to Princeton, the hometown of the Vietnam War soldier who is the focus of the new book Summer Wind, Gibson County in far-southwestern Indiana also includes a landmark community in African-American history.

During the 1830s, African Americans began arriving in the Gibson County community, which is considered one of Indiana's earliest black rural settlements. Today, two prominent buildings stand as reminders of this rich history: the Wayman Chapel Church (pictured above) and a restored school building that serves as a community center and museum.

An exhibit about the Gibson County community is included in the Smithsonian's new National Museum of African American History and Culture that opened on the National Mall in Washington D.C. last year.

Question: What is the name of the historic African-American community in Gibson County?

The call-in number is (317) 788-3314. Please do not call into the show until you hear Nelson pose the question on the air, and please do not try to win the prize if you have won any other prize on WICR during the last two months. You must also be willing to give your first name to our engineer, and you must answer the question live on the air.

The prize is a gift certificate to Story Inn in Brown County, courtesy of Story Inn, as well as a pair of tickets to the Indiana History Center, courtesy of the Indiana Historical Society, as well as a pair of tickets to GlowGolf, courtesy of GlowGolf.
RoadTripper: Kintner House Inn in Corydon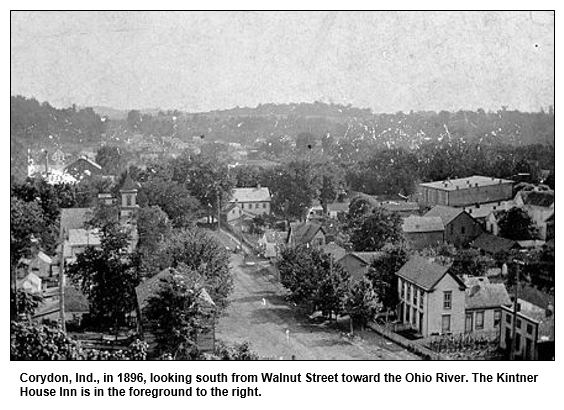 Guest Roadtripper and writer Jane Ammeson relates the rich history of Corydon, former Indiana State capital and the site of the only Civil War battle in Indiana. It was here that Confederate General John Hunt Morgan and his Raiders crossed the Ohio River and began their plunder of the small towns in the southeastern Indiana.
The history of Corydon's Kintner House Inn, which is still open as a bed-and-breakfast, stretches back even further than the Civil War, however. It was around 1819 that Jacob Kintner opened his two-story limestone home to travelers, and as business boomed, he built an elegant new hotel. Fire destroyed that building, and in 1873 he tried again and constructed the Inn that still stands today.
The exterior is so pretty it's been featured on two Hallmark Christmas cards. Inside, the Kintner House Inn is steeped in Victorian-era charm: both an organ and piano grace the parlor, and bedrooms feature fringed lampshades, tasseled curtains and a variety of antiques. Visitors will find such treasures as an 8-foot tall flame mahogany armoire, a walnut dresser with pink marble top, an inlaid star-patterned game table and a towering, hand-carved walnut bed dated to the 1850s.
The Kintner House Inn served as the reluctant hosts of General Morgan and his troops following the Battle of Corydon on July 9, 1863, but we'll let Jane share those historical details with you during this portion of the show. She may convince you it's worth the trip to see with your own eyes the only Civil War battlefield (aside from Gettysburg, of course!) located on Northern soil.
Peace heritage in Indiana
(Dec 9, 2017) This being the season of peace and goodwill, our show explores the heritage of peace-making in the Hoosier state. Specifically, we look at the resolution of conflicts ranging from bullying among children to disputes among adults in the workplace and neighborhood. Nelson is joined in studio by two guests from groups with deep traditions in peace advocacy:
Tim Nation, co-founder and executive director of the Peace Learning Center, which is celebrating its 20th anniversary. Located at Eagle Creek Park in Indianapolis, the Peace Learning Center is a community education organization that offers youth programs focusing on such topics as conflict resolution and bullying prevention, as well as training sessions for businesses and organizations. In 2015, the Peace Learning Center started hosting peace-building workshops at retirement communities.
And Keni Washington, chairman emeritus of the Indianapolis Peace & Justice Center. Founded 33 years ago by a Quaker minister and his wife, the peace center is a nonprofit advocacy organization and is housed at Broadway United Methodist Church.
We look into Indiana's past to examine efforts at conflict resolution and peacemaking. One such effort: during the Civil War, Quakers in Indiana struggled with the dilemma of whether to take up arms for the Union cause. Their ethical quandary later inspired a major storyline in the novel The Friendly Persuasion, a national bestseller written in 1945 by acclaimed author Jessamyn West, a native of Jennings County, Ind. In 1956, a movie version starring Gary Cooper was released.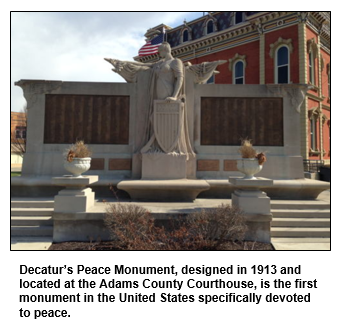 Our guest Keni Washington, a well-known jazz composer and saxophonist, is the managing director of Earth-Solar Technologies Corporation, a business in the solar energy field. As a youth during the 1960s, Keni attended - ironically, for a future peace activist - Howe Military Academy, the military boarding school in far-northeastern Indiana. During our show, Keni will discuss how his experiences at Howe shaped his attitudes about using peace-focused approaches to conflict resolution. Decades after his graduation, Keni sent his son to the military academy.
Our guest Tim Nation, a native of Terre Haute, is the co-chair of the Indianapolis Race and Cultural Relations Leadership Network. According to Tim, the Peace Learning Center has worked with 200,000 children and adults since it was founded in 1997. The center now has programs in eight cities and several foreign countries.
"At Peace Learning Center," Tim says, "we believe everyone can be a peacemaker."
In the week before the show's broadcast, Indianapolis Colts players and Indianapolis Metropolitan Police Department officers visited the Peace Learning Center to work with sixth graders from Eleanor Skillen Elementary School (Indianapolis Public School No. 34). According to an account in The Indianapolis Star, the police officers helped teach "safe and simple ways to manage anger, solve problems and develop an understanding of different perspectives." Colts players who participated included Kenny Moore II, a rookie cornerback.
The Peace Learning Center also has worked with youth at juvenile correctional facilities.
At the Indianapolis Peace & Justice Center, founders during the 1980s included the late Jane Haldeman, who died in 2009, and her husband Ron Haldeman, a Quaker minister. The center advocates for peace-focused responses to national, state and local policy issues.
Other Hoosier peace heritage notes:
In northeastern Indiana, the town of Decatur has a Peace Monument. Designed in 1913, the monument is located at the Adams County Courthouse and is the first monument in the United States specifically devoted to peace.
A portion of the Cultural Trail in Indianapolis is called the Glick Peace Walk. Named for the late philanthropists Gene and Marilyn Glick, who were major benefactors of the Cultural Trail, the peace walk is the portion of the trail on Walnut Street between Meridian Street and Capitol Avenue; it celebrates peaceful contributions to humanity.
A Peace Dove sculpture is perched in the atrium of the central branch of the Indianapolis Public Library. Its sculptor, Indianapolis firefighter Ryan Feeney, created the metal symbol of peace from confiscated firearms. Ryan also created the sculpture of Peyton Manning unveiled two months ago at Lucas Oil Stadium. Ryan was a Hoosier History Live guest in October 2016.

History Mystery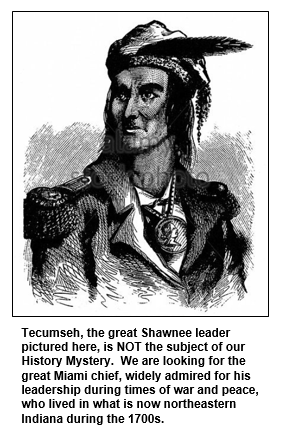 Known as a great leader both in war and in peace, one of the most widely admired Native Americans in history grew up in what is now northeastern Indiana during the 1700s. His village was located not far from the present city of Fort Wayne.
Although hailed as a military commander for his triumphs even when his forces were greatly outnumbered, he also was known for his leadership of the Miami tribe during times of peace. He struck alliances with white leaders and sought to avoid the conflicts that led to the disastrous Battle of Tippecanoe. The Miami leader died at his lodge in Indiana in 1812.
Question: Who was the leader? Hint: He was not Tecumseh, a great leader who was Shawnee, not Miami, and lived in Tippecanoe County, not northeastern Indiana.
The prize is a gift certificate to Story Inn in Brown County, courtesy of Story Inn, as well as a pair of tickets to the Indiana History Center, courtesy of the Indiana Historical Society.
RoadTripper: Getting outdoors in Steuben County
Guest Roadtripper and DNR volunteer Terri Gorney of Ft. Wayne encourages Hoosiers to get outside and explore natural areas in any season, including winter.
"Everyone knows Pokagon State Park, but there are two wonderful nature preserves near Pokagon in Steuben County in northeast Indiana that are not so well known and are definitely worth exploring," says Terri.
One is Wing Haven, a gem of a property that is owned by Acres Land Trust and includes an old stagecoach inn and wonderful prairie lands. It's right on the Seven Sisters Lakes, an undeveloped lake chain in Steuben County. Wing Haven, a birding destination, was a gift from Helen Swensen, whose 19th century log buildings are now used by the property's caretakers.
And then there's McClure Reserve, which was donated in 1957 by Maurice McClure in an era before land trusts. McClure Reserve is owned by Steuben County and includes 80 wooded acres with spectacular pine trees. The reserve is maintained by volunteers and includes the best old-growth forest in northeast Indiana, including large tulip trees and red and white oaks.
Terri stresses that winter is a great time to explore the outdoors in Indiana and experience the colors and textures of the natural landscape in its dormant period. As she notes, "Our four seasons give us an ever changing palette!"
Pioneer music in early Indiana: encore presentation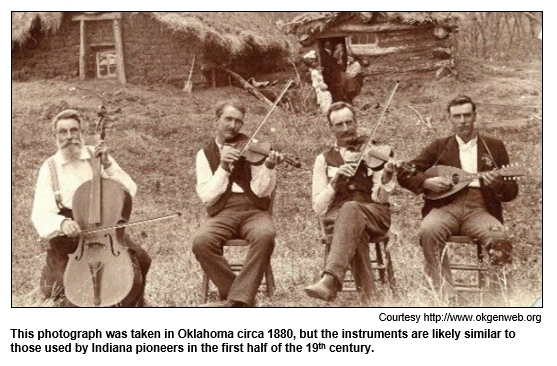 (December 2, 2017) The jaw harp was popular. So were the fiddle and dulcimer. Community bands played flutes, whistles and drums.
There even were pianos before 1840 in Indiana, despite the significant challenges of transporting them to frontier communities via horse-drawn vehicles and river boats.
Less widely seen (or, in some cases, not present at all) in the Hoosier state of the 1820s, '30s and '40s: the guitar, banjo, harmonica, mandolin, ukulele and accordion.
On this encore show originally broadcast in 2013, Nelson is joined in studio by Erik Peterson to explore various aspects of the music played by pioneer families in Indiana. Erik, an Indianapolis-based musician and historian, has performed at Prairietown at Conner Prairie Interactive History Park and at other history-focused sites.
"Keep in mind that, during the pioneer era, Mozart had not been dead for as long as Buddy Holly has been gone today," Erik says.
He has researched pre-1840 music of central Indiana for a postgraduate degree, thanks in part to a fellowship from the Society of Indiana Pioneers. Adept at various instruments, Erik often performs traditional Irish, American folk and Celtic music with several ensembles.
During this show, he performs a few musical interludes to convey a flavor of the music heard in pioneer Indiana. He has gained insights by tracking down diaries, letters and journals of pioneer families.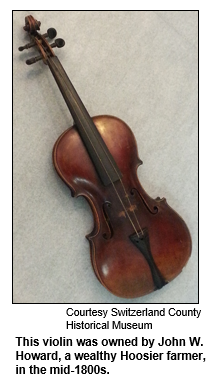 "People in that era were incredibly musical," he says. "Music was a daily part of their lives, and it served as a way to build community among neighbors."
The jaw harp, a hand-held instrument about the size of a harmonica, was played frequently. Erik performs a tune on the instrument during our show, a rare opportunity to hear it. He notes that today, the jaw harp primarily is relegated to the soundtracks of animated cartoons.
"The fiddle was king of instruments here during the pioneer era," Erik says. "It's loud, and it's portable."
The first piano was brought to Indiana during the early 1800s; the historic instrument is exhibited today at Switzerland County Historical Museum in the far-southeastern county on the Ohio River. The piano was discussed during a Hoosier History Live show in 2013 about Switzerland County History.
The extraordinary efforts undertaken to transport pianos here decades before railroads underscore the importance of music in the lives of pioneers, Erik emphasizes. He points out that many pioneer towns in Indiana even had community bands.
Early settlers to the Midwest viewed some musical instruments as appropriate for men while others were seen as more fitting for women. But the gender preferences often were reversed from those of modern sensibilities, Erik says. Pioneer men tended to play flutes and violins, while women played guitars and banjos once those instruments finally made their way to Indiana, primarily after the Civil War.
Before that, advertisements for academies such as the Indianapolis Female Institute touted instruction in piano for young women.
During our show, Erik plays a few verses of a song that would have been played frequently in early Indiana: Hail, Columbia!, the unofficial national anthem of the era. The Star Spangled Banner was not adopted as the official national anthem until 1931, about 100 years after the era that is the focus of our show. Since then, Hail Columbia! primarily has been played to introduce the American vice president.
Roadtrip: Wabash and Erie Canal Park in Delphi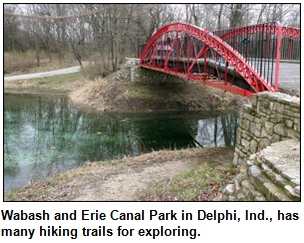 Guest Roadtripper Glory-June Greiff, Indianapolis public historian, has made the day trip several times to the old canal town of Delphi in Carroll County, about 15 miles northeast of Lafayette.
There's plenty of hiking and history at the Wabash and Erie Canal Park in Delphi, which is open year-round and includes an Interpretive Center, lots of trails for hiking and biking, and canal boat rides that continue through the end of September.
Don't miss the Delphi Opera House and adjacent shops. Glory-June also has an eye for great small-town restaurants; she recommends Delphi's Stonehouse Restaurant and Bakery. And for your dining pleasure either coming or going, there is Treece Restaurant in Rossville.
Early era of the Indiana Pacers
(November 25, 2017) Fifty years ago, the Indiana Pacers played their debut game against the Kentucky Colonels in the Coliseum at the State Fairgrounds in Indianapolis. The new team was part of an upstart professional league, the colorful American Basketball Association (ABA), and before any of the players had even scored a point, much civic, social and sports history already had been made.
Two previous pro basketball teams based in Indianapolis had died. One of them, the Indianapolis Olympians, went down in scandal.
Efforts at putting together the Pacers team had met a variety of challenges. Unsuccessful attempts had been made to woo household names in Indiana - including former high school basketball sensations Oscar Robertson and identical twins Tom and Dick Van Arsdale - to be part of the Pacers organization. And some of the African-American players who had been signed to the team encountered challenges finding housing in the Hoosier capital due to the racial discrimination that was unfortunately common at the time.
To explore the rich history of the early era of the Pacers, Nelson is joined in studio by veteran sports journalist Mark Montieth, who, as a boy growing up in Indy, listened to the debut Pacers game on the radio. Mark is the author of a new book, Reborn: The Pacers and the Return of Pro Basketball to Indianapolis (Cardinal Publishing Group).
In the early 1960s, Mark writes, the Hoosier capital was growing, "yet it had no national sports identity beyond the Indianapolis 500."
Civic and business leaders wanted to change that. The result was a team that won three national championships in the ABA, which eventually merged with the National Basketball Association (NBA). As a sportswriter at The Indianapolis Star, Mark Montieth covered the Pacers for 12 of the team's NBA seasons.
Early games in the ABA often were raucous, and fighting among the players was common. Several of the early Pacers were regarded as wild characters, including fan favorites Bob Netolicky and Mel Daniels.
The starting salaries of early Pacers players? According to Reborn, one aspiring Pacer signed a contract for $10,000, with the possibility of a $2,000 bonus.
The ABA was distinctive for its red, white and blue basketball and the introduction to the pro game of the 3-point shot. "The Pacers were born and raised in a league and an era unlike any other in the history of professional sports," Mark writes in Reborn.
The future of the team and of the league were considered so uncertain that Bobby "Slick" Leonard (the former high school basketball star from Terre Haute who later coached the Pacers to the national championships) was so wary of giving up a secure job as a salesman for class rings that he didn't initially seek the coaching opportunity.
Some early players were essentially being offered second chances to achieve hoops glory. In high school and college, Netolicky was "more motivated to have fun than to play basketball" and had exotic pets such as an ocelot and a boa constrictor, according to Reborn. His eventual teammate Roger Brown had taken a factory job on the night shift after his links to a gambler ended opportunities as a player in college and with the NBA.
Other Pacers history facts:
Although Reborn indicates that it remains unclear who originally suggested "Pacers" as the team's name, initial announcements referenced the harness horse racetrack at the Fairgrounds near the Pacers' home court at the Coliseum (a pacer is a type of racehorse). Initial reports also referred to the Indy 500, which features a pace car.
The team's colors, blue and gold, have remained the same for 50 years and are a tribute to the state's official colors – as seen, for example, on the state flag.
Seven of the 12 players on the starting roster were African American. "That amounted to a bold statement in 1967," Mark writes in Reborn. "Most NBA teams were adhering to an unspoken color barrier that kept rosters half-white at the bare minimum. Even the New York Knicks and the Los Angeles Lakers, representing the nation's largest and most cosmopolitan cities, conformed."

History Mystery
During the heyday of the ABA Pacers in the late 1960s and early '70s, one of the team's highest profile players, Bob Netolicky, owned a popular nightspot in Indianapolis. The bar, called Neto's, was located in a shopping area that had the same name as the neighborhood that surrounded it.

Netolicky, a 6-foot-9 power forward and center, frequently chatted with patrons of the bar, which often was jammed after Pacers games. It cultivated a "swinging" atmosphere, with strobe lighting and go-go dancers.

Question: What was the name of the neighborhood and shopping center where Neto's was located?

The call-in number is (317) 788-3314. Please do not call into the show until you hear Nelson pose the question on the air, and please do not try to win if you have won any other prize on WICR during the last two months. You must be willing to give your first name to our engineer, you must answer the question correctly on the air and you must be willing to give your mailing address to our engineer, so we can mail the prize pack to you.

The prize is a pair of tickets to The Messiah on Dec. 10, courtesy of the Indianapolis Chamber Orchestra, gift certificate to Story Inn, courtesy of Story Inn; and two admissions to GlowGolf, courtesy of GlowGolf.
Roadtrip: Marshall County Museum in Plymouth
Guest Roadtripper Chris Taelman of Granger in northern Indiana suggests a roadtrip to the Marshall County Museum Historic Crossroads Center in Plymouth.
Plymouth is located at the crossroads of two historic highways, the Old Michigan Road (U.S. 31) and the Old Lincoln Highway (U.S. 30). Chris has been fascinated with Indiana history since the 4th grade and he now serves on the board of directors of the Studebaker National Museum Foundation.
The Marshall County Museum is in downtown Plymouth and has won the Indiana Historical Society award in recognition of "remarkable public services and programs provided to its community."
Chris will share details about the museum's displays, which cover 25,000 square feet. The museum features office suites that have been restored to reflect their original décor from the 1930s and 40s, when the building housed offices for a local dentist, lawyer and other professionals.
The Titanic and Hoosiers: encore presentation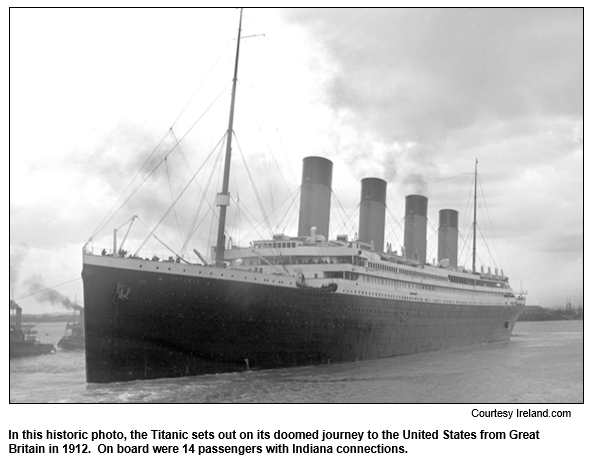 (November 18, 2017) This week, Hoosier History Live features an encore presentation of a compelling show from 2010, The Titanic and Hoosiers. Did you know that there were 14 passengers with Indiana connections on the doomed Titanic, which struck an iceberg in the North Atlantic and sank in 1912?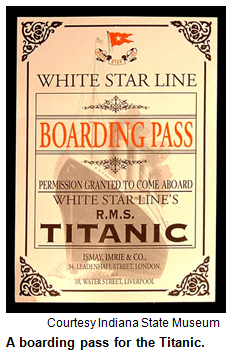 Some of the Hoosiers survived, while others were among the more than 1,500 passengers and crew members who perished.
Exploring a variety of aspects of the tragedy that has captivated the world since the British passenger liner sank on its maiden voyage, Nelson is joined in studio by Indianapolis resident Craig Ware, whose lifelong interest in the Titanic culminated with meeting the final living survivor - and then corresponding with her. That passenger was Millvina Dean, the youngest passenger on board, who died at age 97 in England in 2009.
A member of the Titanic Historical Society years before the ship was discovered at the bottom of the North Atlantic in 1985, Craig has amassed a trove of information about the massive liner that was built for luxury and convenience, not speed. In the years since its sinking, the Titanic has become a symbol of the overconfidence and opulence of the Edwardian era.
Nelson and Craig are joined in studio by Katherine Gould, associate curator of cultural history at the Indiana State Museum, where "Titanic: The Artifact Exhibition" was on display during the original 2010 broadcast of this show. The exhibit featured about 240 artifacts salvaged from the wreck site at the bottom of the North Atlantic.
The Hoosier Titanic survivors include an Irish housekeeper, Ellen Mary Toomey, who had immigrated to Indianapolis but then returned to her homeland to visit relatives. Those who did not survive the sinking include a Hammond resident who had traveled to Sweden to visit her parents. She perished, as did her 2-year-old daughter, who had been born in Hammond.
Myths and folklore abound about the sinking. They include allegations that distress signals were ignored, that third-class passengers deliberately were kept below deck and that the ship's cargo included cases of dragon blood, a bright-red tree resin that has been used for centuries in varnishes, medicines, and dyes.
Nelson and his guests separate fact from myth as they delve into a tragedy that for generations has fascinated social historians, analysts of mass panic and those intrigued by what happened to - and aboard - the ship. Their numbers are legion, particularly since the release of the blockbuster movie Titanic (1997) starring Leonardo DiCaprio and Kate Winslet. Their co-star Gloria Stuart passed away in 2010 at the age of 100.
Some Titanic-related tidbits:
Both Nelson and Craig have, separately, met acclaimed oceanographer Robert Ballard, the scientist who headed the expedition that discovered the Titanic wreck site.
At the Indiana State Museum exhibit in 2010, visitors could touch a chunk of ice set at 28 degrees (the water temperature when the Titanic sank). Artifacts on display included a wall sconce from a first-class lounge, china etched with the logo of the White Star Line, a man's bowler hat and perfume being carried in the cargo by a manufacturer.
The ship's cargo included a rare copy of Omar Khayyam's Rubaiyat set in gold and inlaid with 1,500 precious gems; it has never been recovered.
The Titanic's maiden voyage was to be the last voyage for its 62-year-old captain, who had planned to retire. Instead, Captain Edward John Smith was among the victims of the tragedy.
To explore further, Craig suggests the websites Robert Ballard Titanic and Titanic Historical Society.

Roadtrip: Cole Porter Room at the Indiana History Center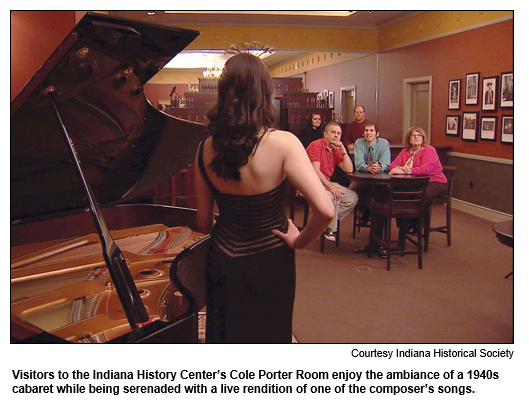 Guest Roadtripper Amy Lamb of the Indiana Historical Society invites us to step into the 1940s in the Cole Porter Room, a permanent exhibit at the Indiana History Center at 450 W. Ohio St. in downtown Indianapolis. The room is designed to evoke the style of New York's famed Waldorf-Astoria Hotel.
Once inside, you'll be immersed in the 1940s cabaret-style setting featuring a digital grand player piano and photographs that span Porter's life, social circle and travels. An elegantly-dressed singer will serenade you with Porter standards, and you can even sing along if you want to!
Alas, the Cole Porter Room's similarities to an elegant 1940s cabaret lounge do not include libations; no Champagne cocktails or zombies are in the offing.
Cole Porter (1891-1964) was born in Peru, Ind. and composed such classics of the American Songbook as "Night and Day," "Anything Goes" and "I Get a Kick Out of You." Of the many Broadway musicals he composed over the course of his lengthy career, his most famous is Kiss Me Kate, a reworking of Shakespeare's Taming of the Shrew.
World War II and Hoosiers: special perspectives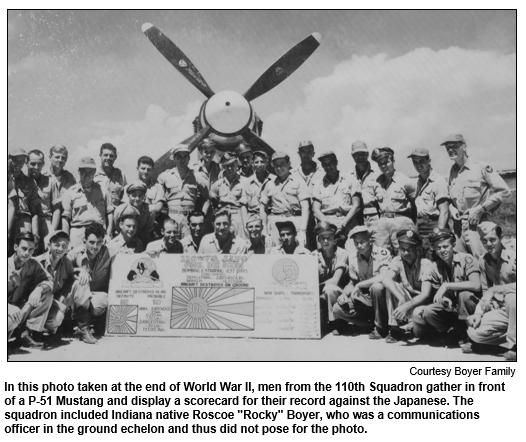 (November 11, 2017) Despite orders to soldiers during World War II to not write diaries, Roscoe "Rocky" Boyer, who grew up on a farm in Clinton County, Ind., secretly kept one anyway. He became an officer with a fighter bomber unit in the South Pacific.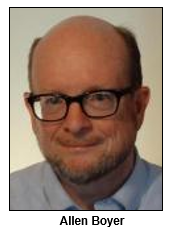 A more famous Hoosier who grew up on a farm - acclaimed war correspondent Ernie Pyle - also was in the Pacific theater during the final months of World War II. He was preparing with a colleague, correspondent for the magazines Time and Life Robert Sherrod, to cover the final invasion of Japanese-held islands when Pyle was killed by a sniper.
As a salute to Veterans Day, Hoosier History Live explores their written accounts from the front lines, as well as related insights about Hoosiers' roles in World War II. Nelson is joined by two guests:
In June 1941, Rocky Boyer was drafted the morning after he graduated from Franklin College. His diary reads: "My first day out in the cold, cruel world. Yes, the draft got me - and how!"
His service took him from Indiana to New Guinea, where he wrote about wartime camp life at one of the world's largest air bases, and to the Philippines. Rocky Boyer became a first lieutenant and participated in a major air blitz regarded as pivotal for the Allied victory in the southwest Pacific.
Ernie Pyle, the son of sharecroppers from Dana in far-western Indiana, did not live to celebrate the war's end, but his colleague Robert Sherrod (who was not a Hoosier) did. Upon learning of Japan's surrender, Sherrod, who was embedded with the Marines, wrote: "Many refused to believe it. Sitting in stunned silence, we remembered our dead. So many dead. So many maimed."
Also during our show, Ray Boomhower shares insights about a top U.S. military commander with Indiana connections who is mentioned several times in Dispatches from the Pacific. Admiral Raymond Spruance, who grew up in Indy and graduated from Shortridge High School, commanded naval forces during some of the most significant battles in the Pacific.
In addition to describing battles - including the major air war in New Guinea - Rocky Boyer's diary describes daily life for soldiers that sometimes involved unexpected, unnecessary risks. According to accounts in his diary, Rocky was awakened by an alcohol-fueled party at an officers' club that involved periodic explosions of TNT and blasts of gunfire.
"What happened at the officers' club that night never was laid out for public view," Allen Boyer writes after quoting his father's diary. It's one of several passages that the book describes as "unvarnished" accounts.
At the end of the war, Rocky Boyer was on a mission in Ie Shima, a small, volcanic island near Okinawa; Ie Shima also is where Ernie Pyle was killed.
Hoosier History Live explored Pyle's columns about Indiana - as well as those of journalist John Bartlow Martin, who grew up in Indianapolis - during a show in May 2015. You can listen that show by visiting our website at hoosierhistorylive.org, or by clicking here.
Both of our guests - as well as Nelson, our host - signed copies of their books at the Holiday Author Fair on Dec. 2 from noon to 4 p.m. at the Indiana History Center, 450 W. Ohio St. More than 60 authors with Indiana connections were participate in the annual event.
Our show this week is shorter than usual because of coverage of UIndy football; there is no Road Tripper report.

History Mystery
During World War II, an Indiana city was seventh on a bombing list of American targets put together by Adolf Hitler and his advisers, according to some historic accounts.
The Germans' interest in bombing the city was attributed to major industrial centers there that were involved in wartime manufacturing. They included a piston plant that was making parts for tank, airplane and truck engines. Other major employers in the Indiana city during WWII were International Harvester, General Electric, Magnavox and other plants that made U.S. Army trucks, airplane propellers and other items used by the military.
An author who grew up in the Indiana city even wrote a book with a title that includes the town's name and the ominous phrase "Seventh on Hitler's List."
Question: What is the Indiana city that was on the Germans' list of bombing targets during WWII?
The call-in number is (317) 788-3314. Please do not call in to the show until you hear Nelson pose the question on the air, and please do not try to win if you have won any other prize on WICR during the last two months. You must be willing to give your first name to our engineer, you must answer the question correctly on the air and you must be willing to give your mailing address to our engineer, so we can mail the prize pack to you.
The prize is a gift certificate to Story Inn, courtesy of Story Inn; and two admissions to the Indiana History Center, courtesy of the Indiana Historical Society, and two admissions to GlowGolf, courtesy of GlowGolf.
New individual contributors like the show's weekly podcast
Jim and Nancy Johnson recently hit the yellow "Donate" button on our newsletter to offer their financial support to the show.

Along with their contribution, they left this comment:

"We are busy on Saturdays. However, we are now enjoying the shows archived online! Thanks for an educational and entertaining show each week!"

The Hoosier History Live crew is happy to make our weekly live show available the following week as a podcast for devoted listeners like Jim and Nancy. It does increase our production costs to pay for the additional editing time and technical support, so we truly appreciate their financial contribution!

Won't you join Jim and Nancy in offering your support for the hard work that goes into creating a quality radio show like Hoosier History Live and making it available as a podcast?
All you have to do is scroll down to the yellow "Donate" button below and pledge your support. The crew at Hoosier History Live thanks you!


Adventures in personal DNA testing
(November 4, 2017) As is clear from the popularity of the show Finding Your Roots, now in its fourth season on PBS, and from the high volume of visitors to the website ancestry.com, many Americans are interested in learning about their family history. And with the advent of personal DNA analysis from services such as 23andMe and AncestryDNA, more and more individuals are learning about the precise admixture of ethnicities in their genetic heritage, as well as discovering possible matches for unknown blood relatives who have undergone the DNA testing themselves.
But these tests have raised thorny questions. What does our genetic information tell us about ourselves? If we use online sleuthing to contact relatives revealed by the DNA tests, should we consider them family? What if they would rather not have heard from us? And what if we learn that the race or ethnicity revealed by our DNA is different than the one we had always identified with? Does the newly available genetic information outweigh culture, tradition and family lore in our sense of who we are?
For this Hoosier History Live show examining what personal DNA testing reveals about ourselves and our shared history, guest host and associate producer Mick Armbruster interviews three Hoosier women who have recently conducted a personal DNA analysis that yielded surprising results. Mick's guests in studio are:
Joan Hostetler, a photo historian and founding director of The Indiana Album. She had her DNA analyzed in 2015 and learned some surprising things about the ancestry of her mother, who had been adopted as an infant in 1927. Joan's mother knew only that she had been born in Fort Wayne, Ind., and that her birth mother, Joan's biological grandmother, had identified herself as a musician and requested that the baby she was giving up eventually be given piano lessons.

Despite years of searching, Joan and her mother were unable to learn the names of Joan's maternal biological grandparents before Joan's mother passed away in 2005.
Becky Hostetter, a vegetarian chef and co-owner of Duos Indy, whose genetic testing connected her to a long-lost half sibling. As Becky had known for years, her mother had gotten pregnant while serving in the Women's Army Corps during WWII at Camp Ritchie, Md., and had given the baby up for adoption.
In the 1970s Becky and her mother attempted to find the adopted sibling, but to no avail. What little information they had about the person could be summed up on a 3x5 index card: Female, weighed less than 6 lbs. at birth, reddish hair and born May 30, 1946, in a military hospital in New Hempstead, N.Y.

Becky's 2015 DNA test eventually led to locating this long-lost sister and a joyful reunion (including Becky's three other sisters) in 2017. But that wasn't the only surprise: Becky's DNA testing exposed other family secrets about her biological parentage and ethnic heritage.
Maxine Brown, a historian and preservationist from Corydon, Ind., and founder of the Leora Brown School renovation project, which restored one of Indiana's oldest African-American schools. Before DNA analysis she knew of her ancestors who came into Indiana Territory in 1814 with a group of nearly one hundred enslaved people. They were accompanied by an elderly white Anglican couple, Paul and Susannah Mitchem, who originally were from Virginia. The Mitchems were abolitionists whose goal was to bring former slaves into the nominally free territory of Indiana. Maxine's great-great-great grandmother Milly and her five children came into the Indiana Territory as a part of this group.
When Maxine had her DNA tested earlier this year, however, she was surprised to learn that despite identifying as African American throughout her life, her genetic heritage is more Irish than any other ethnic group. She also discovered that her white great great grandfather, John Wimp Jr., (1838-63) was a slaveholder and fathered her great-grandmother, Emeline Wimp Brown. Through genealogy groups, Maxine has been in touch with many of her white Wimp relatives, who she says call her "cousin" as a term of affection.
Learn more:
History Mystery
In 1907, the Indiana state legislature passed a law that provided for the involuntary sterilization of "confirmed criminals, idiots, imbeciles and rapists." The law, which was later found to be unconstitutional and was repealed in 1974, was the first recorded sterilization law in world history and, according to some historians, served as a model for similar laws in Nazi Germany during the 1930s.
During the time when the Indiana sterilization law was active, more than 2,300 Indiana citizens deemed "mental defectives" by the state were involuntarily deprived of their ability to have children.
Question: What was the official term for the "science" (now regarded as pseudoscience) of improving the human population through forced sterilization? Hint: the word is based on the Greek roots for "well" and "born."
The call-in number is (317) 788-3314. Please do not call into the show until you hear Mick pose the question on the air, and please do not try to win if you have won any other prize on WICR during the last two months. You must be willing to give your first name to our engineer, you must answer the question correctly on the air and you must be willing to give your mailing address to our engineer, so we can mail the prize pack to you.
The prize is four tickets to the Indy International Festival on Nov. 9, 10, and 11, courtesy of the Nationalities Council of Indiana; a gift certificate to Story Inn, courtesy of Story Inn; and two admissions to the Indiana History Center, courtesy of the Indiana Historical Society.
Roadtrip: Completed east wing of Lanier Mansion in Madison
Kisha Tandy of the Indiana State Museum and Historic Sites recommends a Roadtrip to the Lanier Mansion in the town of Madison in southern Indiana on the Ohio River. Since 1926 the mansion has been a museum dedicated to the story of its builder and original owner, James F. D. Lanier (1800-81), a financier who is credited with starting the first railroad in Indiana. He also helped stabilize the finances of Indiana on three separate occasions, including a series of loans to the state totaling more than $1million during the Civil War.
The Lanier Mansion, completed in 1844, is one of the best examples of Greek Revival architecture in the country and is considered to be the crown jewel of Madison's Historic District. Designed by architect Francis Costigan, the mansion exhibits many original Greek Revival features, including its square plan, the full-façade porch on the south elevation, the Corinthian columns on the south portico, the Doric pilasters that appear on several locations on the exterior, the ornamental pediments over the windows and doors and the Ionic columns that separate the double parlors on the first floor.
Careful interior restoration and redecoration have recaptured the mansion's 19th-century splendor. During the 1990s, the Department of Natural Resources Division of Museums and Historic Sites, with major funding provided by the Lanier Mansion Foundation, restored the building and grounds to their former grandeur. After many years of painstaking research, the home was painted in the original colors both inside and out. On the interior, horsehair brushes were used to paint the walls and decorative plaster moldings, which were then covered with a high-gloss varnish as they were in 1844. The wallpapers and carpets all are reproductions of those available for purchase in the 1840s. Curators and other staff continue to research furnishings from the period, and changes to reflect their research may be made to the home in the future.
And now, for the first time in the past 100 years, the east wing of the Lanier Mansion has been opened to the public, restored to its appearance at the time Lanier lived in the home.
"The restoration has taken more than 20 years, involving painstaking research, physical reconstruction and plenty of community involvement," Kisha says, and the results are well worth a visit.
Charity music event at historic Alford House
Hoosier History Live senior tech consultant Richard Sullivan invites listeners and readers to his third annual benefit for FACE Low-Cost Animal Clinic. The Nov. 11 Fall Bash Dance Party features the Gordon Bonham Band performing an evening of "rump-shaking blues-rock" at the historic Alford House, 2428 E. 10th Street in Indianapolis. The event will be from 7:30 p.m. to midnight. Tickets are $20 in advance, $25 day of show.
The historic Alford House, which is newly opened as an event center, was built in 1898 by Marion County Criminal Court Judge Fremont Alford and later became a funeral home for many decades.
The event will benefit FACE (Foundation Against Companion-Animal Euthanasia), the near-eastside charity veternary clinic that has performed more than 250,000 animal spay/neuters and other surgeries since its opening in 1999. A newly constructed expansion building is set to open in February.
"My admiration for the work of FACE is boundless," says Richard, who while a reporter at The Indianapolis News wrote stories about FACE founder Scott Robinson, an emergency-room physician who became an animal rights advocate during his doctor training. "They are responsible for reducing the companion-animal (dogs and cats) euthanasia rate in Indianapolis from more than 22,000 per year before their founding to fewer than 3,000 per year today. And they had to fight city hall and established interests to do it.
"Without FACE," Richard continues, "it is estimated that 50,000 dogs and cats would be euthanized in Indianapolis annually," based on human/pet population growth formulas.
Hoosier History Live producer Molly Head will be working the door at the beginning of this event, and our associate producer Mick Armbruster will be there to close out the evening. Stop on by and say hello!
"Old as Dirt" with a trio of Indiana garden writers
(October 21, 2017) Sitting in for Nelson Price on this show is frequent guest Jo Ellen Meyers Sharp, author, garden writer, speaker and photographer. Her blog, Hoosier Gardener, offers week-by-week advice on a variety of topics related to raising vegetables, potting plants and creating beautiful landscapes in Indiana. Jo Ellen also writes a weekly gardening column for the Indianapolis Star. She is joined in studio by award-winning Indiana garden writers Carol Michel and Irvin Etienne.
Among other dirty topics, the trio talks about some important historical highlights of Indiana horticulture: a hall at Purdue University that was named for a female leader in agriculture; landscape architects who worked in Indiana and whose culturally significant designs remain largely intact; and a brief look at consumer trends in growing plants in pots over the last few decades.
Carol, author of the book Potted and Pruned: Living a Gardening Life, says she loves old gardening books, plants and tools. "And if I can connect them to my Hoosier roots, I love them even more," she adds. Her award-winning blog can be found at MayDreamsGardens.com.
Irvin is horticulture display coordinator at the Indianapolis Museum of Art at Newfields, where he wrote award-winning blogs. He speaks around the country about tropicals and other plants and is a former director of the Perennial Plant Association. He also raises rabbits and chickens for show.
Jo Ellen, Carol and Irvin also talk about Seed Your Future, a new initiative that promotes horticulture in the U.S. to young people. "Our food depends on it!" Jo Ellen points out. The trio also talk about horticultural jobs (ranging from dungarees to lab coats) and how they have changed over the years.
History Mystery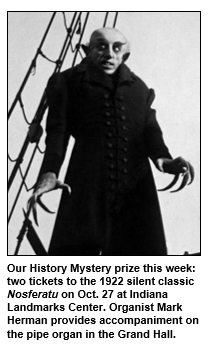 A recent Hoosier History Live show featured two very special Indiana fruits. Recent trends that favor eating locally-grown produce have renewed interest in these fruits, and small-town Indiana festivals pay homage to them in the late summer and fall.
Question: What is the name of the two fruits featured in a recent Hoosier History Live show? You must give both fruits in order to win.
The prize is a voucher for two admissions to Frightful: A Silent Halloween, a film screening of the 1922 silent classic Nosferatu at Indiana Landmarks Center on Oct. 27, courtesy of Indiana Landmarks, as well as four tickets to the Indy International Festival on Nov. 9, 10, and 11, courtesy of the Nationalities Council of Indiana.
Roadtrip: German Catholic heritiage in Ferdinand, Ind.
Guest Roadtripper Jeannie Regan-Dinius of the Indiana Division of Historic Preservation invites us to take a trip to Ferdinand, Ind., in Dubois County to visit several historic landmarks associated with the area's German Catholic heritage.
Jeannie suggests that we begin our visit by exploring the St. Ferdinand Catholic Cemetery, located at 341 East 10th St. Among the limestone and marble tombstones, the cemetery features the distinctive metal crosses favored by Germans immigrants from the Alsace-Lorraine area of Germany and France, who settled this region in southern Indiana beginning in the 1840s.
The cemetery is across the street from the spectacular Monastery Immaculate Conception, known as the "Castle on the Hill." It was built in 1867 and is listed on the National Register of Historic Places. Just outside the entrance of the monastery is the cemetery for the sisters who once lived and worked there.
"The gift shop at the monastery is always a favorite for handmade goods," says Jeannie. She also tells us that once we have taken in the sights of Ferdinand, there is much to explore in the pastoral rolling hills of Dubois County. Check out the county's visitor website for more ideas!
Ian Fraser: a gay humanist reflects on life in 1950s Indianapolis
(October 14, 2017) Known for its conventionality and lack of cosmopolitan sophistication, Indianapolis in the 1950s would seem to have held little appeal as a place for a non-conforming, artistically inclined foreigner to take up residence in the United States.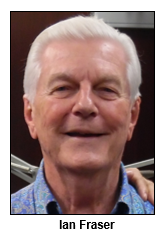 But that was the unlikely choice of self-described "gay humanist" Ian Fraser, who moved to the Circle City in 1957 with his fellow Brit and partner Ambrose Smith, with whom he would spend the next half century in the Hoosier state.
Raised and educated in England and its colonial holdings in Africa and the Caribbean, Ian had launched a successful career as a designer in London when a chance meeting with an American tourist from Shelbyville, Ind., inspired his move to the American Midwest.
The people Ian encountered in his new Hoosier home were friendly but had little idea what to make of this exotic creature. In the insular culture of Indiana at the time, few locals could even trace his and Ambrose's English accents back to their British origins, and the two were sometimes mistaken for Germans.
And then there was the matter of Ian's homosexuality. In Bible-belt, straight-laced Indiana of the 1950s, being "out" as a gay man wasn't exactly a viable option. Although he always answered honestly if asked about the nature of his relationship with Ambrose, Ian didn't force the issue and let others draw their own conclusions, which almost always went unspoken.
On this Hoosier History Live show, associate producer Mick Armbruster talks with Ian about his early years in Indianapolis, exploring his perspective on American life in the 1950s and how he was able to adapt to the local scene.
Ian shares stories from his 2013 book, A Sow's Ear: Digressions and Transgressions of a Gay Humanist, which relates how the Indianapolis cultural elite welcomed him and Ambrose into their social world. With a naturally artistic inclination, Ian found an "oasis" in the John Herron Museum of Art, which later evolved into the Indianapolis Museum of Art, where he worked as a curator and guide for museum-sponsored tourism overseas.
When they weren't hobnobbing with the Clowes family and other well-heeled patrons of the Indianapolis art scene, Ian and Ambrose also had their share of adventures with colorful characters from a variety of backgrounds and social circumstances - including the Indianapolis gay demimonde. We hear stories about some of those characters, and the ease with which Ian and Ambrose moved among an ever-widening social circle. Ian also shares his experience witnessing racial prejudice in 1950s Indianapolis.
Roadtrip: Crazy quilts and happenings at the IMA at Newfields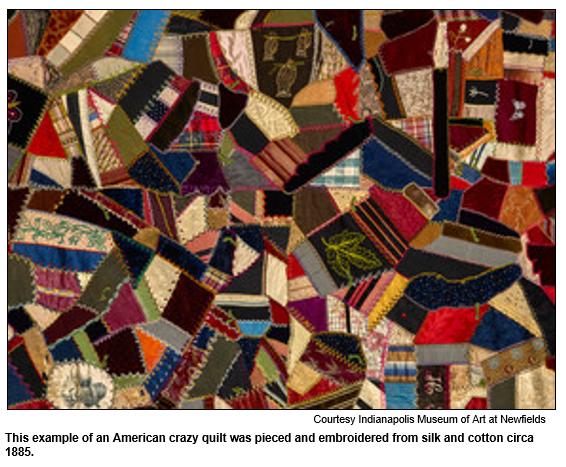 Guest Roadtripper Stephanie Perry invites listeners to visit the Indianapolis Museum of Art at Newfields. Stephanie, who works for the IMA as assistant director of communications, says "We have a ton going on this fall," for example the special exhibition Crazy Quilts: Stitching Memories, which is on display through January 7. The unique exhibition takes guests on a trip back in time to the late 1800s, when crazy-quilt making became a fad. Women caught up in the craze experimented with different types of fabrics, needlework and patterns in order to showcase their skills as seamstresses and creativity as designers. To learn more on the topic, check out the Hoosier History Live show on Quilting Heritage from June of 2015.
Stephanie also tells us that after visiting the IMA galleries, you can stroll about the 30 acres of gardens, which are open year-round. Many of the gardens are part of the historic Oldfields estate, a National Historic Landmark featuring the Lilly House.
Coming up this holiday season, the IMA will offer a new experience, The Garden with Winterlights, running Nov. 19 through Jan. 7. Stephanie explains that visitors will be able to explore the historic garden as never before with more than one million multi-colored lights and 80-foot tall decorated trees. Winterlights will also include a choreographed light show in front of the historic Lilly House mansion.
Bloomington in the 1960s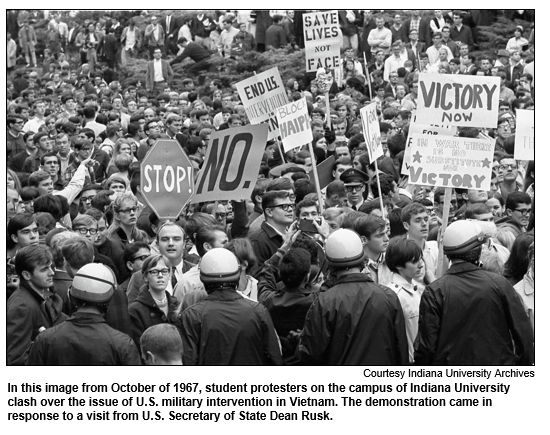 (October 7, 2017) During an era of social upheaval a half century ago - an era considered radical by some people, liberating and long-overdue by others - the college town of Bloomington became an Indiana epicenter of cultural change.
Our guests call it "the Berkeley of the Midwest" in light of the fermenting free-speech movement and various liberation efforts that began to take hold in Bloomington during the turbulent 1960s. They also describe major Midwestern drug trafficking operations that unfolded in Bloomington at the time.
Nelson is joined in studio by guests including Greg and Candy Dawson, authors of a new book, Busted in Bloomington: A Tragedy in the Summer of '68 (Dog Ear Publishing, 2017). They call the book a "collective memoir," based on interviews with more than 100 current or former Bloomington residents, including 1960s-era high school and college students, as well as public officials. Although the Dawsons live in Florida now (Greg is a retired journalist and Candy a retired teacher), they were residents of Bloomington (and later Indianapolis) for several years.
As a high school student in Bloomington during the 1960s, Greg was an acquaintance of the central figure in Busted in Bloomington: a popular, innovative teacher in his early 20s who used rock music in his lessons and urged teenagers to read books and poetry regarded as subversive by older generations. The Bloomington teacher also pushed boundaries in ways that ultimately created problems.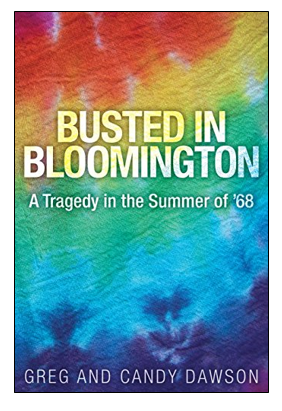 For our broader look at the cultural scene in Bloomington during the 1960s, our studio guests also include Dan "Carp" Combs, a current township trustee in Monroe County. As a teenager in the 1960s, he showed up in "B-town" and became involved in the social upheaval.
Nelson and his guests also are joined by Bloomington attorney Tom Berry, who was the Monroe County prosecutor during the era we will be exploring. It was an era that, according to the Dawsons' book, included "a budding free-speech movement on [the IU] campus, among the first in America."
Tom Berry, who was just in his 20s when he first won election as prosecutor, initially took a hardline stance against marijuana users; he oversaw the prosecution of some of the major figures in Busted in Bloomington. (After a significant change in perspective, Tom Berry later pushed state legislators to give county prosecutors more flexibility in regard to recreational marijuana users.) Our guests describe Bloomington as a major hub of drug-dealing distribution, with, as Greg Dawson puts it, significant amounts flowing through the town via carriers en route to Chicago via I-65.
According to Busted in Bloomington, J. Edgar Hoover, the controversial head of the FBI at the time, placed six of his agents in the Indiana city to monitor leftists whom he suspected were "communists plotting to overthrow the government."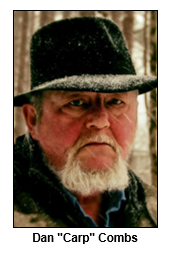 Our guests also describe a gay subculture and emerging gay-liberation movement in Bloomington during the 1960s. Participants included some of the current or former residents of the town interviewed for the Dawsons' book. Others were involved in the emerging free-speech movement. Many Indiana University faculty members advocated for students' rights in various ways.

The central figure in Busted in Bloomington, Chuck Walls (1944-1968), was a charismatic English teacher and student newspaper adviser at Bloomington High School, which later evolved into Bloomington South. During the summer of 1967 - which became known nationally as the "Summer of Love" - Walls chaperoned a group of Bloomington High students on a trip to England. That's where many of the Hoosier teenagers were initially exposed to the counterculture about to spread overseas.

Our guest Dan Combs, 65, the current Monroe County township trustee, grew up in a rural family of eight children; his father worked in the limestone mills near Bloomington.

"I took a job in the kitchens of the Indiana Memorial Union in 1966 and was suddenly immersed in the '60s," he reports. "The distance from my home to the Union Building was 10 miles, but I (figuratively) traveled much farther than that."

Greg Dawson's other books include Hiding in the Spotlight (Pegasus Books, 2009), which is based on his mother's experience as a Holocaust survivor.
History Mystery
Although our show's focus is on Bloomington in the 1960s, this week's History Mystery goes back a decade earlier. During the early 1950s, schoolchildren in Bloomington became the guinea pigs for a new brand of a product that was tested by Indiana University researchers. The product is used every morning to this day in homes across the country.
Three IU researchers tested the experimental ingredient - a specific chemical compound - of the new brand on hundreds of Bloomington children during the early 1950s. After the tests had positive results, the new brand hit the national market in 1956.
Question: What is the product and the specific brand?
Hint: It is manufactured by Procter & Gamble, which is not based in Indiana.
The prize is four tickets to the Indy International Festival on Nov. 9, 10, and 11, courtesy of the Nationalities Council of Indiana, and a gift certificate to Story Inn, courtesy of Story Inn.
Roadtrip: Milligan Block in Huntington
Guest Roadtripper Stephen Towne, university archivist at IUPUI in Indianapolis, tells us about the colorful history of the Milligan Block on the south side of courthouse square in Huntington, Ind. The building is named after Huntington attorney Lambdin P. Milligan, best known as one of the Civil War-era conspirators in Indiana who was arrested by the U.S. Army for disloyalty and tried by military commission.

As Stephen explains the legal history, Milligan's attorneys appealed to the U.S. Supreme Court, which ruled after the war that civilians should not be tried by military commissions in areas where the civil courts are open and functioning. The case, Ex parte Milligan, is considered a landmark ruling for civil liberties in the United States.
In 1883, Lambdin Milligan went into partnership with his son Moses to build a handsome structure to house his law offices, as well as a hotel and restaurant for travelers. Moses Milligan and his wife ran the Windsor Hotel as an elegant inn. Later, Lambdin Milligan moved into an apartment in the Milligan Block and died there in 1899.
Visitors to Huntington who need refreshment after investigating the Milligan Block firsthand should check out its street-level restaurant, the Rusty Dog Irish Pub, which a local review called "a glowing example of tradition done right."
Cannon Ball Baker, dynamic motorcycle pioneer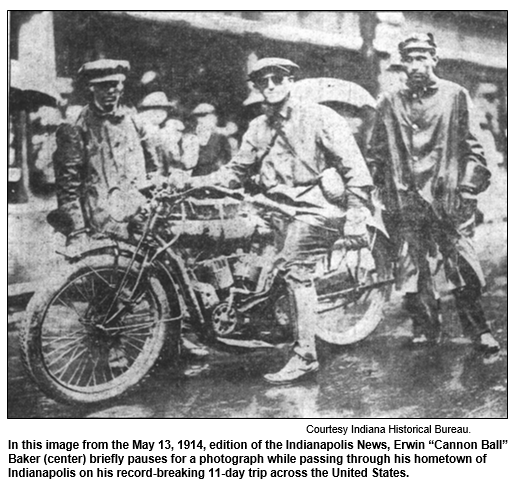 (September 23, 2017) Earlier this month, a historic marker was dedicated at a bungalow near Garfield Park in Indianapolis. The house once was the residence of a speed-loving daredevil nicknamed "Cannon Ball," whose exploits on the new invention of the motorcycle captivated America's imagination during the early 1900s.
In 1914, Erwin "Cannon Ball" Baker became one of the first motorcyclists to cross the country from California to New York. According to the book Forgotten Hoosiers (The History Press, 2015), when he accomplished the feat "only four miles of his transcontinental route were paved."
In this show we explore the colorful life of Cannon Ball Baker (1882-1960), who made more than 140 cross-country speed runs, many on an Indian motorcycle, the first American brand.
Nelson's call-in guest is Mark Swartz, owner of Cannon Ball Brewing Company on the near-northside of Indy. After researching Cannon Ball's impact on racing history, Mark decided to name his brewery at 1702 Bellefontaine St. in honor of the legendary Hoosier.
Mark helped in the crusade to get the Indiana Historical Bureau to erect a historic marker at Cannon Ball's former home in the Garfield Park neighborhood. The marker effort was led by Vickie Goens, the current owner of the bungalow, and her friend Stan Kiwor.
Baker's impact wasn't limited to motorcycles. He competed in the Indianapolis 500 in 1922 and became the first commissioner of NASCAR in 1947.
Nor were his exploits confined to the United States. Cannon Ball raced in Australia, Cuba, Panama, Jamaica and elsewhere overseas. He won a motorcycle sprint race at the Indianapolis Motor Speedway in 1909, the first year the racetrack was open.
Two Hollywood movies, The Cannonball Run (1981) and Cannonball Run II (1984), both starring Burt Reynolds, were loosely based on Baker's cross-country races.
The future inductee into the Motorsports Hall of Fame was born on a farm in Dearborn County in southeastern Indiana.
According to an article in The Indianapolis Star last April, Baker built the bungalow in Garfield Park in 1925, when he was at the peak of his cross-country racing achievements. Another historic marker is expected to be dedicated next year in Dearborn County near Baker's birthplace.
His pioneering, cross-country drive on an Indian motorcycle during May of 1914 involved traveling more than 3,000 miles from San Diego to New York City in 11-and-a-half days.
"Newspapers across the country covered the story and helped track his route," according to an Indiana Historical Bureau blog post about Cannon Ball.
When Baker accomplished the transcontinental feat - which involved crossing streams, riding on railroad ties and negotiating mountain ranges - he was hailed as a daredevil and dubbed "Cannon Ball." The nickname stuck permanently.
During interviews later in life, Baker claimed that when he raced through his home state of Indiana, authorities raised speed limits for one day to assist his record-smashing effort.
Before and after the 1914 adventure - during scores of races that often set speed and distance records - Cannon Ball would promote sponsors, including manufacturers of motorcycles or of their component parts, touting their brands en route. Occasionally he drove early automobiles, racing against trains.
Our guest Mark Swartz, who grew up in Indy, was a pilot and an aviation mechanic before opening Cannon Ball Brewing about 10 months ago. While living on the East Coast several years ago, Mark competed in motorcycle races.
"I love Cannon Ball's story," he says. "It's intertwined with racing history, my personal background and with Indianapolis history. Not enough people know about Cannon Ball today."
According to Garfield Park residents who spoke at the recent dedication of the historic marker, Cannon Ball Baker captivated children in the neighborhood during the final years of his life by describing his exploits as a racing pioneer. After he died of a heart attack at age 78 in 1960, Cannon Ball Baker was buried in Crown Hill Cemetery.
To learn more about Cannon Ball Baker, check out these sources:
History Mystery
The former home of Cannon Ball Baker in Indianapolis overlooks Garfield Park, which has well-known sunken gardens. Dedicated in 1916, the sunken gardens were designed by a nationally known landscape architect who put together the first comprehensive, city-wide plan for parks and boulevards in Indianapolis.
A German immigrant who primarily was based out of St. Louis, the landscape architect spent much time in Indianapolis and died in the Hoosier capital in 1923. After his death, a major boulevard in the city was named in his honor.
Question: Name the famous landscape architect who designed Garfield Park's sunken gardens.
The call-in number is (317) 788-3314. Please do not call in to the show until you hear Nelson pose the question on the air, and please do not try to win the prize if you have won any other prize on WICR during the last two months. You must be willing to give your name and address to our engineer and be willing to be placed on the air, and you must answer the question on the air. The prize is two tickets to the Indianapolis Scottish Highland Games on Oct. 14 in German Park in Indianapolis, courtesy of Scottish Society of Indianapolis, and four admissions to the Indy International Festival in November, courtesy of the Nationalities Council of Indiana.
Roadtrip: "Sweet Owen" County
Guest Roadtripper and public historian Glory-June Greiff tells us that Owen County - affectionately known as "Sweet Owen" to those who love it - is always a good place to wander, with its plentiful sites to see and places to eat. And when you need to work off those calories, Glory-June points out, you'll find plenty of hiking opportunities as well!
On the way to McCormick's Creek State Park - "certainly one of my favorite places to hike," Glory-June says - you can stop for a bite just off SR 67 at Millie McGee's Gosport Diner on Main Street in Gosport, which offers downhome Hoosier cooking at its best.
Or you can check out the Hilltop Family Restaurant, further along SR 67, just north of Spencer. Offering "comfort food...with a view," as their motto says, the restaurant dates back to 1948.
There are many lovely trails throughout McCormick's Creek State Park (Indiana's first!), from fairly easy to quite rugged. Dotted throughout its hills are numerous buildings constructed by the Civilian Conservation Corps (CCC) in the 1930s, some of which are listed in the National Register of Historic Places.
For the chance to see a more pristine natural environment (activities limited to hiking only), check out the Nature Conservancy's Green's Bluff Nature Preserve, a few miles south of McCormick's Creek off SR 43.
Don't leave Owen County without checking out its historic county seat, with its 19th century courthouse. Spencer native E. M. Viquesney was the sculptor of Spirit of the American Doughboy that graces the courthouse lawn. Just to the east of square is the old Carnegie library, which now houses the Owen County Heritage and Cultural Center.
Looking for a treat? Check out Diamond K Sweets on the courthouse square in Spencer. This family-owned business is the home of Fudge O'Bits, a unique fudge treat that comes in several flavors. Try their brittles, too; Glory-June's favorite is cashew. As a final thought, Glory-June can't help adding that "Their milkshakes are like nothing you've ever had!"
Korean immigration to Indiana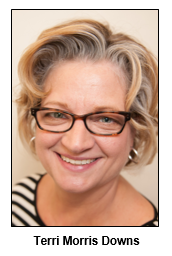 (September 16, 2017) Amid international attention focused on the Korean peninsula, Hoosier History Live takes the opportunity to spotlight the Korean community in Indiana during another show in our rotating series about immigration and ethnic heritage groups here.
Four guests - including three who grew up in South Korea, immigrated to America and settled in Indiana - join Nelson in studio.
Terri Morris Downs, executive director of the Immigrant Welcome Center of Indianapolis, discusses services and programs the organization offers, including Welcoming Week, which began mid September. The Welcome Center has served more than 10,000 immigrants and refugees from all over the world. Terri, who has been executive director since 2007, also discusses challenges that confront immigrants. The other guests are:
Johnathon Yun, president of Indy Korea magazine, a monthly publication for Korean-heritage residents of Indiana. Johnathon was born and raised in South Korea and moved to Indiana in 1989. He works in the auto sales industry and lives with his wife and their three daughters in Lawrence, Ind.
Abigail Kim, an attorney in Indianapolis who lives in Westfield. Born and raised in Seoul, South Korea, she came to the United States in the mid-1990s to attend graduate school. Abigail and her husband, who is Chinese-American, are the parents of a 10-year-old son.
Hae Lee Cho of Indianapolis. Like Abigail, Hae Lee is a lawyer who was born and raised in Seoul, one of the world's largest cities. Hae Lee also is the owner of Vincent Blooming, a wedding florist business. As an attorney, she works for the Marion County Public Defender Agency.
Johnathon, Abigail and Hae Lee all have close relatives and friends on the Korean peninsula; for example, Hae Lee's parents and younger sister live in South Korea.
As with our other ethnic heritage shows, our guests share their immigration stories, describe where in Indiana their ethnic group has tended to settle (as well as the eras when they arrived) and convey a flavor of their homeland. Given the recent dramatic developments on the Korean peninsula, our guests also discuss their concerns regarding North Korea's buildup of nuclear weapons and the rise in international tensions it has created.
According to some accounts, about 10,000 Korean Americans or natives of Korea live in Indiana; other sources put the figure at 30,000. Lafayette is among the cities with the greatest concentration, probably because of the presence of Purdue University.
Although the physical size of South Korea is just 1.6 times larger than that of Indiana, its population is 51 million – significantly larger than Indiana's 6.6 million. It's an indication of the density on the Korean peninsula.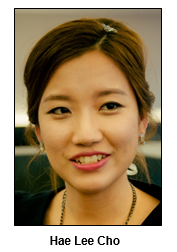 Our guest Johnathon Yun launched Indy Korea magazine in 2015 with its editor, Brad Nam, a native of South Korea who lives in Indianapolis.
Our guest Hae Lee Cho, who contributes articles to the magazine, came to Indianapolis in 2010 to attend law school. She is a member of Greenwood Korean Baptist Church.
On Hoosier History Live, our ethnic heritage shows have included a program last April that explored Italians in Indiana during the World War II era, including POWs who were held at Camp Atterbury. The Italian POWs built a Catholic chapel that was recreated as a "You Are There" exhibit at the Indiana History Center.
In July 2016, we explored Latvian and Lithuanian heritage in Indiana. We looked at Russian immigration to Indiana during a show in August 2014.
To learn more about Indiana's Korean community and its vibrant culture, check out these options:
Listen to this NPR interview with John Cho, star of the new movie Columbus, a drama about a Korean-American translator who finds himself in stuck in small-town Indiana while tending to his ill father. The movie was filmed in Columbus, Ind., during August of last year.
Sample kimchi and other authentic ethnic cuisine at an establishment such as Mama's Korean Restaurant on Indy's East Side.
Sign up for a class in Taekwondo, the traditional Korean martial art that has gained enormous popularity in the U.S. in recent years.

History Mystery
Korean-American residents in central Indiana and a broad range of other ethnic heritage groups celebrate their cultures during an annual festival at the Indiana State Fairgrounds.
For more than 40 years, the Indy International Festival has featured colorful exhibits, music and the cuisine of dozens of countries. For many years, the Nationalities Council of Indiana has hosted the three-day festival at the fairgrounds during a certain month of the year.
Question: What month is the annual international festival held?
The call-in number is (317) 788-3314. Please do not call in to the show until you hear Nelson pose the question on the air, and please do not try to win the prize if you have won any other prize on WICR during the last two months. You must be willing to give your name and address to our engineer and be willing to be placed on the air, and you must answer the question on the air. The prize is four tickets to the to the Broad Ripple Historic Home Tour, courtesy of the Broad Ripple Village Association, and a gift certificate to Story Inn, courtesy of Story Inn.

Irvington Library listening group member Phylis Bourne turns 94
Longtime Irvington Library listening group member Phylis Bourne has just turned 94, as recently reported by the Weekly View. Each Saturday at noon she is brought to the Irvington Library on East Washington Street in Indianapolis by her daughter Dixie Coghill. And we would be remiss if we did not mention the group's third regular member, Judy Burkam. All are welcome at the Irvington Library Listening Group, and, of course, it's free!
If you're inspired by Phylis' dedication to the show, perhaps you would be interested in hosting or facilitating a listening group for fans of Hoosier History Live. You could host the group anywhere - your small business, a library or retirement center - gathering on Saturdays at noon to listen to the show together. All you need is a quiet room with comfortable chairs and either a regular radio (if you are in the WICR listening area) or an online listening device (such as a computer or smartphone with speakers) and wifi access for streaming. This makes a great social opportunity for your business or organization, especially in cooler weather when it is fun to "gather around the fire" to listen to the radio.
The Central Library in downtown Indianapolis has offered space for a Hoosier History Live listening group, but the group must be facilitated by responsible volunteers. If interested in facilitating a group at Central Library, please email Molly Head and she can help you get started.
Don't be shy - help Nelson and the crew "make some Hoosier history"!
The violent early history of Fishers
(September 9, 2017) It's a suburban boomtown continually in the spotlight because of developments like next month's eagerly anticipated opening of the first Ikea store in the state.
So who today would guess that Fishers, located in Hamilton County, had a reputation for lawlessness, gun fights, grave robberies and drunken brawls in the years after it was founded during the 1870s?
To explore the violent early history of Fishers - which shed the designation of town to assume official status as a city only in 2014, after years of explosive growth - Nelson is joined by David Heighway, Hamilton County's historian. Based on his extensive research, David has several explanations for why the town was so rough-and-tumble in the years after it was founded in 1872.
Even Fishers' nickname of Mudsock has violent origins: a melee known as "the Battle of Mudsock" made national news in 1881, one month after the infamous Gunfight at the O.K. Corral (in Arizona) when, according to David Heighway, the public was paying close attention to violent incidents.
"If you've seen the movie Tombstone or the TV series Deadwood - that was what Fishers was like," David contends.
He has posted several blog entries about Fisher's violent early years on a weekly blog of the Hamilton County East Public Library, where he works in collection services.
Much of the blame for the Wild West early years of Fishers, David says, falls on "the loose political structure of the town," which encouraged lawlessness. As a railroad depot (the community early on was known as Fishers Station), Fishers was located near several towns with strict temperance laws and ordinances.
"So if someone wanted to raise a little hell," David says, "they would go to Fishers."
A native Hoosier and a descendant of Indiana pioneers, David is on the board of directors of the Hamilton County Historical Society and serves on the Noblesville Historic Preservation Commission.
According to an article David wrote for the Hamilton County Business Magazine, the Battle of Mudsock in November 1881 was a "community-wide brawl" that left one dead and 32 wounded. A fistfight escalated into an "explosion of violence."
During its early years, lawlessness in Mudsock - i.e. Fishers - persisted in part because the town apparently had few, if any, law enforcement officers, David says.
Grave robbing in the Fishers area circa 1900 was an extension of "body snatching" problems in Indianapolis, which was the epicenter of a major national ring led by Rufus Cantrell, who was known as the "King of the Ghouls."
Cantrell and his accomplices, who may have included a physician born in Hamilton County in 1859, supplied corpses to early medical schools desperate for bodies to use in teaching students. In one of David's blog posts about the grave robbery problems, he describes how Cantrell testified in court against the physician from Hamilton County. Hoosier History Live explored grave robbing - and Cantrell's ring based in Indy - during a 2008 show that we rebroadcast last May.
Other crimes in early Fishers included "train wrecking," robberies in which desperadoes placed ties or other obstructions on railroad tracks. When approaching trains would crash or overturn, the criminals would loot the wreckage.
When the Monon Railroad line opened in the 1880s through the western part of Hamilton County - the opposite end from Fishers - violence in the town began to decline, according to David. He adds, though, that a pool hall located in the back of a Fishers hardware store was demolished by a dynamite explosion in 1914.
"By the end of World War I," he notes, Fishers "had begun to settle into a quiet farming community."

History Mystery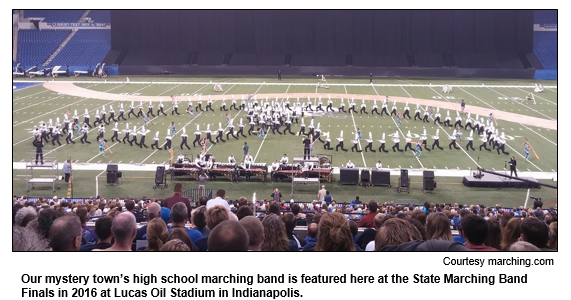 Just as it surprises many that rapidly growing Fishers shifted from being a town to a city only in 2014, another community in suburban Indianapolis - but not in Hamilton County - incorporated as a town only in 1995.

Located west of Indy, the town has a history as a settlement that dates clear back to the 1830s. Like Fishers, it has been growing rapidly, so many Hoosiers assume the incorporation as a town occurred long before 1995. Its high school - which has the same name as the town - is known for the excellence of its marching band.

Question: What is the town?

The prize is two tickets to the Indianapolis Scottish Highland Games on Oct. 14 in German Park in Indianapolis, courtesy of Scottish Society of Indianapolis, two admissions to the Indiana History Center, courtesy of the Indiana Historical Society, and two tickets to the Broad Ripple Historic Home Tour, courtesy of the Broad Ripple Village Association.

RoadTrip: Garfield Park's Confederate memorial revisited
With Confederate monuments in the news and causing controversy around the country, guest Roadtripper and architectural historian William Selm invites us to explore Garfield Park's Confederate memorial.
Bill explains that the memorial was originally placed in the old Greenlawn Cemetery in downtown Indianapolis in 1910. It read "Erected by the United States to mark the burial place of the 1,616 soldiers and sailors who died while prisoners of war and cannot now be identified."
Basically these 1,616 men died between 1862 and 1865 while Confederate prisoners of War at Camp Morton, in what is now Herron Morton Place in Indianapolis. Their remains were moved quite a few times, from Camp Morton to Greenlawn Cemetery and finally to what is now called the Confederate Mound in Crown Hill Cemetery.
Meanwhile, the memorial was moved from the then-closing Greenlawn Cemetery to Garfield Park on the south side of Indianapolis in 1929.
Learn more:
Laura McPhee, Nuvo, Aug. 22, 2017, The Long Controversial History of Garfield Park's Confederate Monument.
Paul Mullins, Archeology and Material Culture, Aug. 28, 2017, Race, Reconciliation, and Southern Memorialization in Garfield Park.
News from the Hoosier History Live team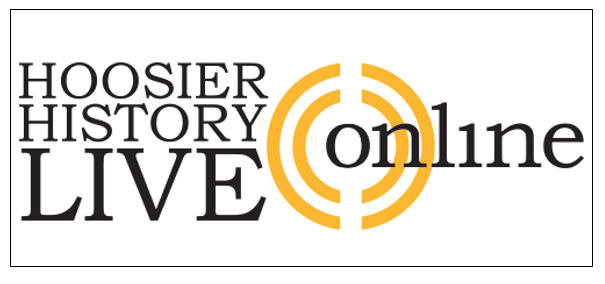 (Sept 9, 2017) As an informational program that airs over a public radio station, Hoosier History Live is sometimes assumed to be a non-profit organization. And while it's true that we depend on the contributions of our listeners and the generosity of our sponsors for financial support, we have never chosen to file the 501(c)(3) paperwork required by the IRS for tax-exempt status, opting instead to retain the designation of a small business.
Why? In a word, control. We are a small group of creative entrepreneurs who want control over our creative content and distribution. In a media environment where quality journalism is under increasing commercial and political pressure, we want to have an independent voice. We are proud of the high-quality content we offer through our live radio program, newsletter and website, and we believe that the flexibility afforded by our small-business status will allow us to keep producing the quality programming you love.
To continue to thrive as a small business, however, we need to increase our distribution and broaden our listening audience. We are currently working to publish our audio archives online and make our content available for rebroadcast on Indiana stations and elsewhere via PRX, the Public Radio Exchange.
What does this mean for our listeners? Only that you will have more opportunities to listen to the Hoosier History Live content you enjoy, whether by downloading old shows from iTunes or tuning into the show on local radio stations across the state.
What does this mean for our sponsors and underwriters? New opportunities to get your message out to our growing population of listeners. As our media footprint grows on the web, your credit will live online on our podcasts and audio archives rather than just play once over the air. As our radio distribution increases geographically, your message will reach a wider, more diverse population of listeners.
How can you help?
We have no trouble finding guests who generously share their expertise about a given aspect of Indiana history or culture. What we do struggle with is financial support. If you are an individual, you can visit our yellow button, clearly marked below, right before the upcoming show description.
Or, you may make out a check to "Hoosier History Live" and mail it to:

Hoosier History Live
P.O. Box 44393
Indianapolis IN 46244-0393
Your name will go on our website on the "Support the show" page of our website, and you'll also be thanked in our weekly newsletter. You may indicate how you would like your name to appear, and you may also choose to make the donation "in memory of" or "in honor of" a loved one.
If you are a business or organization and would like your logos and links on our website and newsletter (as well as spoken credits during the live show), contact our producer, Molly Head, at molly@hoosierhistorylive.org, or (317) 927-9101.
Your support goes toward our ongoing expenses, including website hosting, email marketing software, audio editing, audio archiving and a long list of items that a media team of any size must have to keep operations going.
Frank Sinatra, the Great American Songbook and Indiana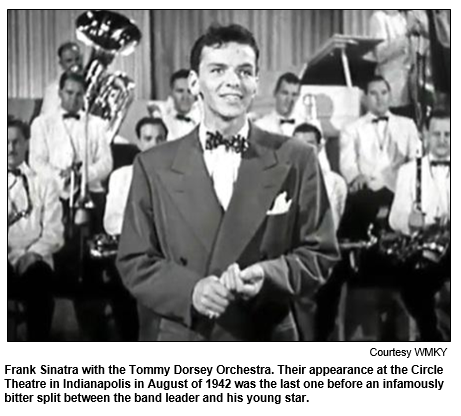 (September 2, 2017) From his final concert in Indianapolis with a popular orchestra in 1942 (which is said to have inspired a storyline years later in The Godfather) to a civil rights-related visit to Gary three years later amid racial tension at a high school, Frank Sinatra had more connections to Indiana than many may realize.
Perhaps the best-known episodes involve Sinatra's temporary residence in Madison for the filming of Some Came Running (1958), a critically acclaimed movie directed by Vincente Minnelli in which Sinatra starred with Dean Martin and Shirley MacLaine.
In this show we explore various links between the legendary entertainer and the Hoosier state with a lifelong Sinatra aficionado as Nelson's studio guest: Jake Oakman, a speechwriter and special assistant to Gov. Eric Holcomb.
In addition to our discussion of Ol' Blue Eyes (one of Sinatra's many nicknames), our show features a report about the Great American Songbook Foundation in Carmel. Housed at the Center for the Performing Arts, the foundation is led by executive director Chris Lewis, who phones in to the show to describe its gallery, hall of fame, archives and recently announced affiliation with the Los Angeles-based Grammy Museum.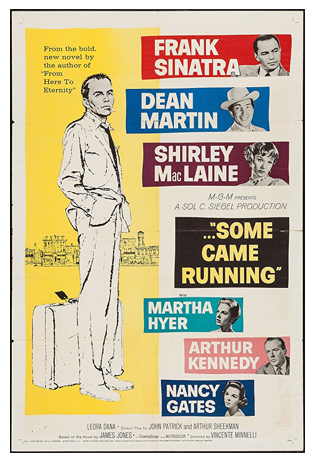 Of course, Sinatra (1915-1998) frequently performed music composed by legendary Cole Porter, a native of Peru, Ind., who has been celebrated in exhibits in the Songbook Foundation's gallery. In 1991, the Hilbert Circle Theatre in downtown Indy was the setting for a glittering celebration of the centennial of Porter's birth.
In September 1942, when the historic landmark on Monument Circle was known as the Circle Theatre, it was the venue for Sinatra's final performance with the Tommy Dorsey Orchestra. Folklore about how Sinatra, who then was generating a national frenzy as a singing idol, maneuvered to get released from an iron-clad contract with Dorsey is said to have inspired a plotline in The Godfather. Critics have long noted some similarities between Sinatra and Johnny Fontane, a fictional entertainer in both the Mario Puzo novel and the Francis Ford Coppola film, whose breaking of a contract with a bandleader requires that the mafia make the bandleader "an offer he can't refuse."
In 1945, Sinatra, who was of Italian-American heritage, won plaudits for The House That I Live In, a 10-minute film in which he teaches religious and racial tolerance to a gang of young street ruffians. In the wake of the success of that short, which won an honorary Academy Award, he was asked to come to Gary to help settle a "strike" by white students and their parents at a high school that had recently admitted blacks. Our guest Jake Oakman will describe what unfolded, which included a riveting speech by Sinatra in the school's auditorium in northwest Indiana.
Thirteen years later at the other end of the state - in Madison on the Ohio River - Sinatra and his co-stars became temporary residents during the raucous filming of Some Came Running. Set in the aftermath of World War II, the film explores the readjustments of a returning GI and writer (played by Sinatra) who struggles to make a life in his scenic hometown.
During his career, Sinatra won a trove of awards, including an Oscar and several Grammys. Five-time Grammy nominee Michael Feinstein founded the Great American Songbook Foundation in 2007 to preserve and celebrate the songs of pop, jazz, Broadway and Hollywood. The foundation recently became a cultural affiliate of the Grammy Museum. The affiliation, which Chris Lewis will discuss during our show, will enable access to Grammy-related exhibits, research projects and other opportunities.
The Songbook Foundation's archives include more than 100,000 artifacts, photos and recordings related to composers and performers of the 20th century. During a span of about 50 years, Sinatra performed a number of concerts in Indiana.
Even before his historic Circle Theatre concert in 1942 - when his split with the Tommy Dorsey Orchestra was announced to the world from the stage - Sinatra had been performing as a big band crooner at the Indiana Roof Ballroom. His final concert in Indiana was in 1989 at the then-new venue near Noblesville called Deer Creek Music Center (now Klipsch.)
In November 1945, Sinatra visited Froebel High School in Gary on a civil rights mission; he was brought in as a teen idol who might have a persuasive impact on high school students. White students had walked out of school to protest an early integration effort that brought more than 200 black students to the high school. According to historic accounts, Froebel had opened in 1912 and had been serving students of diverse European ethnic heritage groups, but black students had been excluded.
Amid racial tensions over the integration move that were drawing national attention to Gary, Sinatra spoke to hundreds of white students. He implored them to end the protest and return to school; he described the bigotry he had endured as a teenager because of his Italian heritage and pleaded for tolerance. His appearance in Froebel's auditorium, which also included some songs, drew praise nationally. But racial tension persisted at the high school, according to several accounts.
Froebel High School closed in 1977. A historic marker on its site describes the protests against integration and racial tensions there during the mid-1940s, although Sinatra's visit is not mentioned.
For more information on Sinatra's visit to Froebel High School, check out these stories:
History Mystery
In 1996, two years before Frank Sinatra died, a collection of his early recordings was released; the album was titled "Frank Sinatra Sings the Select Cole Porter."

Among the songs by the Indiana-born composer is one that's considered a standard - i.e. part of the Great American Songbook - that was introduced in the score of the 1935 stage musical Jubilee. Although the show was a critical success, it proved less popular with Depression-era audiences and closed after only half a year on Broadway.

The song's title rhymes with one of its lines: "a trip to the moon on gossamer wings."

Question: What is the title of the Cole Porter song?

The call-in number is (317) 788-3314. Please do not call in to the show until you hear Nelson pose the question on the air, and please do not try to win the prize if you have won any other prize on WICR during the last two months. You must be willing to give your name and address to our engineer and be willing to be placed on the air, and you must answer the question on the air. The prize is two tickets to the Indianapolis Scottish Highland Games on Oct. 14 in German Park in Indianapolis, courtesy of Scottish Society of Indianapolis, and two tickets to the Indiana State Museum, courtesy of the Indiana State Museum.

RoadTrip: Cole Porter House in Peru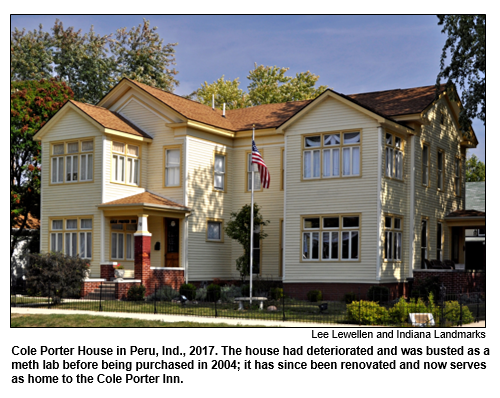 Guest Roadtripper Suzanne Stanis, Director of Heritage Education at Indiana Landmarks, tells us that while Cole Porter is celebrated as Peru's favorite son, it wasn't that long ago that his boyhood home sat deteriorating after being busted as a meth lab in 2003. But thanks to a group of dedicated volunteers, the home now reflects its original 1891 design and welcomes visitors as the Cole Porter Inn.
Ole Olsen Memorial Theatre, Inc., named for a Peru-born vaudevillian, purchased the home at a 2004 tax sale. The foundation transformed the property through private donations, a loan from Indiana Landmarks, and sweat equity. Volunteers even stripped and sold the aluminum siding to fund construction projects.
Cole Porter lived in the house from his birth in 1891 until moving to attend east-coast schools at the age of 14. While in Peru, the precocious Porter mastered the violin and piano and wrote several songs, including the Bob-O-Link Waltz at age 11. Porter lived the rest of his life away from Peru but returned to visit his parents at their next home, Westleigh Farm, on Frances Slocum Trail. That house is now owned by the sixth generation of Porter descendants and is listed in the National Register of Historic Places.
"Stop by the Cole Porter Inn next time you're in Peru for the annual Cole Porter Festival or the Amateur Circus Festival," says Suzanne.
Volunteers needed
Would you like to host a listening group?
Would you be interested in hosting or facilitating a listening group for fans of Hoosier History Live? You could host the group anywhere - your small business, a library or retirement center - gathering on Saturdays at noon to listen to the show together. All you need is a quiet room with comfortable chairs and either a regular radio (if you are in the WICR listening area) or an online listening device (such as a computer or smartphone with speakers) and wifi access for streaming. This makes a great social opportunity for your business or organization, especially in cooler weather when it is fun to "gather around the fire" to listen to the radio. What a great way to foster a sense of community with your fellow history buffs!
The Central Library in downtown Indianapolis has offered space for a Hoosier History Live listening group, but the group must be facilitated by responsible volunteers. In other words, you need to commit to be at the Central Library every Saturday at noon or get a reliable sub. If interested, please email Molly Head, and please include your phone number.
The listening group at Irvington Library in Indianapolis continues to meet; all are welcome to join the group on Saturday at noon!
Burger Chef, White Castle and other fast-food connections to Indiana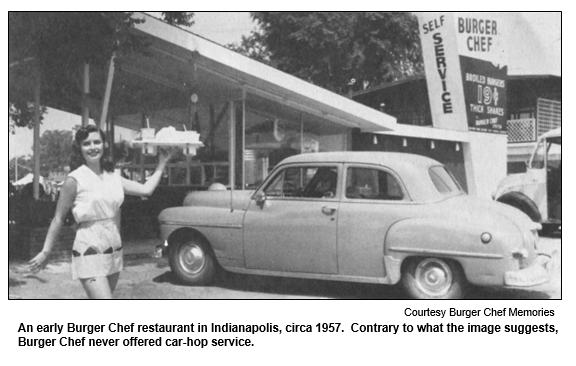 (August 26, 2017) The iconic Burger Chef fast-food restaurant was founded in Indianapolis during the 1950s with a single store. By the time the chain had reached its peak in the 1970s, it had more than 1,000 locations and was the primary national rival of McDonald's.
In this show focused on Indiana's fast-food connections, we also take a look at the former White Castle building downtown (660 Fort Wayne Ave.) that Indiana Landmarks has been crusading to save. Built in 1927, it is one of only three original "high style" White Castles left in the country.
If Burger Chef and White Castle don't have your stomach rumbling, you can stay tuned for a look into how Kentucky Fried Chicken was founded by - get this! - a native Hoosier. And the founder of Wendy's got his start in the food industry in Fort Wayne.
Joining Nelson in studio is:
Al Hunter, history columnist for The Weekly View (the Indianapolis Eastside newspaper) and an author who has researched Indiana's fast food heritage.
Mark Dollase, Indiana Landmarks vice president of preservation services.
Indy-based Burger Chef was known for its Big Chef and Super Chef sandwiches, as well as its orange-and-aqua-blue signage. According to our guest Al Hunter, a lifelong enthusiast, "Burger Chef was the first fast-food chain to offer a kid's meal, a drive-thru window and a salad bar."
The chain closed nationwide after being purchased by Hardee's in 1982, although a few franchise operators were allowed to use the Burger Chef name for several more years.
The distinctive former White Castle located at the three-way intersection of Fort Wayne Avenue and Delaware and Walnut streets was the oldest continually operating eatery in the chain when it served its last burger in 1979, according to Indiana Landmarks. Since then, the building has housed a real estate office and a National Guard recruiting center.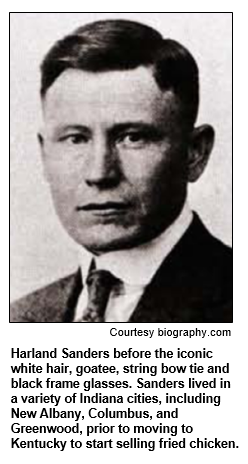 Col. Harland Sanders (1890-1980) was born in Henryville in far-southern Indiana. Sanders spent his early years in the hard-scrabble life of a farming family; as the oldest of several children, he took on the role of family breadwinner after his father's death and dropped out of school during the 7th grade. He lived in several Indiana cities, including New Albany, Greenwood and Columbus, working an array of jobs before moving to Kentucky, where he opened a restaurant for hungry travelers. The restaurant's "finger-lickin' good" fried chicken achieved such fame that Sanders was named a Kentucky colonel in 1935 by Gov. Ruby Laffoon. By the early '50s, Sanders had turned to franchising and eventually sold his interest in the business for millions in the mid-1960s. He stayed on as a spokesperson for the company for many years.
The Indiana connections of Wendy's founder Dave Thomas, who died in 2002 at age 69, were less extensive; he started Wendy's in Columbus, Ohio, which Thomas considered his adopted hometown. But Fort Wayne played a pivotal role in his early life. Thomas (who, like Sanders, had a turbulent boyhood) was just 15 years old and living at the Fort Wayne YMCA in 1947 when he landed a job busing tables at a local restaurant, the Hobby House, where he eventually worked his way up to manager. According to news accounts after his death, Thomas loved the restaurant's chili and its chocolate "frosty" soft-serve ice cream, which years later became signature items at Wendy's.
In the contemporary Indiana burger world, popular Bru Burger occupies a spot at the opposite end of the culinary spectrum: It serves gourmet fare, far from fast food. Even so, we serve up some Hoosier heritage tidbits related to Bru Burger, which is owned by Indy-based Cunningham Restaurant Group. In a flip of the White Castle situation of a historic building that formerly served burgers, the historic Greyhound Bus Terminal in downtown Evansville has become the home of a Bru Burger.
Our guest Mark Dollase discusses what has unfolded with the Evansville landmark since we highlighted the then-unknown fate of the city's historic Greyhound terminal during a March 2015 show about Landmarks across Indiana. Built in 1939, the building is considered a rare survivor of Greyhound's "blue period" in which the bus station exteriors (with curved corners and parallel lines) matched the color and style of its buses.
History Mystery
During the heyday of Burger Chef in the 1970s, the Indianapolis-based restaurant chain was touted in TV commercials, wooden signs and other promotional campaings by a duo of cartoon pitchmen, often depicted wearing tall white chef hats.
One of the characters was a middle-aged man with eyeglasses and a big nose. He was named, simply, "Burger Chef." The other character was a much younger assistant, a teenager with red hair and a beaming smile. His one-word name often was emblazoned on his chef hat. The duo were presented as "Burger Chef and …."
Question: What was the name of the young Burger Chef cartoon character with red hair?
The call-in number is (317) 788-3314. Please do not call in to the show until you hear Nelson pose the question on the air, and please do not try to win the prize if you have won any other prize on WICR during the last two months. You must be willing to give your name and address to our engineer and be willing to be placed on the air, and you must answer the question on the air. The prize is two tickets to the Indianapolis Scottish Highland Games on Oct. 14 in German Park in Indianapolis, courtesy of Scottish Society of Indianapolis, and two tickets to GlowGolf, courtesy of GlowGolf.

Ferdinand State Forest
Guest Roadtripper and public historian Glory-June Greiff tells us that Indiana state forests seem not to be as widely known as our state parks as places to hike, but that she would like to recommend them.
"Among my favorites is Ferdinand State Forest, not far from the town of the same name in Dubois County in southern Indiana," she says. "Both the Works Progress Administration (WPA) and the Civilian Conservation Corps (CCC) worked to create this forest property, which once boasted a small fish hatchery. The little stone building still stands below the dam impounding the attractive lake."
If you go, be ready for a workout. Glory-June points out that this forest is hilly, so you can get plenty of exercise, especially if you choose to climb the fire tower. There is also a beautiful stone-and-timber shelter atop one of the hills.
If you're hungry after all that hiking, Glory-June recommends Fleig's Cafe on Main Street in nearby Ferdinand. They offer sandwiches and plate lunches and dinners in a pleasant atmosphere.
Don't miss the monastery of the Sisters of St. Benedict while you're in town," says Glory-June, "and catch their bakery if you can for yummy goodies."
Switzerland County and living on the Ohio River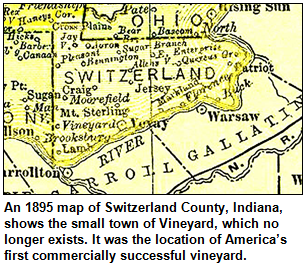 (Encore presentation on August 19, 2017; Originally broadcast Aug. 3, 2013) Even though it's one of our smallest counties, Switzerland County in southeastern Indiana on the Ohio River feels like "a world away" for many of us. Switzerland County has rolling hills and a wealth of buildings and structures that have not been significantly altered for 200 years. No interstate highway runs through Switzerland County, nor has a railroad ever been built there because of its hilly terrain; much of its landscape and small towns remain as serene as they were in the early days of Indiana's settlement.
This Hoosier History Live encore show explores such fascinating aspects of Switzerland County as its Swiss heritage, a local historical figure known as the "Hay King" and a contemporary wine festival. We also examine the impact of the Ohio River on towns and farms in the far-southeastern corner of the Hoosier state.
Considered to be the home of the country's first commercial winery, county seat Vevay hosts the annual Swiss Wine Festival (2017 dates: August 24-27), where visitors can sample local wine, cheese and chocolate while basking in the ambience of the scenic Ohio River. And don't miss the Rural Heritage Tour (2017 dates: October 7-8), which highlights the rural and agricultural life and history of Switzerland County from settlement days to the present time.

The county's early Swiss settlers, who included John James Dufour Jr., his family and descendants, initially called their land on the river "New Switzerland." They set up vineyards and in 1813 established the town of Vevay. Thanks to the ease of shipping goods by riverboat, the town and surrounding farms flourished for several decades. Farmers constructed flatboats and keelboats from plentiful nearby timber.
At the "Life on the Ohio" River History Museum, riverboat models and artifacts from the heyday of steamboats offer visitors a glance into life during the steamboat era (1850-1920), when the Ohio River served as the economic "lifeline of Switzerland County," as the museum's website explains.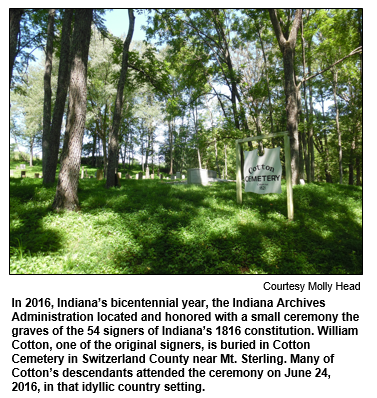 Early Switzerland County resident and entrepreneur Ulysses P. Schenck, who became known as the "Hay King," had a fleet of eight steamboats and barges plying his trade upon the Ohio River. Even before that, the ancestors of our guest Barry Brown had settled in the county. Both sides of his family, which include Scottish immigrants as well as Swiss and French, arrived in the early 1800s. Vintage artifacts from various early settlers displayed at the Switzerland County Historical Museum include the first piano brought down river by flatboat to Indiana.
Modern-day visitors to Switzerland County appreciate the area's scenic, hilly terrain, but the difficulty of building roads and railroads eventually exacted an economic toll. When railroads came to dominate transportation in the second half of the 19th century, steamboats fell out of favor and river towns like Vevay and Madison (about 20 miles down river) fell on hard times. Their economic struggles have had an upside, however. The lack of 20th-century development in these river towns means that many of their historic buildings have been preserved and offer visitors a vivid glance into the Hoosier past.
In addition to Barry Bown, an expert on Swiss immigration to the area and a history and genealogy specialist at the Switzerland County Public Library, Nelson's guests on this show show are Martha Bladen, an artist and executive director of the Switzerland County Historical Society and Kendall Miller, a photographer and writer who was executive director of Switzerland County Tourism at the time of the show's original broadcast in 2013.
Roadtrip: The Hoosier Theater and Vevay, Ind.
In this encore presentation show, Roadtripper and film historian Eric Grayson reports on adventures to be had in Vevay, including visits to the famous Hoosier Theater there. Built in 1837, it is notable for its balcony, which is suspended from the ceiling by cast-iron rods.
The 1974 TV movie A Girl Named Sooner was shot in Vevay, and Eric even ran a showing of the film at the Hoosier three years ago!
Right next door to the Hoosier Theater is Roxano's Restaurant, a popular local eatery that specializes in pizza and Italian cuisine. Eric also reports that just up the State Road 156 is Shell's Ice Cream and Grill, which he says is open late and is great for someone who just finished watching a long movie and wants to take a shake home for the road.
Eric also says Vevay has a very strong Main Street program, which listeners can hear more about from our show's guests.
Persimmons and pawpaws with Jo Ellen Meyers Sharp
(August 12, 2017) Persimmon and pawpaw trees aren't confined to Indiana, but they have been associated with the Hoosier state for nearly 200 years. Today's enthusiasm for eating locally-grown produce has renewed interest in the fruits of these trees, which are most often used in pudding, ice cream and custard. Not to be left out of the trend, connoisseurs of adult beverages have been putting a new twist on classic cocktails with persimmon syrup and brewing beer with the fruit of the pawpaw, also known as the Indiana banana.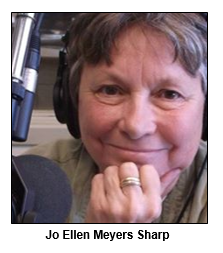 Our favorite gardening guru, Jo Ellen Meyers Sharp, is Nelson's studio guest to discuss the growth habits of - and soil conditions preferred by - persimmons, pawpaws and other local trees and plants that bear edible fruit and vegetables.
Jo Ellen, who writes "The Hoosier Gardener" column in The Indianapolis Star and is the co-author of The Indiana Gardener's Guide (Cool Springs Press), also takes phone calls from listeners seeking advice about their flower or vegetable gardens. As treasurer of the Garden Writers Association, Jo Ellen joins us fresh from the organization's annual convention in Buffalo, N.Y.
She also is a member of Indiana Landmarks' cultural landscape committee and shares details about 40 culturally significant landscapes across central Indiana that will be highlighted during a national gathering in October. Free tours of some of the landscapes will be open to the public during the Oct. 6-8 events.
In southern Indiana, the town of Mitchell will host the 71st annual Persimmon Festival from Sept. 23-30, a celebration typically attended by tens of thousands of visitors. Persimmon pudding has been beloved by generations of Hoosiers, but in recent years enthusiasts of the fruit also have used it to flavor everything from cookies and ice cream to margaritas.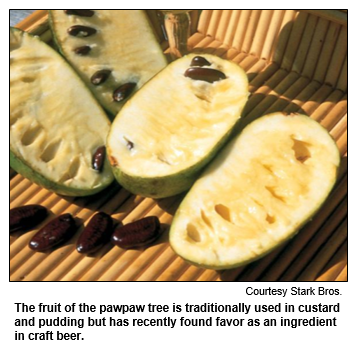 In her Hoosier Gardener column last year, Jo Ellen even explored the folklore that the shape of a season's persimmon seeds is a predictor of the harshness of the upcoming winter.
For pawpaw enthusiasts who do not grow their own, several sources suggest visiting farmers markets in Indiana from late summer to early fall. The fruit has a "custardy sweet" flavor often compared to a blend of a banana and a mango.
The Hoosier state, of course, also is known for the quality of its tomatoes. So we will prevail on Jo Ellen to share advice for listeners about growing them in their home gardens.
Indiana companies in the tomato business include Red Gold, based in Elwood. The multi-generational, family-owned company is headquartered in a former elementary school in the Madison County town, but acres of Red Gold tomatoes are grown across the state. Not only does Red Gold distribute tomato products (including ketchup and tomato juice) throughout the United States, it ships them to more than 15 other countries.
Some fun facts:
In addition to being the co-author of The Indiana Gardener's Guide, Jo Ellen Meyers Sharp is the author of The Visitor's Guide to American Gardens (Cool Springs Press). She also is director of the Indianapolis Museum of Art Horticultural Society. The extensively landscaped gardens of Oldfields, the former estate of J.K. Lilly Jr., the late Indianapolis businessman, collector, and philanthropist that is part of the IMA grounds, is expected to be among the destinations of the October event. Indiana Landmarks is coordinating the October gathering with the Cultural Landscape Foundation in Washington D.C
Persimmon fruit matures in the fall. Typically, the fruit is yellow, orange or dark brown. Connoisseurs emphasize the fruit is best harvested once it falls naturally from the tree.
In addition to being associated with Indiana, persimmon trees grow in the region around Fresno, California. The trees also grow in China and Korea, where the fruit is popular.
A few memories of James Worley, who loved persimmon and pawpaws
Columbus (Indiana) East High School literature teacher and poet James Worley (1921-2014) was a great friend to Hoosier History Live, but he will also be remembered by former students and family members as a man who loved his pawpaws and persimmons.
He planted the pawpaw tree pictured at the right near his home in rural Bartholomew County about 15 years ago. Rather than purchase a sapling from a nursery, however, he used a more unusual method of propagation: while enjoying a pawpaw fruit picked from trees that grew down by the creek on his property, he chose a spot closer to the family house and spit out the seeds in what turned out to be an auspicious location. Worley's daughter Glynis Worley reports that the resulting pawpaw tree flourished and is yielding fruit for the very first time this summer, a bounty of about 50 pawpaws.
Glynis tells us that her father used to pick pawpaws and let them ripen in a bowl inside the house, preferring this method to that of those who favor gathering the fruits only after they have fallen from the tree. A native of West Virginia who served as a conscientious objector medic during WWII, Worley loved persimmon fruit, too, and cultivated those trees on the family property as well. His wife Elizabeth "Bette" (1921-2015) made a mean persimmon pudding, and Worley so delighted in the flavor that he considered the addition of whipped cream to be an abomination.
Unfortunately, a passion for the pawpaw fruit doesn't seem to be passed from one generation to the next: Glynis reports that she doesn't particularly care for the taste and "lets the critters have them." But she certainly cherishes the family pawpaw and persimmon trees that continue to bear fruit.
History Mystery
Tomato juice was served for the first time - anywhere - in 1917. It happened at a famous site in Indiana, where a chef squeezed tomatoes and served the new beverage of tomato juice to guests. The landmark site, which dates to the early 1900s, underwent a spectacular restoration more than 10 years ago. It is listed on the National Register of Historic Places.
Question: Name the site where tomato juice was first served.
The call-in number is (317) 788-3314. Please do not call in to the show until you hear Nelson pose the question on the air, and please do not try to win the prize if you have won any other prize on WICR during the last two months. You must be willing to give your name and address to our engineer and be willing to be placed on the air, and you must answer the question on the air. The prize is two tickets to the Hoosier Hops & Harvest festival in Brown County on Saturday, Aug. 26, courtesy of Story Inn, as well as two tickets to Conner Prairie and the 1859 Balloon Voyage, courtesy of Conner Prairie Interactive History Park.

Roadtrip: St. James Restaurant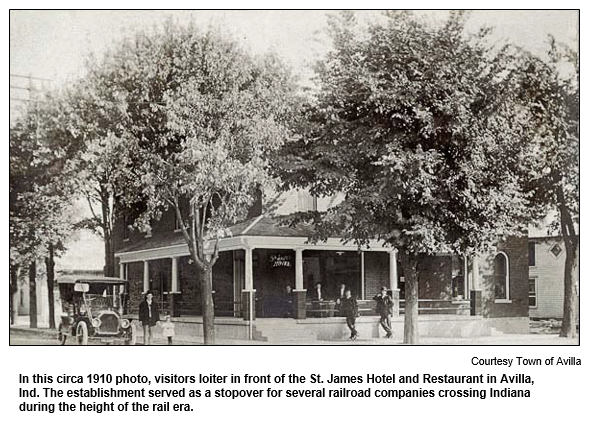 Guest Roadtripper, author and travel writer Jane Ammeson suggests we head to the small town of Avilla in Noble County in northeastern Indiana. "Avilla is not a big town," she says , "but the St. James Restaurant there has been in continuous operation there since 1897." Jane tells us that it's a real destination place with lots of traditional Indiana foods like fried chicken and pork tenderloin sandwiches. The St. James also serves German fare, and they're known for their excellent bean soup, too.
Founded around the middle of the 19th century (the first post office opened in 1846), Avilla came into its own as a stop on the Grand Rapids and Indiana Railway. The St. James Hotel and Restaurant were established in 1878 by Jonathan James, a Pennsylvania farmer who moved to Indiana in 1860, and served as a stopover for those traveling the Hoosier state by rail.
By the middle of the 20th century, the once-proud St. James Hotel had seen its better days and had become a rundown tavern.
In 1949 the St. James was purchased and renovated by the Freeman family, who have kept it in the family for multiple generations since then, expanding the restaurant's seating space into the upper story originally occupied by the hotel. They proudly proclaim the St. James' status as the oldest restaurant in northern Indiana.
If you choose to venture out to the St. James, be sure to tell them that Roadtripper Jane Ammeson from Hoosier History Live sent you!
Chuck Taylor shoes, Wonder Bread and Alka-Seltzer: iconic products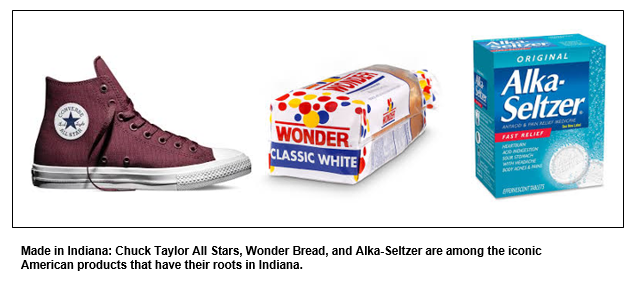 (August 5, 2017) Every day, more than 270,000 pairs of Chuck Taylor All Star basketball shoes are sold around the world by Converse. The athletic shoe's namesake was a shoe salesman who grew up in Columbus, Ind., during the early 1900s. He became a master marketer of the previously-created shoe, turning it into an enduring icon of the footwear world, worn by famous athletes and movie stars as well as by typical teenagers.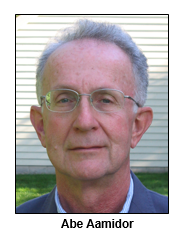 To share insights about the impact and Indiana roots of Brown County native Chuck Taylor (1901-1969), who first started wearing Converse shoes as a high school basketball star in Columbus, Nelson is joined in studio by Abe Aamidor, a Carmel-based author and journalist. Abe's biography, Chuck Taylor All Star: The True Story of the Man Behind the Most Famous Athletic Shoe in History, was originally published in 2006 but has been rereleased by IU Press, just in time for the shoe's 100th birthday.
When the Converse sneaker was introduced in 1917, it revolutionized the athletic shoe industry; it was lighter, cheaper and more flexible than competitors becausee it was made of canvas, rather than leather as was common at the time, and featured rubber soles. Chuck Taylor was not responsible for any of these innovations, but, as a sales manager, he pioneered marketing techniques for the shoe.
"He was a showman, kind of a P.T. Barnum," our guest Abe Aamidor notes. Crisscrossing the country, Taylor organized thousands of clinics focused on the increasingly popular sport of basketball. The events also helped promote the All Star athletic shoe. As part of the marketing strategy, Taylor made the decision to add his name and autograph to its design.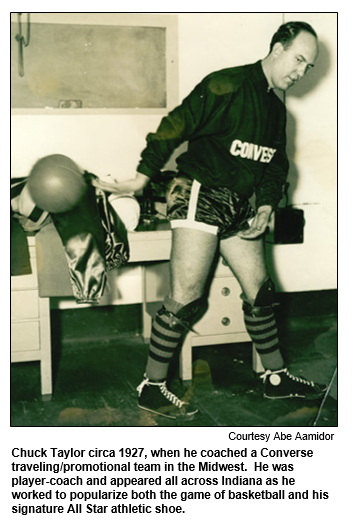 Chuck Taylor All Stars became the shoe of choice for basketball players, and their popularity lasted through the late 1960s, when various factors led to a steep decline in sales. These factors included critical comments about the sneaker made by Taylor's friend and fellow Hoosier, the iconic coach John Wooden, who was the subject of a Hoosier History Live show back in December of 2014. The fall of Chuck Taylors among athletes was also brought on by the ascendency of competitors such as Adidas and, later, Nike. By then, though, Chuck Taylor All Stars had found new life as a "fashion statement" (to use our guest Abe Aamidor's phrase), embraced by artists, musicians and teenagers.
In 1969, a few months before his death of a heart attack at age 68, Chuck Taylor was inducted into the Naismith Memorial Basketball Hall of Fame as a "contributor" to the sport's success.
We don't attempt to cover every iconic product with an Indiana connection during the show. But our focus includes two other household names with Indiana origins, which, like Chuck Taylor All Stars, are still sold around the world decades after their debuts: Wonder Bread and Alka-Seltzer.
Both are among products featured in a "Made in Indiana" exhibit on the Indiana History Train that visitors can board during the Indiana State Fair. Angela Wolfgram, a researcher for the Indiana Historical Society, the creator of the exhibit, joins Nelson by phone during the show to share insights about the famous bread and the tablet many associate with its "plop plop, fizz fizz" jingle.
Initially made by Indianapolis-based Taggart Baking Co., Wonder Bread was first sold in 1921. Its name and long-time logo of balloons has a direct connection to the Indianapolis Motor Speedway. A bakery executive attended an international balloon race at the racetrack and left in awe - i.e. with a sense of wonder - when marketing for the bread was initially being planned. Wonder Bread became the first bread to be sold pre-sliced in stores during the early 1930s.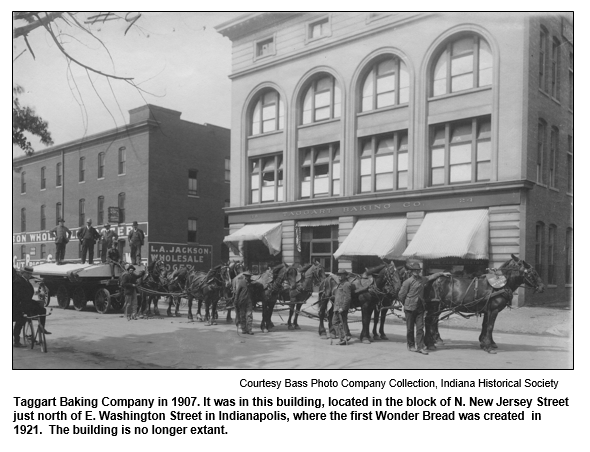 That was about the same time Alka-Seltzer was developed as a remedy for colds and upset stomachs by the Elkhart manufacturer that began as Miles Medical Company. Founded by Indiana physician Dr. Franklin Miles in 1884, the company eventually became known as Miles Laboratories.

On previous Hoosier History Live shows, we have explored other iconic products with Indiana connections. They include Orville Redenbacher's Gourmet Popcorn, which was the focus of a show about the life and career of its creator, an Indiana farm boy-turned-entrepreneur and advertising icon. The show was broadcast in 2013, the "Year of Popcorn" at the State Fair.

History Mystery
A doll that's famous around the world was created by a cartoonist who grew up in Indianapolis.

The doll made her debut in 1918 in a book of adventure stories in which she was the central character. The doll was created as a spin-off product that became far more popular than the books.

Question: Name the famous doll.

Hint: There's a connection between the doll and the poetry of James Whitcomb Riley.

The call-in number is (317) 788-3314. Please do not call in to the show until you hear Nelson pose the question on the air, and please do not try to win the prize if you have won any other prize on WICR during the last two months. You must be willing to give your name and address to our engineer and be willing to be placed on the air, and you must answer the question on the air. The prize is two tickets to the Hoosier Hops & Harvest festival in Brown County on Saturday, Aug. 26, courtesy of Story Inn, and two tickets to the Indiana History Center, courtesy of the Indiana Historical Society.



Roadtrip: New at the Indiana State Fair
We're bringing back Miss Melody, the schoolmarm in the Pioneer Village at the Indiana State Fair, to tell us about new happenings this year.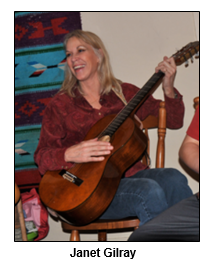 Drum roll please: this year's theme is "The Wonderful World of Food," which seems like an obvious tribute to the fair's culinary delights, both healthy and not-so-healthy! And, of course, we will get to learn more about where our food actually comes from.
Miss Melody will tell us that you can ride the newly-installed Subaru Sky Ride for $5 to give you a bird's eye view of all the happenings. For those who prefer life on the ground, the regular shuttle pulled by a tractor will still go around the Oval (it still only costs $1 and features some of the best people watching ever). All concerts are free with fair admission. Also new this year is the ride at Hedrick's Racing Pigs.
And don't forget to visit the Pioneer Village, which also has a new milk house! The Pioneer Village is in the northeast corner of the fair; look for the windmill! And visit the guitar-playing and singing Miss Melody in the one room schoolhouse (her 20th century alter-ego is known as Janet Gilray of Legacy Keepers Music). The fair runs August 4-21. Full information at 2017 Indiana State Fair.
Massachusetts Avenue in Indy history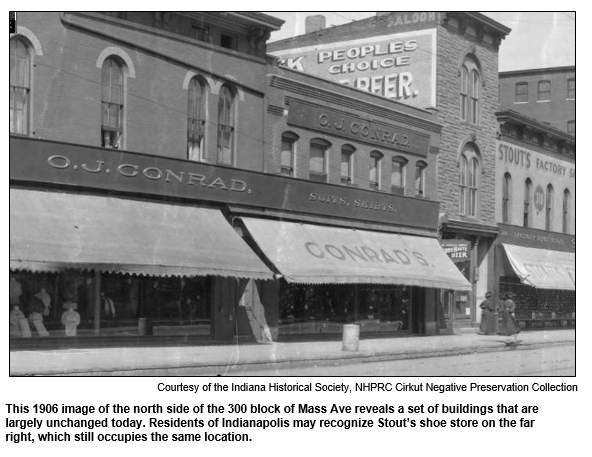 (July 29, 2017) During the late 1800s and early 1900s, the diagonal Indianapolis street running through the northeast quadrant of the Mile Square was a vibrant retail and commercial district.
By the mid-1900s, however, Massachusetts Avenue was known for fortune tellers and merchants who sold trinkets in struggling storefront shops. Dive bars eventually replaced many of these, along with boarded-up windows and vacant storefronts. By the 1980s, art galleries and "urban pioneer" merchants were popping up and the street was regaining some of its former panache.
Today, "Mass Ave" is one of the most bustling, pedestrian-packed areas of the state, with an eight-block stretch providing a home to more than 40 restaurants. Condos, apartments and a range of retailers add to the vibrancy. More rejuvenation is on the horizon, with a massive, $260 million renovation project planned for a former Coca-Cola bottling plant constructed in 1931 in the avenue's 800 block.
To explore the colorful history of Massachusetts Avenue, Nelson is joined in studio by three guests:
David Andrichik, an architect who purchased the Chatterbox Jazz Club in 1982 when the landmark was known as Chatterbox Tavern. Located in the 400 block, the tavern opened in the late 1930s. More recently, the Chatterbox has emerged as "a vital cog in the decades-old renaissance that has resulted in a more-vibrant-than-ever Mass Ave," as a cover story in the July issue of Urban Times puts it.
Connie Zeigler, a historian, writer and columnist for Urban Times, a monthly newspaper serving downtown Indy. Connie is the owner of C. Resources Inc., a preservation consulting and research firm; she owned a vintage furnishings shop on Mass Ave in the 1990s.
And Don Elliott, owner of The Frame Shop, which has been at 617 Mass Ave since 1999. Specializing in custom framing, corporate framing and art restoration, The Frame Shop originally opened in Broad Ripple in 1960.
In addition to boutiques, public artwork and restaurants serving cuisines ranging from Irish, Thai and Scottish to gourmet hamburgers, seafood and fried chicken, Mass Ave also has landmark buildings and businesses that are more than 100 years old. They include Stout's Shoes (the oldest shoe store in the country) and the Athenaeum, the German-American cultural center built in the 1890s; it houses the Rathskeller, the city's oldest restaurant.
During the early 1900s, Marott's Department Store in the 300 block opened in a building that later was renamed Marott Center. That's not to be confused with the Murat Temple, now renamed the Old National Center, the oldest extant theatrical venue in downtown Indianapolis, located at the intersection of Mass Ave, Michigan Street, and New Jersey Street.
Although storefronts along the avenue declined in the 1940s and '50s, Massachusetts Avenue remained busy with motorists: before the construction of interstate highways during the 1960s, thousands of northeast side residents used the diagonal thoroughfare as a major artery to commute downtown.
They would have passed the distinctive Coca-Cola bottling plant, which has an Art Deco exterior of white terra cotta. When the building opened during the Great Depression, it was considered the world's largest bottling plant. Like Mass Ave itself, the structure has had a colorful history, serving as a storage facility for vintage automobiles in the 1960s, and later as a central kitchen, bus depot and training center for Indianapolis Public Schools.

The massive redevelopment project is expected to include retail shops, apartments, movie theaters and a boutique hotel.

During the late 1800s and early 1900s, when several blocks of Mass Ave developed as a new retail district, shopping there did not have the prestige of retailers near Monument Circle or Washington Street like the Ayres and Block's department stores. But the Marott Department Store, opened in the early 1900s by British-born entrepreneur George Marott, was a success with middle-class shoppers.

Stout's Shoes founder Harry Stout opened the Mass Ave landmark in 1886. The shoe store, which is still owned by the Stout family, quickly became known for stocking shoes in hard-to-find sizes and widths.

The Chatterbox Jazz Club is known for year-round Christmas lights, Jamaican patties and drop-in visits by touring celebrities. (In 1989, Mick Jagger and Ron Woods of the Rolling Stones spent an hour relaxing there before a show.) In addition to making the Chatterbox an integral part of the city's jazz scene, our guest David Andrichik has been a key player in Mass Ave revitalization efforts.

David and others were involved in spearheading the Mass Ave Merchants Association. In recent years, the area has been designated the Mass Avenue Art and Theater District. In addition to the Murat, a venue for touring Broadway musicals and other productions, and the Athenaeum, which has a theater, Mass Ave is the home of Theatre on the Square.

History Mystery
When the city of Indianapolis was laid out in 1821, Massachusetts Avenue was one of 22 streets named after states in what is today downtown (the Mile Square). For various reasons, some of the initial street names have been changed over the years.
One of those original state names was dropped from a downtown street in the 1880s, when the current Indiana State Capitol Building was constructed. The street on which the landmark is located was renamed Capitol Avenue.

Question: What state was in the original street name?

Hint: Like several of the other streets that had their initial state names dropped, Capitol Avenue originally had the name of a Southern state.

The prize is two tickets to the Hoosier Hops & Harvest festival in Brown County on Saturday, Aug. 26, courtesy of Story Inn, and two tickets to the Indiana History Center, courtesy of the Indiana Historical Society.

Roadtrip: Jeffersonville on the Ohio River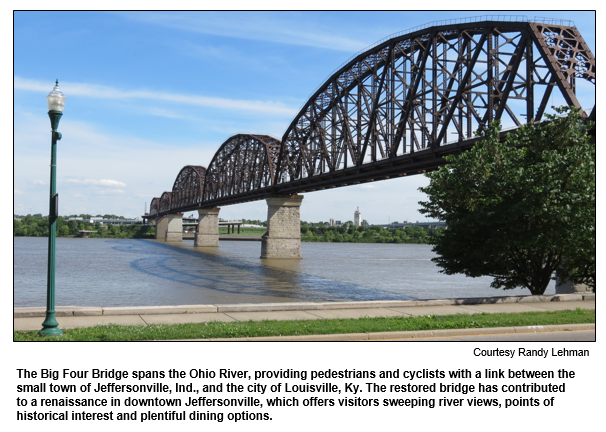 Guest Roadtripper Terri Gorney of Fort Wayne tells us that Jeffersonville makes a great day trip any time of the year. It's an old river town across the Ohio River from Louisville. In 1802 local residents used a grid pattern designed by Thomas Jefferson to lay out the original streets of the city, and Indiana Territorial Governor William Henry Harrison named the city in honor of the third president.
Jeffersonville is undergoing a renaissance in its downtown Main Street district and along the Ohio River. One big reason is the restored 1895 Big Four Bridge bike and pedestrian walkway across the Ohio River, as well as the city's Big Four Park.
"Big Four" refers to the Cleveland, Cincinnati, Chicago and St. Louis Railway, which operated primarily in Illinois, Indiana, Michigan, and Ohio, back when railroads ruled transportation in the Midwest. The old Big Four Bridge was abandoned in the 1960s and stood unused for decades before work began in 2011 to restore the bridge as a pedestrian and bicycle link between Louisville and Jeffersonville.
Terri suggests that you park in Jeffersonville and walk or bike the bridge to Louisville's Waterfront Park. There are sweeping views of the river and historic markers to read, and in the center of the bridge Handel's Water Music is played.
Visitors will enjoy the plaza just north of the bridge in Jeffersonville, where options abound for lunch or dinner. Terri says, "Two of my favorites are Buckhead Mountain Grill with good sandwiches, salads and great views of the Ohio River and the Red Yeti with its pub fare and craft beer. Another must stop is to Schimpff's Candy Store for treats to take home."
Visitors will enjoy the plaza just north of the bridge in Jeffersonville, where options abound for lunch or dinner. Terri says, "Two of my favorites are Buckhead Mountain Grill with good sandwiches, salads and great views of the Ohio River and the Red Yeti with its pub fare and craft beer. Another must stop is to Schimpff's Candy Store for treats to take home."
Little-known stories of Hoosiers in the Civil War
(July 22, 2017) Letters written by Indiana children to their fathers who were dying on the front lines of the Civil War. Orphanages and homes for widows that were championed after the war by women civic leaders, including one who had served as a spy. (She escaped from a Confederate camp with a gun hidden in her skirts.)
A Copperhead grave robbery near Rochester, Ind.
And captured Confederate battle flags that helped expand collections of the Indiana State Museum, which had its humble origin as a cabinet of mineralogical samples assembled by State Librarian R. Deloss Brown in 1862.
They are among the little-known Civil War stories involving Hoosiers that are described in a new book we explore during our show. Nelson's guests are three Civil War experts who have contributed to the new book, A Cabinet of Curiosities from the Civil War in Indiana: Important, Moving, and Sometimes Odd Stories of the Human Side of the War (Hawthorne Publishing). The guests are:
Nancy Baxter, the author of 11 books about Indiana history and the editor of the new book.
Steve Towne, the archivist at IUPUI and an expert on Copperhead activity and spies in Indiana.
And Dale Ogden, the recently retired chief curator of cultural history at the State Museum, which has an array of Civil War-era photos and artifacts.
The State Museum's artifacts include a 90-pound shell fired by Confederates at the 18th Indiana Light Artillery, which was led by then-Captain Eli Lilly. The shell was unidentified until recent years.
After its establishment during the Civil War, the State Museum quickly became the repository of Confederate regiments' flags captured by Indiana soldiers. During the early 1960s, Gov. Matthew Welsh decided the captured flags should be returned to the South.
Indiana sent nearly 210,000 men and teenage boys to fight for the Union cause, the second highest percentage of any Northern state in proportion to its population. As A Cabinet of Curiosities notes, diseases such as dysentery and typhoid fever in the soldiers' camps killed far more Hoosiers than battle.
At some of the camps, Lovina Streight of Indianapolis joined her husband (who rose to become a brigadier general) and his troops. She nursed wounded soldiers and spent time as a spy.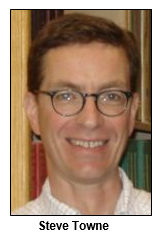 A Cabinet of Curiosities describes how after the Civil War, Mrs. Streight and other women became benefactors of soldiers' widows and orphans in Indiana. Mrs. Streight was buried with full military honors in a ceremony at Crown Hill Cemetery attended by 5,000 people.
The grave robbing near Rochester involved the return of a Union Army soldier's body to Fulton County, where he had been a prosperous farmer.
As our guest Steve Towne recounts in A Cabinet of Curiosities, the soldier's widow wanted to see her husband's corpse. But his coffin, a metal box, could not be pried open. Southern sympathizers in the community speculated the coffin contained ammunition - resulting in their efforts to dig it up. During our show, Steve explains what unfolded.
Nelson and his guests also explore the bizarre "Battle of Pogue's Run" in Indianapolis. An urban stream with stretches that disappear into the city's sewer system (parts of the 11-mile creek were rerouted underground after the Civil War), Pogue's Run "played its part in Copperhead agitation midway through the war," as A Cabinet of Curiosities puts it.
The conflict - not truly a "battle" - unfolded when Democrats, many of them Southern sympathizers, held their state convention in Indianapolis in 1863. Delegates and Union soldiers clashed. Then, dozens of the delegates boarded trains with their weapons and fired shots out of the windows.
After soldiers stopped the trains to confiscate the guns, Copperheads threw as many as 1,000 revolvers into Pogue's Run. (Hoosier History Live explored Pogue's Run during a show titled Bygone Natural Landmarks in July 2016.)
The Confederate regimental flags captured by Indiana soldiers - and stored for decades at the State Museum - were returned to the South amid much fanfare during the early 1960s by Gov. Welsh. They are now housed in a museum in Little Rock, Ark.

History Mystery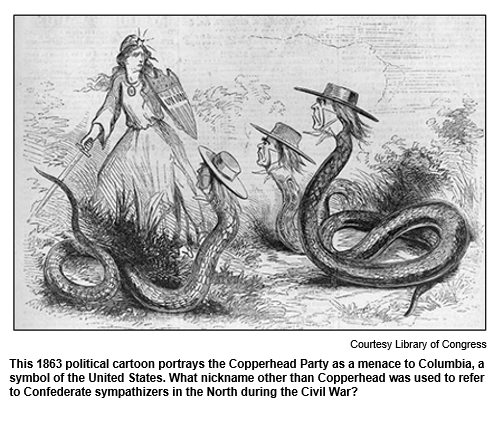 In addition to being called Copperheads, Southern sympathizers in Indiana and other Northern states during the Civil War were often called by another name. The name also was used to refer to Confederate soldiers in general. That's because the one-word nickname was derived from the color of the uniforms that Confederate soldiers often wore.

Question: What is the nickname?

Hint: The uniform color that inspired it is not gray, although that was a standard color for Confederate soldiers, particularly during the final years of the Civil War.

The prize is a Family 4-Pack to Conner Prairie Interactive History Park, including four rides on the 1859 Balloon Voyage, courtesy of Conner Prairie, and two admissions to the Indiana History Center, courtesy of the Indiana Historical Society.

Roadtrip: Gravity Hill near Mooresville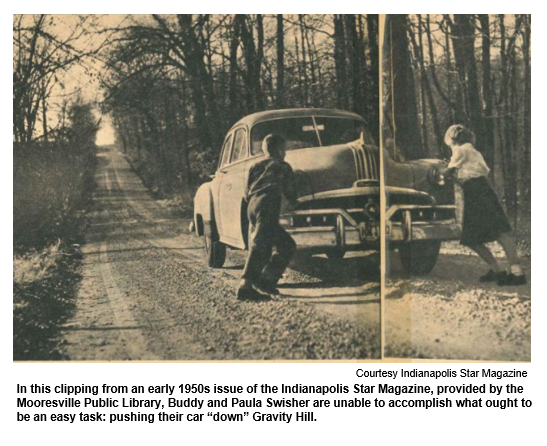 Guest Roadtripper and educator Ken Marshall says we should explore Gravity Hill near Mooresville to determine if, as the story has gone for decades, cars and other earth-bound objects will defy gravity and roll uphill there.
Explanations abound: Is it an optical illusion in which the road is actually going down although it looks like it is going up? Is it a huge magnetic field of some type, pulling objects counter to Newton's law of universal gravitation? Or does a Native American mystic buried at the top of the hill exert a magical influence over the area?
To explore the phenomenon of Gravity Hill, you can watch WFYI's Across Indiana segment exploring the eerie phenomenon. The story was produced by Dave Stoelk and features Mooresville historian Don Adams, a former Hoosier History Live guest, as well as physics professor Bennett Brabson of Indiana University. If your curiosity still isn't sated, you can learn more about Gravity Hill from a file of news clippings provided by Mooresville Public Library.
To investigate the phenomenon first-hand, take a road trip to Gravity Hill yourself. Plug in the following address to Google maps or your preferred GPS gadget: 705 Keller Hill Rd., Mooresville, Ind. 46158. If you're coming from Indianapolis, the route will take you west on I-70; turn south on Highway 267, go southwest on S.R. 42 in Mooresville, and then turn west on Keller Hill Road, which is also County Road 1200 North.
If you do go to investigate in person, be careful to watch for cars coming up and down those funny hills!

Spotlight: WICR student engineer Skylar Sigman
Although Hoosier History Live host Nelson Price and his guest experts get all the glory, a live call-in radio show takes a good deal of behind-the-scenes labor to stay on the air. We are very grateful to a rotating group of outstanding communications students at WICR at UIndy, under the leadership of program director Henri Pensis, for providing this support.
Meet one of those students, senior Skylar Sigman, from Monticello, Ind., who says that "Most of the calls into Hoosier History Live are good, and it's fun!"
Skylar did say he took extra care in screening the calls for our July 9 show on "Brothels and streetwalkers in pre-1920 Indy," wary that the unorthodox topic might attract some jokesters (a fear that proved unfounded: all our calls that day were respectful!)
As producer Molly Head says, "We insist on being a gentleperson's show. That goes for our guests, hosts, and callers. We'd like to be a fresh alternative to the talk-radio vitriol out there. Besides, you might learn a thing or two while you are tuning in!"
We'd like to encourage more callers to phone in during the show and pose their questions or comments to Nelson and his guests. Don't be shy! You'll have to give your first name to Skylar or another student engineer and will be asked to wait a few moments on hold until Nelson can take your call, but we'd love to hear your thoughts on the day's topic.
Tamika Catchings, history maker
(July 15, 2017 ) She has been called the most beloved athlete in Indiana - and not only because she's considered to have been one of the best female professional basketball players in history. Nor is it merely because she has won four Olympic gold medals.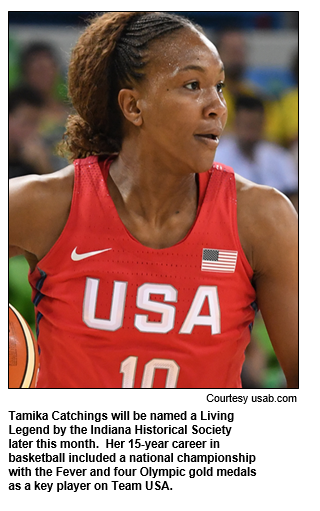 Tamika Catchings is regarded as an inspirational figure even by admirers who never have attended an Indiana Fever game.
Born with a profound hearing impairment that caused her to be bullied as a child, Tamika established her Catch the Stars Foundation in 2004 to help young people confronted by challenges. She has written an autobiography, Catch a Star (Revell Publishing, 2016) in which she describes how she was discouraged from chasing dreams.
Tamika, 37, is about to be named a Living Legend by the Indiana Historical Society. Last month, her jersey (No. 24) became the first to be permanently retired by the Indiana Fever; her entire 15-year playing career in the WNBA was spent with the team.
She is Nelson's guest to talk about a range of aspects of her life and career, which includes a new role: tea shop proprietor. A few months ago, Tamika bought the Tea's Me Cafe, 140 E. 22nd St., after learning the owners intended to shutter it. She had been a longtime patron and didn't want the cafe to close.
The last two years have been something of a whirlwind for Tamika. She married her husband, Parnell Smith, in a small ceremony in downtown Indy. She has become a commentator for ESPN's SEC network. She also has a new job with Pacers Sports and Entertainment: director of player programs and franchise development. And she recently gave the commencement address at IUPUI.
"If anyone can do it, you can," she repeated to the graduates as a refrain throughout her speech.
Although her father, Harvey Catchings, enjoyed a 12-year career with the NBA and then played pro basketball overseas, the WNBA didn't even exist until Tamika was 16 years old.
By then, she had moved multiple times, spending her formative years everywhere from Italy to Texas as the family was continually uprooted because of her father's career. In Catch a Star, which Tamika wrote with Ken Petersen, she describes how she was perceived at the succession of new schools:
"Tamika Catchings was still just an odd-looking girl with big box hearing aids over her ears."
She went on to lead the Fever to a national championship in 2012, win four Olympic gold medals (the most recent at the 2016 Rio Olympics) as a key player on Team USA and receive the ESPN Humanitarian Award.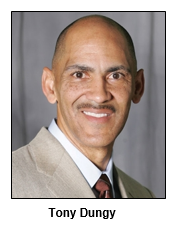 "Tamika has been a shining light in the community, a tireless worker, and a tremendous role model not only for young athletes, but for everyone," writes Tony Dungy, the former Indianapolis Colts coach, in the introduction to Catch a Star. "She is one of the rare superstar athletes who really 'get it.'"

Tamika was drafted by the Indiana Fever in 2001 after leading the University of Tennessee's team to a national championship. At Tennessee, she had suffered a severe leg injury, but in Indianapolis she rebounded and excelled with the Fever, overcoming what Tamika describes in her autobiography as painful shyness during her youth.

"The name-calling, the put-downs, all the being singled out and set apart was too much," she writes in Catch a Star, referring to childhood teasing because of the hearing aids she wore.

When she launched her Catch the Stars Foundation, Tamika's goal was to help disadvantaged and challenged youth. In recent years, the foundation has expanded its mission to "empower youth to achieve their dreams by providing goal-setting programs that promote literacy, fitness and mentoring," as stated on the organization's website.

In addition to Tamika Catchings, the Living Legends this year will include Janet Allen, the longtime artistic director of the Indiana Repertory Theatre who was the Hoosier History Live guest July 1. At the Legends gala, which will be held July 28 at the Indiana History Center, business leader Mark Miles and civic leaders/philanthropists John and Sarah Lechleiter also will be named Living Legends.

History Mystery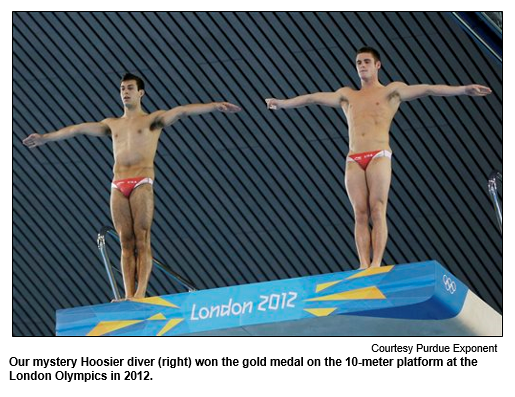 In addition to Tamika Catchings, who won a gold medal in women's basketball as part of Team USA, Hoosiers who won medals at the 2016 Rio Olympics included a diver who grew up in Noblesville.
The diver, who won a silver medal in synchronized diving on the 10-meter platform, had done even better at the 2012 London Olympics. At those Olympic games, he won the gold medal on the 10-meter platform.
He attended Purdue University; today, he lives in West Lafayette.
Question: Who is the diver?
The call-in number is (317) 788-3314. Please do not call in to the show until you hear Nelson pose the question on the air, and please do not try to win the prize if you have won any other prize on WICR during the last two months. You must be willing to give your name and address to our engineer and be willing to be placed on the air, and you must answer the question on the air. The prize is two admissions to the Indiana History Center, courtesy of the Indiana Historical Society, and two admissions to the Benjamin Harrison Presidential Site, courtesy of the Benjamin Harrison Presidential Site.

Roadtrip: Kokomo Automotive Museum
Guest Roadtripper Kayleen Reusser of Bluffton in northeastern Indiana, author of the blog World War II Legacies: Stories of Northeast Indiana Veterans, suggests a Roadtrip to the Kokomo Automotive Museum. Kokomo is where one of the first motor vehicles built in America was assembled in 1894 by Elwood Haynes.
Those first cars were called "Haynes" and then "Haynes & Apperson" after two brothers who bought into the business. The nascent U.S. automobile industry as a whole experienced rapid growth and by 1900 was producing 8,000 cars a year. Unfortunately, competition and the Great Depression caused Haynes to go out of business in 1925.
The Kokomo Automotive Museum, which opened in 1997, features the largest collection of Haynes automobiles in the United States, as well as 112 vehicles of various models and purposes. Many of the vehicles date from the late 1800s, but not every car is more than a century old. Here's a museum where you can see a 1957 T-bird with a supercharged V8 engine, a 1935 Auburn sports car with front suicide doors (manufactured in Auburn, Ind., now home to the National Auto and Truck Museum), a 1936 Packard convertible and 1941 black Cadillac.
Kayleen tells us that the museum is open year-round. Sharing her etymological prowess, she also informs us that the word "automobile" comes from the Greek word "auto," meaning self, and "mobile," from the French word meaning moving.
Happy Roadtripping!
Brothels and streetwalkers in pre-1920 Indy
(July 8, 2017) In our quest to explore all aspects of our heritage, even the unsavory and notorious, this edition of Hoosier History Live delves into a seldom-examined topic: Red-light districts and prostitutes in Indianapolis at the turn of the last century.
To examine these aspects of the Hoosier state capital's social history, Nelson's studio guest is a popular professor in IUPUI's Department of Anthropology, Paul Mullins. A historical archaeologist, Paul has researched and written about pre-1920 prostitution as part of a larger project titled "Invisible Indianapolis: Race, Memory, and Community Memory in the Circle City."
Along with co-director Susan Hyatt and a team that includes both undergraduate and graduate students, Paul is publishing the project's findings in a blog titled Invisible Indianapolis. The project's overarching goal: to show the historical impact of seemingly invisible urban social factors such as racial redlining, highway construction and gentrification.
Paul has identified two major red-light districts in Indy during the late 1800s and early 1900s:
An area bounded by what is today Park Avenue (then called Liberty Street) and Market, East and Washington Streets.
A district at the site of what is now another hospitality building, the Indiana Convention Center. The district ran along Senate Avenue near Georgia Street.
"Prostitution probably always was an element of the early cityscape, but some of the earliest evidence for houses of prostitution comes in the 1850s," Paul writes in the blog.
He quotes an 1857 newspaper account of a shooting at a brothel managed by a "mysterious woman." After the shooting, he adds, the illicit business "became the target of mob justice when [the woman's] brothel was set afire by a mob of more than 200 people."
The census in 1870 and 1910 apparently even listed the occupations of some Indianapolis women as "prostitute." Others were listed in city directories as "seamstresses," but Paul's research indicates many of these actually were prostitutes, living in brothels (sometimes called "female boarding houses" by Sanborn Fire Insurance Company maps) raided by the police.
"The desperation of some women working as prostitutes was documented in a string of suicides and suicide attempts," Paul reports.
Paul Mullins is a past president of the Society for Historical Archaeology. For several years, Paul and his students could be seen during the summer months excavating sites near the IUPUI campus. Paul was a Hoosier History Live guest in 2009 when he was leading an excavation on the site of the long-demolished home of Madam Walker, the wealthy African-American entrepreneur and philanthropist.
According to Paul's research for Invisible Indianapolis, prostitutes often worked "in and around" Union Station during the late 1800s and early 1900s. (Before majestic Union Station opened during the 1880s, its predecessor, Union Depot, was the first train station in the country where competing railroad lines came together.)
Near the bustling train station, brothels were located among saloons and stores on South Street.
Farther east, a bygone street named East Court Street (now a parking lot between East and Park) had a cluster of brothels that Paul describes as "the city's most prominent concentration" of such businesses. In 1898, a Sanborn map "identified nearly every structure on East Court as a 'female boarding house,'" Paul writes, noting that at least 10 of these 16 homes listed in the 1899 city directory were brothels.
His blog describes attempts by local churches to encourage police raids of the brothels. Some of the churches also were active in the temperance movement.

History Mystery
When the Indiana Convention Center opened in 1972 near what had been the site of a red-light district decades earlier, the new venue hosted dozens of music concerts. Headliners among the first performers at the convention center in 1972 included a rock group that continues to tour.
The group had performed at the Indiana State Fairgrounds in 1966, two years after legendary concerts there by the Beatles. The first performance in Indiana by our mystery rock group was in Fort Wayne during 1964.
Since the group's 1972 concert at the convention center, they have returned to Indianapolis several times, most recently for a concert during the Fourth of July weekend of 2015.
Question: Name the rock group.
The prize is two admissions to the Indiana History Center, courtesy of the Indiana Historical Society, and a family 4-Pack to Conner Prairie Interactive History Park, including 4 tickets to the 1859 Balloon Voyage, courtesy of Conner Prairie.

Roadtrip: Central Library in Indianapolis
You might not think of a public library as a tourist destination, but guest Roadtripper Mick Armbruster recommends a sight-seeing visit to the Central Library in downtown Indianapolis. As the flagship of the Indianapolis Public Library system, this architectural gem offers outstanding examples of art, fascinating insights into history and an unparalleled view of the city skyline. Oh, and you might even check out some books during your visit as well!
Parking is available in an underground lot directly beneath the library, but Mick suggests that you snag a metered parking space ($1/hour) on Pennsylvania, Meridian or St. Clair streets, just south of the library. This will allow you to enter through the main doors of the library's original building, constructed in 1917 in classic Greek Doric style. Before you pass under the massive portico and through its enormous fluted columns, however, take a minute to gaze south at the American Legion Mall with its gilt statuary, gigantic American flag and fountains that all serve to memorialize the fallen soldiers of our nation's wars.
Once inside, take in the original library building's central hall (now called the Simon Reading Room). Its ceiling murals depict the history of written language, from the Rosetta Stone to the modern printing press, as well as scenes from Indiana's early exploration and settlement.
The heart of the modern Central Library is the massive, light-filled atrium that joins the original building to the modern glass tower that was added in 2007. Here you can pick up a snack in the cafe, people watch, or make use of the library's free wifi Internet service. The atrium also provides access to the Learning Curve, the library's award-winning children's center, which offers state-of-the-art learning activities for kids.
Don't miss out on Mick's favorite part of the Central Library: the sixth floor of the modern building, which offers spectacular views of the city skyline. The sixth floor also houses the Special Collections Room, where history buffs can view such treasures as ancient Babylonian tablets, a leaf of a Gutenberg Bible, and signed copies of books by Booth Tarkington.
Janet Allen, IRT history and the Indiana Theatre
(July 1, 2017) Although Janet Allen has been artistic director of the Indiana Repertory Theatre since 1996, her involvement with the state's acclaimed, professional equity theater company actually extends back to 1980.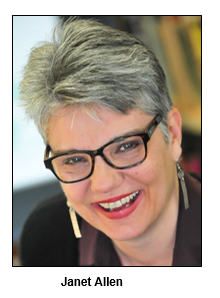 So Janet's designation as a Living Legend by the Indiana Historical Society not only provides an opportunity for Hoosier History Live to explore her impact. We also delve into the evolution of the IRT, which was founded in 1972. The show also explores the colorful history of the IRT's home, the Indiana Theatre, the Spanish Baroque-style theater that opened as a movie palace in the late 1920s on West Washington Street in downtown Indy.
Since becoming artistic director, Janet has significantly expanded the productions and services at the IRT, which was originally housed at another downtown landmark, the Athenaeum. (The inaugural production in 1972 was a performance of "Charley's Aunt", a farce written in the 1890s.) For 19 years, Janet has worked with the IRT's playwright-in-residence James Still to create 15 new works known as the Indiana Series. James has been a Hoosier History Live guest in connection with several of those Indiana-focused plays. Most recently, he was a guest on a 2015 show in connection with "April 4, 1968," his play about the impact of Bobby Kennedy's historic speech in Indy on the night Dr. Martin Luther King Jr. was assassinated.
Janet began at the IRT as its first dramaturge (literary manager) in 1980, the same year the theater company moved into the space previously occupied by the Indiana Theatre.
Built as the largest cinema in the state in 1927, the six-story Indiana Theatre eventually became the state's first with Panavision, 3-D capability and stereophonic sound. Classic movies such as Ben-Hur (1959) made their city premiere at the movie palace. Cinerama, the motion picture system that kicked off the widescreen trend, premiered at the Indiana Theatre in 1960; audiences were captivated by the extra-wide image projected onto a curved screen. Despite its glorious heritage, the Indiana Theatre deteriorated and was threatened with demolition before undergoing a renovation and reconfiguration to become the IRT's home.
Ever since the Indiana Theatre opened, the top floor has housed the Indiana Roof Ballroom. Designed to resemble a Spanish village square, the Indiana Roof is known for its domed, deep-blue ceiling with twinkling electric stars. According to The Great Theatre, a privately published history of the IRT and the Indiana Theatre, billboards announced "A Touch of Old Spain in Indiana" when the theater opened during the 1920s.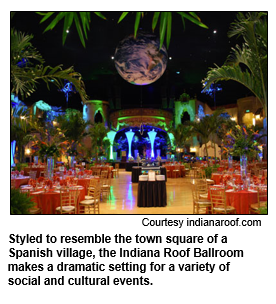 When the original Indiana Theatre was renovated in the late 1970s, the cavernous auditorium of the movie palace (capacity 3,200) was broken up into three floors with three different performance spaces: a main stage with a traditional proscenium arrangement, an upper stage in which the performance area thrusts into the audience, which surrounds it on three sides, and a cabaret, with flexible performance space and seating. The original Spanish Baroque ornamental details were largely preserved in each of the three performance areas.
The IRT was founded during the early 1970s by three Indiana University doctoral students who solicited interest from nearly 100 cities. According to several accounts, Indianapolis expressed the most enthusiasm about a professional repertory theater.
The IRT's premiere season in 1980-81 at the renovated Indiana Theatre included a production of "A Christmas Carol," the Charles Dickens tale that has become a holiday season staple.
In an interview with The Indianapolis Star in 2007, her 11th year as artistic director, our guest Janet Allen said her favorite productions have included the Indiana Series and Shakespeare's plays. She noted a special fondness for plays "that we loved working on that we think won't be a big audience pleaser" - but then become one.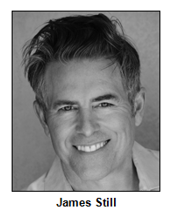 In the latter category, she identified two productions derived from history: "Copenhagen," which was staged by the IRT in 2002 and is based on a meeting of physicists in 1941, and "Looking Over the President's Shoulder," a play by James Still that had its world premiere at the IRT in 2001. "Looking Over the President's Shoulder" tells the story of an African-American from Indiana who served as the chief butler for four U.S. presidents; since its premiere at the IRT, the play has been performed at Ford's Theater in Washington D.C. and elsewhere across the country.

Janet Allen, who lives in a cottage built during the 1850s in downtown Indy, is a native of Illinois. She has studied theater at Illinois State University, Indiana University and Exeter College. Her array of civic and artistic honors includes a Distinguished Hoosier Award.

In addition to Janet, the other Hoosiers named Living Legends this year are Tamika Catchings, the recently retired star of the Indiana Fever who is considered one of the best women basketball players of all time; Mark Miles, president/CEO of Hulman & Co., who previously led the campaign by Indianapolis to host the 2012 Super Bowl; and civic leaders/philanthropists John and Sarah Lechleiter.

History Mystery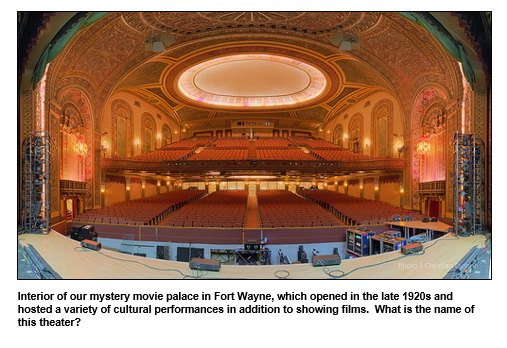 In 1928, one year after the Indiana Theatre opened as a movie palace in Indianapolis, a majestic movie palace opened in Fort Wayne. The theater, which has a pipe organ, also served as a vaudeville house and concert venue. Louis Armstrong, Tony Bennett, Doris Day and Red Skelton performed there.
During the 1970s, though, the Fort Wayne theater was threatened with demolition. Civic leaders rallied to save this historic landmark, and it has since undergone several restorations. Today, it is a performing arts center listed on the National Register of Historic Places.
Question: What is the name of this historic theater in Fort Wayne?

Roadtrip: Quayle Learning Center in Huntington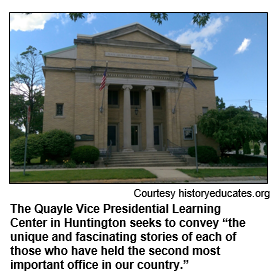 Guest Roadtripper Andrea Neal, a teacher at St. Richard's Episcopal School and author of Road Trip: A Pocket History of Indiana, tells us that that according to historian Jules Whitcover, throughout much of U.S. history the office of vice president "had little significance or utility in governing the nation's affairs." In modern times, however, the vice president has functioned as something of an assistant president, taking on not only ceremonial duties but also traveling abroad to articulate foreign policy and serving as chief communicator for the president's agenda.
This evolution of the vice president's role, from irrelevance to power, as Whitcover describes it, is documented at the Quayle Vice Presidential Learning Center in Huntington. All six of Indiana's vice presidents (including Mike Pence) are featured, but make no mistake: This is a museum dedicated to all 48 men who have held the office. According to Smithsonian Magazine, this is the only museum in the land devoted to the nation's second-highest office. The center, open on weekdays but not weekends, is available for field trips and offers a variety of educational programs on the Constitution, the separation of powers and Indiana government.
Hoosiers wanting to learn more about Indiana's six vice presidents will find information and artifacts at the Quayle Vice Presidential Learning Center in Huntington, the hometown of our fifth vice president, Dan Quayle.
Coming soon to a podcast near you! Weekly Hoosier History Live shows now available online
Breaking news! Shows aired on Hoosier History Live will now regularly be available as podcasts on our website, a week after they originally air Saturdays at noon on WICR, 88.7 FM.

If our regular broadcast time doesn't fit well into your schedule, you can now listen to the show as a podcast any time you like, starting on the Friday following the show. Just look for the podcast link placed prominently under the Hoosier History Live banner above, or watch for the link at the top of your weekly Hoosier History Live newsletter.

Making weekly use of the podcasting technology does present some challenges. We are a small group of Indiana creative types who work out of our homes, and in the past we have generally outsourced the production of our podcasts. The process involved numerous steps, including fine-tuning the audio recording, voicing credits, finding sponsors, uploading audio files and placing links on website.

We've streamlined and simplified the podcast production process over the past several months. The new format will not involve the extensive audio editing or post-production work done on these recordings in the past, but we believe the regular availability of the shows as weekly podcasts outweighs any disadvantages. By making every show available on the web within a week of its original radio broadcast, we believe we are best serving the listening audience of Hoosier History Live.

A media project like Hoosier History Live needs good tech people working together to survive, and we are grateful to our talented tech team of Richard Sullivan, Derrick Lowhorn, and Michael "Mick" Armbruster.

Want to help? The best way you can help is to support us financially, either through a business or organizational sponsorship, which you can arrange by emailing Molly (molly@hoosierhistorylive.org) or calling her at (317) 927-9101. You can support us as an individual by clicking on the yellow "Donate" button (keep scrolling down and you'll see it), or by visiting the "Support Us" page on our website.
Ask Nelson - and a top environmentalist, too
(June 24, 2017 show) A few times each year, Hoosier History Live opens the phone lines for the entire show so listeners can inquire about any aspect of our state's heritage.
During these shows, host Nelson Price is joined by a co-host with insights to share. With decisions about the Paris Climate Accord sparking responses from Indiana's mayors and other public figures - and development possibilities along the White River igniting much discussion across Central Indiana - listeners have the chance to ask questions of one of the state's top environmentalists.
Jesse Kharbanda, executive director of the Hoosier Environmental Council, the state's largest environmental policy organization, is Nelson's co-host. The two interview each other between phone calls from listeners, who are invited to call in with questions. The WICR-FM studio number is 317-788-3314.
A top issue for discussion between Nelson and Jesse: the White River, which has been a focus of civic leaders since the deepest history of Indianapolis, when founders of the new state capital dreamed of making it navigable for steamboats. An early governor, Noah Noble, even offered a prize of $200 to the first steamboat captain who could reach Indy with cargo. During the show, Nelson shares details about an attempt to navigate the river in 1831 by Gen. Robert Hanna that became the laughingstock known as "Hanna's Folly."
In addition to tracing the history of the White River as a waste receptacle - factories like the former Kingan meat packing plant used it as a garbage dump - the show explores the cleanup of the river and its Central Canal in recent years. Nelson asks Jesse, who has lead the Hoosier Environmental Council since 2007, for his reactions to ideas broached by business leaders and community groups for more retail and recreational use along the waterway. Characterizing the White River as "a largely underused asset," a cover story in the Indianapolis Business Journal described how public officials and community leaders have been "quietly traveling to other river cities" such as San Antonio, Texas, and Wilmington, N.C., "to see how they've turned their waterways into community assets."
Turning to other environmental concerns, Nelson and Jesse explore how civic leaders such as Carmel Mayor Jim Brainard, a Republican, and South Bend Mayor Pete Buttigieg, a Democrat, have stepped up their cities' commitments to fighting climate change in response to President Trump's decision to withdraw from the Paris Accord. In the context of these Hoosier state cities' efforts to reduce greenhouse gas emissions, Jesse discusses the "barriers and promise" of solar energy in Indiana.
Jesse also shares insights about the so-called North Woods, part of Crown Hill Cemetery in Indianapolis until being sold to the Department of Veterans Affairs in 2016 for development as a site for interment of the cremated remains of US veterans. The old-growth forest has been saved thanks to a recent land swap that will allow the VA to develop another area within Crown Hill, and Jesse discusses local environmental groups' hopes to turn the North Woods' 15-acre plot into a nature preserve for the enjoyment of the public. A Rhodes Scholar, Jesse recently received an honorary doctorate from DePauw University.
The show also includes brief histories of two of the best-known public parks in Indianapolis, Garfield Park on the Southside and Ellenberger Park on the Eastside.
The oldest park in the Indy Parks system, Garfield Park is featured in Nelson's visual history book Indianapolis Then and Now (Pavilion Books, 2015 revised edition). Garfield Park traces its beginnings to 1873, when the city purchased land from civic leaders who had created Southern Park, a harness racetrack, on the site. The park was renamed as a tribute to President James A. Garfield after his assassination in 1881. A conservatory, pagoda and sunken gardens (dedicated in 1916) made the park a popular destination.
Ellenberger Park in the Irvington neighborhood is on 42 acres of heavily-wooded, hilly land once owned by John Ellenberger, a farmer and civic leader of the late 1800s. The park was established in the early 1900s, according to an article about Ellenberger's history published on the Historic Indianapolis website. Urban planner George Kessler, a nationally renowned landscape architect, developed Ellenberger as part of the city's boulevard and park system and linked it via bridge to Pleasant Run Parkway. The first swimming pool at Ellenberger opened in 1930. An ice rink, which was popular for more than 40 years, closed in 2009.
Kessler, the namesake of Kessler Boulevard, primarily was based in St. Louis. That's also where Jesse Kharbanda, Nelson's co-host, grew up. Since moving to Indiana, he has been named by the Indianapolis Business Journal to its "Forty Under 40" roster of rising young business and professional leaders and has been the focus of a cover story in Nuvo Newsweekly. In addition to sharing insights about the White River and other topics during our show, Jesse discusses the proposed Mounds Greenway, a plan to create a "greenbelt" between Anderson and Muncie.
Primarily, though, the show offers listeners the opportunity to phone in and ask questions of the two co-hosts. Reminder: The call-in number for the WICR-FM studio is 317-788-3314.
History Mystery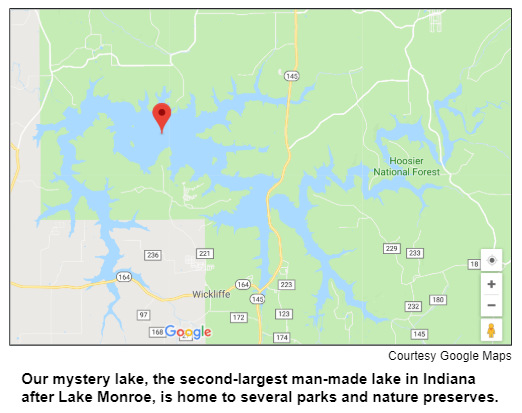 Monroe Lake southeast of Bloomington is the largest lake entirely located in Indiana. But Monroe Lake, a reservoir, is man-made. The largest natural lake entirely located in the state is Lake Wawasee near the town of Syracuse in far-northern Indiana.

Question: What is the state's second largest natural lake?

The call-in number is (317) 788-3314. Please do not call in to the show until you hear Nelson pose the question on the air, and please do not try to win the prize if you have won any other prize on WICR during the last two months. You must be willing to give your name and address to our engineer and be willing to be placed on the air, and you must answer the question on the air. The prize is a gift certificate to Story Inn in Brown County, courtesy of Story Inn, along with a pair of passes to the Indiana History Center in downtown Indianapolis, courtesy of the Indiana Historical Society.
Roadtrip: Squire Boone Village and Caverns near Corydon
Guest Roadtripper and food and travel writer Jane Ammeson suggests a Roadtrip to Squire Boone Village and Caverns. It's tucked away on a dirt road just south of Corydon in southern Indiana, our state's first capital. You'll have an opportunity to explore a cave as well as a restored village that dates back to the early 1800s.
Squire Boone was an explorer and woodsman, famed in his day for his exploits in opening up Indiana and Kentucky to European settlers. In this rural area near the Kentucky border, he established a small village with a gristmill and stores. Squire's older brother, Daniel Boone, achieved a lasting fame (including his own TV show!) after his death, but Squire faded into the mists of history. Or rather, he would have, if two spelunkers had not discovered his bones in a vast underground cave that Squire considered to be almost mystical.
Although Indiana and Kentucky are now peaceful lands, back in the late 1700s when the Boone boys first came here, the area was full of hostile Native Americans who naturally resented the invading frontiersmen. Of the first eight white men to enter Kentucky, Squire and Daniel were the only two to remain alive. And it was Squire who saved his older brother Daniel during one of the skirmishes.
Squire Boone discovered the cave that now bears his name during one of his forays into southern Indiana in 1790. While he was being chased by angry Shawnees, he found the cave and was able to hide there.
Years later, Squire Boone, returning with his wife, four grown sons and their families, constructed the mill, built a house and spent time in the awe-inspiring cave. On the foundation stones of his mill he carved the following inscription: "My God my life hath much befriended, I'll praise Him till my days are ended." Honored by Congress for his service during the Revolutionary War, Boone often found himself in hand-to-hand combat, including at the Battle of Fort Boonesboro. These battles resulted in his being wounded eleven times, including several wounds that were nearly fatal.
Squire Boone, who died at the age of 71, asked his children to bury him in one of the caverns underneath his village. And so they did when he died in 1815.
After his bones were discovered more than 160 years later, a coffin was shaped out of walnut to hold his remains, and it lies in one of the cave's vaults.
Visitors who descend into the cave and move through its rooms, past cascading waterfalls (more than a million gallons of water flow through the cave every day) eventually come into a room where the coffin and a tombstone marker sit in front of a set of bleachers. It is here that the cave guide tells the story of Boone and his cave.
Open to the public since 1973, just recently a new passageway was opened for touring. Squire Boone Caverns has the largest rimstone dam accessible to the public in the United States. You can also see a mill where grain is ground.
Johnson County's restored historic buildings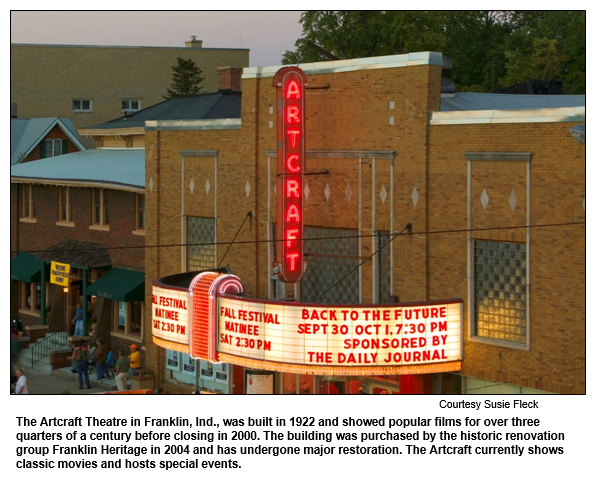 (June 17, 2017) If restored historic buildings were movie actors, the Artcraft Theatre in Franklin would be the Oscar-winning superstar of Johnson County. Reviewers have called it "iconic," "awesome" and an "architectural gem."
But the Art Deco movie theater, built in 1922, isn't the only restored historic structure in the county that borders the far-south side of Indianapolis. In addition to examining how the Artcraft was saved from dilapidation and disuse, this show explores a variety of historic buildings that have been restored in Franklin and Greenwood; we also discuss several worthy candidates for restoration that preservationists hope can be brought back to their former glory.
Nelson is joined in studio by three guests:
Rob Shilts of Franklin Heritage, Inc., a nonprofit founded to preserve the historic character of Franklin, including its architecture, brick streets and boulevards. Franklin Heritage has been restoring an array of historic buildings in the town, the county seat of Johnson County.
David Pfeiffer, director of the Johnson County Museum of History, which is housed in a former Masonic Temple in Franklin. Among the museum's treasures: a circa-1835 log cabin.
And Jennifer Hollingshead, founder of Restore Old Town Greenwood. A fourth generation Greenwood resident and graduate of Greenwood High School, Jennifer founded the restoration advocacy organization in 2010 when city leaders proposed a plan that would have involved demolishing many of the city's historic commercial buildings.
Franklin Heritage owns and operates the Artcraft, which has become regionally renowned for showing vintage movies such as the holiday season classic It's A Wonderful Life (1946) and the films of Alfred Hitchcock. The renovation of the Artcraft (located on Main Street in Franklin) followed the purchase of the historic theater in 2004 by Franklin Heritage. The Artfcraft, which has a full stage and orchestra pit, had shown movies for 75 years but had closed in 2000 because of competition from modern multiplex cinemas.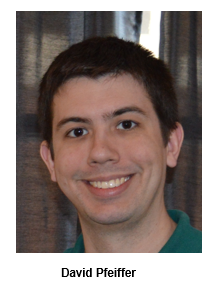 In their look at the historic edifices of Greenwood, Nelson and his guests primarily explore commercial buildings near Main Street and Madison Avenue.
Some of them have had multiple and widely varied uses. According to research by our guest Jennifer Hollingshead, a building at 299 W. Main St. constructed in 1860 has housed a furniture store, a tin shop and a law office and even served as the place of business for a local undertaker. The building is currently occupied by a restaurant.
At 332 W. Main St. in Greenwood, the original building was constructed of wood and housed a livery stable. In 1920 it was replaced with a masonry building that became a 30-car garage and automobile sales office; it is currently used as an office building.
We also explore the Grafton Peek building at 181 S. Madison Ave. Built in 1887, it was the first general store in Greenwood, according to Jennifer. During the 1930s, a drug store and bank occupied the first floor. Today, the second floor of the Grafton Peek functions as a reception hall, with a wedding rental service located on the ground level.
In Franklin, Madison Street Salvage - an architectural salvage business - sells its wares in a restored historic structure at 350 E. Madison St. During the 1940s, the building housed a deli and bakery.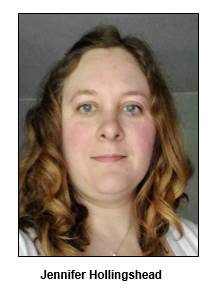 Franklin Heritage also has been restoring historic homes, including several dating to the 19th century that had been abandoned or fallen into disrepair but now stand as elegant family residences. In addition, it has restored a building at 49 E. Madison St. that now serves as a "green room" for the Artcraft, with access to the theater's stage. In 2006, a local couple became the first to wed at the restored theater.
Founded in 1983 by residents concerned about the deterioration of the town's historic buildings and its tree-lined streets, Franklin Heritage has won several statewide awards for historic preservation. The nonprofit hosted its first home tour in 1987 and has offered workshops for potential owners of historic homes.
For additional perspective, our guest David Pfeiffer discusses the history of Johnson County. He also describes some of the façade work underway on historic buildings in the town of Edinburgh.
In June 2016, David joined University of Indianapolis archaeologist Dr. Christopher Schmidt as Nelson's guests for a show about the so-called Grave in the Road, where a county road splits to avoid the burial site of a farmer's wife, early Johnson County settler Nancy Kerlin Barnett, who died in 1831. More than 70 years later, her grandson stood vigil with a shotgun to prevent her grave from being moved.
The Grave in the Road made headlines last year because archaeologists were excavating it as part of a project to make the county road near Amity safer for motorists. Unexpectedly, the excavations uncovered the remains of six county pioneers in addition to Mrs. Barnett. During our show, David updates listeners about the Grave in the Road and explains how the remains found there have been reinterred with the completion of the road project.
History Mystery
For more than 50 years beginning in the mid-1920s, one of the largest swimming pools and recreation areas in Indiana was located on the south side of Marion County. Residents of Johnson County as well as the south side of Indy flocked to the huge swimming pool area with its beach-like atmosphere. At the multi-story bathhouse, the second floor was the setting for popular square dances and parties; the lower level had 1,000 lockers.
During the 1950s, as many as 7,500 people per day came to the swimming pool, which had a towering slide and diving stands. Located in Perry Township, the pool and recreation area, which also featured a miniature golf course, refreshment stands and picnic tables, were open to the general public. But admission was charged. Many businesses based in Johnson County and Indy's Southside made use of the pool for company picnics.
Question: What was the name of the massive pool and recreation area?
The call-in number is (317) 788-3314. Please do not call in to the show until you hear Nelson pose the question on the air, and please do not try to win the prize if you have won any other prize on WICR during the last two months. You must be willing to give your name and address to our engineer and be willing to be placed on the air, and you must answer the question on the air. The prize is a gift certificate to Story Inn in Brown County, courtesy of Story Inn, along with a pair of passes to the Indiana History Center in downtown Indianapolis, courtesy of the Indiana Historical Society.
Roadtrip: River cruising in Fort Wayne
Guest Roadtripper Terri Gorney of Fort Wayne, who is certified as an Indiana Master Naturalist by the Department of Natural Resources, suggests we take an excursion on Fort Wayne's new canal boat, the Sweet Breeze. Fort Wayne is an old canal town, with its downtown located at the confluence of three rivers: St. Joseph, St. Marys, and Maumee. The three rivers are depicted on the Fort Wayne city flag.
Named for the daughter of Miami Chief Little Turtle, Sweet Breeze, who married Old Northwest frontiersman William Wells, the new canal boat was christened and launched on June 6th at Headwaters Park in downtown Fort Wayne. According to local historian Matthew "Matt" Jones, Fort Wayne's canal was dedicated in 1835 and ceased operation about 1870. Matt portrays the historical character "Dr. I. C. Coldwater" and also serves as a river boat tour captain.
But there's more to learn and do on the water in Fort Wayne! The city is celebrating its river heritage with a variety of river tours. Riverfront Fort Wayne Historic Tours began operations in May, with the tours also departing from Headwaters Park. Other watercraft options include an amphibious Duck Boat, a Captain Black pontoon-boat tour, and even an airboat! Visit Fort Wayne Riverfront has information on all these opportunities.
Hungry after your water adventure? Terri recommends The Deck at the Gas House Restaurant as a place to enjoy lunch or dinner along the river.
Happy cruising in Fort Wayne!
Learn more:
The Redheads and all-female bands of 1920s, '30s
(Rebroadcast June 10, 2017; Originally aired on Aug. 9, 2014) Even though they became nationally known during the 1920s as The Parisian Redheads, many of the band members were not red-haired - and, rather than Paris, they were based in Indiana.
In the 1930s, the all-female orchestra/dance band, which was promoted as "America's Greatest Girl Band," became known as The Fourteen Bricktops.
The colorful history of the now-forgotten novelty band - which was based in Indianapolis, with a pianist born in the eastern Indiana town of Portland, a saxophonist from Elwood, a harpist from Richmond and other Hoosier "lady musicians" - is the focus of our show. Nelson is joined in studio by Evan Finch, an Indy-based advertising copywriter who has extensively researched The Parisian Redheads and other all-female orchestras.
"So-called 'ladies' orchestras had existed since the late 19th century due to the fact that male orchestras rarely hired female musicians," Evan notes in an article in a 2014 issue of Traces of Indiana and Midwestern History magazine, published by the Indiana Historical Society.
"As a result, women formed their own groups."
However, the impresarios behind The Parisian Redheads were two men, Charles Green and Harry Z. Freeman of Indianapolis, both of whom had experiences with organizing musical programs on the Chautauqua circuit. Chautauqua, the popular adult-education movement of the late 19th and early 20th centuries, also had provided opportunities for many of The Parisian Redheads, several of whom were classically trained musicians, according to Evan's article.
"By the end of 1926, the group had become a local sensation," Evan writes. "In Indianapolis alone, within a space of four weeks, the Parisians played a reception for Queen Marie of Romania, opened the city's Marott Hotel and graced the stage of the Circle Theatre."
Of the original Redheads, only pianist/singer Martha Tripper (a Portland native who later moved to Kokomo) was a natural redhead, Evan reports.
"The other women were required either to dye their hair or wear red wigs when appearing in public. In the name of success, the musicians went along with the gimmick, although not always happily."
The Redheads expanded to a 13-piece orchestra in 1927 and attained national success. According to Evan, the performers eventually included a "Mistress of Ceremonies," a woman who dressed in a man's tuxedo and "sang, danced, conducted and otherwise functioned as the band's public face."
Some fun facts:
Our guest Evan Finch, who works as a writer for advertising agency Miller Brooks, joined Nelson in studio in 2014 for a show about Offbeat Landmarks across Indiana. "I like weird stuff," Evan says, referring to his interest in quirky aspects of our state's heritage.
During the 1930s and '40s, bandleader and composer Phil Spitalny and His All-Girl Orchestra reaped national fame on radio and in concerts. The group featured a performer promoted as Evelyn and Her Magic Violin.
Referring to The Parisian Redheads, Evan writes: "The group's earliest reviews referred to them as a 'jazz orchestra,' but the Redheads, in an effort to please the diverse tastes of vaudeville audiences, actually played everything from operettas to show tunes."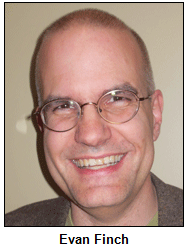 During the show, expect to hear some musical interludes to give a flavor of the Redheads (Bricktops) in performance.
Group members also changed over the years with The Parisian Redheads-turned-Fourteen Bricktops (also known by other names, such as the Paramount Parisians, early on).
Even though the Bricktops broke up in the 1930s, some of the musicians enjoyed flourishing careers long afterward. Bricktop member Ruth Hutchins Thrasher became, as Evan puts it, "a valued member of the Indianapolis Symphony Orchestra - and played several different instruments for them over the course of four decades."
Why the emphasis (or insistence) on red hair?
"In addition to adding an extra layer of novelty, red hair gave the band a visual identity - and a hair color associated with free-spiritedness seems in tune with the Jazz Age," Evan writes in his Traces article.
He notes that, as the years passed, dozens of women musicians from across the country joined the band. But the group always had Indiana musicians, including Bobbie Greiss, a singer-dancer who grew up in Indianapolis and was recruited as the group's conductor. Trumpet player Lillian Evans was a native of Dublin in Wayne County, while another trumpeter, Alice Miller, attended Arsenal Technical High School in Indy.
Other members of the Parisians (or of the Bricktops) included saxophonist Bernice Lobdell of Huntington; accordionist Jeane Brown of Greencastle, and saxophonist Marietta Gift of Converse.
In 1929, the band played The Palace in New York City and shared a bill with the famous Marx Brothers. As the vaudeville circuit declined, the Bricktops transformed into a dance band.
"The success of the Parisian Redheads and the Fourteen Bricktops proved that a band of women could compete successfully with men, both in terms of performance and financial reward," Evan writes.
He adds: "In the many years since the Bricktops' dissolution, opportunities for female musicians have improved. In 2010, it was estimated that the membership of America's top 15 orchestras - once almost exclusively male - had become 35 percent female."
Evan and Nelson also share info about other all-female musical groups from Indiana. They have included the Hampton Sisters, who went, as the Indianapolis Star once put it, "from a child act to jazz legends." The last of the legendary sisters, Dawn Hampton, died in 2016.
Fans of the genre might want to view this video montage of all-female orchestras of the '30s and '40s.
Presidential campaigns: The controversies, the extremes and the mishaps
(June 2, 2017) Terre Haute native Eugene V. Debs ran for U.S. president as the Socialist Party candidate several times and captured tens of thousands of votes. During his 1920 presidential campaign, Debs was in federal prison for having spoken out against World War I.
George Wallace, Alabama's segregationist governor, also campaigned for president several times, visiting Indiana and delivering speeches with "obvious racial overtones," as a new book puts it.
And a very different kind of politician named Wallace - Henry Wallace, who served one term as FDR's controversial vice president - campaigned across Indiana in 1948 as the presidential nominee of the Progressive Party. In Evansville, more than 2,500 protesters gathered to oppose his presence.
Our show explores the Indiana aspects of controversial presidential campaigns covering a 150-year span, including those of candidates considered to be extremists, at least during their lifetimes. (Historians often note that some of Debs' positions - such as objecting to child labor and advocating a five-day workweek - would be considered mainstream today.)
Nelson's guest is Goshen native Andrew Stoner, the author of the book, Campaign Crossroads: Presidential Politics in Indiana from Lincoln to Obama, published by the Indiana Historical Society Press.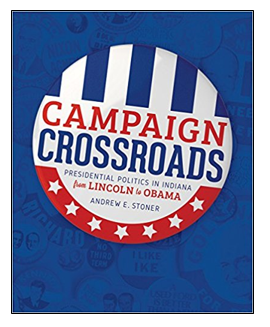 In addition to exploring the campaigns of controversial presidential candidates as they sought the Indiana vote, we also highlight some little-remembered mishaps on Hoosier soil by folks running for the White House. Andrew's book, for example, notes that:
Ulysses S. Grant survived a stage collapse in Logansport.
A young man was killed by an accidental explosion in Madison during a 21-gun salute for Herbert Hoover.
And a burning cross greeted the train of Al Smith (the Democratic candidate running against Hoover in 1928) as it crossed from Ohio to Indiana. Smith was the first Catholic nominee for president of a major party.
Andrew's book is a detailed look at every presidential campaign in the state - as well as visits by presidents and vice presidents - for more than 150 years.
Our show, though, focuses on controversial candidates and the forgotten mishaps because previous Hoosier History Live programs have already explored several of the most-discussed presidential crusades. The rollicking 1940 campaign of Elwood native Wendell Willkie, the dark horse nominee of the Republican Party, was the focus of a September 2015 show with his grandson, David Willkie, as Nelson's guest. In April 2008, historian Ray Boomhower was the guest for a show about Bobby Kennedy's 1968 presidential campaign in Indiana.
And several Hoosier History Live shows have explored various aspects of the life and career of Benjamin Harrison, the only president elected from Indiana. Most recently, Charlie Hyde, the CEO of the Benjamin Harrison Presidential Site in Indianapolis, joined Nelson last January for one of our periodic, all call-in programs.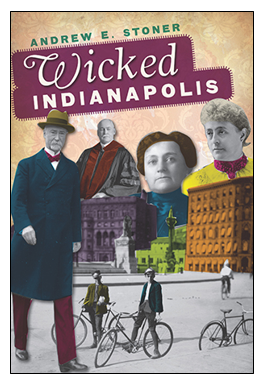 That leaves plenty of unexplored turf for our guest Andrew Stoner, an assistant professor at California State University-Sacramento. He has been a previous guest on Hoosier History Live, including a program in November 2013 about "Unsavory political episodes in Indiana's past" during which he described incidents recounted in his book Wicked Indianapolis (The History Press, 2011). Andrew also is the author of a biography of the late Gov. Frank O'Bannon; he was deputy press secretary when O'Bannon served as governor.

Candidates discussed in Campaign Crossroads include George Wallace, whose 1972 crusade featured a fundraising luncheon in Indianapolis attended by members of the John Birch Society and the Ku Klux Klan. Nearly 25 years earlier, according to the book, hotels in downtown Indianapolis refused to accommodate third-party candidate Henry Wallace because his entourage included an African-American, acclaimed singer Paul Robeson. So instead of staying in hotels, Andrew's book says, Wallace and Robeson resorted to finding "shelter in the homes of local supporters."

Debs, regarded as the "father of the Socialist movement in America," received 900,000 votes - six percent of the total cast across the country - in 1912. That remains the highest vote total ever for a Socialist Party candidate for president.

Although Debs was being held in federal prison in Atlanta during his 1920 campaign, President Warren Harding, one of his opponents, finally commuted his sentence the next year. In Terre Haute, the public can tour the restored Eugene V. Debs Home, which has been declared a National Historic Landmark. Debs died in 1926.

Three years later, Herbert Hoover - as a sitting president - briefly visited Madison with his wife, Lou. That visit included a tragedy caused by a 21-gun salute, which our guest Andrew Stoner describes in Campaign Crossroads. Robert Earls, a 19-year-old Madison resident and member of the Indiana National Guard, died when the burning wadding shot from one of the guns landed in a box of powder and exploded. The tragedy occurred in October 1929, less than one week prior to the stock market crash that signaled the arrival of the Great Depression.
History Mystery
The largest political gathering in Indiana history occurred in an Indiana town during the 1940s. A crowd of more than 200,000 people gathered to hear a political speech in 102-degree heat.

According to our guest Andrew Stoner's book Campaign Crossroads, more than 100 vendors sold food, drink and other concessions to the record-setting crowd in the town.

Traffic was choked for miles far beyond the town, which only had a population of less than 11,000 when the massive political event occurred.

Question: Name the Indiana town that was the setting for the record-breaking crowd.

The call-in number is (317) 788-3314. Please do not call in to the show until you hear Nelson pose the question on the air, and please do not try to win the prize if you have won any other prize on WICR during the last two months. You must be willing to give your name and address to our engineer and be willing to be placed on the air, and you must answer the question on the air. The prize is a gift certificate to Story Inn in Brown County, courtesy of Story Inn, and a pair of passes to the Indiana History Center in downtown Indianapolis, courtesy of the Indiana Historical Society.
Roadtrip: Woodruff Place in Indianapolis
Jeannie Regan-Dinius of the Indiana Department of Natural Resources, Division of Historic Preservation & Archeology, suggests we visit Woodruff Place, Indianapolis's first "suburban" neighborhood.
Designed in 1872, Woodruff Place was planned as a residential community and created with a park-like atmosphere. James O. Woodruff, who founded the city's waterworks, purchased 77 acres about two miles east of downtown and began to develop a Victorian version of formal Italian Renaissance gardens.
The neighborhood has three boulevard drives divided by grassy esplanades, each of which is graced by flower beds, cast-iron statues and intricate multi-tiered fountains. The picturesque homes that line the boulevards stand on spacious lots.
Woodruff built his own elaborate mansion on West Drive (the house did not survive to the present day), but the neighborhood was slow to develop and had not reached fruition by the time Woodruff died in New York City in 1879, probably of encephalitis. Because it grew slowly over the years, Woodruff Place has a variety of architectural styles.
Following World War I, many homeowners divided their residences into apartments to provide additional income. In 1962 Woodruff Place's town government folded, and the town became a neighborhood of the city of Indianapolis.
In 2001, the neighborhood received local designation and protection to help preserve Woodruff Place's architectural heritage.
Every year during the first weekend of June, the Woodruff Place Flea Market promises two days of treasure-hunting and treasure-finding, combined with food, fun and terrific people-watching. It's been a neighborhood fundraiser since 1977, and this year's Flea Market is this weekend, Saturday June 3 from 8 to 5, and Sunday June 4 from 10 to 5.
You're likely to find Jeannie there as well, as this is her neighborhood!
On the Banks vs. Back Home Again
(May 27, 2017) "(Back Home Again in) Indiana," which will be sung immediately before the "Lady and Gentlemen, start your engines" command Sunday (May 28) at the Indianapolis 500, is celebrating its 100th birthday this year.
Contrary to what most people assume, though, it is not Indiana's official state song.
That honor belongs to a too-seldom-heard, 120-year-old song titled "On the Banks of the Wabash, Far Away." Written in 1897 by Terre Haute native Paul Dresser, whose songs became national hits at the turn of the last century, the lyrics of "On the Banks of the Wabash" were appropriated after Dresser's death in an act our guest has described as "musical thievery."
In fact, acclaimed novelist Theodore Dreiser, the brother of Paul Dresser, was outraged and threatened for years to sue the songwriters of "(Back Home Again in) Indiana" for plagiarism.
This week's show explores various little-known aspects of the saga of our state song and its knock-off version, which race fans associate with Jim Nabors, the star of the "Gomer Pyle" TV series, which ran from 1964-69. He performed "(Back Home Again in) Indiana" at the Indianapolis Motor Speedway for much of a 42-year span beginning with an unexpected request just before the start of the 1972 race.
Nelson is joined in studio by his journalism colleague and friend, Tom Davies, a reporter and editor for the Associated Press bureau in Indianapolis. Tom, a Shelbyville native, has researched and written about the two strikingly similar songs. He interviewed the biographer of Dresser (1857-1906), who died nearly penniless even though his songs - which included "My Gal Sal" as well as "On the Banks of the Wabash" - were once enormously popular across the country.
"On the Banks of the Wabash, Far Away" - a mournful, emotionally resonant song about the deaths of a sweetheart and a mother as well as an ode to the Hoosier state - was named Indiana's official song in 1913.
Its rich sensory imagery includes references to "the new-mown hay," sycamore trees, the Wabash River, moonlight and gleaming candlelight. So do the lyrics of "(Back Home Again in) Indiana," which typically is performed in a jaunty tempo that makes it more appealing for festive occasions like major sporting events.
At the 101st running of the Indianapolis 500 Sunday, "(Back Home Again in) Indiana" is sung by operatic tenor Jim Cornelison, who is known for his crowd-pleasing renditions of the national anthem at Chicago Blackhawks hockey games. Since Jim Nabors retired from singing the tune in 2014, it has been performed at the world-famous race track in 2015 by the a cappella group Straight No Chaser (which consists of Indiana University alums) and last year by Indy resident Josh Kaufman, a champion on "The Voice" TV series.
Both Nelson and Tom have interviewed Nabors, who confided he was caught by surprise as a visiting celebrity in 1972 when Speedway owner Tony Hulman spontaneously asked him to sing it. Decades later, Nabors told Tom he scrawled some of the lyrics on his hand "so I wouldn't screw it up."
What about those lyrics and their astounding similarity to "On the Banks"? Many historians have noted that copyright law was in its infancy and unsettled when "(Back Home Again in) Indiana" was written in 1917. With music by James Hanley and words by Barton MacDonald, the song "borrows shamelessly from Dresser," noted a cover story in the fall 1997 issue of Traces of Indiana and Midwestern History, the magazine published by the Indiana Historical Society.
Although Dresser's publisher gave Hanley and Ballard permission from the publishers of "On the Banks" to use two bars of its music, our guest Tom Davies' article for the AP pointed out (with understatement) that the duo "borrowed a bit more than two bars."
According to Dresser's novelist brother Theodore Dreiser (who maintained the original German spelling of the family name), his sibling "had the business sense of a fly." Dreiser won critical acclaim for controversial novels including An American Tragedy (1925) and Sister Carrie (1900).
"(Back Home Again in) Indiana" was first performed at the Indy 500 in 1946. In the decades before a stirring rendition by Nabors became a Speedway tradition, it was sung during pre-race festivities by such visiting celebrities as Mel Torme and Dinah Shore.
"On the Banks of the Wabash" hasn't been totally neglected at the Speedway. The Purdue University Marching Band often plays the official state song early during the pre-race festivities, but it is performed without a vocalist and usually while thousands of spectators have yet to take their seats.
In its heyday, though, "On the Banks" was a national sensation. According to the Traces article, a department store in Chicago sold more than 1,400 copies of the sheet music in a single day in 1897. Within a year, the song shattered several national sales records.
Some other history facts:
History Mystery
The Indiana state song, "On the Banks of the Wabash, Far Away," mentions sycamore trees. So does "Back Home Again in Indiana."
But the sycamore is not the official state tree.
Question: What is the Indiana state tree?
The prize is a Family 4-Pack to Conner Prairie Interactive History Park, along with 4 tickets to the 1859 Balloon Voyage, courtesy of Conner Prairie, along with a pair of passes to the Indiana History Center in downtown Indianapolis, courtesy of the Indiana Historical Society.
Roadtrip: African-American New Deal in O'Bannon Woods
Guest Roadtripper and historic preservationist Maxine Brown of Corydon suggests a Roadtrip to O'Bannon Woods State Park (formerly Wyandotte Woods State Recreation Area) on the Ohio River in Harrison County. The state park was renamed in honor of the late governor Frank O'Bannon, who was born and grew up in Corydon.
All of the older structures in O'Bannon Woods were built by the all African-American 517th Company of the Civilian Conservation Corps (CCC) during the 1930s. According to Maxine Brown, "It was remarkable to have an all African-American group of men working in this area in the '30s, planting trees and building roads and structures. This was all part of President Roosevelt's New Deal."
O'Bannon Woods also has a uniquely restored, working hay-press barn, complete with oxen for power, and a pioneer farmstead. Indiana's scenic Blue River also flows through the state park.
Maxine suggests that visitors look at the floor of one of the shelter houses for a special treat. It's a carving of a Native American by the late African-American artist Lucien Garner of Corydon, also one of the 517th.
Learn more:
From our archive: Johnny Appleseed and Graverobbers
(May 20, 2017) Some people like to plant things; others like to dig them up.
Hoosier History Live presents two 30-minute encore shows from our rich audio archives focusing on two memorable figures from Indiana history. The first show explores the life of errant Hoosier tree-planter John Chapman, aka Johnny Appleseed. The second investigates the disinterment of corpses for the purpose of selling them to medical schools in the early 1900s, as practiced by Indianapolis graverobber Rufus Cantrell.
Johnny Appleseed: The facts and myths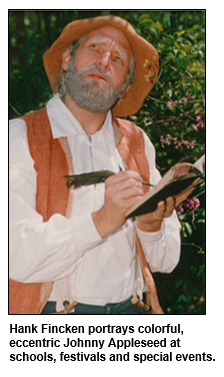 (Originally aired on Nov. 14, 2009) His real name was John Chapman. He probably died in 1845 in Allen County, where the largest city, Fort Wayne, now celebrates a popular Johnny Appleseed Festival every autumn. Did he wear a saucepan on his head, as depicted in Walt Disney cartoons? What were the facts, and what were the myths or embellishments, about the folk hero of the Indiana frontier known as Johnny Appleseed?
To enlighten us, one of the country's foremost experts on Johnny Appleseed joins Nelson in studio. His guest is Indianapolis-based re-enactor and playwright Hank Fincken, who has spent decades researching Appleseed/Chapman. Hank portrays colorful, eccentric Johnny Appleseed at schools, festivals and special events.
According to most accounts, John Chapman was born in New England in 1774. He was a pacifist and a vegetarian who befriended many Native Americans - all cause for many other pioneers to regard him as a bit of an oddball, although they were grateful for his gifts of apple seedlings as they settled in the frontier. The wanderlust of Chapman/Appleseed is said to have been motivated in part by his spiritual beliefs. In addition to apple seedlings, he distributed scriptures across the Indiana wilderness in the 1830s and '40s.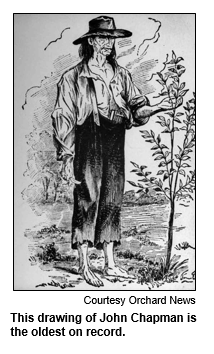 Before that, Chapman was a true hero during the War of 1812 and helped save the lives of massacre survivors trapped in Mansfield, Ohio, according to Hank. The author of Three Midwest History Plays and Then Some (1997), Hank also portrays such historical figures as Christopher Columbus, Henry Ford, Thomas Edison and Spanish conquistador Francisco Pizarro. Here's his motto about his one-man shows: "If history were to repeat itself, it would be like this!"
You can judge for yourself as Hank portrays a bit of his Appleseed character during the show.
Some fun facts:
Hank has met descendants of the extended Chapman family. (Not directly from Chapman himself, though. He never married.)
In several regions of Indiana, particularly northern counties, residents have long been convinced that various trees are descended from seeds planted by Johnny. Is this possible? And how far west did he travel? Tune in to get the scoop on Appleseed.
Hank is a former Peace Corps volunteer in Peru and Costa Rica.
Grave robbers of the early 1900s in Indianapolis
(Originally aired on March 3, 2008) Some people called them "resurrections." Grave robbers outraged people across the country more than 100 years ago; one of the most notorious was based in Indianapolis.
Rufus Cantrell was a minister and a bartender, as well as a grave robber whose crimes were so extensive he became the focus of national news. Photo historian Joan Hostetler of Heritage Photo Service and The Indiana Album, who has been researching Cantrell and other grave robbers of the era, is Nelson's studio guest to discuss the ghoulish practice of unearthing bodies and selling them for profit to physicians in need of cadavers for medical research.
According to Joan, Cantrell and his large crew (often billed as "Cantrell and His Gang of Ghouls" by Hoosier newspapers) specialized in stealing bodies from small, rural cemeteries in the Indianapolis area. (They never robbed a grave at Crown Hill Cemetery, the city's largest cemetery.) There's some thought that Cantrell and his gang befriended grave diggers, enlisting them in their scheme. The gang sold corpses to medical schools and physicians in four states. Among Cantrell's most shocking crimes: After presiding as a preacher at his niece's funeral, Cantrell later slipped into the cemetery and unearthed her corpse. His eventual capture and trial generated national headlines.
Grave robbing in the 1800s and early 1900s was a significant problem at all levels of society. Even Benjamin Harrison, the only president elected from Indiana, had a relative whose body was stolen. (That happened in Ohio, though, not the Hoosier state.)
As refrigeration developed in the early 1900s and medical schools could keep bodies intact for later dissection and examination, the demand by medical schools for "fresh" bodies from the black market became obsolete.
Joan, who collaborated with Nelson and photographer Garry Chilluffo on the Indianapolis Then and Now visual history book, stumbled upon Cantrell's story while researching the life of a detective who helped put the grave robber behind bars.
By the way, you can listen to one of Joan's favorite songs pertaining to this grisly topic, "The Resurrectionist" by the Pet Shop Boys.
Learn more:
World War I and Hoosier involvement

(May 13, 2017) One hundred years ago, the United States entered "The Great War," resulting in Indiana's involvement in myriad ways in World War I.

In fact, the first U.S. combat casualty of the war was a Hoosier: James Bethel Gresham, a factory worker from Evansville. He was killed in in France in 1917. In 1918, Opha May Jacob Jackson of Kokomo became the first female U.S. Marine.

Eli Lilly & Co. funded a military hospital in Europe. And the Salvation Army's "donut girls" were led by a young Hoosier woman, Ensign Helen Purviance.

To share insights about these and other contributions Indiana made to the World War I effort, two distinguished Hoosiers - both board members of the Indiana World War I Centennial Committee - join Nelson in studio as guests. They are:

Jim Corridan, Indiana's state archivist and the chairman of the centennial committee. In his capacity as archivist, Jim was a studio guest on a Hoosier History Live show in May 2015 that explored "What's in our State Archives?"
And Jim Osborne, a retired Knox County judge who founded the Indiana Military Museum in Vincennes. The museum has been restoring a U.S. tank from World War I that will be unveiled in October.

Jim Osborne was a studio guest for a Hoosier History Live show in September 2014 marking the 100th anniversary of the outbreak of World War I (also available as a podcast).

During our 2014 show, Judge Osborne noted that about 3,000 Hoosiers were killed in combat during World War I.

The U.S. death toll from the war was more than 116,500, and none of its 4.7 million U.S. veterans remain alive.

This show explores Indiana's contributions that we did not previously highlight about the horrific conflict associated with doughboys, foxholes and gas masks.

According to the centennial committee's website:

James Gresham, a corporal, was killed in hand-to-hand combat while repelling a German trench raid in France. Ceremonies later this year in Indianapolis and Evansville will honor his sacrifice.
Many companies across Indiana placed their factories at the disposal of the government. In South Bend, car- and wagon-making Studebaker Corp. converted much of its operations to the production of military equipment, including artillery.
Base Hospital 32 was established in France as a result of $25,000 in funding for medical equipment from Eli Lilly. The hospital primarily was staffed by personnel from Indiana.

According to Jim Corridan, the only Hoosier to receive the Medal of Honor from World War I was Samuel Woodfill, who grew up in Jefferson County near Madison. Hailed as the war's most outstanding soldier by Gen. John Pershing, Woodfill (1883-1951) participated in combat heroics and saved the lives of U.S. troops under his command despite suffering under the effects of mustard gas.

After the war and an initial wave of accolades, Woodfill, who "disliked public events," kept a low profile and struggled financially, according to an Indianapolis Star retrospective of his life headlined "America's Greatest Doughboy." When he died at age 68, he was buried in a modest grave in Jefferson County, but his remains eventually were moved to Arlington National Cemetery.

In total, about 135,000 Hoosiers served in World War I. On the home front, Hoosiers reduced their consumption of meat, gasoline and other products in order to assist the war effort.

In May 1919, a massive replica of the Arc de Triomphe was constructed on the south side of Monument Circle in downtown Indianapolis to celebrate the return of hundreds of soldiers. Thousands of spectators cheered as the soldiers paraded through the replica. (It eventually had to be destroyed because of a lack of local storage space.)

The Indiana War Memorial was built in downtown Indy to honor those who participated in "The Great War;" Gen. Pershing laid the cornerstone in 1927. Since then, the majestic memorial has come to represent Hoosiers whose lives were sacrificed in all modern wars, including the wars in Iraq and Afghanistan.

History Mystery

During World War I, a teenager from an affluent family in Terre Haute served with the ambulance corps of the American Red Cross. He served in France as an ambulance driver.

After the war, he attended Yale University. Then he achieved great success as an Indiana-based business leader and entrepreneur. After World War II, he became associated with an Indiana landmark that draws international attention in May, an association that made him a household name in the state. He died in 1977.

Question: Who was the famous Hoosier?

The prize is a pair of passes to the Indiana History Center in downtown Indianapolis, courtesy of the Indiana Historical Society, and a gift certificate to the Story Inn in Brown County, courtesy of Story Inn, located in the small town of Story, the only town in America (as far as we know) that annually elects a Village Idiot.

Roadtrip: Wagyu beef at Joseph Decuis restaurant in Roanoke

Guest Roadtripper and travel and food writer Jane Ammeson suggests a Roadtrip to the Joseph Decuis destination restaurant in the small town of Roanoke, just southwest of Fort Wayne. Joseph Decuis is owned by dedicated foodies Pete and Alice Eshelman, and their restaurant is named after an early ancestor who was dedicated to fine "farm to fork" dining long before it was called that, way back in the early 19th century!

Joseph Decuis is housed in an early 20th-century bank building, with the bank's vault now serving as a wine cellar. The restaurant has an exhibition kitchen, several softly lighted dining areas, and a large two-story solarium with views of lush, New Orleans-style back gardens.

The Eshelmans also raise their own American Wagyu beef on their nearby Heritage Farm for use in the restaurant. The beef also is for sale, along with other restaurant food items, at the Emporium at Joseph Decuis next door to the restaurant. Organic, free-range eggs from their chickens and organic vegetables also are on the menu at the restaurant.

Want to spend the night? You can also stay at the nearby 1884 Farmstead Inn Bed and Breakfast or their 1910 Inn at Joseph Decuis. Groups can also take a tour of the Heritage Farm.

Here is a culinary destination in northeast Indiana that you won't want to miss!

Insect heritage: the As to Zzzzzs

(May 6, 2017) Since long before our guest founded the popular annual Bug Bowl competition at Purdue University, insects have been intertwined with the heritage of Indiana.

The honeybee, which was not native to the Hoosier state, was known as "the white man's fly" by Native American tribes here after it was brought to North America by European settlers.

Malaria epidemics, which were rampant across the Indiana frontier, were spread by insects prevalent during the early 1800s.

And a state entomologist advised James Whitcomb Riley about the use of insects in poems written by the nationally famous "Hoosier Poet."

Those are among the swarm of topics related to our insect heritage that we explore as Tom Turpin, a Purdue professor of entomology, returns to Hoosier History Live. A witty public speaker and the founder of the Bug Bowl competition - which he began as a creative activity for his students, only to see it draw international attention - Dr. Turpin also appears on the Hoosier Histoyr Live show titled "Insects and Indiana," which originally aired on June 20, 2015.

But the world of insects is crawling with subjects we didn't have time to explore in the original show.

So Dr. Turpin returns to share more insights about Indiana's mosquitos, crickets, beetles, wasps, spiders, cockroaches and bees, including which ones are native to the state and which are not.

Non-natives include:

The emerald ash borer, an invasive beetle that has been killing ash trees across Indiana and elsewhere.
Honeybees, which often swarmed ahead of white pioneers as they moved west. This signaled the approach of the pioneers to Native Americans, Dr. Turpin says. During our show, he also will discuss the popularity of beekeeping in urban and suburban neighborhoods.

Guests on other shows have mentioned that 17-year cicadas were in their cycle of emergence in 1816, the year Indiana became a state. So cicadas also serve as fodder for discussion with Dr. Turpin, who has been a guest on such major TV and radio programs as ABC-TV's "Good Morning America" and NPR's "Prairie Home Companion."

Much of the media attention has been generated by the Bug Bowl, which Dr. Turpin founded in 1990. It features cockroach racing contests, exhibits of food cooked with insects and even a cricket-spitting competition. The Bug Bowl regularly draws more than 20,000 visitors.

Dr. Turpin also writes "On Six Legs," a column for the Purdue Extension Service that is syndicated to newspapers and also is available as a podcast.

Six-legged creatures in Indiana include an unusual-looking, flat-headed insect with protruding pincer-like jaws, known colloquially as the doodlebug. These creepy-crawlies are actually the larval stage of a flying insect related to lacewings and are members of the neuroptera order. The doodlebug is also called the "antlion" in some regions because of its predatory prowess. Adding to the confusion, the name "doodlebug" is commonly applied to Armadillidium vulgare, also known as the "pillbug" or "roly poly" because of its distinctive ability to roll itself into a ball.

As is clear from his description in "The Doodle-Bug's Charm," however, James Whitcomb Riley had the larval lacewing relative in mind in his poem about a boy's observations of this creature.

The famous poet also wrote about fireflies - also known as lightning bugs - in his classic "Little Orphant Annie." During our show, Dr. Turpin discusses Riley's references to these insects; in "Little Orphant Annie," he uses the presence of fireflies to establish a late-evening time frame for the setting."

Dr. Turpin also will describe insects that are native pollinators in Indiana. These include types of bees other than honeybees, along with other species that move pollen from plant to plant, allowing them to reproduce. Pollinators play a crucial role in the lifecycle of up to 30 percent of agricultural plants in the United States, including such common Indiana crops as soybeans, pumpkins and tomatoes.

History Mystery

Keeping with the insect theme, a small city in central Indiana has a high school with "The Hornets" as the long-time mascot of its sports teams. The high school has the same name as the city in which it is located.

The city, which is located within the Indianapolis metro area, has a Hornet Avenue and a Hornet Park. A community center and an elementary school in the city also have "hornet" in their names.

Question: What is the city?

The prize is a pair of passes to the Indiana History Center in downtown Indianapolis, courtesy of the Indiana Historical Society, and pair of tickets to the Indiana Wine Fair at Story Inn in Brown County on Saturday afternoon, May 13, courtesy of Story Inn.

By the way, The Washington Post paid Story a compliment of sorts in a recent article entitled "This tiny Midwest town has just one election per year - for the 'Village Idiot'." We can't confirm if this year's Village Idiot will be present at the Indiana Wine Fair, but it's always a great event, rain or shine. But hopefully this year, shine!

Roadtrip: Allison Automotive heritage sites

Guest Roadtripper Casey Pfeiffer of the Indiana Historical Bureau suggests that we visit a couple of automotive heritage sites in Indy during our "speedy" month of May.

You can see the state historical marker at 1200 W. Main St. in Speedway. It commemorated the 2015 centennial of Allison Engineering Company and entrepreneur James A. Allison's machine shop. Allison built the machine shop to redesign and improve race cars for testing and races at the track. When the United States entered World War I in 1917, the Indianapolis 500 was canceled and Allison dedicated his shop's resources to the war effort, which included making parts for Liberty aircraft engines. Throughout the 1930s, the company focused much of its work on aircraft engines.

During World War II, the Allison machine shop built 70,000 liquid-cooled V-1710 engines for fighter aircraft, making it one of the top manufacturers of aircraft engines in the country during that period. In 1946, it organized a new department to develop transmissions for both commercial and military uses. Though the machine shop is no longer standing, visitors can drive or walk by the Allison plant buildings to get a feel for their current size and scope.

To get an inside look at Allison Transmission's history, there's a great free museum in downtown Indy that is a "must see" for racing and engineering enthusiasts. It's the Rolls-Royce Heritage Trust Allison Branch at 450 S. Meridian St. in Indianapolis, and it is open Tuesday through Friday from 10 a.m. to 3 p.m. The museum reopened earlier this year, and many of its volunteer staff are retired employees from Rolls-Royce and Allison.

Films of Little Orphant Annie, Milan basketball and more

(April 29, 2017) Thanks to new restoration projects, there's going to be an Act II for some diverse films with Indiana connections.

One of them involves "Little Orphant Annie," the classic poem by James Whitcomb Riley, which inspired a 1918 silent movie. The movie, also called "Little Orphant Annie" and featuring silent screen star Colleen Moore, is an expansion of the poem in which Annie warns spellbound children about predatory "goblins."

Another film relates to the state basketball tournament win in 1954 by underdog Milan High School, which was fictionalized in the hit movie Hoosiers (1986). Film of the entire, actual championship game at Hinkle Fieldhouse - during which Milan defeated Muncie Central High School - had been rapidly deteriorating and was in danger of crumbling.

Indianapolis-based film historian and preservationist Eric Grayson has been restoring both of those films, along with other rare movies with Indiana connections. Eric is Nelson's studio guest to share insights about the films; later the same day, the restored Little Orphant Annie movie had a screening in Greenfield, the hometown of the "Hoosier Poet."

The screening took place at the H.J. Ricks Centre for the Arts, a recently restored ArtDeco/Art Moderne style movie house built in the 1940s, where Eric hosted a showing of the silent movie beginning at 4 p.m. on April 29.

Our show also comes as Eric is finishing work on restoration of film of the iconic Milan High triumph.

"The Milan footage was a professionally shot, 16mm movie of the whole [game], done by IU," Eric reports. "It didn't survive in good shape."

While we have Eric with us, he also discusses how he found Hoosier Schoolmaster (1924), a silent movie based on a popular novel written in 1871 by Edward Eggleston of Vevay, Ind. (In 1935, a subsequent movie version of Hoosier Schoolmaster was released.)

He also shares insights about a rare 1945 film version of A Girl of the Limberlost, based on an internationally bestselling novel by Hoosier naturalist Gene Stratton-Porter. (Eric previously restored an earlier film version of Limberlost, a movie made in 1934.) Stratton-Porter eventually founded a movie production company; it produced Little Mickey Grogan (1927), a movie that Eric also is restoring.

He has been a studio guest on previous Hoosier History Live shows about vintage movie theaters and rare films with Indiana connections. Eric has a vast collection of rare 16mm and 35mm films that includes, in some cases, the only print of - or the original - film.

In the case of the silent version of Little Orphant Annie, Eric has restored prints from the Library of Congress. The film includes a cameo appearance by James Whitcomb Riley, who died in 1916, two years before the movie was released. The footage of Riley was filmed earlier in 1916 for a movie celebrating Indiana's Centennial that year.

In 1954, the David-versus-Goliath victory by tiny Milan High School (which beat Muncie Central with a final score of 75-74) occurred thanks to a buzzer-beating shot by Milan senior Bobby Plump. He discussed the iconic game on a Hoosier History Live show in March 2014 in connection with the 60th anniversary of the state championship by Milan, which is in southeastern Indiana.

In northeastern Indiana, Gene Stratton-Porter wrote A Girl of the Limberlost in 1909. She was the author of 13 best-selling books, several of which inspired movies. Her two homes - the first, called Limberlost, in Geneva, and the second, Wildflower Woods, in Rome City - are state historic sites.

History Mystery

Milan High School basketball star Bobby Plump and his teammates in 1954 had a coach who was different in several ways from the character portrayed by Gene Hackman in Hoosiers, the 1986 movie. Unlike the Hackman character, who was middle-aged and volatile, the Milan coach was young - he was in his early 20s, so not that much older than Bobby Plump and his teammates - and even-tempered.

The coach left Milan High School after the team won the 1954 state tournament and coached at several high schools across the state. He died in 1991 at age 71.

Bobby Plump discussed his former coach as a guest on Hoosier History Live in March 2014 on the 60th anniversary of Milan's historic victory in the state tournament.

Question: Name the coach.

The call-in number is (317) 788-3314. Please do not call in to the show until you hear Nelson pose the question on the air, and please do not try to win the prize if you have won any other prize on WICR during the last two months. You must be willing to give your name and address to our engineer and be willing to be placed on the air, and you must answer the question on the air.

The prize is a pair of tickets to the Indiana Wine Fair at Story Inn in Brown County on Saturday afternoon, May 13, courtesy of Story Inn, and a pair of passes to the Indiana History Center in downtown Indianapolis, courtesy of the Indiana Historical Society.

Roadtrip: Cataract Falls

Guest Roadtripper Michael Armbruster (who edits the Hoosier History Live newsletter when he's not exploring the wilds of Indiana) suggests a trip to Cataract Falls, a true natural wonder of the Hoosier state. While not quite as dramatic as its more famous cousin up Niagara way, Cataract Falls is the largest waterfall in the state of Indiana and makes an impressive display of the pull of gravity on water.

Located in Lieber State Recreation Area (Owen County), about an hour west of Indianapolis and just a few miles south of Interstate 70, Cataract Falls makes a delightful day trip. Two sets of falls about half a mile apart make up Cataract Falls. Both are accessible by road and nearby parking lot, but Mick suggests that you walk from one to the other. Park at the upper falls and take the topographically challenging trail that follows Mill Creek down to the lower falls, and then take the paved road on the way back up. You might get lucky and see a pileated woodpecker flitting about the old-growth sycamore trees, as Mick did on a recent trip.

For the historically minded, a covered bridge (built in 1876 and restored by the DNR in 1995) crosses Mill Creek just above the upper falls and provides a glimpse into a bygone era of wooden road structures. Now closed to motor traffic, the bridge serves as a sheltered picnic area.

If you forget your lunch and need to purchase supplies, check out the Cataract General Store, an old-timey emporium dating to 1860, located just a mile or two down Cataract Road. For those wishing to spend a few days in the area, Cagles Mills Lake, also within the Lieber State Recreation Area, provides numerous outdoor activities and a nature center, as well as camping sites.

"Not many Indiana residents seem to have heard of Cataract Falls," Mick notes, "but it's a real gem!"

Forests, forests and more forests

(April 22, 2017) The first Indiana state forest - Clark State Forest in far-southern Indiana - was established in 1903.

What's been the evolution since then?

Just as the outdoor exploration season begins across Indiana, Hoosier History Live plunges into the history of state forests, exploring everything from early conservation efforts to recent protests about logging.

Along the way, we look at forests ranging from Salamonie State Forest in northern Indiana to Clark, which is just north of Henryville in Clark County.

There are 14 officially designated state forests across Indiana.

Our guides for the exploration are the two co-editors of a new book, The History of the Indiana State Forests (M.T. Publishing Co.):

The differences between state forests and state parks, in fact, are among the topics on this show. According to Glory-June, the initial concept for a state forest "was a tree reserve and a place for experimentation with scientific forestry."

There are some blurred lines, though. What once was Wells County State Forest, for example, is now Ouabache State Park.

Following Clark State Forest, the second to be established was Morgan-Monroe State Forest north of Bloomington. Most of the state forests were established during the Great Depression of the 1930s. Only two were established later.

During the New Deal in the 1930s, the missions of forest conservation were "to ensure a sustainable crop of timber, tree plantations and reserves for state and commercial use, forestry experimentation and restoration of habitat," our guest Ron Morris writes. A recreational element was added as a secondary mission.

After World War II, though, parents of the Baby Boom generation sought places for family recreation, resulting in changes in the way state forests were regarded.

The History of Indiana State Forests features 192 full-color pages, with most of the photos taken by our guest Glory-June. At one point, Glory and Ron managed to visit five forests in a single day.

"It was quite an adventure," Glory reports.

Chapters in the book about individual forests, the co-editors note, "allow the reader to visit vicariously forests that are old friends and to consider investigating forests they have not yet discovered."

Some forest facts:

History Mystery

Although the first Indiana state forest - Clark State Forest - was established in 1903, the first state park was not established for several more years.

In 1916, the year of Centennial celebrations across the state, a scenic, rocky area of towering trees and rugged terrain became Indiana's first state park. Today, the park has an inn, a swimming pool and a nature center.

Question: Name the first state park.

The prize is a pair of passes to the Indiana History Center to see "You Are There 1943: Italian POWs at Camp Atterbury," courtesy of the Indiana Historical Society, and a family 4-Pack to Conner Prairie Interactive History Park, including admission for four, as well as four tickets to the 1859 Balloon Voyage, courtesy of Conner Prairie.

Roadtrip: Ruthmere Mansion in Elkhart

Guest Roadtripper Chris Taelman of Granger in northern Indiana suggests a Roadtrip to Ruthmere Mansion, a three-story Beaux Arts mansion along the St. Joseph River in Elkhart. Built in 1910, the Ruthmere Mansion is now open to the public as a museum, along with the neighboring Dr. Havilah Beardsley House.

Ruthmere's architect was Enoch Hill Turnock, commissioned by Albert and Elizabeth Beardsley in 1908. The Beardsleys named the mansion in memory of their daughter Ruth, who died at a young age. The "mere" in Ruthmere reflects the Latin root "maris," referring to water and the house's proximity to the river.

You can also wander around the neighborhood, known as the Beardsley Avenue Historic District, near the confluence of the St. Joseph and Elkhart Rivers, where you can also see Dr. Havilah Beardsley House, Island Park, Beardsley Park, the Main Street Memorial Bridge, St. Paul's Methodist Church and the Best House. The entire neighborhood was added to the National Register of Historic Places in 2003.

What a great place for a stroll!

Hoosier History Live welcomes English Ivy's into its family of underwriters

(April 22, 2017) One of the fun things about being a guest on Hoosier History Live is that sometimes we keep talking history long after the show. The conversation continues at an Indianapolis restaurant that provides us with a complimentary lunch as part of their support for the show.

Hoosier History Live welcomes the "revamped" English Ivy's to our family of sponsors. Located at 944 N. Alabama Street in the historic St. Joseph neighborhood in downtown Indy, the pub has a new owner/manager, Danny Scotten, who is himself a history enthusiast. Ivy's recently put in windows to "open itself up" to the neighborhood. The 1958 all-brick building was, years ago, home to a bar known as the "944" with a clientele quite different from today's urbanites. Now it's more like a friendly neighborhood pub.

A pair of classic shows

(April 15, 2017 - Encore presentations) - This Saturday, Hoosier History Live presents two 30-minute encore shows from our rich audio archives, each of which focuses on opposing sides of Indiana history. While the clashing subject matter may be jarring, we hope that the juxtaposition helps sheds light on both of these important aspects of the Hoosier past.

African-American newspapers across Indiana

(Originally aired on Feb. 11, 2012) - They covered news, topics and public figures ignored or given short shrift by mainstream newspapers, including the triumphs of athletes such as bicyclist Major Taylor and baseball great Oscar Charleston.

Since the late 1800s, African-American newspapers have had an impact on communities across the Hoosier state. The most enduring has been the Indianapolis Recorder, which our guest Wilma Moore calls "the single most important tool for researching the history of African Americans in Indianapolis."

Nelson is joined in studio by Wilma, the senior archivist for African-American history at the Indiana Historical Society.

In addition to delving into the history of the Recorder, a weekly newspaper that began in the 1890s, we explore the Gary INFO in Lake County; the Evansville Argus, which was published from 1938 to 1943, and the Indianapolis Freeman, a competitor to the Recorder during the 1920s. The Freeman was heralded for increasing the popularity of Negro League Baseball because its sportswriters provided extensive coverage.

Known for emphasizing local and statewide news, the Recorder covered topics ranging from the political power of the Ku Klux Klan in Indiana during the 1920s to the jazz scene that flourished along Indiana Avenue in Indianapolis after World War II.

Launched as a two-page church bulletin and business directory in 1897, the Recorder became a weekly two years later. At the turn of the last century, the Recorder reported the triumphs of Indy native Marshall "Major" Taylor, who became a world champion bicyclist.

And in 1901, according to Wilma's research, the Recorder published the names of black Indianapolis residents whose wealth was estimated at more than $5,000. The Recorder also listed African-Americans doing business in Indiana.

In Evansville, several newspapers serving the black community were launched, with the first appearing in 1880. All of them lasted less than a year, though, until the Evansville Argus began in 1938. Crusading against segregation, the Argus supported efforts to integrate Mechanical Arts, a vocational high school in Evansville. The Argus also published stories about local and national accomplishments by African-Americans.

So did the Indianapolis Freeman, which began in 1888. Sportswriters at the Freeman were hailed for their in-depth coverage of Negro League Baseball, which, as we noted during a Hoosier History Live show in 2011, held their first official game in Indianapolis.

The Freeman extensively covered the triumphs of Indy native Oscar Charleston (1896-1954), a star in the Negro leagues who is considered to have been one of the greatest (albeit generally unheralded) players in baseball history.

In general, though, the Recorder offered much more extensive local coverage than the Freeman. That, according to the Encyclopedia of Indianapolis, was one of the factors in the demise of the Freeman in 1926.

Two newspapers also served the African-American community in Gary during more recent times. The Gary INFO stopped publishing in the late 1990s, according to Wilma's research. The Gary Crusader is affiliated with the Chicago Crusader; the publications even have shared some editors.

The Recorder, though, has the distinction of being the state's longest continually operated African-American newspaper. The family of one of its co-founders, George Stewart, owned the newspaper until the late 1980s, when it was purchased by former Indianapolis Star editor Eunice Trotter. In 1990, the weekly was purchased by Indianapolis businessman Bill Mays. Mays died in 2014.

Distinguished journalists who began their careers at the Recorder include Washington Post columnist William Raspberry, who was nationally syndicated. Raspberry died in July of 2012.

Since the 1970s and '80s, the Recorder has provided extensive coverage of Indiana Black Expo and the Circle City Classic, two Indianapolis-based events that have drawn national attention.

"It is the single, most important publication that captures a panoramic view of 20th-century black Indianapolis," Wilma has written of the Recorder.

The digital archives of the Recorder are available at IUPUI's University Library. The full-text, searchable archives include more than 5,000 issues of the newspaper.

Editor's note: Wilma Moore retired in February of 2017 from the Indiana Historical Society as Senior Archivist of African American history.

Indiana KKK in the 1920s

(Originally aired on April 24, 2010) - Hoosier History Live is dedicated to covering all aspects of Indiana's past, including those we wish had not happened. Certainly the political and cultural dominance of the notorious Ku Klux Klan during the 1920s falls into the category of shameful. To explore what happened and why, Nelson is joined in studio by Allen Safianow of Kokomo, a professor emeritus at IU-Kokomo who has done extensive research on the KKK in Indiana.

The central figure during the 1920s heyday of the hate group was the flamboyant D.C. Stephenson (1891-1966), who rose to become Grand Dragon. Stephenson intimidated Indiana politicians, recruited large numbers of Hoosier members and even boasted, "I am the law in Indiana."

Stephenson's downfall (and the decline of the KKK's dominance in the state) came when he was arrested in the death of an Indianapolis woman whom he had brutally raped. During a sensational trial in 1925, Stephenson was found guilty of second-degree murder. The trial was in Noblesville, which drew national attention again decades later when a local building contractor discovered Klan records and memorabilia dating back to the 1920s.

Professor Safianow has analyzed the impact of those records, which contained membership rolls of Hamilton County citizens, as well as hoods and sashes. Professor Safianow also has analyzed the KKK's impact during the 1920s in other parts of the state, including Tipton and Kokomo, said to be the site in 1923 of the largest conclave (called a "Konclave") ever held in the United States.

"At its height in the 1920s, one quarter to one third of native-born, white males in Indiana were Klan members," Professor Safianow noted in an article in the Indiana Magazine of History about the discovery of the Hamilton County membership records and memorabilia. He also notes that the unraveling of - and infighting among - the Klan in Indiana had begun even before Stephenson's trial. In the aftermath, confidential files were released that described corruption and Klan ties to the administration of Gov. Ed Jackson.

In Indiana, the resurgence of the KKK (which had flourished after the Civil War in the Deep South) is often traced to the arrival in Evansville in 1920 of a Klan recruiter named Joseph Huffington. Agents then began recruiting members in southern Indiana. Stephenson, a Texas native who spent much of his youth in Oklahoma, also drifted to Evansville in the early 1920s, then moved to Indianapolis.

During a 12-month period beginning in July 1922, more than 100,000 Hoosier men joined the Klan, according to some experts. Targets of the KKK during the 1920s in Indiana included immigrants, Catholics, Jews and African-Americans.

Professor Safianow, a New Jersey native educated at Rutgers and Cornell, moved to Indiana in the early 1970s to join the faculty at IU-Kokomo. He says he began his research on the KKK because of Kokomo's connection to the massive rally in 1923, noting the challenges that confront historians who attempt to get a handle on the Klan of the 1920s.

Italians during WWII and Camp Atterbury history

(April 8, 2017) Amid the interest sparked by the Indiana Historical Society's "You Are There" exhibit of a chapel built by Italian prisoners of war at Camp Atterbury, Hoosier History Live takes the opportunity to explore interrelated chapters of our heritage.

We look at life during World War II for Italian families across Indiana. Did they confront discrimination? Where did they live in the Hoosier state? Were they aware of the 3,000 Italian prisoners of war who were held at Camp Atterbury, most of them after being captured in North Africa?

We also explore the unfolding of Camp Atterbury, which was planned just before the U.S. entry into WWII. Today, the camp, primarily located in Johnson County, is the state's largest military installation. It is operated by the Indiana National Guard.

Nelson is joined in studio by three guests:

Dr. James Divita, past president of the Italian Heritage Society of Indiana and professor emeritus of history at Marian University. Dr. Divita is the author of Indianapolis Italians (Arcadia Publishing, 2006) and of the chapter about Italians in Peopling Indiana (Indiana Historical Society Press, 1996).
Master Sgt. Bradley Staggs, public affairs officer at Camp Atterbury. Italian POWs arrived there in 1943; many worked under supervision at local farms within a 25-mile radius of the camp. After Italian POWs left in 1944, German POWs were held at Camp Atterbury.
And Angela Wolfgram, a historical researcher for the Indiana Historical Society. The society's exhibit is a replica of a chapel that the Italian POWs were permitted to build using cast-off material. The chapel's altar was created so that it resembles marble.

The actual chapel still stands in a meadow at Camp Atterbury. Unused after the war except for storage, the POW chapel had deteriorated alarmingly until it was restored about 27 years ago as the result of a project that involved the Italian Heritage Society.

Today, Italian immigrants and their descendants account for about 3 percent of the state's population, according to the heritage society. Indiana cities with the highest percentages of Italian heritage residents include Clinton, Dyer, Crown Point, Cedar Lake and Munster, according to statistics supplied by Dr. Divita.

Some history facts:

During the Revolutionary War, Italian fur trader Francis Vigo (namesake of Vigo County) financially supported George Rogers Clark's forces in their successful capture of the fort in Vincennes from the British.
During World War I, Italy sided with the Allies. The country later suffered from a weak post-war economy.
Hoosier History Live explored the immigration of Italian marble-cutters to southern Indiana to work as limestone cutters during a show in May 2010.
No Italian POW ever attempted to escape from Camp Atterbury during World War II.

At the height of the wars in Iraq and Afghanistan, thousands of troops and civilians moved through Camp Atterbury, according to news accounts. In recent years, the camp has diversified its mission by hosting anti-terrorism exercises and cybersecurity training.

The chapel at Camp Atterbury built by the Italian POWs is sometimes called the "Chapel in the Meadow;" it is the only remaining structure at the camp directly connected to its prisoners-of-war chapter.

According to the Italian Heritage Society, some of the Italian POWs "were skilled artisans, trained in the use of wood, stone, masonry and painting." The chapel has religious artwork, including frescoes, and a floor painted red to resemble carpeting. A chaplain at the camp who spoke Italian celebrated Mass with the POWs.

According to Indianapolis Italians by our guest Dr. Divita, Holy Rosary Catholic Church on the south side of the Hoosier capital "had an Italian-speaking priest available until the late 1970s." Built between 1911 and 1925, Holy Rosary became the hub of the city's Italian community and is the setting of an annual Italian Street Festival.

Clinton, the town in western Indiana, also hosts a popular Italian festival. According to Peopling Indiana, Italians immigrated to Clinton and other nearby towns during the late 1800s and early 1900s because of the coal-mining jobs in the region.

In Indianapolis, generations of Italian families dominated the city's produce industry: "Of the 54 fruit and vegetable dealers operating in 1910, 33 were Italian," Peopling Indiana notes.

As the U.S. moved toward entry in World War II, some Italian clubs in Indiana took care to donate to American charities, as well as to those in Italy, according to Peopling Indiana. Although many of the POWs arrived at Camp Atterbury not knowing English, some of them remained in Indiana after the war, married and raised families.

Some of their descendants have visited the chapel, as well as the "You Are There" exhibit.

History Mystery

Identical twin brothers born in Italy in 1940 had a significant impact on Indiana as adults. Before World War II, generations of the Andretti family were prosperous wine exporters and owned thousands of acres of farmland in northern Italy. When Mario Andretti and his twin brother were young children, though, Nazi soldiers commandeered a hotel in Italy owned by their grandparents.

The Andrettis lost their land and, after the war, lived in a resettlement camp. When the twins were 15 years old, the family immigrated to the United States. The twins became race drivers. Mario Andretti won the 1969 Indianapolis 500, Formula One races, and even NASCAR's Daytona 500, becoming one of the world's best-known race drivers. He has been based out of Nazareth, Pa., for most of his adult life.

His twin brother - despite earning praise as a young driver - quit racing after a series of serious accidents. He settled in the Indianapolis area and ran successful businesses in the auto industry for more than 40 years.

Question: What is the name of Mario Andretti's twin brother?

The prize is a pair of passes to the Indiana History Center to see "You Are There 1943: Italian POWs at Camp Atterbury," courtesy of the Indiana History Society, and two tickets to ComedySportz, courtesy of Visit Indy.

Roadtrip: Disc golf in rustic Brown County

Guest Roadtripper Rachel Hill Ponko of the Indiana Historical Society tells us that an old golf course in Brown County has been "repurposed" by a local family of five siblings as a 24-hole disc golf course and event center. (Players of disc golf throw a flying disc and try to hit targets, or "holes," with the fewest tosses.)

The Brown County Country Club, or simply BC3, is just three miles from downtown Nashville. The 100-acre property has gone through several transformations in the last century. A 1940s-era farmhouse and orchard was turned into a clubhouse and golf course in the early 1960s. Visitors can play a 24-hole disc golf course, which weaves in and around mowed fairways, forests, hills and ponds. Almost every shot includes an element of adventure, and there is no shortage of wildlife.

"I'm told there is also a 9-hole course that's perfect for beginners like me, but I was content to relax in the natural beauty of this newfound gem," says Rachel. "As an owner of a 130-year-old home," she added, "I could also appreciate all the family has done to update the 1940s-era farmhouse as a clubhouse."

9 years on the air!

Nine-year soiree makes a little Hoosier history

On Feb. 23, a star-studded gathering of listeners, fans, show guests and civic leaders celebrated nine years on the air for Hoosier History Live. The Indiana Landmarks Center teemed with history-minded folks, and in some cases folks from history, including President Benjamin Harrison and suffragist May Wright Sewall.

Congratulations abounded. Indianapolis Mayor Joe Hogsett dropped in to say a few kind words to his old college pal, our host Nelson Price. Here's a mayoral tidbit: Nelson's father was a mentor for young lawyer Hogsett, who went on to become Indiana secretary of state and a U.S. attorney.

Judy O'Bannon gave a tour de force talk on how knowing our history together unites us across time. O'Bannon was a member of the Central Avenue United Methodist Church, the denomination that originally constructed the building that today, after years of painstaking renovation, houses the Indiana Landmarks Center. The very floors are history, she noted, recalling the lives lived and joined and mourned during the time of the church and now on into the future.

The WICR 88.7FM program director, Henri Pensis, offered words of encouragement to the team - and yet another good reason to always listen to the show - saying that as a new arrival to the state he continues to learn much about Indiana from the show.

The party was made possible by our sponsors, Core Redevelopment and MBP Distinctive Catering.

Thanks from Nelson and the team to Garry Chilluffo, party organizer extraordinaire, and also to Gary BraVard, event planner, for helping to put the dazzle in this anniversary soiree.

All we at Hoosier History Live can say is ... look out for our 10-year affair. It is sure to be a doozy.

As per usual, Nelson and his quiz-show assistant Molly Head, our producer, entertained the crowd with fresh History Mystery questions and fabulous prizes. With so many authors and experts in the crowd, Nelson had to disqualify some from answering certain questions.

"I drew this question from your book," Nelson told Glory-June Greiff. No prize on that one for her!

Performances included the Herron High School String Quartet, acoustic music from PrairieTown with Dan Wethington and Janet Gilray, piano by Shirley Judkins and a vocal performance of "Back Home Again in Indiana" by Herron High School duo Ebony and Luan.

On hand for a scan-a-thon were our friends from the Indiana Album. They displayed some of their growing collection of archival images from Indiana's past and present.

Photos are rolling in. Won't you please send us any good ones to news@hoosierhistorylive.org?

Thanks to all who supported and attended the party. Now let's go make some more Hoosier history!

Early railroads in Indiana

(April 1, 2017) - During the late 1840s, a former U.S. senator from Indiana told a gathering of Hoosiers:

"The time has now come when central Indiana has to decide whether the immense travel, emigration and business of the west should pass round or go through central Indiana - and not force them round by either Cincinnati to the east, or Chicago on the north."

That speech advocating construction of more Indiana railroads is quoted in a new book titled Forging the Bee Line Railroad, 1848-1889 (Kent State University Press). The Bee Line was a conversational name for the Indianapolis and Bellefontaine Railroad that, when connected to other railroads, linked the Hoosier capital with Cleveland, Columbus and other Ohio cities.

Andy Olson, the book's author, notes that the Bee Line was likened to "a bumblebee's nearly straight-line path" as it traveled between cities. Andy is Nelson's studio guest for a show exploring the unfolding of the Bee Line and other early railroads in Indiana.

Dr. Francis Parker, the co-author of Railroads of Indiana (IU Press, 1995), also joins Nelson as a studio guest. He's a former department chair of urban planning at Ball State University and a former board member of the Indiana Transportation Museum in Noblesville. Considered one of the top experts on Indiana's railroad heritage, Dr. Parker is also a qualified locomotive engineer and conductor.

With our guests, we explore the evolution of early railroads in Indiana, including the Bee Line. (In Indianapolis, its tracks run parallel to Massachusetts Avenue, Pendleton Pike and Fort Harrison.)

The state's first railroad line was the Madison and Indianapolis, which was completed in 1847 and linked the Ohio River town (then one of the state's largest cities) with the Hoosier capital.

Major challenges for early Indiana railroads ranged from topographical (the bluffs of the Ohio River and hills of southern Indiana) to the financial. "The Bee Line far underestimated the amount of capital required to bring such a massive undertaking to life," our guest Andy Olson wrote in a series of blogs for the Indiana Historical Bureau.

Initially, railroad construction was slow. In Railroads of Indiana, Dr. Parker and his co-author, the late Richard Simons, noted that construction of the Madison and Indianapolis line took nine years and involved cuts through solid rock to depths of 100 feet and embankments nearly 100 feet high.

But a dramatic increase in construction across Indiana between 1850 and 1855 resulted in a "railroad explosion." During our show, our guests describe the national significance in 1853 of the opening in Indianapolis of Union Depot, the predecessor of the majestic Union Station that remains a downtown landmark today in the Hoosier capital.

Our guest Andy Olson also discusses the influential role of Oliver H. Smith, the former U.S. senator who delivered "the time has now come" speech to Hoosiers. Smith, who primarily was based in Connersville during the early railroad era, became a key figure in the development of the Indianapolis and Bellefontaine, which extended 83 miles northeast of Indianapolis into Ohio.

Board members for the railroad line came from all of the Indiana counties along the route: Marion, Hancock, Madison, Delaware and Randolph counties. For some members, lucrative contracts ensued because of the construction of depots and railroad ties or the provision of rights-of-way.

A noted amateur historian and retired lawyer, Andy is a board member of the Society of Indiana Pioneers and has been involved in various projects at Conner Prairie Interactive History Park.

Some Indiana railroad heritage facts:

Madison banker James Lanier became a major financer of Midwest railroad lines, including the Bee Line, according to Andy's book.
As a locomotive conductor, our guest Dr. Francis Parker has operated the Indiana State Fair Train and other special trains.
Located on the border with Ohio, the Indiana town of Union City (then a railroad junction known simply as Union), "bustled with activity," according to Forging the Bee Line. Early railroad companies "did not allow locomotives or rail cars to travel beyond geographic and corporate boundaries," so transfers at the junction were continual, often requiring passengers to stay overnight in a local hotel.

History Mystery

No railroad company ever has laid any track in a certain county in southeastern Indiana that's known for its hilly terrain and vineyards. The county is named for a European country because its immigrants were among the earliest settlers of the county, which borders the Ohio River.

Beginning in the 1850s, when railroads came to exceed riverboats as the dominant way to ship goods to and from Indiana, the county began to decline. Today, tourism is a significant business in the county, which boasts of its opportunities for boating, camping and fishing on the scenic Ohio River.

Question: What is the county?

The prize is a gift certificate to Story Inn in Brown County, courtesy of Story Inn, and a pair of passes to GlowGolf, the miniature golf course (actually there are two!) at the Circle Centre mall in downtown Indianapolis, as well as in Bloomington, courtesy of GlowGolf.

Roadtrip: Metamora

Who knew that a North American bird with a population in the billions, and whose flocks would literally darken the sky, would be nearly extinct by 1900?

The passenger pigeon was hunted and killed for inexpensive food and for sport, and the birds would not breed in captivity. The last documented passenger pigeon in the wild was shot and collected for specimen near Laurel, Indiana, in Franklin County on April 3, 1902.

Michael Homoya of the Indiana Department of Natural Resources will tell us about a public dedication ceremony for a state historical marker commemorating the passenger pigeon on Monday, April 3. The date marks the 115th anniversary of the shooting of the last passenger pigeon in the wild. The marker dedication will begin at 1 p.m. at the Whitewater Canal State Historic Site in Metamora, Ind.

Other animals that once occurred in Indiana include Carolina parakeet, Ivory-billed woodpecker, American bison, elk, timber wolf, and black bear (a few transient bears have been coming into the state, but none have established as breeding population).

For more information this topic, check out the Hoosier History Live newsletter for our June 2014 show "Passenger pigeons and other extinct or endangered birds."

Columbus architecture and city history

(March 25, 2017 - encore presentation) - The American Institute of Architects once asked its members to rank U.S. cities on architectural quality and innovation. Columbus, Ind., finished sixth - behind only the significantly larger cities of Chicago, New York City, Washington, D.C., San Francisco and Boston.

The modern architecture in Columbus (population 45,000) has been showcased in national media ranging from CBS Sunday Morning and USA Today to Travel & Leisure and Smithsonian magazines. It's Hoosier History Live's turn to explore the architectural heritage of the Bartholomew County city in this encore show. (The original air date was April 9, 2016.)

Nelson's guest is one of the best-known media figures/historians in Columbus: Bartholomew County historian Harry McCawley, the retired associate editor of The Columbus Republic. He continues to write a popular weekly newspaper column that often focuses on local history. Harry, a civic leader who has been president of the Bartholomew County Historical Society, also has edited several books focusing on Columbus history.

Key figures in the story of the Columbus architectural heritage include renowned Finnish architect Eliel Saarinen, who designed the city's First Christian Church in 1942, and his son, Eero Saarinen, who designed the Irwin Union Bank and Trust in 1955 - several years after having designed the Gateway Arch in St. Louis.

Columbus business and civic leaders who spearheaded the crusade to lure top architects with diverse, innovative designs included J. Irwin Miller (1909-2004). For nearly 50 years, Miller was at the helm of Cummins, Inc., a Fortune 500 company based in Columbus that manufactures diesel engines.

Eero Saarinen also designed the Miller House, the former residence of the Miller family that is located on more than 13 acres of landscaped gardens. The Miller House, which has been featured in Architectural Digest, is owned today by the Indianapolis Museum of Art and has become a popular destination for tours. (Famous furniture designer Charles Eames created furnishings for the Miller family.)

In downtown Columbus, historic structures include the Irwin family's ancestral home, which was built during the Civil War era. Today, it is a bed-and-breakfast called the Inn at Irwin Gardens.

Our guest Harry McCawley shares details about the origins of the city's architectural heritage. Much of the trigger was the critical need for new schools for children of the baby boom generation; Miller is said to have looked at the unimpressive design for a school and said, "We certainly can do better than this."

The eventual result has been dozens of award-winning designs and sites listed on the National Register of Historic Places.

During our show, Harry also describes the beginnings of the city, which was founded in the 1820s. Today, Columbus markets itself with the slogan: "Different By Design."

The distinctive architecture, Harry emphasizes, "was as much a business decision as it was to provide residents with a model community."

Health care during the Gilded Age

(March 18, 2017) - Maybe you have seen vintage advertisements for lotions and potions marketed as "cure-alls" during the late 1800s and early 1900s.

Amid the current debate about healthcare and governmental regulations, Hoosier History Live time-travels to the Gilded Age and the subsequent Progressive Era (periods stretching generally from 1870 to 1920) to explore a range of aspects of the healthcare market.

Nelson's guest is David Schuster, an associate professor of history at Indiana University-Purdue University Fort Wayne (IPFW) who has researched health care during those eras. As per David's description during a recent presentation at the Indiana Medical History Museum, the Gilded Age was an era "that placed drug manufacturers, religious healers, lifestyle enthusiasts and professional physicians in competition with one another."

During these eras, the Elkhart business that later became known as Miles Laboratories marketed patent medicine tonics to treat "nervous disorders." They included Nervine, which was said to soothe everything from headaches to backaches. (During the late 20th century, Miles Laboratories became part of Bayer.) The Elkhart company was founded during the 1880s by a physician, Dr. Franklin Miles; it included an extensive mail-order business.

Our guest David Schuster will share insights on how people during the Gilded Age "differentiated 'normal' from 'abnormal'."

For his presentation at the medical history museum, David described some of the medical care challenges this way:

"Faced with heightened expectations from patients, America's turn-of-the-century medical profession began promising something they could not necessarily guarantee: happiness."

So during our show, we explore the approach to mental health during the late 19th and early 20th centuries. David also discusses medical education during those eras.

"Since the 19th century," he says, "Americans' understanding of health and medicine have developed hand-in-hand with American capitalism. In particular, the development of America's highly competitive work environment has led to the development of a host of diagnoses and complaints, such as neurasthenia, as well as a litany of -sometimes - lucrative cures."

Neurasthenia was a term coined during the 19th century by physicians to describe a host of ailments ranging from anxiety, insomnia and lethargy to indigestion and irritability. Medical experts, spiritual healers and others frequently blamed the ailments on the country's industrialization, workplace competition and technological advances.

Concerning Gilded Age treatments for various disorders, David shares insights about alternative medical practices that gained popularity during the Gilded Age. Homeopathy, water cures, spiritual healing and Thomsonian Medicine were among them. Developed by American herbalist Samuel Thomson, Thomsonian Medicine involved the use of herbs (including cayenne pepper, rootbark and poplar bark) and steam baths in treating a range of maladies.

Patent medicines often were high in alcoholic content. So were some herbal remedies such as Lydia Pinkham's Vegetable Compound; it was marketed through the 1930s (with frequent commercials on radio) as a cure for "women's ailments."

David Schuster is the author of Neurasthenic Nation: America's Search for Health, Happiness and Comfort, 1869-1920 (Rutgers University Press, 2011). A native of California, David has been teaching at IPFW for more than 10 years.

For a deeper look into widespread beliefs about health and wellness during this era, David recommends the following archived primary sources, written for the popular audiences of their day:

History Mystery

During the early 1900s, both of the lavish resort hotels in southwestern Indiana marketed mineral water. The rival hotels in French Lick and West Baden promoted the curative powers of their mineral springs and spas, selling bottled water to thousands of guests and other customers.

The French Lick Springs Hotel sold Pluto water. Pluto, the Greek god of the underworld, was symbolized by a red devil with a pitchfork.

Pluto water's popularity far exceeded that of the mineral water marketed by the West Baden Springs Hotel.

Question: What was the name of West Baden's mineral water that competed with Pluto water?

The prize is a pair of passes to the Indiana Experience exhibit at the Eugene and Marilyn Glick Indiana History Center, courtesy of the Indiana Historical Society, and a pair of passes to GlowGolf, the miniature golf course (actually there are two!) at the Circle Centre mall in downtown Indianapolis, courtesy of GlowGolf.

Roadtrip: Frankfort

Guest Roadtripper and public historian Glory-June Greiff suggests we head to Frankfort, the county seat of Clinton County, about an hour by car northwest of Indianapolis. The town is filled with history, and the downtown area is beginning to be revitalized. The three-story courthouse, completed in 1884, sits smack in the middle and is listed in the National Register of Historic Places.

The old Frankfort high school, also listed in the National Register, dominates the east side of downtown. Known fondly as "Old Stoney," the Richardsonian Romanesque structure, originally constructed in 1892, is a 1926 reconfiguration following a disastrous fire that completely gutted the building, leaving only the stone walls. The massive building served proudly as the city's high school for 70 years, then became a junior high until 1974. Too important a community landmark to be destroyed, several offices moved into the building; the second floor was taken over by the Clinton County Historical Society in 1980, and the City Hall occupied much of the rest of the former school. Indiana's Bicentennial last year stimulated a major renovation of the building.

Glory's favorite place in Frankfort is the historic park on the northeast side, Gem City TPA Park, founded in 1911 by the Travelers Protective Association. It contains buildings from its earliest days, such as the bandstand and bath house, and several stone structures built under the auspices of the New Deal. The park boasts a petting zoo and, in the warm-weather months, a walk-in aviary. Currently it is being researched for listing in the National Register.

"There are several places to eat downtown, but my favorite is right near the park, and it's open all year," exclaims Glory-June. "The Milky Way is an old fashioned drive-in dating to 1950. They have hand-dipped ice cream, wonderful shakes and great sandwiches!"

Historic women in science

(March 11, 2017) - The success of the recent film Hidden Figures, which tells the story of a trio of African-American women whose work in mathematics played a crucial role during the Space Race of the late 1950s and 1960s, has focused the public's attention on the often-overlooked roles of women in science.

Here in the Hoosier state, in sciences ranging from physics to home economics, the early and mid-1900s saw women becoming pioneers in scientific research.

But they confronted myriad challenges, and their trailblazing efforts often have been ignored.

Hoosier History Live strives to rectify that as we salute Women's History Month by spotlighting the innovations of - and obstacles confronted by - a physicist from southern Indiana who pioneered new theories (but whose career was stalled because of McCarthyism during the Cold War) and two women associated with Purdue University who were pioneers in "bringing science into the home." One of them traveled across the Hoosier state during the World War I era to share research with farm women.

Nelson's guests include:

Jill Weiss, digital outreach manager at the Indiana Historical Bureau. She shares insights about Melba Phillips (1907-2004), a native of Hazleton, Ind., who became an internationally acclaimed physicist, worked to improve science education and, according to Jill, "advocated for women's place at the forefront of science research." Following World War II, Phillips and other scientists organized to prevent nuclear war. She was fired from university posts, though, after being accused of advocating subversive positions.
And Angie Klink, a Lafayette-based author and historian whose eight books include Divided Paths, Common Ground (Purdue University Press, 2011). It is a dual biography of Mary Matthews, who became the first dean of home economics at Purdue University, and Lella Gaddis, the first state leader of home demonstrations in agricultural extension.

"She hit the road to take research and knowledge ... directly to farm women who often were isolated," Angie notes, referring to Gaddis. Prior to her outreach, what farm women knew about food preservation (a particularly important topic during World War I when meat, sugar and other goods were in high demand) sanitation and nutrition often had just been "handed down by word-of-mouth from their mothers."

When Matthews was initially appointed a department chair of home economics in 1912 prior to becoming Purdue's first dean of the subject, "she had little support from the men in power at Purdue," Angie writes.

Melba Phillips, the physicist, encountered enormous challenges during her long career, but she rebounded and became the first woman president of the American Association of Physics Teachers in 1966.

More than 20 years later, according to a blog that our guest Jill Weiss has written for the Historical Bureau, Brooklyn College publicly apologized for having fired Phillips during the 1950s. Eventually, the college even created a scholarship in her name.

Phillips, who had studied under Robert Oppenheimer and went on to write two physics textbooks, was living in Petersburg, Ind., when she died at age 97. During the 1950s, she had refused to testify before a subcommittee of the U.S. Senate Judiciary Committee that was investigating internal security.

Jill's blog about her is titled "Melba Phillips: Leader in Science and Conscience." Phillips also will be the subject of an upcoming episode of the new IHB podcast Talking Hoosier History, which Jill helps produce.

According to Jill's blog, Melba Phillips graduated from high school at 15, then studied at Oakland City College (which became Oakland City University in 1985) in southern Indiana. Eventually, she earned a Ph.D. and became "known throughout the physics world" because of her contributions to the field.

As described in our guest Angie Klink's book Divided Paths, Lella Gaddis "tooled down the country roads past Indiana cornfields" to bring the latest science about vitamins, food preservation, sanitation and other topics to farm wives. On the running board of her Model T, Gaddis propped her demonstration suitcase - and held onto it as she traveled on the rural roads.

Divided Paths also tells the story of an unconventional "lady farmer," as Virginia Claypool Meredith was called during the late 1800s and early 1900s. During our show, we also will explore her pioneering career, which included becoming the first woman on Purdue's board of trustees in 1921.

When Virginia Claypool Meredith was 33 years old in 1882, she had to take over the running of a 115-acre cattle and sheep farm near Cambridge City, Ind, when her husband died unexpectedly, according to Angie's book. "She became a nationally recognized agricultural speaker and writer."

Some of the women pioneers in science will be explored during a Hoosier Women at Work conference on April 1 hosted by the Indiana Historical Bureau, 315 W. Ohio St. in Indianapolis.

History Mystery

Purdue University was the sponsor of the twin-engine airplane that famous aviator Amelia Earhart was flying when she vanished in 1937. In the years before her death, Amelia Earhart had developed a close professional relationship with Purdue, where she was a lecturer and career counselor for women students. Amelia Earhart even lived in a women's dorm while on campus.

Her interest in Purdue during the 1930s was the result of several factors, including the fact that it was the only university in the country to have something.

Question: What was it?

The prize is a pair of passes to the Indiana Experience exhibit at the Eugene and Marilyn Glick Indiana History Center, courtesy of the Indiana Historical Society, and a gift certificate to Story Inn, courtesy of Story Inn.

Roadtrip: Adams Mill in Carroll County

Guest Roadtripper and travel writer Jane Ammeson suggests a trip to Adams Mill in Carroll County, about 60 miles north of Indianapolis. John Adams built the three-and-a-half story mill on Wildcat Creek in 1845-46 in Cutler, a tiny village near Lafayette.

Adams Mill is filled with historic treasures on all its floors, including a Conestoga Wagon and a canvas bathtub used by pioneers as they traveled out west. The mill also has the original milling equipment and artifacts from when it housed a post office. And just down a winding country road is the Adams Mill Covered Bridge, built in 1872.

Adams Mill was placed into the National Register of Historic Places in 1984. Open for tours, it is a fascinating look back in time when mills served the towns and outlying regions where they were located. And it's also one of the few survivors in the 21st century. At one time saw mills and grist mills dotted the landscape of Indiana, necessary for both grinding grain and sawing lumber for building. Now just about 13 remain.

Hoosier History Live seeks restaurant partner

(March 2017) - We like to treat our show guests to lunch after the live show on Saturday at noon. Hoosier History Live is seeking a restaurant near the University of Indianapolis, perhaps in Fountain Square or Downtown, that would like to treat our guests to lunch in exchange for underwriting credit, including logos on the Hoosier History Live website and newsletter and live reads in the show.

Are you a restaurant owner or manager who would like to host us on Saturday afternoons? Interesting guests and lots of lively conversation are guaranteed.

For more information contact molly@hoosierhistorylive.org. In fact, for all underwriting inquiries, contact Molly! We can't do it without your support.

New to the team!

Hoosier History Live welcomes Michael Armbruster

(January 2017) - Hoosier History Live extends a hearty welcome to new team member Michael "Mick" Armbruster, who is beginning to do the layout of the weekly newsletter. Mick is training under the "master," webmaster Richard Sullivan. As producer Molly Head says, it takes a lot of talented and hardworking people to keep Hoosier History Live looking and sounding so good each week.

Mick is originally from Santa Fe, New Mexico, but he took his undergraduate degree at the University of Virginia and also studied for a year at Moscow State University in Russia. He earned a graduate degree at Indiana University's Slavic Department in Bloomington, where he studied Russian language and literature, with a focus on 19th-century authors such as Fyodor Dostoevsky and Alexandr Pushkin.

He taught English at Arsenal Tech High School and Brebeuf Jesuit Preparatory School, both in Indianapolis, for 19 years.

Mick says he fell in love with Indiana while in Bloomington, with the state's woodlands, four seasons and deciduous trees, as opposed to the high-desert climate he grew up in. He is an active cyclist and hiker, and he gets out to the Rocky Mountains at least once a year to enjoy the outdoors and visit family.

Mick says he loves working with the Hoosier History Live crew and getting the opportunity to develop and use his language and computer skills in a real-world setting.

Shortridge High School history

(March 4, 2017) - It's the oldest public high school in the Indiana capital, having evolved from what opened as Indianapolis High School in 1864.

Shortridge High School gained a national reputation for academic excellence by the 1920s. Students produced the first daily high school newspaper in the country: the acclaimed Daily Echo.

Distinguished graduates of Shortridge, which moved from various locations downtown to its current site at North Meridian and 34th Streets during the late 1920s, have included dozens of notables in politics, literature, business and the arts. They include Kurt Vonnegut (class of '40); former U.S. Sen. Richard Lugar and Dan Wakefield (both class of '50); TV writer Madelyn Pugh Davis (class of '38), co-creator of "I Love Lucy;" former U.S. Congressman Andy Jacobs (class of '49), and Anita DeFrantz (class of '70), the first woman and African-American on the powerful International Olympics Committee.

Today, Shortridge is an International Baccalaureate (IB) school, having reopened as a high school in 2009. In a controversial decision by Indianapolis Public Schools, Shortridge had been converted to a junior high school in 1981, then a middle school.

To explore the rich heritage of Shortridge, Nelson is joined by four guests:

Shane O'Day, the current principal, who shares insights about the IB program (described as "academically challenging and balanced"), as well as details about a museum being created at Shortridge. The school's name was changed from Indianapolis High School in the 1890s to honor Abram Shortridge (1833-1919), the city's first school superintendent.
Sharon Butsch Freeland, an Indianapolis historian, researcher and member of Shortridge's class of 1965. She is a board member of Historic Urban Neighborhoods of Indianapolis. Sharon has written about one of the earliest notable graduates of her alma mater: George Andrew Reisner Jr., who ranked No. 1 in the class of 1885 and became a top Egyptologist hailed as "one of the most important figures in modern scientific archaeology."
Civic leader Ted Boehm, a former Indiana Supreme Court justice. A member of Shortridge's class of '56, Ted Boehm is a partner at the law firm of Hoover Hull Turner; previously, he was managing partner of Baker & Daniels.
And Kevin Grau, a historian and researcher; he is the parent of a current Shortridge student and an adviser to the school's archives club.

"I have always wanted to find out how the Shortridge mystique was established," wrote the late Laura Gaus, the author of Shortridge High School, 1864-1981. Her book opens by describing public education in Indianapolis before 1864 as a "wilderness." Until the opening of Indianapolis High School, education at the secondary school level in the Hoosier capital was limited to a few private academies.

Our guest Sharon Butsch Freeland, who has researched the various early locations for Indianapolis (later Shortridge) High School, notes that it initially was housed in a former IPS grade school at Vermont and New Jersey Streets. (Today that location is the parking lot for a Marsh Supermarket.)

Although the high school moved to various other sites during the 1800s, the most significant (from 1885 until the opening of the current location in 1928) was in the 500 block of North Pennsylvania Street. Today the site is occupied by the Minton-Capehart Federal Building, 575 N. Pennsylvania.

At the current location, Shortridge became an academic and athletic powerhouse, winning city football championships. Vonnegut, Madelyn Pugh and other future professional writers were on the staff of the Echo; Lugar and Wakefield wrote rival sports columns. In 1970, Wakefield used Shortridge as the inspiration for the high school, which he called "Shortley," in his national bestseller Going All the Way.

According to Shortridge High School, 1864-1981, it may have been the top high school in the country during World War II for student-led war bond drives. A spectacularly successful drive resulted in the sale of more than $1.3 million in war bonds, "enough to purchase, in addition to a pursuit plane, two B-17 flying fortresses, which were appropriately christened Blue Devils." (The Blue Devils is the Shortridge mascot).

Other history facts:

In 1964, Shortridge singers became the first high school group to appear at Clowes Hall.
During the early 1960s, our guest Ted Boehm was a law clerk for U.S. Supreme Court Chief Justice Earl Warren and other justices. Before serving on the Indiana Supreme Court, he was the first CEO of the Indiana Sports Corp. and the chairman of the organizing committee of the 1987 Pan American Games, which Indy hosted.
Although Shortridge faced challenges after reopening as a high school in 2009, the IB program introduced a few years ago - with high standards for student achievement - has been drawing praise. Our guest Shane O'Day, the principal, has overseen schools offering the IB program in China, Mexico and elsewhere overseas.
A digitized collection of Shortridge yearbooks is available online via the Indianapolis Public Library's Digital Indy collections.


History Mystery

Ever since the late 1920s, the mascot for sports teams at Shortridge High School has been the Blue Devils. The mascot for Shortridge - where the school colors are blue and white - was derived from a World War I-era infantry division known as the Blue Devils.

Before that became the mascot for Shortridge, though, the high school had another mascot, an animal, which served as the school's symbol during the mid-1920s.

Question: What was it?

The prize is a pair of passes to the Indiana Experience exhibit at the Eugene and Marilyn Glick Indiana History Center, courtesy of the Indiana Historical Society, and a pair of passes to GlowGolf, the miniature golf course (actually there are two!) at the Circle Centre Mall in downtown Indianapolis, courtesy of GlowGolf.

How to excite young people about history

(Feb. 25, 2017 - encore presentation) - With colorful and captivating characters, perpetual conflicts, unsolved mysteries and dramatic changes in everything from fashion to modes of transportation, history surely has the potential to be intriguing.

But sparking interest in previous generations and earlier eras can be a challenge. Even the word "history" can be a turn-off for teenagers and children.

To share advice for parents, grandparents, educators and anyone else seeking to ignite a history passion in young people, Nelson is joined in studio by two teachers during this encore show. (Its original air date was Jan. 16, 2015). His guests, who have been hailed for success in sparking an interest in history, are:

Shane Phipps, an 8th-grade history teacher and social studies department chair at Decatur Middle School in Indianapolis. He is the author of The Carter Journals (Indiana Historical Society Press, 2015), a novel in which a 14-year-old boy, Cody Carter, embarks on adventures inspired by dusty ancestral journals given to him by his grandfather. Like his fictional character, Shane developed an interest in history because of his grandfathers; also like Cody Carter, he discovered that some of his ancestors had been slave owners.
And Chris Edwards, a world history teacher at Fishers High School. Chris, a resident of New Palestine, is the author of Connecting the Dots in World History (Rowman & Littlefield Education, 2015), a five-volume series.

Both of our guests say they use the compelling story of Tecumseh, the Shawnee chief based in Indiana during the early 1800s, as a way to intrigue students. Often considered the greatest Native American leader in history, Tecumseh traveled from the Alleghenies to the Everglades to the Ozarks in his crusade to unite diverse tribes into a confederacy to stop the waves of white settlers.

In fact, our guest Shane Phipps says he has posed this question to his students: "Should Andrew Jackson continue to be honored on the $20 bill or replaced by someone like Tecumseh?"

In his classes, Shane says he stresses "big-picture topics that flow as an undercurrent" throughout the course of history and the connections between events in various eras.

"As an example," he says, "I begin teaching the causes of the Civil War while we are still studying the 13 colonies, because that is where the roots lie."

As a hobby, Shane's maternal grandfather researched the burial location of Hoosier veterans of the Revolutionary War and Civil War, seeking out cemeteries in remote locations.

Our guest Chris Edwards emphasizes that delving into history enhances young people's ability to analyze evidence, connect information to other subjects, present an argument and other skills. He wrote his history books when his youngest son, 7-year-old Ben, was a toddler and was being treated for a rare brain cancer at Riley Children's Hospital.

"I wasn't sleeping anyway, so I thought I would write a history of the world," Chris says. Ben has been in remission for several years.

9 years on the air!

Join us Feb. 23 for our anniversary soiree

(February 2017) - Can you believe it? Hoosier History Live has been on the air nine years.

To celebrate, we are throwing another of our famous anniversary parties!

Remarks by former Indiana First Lady Judy O'Bannon and Indianapolis Mayor Joe Hogsett. Live "History Mystery" with host Nelson Price, including fabulous prizes. Musical performances by Herron High School String Quartet, PrairieTown with Dan Wethington and Janet Gilray, and Indiana songs on piano by Shirley Judkins. Bring your interesting Indiana photos for scanning by the Indiana Album. And historic garb is encouraged at this party; you never know who you will run into, both past and present!

Special thanks to Garry Chilluffo and Gary BraVard for helping to put the dazzle in this party.

Thanks to our party sponsor Core Redevelopment!

Delicious catered cuisine and cash bar will be provided by MBP Distinctive Catering.

Let's celebrate together: RSVP today!

Murals of famous Hoosiers

(Feb. 18, 2017) - In the 300 block of bustling Massachusetts Avenue in downtown Indy, you will find a 38-foot-tall outdoor mural of famed novelist Kurt Vonnegut. The eye-catching artwork is titled "My Affair with Kurt Vonnegut."

Inside Bankers Life Fieldhouse, home of the Indiana Pacers, you will encounter a mural of retired players that includes Reggie Miller and George McGinnis, plus retired coach Bobby "Slick" Leonard.

In Cambridge City, an outdoor mural depicts Lincoln's Funeral Train, which came through the town in far-eastern Indiana in April 1865. And in Richmond, an outdoor mural that's 25 feet tall depicts composer Hoagy Carmichael. During the 1920s, Carmichael and other emerging stars recorded at the historic Gennett Studios in Richmond.

Pamela Bliss, the acclaimed Hoosier artist who created these high-profile murals across Indiana, joins Nelson in studio to share insights about them. Her artwork also includes Jazz Masters of Indiana Avenue, an outdoor mural on a music repair shop downtown that depicts Wes Montgomery, David Baker and other jazz notables. A gallery of images of her murals is available for viewing on Facebook.

A native of Cambridge City who has been creating outdoor and indoor murals, portraits and other canvas works for more than 30 years, Pamela lives in the historic Herron-Morton Place neighborhood of Indianapolis.

She has been traveling to London recently because of a major opportunity: Pamela was among 100 international artists chosen to paint frames of Loving Vincent, an upcoming movie about the works of Vincent Van Gogh; it is billed as "the first full-feature animated, hand-painted film."

Closer to home, Pamela is teaching a mural history class at IU-East, which has honored her with its Distinguished Alumni Award.

Her mural of Vonnegut is drawing particular attention now because, as a salute to the 10-year anniversary of the death of the literary great, Indianapolis is celebrating a "Year of Vonnegut." In 2007, Indianapolis was celebrating an initial "Year of Vonnegut" when the author of Slaughterhouse-Five and other bestsellers died just a few weeks before he planned to return to his hometown. Our host, Nelson Price, was doing presentations then about Vonnegut, who is featured in his book Indiana Legends.

Nelson and Pamela will co-host a discussion about Vonnegut at 6 p.m. on March 2 at WFYI, 1630 N. Meridian St. The event, open to the general public, will include a showing of the WFYI documentary A Writer's Roots: Kurt Vonnegut's Indianapolis. For more information, visit the website of the Kurt Vonnegut Museum & Library. The event is free, but those wishing to attend should RSVP here.

Pamela's Jazz Masters of Indiana Avenue - which, in addition to Montgomery with a guitar, features Freddie Hubbard playing a trumpet - is 19 feet tall and can be found on the Musicians' Repair & Sales store at Capitol Avenue and Vermont Street in Indy. That mural and My Affair with Kurt Vonnegut were created as part of a project called 46 For XLVI; local, state, and national artists were selected to create public artwork as the Hoosier capital prepared to host the Super Bowl (the 46th) in 2012.

In far-eastern Indiana, Pamela's murals include one in the town of Portland celebrating automobile pioneer and inventor Elwood Haynes, who was born there in 1857.

In Richmond, Indiana native Hoagy Carmichael was among scores of musicians from across the country - including Louis Armstrong, Gene Autry and Jelly Roll Morton - who recorded at the bygone Gennett Studios.

The jazz recording heritage of Richmond during the 1920s was the focus of a Hoosier History Live show on April 13, 2012. The Lincoln Funeral Train - which came through Richmond, Indianapolis, Zionsville, Lafayette and other Indiana cities, in addition to Cambridge City - was the focus of a Hoosier History Live show on Feb. 14, 2015.

History Mystery

A 10-foot-tall bronze statue of a famous person with Indiana connections is currently being created.

The sculptor of the statue will be unveiled later this year. He is an Indianapolis firefighter who was a guest on Hoosier History Live last October. He has met with the famous person and has pored over more than 400 photos of him in the process of creating this work of art.

The statue will be installed at a high-profile site in downtown Indy. Although the famous person depicted in the sculpture wasn't born in Indiana and did not grow up here, much of his career was spent in the state.

Question: Name the famous person whose sculpture will be unveiled later this year.

The prize is a pair of passes to the Indiana Experience exhibit at the Eugene and Marilyn Glick Indiana History Center, courtesy of the Indiana Historical Society.

Roadtrip: A time capsule on the Ohio River

Guest Roadtripper and film historian Eric Grayson shares some highlights from his recent sojourn to Madison, in southeastern Indiana.

"Madison is like a time capsule in a lot of ways," Eric tells us. "It was very popular when river travel was the dominant mode of travel, but it's out of the way and at the bottom of some steep hills to get to by land. As a result, it stopped suddenly and got preserved just because it was too expensive to tear down the old buildings."

Everyone wants to know about the Jefferson Country courthouse, built in 1854, which is beautiful and has been re-restored after a disastrous 2009 fire.

But, of course, being a film historian, Eric takes care to mention their historic theater, the Ohio, which just closed in the past few weeks.

"There's talk of reopening it," Eric says, "and I hope it happens. It's a great place!"

Down the road just a bit is a bookstore, the Village Lights Bookstore.

"I know bookstores aren't historic, but they are headed that way," Eric says, "and this one is a nice local one with antique and new books, plus cats in the window."

For lunch, consider Hinkle's Sandwich Shop, which dates to 1933 and still has that '30s look.

"Their burgers are smallish, so order a couple," Eric says. "Their chili is famous, too, as are their funnel fries. Yum!"

Tuskegee Airmen and Indiana connections

(Feb. 11, 2017) - Met with skepticism before World War II about whether African Americans could master the skills of flying in combat, the Tuskegee Airmen went on to become an acclaimed fighting force. And the Hoosier parents of two of our guests were among the most distinguished members of the all-black Army air squadron during an era when the military was segregated.

As Hoosier History Live salutes Black History Month, we explore Indiana connections with the squadron, which drew its name from the Tuskegee Army Air Field in Alabama. Many of the men who were part of what is known as the "Tuskegee Airmen Experience" were not pilots and did not aspire to be. Many fought in the war as ground crewmen or in other non-flying support roles. To share insights about the Tuskegee Airmen, who were collectively recognized (both flight and non-flight personnel) in 2007 with a Congressional Gold Medal, Nelson is joined in studio by:

Reginald DuValle, an Indianapolis native who graduated in 1979 from the U.S. Air Force Academy. He is the president of the Indianapolis chapter of Tuskegee Airmen Inc., a nonprofit that honors the squadron; members often were not included in victory parades and were nearly forgotten for several years after World War II.
Janice Carter, whose father flew 158 combat missions, the most of any Tuskegee Airman. Her father, Walter J. Palmer, was one of the original group of Tuskegee Airmen; they were the first African-American aviators in U.S. history. Palmer is among the aviators featured in video interviews archived by the Genealogy Center of the Allen County Public Library in Fort Wayne.
And Charles Hall, whose father was the first African-American pilot to have an aerial combat victory over an enemy aircraft. His father, Charles B. Hall, was a native of Brazil, Indiana. He became the first Tuskegee Airman to shoot down three enemy fighter aircraft. The engine that powered his plane was made in Indianapolis.

Some of the Tuskegee Airmen received training at Freeman Field (now Freeman Municipal Airport) in Seymour. In the spring of 1945, it became the setting for the "Freeman Field Mutiny," a non-violent civil rights protest. More than 100 officers were arrested for refusing to sign an order that they would not attend the whites-only officers club.

In another piece of Hoosier African-American history, Tuskegee Airmen of the 618th and 619th Bomb Squadrons of the 477th Bomb Group trained at Atterbury Army Air Field, near Columbus Indiana.

Some other Indiana connections, courtesy of our guest Reginald DuValle:

The director of the first two phases of flight training for all of the Tuskegee Airmen was Lewis Jackson, a native of Angola, Indiana. The library at Indiana Wesleyan University (Jackson was a graduate in 1939 when it was known as Marion College) has been named in his honor.
In 1944, 12 black officers, led by Capt. Willard B. Ransom from Indianapolis, integrated the Tuskegee Army Air Field's restaurant.
For many years, Hoosiers were undercounted among the graduates of the Tuskegee Advanced Flying School. That's because the hometown of four of them was East Chicago, which was incorrectly listed as being in "Illinois" on their records.

At the outset of the war, the U.S. Army Air Corps set up College Training Detachments (CTDs) because there weren't enough aspiring pilots with college degrees to meet the need. Theodore Randall, an Indianapolis native, served as commander of the CTD at Tuskegee.

Tuskegee pilots ended up fighting in aerial combat over Europe and North Africa. Many were awarded the Distinguished Flying Cross.

In Indiana, the Tuskegee Airmen were honored at a ceremony last October during which a stretch of I-65 from Seymour (not far from the site of the Freeman Field Mutiny) to the Bartholomew/Johnson County line was named the Tuskegee Airmen Highway.

Referring to the discrimination at Freeman Field and other challenges, our guest Reginald DuValle was quoted in The Columbus Republic as saying the historic aviators achieved a double victory: "one against fascism overseas, and the other against racism at home."

The public is invited to celebrate the Tuskegee Airmen Experience and the state's naming of the highway at an event beginning at 1 p.m. Feb. 19 at the Indiana War Memorial. The event will feature a display about the Tuskegee Airmen and will include a special recognition and insights about youth opportunities in aviation. More information is available at the website of the Indianapolis Chapter of Tuskegee Airmen, Inc.

History Mystery

Camp Atterbury, where some squadrons of the Tuskegee Airmen trained during World War II, has a small, unusual chapel. The Roman Catholic chapel - made of cast-off construction material - was built during the war by a group of people who were at the camp.

Almost forgotten after the war and neglected for several years, the historic chapel was restored more than 25 years ago. It was restored in part with the help of an ethnic heritage group associated with the people who initially built the modest chapel, sometimes called the "Chapel in the Meadow."

What group of people built the chapel at Camp Atterbury during World War II?

The prize is a pair of passes to GlowGolf, the miniature golf course at the Circle Centre mall in Indianapolis, courtesy of GlowGolf. Actually, there are two GlowGolf courses at Circle Centre mall now!

A piece of history!

Live from Hoosier Homecoming audio now online

(Dec. 1, 2016) - Our Oct. 15, 2016 live broadcast from Indiana's Hoosier Homecoming celebration at the Indiana Statehouse of our state's 200-year anniversary is now available online - part of the permanent record.

Hoosier History Live was amid the hoopla as Nelson interviewed an array of attendees. Online audio underwritten by Indiana Bicentennial Commission.

Live from Hoosier Homecoming - Just click to listen!

Soldiers and Sailors Monument, Athenaeum, landmark status

(Feb. 4, 2017) - The Soldiers and Sailors Monument in the center of downtown Indianapolis is so iconic that you might assume it has been designated a National Historic Landmark for decades.

Ditto for another historic structure in downtown Indianapolis: the Athenaeum, the expansive (94,000 square feet) cultural center designed in 1894 by the grandfather of novelist Kurt Vonnegut Jr.

Actually, both distinctive structures have only (separately) received National Historic Landmark designations recently. Hoosier History Live will seize the opportunity to explore their histories, as well as what the landmark designations mean for them.

Built beginning in the 1880s and finally dedicated in 1902, the limestone Soldiers and Sailors Monument initially was designed to honor Hoosiers who died or served in the Civil War. Its designation as a National Historic Landmark came in January as a result of the National Park Service's expansion and renaming of the Indiana War Memorial Historic District.

The Athenaeum, which was known as Das Deutsche Haus when it opened as a German-American center, was designated a National Historic Landmark last fall. The building at the intersection of Michigan Street, New Jersey Street and Massachusetts Avenue includes a YMCA, the Rathskeller (the city's oldest continually operating restaurant), a theater and a biergarten (beer garden), with more enterprises to come.

Designed by architect Bernard Vonnegut, the Athenaeum has steep gables, stained-glass windows and a massive pitched roof. Its name was changed from Das Deutsche Haus because of anti-German sentiment engendered by World War I.

Nelson is joined in studio by three guests:

Jim Glass, principal of Historic Preservation & Heritage Consulting, a co-author of the nomination for landmark designation for the Soldiers and Sailors Monument. Jim is the former director of the Indiana DNR's historic preservation division. He writes the "Culture Watch" column that appears monthly in The Indianapolis Star.
Architectural historian William Selm, a co-author of the nomination for the monument, which long ago became a symbol for Indianapolis. An expert on German-American heritage in Indiana, William also was the key player in the landmark designation for the Athenaeum, an extensive project that began nine years ago. He teaches architectural history at IUPUI.
And Cassie Stockamp, president of the Athenaeum Foundation. During our show, Cassie shares details regarding plans for new endeavors in the Athenaeum, which nearly was demolished in the 1980s due to significant deterioration. Various renovations have unfolded since then, with a $1.2 million restoration project currently under way.

With a height of more than 284 feet from street level on Monument Circle to the Victory statue at the top, the Soldiers and Sailors Monument is just 17 feet shorter than the Statue of Liberty.

The nomination for the national landmark status describes the monument as "the most significant memorial constructed in the United States to honor Union veterans of the Civil War." With the new designation, the monument has become part of a landmark district that also includes the five-block World War Memorial Plaza.

In 1999, the Col. Eli Lilly Civil War Museum opened in the basement of the Soldiers and Sailors Monument. Col. Lilly was one of several Hoosier veterans of the Civil War - others included Gen. Lew Wallace, author of the bestselling novel Ben-Hur - who used their prominence to crusade for the monument's creation.

In addition to the restaurant and biergarten, the Athenaeum originally featured a turnverein (gymnastics or athletics club). So with the presence of the YMCA since the early 1990s, the historic building "is still being used as it was originally designed," our guest Cassie Stockamp notes.

During our show, she shares details about plans to enhance the Athenaeum and surrounding area. Renovations completed on the first floor include a coffee and juice bar that opened last week. A new pocket park is planned for the New Jersey Street side of the building, which remains a popular venue for heritage events, including a GermanFest in the fall.

History Mystery

In 1992, the grandson of a famous Hoosier lived on the roof of the Athenaeum for about 60 days as a way to raise money to restore the historic structure, which had deteriorated alarmingly.

The grandson even slept on the roof of the Athenaeum during his highly publicized "camp out." Pizzas were delivered to him. In addition to receiving a series of visitors, he got a phone call from Kurt Vonnegut Jr., whose grandfather had been the architect for the Athenaeum.

In recent years, the "roof liver" has been a Hoosier History Live guest several times to discuss his own grandfather, who became one of the most famous people in America in 1940.

Our guest William Selm convinced the grandson to undertake the "roof living" in 1992, and our guest Cassie Stockamp replicated it as a fund-raiser 20 years later. Her stint on the Athenaeum roof was not as long as that of the grandson of the famous Hoosier, though.

Question: Who was his grandfather?

Hints: The grandfather grew up in the region of the state affected by the natural gas boom of the late 1800s, graduated from Indiana University and became a successful lawyer and businessman before bursting to national fame in 1940.

The prize is a gift certificate to the Story Inn, a bed and breakfast in Brown County, courtesy of the Story Inn.

Roadtrip: Villages of Marion County - continued

This week we continue the Roadtrip we began on the last show. Guest Roadtripper Paul Diebold of the Indiana DNR, Division of Historic Preservation will tell us about the second leg of a journey that he and his wife Peggy made exploring the historic villages of Marion County.

We left off in Castleton, where the high school's teams were named "The Comets." Continuing the astrophysics (or at least the burning objects in the sky) theme in Washington Township was Broad Ripple, who named their high school sports teams "The Rockets." Broad Ripple is everyone's favorite hangout spot, at least at some point during one's life. Broad Ripple began as a canal town but grew steadily as a rail village once the Monon Railroad built their line through Marion County in the 1850s.

Famous for its entertainment and night spots, Broad Ripple's quieter streets have scores of quaint bungalows. You can learn more about Broad Ripple history here. The Broad Ripple music scene began in the 1960s and 70s; the Vogue Theater opened in 1977 and has hosted many great music acts, including such headliners as Blondie, The Red Hot Chili Peppers and Rihanna.

Speedway is more of a small town than it is village. Unlike all of the aforementioned places, Speedway remains an independent town. Even if it's not May, there's still plenty going on at the Indianapolis Motor Speedway. The Speedway museum is open year-round; Paul's favorites are the turbine cars!

Heading over to the southeast side, Paul and Peggy thought they'd pick up some DIY supplies at the Wanamaker Feed & Seed. Wanamaker and Acton once were busy commercial centers; both have become quiet and charming village-suburbs of Indianapolis. The Feed & Seed has quite a history!

People used to take the interurban to Homecroft, four and half miles south of downtown Indy. That's why several roads are named "stop" on this side of town. "Stop 11" was a stop on the interurban electric train as it coursed up and down Madison Avenue.

After all those miles, it's nice to come home. But our Roadtrippers' home is also a village, or at least it used to be. Irvington has a proud history as the former home of Indiana artists and former location of Butler University.

Indiana's first governor and first lady

(Jan. 28, 2017) - With the inauguration this month of a new Indiana governor, Hoosier History Live explores the life and career of the first.

We also explore the life - and early death - of First Lady Ann Jennings, the wife of Gov. Jonathan Jennings.

Neither was born on Hoosier soil. And they lived in Corydon, the capital when Indiana became a state in 1816, rather than Indianapolis.

According to the book First Ladies of Indiana and the Governors (1984), no portrait ever was painted of Ann Jennings. She lived before photography was invented, of course, so no image of her exists, meaning no one knows precisely what she looked like.

Even so, Lori Roberts, who lives in Brownstown in Jackson County, portrays Jennings (in typical 1800s attire) at historical events and workshops. Aside from her work as an historical re-enactor, Lori teaches U.S. history at Shawswick Middle School in Bedford and will be among Nelson's studio guests this week.

Also on the program will be award-winning historian, editor and author Ray Boomhower of the Indiana Historical Society. Ray was the editor for Jonathan Jennings: Indiana's First Governor (IHS Press, 2005), a biography written by Randy Mills.

The son of a Presbyterian minister, Jonathan Jennings was born in New Jersey in 1784 and grew up in Pennsylvania. Ann Hay (later Jennings) was the daughter of a prosperous surveyor in Kentucky, where she was born in 1792. Ann, who married Jonathan in 1811, was just 24 years old when she became Indiana's first lady in 1816.

Jonathan Jennings had moved to the Indiana Territory to study law. He settled in Charlestown near the Ohio River. A strong opponent of slavery, he was elected a territorial delegate to the U.S. Congress in 1809, defeating a pro-slavery candidate. Periodically, Ann Jennings nursed victims of malaria, which was epidemic both in Washington D.C. and southern Indiana (as we explored on this 2015 episode of Hoosier History Live).

Jonathan Jennings' years as governor were sandwiched between stints in Washington. He won re-election as governor, but he quit during the middle of his second term in 1822 to take a seat in Congress. Ann Jennings, whose health had begun to fail, did not make the return move to Washington. She died at age 34 in Charlestown.

Battles with alcoholism ended Jonathan Jennings' political career several years before his death in 1834.

Our guest Lori Roberts is the author of three books, including historical fiction set in the Civil War era. In addition to portraying Ann Jennings, she is a the re-enactor of several other historic figures, including the wife of Gen. "Stonewall" Jackson. Her website is at stonewallswife.com.

Our guest Ray Boomhower is the editor of Traces of Indiana and Midwestern History, the popular magazine published by the Indiana Historical Society. Ray also has written 13 books, primarily biographies of famous Hoosiers such as Gen. Lew Wallace, astronaut Gus Grissom and journalist Ernie Pyle. He's a frequent guest on Hoosier History Live, most recently on a show last year about derivations of the terms "Hoosiers" and "Indianans".

Some history facts:

Jonathan and Ann Jennings had no children. After her death, Jonathan - by then a member of Congress - remarried. That marriage also didn't produce children.
Ann Jennings was said to have been highly skilled at horsemanship, often riding side saddle.
According to First Ladies of Indiana and the Governors, Jennings' salary as Indiana's governor in 1816 was $1,000.

History Mystery

Governors of Indiana since 2000 have included one who had been a prisoner of war. During the Vietnam War, he was a flight officer and navigator whose plane was shot down. Captured by the North Vietnamese, he spent more than 10 months in the notorious "Hanoi Hilton" prison camp where many American pilots were held.

The future governor, who was awarded two Purple Hearts and the Distinguished Flying Cross, served as mayor of a city in northern Indiana during the 1990s.

Question: Name the former governor.

The prize is two admissions to the Indiana Experience at the Indiana History Center in downtown Indianapolis, courtesy of the Indiana Historical Society History.

Roadtrip: Villages of Marion County

Guest Roadtripper Paul Diebold of the Indiana DNR's Division of Historic Preservation will tell us about a recent Roadtrip that he and his wife Peggy made exploring the historic villages of Marion County.

What historic villages? Indianapolis has pretty much "grown over" and absorbed most of these once-distinct small towns. But some of these places still exist, either by virtue of their historic buildings and places, or in a few cases, simply by name. Those that have survived to make it to the National Register of Historic Places are mentioned on the National Park Service's official travel itinerary.

Paul and Peggy forgot to grab a bite to eat first, so they headed to Snacks. That's Snacks, Indiana, which is in the northwest part of Indianapolis, inside 465 in Pike Township. There aren't many historic buildings left in Snacks, with the notable exception of the historic Bethel United Methodist Church, which has been on West 52nd Street near Lafayette Road for over 175 years.

Paul asked, "If we had snacks in the parking lot, would that be Snacks in Snacks?"

Maybe someone can tell us the origin of the name of Snacks.

Further north in Pike Township there's New Augusta. Just north of the 4700 block of West 71st Street, this place still feels like a village, complete with chapel, train depot, former store buildings and even the town water pump!

Paul and Peggy next ventured to the north edge of Marion County to Castleton. To the mall? No, Castleton was a railroad village a long, long time before Castleton Square Mall opened in the 1970s. Most railroad villages have lost their old train depot to demolition. Castleton lost its village to demolition and highway construction, but it kept its depot, which now serves as home to Chateau de Pique Winery and Brewery! The rail line just outside the window is still in use, but the only thing chugging in the depot - or being chugged - is wine.

And we'll hear more about the villages of Marion County next week ... to be continued!

Ask Nelson - and President B. Harrison Site CEO, too

(Jan. 21, 2017) - A few times every year, Hoosier History Live opens the phone lines so listeners can inquire about any aspect of our state's heritage.

On these shows, our host Nelson Price is joined by a historian or media colleague who serves as co-host. This time, with the spotlight on the U.S. presidential inauguration today, the CEO of the historic site about the only president elected from Indiana joins Nelson to share insights and answer listener phone calls.

The co-host is Charlie Hyde, CEO of the Benjamin Harrison Presidential Site in the Old Northside neighborhood of Indianapolis. Harrison, a Republican, was elected in November 1888 and was inaugurated during a ceremony after a rain-drenched parade in 1889. Before Harrison headed off to Washington D.C., a parade in Indianapolis was held honor of the Civil War general, who served as a U.S. senator from Indiana before his stint in the White House.

Charlie and Nelson also discuss an unfortunate historic distinction related to the inauguration in 1841 of William Henry Harrison, Benjamin's grandfather. After refusing to don an overcoat, William Henry Harrison, 68, delivered the longest inaugural address in American history.

He died in office about one month later (serving in the White House for the shortest time of any U.S. president), his death blamed on pneumonia resulting from the inauguration. In recent years, though, another possible cause has been identified by historians, as Charlie and Nelson discuss. (William Henry Harrison was living in Ohio when he was elected to the presidency, although he had been governor of the Indiana Territory as a young man.)

Between phone calls, Nelson and Charlie - who both grew up in Indianapolis - interview each other. Before becoming CEO of the Benjamin Harrison Presidential Site in 2014, Charlie served in various capacities at the Indianapolis Zoo and Conner Prairie Interactive History Park.

At the Benjamin Harrison Presidential Site, the public is invited to the grand opening on Jan. 26 of its newest exhibit, New Women of the Harrison Era. A look at "inspiring, notorious and groundbreaking" women during the era (Harrison lived from 1833 to 1901), the exhibit is the first in a partnership with IUPUI.

The Benjamin Harrison Presidential Site also has the olive-green dress that Caroline Scott Harrison wore in the inaugural parade; her inaugural ball gown is at the Smithsonian Institution. Mrs. Harrison, Indiana's only First Lady, died in the White House of tuberculosis in 1892.

During the show, Nelson shares insights about the untimely death of another famous Hoosier woman who, like Mrs. Harrison, is featured in his book Indiana Legends (Hawthorne Publishing, 2005). Movie star Carole Lombard, a Fort Wayne native, was killed 75 years ago this month after setting a record selling World War II war bonds in Indianapolis. The airplane Lombard boarded to return to southern California - where her husband Clark Gable was filming a movie - crashed in Nevada.

Carole Lombard was just 33 years old when the plane crashed in January 1942. The glamorous star of such movies as My Man Godfrey (1936) and Nothing Sacred (1937) spent her final days making stirring speeches at various sites in Indianapolis. They included war bond rallies on Monument Circle and at the long-gone Cadle Tabernacle and the Governor's Residence.

Cadle Tabernacle was a Spanish-style convention center that was the setting for major events ranging from concerts and religious revivals to dance marathons. During our show, Nelson shares insights about the tabernacle, which is featured in his book Indianapolis Then and Now (Pavilion Books, 2016 revised edition). The landmark at Ohio and New Jersey streets was demolished in the 1960s and now is the site of Firehouse Square condominiums.

Also during our show, Nelson updates listeners with recent news about another site featured in Indianapolis Then and Now: The long-vacant plant of P.R. Mallory and Co. on East Washington Street is expected to become the site of a new charter high school. The new polytechnic high school, to be overseen by Purdue University, is set to open in the fall, according to an article in The Indianapolis Business Journal. This will be the latest in a series of high-profile uses for the site on the Old National Road (U.S. 40). Long before P.R. Mallory opened its plant that manufactured electrical components, the eastside site was the setting for Wonderland Amusement Park, a lavish entertainment center that burned to the ground in 1911.

By then, former President Benjamin Harrison had been dead for 10 years. He had returned to Indianapolis after leaving the White House in 1893 and resumed his successful legal career. Co-hosts Charlie and Nelson answer call-in questions about Harrison, his inauguration and other aspects about our state's heritage during the show.

History Mystery

In the early 1890s, Benjamin and Caroline Scott Harrison became the first U.S. president and first lady to live in the White House with a relatively new invention.

It was installed in the White House about two years after Benjamin Harrison's inauguration in 1889. At the time, some Americans worried that the new invention was not safe.

Question: What was it?

The prize is two admissions to the Benjamin Harrison Presidential Site, courtesy of Benjamin Harrison Presidential Site.

Roadtrip: Big Tunnel near Tunnelton

Guest Roadtripper and educator Ken Marshall will take us to the mysterious Big Tunnel in Lawrence County. It is near Tunnelton in Lawrence County, in an unincorporated area near the East Fork of the Ohio River.

When railroads were introduced into Lawrence County, the hills presented quite a challenge. Rather than go around a hill between Tunnelton and Fort Ritner, the O&M (Ohio & Mississippi Railway) made the decision to tunnel through, thereby saving about eight miles of track. The hill became known as Tunnel Hill, and the resulting tunnel was a 1,750 foot-long, man-made cave carved through the solid rock of the hill and appropriately named the Big Tunnel.

The first train to pass through the Big Tunnel ceremoniously left Fort Ritner on the morning of October 6, 1856, and included a flat car carrying several young ladies in fine white dresses. It was a memorable inaugural run - and not without incident, for halfway through the tunnel, the train stalled and had to be pulled out by mules. It was necessary for the passengers to walk out, and, as one might expect, the smoke and soot had ruined everyone's fine clothes.

Many stories and legends cling to the Big Tunnel; learn more on Saturday!

How did Copperheads and Union supporters co-exist?

(Jan. 14, 2017) - During the Civil War, Indiana sent a higher percentage of young men and teenage boys to fight for the Union cause than nearly all of the other Northern states.

But there also were pockets of Southern sympathizers across the Hoosier state. They became known as Copperheads (alluding to the poisonous snake found in most of the South), Butternuts (because some Confederates wore uniforms of that color) and other names.

Hoosier History Live explores how the two sides co-existed (or not) and various related aspects, including the motivations of Hoosiers who went to battle in the bloodiest conflict in American history. Nelson is joined in studio by two guests:

Mike Murphy, a former state legislator who is the author of a new book, The Kimberlins Go to War: A Union Family in Copperhead Country (Indiana Historical Society Press, 2016). The book explores an extended family that sent "33 fathers and sons, brothers and cousins" to fight for the Union despite hailing from Scott County in southeastern Indiana, a region described as "rife with sympathy and support for the South." Mike, who now is senior vice president of Hirons and Company, an Indianapolis-based advertising and public relations firm, draws on a stash of 40 letters to and from the battlefield that survived in the Kimberlin family.
And Steve Towne, an archivist at IUPUI who is the author of Surveillance and Spies in the Civil War (Ohio University Press, 2015) and other books and award-winning articles about the Civil War. Steve has researched regions of the state in which Southern supporters, including spies, were concentrated. Some of the towns and counties may surprise listeners.

In The Kimberlins Go to War, Mike notes that in 1850 one-half of all Hoosiers were not native to the state - and 39 percent came from slave-owning states.

"Most of the people of southern Indiana had 'connections' in Kentucky and Virginia going back several generations," writes Mike, who is a board member of the Indiana Historical Society.

Although he notes that "the initial reaction to the fall of Fort Sumter was a burst of patriotism" across Indiana, as news spread about the subsequent Battle of Bull Run, a Confederate victory in Virginia, many families endured intense debates. "Even entire towns debated the wisdom of taking up arms against the South."

Yet the young men in the extended Kimberlin family decided to fight for the Union cause. The result was a casualty rate of family members who were killed, wounded or died of battlefield disease that was "unmatched in recorded Scott County history." This unfolded despite the fact that, as the new book describes, much of the pre-Civil War economy in southern Indiana was agriculturally based (like the South) and dependent on shipping goods down the Ohio River for eventual sale in southern states.

Drawing on the rediscovered letters, Mike shares insights in the book - and he does during our show as well - about whether the Kimberlins were fighting to save the Union, free the slaves or for other reasons. He also discusses the family's interactions, including on the home front, with Copperhead neighbors.

In Surveillance and Spies in the Civil War, our guest Steve Towne explores the threat posed by Copperheads and secret societies determined to subvert the Union effort. Detectives were hired to track down spies for the Confederates living in Indiana and other states in the North.

During a Hoosier History Live show in May 2015 that asked "What's in our State Archives?", Steve noted that more of the Civil War records of Oliver P. Morton, Indiana's powerful governor (and a staunch Union supporter), survive than those of almost any other Northern governor.

Historians have debated whether Morton exaggerated Copperhead numbers - including membership in pro-Confederate, subversive societies like the Knights of the Golden Circle - as a way to rev up Union support across Indiana. A letter from a Civil War-era doctor quoted in Kimberlins Go to War, though, describes a Copperhead meeting in one Scott County town alone as being attended by 54 men.

Several of the Kimberlins enrolled in the Indiana 23rd Infantry Regiment, which was praised for valor. Leading up to the Siege of Vicksburg, Isaac Kimberlin volunteered for a risky mission that involved boarding a gunboat; he demonstrated heroics when he came under fire. His cousin, Benjamin Kimberlin, was killed in Mississippi by Confederate soldiers.

After Northern victories in Vicksburg and Gettysburg, support in Indiana for Gov. Morton - and for the Union cause - increased, Kimberlins Go to War notes.

By the middle of the war, resistance also decreased among Hoosiers to the idea of recruiting African-American troops. (Some whites had feared giving weapons to blacks. Others worried that African-American veterans would be given preferential treatment for jobs after the war.)

Eventually, Mike writes, "Hoosiers realized that for every African American soldier at the front, that meant one less white man had to go and fight."

History Mystery

An author born in Indiana wrote a national bestseller based on her Quaker ancestors during the Civil War. The book, published in 1945 to critical acclaim and popular success, is a collection of short stories and vignettes about a Quaker family in southern Indiana. Some of the stories focus on the family's son, who struggles with his conscience as a pacifist Quaker about whether to take up arms against the Confederacy.

In 1956, the bestselling book became a Hollywood movie, which also was a popular and critical hit. The film had the same title as the book.

Question: What is the title?

Hint: In 2003, the book was chosen by the Indianapolis Public Library to inaugurate the "One Book, One City" program.

The prize is a gift certificate to Story Inn, a bed and breakfast in Brown County, courtesy of Story Inn.

Roadtrip: Salamonie River State Forest near Lagro

Guest Roadtripper and public historian Glory-June Greiff suggests a Roadtrip up to Wabash County to Salamonie River State Forest near Lagro.

Says Glory: "Seek out the Hominy Ridge Shelter House, built by the Civilian Conservation Corps in the 1930s and listed in the National Register of Historic Places."

She continues: "It sits amidst an oak grove surrounded by stone-and-timber picnic tables, high above the Salamonie River, adjacent to a dam built by the CCC that impounds an 11-acre lake. Arsonists burned the shelter house in the early 2000s, but the Indiana Department of Natural Resources opted to restore it, and they did a fine job. It's a wonderful place to watch for the bald eagles that cruise the river in search of supper."

There are plenty of trails and fine views in the Forest. The property lies next to the larger and "overall less wild" Salamonie Lake State Recreation Area that surrounds a large reservoir built by the Army Corps of Engineers in the 1960s.

If you go in summer, the very old town of Lagro has an ice cream shop located in a former interurban station. Lagro also boasts the Kerr Lock, a remnant of its days as a port along the Wabash and Erie Canal.

Head back to the county seat of Wabash, though, and there are plenty of places to eat and a great downtown to explore. Glory likes the Modoc Market, a coffee shop with "tasty sandwiches and salads."

Want some dessert? Cross the street to the Charley Creek Inn, which houses a candy shop that also sells ice cream. "They have a fine restaurant, too!"

Bicentennial wrap-up

(Jan. 7, 2017) - As Hoosier History Live begins its ninth year on the air, we close out a milestone in the state's heritage: the Indiana Bicentennial of 2016.

The final event was a watermelon drop in Vincennes on New Year's Eve.

One of our most frequent recent guests - Perry Hammock, executive director of the Indiana Bicentennial Commission - joins Nelson to look back at projects that unfolded across the state. According to Perry, 1,647 projects were initiated in honor of the 200th anniversary of Indiana achieving statehood. In December 1816, Indiana became the 19th state. To kick off the Bicentennial, Hammock participated in a previous melon drop a year ago.

In addition to Perry's conversation in-studio with Nelson, the show includes phone-in reports from grass-roots organizers of Bicentennial projects. For example, Carroll County resident David McCain shares details about a local property owner's donation of land for creation of a Bicentennial Monument.

The monument, a bronze sculpture, will be built in Deer Creek Bicentennial Park, which was dedicated in the historic town of Delphi on Dec. 11 (Statehood Day). Delphi has reaped widespread acclaim for the town's preservation efforts, including showcasing its Wabash & Erie Canal heritage.

Delphi's Bicentennial Park, which remains under development, extends for about one mile from town and then into a rural historic district. The park is centered at Freedom Bridge, a pedestrian walkway over the Hoosier Heartland Highway.

During our show, reports about other Bicentennial projects are expected from organizers in Miami County (county seat: Peru) and Lawrence County, which includes Bedford.

As a salute to the connections between Lawrence County and the U.S. space program - three natives of the county have traveled in space as astronauts or payload specialists, including the late Virgil "Gus" Grissom - the county launched a "legacy tree" project. It involved seeds taken into space on an Apollo flight in 1984 by Bedford native Charlie Walker, a payload specialist.

The tree project will be described during our show by Marla Jones, an eighth-generation Hoosier who has served as Lawrence County's Bicentennial coordinator. In her "day job," Marla is the city of Bedford's business and community development coordinator. She refers to herself as an "Indiana Sesquicentennial baby" because she was born in 1966, when the state celebrated its 150th birthday.

Our Miami County correspondent will be Vicki Draper, a Peru native and retired fundraiser with an extensive background working with radio and TV stations. Bicentennial projects in Miami County included the dedication of a "lost" cemetery. A monument commemorating Waupecong Cemetery - as well as new headstones marking the graves of pioneers - was erected. About 20 years ago, farmers began discovering fragments of tombstones while plowing their fields.

Our guest Perry Hammock will devote the next several months to putting together an analysis of the Bicentennial, including a book-length publication. A similar "post mortem" occurred after Indiana celebrated its centennial in 1916. A Hoosier History Live show in June 2013 explored how the state marked that milestone 100 years ago.

During the past year, we have highlighted various aspects of the Bicentennial, often with Perry as a guest. Those shows include a "remote" (on-location) broadcast on Oct. 15 of the Hoosier Homecoming, an outdoor event at the newly created Bicentennial Plaza near the Indiana Statehouse. (You can listen to a podcast of that show by visiting our website at hoosierhistorylive.org)

A state-spanning key project of the Bicentennial commemoration was the Bicentennial torch relay. During the Hoosier Homecoming, the Bicentennial torch arrived from its 92-county journey.

Perry Hammock, who grew up on a farm near Lebanon, carried the torch in Boone County. About 2,000 torch carriers across the state included participants ranging from children to Hoosiers who are more than 100 years old.

History Mystery

The Indiana Bicentennial torch relay went through all 92 counties and covered about 3,200 miles. The torch was carried by about 2,000 Hoosiers during the journey.

A well-known Hoosier lit the torch last September in Corydon, the state's original capital. She also carried the torch on the first leg of its journey. The famous Hoosier is a civic leader known for her love of the state's history and culture. Although she did not grow up in Corydon, she has family connections to the southern Indiana city. She was a studio guest on Hoosier History Live in January 2011.

Question: Who was the first carrier of the Bicentennial torch?

The prize is a pair of passes to Glowgolf, the miniature golf course inside the Circle Centre mall in downtown Indianapolis, courtesy of GlowGolf.

Roadtrip: Pierceton in northern Indiana

Joan Hostetler of the Indiana Album hails from Kosciusko County in northern Indiana and would like us to explore one of her favorite small towns there, Pierceton.

Joan tells us that small antique shops abound in Pierceton, on Ind. 13 southeast of Warsaw.

In 1853, John Butler Chapman and Lewis Keith employed surveyor Otho Means to lay out Pierceton. The town was christened in honor of President Franklin Pierce.

The Pierceton post office was established in 1853, and Pierceton was incorporated as a town in 1866.

You can enjoy lunch or dinner at The Old Train Depot, a renovated train station built in 1867. And the Heirloom Tomato Festival is held in Pierceton each August.