Home | About us | Support the show | Contact us | Archives | Listen
2018 | 2017 | 2016 | 2015 | 2014 | 2013 | 2012 | 2011 | 2010 | 2009 | 2008
Archives - 2009
Fletcher Place neighborhood history
(Dec. 19, 2009) - Among the earliest movers and shakers in Indianapolis history, probably no name looms larger than Calvin Fletcher. An entrepreneur, lawyer and banker who kept extensive, detailed diaries, Fletcher also owned a sprawling farm south of the Mile Square. In the 1850s, the Fletcher farm was divided into lots, and the Fletcher Place neighborhood eventually began to blossom. Today it's in the midst of a revival, along with nearby Fountain Square to the south, making Fletcher Place ideal as the next focus of our rotating series exploring Indy neighborhoods.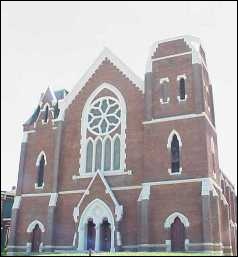 Nelson was joined in studio by Jeff Miller and Mary Jo Showley, both of whom are longtime residents of the historic Southeastside neighborhood. Jeff, the president of the Fletcher Place Neighborhood Association, renovated an Italianate home built in 1874 that, he says, had been dubbed "one of the three ugly stepsisters" because of its once-dilapidated condition. It's now home sweet home for Jeff, his wife and their 3-year-old son. Mary Jo, a Realtor, arts patron and former choral conductor at the long-closed Harry Wood High School, once taught students who lived in Fletcher Place and Fountain Square. There's much turf to cover with them, including everything from economic development initiatives to a proposed "bark park."
Fletcher Place generally is defined as east of East Street, west of I-65/I-70, south of Lord Street and north of I-70. Jeff likes to tout part of the neighborhood group's mission statement that calls for "preservation, revitalization, and the promotion of the neighborhood as a walkable community ... with the goal of creating a total urban community while maintaining a respect for the past."
Some fun facts:
Almost from the beginning, Fletcher Place has been a neighborhood of mixed ethnicities and socioeconomics. In the late 1850s, German and Irish immigrants began to settle there. Spacious houses were built on Fletcher Avenue, while smaller cottages for workers and craftsmen were constructed elsewhere in the neighborhood. In the late 1800s, families of Italian, Jewish and Central European immigrants settled in Fletcher Place. In the 1900s, residents came from Appalachian regions of this country.
A deeply religious man, Calvin Fletcher (1798-1866) donated money for the building of nearly all of the early churches in Indianapolis. By the 1860s, he was one of the largest landowners in Marion County.
The neighborhood now is home to many residents active in citywide civic affairs, such as Mary Jo and Jeff. She is past president of the Contemporary Art Society at the IMA. He is former board member of Southeast Neighborhood Development (SEND).
Some of the Fletcher Place homes were designed in the 19th century by noted architect Francis Costigan, who also designed several of the historic homes in Madison, Ind. Architectural styles in Fletcher Place range from Italianate and Federal to Gothic Revival and Queen Anne.
History Mystery question
Question: During the Victorian era in Indianapolis, the oldest restaurant in the city (that's still operating today) opened. Name the restaurant. Note that this is a sit-down restaurant, not an establishment that's primarily a tavern. Hint: The answer is not St. Elmo's, which was an incorrect guess from a listener in the previous week's show, from which this question is a carry-over because no correct answer was received. St. Elmo's opened in 1902, six years after the city's oldest continuously operating restaurant began serving patrons.
Answer: The Rathskeller, in the basement of the Athenaeum, 401 E. Michigan St. Specializing in German food, the Rathskeller was established in 1894 along with the opening of the Athenaeum, the German cultural and social center that was then known as Das Deutsche Haus. (The building's name was changed because of anti-German sentiment during World War I.) The heritage of the Rathskeller was discussed during a recent Hoosier History Live! show about Athenaeum and German history in Indy.
The prize for the correct answer was a pair of tickets to the Indiana State Museum, courtesy of the ICVA.
Sponsorship news - Lucas Oil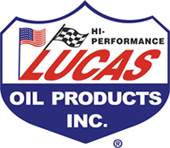 (Nov. 19, 2009) - We thank Charlotte Lucas, executive vice president of Lucas Oil, for her one-year sponsorship commitment to Hoosier History Live! Charlotte is a native of Dubois County in southern Indiana, and she and husband Forrest, CEO of Lucas Oil, believe that Hoosier History Live! "makes the grade" as the nation's only live, call-in radio talk show about history.
Forrest and his three younger sisters were guests on a June 2008 edition of Hoosier History Live!, talking about their childhood in Elkinsville, a hamlet in southern Brown County. In the 1960s, the Lucases,
and in fact all of the residents of Elkinsville, were forced to move in order to make way for the construction of Monroe Reservoir.
Fun fact: Forrest's sister Carol, who lives in Columbus, Indiana, is married to Larry Cummins, who is the nephew of the creator of the Cummins engine, Clessie Cummins.
Read more in Clessie's book My Days with the Diesel. This is quite an automotive family.
Thanks to Monomedia
Speaking of sponsors, our new "look" on our website and in our e-newsletter is courtesy of Richard Sullivan of Monomedia.
Technical upgrades will lead to wider audience
Remember that we will be expanding the program on the Internet as podcasts, and on prx.org, so that our program will have a wider audience. If you are planning your marketing budget for '10, now is the time to make a year commitment. Contact Molly Head at (317) 927-9101 for information.
Hoosier History Live! in the news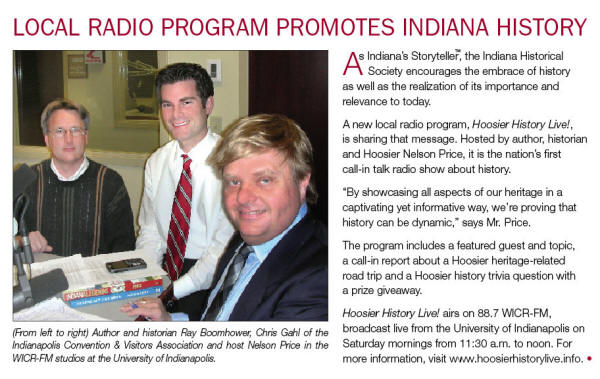 Above article is from the July/August 2008 issue of INPerspective, the member newsletter of the Indiana Historical Society.
Victorian-era dining
(Dec. 12, 2009) - Hold on to your hat. Indianapolis-based dietitian Kim Galeaz has hunted up Christmas Day menus from the 1890s in Indianapolis that featured oysters among the delicacies served. How could this be in the landlocked Hoosier state? Kim, the owner of Galeaz Food & Nutrition Communications, was Nelson's guest and shared insights about what the Victorians ate, as well as their approach to meals and how they dined, including a look at some of their bygone dining ware. The Victorian era generally is defined as 1837 to 1901.
For a cover story in the December issue of Urban Times, Kim hunted up three Christmas menus from 1890s homes in Indianapolis that include food choices that are, as she puts it, "striking similar to ours today." For example, potato chips are listed on one of the Victorian-era menus. (Nelson inquired whether these chips of yore were similar to the munchies that tempt people today.) Other items served during Victorian-era meals would seldom be found in Hoosier homes of 2009, including venison and (gulp) opossum.
To put together the article for Urban Times, the newspaper that covers downtown Indy's historic neighborhoods, Kim explored the kitchens and dining rooms of three home museums: the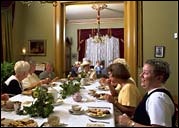 Morris-Butler House, the President Benjamin Harrison Home, and the James Whitcomb Riley Home. She found an unusual serving platter for venison and a specially designed dish with a swiveling base for oranges. Kim says the swiveling base allowed Victorians to drink the juice "and not waste one bit" of the precious citrus during our cold months.
Speaking of oranges, venison and opossum: Nelson asked Kim how the Victorians' menu choices compare to ours in terms of healthful eating. A culinary nutrition expert, Kim is a consultant to food and beverage companies, restaurants and supermarkets in Indy and Jacksonville, Fla. (Although her primary residence is in the historic Chatham Arch neighborhood, Kim joined Nelson by phone because she's at her Florida abode this week.)
Some fun facts:
Victorians had much different attitudes than today's families about how and where their children dined, according to Kim's article. They also had different approaches to portion control and the pace of their meals. Tune in to learn the details.
Full breakfasts were daily occurrences during the Victorian era, which Kim says is a good thing. Apparently, their morning meals often included suet, which – well, Nelson will ask whether that was such a good thing. He'll also ask Kim to describe suet for those who have never partaken.
In addition to venison and potato chips, other items featured on Victorian-era holiday menus, as reported by Kim, include turnips, beef tongue, plum pudding and cranberry pie.
A frequent guest on TV and radio shows with her tips about healthy eating, Kim writes "Dining with the Dietitian" features for Urban Times; they can be savored at www.urbantimesonline.com.
History Mystery question
During the Victorian era in Indianapolis, the oldest restaurant in the city (that's still operating today) opened.
Question: Name the restaurant. Note that this is a sit-down restaurant, not an establishment that's primarily a tavern.
The prize for the correct answer was a pair of tickets to the Indiana State Museum, courtesy of the ICVA. Additional prizes were available at the Fireside Chats group at the Central Library for those with the correct answer. (Editor's note: No one called in with the correct answer, so the question was asked again in the following week's show.)
Speaking of the History Mystery, at least five of you came up to Nelson in person at the Dec. 5 Holiday Author Fair and whispered the words "Natalie Wood" in his ear. Well, Nelson was quite excited, as "Natalie Wood" was the answer to that week's History Mystery! Some of the other authors thought this was a little bizarre, but we had to have the History Mystery answered in a different way because we didn't have telephone call-in to the show that week.
Roadtripper
Chris Gahl of the ICVA told us about the city's upcoming 12 Free Days of Indy Christmas. Is there that special Central Indiana attraction that you've never quite made it to? Are holiday financial woes getting your attention? It's time to be carefree and celebrate Indianapolis! From Dec. 13 to 24, you can take a special Roadtrip each day that is FREE and open to the public. From the Harrison Home to the Eiteljorg, from Conner Prairie to Morris-Butler House, our Roadtripper told us about this very special holiday journey.
Steve McQueen, roots tracing, steel-town pix and politicos
Live from the Holiday Author Fair
(Dec. 5, 2009) - For the second year, Hoosier History Live! was broadcast from a remote (non-studio) location: the Eugene and Marilyn Glick Indiana History Center, which bustled and abounded with captivating interviewees, as nearly 90 authors with ties to Indiana gathered for the 7th Annual Holiday Author Fair. Nelson conducted round-robin chats with fellow authors who have a range of Hoosier expertise.
Our show featured the following authors:
Film historian Wes Gehring of Ball State, whose new biography focuses on a native of Beech Grove who went on to become one of the top movie stars of the 1960s and '70s. Steve McQueen: The Great Escape (Indiana Historical Society Press) explores the troubled youth as well as the Hollywood stardom of Steve McQueen, who was born into a dysfunctional family in 1930 and died while undergoing unorthodox treatment for cancer in 1980.
As Wes describes in his book, McQueen was the son of an alcoholic, teenage mother and a barnstorming pilot who abandoned the family soon after the boy's birth. McQueen spent his early childhood and adolescence shuttling between his mother in the Indianapolis area and extended family members in Missouri. As Wes puts it, McQueen "fell into a life of gangs and petty crime" in the Hoosier capital. Eventually, he ended up in a California school for neglected and troubled boys, which he credited with turning his life around. McQueen went on to star in movies, including The Magnificent Seven (1960), The Great Escape (1963) and The Sand Pebbles (1966). In addition to his book on McQueen, Wes has written biographies of other screen legends with Hoosier roots such as Red Skelton, Irene Dunne and James Dean.
Stephen McShane, co-author of Steel Giants (Indiana University Press), a book of historic photos of steel mills, towns and residents of northwest Indiana from 1906 through the 1960s. In addition to extensive photos showing the construction of the mills in Gary and other cities, Steel Giants also features dozens of vintage photos of the region's schoolchildren, crane operators, bathing beaches, homes and company recreational teams, including a women's softball team in 1945. With co-author Gary Wilk, Steve also includes explanations of the "open hearth" process at the steel mills and a description of how and why five major steel companies built along Indiana's northern coastline.
Teresa Baer, co-editor of Finding Indiana Ancestors: A Guide to Historical Research (IHS Press), which offers tips for first-time researchers as well as experienced genealogists. Teresa's book is a guide that focuses on Indiana-specific sources for ancestor hunting.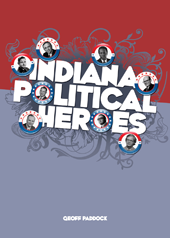 Nelson asked if there are special challenges with roots-tracing in counties where early courthouses were destroyed by fire or damaged by floods.
And Fort Wayne civic leader Geoff Paddock, author of Indiana Political Heroes (IHS Press). Tune in to see if you agree with Geoff's choices. He's a former school board president in Fort Wayne and a self-described political junkie. Geoff says he attempted to salute Hoosier politicians who risked their popularity to do what they considered to be the right thing.
History Mystery question - Steve McQueen's co-star
No call-ins to the show this week. Winners needed to appear in person at the Holiday Author Fair to find Nelson (he was the effervescent blond guy running around talking to authors) and give him the answer. The fair was free, and it took place Saturday, Dec. 5, from noon to 4 p.m. at the Eugene and Marilyn Glick History Center at 450 W. Ohio St. There is a free parking lot directly north of the History Center. A great opportunity to meet and mingle with all of our wonderful Hoosier writers!
Steve McQueen, who was born in Beech Grove in 1930, often portrayed rebellious or misunderstood characters in films. So did movie icon James Dean, who was born in 1931 and grew up on a farm near Fairmount.
Question: Name the movie actress who co-starred with James Dean and, about eight years later, with Steve McQueen. Hint: She was NOT a Hoosier.
Answer: Natalie Wood. She was James Dean's co-star in Rebel Without a Cause, which was released shortly after his death in 1955. Both received Oscar nominations for their performances, although neither won. In 1963, Natalie Wood co-starred with Steve McQueen in Love With the Proper Stranger. Once again, she was nominated for an Academy Award (although McQueen was not), but she did not win.
More than one winner was selected. Prizes included a pair of tickets to Handel's The Messiah on Dec. 12 and 13, courtesy of the Indianapolis Chamber Orchestra, tickets to the Eiteljorg, the Indiana State Museum, the Children's Museum and the Indianapolis Zoo, all courtesy of the ICVA.
Greensburg town history
(Nov. 28, 2009) - What other burg in Indiana – or town anywhere – has a tree growing out of its courthouse? The tree atop the Decatur County Courthouse may be the biggest claim to fame of Greensburg, but there's plenty of other fascinating folklore and fodder to explore as well. For a show in our rotating series about town histories that already has featured two other "Greens" in the Hoosier state – Greenfield and Greencastle – Nelson was joined in studio by a proud native son of Greensburg. His guest was John Pratt, a history teacher at North Decatur High School who is reviving Chautauqua-style events in his hometown. (See flier for Dec. 1 Chautauqua 1 in Greensburg.)
According to John, Chautauqua guests in Greensburg decades ago included Helen Keller, John Phillips Sousa, hypnotists and comedians. John's father once owned the Taylor Hotel, considered one of the premier Midwestern hotels.
Of course, Greensburg has made recent headlines with the opening of a Honda assembly plant for Civics, so we will explore the impact on the town of the $550 million facility. According to the 2000 U.S. Census, Greensburg has a population of 10,260. The town, which is located 47 miles southeast of Indianapolis, generally is considered to be half-way between the Hoosier capital and Cincinnati.
Other fun facts:
During the Civil War, Greensburg resident Elizabeth Finnern was determined to fight for the Union cause alongside her husband. She cross-dressed as a soldier and served in the military for a year until her secret was discovered. Even then, she remained with her husband's unit as a nurse. John will share the intriguing details.
Indianapolis Motor Speedway founder Carl Fisher was born in Greensburg in 1874. Located just a stone's throw from the courthouse square, the boyhood home still stands. The colorful life of Fisher, an entrepreneur who was a pioneer in auto sales and development, was the focus of a Hoosier History Live! show in May. He amassed a fortune and, in addition to launching the inaugural Indianapolis 500 in 1911, founded the resort of Miami Beach, Fla. Despite all of that, Fisher was nearly penniless when he died in 1939.
In 1890, Greensburg was the center of the U.S. population, John says. By then, a tree had been growing in the courthouse tower for nearly 20 years. According to John, the current tree in the courthouse is its 13th.
The origins of the first tree remain a mystery, but it's no wonder the town is nicknamed "Tree City." A history major in college, John wrote his first major paper about his hometown. It was titled A Tree Grows in Greensburg.
John, 46, was born Jan. 2, 1963, making him the first baby born in Decatur County that year. ("I still have the silver spoon to prove it," he says.)
In June, the city celebrated its 150th birthday.
Incidentally, our guest also has an extensive collection of beer cans, license plates, baseball cards and family memorabilia, all housed in the barn behind his home in Greensburg (he says the barn used to be a feed store and it's very large). Watch The Collector's Collector, from WFYI's Across Indiana archives; his segment is about 18 minutes in.
History Mystery question - Letter from Helen Keller
Decades before Helen Keller visited Greensburg on the Chautauqua circuit, she wrote a letter to a famous woman from Indiana. In 1892, when Helen Keller was 12 years old, she learned that the distinguished Hoosier was ill, so she sent her a kind letter wishing her a recovery.
Question: Who was the famous Hoosier woman who received a letter from young Helen Keller?
Answer: First Lady Caroline Scott Harrison. In the fall of 1892, Mrs. Harrison, who was married to President Benjamin Harrison, was battling tuberculosis while living in the White House. Feeling sorry for the First Lady, 12-year-old Helen Keller sent her a letter of sympathy. Sadly, Mrs. Harrison died in the White House in late October, just two weeks before her husband lost his bid for re-election. Thousands of Indianapolis residents watched her funeral procession to Crown Hill Cemetery.
The letter from young Helen Keller is on permanent display at the President Benjamin Harrison Home, 1230 N. Delaware St. According to the home's director, Phyllis Geeslin, the letter invariably fascinates hundreds of school children every year during their visits.
The prize for the correct answer was a pair of tickets to Handel's The Messiah on Dec. 12 and 13, courtesy of the Indianapolis Chamber Orchestra, and a pair of tickets to the Indiana State Museum, courtesy of the ICVA.
Birds of Indiana
(Nov. 21, 2009) - We talked turkey – wild turkeys, that is – along with a flock of other bird-related topics guaranteed to intrigue anyone with even a fleeting interest in our feathered friends. Nelson was joined in studio by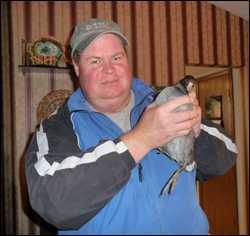 Don Gorney, president of the Amos W. Butler Audubon Society, which serves Central Indiana. A volunteer naturalist at Fort Harrison State Park who leads bird hikes throughout the year, Don shared insights about wild turkeys, which once were extirpated from Indiana but have recently rebounded greatly. He also chatted about cardinals (our state bird, of course), which have expanded their range and are more common in northern Indiana.
Do you assume birding is hopeless during Indiana's cold months? Hummingbirds and other species still can be seen, according to Don. Alas, though, he also shared insights about species that have become extinct in the Hoosier state, including the Greater Prairie Chicken, the passenger pigeon and the Carolina Parakeet.
Don is leading Lights Out Indy, a crusade to reduce the nighttime deaths of migratory birds because of "building strikes."
"The combination of lights, glass and reflexivity is deadly to birds," he says. "Tens of thousands of birds die each year in the Indianapolis area because of building strikes. ... Most birds migrate at night, and urban lighting interferes with their ability to navigate."
Lights Out Indy encourages the reduction of unnecessary lighting at night to help reduce bird mortalities.
At the other extreme, various species of birds have been "introduced" to Indiana – and, perhaps unfortunately, are becoming better known than our native birds, Don says. Introduced species include rock pigeons, house sparrows and European starlings.
Some other fun facts:
Bald eagles are more common in the state than many Hoosiers realize. According to Don, there have been more than 100 nesting pairs in 2009, including two in Marion County. He recommends Parke County as a destination to see bald eagles in winter.
Don has worked as a naturalist for the DNR at Chain O' Lakes State Park and for the butterfly exhibit at the Indiana State Fair. He has the distinction of being one of the few "birders" to have seen more than 300 species in the state during one year.
In Indiana, 415 species of birds have been recorded.
History Mystery question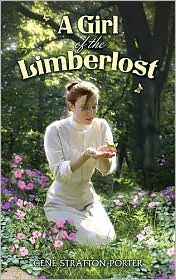 Hoosier author and naturalist Gene Stratton-Porter probably is best remembered for her novel A Girl of the Limberlost, published in 1909. But she also was a prolific magazine writer and nature photographer, often taking pictures of - and writing about - birds in the swamps and meadows of northeastern Indiana. In fact, Gene Stratton-Porter wrote a book in 1903 about a bird that is stalked by a hunter. The bird lives near the Limberlost swamp in Geneva, Indiana.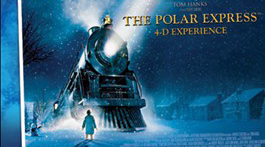 Question: Name the species of bird that's the focus of her 1903 best-selling novel.
Answer: The cardinal.
The prize for the correct answer was a pair of tickets to the Indianapolis Zoo, courtesy of the ICVA. Coming up, Christmas at the Zoo, and the new 4D adventure, The Polar Express.
Johnny Appleseed: The facts and myths
(Nov. 14, 2009) - His real name was John Chapman. He probably died in 1845 in Allen County, where the largest city, Fort Wayne, celebrates a popular Johnny Appleseed Festival every autumn. Did he wear a saucepan on his head, as depicted in Walt Disney cartoons? What were the facts, and what were the myths or embellishments, about the folk hero of the Indiana frontier known as Johnny Appleseed?
To enlighten us, one of the country's foremost experts on Johnny Appleseed will join Nelson in studio. His guest will be Indianapolis-based re-enactor and playwright Hank Fincken, who has spent decades researching Appleseed/Chapman. Hank portrays colorful, eccentric Johnny Appleseed at schools, festivals, fairs and special events; his website is at hankfincken.com.
According to most accounts, John Chapman was born in New England in 1774. He was a pacifist and a vegetarian who befriended many Native Americans – all cause for many other pioneers to regard him as a bit of an oddball, although they were grateful for his gifts of apple seedlings as they settled in the frontier. The wanderlust of Chapman/Appleseed is said to have been motivated in part by his spiritual beliefs. In addition to apple seedlings, he distributed scriptures across the Indiana wilderness in the 1830s and '40s.
Before that, Chapman was a true hero during the War of 1812 and helped save the lives of massacre survivors trapped in Mansfield, Ohio, according to Hank. The author of Three Midwest History Plays and Then Some (1997), Hank also portrays such historical figures as Christopher Columbus, Henry Ford, Thomas Edison and Francisco Pizarro. Here's his motto about his one-man shows: "If history were to repeat itself, it would be like this!"
Some fun facts:
Hank has had encounters with people who are descended from the extended Chapman family. (Not directly from Chapman himself, though. He never married.)
In several regions of Indiana, particularly northern counties, residents have long been convinced that various trees are descended from seeds planted by Johnny. Is this possible? And how far west did he travel? Tune in to get the scoop on Appleseed.
Hank is a former Peace Corps volunteer in Peru and Costa Rica.
Along with other Hoosier authors, Nelson will be signing and selling books Saturday (Nov. 14) at the annual Christmas Gift & Hobby Show. Catch him from 3 to 7 p.m. at the 60th annual show at the Indiana State Fairgrounds.
History Mystery question - Voice role in The Jungle Book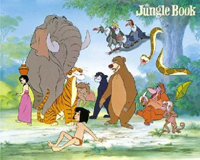 Not only did Disney feature Johnny Appleseed in the animated movie Melody Time, the movie studio hired a famous Indiana native as the voice of a character in The Jungle Book in 1967. The Hoosier-born performer, who had been a popular bandleader and radio personality, won a new generation of young fans thanks to his character in The Jungle Book, who sings a song that was nominated for an Academy Award.
Question: Name the Hoosier-born entertainer who voiced a character in Disney's The Jungle Book AND the Oscar-nominated tune that the character sang.
Answer: Phil Harris, who was born in Linton, Ind., and the song The Bare Necessities. After a long career as a bandleader and as Jack Benny's sidekick on radio, Harris, who was born in 1904, enjoyed a career revival as the voice of Baloo the Bear in The Jungle Book. An extensive collection of memorabilia that belonged to Phil Harris and his glamorous wife Alice Faye, the star of Hollywood musicals, is exhibited in Linton. Harris and Faye died in the 1990s.
Roadtripper - Florence Henderson three-night show
Chris Gahl of the ICVA was back with us this week to suggest that we Roadtrip to the Hilbert Circle Theatre to see Indiana native Florence Henderson. She's host of a special three-night show there starting Friday, Nov. 20, through Sunday, Nov. 22. Her performance will take audiences down memory lane as she sings Broadway hits and other popular songs that were highlights in her career.
She was born in Dale, Indiana but left at 17 to study at New York's American Academy of Dramatic Arts. Shortly after, she landed her first Broadway appearance in the musical Wish You Were Here. Of course, Henderson is best known as "America's Favorite Mom" on The Brady Bunch, though she also starred in productions of Oklahoma, The Sound Of Music, The King and I and many more.
St. Elmo history with Craig Huse
(Nov. 7, 2009) - When the St. Elmo Steakhouse opened at 127 S. Illinois St. in downtown Indianapolis in 1902, it consisted of only a barroom and one small dining room, which now serves as its kitchen. Its turn-of-the-last-century Chicago saloon décor has changed little since its opening.
In 1904, the opening of the Indianapolis Traction Terminal spilled thousands of businessmen from interurban lines out into the intersection of Market and Illinois, contributing to St. Elmo's success. And yes, we say business "men" because St. Elmo's historically had been one of those "male bastions" of politicking, dealmaking, and celebrating. Although, of course, times have changed, and now even business "men" eat sushi. Though you won't find that on the St. Elmo menu.
With Nelson out on assignment, our live in-studio was guest host and Central Indiana broadcaster Daina Chamness, who also makes hand-crafted pies when not orchestrating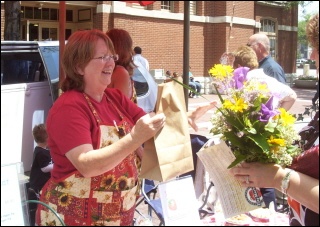 the activities of her seven children. No, she's doesn't live in a shoe, but she does have her fingers in many pies and is constantly busy. She chatted with guest Craig Huse, owner of St. Elmo since 1997, about the restaurant's illustrious history, tales about St. Elmo during the Prohibition years, the betting in the back of the house during the 1920s, JFK's visit, and the impact of the opening of the Circle Centre Mall in 1996.
Did you know that St. Elmo's doors open only to the street and not to the inside of the Circle Centre Mall, even though all the other restaurants have access to both?
Image of St. Elmo Steakhouse from Bass Photo Co. Collection, Indiana Historical Society.
History Mystery question
Two famous Indy race car drivers are buried near one another in Vernon Cemetery in Jennings County.
Question: Name the two famous drivers. Hint: One of them is credited with being instrumental in the revival of the Indianapolis Motor Speedway after World War II.
Answer: Wilbur Shaw and Pat O'Connor.
The prize was a gift certificate to St. Elmo Steakhouse, courtesy of our guest, Craig Huse.
Roadtripper - My Indiana: 101 More Places to See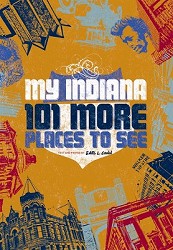 Filling in for Chris Gahl, who also is out on assignment, was his colleague, Amy Lamb, media relations manager for the Indiana Historical Society. In addition to having welcomed her son, Leo Robert, into the world on June 7 of this year, Amy also let us know that the Stardust Terrace Café and Basile History Market are now officially open at the Indiana History Center.
Amy featured a Roadtrip from one of our beloved Hoosier authors who died this September, Earl Conn of Muncie. Her pick was from Earl's most recent book, My Indiana: 101 More Places to See. By the way, Earl Conn appeared on the December 2008 Holiday Author Fair show with Nelson Price, which was done as a live remote from the Indiana History Center.
Mike Ahern on The House of Blue Lights
"Only the brave would dare go there - that's what everyone said about it."
-- A member of Shortridge High School's class of '62
(Oct. 31, 2009) - For nearly 50 years, The House of Blue Lights was regarded as the creepiest place in Indianapolis. Sneaking around the secluded estate of eccentric millionaire Skiles E. Test became a Halloween-season rite of passage for thousands of high school and college students from the 1920s through the1960s.
The hordes of frightened gawkers hoped to glimpse the corpse of Mr. Test's beautiful, dead wife, which they suspected he enclosed in a glass coffin. According to the urban legend that captivated six generations of Hoosiers, Mr. Test bathed the glass casket in eerie blue lights and sat in a rocking chair next to her embalmed, perfectly preserved body every night. Rocking in sorrow, or so the story went, he kept a lonely vigil at his estate near Fall Creek Road and Shadeland Avenue.
The thousands of Hoosier teenagers who crept around the House of Blue Lights and the surrounding, heavily wooded property included a member of Cathedral High School's class of '56 who would grow up to become famous in local broadcasting.
Mike Ahern not only ventured up to the estate night after night with his Cathedral buddies, he went on to cover the demolition of The House of Blue Lights in 1978 during his record-setting, 37-year stint as the news anchor at WISH-TV/Channel 8.
As a Halloween Day treat, Mike (who retired amid statewide accolades in 2004) will return to the air to join Nelson, who for years has written feature stories and columns about The House of Blue Lights that have included rare interviews with Skiles Test's anguished relatives. The fascinating story - which became perhaps the biggest urban legend in state history - involved everything from a pet cemetery to an unusual swimming pool to an amateur inventor-architect from a wealthy family who, sadly, eventually felt terrorized to spend the night in his sprawling home because of the throngs of trespassers.
Myths, facts, distortions and exaggerations - or combinations of them - fueled folklore about the mysterious house, which Mr. Test (1889-1964) inherited in 1913.
But was there a dead wife? What was the real source of the blue glow that emanated from Mr. Test's hilly estate? Was the property guarded by vicious Dobermans as per the urban legend, or were Mr. Test's dogs a very different breed?
Tune in as Mike and Nelson sort truth from myth about the spooky folklore. It so captivated teenagers that, according to a member of Howe High School's class of '50 whom Nelson once interviewed, "Night after night, there were always kids lurking around the property. Chatard kids, Lawrence Central kids, North Central kids, Cathedral guys, Ladywood girls - there would almost be traffic jams, particularly around Halloween."
Here's how a North Central grad once described the scene that involved piling into a car with his classmates: "We would keep daring each other, 'C'mon, let's go further up the driveway. Further, further, further.' "
The House of Blue Lights even developed an unlikely reputation as a lovers' lane. High school boys would drive at night with their girlfriends to the locked gates on Mr. Test's property. The couples would swap stories about the place. Boys hoped girls would get so terrified they would want to cuddle.
Some fun facts:
Many of the stories passed from generation to generation concerned the Olympic-sized swimming pool and bathhouse that Mr. Test built on his property. If you believed some versions of the folklore, the three-story bathhouse had been hastily constructed for a grand party to celebrate the opening of the pool. In the haste, every detail wasn't checked, and the railing on the staircase wasn't secured. So when Mr. Test's wife descended the stairs, the railing gave way and she plummeted to her death. But did it really happen that way? Mike and Nelson will explain.
Born to a prominent Indianapolis family, Skiles Test grew up in Woodruff Place. An heir to the Indianapolis Chain Works (later Diamond Chain) fortune, he was part-owner of the Test Building that still stands on Monument Circle.
The hordes of nighttime visitors in the 1950s included Nelson's mother and her sorority sisters at Butler University.
An auction on Test's estate after his death lasted three days and drew more than 50,000 souvenir seekers. Police compared the congestion to the Indiana State Fair.
Part of the estate eventually became Skiles Test Park. Mr. Test also donated land to Lawrence Township Schools. Today, that parcel is the site of Skiles Test Elementary School.
In 2008, Mike Ahern was inducted into the Indiana Journalism Hall of Fame.
www.houseofbluelights.com - This website is owned and operated by the Louellen Test Hesse family and is dedicated to the memory of Skiles Test. It includes pictures of Test's cats and dogs, underground tunnels, swimming pool, pet cemetery, and a 1937 aerial view of the property.
History Mystery question - Decorative towers on residences
Question: What is the name for a small tower that projects vertically from a house or building, usually a structure of a historic nature? This type of tower is attached to the house and often contains a staircase. Such decorative towers can be seen adorning Victorian- or Edwardian-era homes in the Herron-Morton Place and Woodruff Place neighborhoods.
Answer: A turret. According to historians, turrets became widespread during the Middle Ages with the construction of castles in Europe. They had a military purpose then, providing cover for defenders of a castle while they hurled weapons at the enemy. After their military use declined, turrets were modified for decorative purposes.
Roadtripper - Cabaret Poe at the Irvington Masonic Lodge
Chris Gahl of the ICVA caledl in with a Roadtripper report on the culminating weekend for Cabaret Poe at the Irvington Masonic Lodge. A Broadway-style musical featuring the works of Edgar Allan Poe was timed with Poe's 200th birthday. Some of the pieces re-imagined for the musical are The Fall of the House of Usher, The Pit and the Pendulum, The Black Cat and, of course, The Raven.
As many of our listeners know, Irvington was the birthplace and home to the only historic art movement in Central Indiana named for a specific place, the Irvington Group. In the early 1900s, this group of artists lived, met, practiced and exhibited art in Irvington.
James Still on Lincoln, grief and emancipation

(Oct. 24, 2009) - During this Year of Lincoln, celebrating the bicentennial of the Great Emancipator's birth in 1809, Hoosier History Live! continued our periodic, special programming by tapping the insights of the Indiana Repertory Theatre's acclaimed playwright-in-residence, James Still. His play The Heavens Are Hung in Black, on stage at the IRT through Oct. 25, was commissioned by Ford's Theatre in Washington DC., where it premiered last February and was seen by the Obamas as well as other political leaders.
Nelson talked with James about the complicated character of Abraham Lincoln and the agonizing decisions that confronted him during the era depicted in the play. It's set during the spring and summer of 1862, when the Civil War was raging (with an uncertain outcome) and the Lincolns were mourning the death in the White House of their beloved son Willie. During the play, President Lincoln reflects on his nighttime habit of staring at the stars "when I was a boy in Indiana"; as Hoosier history lovers know, he lived here from age 8 through 21. In James' play, Lincoln interacts, in fictionalized sequences, with famous 19th-century figures such as poet Walt Whitman, Confederate leader Jefferson Davis, abolitionist John Brown, civil rights icon Dred Scott, political rival Stephen Douglas, and actor Edwin Booth.
According to James, the title for The Heavens Are Hung in Black is taken from one of Lincoln's speeches. Nelson plans to ask the playwright about the challenges in writing about an iconic figure, his creative choices, how and why he has reshaped the play for the IRT after its performance at Ford's Theatre, and his historic research. (FYI: Some of James's groupies from Indiana even trekked to the nation's capital last February to catch the play in its premiere run.)
"One thing that was quickly apparent: The cult of celebrity existed in the 19th century just as it does now," James writes in an ongoing blog about the play that he's been contributing to irtlive.com. Then as now, James writes, people attempted to "cash in" on their relationships with a charismatic president, meaning whenever James uncovered a compelling anecdote, he always sought verification from a second source.
Although he grew up in Kansas, where his father was a high-school history teacher, James is based primarily on the west coast these days. He escaped to Italy to write the Lincoln play. James has been an influential figure on the central Indiana art scene for more than a decade. Now in his 11th year as the IRT's playwright-in-residence, he frequently tackles topics with Hoosier connections. For example, he was our studio guest in May during the run of Interpreting William, a play that analyzed the character of pioneer entrepreneur William Conner, of Conner Prairie fame. This time 'round, James was Nelson's guest by long-distance phone, although he continually makes trips to Indy during the reshaping of (and rehearsals for) The Heavens Are Hung in Black. As James notes in his blog, the play premiered just two weeks after Barack Obama was inaugurated "with his hand on Abraham Lincoln's Bible."
Even aside from the Year of Lincoln, 2009 was quite a year for James, who in August received a national award in a ceremony at New York's fabled Sardi's Restaurant. Standing in front of the rows of caricatures of theatrical legends that adorn Sardi's walls, he received the Medallion of the Children's Theatre Foundation of America.
History Mystery question - Abe Lincoln as a Hoosier in the South
When Abraham Lincoln was a 19-year-old Hoosier in 1828, he was hired, along with a friend, to take a cargo of goods on a flatboat to a city in the Deep South. Abe Lincoln and his friend, Allen Gentry, embarked on the flatboat trip from Rockport, Indiana. The three-month adventure was said to be eye-opening for young Abe, who for the first time witnessed slavery in the Deep South city that was his destination.
Question: Name the Southern city where Abraham Lincoln and Allen Gentry took the goods on the 65-foot long flatboat. The prize was a pair of tickets to the Eiteljorg Museum, plus a pair of tickets to Conner Prairie, courtesy of the Indianapolis Convention & Visitors Association.
Hoosier history facts
Fort Wayne native Carole Lombard
Carole Lombard, born as Jane Alice Peters on Oct. 6, 1908, lived with her parents and two brothers in a two-story house on Rockhill Street in Fort Wayne. (The historic house, located near the St. Mary's River, is still there.) She moved to California with her mother and brothers, breaking into the movies during the 1920s. In the 1930s, Carole Lombard became hugely popular in sophisticated comedies such as "My Man Godfrey" (1936) and "Nothing Sacred" (1937); at one point, she was Hollywood's highest-paid actress.
She had been married to the "King" of Hollywood, Clark Gable, for about three years when she returned to Indiana in January 1942 during the early months of World War II. Lombard set records selling war bonds at rallies in Indianapolis, but was killed (along with her mother) when her return flight crashed en route to southern California. Carole Lombard and Clark Gable are buried next to each other in Forrest Lawn Cemetery in Los Angeles.
T.C. Steele - "Hoosier Group" artwork
The painting, titled "Daisy at the Piano" depicts T.C. Steele's daughter Daisy. It sold for $246,000 during an auction in 2004. The painting was purchased by Lafayette residents Bill and Ellie Haan, who own an extensive collection of "Hoosier Group" artwork. The "Hoosier Group" consisted of Steele and four other Indiana artists who won national acclaim at the turn of the 20th century. T.C. Steele was the most famous artist of the "Hoosier Group" and the painting sold for a record amount. Steele created it in 1893. Although T.C. Steele primarily was known for his landscape paintings of Brown County, the record amount was fetched for this painting.
Corydon & historic African-American schools
A wooden, one-room schoolhouse called the Corydon Colored School opened in 1891 for the education of black children and teenagers in southern Indiana. Today, the restored Leora Brown School one of Indiana's oldest buildings used to educate African-Americans, is the setting for tours as well as discussions about segregation, slavery and historic preservation.
The key figure who organized a community-wide restoration of the historic school is Maxine Brown the great-niece of Leora Brown. Maxine, whose ancestors settled in far-southern Indiana during the early 1800s, named the restored school after her great-aunt, who attended the Corydon Colored School as a girl, obtained a college education, and then returned to teach at the segregated school for 26 years until it closed in 1950.
"Blue Chips" and Frankfort Hot Dogs basketball team
The Frankfort High gymnasium, which seats 6,000 spectators, was featured in the 1994 movie "Blue Chips". It starred Nick Nolte as a college basketball coach modeled after Bobby Knight, who has a cameo role in the film. Frankfort is located in Clinton County and was founded in 1830 by brothers whose grandparents had lived in Frankfurt, Germany. As noted in Hoosiers All, the town always has had fun with its name. "Every July, during the dog days of summer, the annual Frankfort Hot Dog Festival is held." The Frankfort Hot Dogs basketball team won four state championships between 1925 and 1939.
Plainfield, Indiana & former President Martin Van Buren
In the 1840s, national attention focused on Indiana town Plainfield located on the National Road because of a rather shocking incident. Residents of the town, who were angry at former U.S. President Martin Van Buren for having vetoed a bill to improve the National Road, overturned his stage coach. After purposefully being tipped over, the carriage spilled the former President into the mud on the road. The intent was to show him fist-hand the need for road improvements. The incident occurred in 1842, when Van Buren was traveling through the town two years after his term as President. At that point, he was considered running for the White House again. (In Plainfield, the National Road (U.S. 40) is Main Street.)
The episode involving Van Buren's stage coach has become a major part of Plainfield's history and folklore. A school built near the site of the episode is named Van Buren Elementary School, and a massive tree at the site became known as the Van Buren Elm.
U.S. Sen. Richard Lugar - Decatur Township
Decatur Township, located in the southwestern corner of Marion County, includes a family farm of more than 600 acres. It's a corn, soybean and walnut tree farm that was established by the ancestors of a currently famous Hoosier. Since the mid-1950s, this famous Hoosier has managed the farm in Decatur Township he inherited. Long before he entered politics, Dick Lugar began managing the 604-acre family farm in Decatur Township following the death of his father, Marvin Lugar, in 1956.
Marvin Lugar had grown up in Decatur Township and graduated from the former Valley Mills High School, where his father – the grandfather of Sen. Lugar – coached the basketball team. In 1930, Valley Mills High School burned to the ground. At that point, high schools in the township were consolidated, resulting in the formation of Decatur Central High School. The Lugar family still owns the corn, soybean and walnut tree farm.
Hollywood and the Indy 500
Forty years ago – in 1969 – Hollywood released a major movie that was partially filmed at the Indianapolis Motor Speedway. "Winning," which starred Paul Newman and his real-life wife, Joanne Woodward, focused on an ambitious race driver determined to win the Indianapolis 500. Many scenes in the movie were filmed at the Speedway during May 1968. Several long, tracking shots in the movie depict the thousands of spectators at the infield during the race. In addition to Newman (who would go on to co-own racing teams) and Woodward, "Winning" starred Richard Thomas, soon to become more famous as "John Boy" on "The Waltons" TV series. Several real-life racing figures – including the Speedway's owner, Tony Hulman, and race driver Bobby Unser – portray themselves in the movie.
Indianapolis artists - The Hoosier Group
In the 1870s and '80s, several distinguished Indiana painters who were members of the Hoosier Group, including T.C. Steele, traveled overseas to study art in Munich, Germany. By the1880s, T.C. Steele was establishing a reputation as a prominent portrait painter in Indianapolis. Impressed with Steele's talent, wealthy Hoosier benefactors, including Herman Lieber and members of the Fletcher family, offered to send Steele and his family to Munich to study for two years. The Steeles, who enjoyed Munich, ended up staying for five years before returning to Indianapolis in 1885. In addition to Steele, Hoosier Group artists William Forsyth, Ottis Adams, and Otto Stark also studied about the same time in the this major European city with master artists there.
Oldest Indianapolis city park - Garfield Park
Garfield Park on the Southside generally is considered to be the oldest park in the Indianapolis park system, but it initially had a different name. Garfield Park traces its beginnings to 1873, when the city purchased the land – then totaling 98 acres -- from civic leaders who had created a harness racetrack on the site. The park initially was known by the name used for the racetrack, but was it renamed in tribute to President James A. Garfield after his assassination in 1881. The initial name of Garfield Park was Southern Park. In the decades after its renaming, Garfield Park became popular for its pagoda, which served as the focal point for dances, as well as for its sunken gardens, which opened in 1916, and its conservatory. Today, Garfield Park also includes the MacAllister Center for the Performing Arts.
Polk's Best Jersey Milk - Milk Bottles
In 1905, a major milk company, Polk's Best Jersey Milk, based in Indianapolis built a very unusual-looking headquarters and bottling plant on the near-Northside. The corners of the company's entrance were shaped like giant milk bottles and was located at E. 15th Street and Lewis Street. Founded by Civil War veteran James Polk, the company had a slogan – "Polk's milk – always ahead" – that was framed around a cow's head. Although Polk's became the state's' largest milk company, it began experiencing financial problems during the 1950s because of competition from large food chains. The bottling plant was torn down in the 1960s, but the milk company's old stables still stand. The stable building, where Polk kept its delivery horses are now are part of a maintenance complex for Indianapolis Public Schools. This made the building an eye-catching landmark for more than 55 years, until it finally met the wrecking ball in the 1960s. The company had been founded in 1893 by a Greenwood resident who was a Civil War veteran.
Rev. Jim Jones, founder of the Peoples Temple
Today, there is a vacant lot at the corner of 10th and Delaware streets. However, in 1899 the esteemed architectural firm of Vonnegut & Bohn built a synagogue on the site for the Indianapolis Hebrew Congregation. After the congregation moved farther north, the former synagogue building became a very different house of worship in the late 1950s and early '60s. Its preacher--Rev. Jim Jones, founder of the Peoples Temple--eventually became a household name after moving from Indianapolis. In the late 1950s and early '60s, Rev. Jones oversaw a racially integrated Christian congregation in the former synagogue building at 10th and Alabama. He also began a social ministry, operating a soup kitchen and providing nursing care for the elderly. Jones, who had been born in 1932 in Lynn, Indiana, eventually cast himself as a prophet and convinced more than 140 church members to resettle in California. In the 1970s, he established Jonestown, a commune in Guyana, where he convinced his followers to join him in drinking cyanide-laced Kool-Aid in a mass ritual. Jones became notorious for overseeing the 1978 mass murder-suicide in Guyana, South America, during which more than 900 of his followers died, including several who had begun attending his services in Indianapolis.
The Conner brothers - Hoosier Pioneers
William Conner and his older brother John were Hoosier pioneers. Like William, John was born in Ohio, grew up in Michigan and began trading furs with Native Americans in the Indiana wilderness. While William Conner of Conner Prairie fame, set up a trading post and cabin on the White River near what became the town of Noblesville, John Conner went on to plan a town elsewhere in Indiana, Connersville, a town named in John Conner's honor. He headed southeast in the Indiana Territory while his brother William settled in what became Hamilton County. According to a story told by John Conner's granddaughter, he was building his cabin – it didn't even have a roof or floors yet – when a wagon of immigrants drew up and asked to be directed to Connersville. Laughing, Conner replied, "My friend, you are right in the heart of town." Like his brother, John Conner seized business opportunities. In the 1820s, as the new state capital of Indianapolis was being developed, he opened a dry goods store here. He died a few years later in 1826.
Serious consideration given to abandoning the 500 Mile Race
When the Indianapolis 500 was suspended during World War II, the Indianapolis Motor Speedway greatly deteriorated due to neglect. After the war ended, weeds were growing in the racetrack. Serious consideration was given to abandoning the 500 Mile Race and converting the Speedway into a housing subdivision. However, a famous Hoosier convinced Terre Haute millionaire Tony Hulman to buy the Speedway in 1945, and the Indianapolis 500 went on to even greater glory than before the war. Race driver Wilbur Shaw, a three-time winner of the Indianapolis 500 persuaded Tony Hulman to buy the Speedway. Wilbur Shaw, who was born in Shelbyville in 1902, started out as a teenage errand-boy in Gasoline Alley. As a driver, he won the race in 1937, 1939, and 1940, making him the first to earn back-to-back wins. Shaw almost captured a fourth 500 victory in 1941, the final race before World War II. He was in the lead when a wheel hub broke off on his Masuerati, causing an accident. Eventually Wilbur Shaw became American's premiere racing promoter. He was killed in 1954 in a private plane crash in northeastern Indiana.
Hoosier songwriter John Mellencamp
John Mellencamp was so captivated by "HUD" (1963), a movie starring Paul Newman, that he named one of his children after the actor's character. Mellencamp, who was born in Seymour and lives near Bloomington, has said the dialogue in the movie, for which Newman was nominated for an Academy Award, influenced the lyrics of several of his songs. Mellencamp and his wife, Elaine, gave the name "Hud" to their oldest son. Fourteen-year-old Hud Mellencamp recently made headlines by winning a division title in the Indiana Golden Gloves boxing tournament. The match featuring Hud, who boxes for the Indy Police Athletic League, was held at the Tyndall Armory in Indianapolis.
Barack Obama's Hoosier ancestry and Tipton County farmhouse
The Victorian-era home, known as the Dunham House, was built on land homesteaded by Jacob Dunham (1795-1865), whose descendants eventually settled in Kansas, where Ann Dunham grew up. Obama – accompanied by wife Michelle and their daughters Malia and Sasha – visited last May during the presidential primary campaign. The last Dunham to live in the farmhouse, Hazel, died in 1969. Jacob Dunham was Obama's great-great-great-great-grandfather.
'The Lady in Red' - Anna Sage and John Dillinger
In July 1934, authorities caught up with – and killed – "Public Enemy No. 1", Hoosier-born bank robber John Dillinger, when he emerged with two women friends from a movie theater in Chicago. One of the women, Anna Sage of East Chicago, Ind., had tipped off federal agents they would be watching a movie at the Biograph Theatre. When Dillinger and his companions emerged from the Biograph, a shoot-out ensued in the 101-degree heat, and the outlaw was killed. Anna Sage became known as "The Lady in Red", but she always claimed she was not wearing a red skirt that fateful night.
Anna Sage, a Romanian immigrant, was a former brothel owner in East Chicago. She had two reasons for tipping off federal agents about Dillinger: She wanted the $10,000 reward, and she also hoped to ingratiate herself with authorities because she was about to be deported as an undesirable alien. Anna Sage always claimed that she wore an orange skirt on the night Dillinger was killed, even though she has gone down in history as "The Lady in Red." Anna Sage eventually received only about half of the $10,000 reward, and authorities did deport her to Romania. She died in Europe after World War II.
Purdue University - 'The mother of astronauts'
Almost all of the native Hoosiers who have become astronauts – from Gus Grissom to David Wolf – have attended Purdue University, which bills itself "The Mother of Astronauts." Joe Allen, who was born in Crawfordsville in 1937 and graduated from Crawfordsville High School, was the only Hoosier astronaut who did not attend Purdue. After his years at DePauw and Yale, he was chosen by NASA as an astronaut-scientist in 1967, the same year that Gus Grissom was killed. As an astronaut, Joe Allen flew on two space missions, including a spectacular salvage mission in 1984 during which he rescued a stranded satellite by flying over to it with a jet backpack. After 18 years with NASA, Joe Allen left the space agency in 1985 to become CEO of a private business based in Houston, Texas, that deals with space exploration.
Caroline Scott Harrison, First Lady from Indiana
Caroline Scott Harrison, the only First Lady from Indiana, started the china collection for the White House, which continues to this day. Mrs. Harrison began the collection during the presidency of her husband, Benjamin Harrison, who was elected in 1888. As a tribute, the portrait painting of her is displayed near the China Room in the White House.
Mrs. Harrison died in the White House of tuberculosis in 1892, two weeks before her husband lost his bid for re-election. Thousands of Hoosiers watched the First Lady's funeral procession to Crown Hill Cemetery.
Pioneer Hoosier automaker Elwood Haynes
Elwood Haynes, still remembered today as a pioneer in the auto industry, was born in Portland, Indiana in 1857, but moved to Kokomo during the area's natural gas boom in the early 1890s. The Hoosier inventor is credited with creating one of the very first gasoline-powered cars in America. During a test run in 1894, the "horseless carriage" reached a top speed of about 7 miles per hour. To avoid scaring horses on city streets, the test run was conducted in a rural area near Kokomo, which was the inventor's adopted hometown. He built automobiles in Kokomo until the 1920s. His pioneer auto is on permanent display at he Smithsonian Institution in Washington DC. For a variety of reasons – including Haynes' refusal to budge from the luxury car market – his auto company went bankrupt in 1924, throwing 400 workers out of jobs. Haynes died the next year.
Local roots for Academy-nominated actor Greg Kinnear
Greg Kinnear was an Oscar nominee for his performance in "As Good As It Gets" (1997), a movie that won lead acting Academy Awards for Jack Nicholson and Helen Hunt. His family owned a vending business in Logansport, where he was born in 1963. When the future actor was 9 years old, his father became a diplomat and the family moved overseas.
Greg's teenage years were spent in Beirut, Lebanon, and Athens, Greece. He launched his career as a TV personality, hosting cable and late-night talk shows. Then, Sydney Pollack cast him as Harrison Ford's kid brother in the remake of "Sabrina" in 1995. Greg Kinnear's other movies have included "You've Got Mail" (1998) with Tom Hanks and Meg Ryan; "Auto Focus" (2002), and "Little Miss Sunshine" (2006).
Largest natural lakes in Indiana
The largest natural lake in Indiana is Lake Wawasee, which is located near the town of Syracuse in northeastern Indiana. A spring-fed lake, Lake Wawasee is 3,060 acres in size.
The second-largest natural lake in Indiana is Lake Maxinkuckee, near Culver in north-central Indiana. With a name from the Potawatomi Indians who once were the predominant tribe in northern Indiana, Lake Maxinkuckee covers1,864 acres. During the winter, residents of Marshall County and visitors frequently ice-fish at the lake, where the most common catch is blue-gill. The campus of Culver Military Academy is located on the lake, which has an average depth of 24 feet.
The largest man-made lake in the state is Lake Monroe, near Bloomington.
Lincoln stops in Indianapolis on the way to his inauguration
When he was en route to Washington D.C. for his inauguration in 1861, President-elect Abraham Lincoln delivered a speech in Indianapolis that made national headlines. Speaking from a balcony at the Bates House hotel, Lincoln spoke out in definitive terms about the need to preserve the Union as hundreds of Hoosiers cheered. His speech had a national impact because it was Lincoln's first major policy statement as a president-elect. The Bates House, which was built in the early 1850s, was considered the city's finest hotel, as befit the president-elect. The hotel stood at the northwest corner of Washington and Illinois streets until 1901, when it was razed.
The Claypool Hotel replaced the Bates House at the NW corner of Washington and Illinois – a location that, interestingly, has been a hotel site for most of city history. When the posh Claypool Hotel opened in 1903, some accounts described its lobby as the largest in the country. For decades, the Claypool was regarded as one of the most elegant hotels in the Midwest, with a dazzling array of distinguished, overnight guests who included Eleanor Roosevelt, Gene Autry and Jack Benny. It closed two years after a fire in 1967.
Today, the NW corner of Washington and Illinois is the site of the Embassy Suites and Claypool Grille.
Major Taylor (Velodrome, a world-class bicycling track)
Hoosier native Major Taylor became an American and world champion bicycle racer, dominating the sport during its first peak in popularity 100 years ago.
Throughout his life, Major Taylor refused to compete on Sundays because of a promise to his mother "to lead an upright Christian life." For example, in 1899 – after winning the world sprint championship – Major Taylor turned down a $10,000 offer to race in Europe because the competitions were to be on a Sunday. Two years later, though, he toured Europe with the promise there would be no Sunday racing. "The Ebony Streak" became hugely popular, particularly in France.
Major Taylor met kings and queens of Europe, but his wealth and fame were fleeting. Because of the abrupt decline in the popularity of bicycle racing – along with financial mistakes and other problems -- Major Taylor was poverty-stricken when he died in 1932 and buried in an unmarked pauper's grave in Chicago. Years later, the Schwinn Bicycle Company paid for a bronze monument and organized a belated memorial service attended by many of the country's top athletes.
Indiana's oldest continuously operating tavern, located on its original site
Founded in 1850, the Slippery Noodle has endured many name changes and scandals. It was built on South Meridian Street as a roadhouse called The Tremont House. Before the Civil War, it may have been a stop on the Underground Railroad.
In the 1860s, its name was changed to the Concordia House, then to the German House. Because of anti-German sentiment during World War I, the German House became Beck's Saloon. During the Great Depression in the 1930s, it was known as Moore's Beer House; that's when gangster John Dillinger patronized the bar with his cronies. Eventually, a bordello operated upstairs. After two patrons quarreled over a woman – one patron pulled a knife and stabbed the other to death -- the place shut down.
Its reputation was restored in 1963 when it was purchased by the parents of current owner Hal Yeagy; they christened it The Slippery Noodle. Today, the Noodle is a tavern and restaurant that's nationally known for blues music.
Indianapolis, our state's capital
In 1820, a group of Hoosier power brokers met to hash out a new location for our state capital. Corydon, which had been serving as the capital since Indiana achieved statehood in 1816, was judged to be too far south for statewide convenience. They eventually settled on the undeveloped lowlands and swamps that became the city of Indianapolis, chosen for its location smack in the center of the state.
The site of the meeting was the log cabin of William Conner of Conner Prairie fame, where he lived in 1820, and was located on the White River near Noblesville. The group of state leaders, including the governor, also met under a tree on Conner's property. Conner hoped the state capital would be in the Noblesville area. However, surveyors advised the powerbrokers that the future Indianapolis site was precisely in the Hoosier state's center.
Kentucky Fried Chicken
Even though he named his fabulously successful business Colonel Harland Sanders actually was born in Clark County, Indiana.
Crest toothpaste
In 1956, Crest hit the market of a product used every morning in homes across the country. The new brand became enormously popular – and remains so today. It's made by Proctor and Gamble, which is not based in Indiana. However, the Proctor and Gamble product contains ingredients – or compounds – patented by three researchers at Indiana University.
Jewish history in Indiana
The legendary Gimbels department store based in Manhattan had its roots with merchant Adam Gimbel of Vincennes.
Vera Bradley bags
Vera Bradley, which designs and makes cotton-quilted handbags, travel bags and an expanding array of other products. The business was founded by two neighbors in 1982 in Fort Wayne, Pat Miler and Barbara Baekgaard, who named the business after Barbara's mother in 1982. Within three years, sales of Vera Bradley products had reached $1 million.
Later this month, Pat Miller and Barbara Baekgaard will be named Living Legends by the Indiana Historical Society.
Hoosier Hysteria begins
In Crawfordsville at a YMCA in 1894 the first basketball game in Indiana was played. The Crawfordsville team beat a team from Lafayette by the score of 45 to 21. Basketball quickly became popular across Indiana.
The very first official basketball game ever was played two years earlier, in 1892, at a YMCA in Springfield, Mass. The inventor, James Naismith, set up a peach basket in which players scored points with their shots.
Indianapolis 500
There's a fascinating "flaw" in the 1969 official photo of front-row qualifiers for the Indianapolis 500 The "flaw" in the photo concerns Mario Andretti, who went on to win the 500-Mile Race that year.
It's actually not Mario in the official photo of front-row qualifiers for the 1969 race. Instead, his identical twin brother, Aldo Andretti, posed as Mario for the photo. Also, who left racing to become an Indianapolis businessman (as well as the father of current driver John Andretti), didn't want to pose as his twin. But Mario insisted.
A few days before the photo session, Mario had endured a fiery crash. He was burned on his upper lip and didn't want to be photographed that way. So he prevailed on his twin brother to pose alongside the two other front-row drivers for the official photo. The ruse was kept a secret initially, but word eventually leaked out to racing enthusiasts.
Celebrity marriages in Indiana
In June 1993, the city of Marion, Indiana, found itself in the national news because of an unexpected event that occurred there. Movie star Julia Roberts married singer-songwriter Lyle Lovett at St. James Lutheran Church in Marion, Indiana, after a three-week courtship. They eloped and married in Marion because Lyle Lovett was on a concert tour; his next performance was at then-Deer Creek Music Center near Noblesville. Julia Roberts and Lyle Lovett announced their divorce less than two years later, in March 1995.
Hoosier Civil War history
During the Civil War, a greater percentage of young men and teenagers of military age from Indiana fought in "Mr. Lincoln's Army," the Union Army, than any other state except one. Delaware was the only state that had a greater percentage of young men in the Union Army.
Listen to some of our past shows
Hoosier History Live! is proud to offer samples of our groundbreaking radio show for your listening pleasure.
Old National Road - U.S. 40


(Show length 30:39)
(Aug. 1, 2009) - It's been called "the government's first highway project" – and it stretched east-west across Indiana. Created beginning in Maryland in 1811, the old National Road was intended to be the first road funded by the federal government to span the country. Constructed in stages, the National Road was open across Indiana by the late 1830s and brought thousands of settlers from the East Coast across the state, often traveling with Conestoga wagons, horses and buggies, and produce wagons. "Many new settlements sprang up along the Indiana route to provide stops for the travelers," James Glass wrote in one of his recent "Culture Watch" columns for The Indianapolis Star. Among the Hoosier communities that sprang up: Cambridge City, Knightstown, Greenfield, Plainfield, and Brazil. Jim, the director of Historic Preservation and Archaeology for the state's DNR, was Nelson's studio guest and explored the impact of the fabled road that paved the way – but also had its ups and downs.
The Indianapolis portion of the National Road became Washington Street, which was built as the widest downtown thoroughfare to accommodate the traffic. The National Road's importance dipped with the railroad boom in the 1850s, but revived with the advent of the car; the old National Road then became a portion of U.S. 40. Every May in recent years, 825 miles of the highway across Indiana (actually, the stretch from Maryland to Illinois) serve as the National Road Yard Sale, attracting thousands of bargain hunters. Finally, there is the website for a recent Ball State documentary about the Road at www.moversandstakers.com
Indianapolis Motor Speedway founder Carl Fisher's colorful life


(Show length 29:42)
(May 16, 2009) -
Amid the hoopla about the 100th anniversary of the opening of the Indianapolis Motor Speedway Hoosier History Live! explored the life of flamboyant entrepreneur Carl Fisher, who led a group of partners that developed the racetrack in 1909 as a way to spotlight the automobile, then in its infancy. A master showman, Fisher (1874-1939) even competed in the first race at the Speedway, a hot air balloon competition in which Fisher piloted an entry titled "Indiana."
Nelson was joined in studio by public historian Glory-June Greiff, an expert on sculptures and monuments across the state (they are the subject of her book Remembrance, Faith & Fancy published by the Indiana Historical Society Press), as well as the roller-coaster career of Carl Fisher, who opened one of the state's first auto showrooms and co-founded Prest-O-Lite Storage Battery Company. His influence stretched far beyond founding the Speedway. From his beginnings as a teenage bicycle salesman (despite being half-blind since birth, Fisher undertook high-wire stunts in downtown Indy to promote his merchandise), he eventually transformed a Florida mangrove swamp into one of the Sunshine State's first resorts, Miami Beach. Glory-June and Nelson also discussed Fisher's lavish mansion, now a landmark on the Marian College campus; his marriage to a much-younger woman who sought his help when her house caught fire, and his role as an organizer of the Lincoln Highway. Along the way, Carl Fisher made a fortune – and had lost almost all of it by the time he died.
Winter survival skills of pioneers and Native Americans


(Show length 28:53)
(Jan. 10, 2009) - Snowstorms, ice, sleet, howling winds and long, dark nights. With all of that, winter in Indiana can be a major challenge in the 21st century. Ever wonder how the early Hoosier pioneers and Native Americans made it through?
Nelson's studio guest, Jim Willaert, now general manager of guest experience at Conner Prairie, tackled a blizzard of questions about how folks survived harsh winters in the Indiana wilderness of the 1820s and '30s.
Jim, whose various responsibilities at Conner Prairie have included serving as the experience manager of the Lenape Village and Conner Homestead, proved to be a fountain of information.
Where and how did white settlers and Native Americans store their food during the long winter? Without access to fresh fruit, why didn't everyone here in the 1830s get scurvy? What about drinking water? And was it ever truly comfortable in the lean-tos and wooden cabins of the pioneers or the Native Americans' wigwams?
Those are just a sampling of the questions that Jim tackled. He even shared some advantages that the cold months brought to the pioneers and Native Americans here. FYI: The predominant Native American tribe in Central Indiana during the 1820s and '30s was the Delaware (Hoosier History Live! explored the Delaware in our Feb. 16, 2008 show), also called the Lenape. According to Jim, they lived in wigwams or log cabins similar to the white settlers. Obviously, no one enjoyed furnaces, snow plows, plumbing and refrigerators.
During the show, Jim explains:
Where and how white settlers and Native Americans stored their food for the long winters. Tune in to find out how they managed even in small, cramped cabins.
How drinking water was obtained when many nearby ponds, creeks and rivers froze.
How our ancestors spent their time with only nine or so hours of daylight in Indiana during the shortest days of the year.
Why settlers in the early 1800s chose to live in the Midwest with its brutal winters rather than in the South, where winter survival would seem so much easier.
Jim recently suggested the following websites to learn more about modern winter survival skills:
For a more "old time" approach to winter survival, he suggests looking up the old Foxfire book series, which have a wide variety of information on simple or country living topics.
As hard as it may be to imagine for those who hate winter, Jim also shares some advantages that the cold months brought for pioneers and Native Americans.