Home | About us | Support the show | Contact us | Archives | Listen
2018 | 2017 | 2016 | 2015 | 2014 | 2013 | 2012 | 2011 | 2010 | 2009 | 2008
Archives - 2010
Soaring back to explore WASPs
(Dec. 18, 2010) - The final surviving WASP in Indiana is 88-year-old Marty Wyall of Fort Wayne. For many years, she has been the official, national historian of the WASPs (Women Air Force Service Pilots), who were recognized last spring with a Congressional Gold Medal for their service during World War II.
Created in 1942 to address a severe shortage of pilots, the WASP program was the first in which women flew aircraft for the U.S. military, undertaking non-combat missions. The historic details are fascinating, and Marty Wyall joins Nelson to explore them.
So does Leslie Lorance, new media manager of the Indiana State Museum, where a current exhibit titled "In Her Honor" salutes Marty and other WASPs. More than 1,000 women earned silver wings to become WASPs; Marty graduated in the final class just days before the experimental program closed in December 1944.
Although the WASPs were not involved in combat, they test-flew new and experimental planes from factories to military bases, towed targets to help train gunners in their shooting skills and undertook other challenges in the air. During their service, 38 WASPs died. Experts say their work paved the way - or blazed a route - for generations of women pilots who have followed.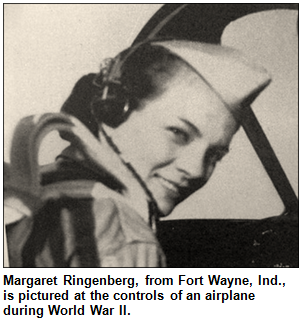 Marty (her real name is Mary Anna) was born in the town of Liberty in eastern Indiana, graduated from DePauw University in 1943 and had taken solo flying lessons prior to applying to the WASPs. After the war, she became a ferry pilot, then a flight instructor near Franklin, Ind. Even while marrying and raising a family in Fort Wayne, Marty continued flying and competing in transcontinental air races.
So did another WASP from the Fort Wayne area, Margaret Ringenberg, who was featured in Tom Brokaw's book The Greatest Generation (not to mention Nelson's Indiana Legends) and was named a Living Legend by the Indiana Historical Society several years ago; Margaret passed away in 2008. The exhibit at the State Museum honoring Marty, Margaret and the other WASPs - all of whom were civilian volunteers - continues through Aug 8.
A small fleet of insights:
The expectation among WASPs was they would become part of the military during their service. However, the program was abruptly canceled in 1944. More than 30 years later, the U.S. government honored their efforts and announced in 1977 that the WASPs could be recognized as veterans of World War II. Marty Nyall attended the ceremony last March in Washington during which the WASPs received the Congressional Gold Medal.
During World War II, some WASPs even were assigned to instruct male pilots.
Although a few WASPs managed to get jobs as pilots after the war, most were not with major airlines.
The late Margaret Ringenberg announced the war's end in 1945 to Fort Wayne residents by dropping 56,000 leaflets proclaiming "Japan Surrenders!" from a plane over the downtown of our state's second-largest city. Both newspapers in Fort Wayne were on strike, so a radio station hired Margaret to make the historic "news drop."
In 1946, Marty (who was known as Mary Anna Martin while a WASP) married Gene Wyall, one of her students during her stint as a flight instructor in Franklin. The couple moved to Fort Wayne, but Marty continued flying. In 1957, she became a flying partner in an air taxi and commercial service. She also has competed in races such as the Powder Puff Derby and the All-Women Transcontinental Air Race.
Learn more: Click here to listen to Susan Stamberg's NPR story, from March of 2010, about the Congressional Gold Medal awards in Washington.
History Mystery question
For most of World War II, Indiana's popular governor was Henry Schricker, a maverick Democrat from North Judson. Gov. Schricker maintained a high public profile across the state after he was elected in 1941, appearing at war bond rallies on Monument Circle with glamorous movie star Carole Lombard and even running (unsuccessfully) for the U.S. Senate in 1944 while also serving as governor. In his public appearances - including his speeches at war bond rallies - Gov. Schricker invariably wore a distinctive item of apparel that became his trademark.
Question: What article of clothing was identified with Gov. Henry Schricker?
The prize was a gift card to Barcelona Tapas Restaurant and a one-night stay at Sheraton Indianapolis City Centre Hotel, courtesy of the Indianapolis Convention and Visitors Association.
Roadtripper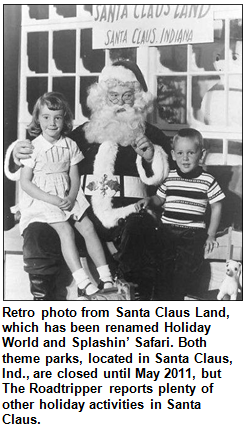 Chris Gahl of the ICVA tells us there's no better way to celebrate the holiday season than a visit to America's Christmas town, Santa Claus, Ind. This small town in Spencer County in southern Indiana devotes the entire month to the holiday, and this is the last weekend to join in the festivities.
The festivities include everything from Christmas tree lightings to dinner with Santa. Join a yuletide wine tasting at Christmas Lake Golf Course or family activities at Kringle Place, and be sure not to miss all the sweet treats at Santa's Candy Castle. At the end of the night, take a drive through Lake Rudolph's 1.2-mile "Santa Claus Land of Lights" for a special Christmas story.
Beech Grove history - and Steve McQueen to boot
(Dec. 11, 2010) - It may not have a world-famous racetrack like its counterpart town that's surrounded by Indianapolis (Hoosier History Live! explored Speedway's town history a while back), but Beech Grove sports its own distinctive heritage. Railroad repair facilities, a major hospital, the birth of a movie icon of the 1960s and '70s and a post-World War II housing boom are chapters in the history of a city in southeastern Marion County that evolved from what had been a beech tree-filled cattle farm in the late 1800s.
Nelson's guests in studio include lifelong Beech Grove resident Steve Nontell, a veteran announcer for its school district's sports teams whose parents moved into the town's first post-WWII housing developments. In addition to Steve (who has been connected to Beech Grove High School's wrestling program - as a student manager, then as a scorekeeper and announcer - longer than anyone else in its history), Nelson is joined in studio by librarian Will Smither, who grew up in the town, lived there for more than 34 years and has helped research the local links of Steve McQueen.
Speaking of the future star of The Great Escape (1963) and Bullitt (1968), who was born in Beech Grove's St. Francis Hospital in 1930: Nelson and his studio guests also are joined by phone from Arizona by McQueen's biographer, Marshall Terrill. Considered a top expert on the turbulent life of the film actor, Marshall recently visited Beech Grove in connection with his new books, Steve McQueen: The Life and Legend of a Hollywood Icon (Triumph Books) and Steve McQueen: A Tribute to the King of Cool (Dalton Watson). His biographies are being released to commemorate the 30th anniversary of McQueen's death in 1980.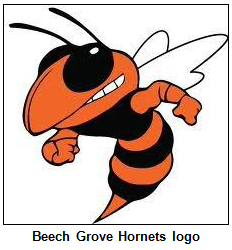 McQueen's birthplace, St. Francis, has been one of the city's largest employers for decades. For much of the early 20th century, so were railroad repair and equipment facilities. One of them was so massive that, according to the Encyclopedia of Indianapolis, it was known as "the largest locomotive hospital in the world."
First, though, the area was rural. The owner of one of the largest farms, banker Francis Churchman, is credited with convincing a major railroad to construct a shipping facility there at the dawn of the last century In 1906, construction began of a locomotive shop and equipment plant - and the city's identification with railroad repair facilities roared off.
Some fun facts:
The Beech Grove Public Library has a collection of Steve McQueen memorabilia that our guest Steve Nontell has helped launch and organize. The collection focuses on Wanted: Dead or Alive, the TV series (1958-61) that "birthed" his career.
In 2003, Beech Grove High's girls basketball team, the Hornets, won the state championship. In sports, Beech Grove has been particularly successful in wrestling.
Not only was Steve Nontell a charter member of the city's Cub Scout Pack #465, his father was its first Cubmaster.
Thanks to digging in U.S. census records and city directories by our guests Will Smither and Marshall Terrill, we know that McQueen's maternal grandparents were living in a house on Drexel Avenue on the east side of Indy (the home is still there) when the future film star was born at St. Francis. McQueen's mother was a teenage alcoholic who lived with her parents; his father was a barnstorming pilot who abandoned the family. After he was 3 years old, Steve McQueen primarily grew up in Missouri and California.
Several major streets in Beech Grove were named for cities served by the railroads associated with the city. They include Albany, Buffalo and Cleveland streets.
History Mystery question
In one of his acclaimed movies, The Sand Pebbles" (1966), Steve McQueen was directed by a fellow native Hoosier.
His director, Robert Wise, was one of the most talented and versatile in Hollywood; his credits include directing "The Sound of Music" (1965) and "West Side Story" (1961).
Although Robert Wise was born in 1914 in Winchester in far-eastern Indiana, he attended high school in another town, which also is in that region of the state. The high school has named its auditorium in honor of Wise.
Question: Name the Indiana high school from which Robert Wise graduated.
The prize was a gift card to Barcelona Tapas Restaurant and a one-night stay at Sheraton Indianapolis City Centre Hotel, courtesy of the Indianapolis Convention and Visitors Association.
Gene Stratton-Porter, Diana of the Dunes, farm cooking and barns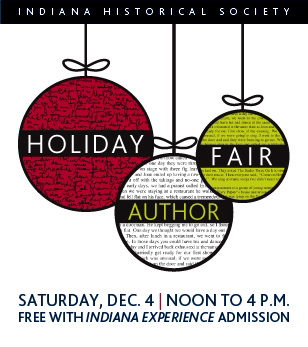 (Dec. 4, 2010) - For the third year, Hoosier History Live! did our broadcast from a remote (non-studio) location: the Eugene and Marilyn Glick Indiana History Center, which always bustles and abound with captivating interviewees, as more than 70 authors with ties to Indiana gather for the 8th Annual Holiday Author Fair. Nelson conducts round-robin chats with fellow authors who have a range of Hoosier expertise.
Our show features:
Barbara Olenyik Morrow of Auburn, Ind., who has written a new biography for young readers of legendary naturalist Gene Stratton-Porter. The book, Nature's Storyteller: The Life of Gene Stratton-Porter(Indiana Historical Society Press), explores the colorful life of the photographer and author of classics such as A Girl of the Limberlost, Freckles and Laddie. Born in 1863, she grew up on a farm in Wabash County and fell in love with wildlife, particularly birds.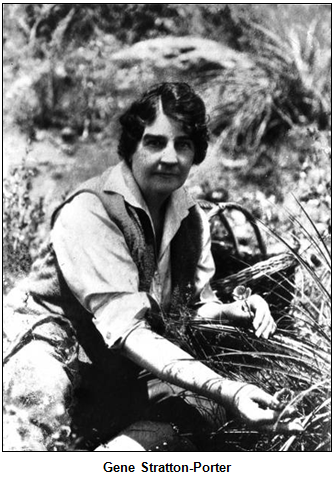 As an adult, Stratton-Porter founded Limberlost cabins in Geneva and Rome City, plunged into swamps to explore and photograph wildlife, and fought political and business leaders to preserve Indiana's wetlands. Her biographer Barbara Olenyik Morrow is an award-winning author of children's books.
Janet Edwards, the author of Diana of the Dunes: The True Story of Alice Gray (The History Press). Janet lives in St. Louis but says she has spent many summers as a "Dunebug" in northwest Indiana, where she was told folklore about the mysterious Diana of the Dunes. Janet's biography separates myths from facts about the inspiration for the folklore, a Chicago native named Alice Gray who settled in the sand hills of northwest Indiana in 1915. Cultured and well-educated - Alice Gray was a Phi Beta Kappa graduate of the University of Chicago - she abandoned the city (she once was quoted as saying, "Life as a wage earner is slavery") - for a secluded life in a fisherman's shack. Did she really splash naked in Lake Michigan and romp on the beach to dry off? Did she find serenity in the Indiana Dunes? Nelson asks Janet, who has put together the first full-length biography of the intriguing woman buried in Oak Hill Cemetery in Gary.
Philip Potempa, a popular food and celebrity columnist for The Times of Northwest Indiana newspaper.
Phil, who grew up on a multi-generational family farm near Valparaiso, is the author of Further from the Farm: Family Recipes and Memories of a Lifetime (Pediment Press), his latest collection of food-related vignettes and recipes. With a special emphasis on heirloom menu favorites from Hoosier farm families, Phil's cookbook includes recipes from dozens of readers of his weekly "From the Farm" column. His new cookbook also features recipes from his celebrity interviewees; they include actress Betsy Palmer, who grew up in East Chicago and is best remembered for her long-running stint as a panelist in the 1950s and '60s on the TV show I've Got A Secret.
And agricultural expert Mauri Williamson of West Lafayette, who wrote the preface for Indiana Barns (Indiana University Press), a photo book featuring rustic barns "tucked among bucolic fields from Valparaiso to Vincennes." The images are drawn from the portfolio of Mauri's daughter, Marsha Williamson Mohr, who photographed barns of all sizes, shapes and conditions. Marsha collaborated on the project with Duncan Campbell, a professor of architecture. Among rural Hoosiers, Mauri Williamson is well known for originating the Pioneer Village at the Indiana State Fair and as the retired longtime executive secretary of the Purdue Agricultural Alumni Association; he's also director of the Indiana Corn Growers Association.
History Mystery question
For many of her years amid the sand hills of far-northwestern Indiana, Diana of the Dunes lived in a shack near Chesterton. The town in Porter County also is known for hosting an annual festival associated with a classic book and movie.
In terms of plot and characters, the book and movie have no direct connection to Indiana, but Chesterton began hosting the annual festival in 1981.
Question: Name the classic book and movie.
The prizes were pairs of tickets to Handel's Messiah the weekend of Dec. 11-12. These tickets are courtesy of the Indianapolis Chamber Orchestra. Don't pass up this opportunity to mingle with Indiana authors and win the gift of a live musical performance.
Rare movies with Indiana connections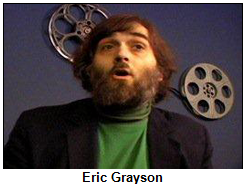 (Nov. 27, 2010) - Identifying the Hoosier links of some movies - such as Hoosiers (1986), Breaking Away (1979) and Rudy (1993) - is a breeze. Yet dozens of much more obscure films, both silent movies and talkies, also have major connections to Indiana because of their topics, settings, cast or directors. Some of these movies are in danger of becoming "lost."
Nelson is joined in studio by Indianapolis-based film historian and collector Eric Grayson, who has discovered the only surviving print of Freckles (1935), which was based on a best-selling book by Hoosier naturalist Gene Stratton-Porter. Eric's vast collection of rare 16mm and 35mm films - which he shows at events across the state - includes other movie versions of Stratton-Porter's bestsellers, such as A Girl of the Limberlost (1934) and Laddie(1940).
By the way, we explore the life of photographer-author Stratton-Porter, who founded scenic Limberlost cabins in Geneva and Rome City in northeast Indiana, on the next week's show (Dec. 4, 2010).
Other highlights of our show about rare movies include:
With the release this year of the movie Secretariat, shouldn't we pay heed to a movie about, arguably, an even greater Indiana-born racehorse? Well, Eric Grayson owns (and hosts screenings of) The Great Dan Patch (1949), a biography of the fabled harness racing horse born in Oxford, Ind. In the late 1800s and early 1900s, Dan Patch became a sensation at racetracks across the country because of his amazing speed and stamina. The barn where he was foaled in 1896 remains standing in Oxford, which hosts a Dan Patch Festival every September.
Eric also shares insights about The Hoosier Schoolmaster (1935), a movie based on a best-selling novel by Vevay native Edward Eggleston. He created the storyline from the experiences of his brother, who had been a school teacher in 19th-century Indiana. By the way, the movie version of The Hoosier Schoolmaster has another Indiana connection. The cast included Otis Harlan, a character actor from Martinsville.
Eric and Nelson also explore silent films starring Fort Wayne native Carole Lombard. The glamorous star, who married Clark Gable, is far better known for her popular sound movies made in the 1930s and early '40s. But Eric owns rare prints of Lombard's earliest movies, silents such as Smith's Pony (1927) and Run, Girl, Run (1928). Lombard died at age 33 in an airplane crash after a record-breaking series of World War II bond rallies in Indianapolis.
To top it off, Eric explains how even a movie as recent as Going All the Way (1997) - which was filmed in Indianapolis and based on Dan Wakefield's bestselling novel - is in danger of becoming lost. Going All the Way, which is set in the 1950s, starred a young Ben Affleck, who had not yet become a household name when he came to Indy for the filming.
Drawing on his vast library of rare film-related material, Eric has done presentations in places ranging from Kansas and New York to Finland. He also contends that the "best gems" among rare films are found, as he puts it, "in dumpsters and dilapidated theaters."
By the way, you can also view Eric's Dr. Film, which he calls his "film history project for the digital age," at www.drfilm.net.
History Mystery question
She was born in 1890 and grew up in rural Shelby County.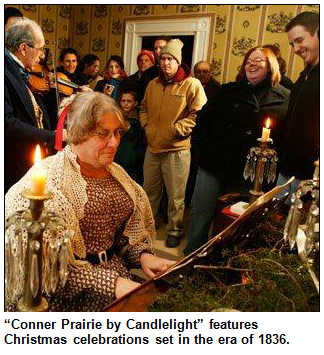 Her father, a minister, objected to acting. She attended Franklin College for a year but eventually began touring in vaudeville and stock companies. That resulted in Broadway roles. By the time she began making an impact in Hollywood, she already was middle-aged. The native Hoosier had supporting roles in several major movies from the 1930s through the 1950s. But she is best remembered for a series of lower-budget movies in which she played a leading role.
Question: Name the movie actress.
The prize was a pair of tickets to Conner Prairie by Candlelight, where you can travel back in time to Dec. 24, 1836, and visit all of your favorite Prairietown families preparing for Christmas. Tickets courtesy of the Indianapolis Convention and Visitors Association.
Kurt Vonnegut's relationship with Indy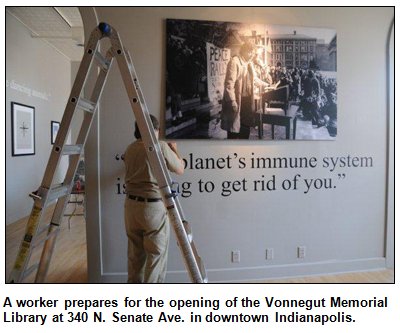 "Indianapolis made me what I am today. The city was a terrific influence." - Kurt Vonnegut Jr. during an interview with Nelson in 1991
"Some very authentically nasty things happened to me here." - Vonnegut to The Indianapolis News in 1973
(Nov. 20, 2010) - His ancestors were among the earliest Indianapolis families, not to mention among the most prominent and influential. Literary lion Kurt Vonnegut Jr., though, had a complicated, continually evolving relationship with his hometown, although he rejoiced in the resurgence of downtown and emphasized he felt honored by the citywide "Year of Vonnegut" events under way when he passed away in 2007.
As Hoosier History Live! salutes what would have been his 88th birthday this month, we explore his attitudes toward the Hoosier capital, where his grandfather and father, both architects, designed landmarks that remain with us today. Nelson is joined in studio by David Hoppe of Nuvo newsweekly, who befriended Vonnegut and escorted the author of Slaughterhouse Five (1969) and other bestsellers during his return visits. Our guests also include Len Mozzi, a board member of the Kurt Vonnegut Memorial Library, which is getting under way in the historic Emelie Building, 340 N. Senate Ave. in downtown Indianapolis.
A 1940 graduate of Shortridge High School, where Vonnegut became an editor of the legendary Echo student newspaper, he frequently referred to Indianapolis and his boyhood in books such as Palm Sunday (1981) and A Man Without a Country (2005). Vonnegut's great-grandfather,
Clemens Vonnegut, arrived in 1851 from Germany during an explosive era of growth in the Hoosier capital. He founded a chain of hardware stores that had become the city's oldest family-owned business when it was sold more than 100 years later.Three of his four sons were involved in the enterprise.
But one son, Bernard Vonnegut, became a distinguished architect and designed the Athenaeum (initially known as Das Deutsche Haus), the flagship L.S. Ayres department store and other landmarks. (Much later, in the 1930s, Bernard's son, architect Kurt Sr., designed the Ayres clock) All of this was a source of pride to Kurt Jr., as was his Shortridge education.
However, the famous novelist also was highly critical of his hometown during its "Naptown" era.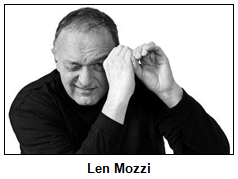 And decades earlier, his family experienced a dramatic reversal of fortune during the Great Depression; then they coped with the tragic death of Vonnegut's mother, a possible suicide.In some interviews during the 1970s, he even referred to Shortridge as an "elitist" school. Vonnegut also was outraged after a disastrous initial book signing (in the Ayres building, no less) for Slaughterhouse Five, despite the novel's spectacular reception elsewhere.
So there's much to explore during the show. Nelson and David were heavily involved in "Year of Vonnegut" events and spoke during a reflection of his life at the Indianapolis Museum of Art. Len, president of Indianapolis-based Dramatic Difference, which provides presentation,
theatrical and creativity skills to business leaders, is actively involved in the memorial library. It's being developed with the help of Vonnegut's daughters Edie and Nanny and his son Mark, who came to Indy shortly after his father's death to deliver what many experts think were his final written words: the speech he intended to give at Clowes Hall during the "Year of Vonnegut."
History Mystery question
Shortridge High School in Indianapolis has produced many distinguished grads in addition to Kurt Vonnegut, who was a member of the Class of 1940. The Class of '50, for example, included future U.S. Sen. Richard Lugar and Dan Wakefield, who would go on to write bestselling books such as Going All the Way.
Among Vonnegut's friends at Shortridge was a fellow editor of the Echo student newspaper named Madelyn Pugh. Several years later, as Madelyn Pugh Davis, she became a prominent
Hollywood-based writer during the Golden Age of radio and TV. In fact, she was the co-creator of a classic TV series shown in reruns to this day. She co-wrote most of the show's scripts.
Question: What classic TV series did Shortridge grad Madelyn Pugh Davis help create?
The prize was a gift certificate to Scotty's Brewhouse, as well as a pair of passes to the Rhythm Discovery Center, courtesy of the Indianapolis Convention and Visitors Association.
Roadtripper
A Black Friday Roadtrip was touted by Chris Gahl of the ICVA. Our Roadtripper tells us that each year more than 25,000 people from outside of Indianapolis travel to the capital city to take advantage of "Black Friday," exploring the city's numerous shopping centers and boutiques. Often considered a great place to "getaway," the Conrad Indianapolis is offering an epic deal.
For only $99, you can stay at this upscale hotel - the same place Bush, Obama, Eric Clapton and Sidney Poitier have stayed. This rate includes coffee and valet parking. If you're looking for a place to eat the day before, on Thanksgiving, the Conrad will be offering a feast spread over a 20-foot-long buffet table, with complimentary champagne.
The Conrad is Hilton's luxury brand, a brand that was founded in 1919 by Conrad Hilton - his first hotel, in Mobley in Cisco, Texas. You don't have to travel to Texas to find a steal of a deal and be a tourist in your own hometown.
Slave trial in 1820s Indiana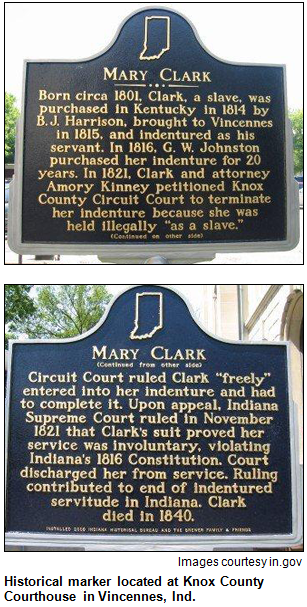 (Nov. 13, 2010) - In 1821, a young African-American woman in Vincennes made history. A lawyer for Mary Bateman Clark filed a lawsuit seeking her release from an "indentured servitude" contract with one of the most prominent men in the new state of Indiana. The contract required Mary to cook, clean and sew for Gen. Washington Johnston and his family for 20 years. Her only pay was housing, food and clothing.
The case, which made its way to the Indiana Supreme Court, involved determining whether such "indentured servitude" contracts violated the state's constitution as a form of slavery. Nearly 200 years ago this month - on Nov. 16, 1821 - the Supreme Court ruled in Mary's favor and ordered her employer to release her.
To share insights about the social history of the era and the landmark case, Nelson was joined in studio by one of Mary's descendants, Indianapolis resident Eunice Trotter. Eunice, a veteran journalist, and her sister Ethel McCane are using their research about their ancestor to do "living history performances" for schools and civic groups across the state. They can be contacted through their website at marybatemanclark.org.
Eunice and Ethel crusaded for a historic marker in honor of Mary Bateman Clark; it was dedicated at the Knox County Courthouse in 2009. The sisters are Mary Bateman Clark's great-great-great granddaughters.
According to their research, many white residents of Vincennes and other early Indiana communities worried about the presence of free African-Americans, fearing they would incite indentured blacks.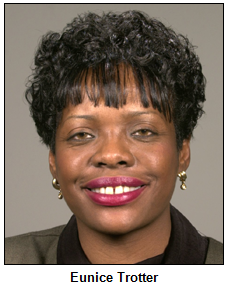 Also in the 1820s, another young woman in Vincennes sued to obtain her freedom. Polly Strong had been enslaved by Col. Hyacinth LaSalle, a prominent Vincennes resident, before Indiana became a state in 1816. LaSalle challenged the new state constitution, unsuccessfully arguing that it could not be applied retroactively.
Re-enactments of the Polly Strong case are performed across Indiana under the direction of Corydon historic preservationist Maxine Brown. She was our guest on Hoosier History Live! two years ago for a show about her historic restoration of a segregated school in Corydon. The restored school, now known as the Leora Brown School, has been the setting for re-enactments of the court cases of Mary Bateman Clark and Polly Strong.
History Mystery question
Vincennes has the distinction of being Indiana's oldest city, as well as our territorial capital. But by 1830 another town in southern Indiana claimed the distinction of being the state's largest city. This city remained the state's biggest until about 1850, when it was eclipsed by the explosive growth of Indianapolis.
Question: Name the southern Indiana town that was our largest city in the 1830s and '40s.
To win the prize, you must call in with the correct answer during the live show. The call-in number is (317) 788-3314, and the prize is two tickets to the
Children's Museum, courtesy of the Indianapolis Convention and Visitors Association.
Roadtripper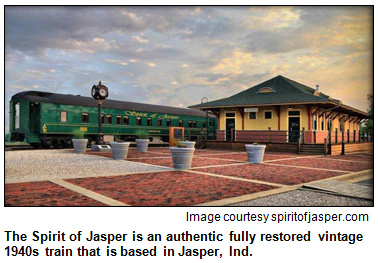 Chris Gahl of the ICVA says "All Aboard" and tells us to head to Jasper in southern Indiana to catch a ride on the Spirit of Jasper, an authentic fully restored vintage 1940s train. Coming up on Saturday, Nov. 20, you'll be able to buy a ticket and take an hourlong scenic ride from Jasper to French Lick.
Depart from the Jasper Train Depot at 5 p.m. on the Spirit of Jasper and wind through the Hoosier countryside, arriving at the 1907 Monon Depot in French Lick, home of the Indiana Railway Museum. Besides checking out the museum, you also can do a tasting at the French Lick Winery or have a spa treatment with the healing mineral waters of the West Baden Hotel.
At 11 p.m., the train heads back to Jasper, making this a scenic, historic and fun way to spend a Saturday. Make reservations online at www.spiritofjasper.com.
House of Blue Lights revisited
(Oct. 30, 2010) - You now can listen to the full audio of our Oct. 31, 2009 Hoosier History Live! show about the House of Blue Lights with guest Mike Ahern. This audio link, as well as many photographs, are courtesy of the website that our guests have created, houseofbluelights.com.
As the source of perhaps the biggest urban legend in state history, the House of Blue Lights - and resulting folklore about the secluded estate regarded for nearly 50 years as the creepiest place in Indianapolis - can't be covered in a single show.
Those of you who tuned in to our Halloween Day broadcast last year featuring longtime WISH-TV anchorman Mike Ahern's insights about the House of Blue Lights - as well as anyone fascinated by the myths surrounding the estate of eccentric millionaire Skiles E. Test - are in for another Halloween treat.
Nelson's guests included Skiles Test's daughter, Louellen Test Hesse, a lifelong Californian who rarely has been interviewed about the House of Blue Lights.
Sneaking around the estate near Fall Creek Road and Shadeland Avenue became a Halloween-season rite of passage for thousands of high school and college students from the 1920s through the 1960s. Louellen graciously agreed to be a guest by phone, joining Nelson and his in-studio guest, another person with firsthand knowledge of the mysterious House of Blue Lights:
Garry Ledbetter, whom Mr. Test employed as a young caretaker.
Regular listeners will recall that Garry phoned in during last year's show to mention his duties included feeding more than 150 cats that Mr. Test kept as pets on the property. The resulting pet cemetery fueled curiosity by six generations of teenagers.
Primarily, though, their obsession focused on the urban legend that Mr. Test kept the corpse of his beautiful, dead wife in a glass coffin that he bathed in blue light. Trespassers hoped to catch a glimpse of the casket, the perfectly preserved dead body and of Mr. Test, who was said to sit beside it in a chair, rocking in sorrow night after night.
As we clarified during last year's show, there was never a corpse. Mr. Test (1889-1964) was married three times, and all of his former wives (including Louellen's mother in California) outlived him.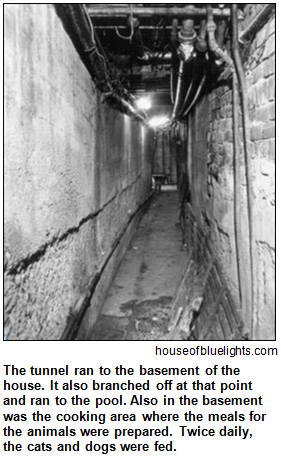 Many more questions and myths abound, even though the eerie House of Blue Lights was demolished in 1978. As a news anchor, Mike Ahern covered the demolition, which he discussed during last year's show.
Garry and Louellen joined Nelson on the air this Halloween weekend to cover as much more turf as possible during the show.
According to Garry, some accounts even indicate J. Edgar Hoover visited the Test property during the 1930s to check out the creepy doings on behalf of the FBI.
Garry, Louellen and Nelson also explored the tunnels on the Test estate, one of the many sources of intrigue for the waves of trespassing teenagers. What was the purpose of the tunnels? Did teens ever get trapped in them? And why, if the thousands of young trespassers eventually distressed Mr. Test, didn't he get out the word that there was no corpse on the property?
Some tidbits:
Born into a prominent Indianapolis family, Skiles Test grew up in a spacious Woodruff Place home. His father, Charles Test, was one of the founders of the National Vehicle Motor Car Company.
In 1913, Skiles Test purchased what was then a farmhouse northeast of Indianapolis. This is the secluded home that became known as the House of Blue Lights.
He eventually built a spectacular Olympic-sized swimming pool and a three-story bathhouse on the property. The solar-heated pool featured a trapeze, a high dive and glass bricks, which, when illuminated, may have cast off a blue glow. Mr. Test also liked to decorate his property with blue lights during the holiday season.
Louellen's mother was Mr. Test's third wife. She grew up in California with her mother but spent summers with her father at the House of Blue Lights.
Garry moved with his father (an employee of Mr. Test) into a tenant house on the property in the mid-1950s when he was 8 years old. As he mentioned during last year's show, his duties eventually included feeding the 150 cats meals of cottage cheese, chicken and boiled fish. Under Mr. Test's direction, when the cats died, Garry and other employees would bury them in wooden boxes and create headstones for them. Mr. Test also asked them to bury dead wildlife, including squirrels, when found on the property.
Because he gradually acquired more land, Mr. Test owned more than 700 acres. Under the provisions of his will, some of the property became the Skiles Test Nature Park. Another portion was bequeathed to Lawrence Township Schools and today is the site of Skiles Test Elementary School. Students at another school in the district, Harrison Hill Elementary, have done research projects on the House of Blue Lights.
History Mystery question
According to urban legends about the House of Blue Lights, the sprawling estate was guarded by packs of vicious dogs, primarily Dobermans.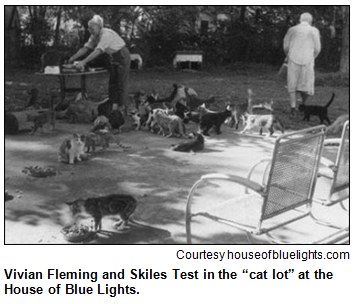 In truth, owner Skiles Test kept far more cats than dogs. And the pet dogs owned by Mr. Test were not breeds known for being vicious. Some of the pet dogs were Pekingese. But most of the dogs were of a large breed that was discussed on Hoosier History Live! last year as well as in other media accounts that have explored the truth - and the myths - about the House of Blue Lights.
Question: Name the primary breed of dog that Skiles Test kept on the estate.
The prize was a gift certificate to Iozzo's Garden of Italy, courtesy of the Indianapolis Convention and Visitors Association.
Roadtripper
Chris Gahl of the ICVA suggested we visit the Harrison Center for the Arts, which is located at 15th and Delaware streets in downtown Indianapolis.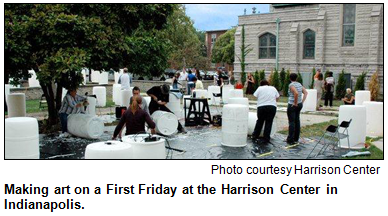 The Harrison Center is housed in what used to be the First Presbyterian Congregation, which was established in 1823 - a church where President Benjamin Harrison was an elder and Sunday-school teacher.
Present day, the Harrison Center serves as a hub for cultural development and urban revitalization, with more than 15 in-resident artists and lots of community education programs. Each month, the Harrison Center offers a new exhibit. November's show will feature paintings, photographs and written word that explores Indiana residents' relationship with Indiana food.
You can also plug in to the Harrison Center for the popular First Friday Art Tour, with the next one occurring Nov. 5 from 6 to 9 p.m.
Rush County history with Joe Hogsett
(Oct. 23, 2010) - Given that Hoosier newsmakers hail from every corner of the state, isn't it grand when they drop by Hoosier History Live! to be our guides as we explore their hometowns and counties? It's particularly appreciated when they do this amid a high-profile job change.
To explore Rush County and his cherished hometown of Rushville, the county seat, former Indiana Secretary of State Joe Hogsett joined Nelson in studio. Joe has been generating a fresh round of headlines because he started his new job this month as U.S. attorney for the Southern District of Indiana following his confirmation by the U.S. Senate.
Before launching his political career in the 1980s by managing Evan Bayh's campaigns for governor and secretary of state, Joe grew up in Rushville, the town of about 5,900 located 40 miles southeast of Indy.
Joe isn't the only prominent politician associated with the town. As the maverick, dark-horse presidential nominee of the Republican Party in 1940, charismatic Wendell Willkie, a native of Elwood, designated Rushville as his adopted hometown because he had married a local resident, Edith Wilk (no relation). Her husband ran his rollicking campaign against FDR out of the historic Durbin Hotel, drawing national news media and public figures to Rushville, where Willkie eventually bought property.
In more recent years, political figures from Rushville have included Suellen Reed, a Republican who served three terms as Indiana's superintendent of public instruction, beginning in 1992.
Fun fact: As a teacher in Rushville, her students included a young Joe Hogsett.
It's not just public figures who have drawn attention to Rush County, though. The county also is the home of covered bridges built in the late 1800s by the renowned designer E.L. Kennedy. Amid much fanfare in September, a reconstructed covered bridge in tiny Moscow (pop. 38 people) was dedicated after the bridge, which Kennedy designed in 1886, was thrown into the Flatrock River by a tornado in 2008.
The reconstruction of the Moscow covered bridge used 30 percent of the wood from the historic bridge, which had been held and contained in the river. Gov. Mitch Daniels likened the reconstruction, which took 18 months and involved a community-wide effort, to "an old-fashioned barn raising." Attended by a crowd of camera-toting, flag-waving spectators, the dedication
ceremony featured bagpipes, drums and performances by the marching band from Rushville High School, Joe's alma mater.
In addition to covered bridges and politicians, Rush County has been the home of Amish communities for many generations. Named in honor of Dr. Benjamin Rush, a signer of the Declaration of Independence, the county also has several round barns.
Let's circle back to the public figures. In addition to Joe Hogsett, an attorney long associated with the Indianapolis law firm of Bingham McHale (he also served as chairman of the Indiana Democratic Party), Rushville has ties to NASCAR driver Tony Stewart, who, like Willkie, has two Hoosier hometowns. He primarily grew up in Columbus, where Tony maintains a home to this day, but as a boy he launched his racing career in Rushville and was nicknamed "the Rushville Rocket."
Some more fun facts:
Wendell and Edith Willkie are buried in Rushville's East Hill Cemetery. So is Knowles Shaw, a 19th-century evangelist best known for composing the gospel hymn Bringing in the Sheaves.
A lifelong history lover (in fact, he has a master's degree in history), Joe called during a Hoosier History Live! show last March to correctly answer a trivia question related to Bringing in the Sheaves.
Joe and Nelson have known each other since they were teenagers. The two met as 17-year-old freshmen at Indiana University.
History Mystery question
Twenty years ago, Joe Hogsett pulled off an upset victory in the election for Indiana secretary of state. Although he was the incumbent - having been appointed secretary of state a year earlier by newly elected Gov. Evan Bayh - Joe was running against a much better known opponent in his 1990 campaign for the office.
Question: Name the well-known Republican whom he defeated.
The prize was four tickets to the Indiana State Museum, courtesy of the Indianapolis Convention and Visitors Association.
The Titanic and Hoosiers
(Oct. 9, 2010) - If historians contended there were links between landlocked Indiana and the sinking of the Titanic in 1912, would you argue they were all wet? Well, steady yourselves. It turns out there were 14 passengers on the "unsinkable" luxury liner who had Hoosier connections. Some of the Hoosiers survived, while others were among the more than 1,500 passengers and crew members who perished.
To explore all aspects of the tragedy that has captivated the world since the Titanic struck an iceberg on its maiden voyage, Nelson was joined in studio by Indianapolis resident Craig Ware, whose lifelong interest in the Titanic culminated with meeting the final living survivor - and then corresponding with her. (Millvina Dean, the youngest passenger on board, died at age 97 in England last year.)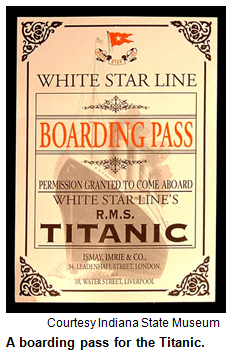 A member of the Titanic Historical Society years before the ship was discovered at the bottom of the North Atlantic in 1985, Craig has amassed a trove of info about the massive liner that was built for luxury and convenience, not speed. Indeed, the Titanic has become a symbol of the overconfidence and opulence of the Edwardian era.
Nelson and Craig were joined in studio by Katherine Gould, associate curator of cultural history at the Indiana State Museum, where an extensive new exhibit recently opened. Featuring room re-creations and about 240 artifacts that have been salvaged from the wreck site, Titanic: The Artifact Exhibition will continue at the State Museum through Jan. 16.
The Hoosier survivors included an Irish maid who had immigrated to Indianapolis but then returned to her homeland to visit relatives. Victims included a Hammond resident who had traveled to Sweden to visit her parents. She perished, as did her 2-year-old daughter, who had been born in Hammond.
Myths and folklore abound about the sinking. They include allegations that distress signals were ignored, that third-class passengers deliberately were kept below deck, and that the ship's cargo included cases of dragon blood.
We try to separate fact from myth as we delve into a tragedy that for generations has fascinated social historians, analysts of mass panic, science-oriented folks, and those intrigued with what happened to - and aboard - the ship. Their numbers are legion, particularly since the release of the blockbuster movie Titanic (1997) starring Leonardo DiCaprio and Kate Winslet. (Their co-star Gloria Stuart passed away last month at age 100.)
Some Titanic-related tidbits:
Both Nelson and Craig have, separately, met acclaimed oceanographer Robert Ballard, the scientist who headed the expedition that discovered the Titanic.
To explore further, Craig suggests the websites Robert Ballard Titanic and Titanic Historical Society.
Ellen Mary Toomey was the Irish housekeeper who was living in Indianapolis and survived the sinking. She had been returning in second-class on the ship, which had a hull that spanned four city blocks. It took two years to construct the luxury liner at a British yard in Belfast, Ireland.
In addition to the rich and famous such as millionaire John Jacob Astor (who perished), the ship's passengers included Dr. Ernest Moraweck, a physician who grew up in Tell City. He also perished.
At the State Museum, where visitors can touch a chunk of ice set at 28 degrees (the water temp when the Titanic sank), artifacts include a wall sconce from a first-class lounge, china etched with the logo of the White Star Line, a man's bowler hat and perfume being carried in the cargo by a manufacturer.
The ship's cargo included a rare copy of Omar Khayyam's Rubaiyat set in gold and inlaid with 1,500 precious gems; it has never been recovered. Tune in to find out why the cargo also included a large shipment of dragon's blood.
Controversy and debate continue to this day about delays in responding to the Titanic's crisis. By the way, the Titanic's maiden voyage was to be the last voyage for its 62-year-old captain, who had planned to retire. Instead, Captain Smith was among the victims of the tragedy.
History Mystery question
In 1913, just one year after the tragic sinking of the Titanic, a natural disaster affected the state of Indiana. The natural disaster happened in March 1913 and resulted in more than 200 deaths across the state.
Question: What was the natural disaster?
The prize was four tickets to the Indiana State Museum, as well as a gift certificate to Ike & Jonesy's, all courtesy of the Indianapolis Convention and Visitors Association.
Roadtripper
With Chris Gahl of the ICVA out Roadtripping far beyond the banks of the Wabash, Amy Lamb, media relations manager at the Indiana Historical Society, filled in on Saturday.
Amy says "Anything Goes" as the Indiana Historical Society's Anything Goes: Cole Porter Revue kicks off on Oct. 14 and 15, 2010.
Eli Lilly Hall will be transformed into a 1940s-era nightclub for a De-Lovely evening including dinner and dancing, as well as a cabaret show about Porter's life and music performed by Actors Theatre of Indiana. Cost is $75 per person (or $60 if you're an IHS member), and advance registration is required. Other Anything Goes programming will also take place in November, February and March.
If you can't make the revue, Amy says you can always visit the Cole Porter Room at the Eugene and Marilyn Glick Indiana History Center anytime Tuesday through Saturday, 10 a.m. to 5 p.m., to see related memorabilia and have your song selection performed for you, right on the spot.
Indy's oldest Catholic church
(Oct. 2, 2010) - Not only is St. John Catholic Church the oldest in Indianapolis, with parish origins that date clear back to the 1830s, the ornate church with twin steeples that are a distinctive part of the city's skyline has evolved into a unique role as a spiritual haven.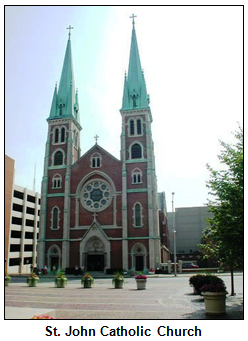 Rising up right near our pro football arenas - Lucas Oil Stadium and its predecessor the RCA Dome - as well as the Indiana Convention Center and downtown hotels, St. John, at 126 W. Georgia St., has become the church where convention-goers, tourists, Indianapolis Colts fans and international visitors go to celebrate Mass.
The odyssey of the majestic church that has become Indy's version of tourist-oriented St. Patrick's Cathedral in Manhattan mirrors downtown's journey from "Naptown" to vibrancy. Before its resurgence with a special niche, St. John's membership had declined from a peak of 3,000 parishioners in the 1880s to fewer than 300 by the early 1970s.
Nelson was joined in studio by St. John's historian/music director Tom Nichols and two well-known civic leaders who were instrumental in the renaissance: Rev. Tom Murphy, who became a Catholic priest in mid-life after a distinguished career as an attorney and state legislator (he helped push through a bill that allowed for the Convention Center's creation in 1971), and Bill McGowan Jr., who served as president and CEO of the Indianapolis Convention and Visitors Association from 1984 to 2002.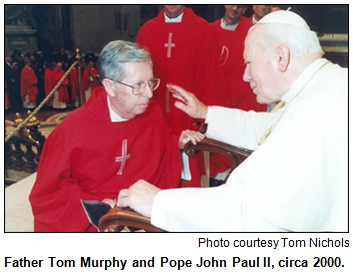 The church features a parish rectory built during the Civil War, nave windows and twin steeples that rise to a height of 194 feet.
Not only does our show's spotlight fall on St. John during football season, it comes amid citywide tributes to Rev. Murphy, who is celebrating the 25th anniversary of his ordination. His ancestors were married at St. John, which was partially founded by Irish immigrants. The St. John parish rectory opened in 1863, then was greatly enlarged in 1877 by Bishop Silas Chatard, the first bishop of Indianapolis.
St. John's connection to the Colts and the Convention Center begins with location, location, location: The majestic church practically "greets" spectators as they walk to (or exit from) the nearby stadium and convention center. Downtown hotels also are barely more than a football's throw away, meaning the church is a convenient destination for visiting business officials and tourists.
Rev. Murphy served as the priest at St. John from 1993 to 2003. That's been only one chapter, though, in a life that has had a significant impact on downtown Indy and beyond, including stints in Rome and as president of Serra International. As an attorney in the 1960s and '70s, he worked in a law office on Monument Circle. He served in the General Assembly, then studied theology in Rome and was ordained in 1985. Rev. Murphy's assignments as a priest, in addition to St. John, included a pastorate at St. Joan of Arc in Indy. Through it all, he has been noted for his compassion and his efforts to revitalize downtown.
Ditto for Bill McGowan Jr., who has served on a staggering number of civic boards and has been named a Sagamore of the Wabash by four Indiana governors. In addition to (or as a result of) his long-running leadership with the ICVA, Bill was a key player in dozens of major events in Indy, including the 1987 Pan American Games, the Penrod Art Fair and the International Violin Competition.
Our show, though, focuses on the niche that St. John (and our three guests) have played in the revitalization of downtown - as well as the journey of a church that began with Irish immigrants and now involves international visitors, sports fans and tourists.
History Mystery question
A second Catholic parish was founded in downtown Indianapolis in 1910. Many of the founding parishioners were German immigrants and wanted to celebrate Mass in the language of their homeland.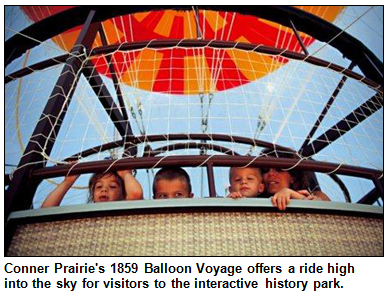 They built a Catholic church with twin spires on the east end of downtown. Today the church continues to serve many immigrants, but now they primarily are Hispanic. Mass often is celebrated in Spanish.
Question: Name the Catholic church in downtown Indy that opened in 1910.
The prize was two tickets to Conner Prairie and two tickets for the 1859 Balloon Voyage at Conner Prairie, all courtesy of the Indianapolis Convention and Visitors Association.
Roadtripper
With Chris Gahl of the ICVA on an extended Roadtrip, we asked Amy Lamb, media relations manager at the Indiana Historical Society, to fill in.
Amy told us about a very first in Indianapolis, the Inaugural Indianapolis Scottish Highland Games. The Games will take place Saturday, Oct. 9, from 9 to 5 at the Latvian Center at 1008 W. 64th St. in Indianapolis and are hosted by the Scottish Society of Indianapolis.
Some of the traditional Highland games will include the Braemar Stone Put, 56-pound weight throw, caber toss, hammer toss and sheaf toss, for all those brawny lads and lasses. Music will include performances by Hogeye Navvy and Highland Reign. Tickets are $10 at the gate and $8 advanced sale, with more at indyscot.org.
Longtime Hoosier History Live! listeners will recall our August 2008 show about Scottish heritage with Dr. Lee Cloe. And expect to hear more from Amy about a painting of a famous Scot who founded New Harmony, Indiana: Robert Owen.
Day camp heritage in Indiana
(Sept. 25, 2010) - Some day camps for children and teenagers have been ground-breaking - and did you know Indiana led the way? Not only has the Hoosier state long been considered a leader of the pack in children's camping, the country's first-ever day camp even was started here.
Begun in 1933, the trend-setting (or should we say pioneering?) Acorn Farm Camp in Hamilton County set a national pattern for child-centered day camps and, for 45 years, was attended by future Hoosier movers and shakers; even young Kurt Vonnegut Jr. and future biologist John Watson had connections to Acorn. The camp's founder became president of the American Camp Association, headquartered in Bradford Woods, and Acorn's heritage includes parallels with Gnaw Bone Camp in Brown County and Orchard School in Indianapolis.
To explore nooks and crannies - not to mention crevices, woods and rocks - of our camping heritage, Nelson was joined in studio by three guests who have lived and breathed camping. They are sisters Jill Sweet Mead and Judee Sweet of Westfield, whose late parents became regional celebrities thanks to Acorn Farms and the multi-media endeavors that resulted from its success, including early local TV shows and a nationally syndicated newspaper column of "hands-on" tips for children.
The story of Acorn Farms - and Indiana's day camp heritage - is told in a new book, Mighty Oaks from Little Acorns Grow (Hawthorne Publishing), written by Jill's daughter, Carmel resident Becky Bowles, who joined her mother and aunt in studio with Nelson.
To put together the book, Becky had a trove: hundreds of camp newsletters, photos and mementos saved by her grandparents, Acorn founder Herb Sweet (who wrote a nationally syndicated "Try It" column of tips in the 1950s) and his wife, Dee, who became the host of some of the first local TV talk shows, also in the 1950s.
Before the Sweets and their "creative fun" approach involving children and nature, organized camping across the country had focused on overnight trips for teenagers, adults or groups of families.
Why, the Sweets wondered, couldn't children as young as 5 years old during the Great Depression immerse themselves in nature - and then return to their homes at the end of the day? Seed pods, nuts, twigs, bark and feathers would be used to create toys, dolls and jewelry at Acorn Farms. The day camp sprang up in a bucolic setting between Carmel and Westfield ("sleepy villages" during the 1930s, as Becky notes in her book), with young campers traveling by bus from Indy.
A lifelong nature lover, Herb Sweet for several years in the 1930s taught at Orchard School, which became known for "progressive education" concepts that pervaded Acorn Farms. According to Mighty Oaks From Little Acorns Grow, previous camping experiences, in addition to being overnighters, "were heavy on competition and award-giving for every achievement." At Acorn Farms and Gnaw Bone, which was founded by fellow Orchard faculty member Fred Lorenz, the focus was on creating "a culture of delight" for children in the natural world and encouraging self-expression.
During the show, we explore the pioneers of day camping who had an impact on thousands of young Hoosiers, including Vonnegut during the summer of 1939. Some fun facts:
The first private camp (for overnight stays) began in Pennsylvania during the 1870s, according to Mighty Oaks.
As a teenager in the 1920s, Herb Sweet oversaw Brer Rabbit Camp, an Orchard-affiliated camp on the grounds of today's Cathedral High School.
Dee Sweet, who hosted shows on the former WFBM-TV with titles such as Sweet Time, also served on the committee that launched what is today Indiana Landmarks. She also served on the national board of Girl Scouts of America.
By the early 1960s, Acorn Farm was attended by more than 150 campers per day. When it closed in 1977, Acorn Farm "was the oldest day camp in the United States under the same directors," according to Mighty Oaks. Today, Jill runs an antique business, Acorn Farm Country Store, on the site; Judee, a former interpreter at Conner Prairie. is known for her portrayal of a pioneer-era "woodswoman."
History Mystery question
The Trivia Mystery is a carry-over from the last show, when there was no correct answer. The question focuses on one of the worst tragedies in Indiana history, the so-called Trail of Death involving the Potawatomi tribe in 1838.
A key figure in the tragedy was the leader of the Potawatomi, who were forced to leave their village in the "Twin Lakes" region of north central Indiana by soldiers under the command of Gen. John Tipton.
The soldiers led about 860 Potawatomi men, women and children on a 900-mile march to Kansas known as the Trail of Death. The Potawatomi chief, a convert to Catholicism who was known as a peacemaker, was put in a cage for the march. A statue of the chief stands today near his beloved Twin Lakes region; the tragic and courageous story of the Potawatomi is remembered every September in Fulton County with a Trail of Courage Living History Festival.
Question: Name the Potawatomi chief. Hint: He was not Little Turtle, who was incorrectly guessed by a listener two weeks ago.
The prize was two tickets to the Circle City Classic on Oct. 2 at Lucas Oil Stadium, and two tickets to the Eiteljorg Museum of American Indians and Western Art, all courtesy of the Indianapolis Convention and Visitors Association.
Roadtripper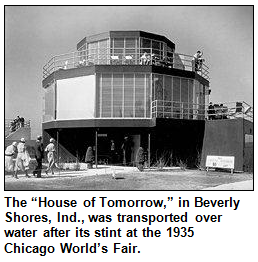 With Chris Gahl of the ICVA out on an extended transcontinental Roadtrip, Todd Zeiger, director of the Northern Regional Office of Indiana Landmarks, filled in for Chris and suggested that we head north to Beverly Shores along Lake Michigan to attend the Century of Progress Home Tour.
In 1935, Indiana inherited five then-modern houses from the Chicago World's Fair that were barged across Lake Michigan to Beverly Shores. All five houses will be open for public tours on October 23 and 24. You can register online for this event.
Fall Creek Massacre
(Sept. 11, 2010) - When white men were found guilty by a jury and executed for the slaughter of nine Native Americans in March 1824, it was a milestone in American history. Following what became known as the Fall Creek Massacre, whites for the first time were convicted and executed for the murders of Indians under American law.
To explore all aspects of the brutal crimes in the swampy woods of Madison County - where Native Americans (including three women and four children) were gruesomely murdered - Nelson was joined in studio by David Thomas Murphy, author of a new book, Murder in Their Hearts: The Fall Creek Massacre (Indiana Historical Society Press).
A professor of history at Anderson University, David has spent four years researching the massacre, trial and subsequent developments, including the social history of pioneer Hoosiers (Indiana only had been a state for about seven years at the time of the massacre) and of the Native Americans in the region.
"The slaughter in the soggy Indiana creek bottoms created a short-lived but serious national security crisis," David writes, referring to concerns across the country that warfare would erupt across newly developing states.
Noting that tensions had been brewing between whites and Native Americans for weeks prior to the massacre, David says the attitudes of many white settlers toward Indians were complex and nuanced, mixing respect, fear, tolerance and suspicion.
In researching the tragedy, David explored why the federal government devoted great efforts and resources to prosecuting the perpetrators; Nelson asks him to share his intriguing conclusions during the show.
They also discussed how David reconciled conflicting accounts of the events (the tribal origins of some of the victims remain unclear), as well as the motivations involved in the cold-blooded crimes, which involved shooting some of the Native Americans in their backs and mutilating several of the corpses.
"Madison County was shocked by the killings at Fall Creek ... because deliberate, deadly violence, as opposed to spontaneous scuffles or fistfights, was not especially common on the farming frontier," according to Murder in Their Hearts.
Fears of retaliation and of a disruption of the "wary co-existence" between white settlers and Native Americans were widespread.
"Hysteria swept through Madison County and then through the northern half of Indiana," David writes.
Within three days of the killings, six of the gang of seven killers were apprehended.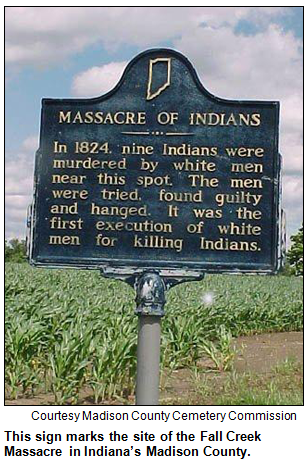 To imprison and then hold a trial for the perpetrators, frontier Madison County had to build both a jail and a courthouse.
The brutal crimes and their aftermath involve many sensational incidents. They included the designation of Indiana's best-known politician (U.S. Sen. James Noble) as the prosecutor and, at the gallows, a last-minute pardon by Indiana's new governor, James Ray. On horseback, Gov. Ray galloped up to spare the life of a teenage member of the murderous gang.
The carnage of the Fall Creek Massacre drew national attention at the time, but the slaughter and judicial outcome often are not even mentioned in subsequent accounts of white-Native American relations, David says. An exception involved the late author Jessamyn West, an Indiana native who wrote a best-selling novel, The Massacre at Fall Creek (1975), about the shocking episode in Hoosier history.
David says he spent more than four years researching and writing Murder in Their Hearts. At Anderson University, he chairs the history and political science department; he also has directed the university's honors program.
History Mystery question
Among the worst tragedies in Indiana history was the so-called Trail of Death involving the Potawatomi tribe in 1838. A key figure in the tragedy was the leader of the Potawatomi, who were forced to leave their village in the "Twin Lakes" region of north central Indiana by soldiers under the command of Gen. John Tipton. The soldiers led about 860 Potawatomi men, women and children on a 900-mile march to Kansas known as the Trail of Death.
The Potawatomi chief, a convert to Catholicism who was known as a peacemaker, was put in a cage for the march. A statue of the chief stands today near his beloved "Twin Lakes" region; the tragic and courageous story of the Potawatomi is remembered every September in Fulton County with a Trail of Courage Living History Festival.
Question: Name the Potawatomi chief.
The prize was two tickets to the Eiteljorg Museum of American Indians and Western Art, and two tickets to the Indiana Experience, courtesy of the Indianapolis Convention and Visitors Association.
Roadtripper
Chris Gahl of the ICVA suggested we head up to the 37th annual Indianapolis Greek Festival at Holy Trinity Greek Orthodox Church in Carmel for authentic Greek cuisine, live music and dancing, and church tours. The festival was Saturday, Sept. 11.
On offer each year are savory dishes of gyros and lamb, sweet-tooth dishes such as baklava, as well as Hellenic dance performances with dancers from elementary to high school ages, plus church tours available all afternoon.
Where did your county name come from?
(Sept. 4, 2010) -
Lake County is easy to figure out, name-wise. Ditto for Boone County - at least if you are familiar with frontiersman Daniel Boone. But what about Marion, Allen and, for heaven's sake, Kosciusko or Ripley counties?
Turns out we have an in-house expert on the origin of county names among our WICR-FM colleagues. Nelson was joined in studio by our attorney friend Charles Braun, founder and co-host of Legally Speaking, the longest-running legal advice show on American radio. Charles, a Fort Wayne native, is a fellow Hoosier history lover, so he and Nelson enjoy swapping tidbits in between his show - which airs at 10 a.m. on Saturdays - and ours.
Now we go public with the history chatter, with Charles sharing his research and insights about Indiana county names for all listeners to enjoy.
Promising to come to the studio armed with the origins of each of our 92 county names, Charles and Nelson will welcome your calls.
A former deputy state attorney general, Charles is an instructor at the Indiana Law Enforcement Academy, where he helps train police officers from across Indiana. Charles launched Legally Speaking in 1983. For the last 14 years, he has rotated the mic on the show with his co-host, attorney Charles Gantz.
Fun fact: The law enforcement academy is in Plainfield of Hendricks County, which was named after a family of early Hoosier politicians. The county's namesake was Gov. William Hendricks, who was in office at the time the county was formed.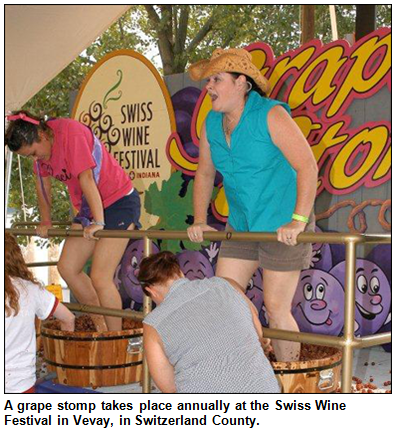 A sampling of other county name origins:
Knox County - which includes Vincennes, our state's oldest city - was named after a military leader with no Hoosier connections. Henry Knox, a soldier in the Revolutionary War, became the country's first Secretary of War. As such, he oversaw both the Army and the Navy.
Miami County in north central Indiana takes its name from the Native American people who lived in the area before white settlers arrived.
As you would expect, Switzerland County in the state's far-southeastern corner is named after the homeland of many of its early settlers. The county seat, Vevay, has a Swiss Wine Festival to this day.
History Mystery question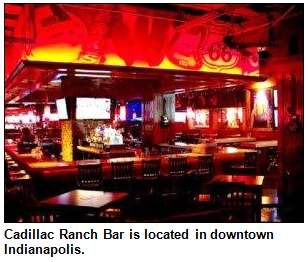 A city in Indiana takes its name from the French phrase for "high land" or "high ground."
Question: What is the name of the city?
The prize was a gift certificate to Cadillac Ranch All American Bar and Grill in downtown Indy at Union Station, courtesy of the Indianapolis Convention and Visitors Association.
Roadtripper
Chris Gahl of the ICVA highlights a special exhibit at nation's oldest surviving pathology laboratory, the Indiana Medical History Museum. The building provided physicians in the late 1800s and 1900s with state-of-the-art facilities to study mental and nervous disorders.
The museum now uses its more than 15,000 artifacts to educate visitors about the developments that made today's advanced medical treatments possible. It is located on the grounds of the former Central State Hospital on the near westside of Indianapolis.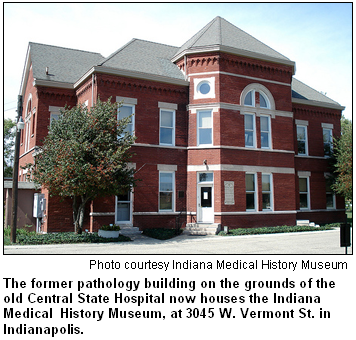 There's a unique exhibit running the entire month of September.
Austrian-born painter John Zwara came to Indianapolis in 1933 and spent several years living on the streets and selling his artwork. His friend, Alexander Vonnegut (uncle of Kurt Vonnegut), committed Zwara to Central State Hospital in 1938, where he was diagnosed with schizophrenia and spent six months at the hospital before escaping.
This exhibit features many of his works that were completed at Central State and will also highlight what little is known of his fascinating life.
Fairmount town history
(Aug. 28, 2010) - You may know that movie icon James Dean grew up on a farm near the Grant County town of Fairmount. But were you aware the creator of the most widely syndicated comic strip in the world also grew up on a Fairmount farm? It was the boyhood home of Jim Davis, creator of Garfield, the cantankerous cat.
To explore the heritage of a town with several distinctions, Nelson was joined in studio by Fairmount resident Cathy Duling Shouse, the author of a new visual history book about her hometown, Fairmount, the latest in Arcadia Publishing's "Images of America" series. Cathy's ancestors settled in the Fairmount area before 1850. Of the 223 rare vintage photos in her book, more than half came from private collections of local residents. The images include a 1904 photo of the construction of the Winslow family farmhouse, where young James Dean was raised during the 1930s and '40s by his aunt and uncle.
There also are photos of Lake Galatia near Fairmount, which was formed by the last glacier. Lake Galatia is where, as Cathy puts it, "the most complete set of mammoth bones ever found was discovered."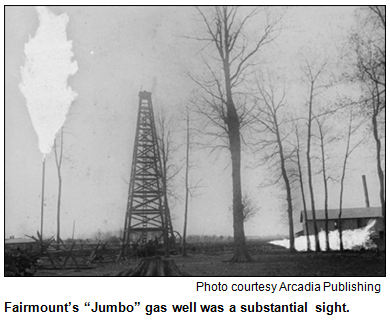 That was in 1904. The discovery of the huge skeleton of the mammoth (which apparently lived 11,000 years ago) sparked a lawsuit among local residents about their ownership. After the controversy was resolved, the mammoth bones were sold to the American Museum of Natural History in New York, where they remain on display to this day.
Initially part of Miami Indian territory, Fairmount was settled early on by Quakers. Fun fact: The mascot of old Fairmount High School - where James Dean, a member of the Class of 49, was a standout basketball player - was "the Quakers."
Even before the discovery of the mammoth bones, there was a "jumbo" making news in Fairmount.
In 1887, as Cathy writes in her book, "this small, primarily agricultural area participated in one of the most dramatic eras in state history: the natural gas boom."
Indeed, a natural gas well discovered near Fairmount that year was so massive it was named "Jumbo," after the famous circus elephant. Thanks to the bountiful gas reserves, entrepreneurs flocked to the Fairmount area and built spacious, Victorian-era houses, many of which still stand.
"The wells produced so much natural gas that it was thought the supply never would run dry," Cathy notes.
Her book, which she put together with the Fairmount Historical Museum, includes boyhood photos of both James Dean and Jim (Garfield) Davis, who suffered from severe asthma during his boyhood on a farm. In interviews with Nelson over the years, Jim Davis has said his artistic endeavors kicked off when he was bedfast with asthma and began doodling.
James Dean and Jim Davis had the same mentor at the high school: drama teacher Adeline Nall, whom the future cartoonist credits for pulling him out of shyness that resulted from the asthma.
Other notables with Fairmount roots include Olive Rush, a renowned artist who even had one of her works displayed in the White House, and a Fairmount High grad who went on to become director of the National Hurricane Center. (Do you think of Hoosiers as likely to become experts on hurricanes?)
Our focus on the town came just before the James Dean Festival, which draws thousands to the community, with the arrival of vintage autos and pilgrimages to the grave site at Park Cemetery of the actor (1931-1955), every September.
History Mystery question
Although James Dean had a long list of credits in live television shows, as well as a few small movie roles at the start of his career, he had starred in only three films before his death in a car crash in 1955. The three movies were East of Eden, Rebel Without a Cause and Giant.
The casts of two of those movies included a young actor who, decades later, would come to Indiana to play a significant role in a movie filmed here. In fact, the actor would be nominated for an Academy Award for his performance in the Indiana-made movie.
Question: Name the actor.
The prize was a pair of tickets to Conner Prairie, as well as a pair of tickets to the Indiana Experience, all courtesy of the ICVA.
Roadtripper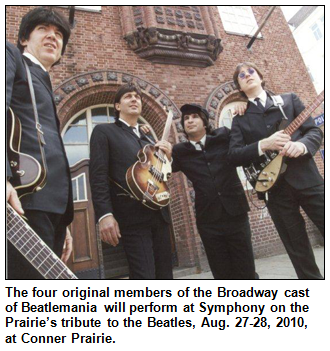 If we dial back the clock 200 years and travel to what is now 116th Street and Allisonville Road in Fishers, Ind., we would find William Conner living in a log home beside the White River with his Lenape (Delaware Indian) wife and five children.
Our Roadtripper, Chris Gahl of the ICVA, says that if we travel to Conner Prairie this weekend, we'll see the the four original members of the Broadway cast of Beatlemania perform many Beatles hits such as Hard Day's Night, Twist and Shout and others in an authentic tribute to Liverpool's "Fab Four."
Symphony on the Prairie's tribute to the Beatles will run Friday, Aug. 27 at 8 p.m. and Saturday, Aug. 28 at 8 p.m.
Pack a picnic, watch the sunset over the prairie, and enjoy live music off Broadway.
Meridian Park neighborhood history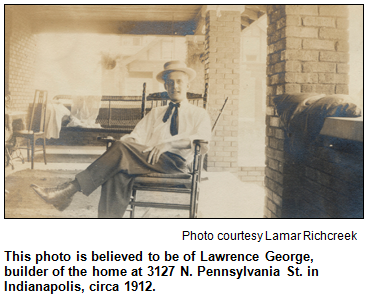 (Aug. 21, 2010) - Colorful history, welcoming porches, towering trees and a diverse assortment of homeowners are distinctive aspects of the next neighborhood to be featured in our rotating series. Many of the homes in the historic Meridian Park neighborhood on the near-Northside of Indianapolis were built between 1905 and 1930. They range from Arts and Crafts bungalows to spacious Dutch Colonial Revival, Tudor and Italian Villa homes. Listed on the National Register of Historic Places, Meridian Park has been in the spotlight this summer, which has included a popular home and garden tour.
For Meridian Park's turn on Hoosier History Live!, Nelson was joined in studio by two longtime residents of the scenic neighborhood, which is tucked away east of Meridian Street and north of 30th Street.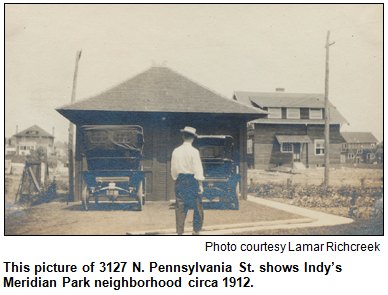 His guests from Meridian Park, which has been revitalized during the last 30 years, included Ben Solomon, who lives in an antique-filled Colonial Revival home built in 1916. Ben, who is the co-owner of Solomon/Jones Antiques and Interiors, has filled his historic house with furnishings purchased from the estates of prominent Indianapolis families. Nelson also was joined by photographer Lamar Richcreek, a faculty member at the Herron School of Art and Design who has lived in Meridian Park for decades with his wife, Jean.
According to a recent article in Urban Times, in the 1870s the site of the future neighborhood "was not just farmland - it was a frontier." The houses built in the early 1900s became the then-suburban homes of bankers, architects, artists and business leaders.
In addition to Arts and Crafts bungalows, several homes in Meridian Park were built in the Prairie and American Four Square styles, although the architecture is extremely diverse. Several Meridian Park homes also have quaint gardens. In addition, the neighborhood includes Washington Court, which is considered one of the city's first residential, pedestrian courtyards.
As affluent residents moved farther north during the mid-1900s, though, many homes were converted into businesses or deteriorated. A spacious home built in 1919 for a prominent Indianapolis businessman - and restored in recent years by its current owners, City County Councilor Jackie Nytes and her husband Michael O'Brien - eventually became a kindergarten, then served as the offices of a design firm. Nelson plans to ask his guests, Ben and Lamar, to share details about their homes' histories.
Some fun facts:
According to a recent feature story in The Indianapolis Star, Ben has filled his home with furnishings from the estates of the William H. Block family, former Gov. Paul McNutt, and the Holliday family. Ben's home has a veranda that overlooks his English country garden.
For some of the restorations, homes in Meridian Park had to be gutted down to their studs.
The neighborhood's residences include Tuckaway, the historic bungalow owned in the early 1900s by a well-known palmist and her husband, a fashion designer. Tuckaway was visited by famous Americans, including Walt Disney, Eleanor Roosevelt, George Gershwin and Carole Lombard. (Tuckway was the subject earlier this year of one of our History Mystery questions.)
History Mystery question
Historic neighborhoods south of Meridian Park include Herron-Morton Place. In the late 19th century, Herron-Morton Place flourished as a residential neighborhood thanks to the construction of Queen Anne-style houses and other homes, many of which have been restored in recent years.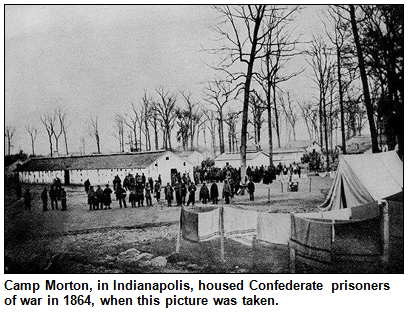 It's well-known that before the area became residential, it served as the site of Camp Morton, a Civil War site for the induction of Union Army soldiers. During the war, much of Camp Morton became a prisoner-of-war camp for captured Confederate soldiers. But before the Civil War, this part of Indianapolis - near Alabama, Delaware and 20th streets - had a very different use. It was the peacetime site of an Indiana event that continues to this day, albeit at a different location.
Question: What was on the site of today's Herron-Morton neighborhood immediately before the Civil War?
The prize was a pair of tickets to Conner Prairie, plus a gift certificate for Wheel Fun Rentals along the Central Canal in downtown Indianapolis, all courtesy of the ICVA.
Roadtripper
Military Park is the oldest park in Indianapolis and covers 14 acres. The park hosted Indianapolis' first celebrated Independence Day on July 4, 1822. The first Indiana State Fair was held at the park in October 1852.
Our Roadtripper, Chris Gahl of the ICVA, suggests that we head to the 15th Rib America Festival on Labor Day Weekend - Friday, Sept. 3 through Monday, Sept. 6. Ten of the top rib restaurants will compete for the title of best - including teams from Texas, Tennessee and Georgia.
Admission is free before 5 p.m. on Friday and before 1 p.m. on Saturday, Sunday and Monday. Music, ribs, outside, Labor Day weekend - all a perfect combination!
Parks, boulevards systems history in Indy
(Aug. 14, 2010) - Earlier this summer, Hoosier History Live! explored the history of Indiana state parks. Next up is the system of parks and boulevards in Indianapolis, which involves the life of an internationally renowned landscape architect, George Kessler, who put together the first comprehensive, citywide parks plan.
A German immigrant who eventually was based out of St. Louis, Kessler (1862-1923) never really became a resident of Indy, but he left a lasting impact on the city.
Nelson was joined in studio by two Indianapolis-based landscape architects who know this turf well. His guests were Meg Storrow of Storrow Kinsella Associates, who put together the National Register of Historic Places nomination for Indy's park and boulevard system, and David Roth of Synthesis Incorporated.
With Meg and David as our guides, we dig in and explore the creation of parks here, including Kessler's redesign of pre-existing Garfield Park (he created its well-known sunken gardens) and his vision for a chain of parks linked by wide, sweeping boulevards.
Kessler Boulevard, built after his death, was named in his honor. His system of parkways followed the major waterways in Marion County, including White River, Fall Creek and Pleasant Run.
Some fun facts:
Military Park and University Park also pre-date Kessler's plan, which was presented in 1909. Originally a militia training ground during the Civil War era, Military Park is located east of today's IUPUI campus. Although University Park had become a city park in the 1870s, Kessler redesigned it, creating formal paths and suggesting a central fountain.
Suggestions for parks plans in the late 1800s and early 1900s were highly controversial in Indianapolis. Residents had a bushel of objections, ranging from costs to the proposed location of parks. According to several sources, many residents felt the Northside would reap most of the benefits.
The colorful mayor of Indy at the turn of the last century, Thomas Taggart, aggressively pushed for the purchase of the farmland that became Riverside Park, which was not included in initial park plans. (Regular listeners will recall from a Hoosier History Live! show in June that, after his term as mayor, Taggart purchased the French Lick Springs Hotel and made it a lavish resort.)
Kessler designed parks systems for several other major cities, including Kansas City, Cincinnati and Dallas. His plan for Indy, however, is considered among his best-known. According to the Encyclopedia of Indianapolis, he emphasized "a chain of parks brought to the doors of all sections of the community" linked by wide, sweeping boulevards.
At Brookside Park on the Eastside, Kessler designed scenic bridges. Objecting to the 19th-century metal trusses that spanned Fall Creek, Kessler also designed the Capitol Avenue bridge across the waterway.
Nelson also asked Meg about her current work on the enhancement of Alice Carter Park at North Meridian Street and Westfield Boulevard. A co-founder and principal of Storrow Kinsella, Meg has been involved in an extensive array of landscape design, greenway and park projects across Indiana. At Synthesis, David has been the project manager for many urban design and greenway projects across Indiana, as well as a playground project at Washington Park in Indianapolis.
History Mystery question
Our History Mystery question is a carry-over from last week, when there was no correct answer. The question concerns a popular Republican congressman from Indiana who is thought to have been the last public figure to shake Abraham Lincoln's hand before the president's assassination in 1865.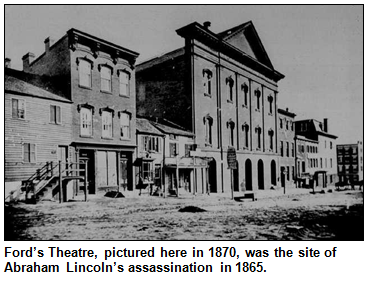 The Hoosier congressman, who later would become vice president of the United States, had been invited to accompany President and Mrs. Lincoln to Ford's Theatre that fateful evening in April, but he declined. The Hoosier congressman was elected speaker of the House twice, then became vice president. Hint: He was the first of (so far) five Hoosiers to become vice president.
Question: Name the Indiana politician.
The prize was a one-night stay at the Holiday Inn Express Indianapolis City Centre, as well as a pair of tickets to the Indiana State Museum, courtesy of the ICVA.
Roadtripper
Chris Gahl of the ICVA says it is time for us to "Dig-IN." This Taste of Indiana is a daylong event featuring growers and chefs from across Indiana. Held Sunday, Aug. 29, at White River State Park, this foodie event will draw in the top chefs from across the state for a unique gastronomic experience.
Highlights include free local food tastings prepared by local chefs, urban gardening exhibits, free wine and beer tastings, discussion panels, cooking demonstrations, urban gardening exhibits and much more.
Combining the best of what farmers markets have to offer with the know-how of some great food minds, this event will inspire the senses, educate the mind and bring many of Indiana's best and brightest agricultural and culinary experts to the forefront. Tickets are only $15.
2008 presidential election shift in Indiana
(Aug. 7, 2010) - Whether you applaud the outcomes or bemoan them, there's no question the 2008 election cycle made Hoosier history. Our atypical recent turn as a "swing state" included a fierce intra-party battle among Democrats during their first truly significant presidential primary in Indiana in 40 years. Next came a historic break from a tradition that stretched back even further, with a majority of Hoosiers voting for a Democratic presidential candidate for the first time since 1964.
At the epicenter of all this was political commando Kip Tew, who headed Barack Obama's campaigns in Indiana. A partner with the Indianapolis law firm of Krieg DeVault LLP, Kip joined Nelson in studio to share behind-the-scenes details from the razor-close primary against Hillary Clinton - which involved a split among Democrats here that Kip describes as "difficult and joyless" in his new book Journey to Blue (Hawthorne Publishing) - to a presidential campaign that involved TV journalist Jane Pauley, rallies in traditionally Republican strongholds such as Plainfield, and a whirlwind that changed lives, Kip's among them.
A Fort Wayne native who graduated from North Central High School in Indianapolis and Indiana University, Kip is a former state chairman and Marion County chairman for the Democratic Party. He is the latest in a parade of well-known Hoosier politicos of both parties who have joined Nelson to explore the dynamics - including shifts, curves, upsets and historic firsts - of Indiana's political landscape.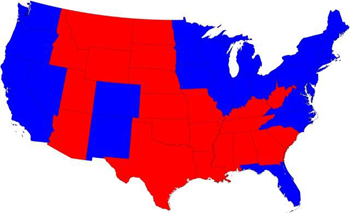 Except for the top of the ticket (Lyndon B. Johnson had been the last Democratic presidential candidate to carry Indiana), Hoosiers have a long history of ballot-splitting. And it may seem like ancient history now - with Evan Bayh's announcement earlier this year that he will not run for re-election - but speculation he could have been Obama's running mate hung over much of the '08 campaign here, according to Kip's book. Before that, Bayh and several of his closest colleagues aligned themselves with Hillary Clinton in the primary battle, meaning Kip and his crew became their opposition.
In Journey to Blue, Kip writes, the switch in allegiance from Clinton to Obama of another native Hoosier insider in the Democratic Party, former national chairman Joe Andrew, "angered the Bayh hierarchy more than anything else in the campaign."
Some other tidbits from Kip's book:
When Obama was preparing for his TV debate with John McCain, Kip worked furiously to arrange for the French Lick Springs Hotel to be the site of his debate prep, with an event that would feature Larry Bird playing hoops with the candidate. Kip writes that the failure of this to happen - in part because Bird decided he didn't want to get involved in the presidential race - "was one of the biggest disappointments of the campaign personally for me because . . . (it) would have been a nice little piece of Indiana history."
After Kip picked up Obama's book Dreams From My Father as a beach read in 2007, the politician's journey resonated with him in part for deeply personal reasons. When he was 4 or 5 years old, Kip learned his biological father had left shortly after his birth; he was raised by his mother and adoptive father.
Kip's wife, Robin, served as the chauffeur for Jane Pauley when the former co-host of The Today Show offered to return to her home state to campaign for Obama.
Indiana had the lowest turnout of registered voters of any state in the 2004 presidential election. In the show, Nelson explores how this affected the strategy of Kip and his team four years later. He also asks about the role of social media in the campaign here - and whether Kip thinks Obama could win Indiana if he had to run for re-election this year.
This show with a key Hooser newsmaker answers questions and gives insight into a campaign that resulted in a (temporary?) shift in presidential politics in the Hoosier state.
History Mystery question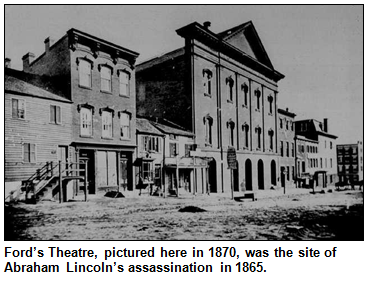 A popular Republican congressman from Indiana - who later would become vice president of the United States - is thought to have been the last public figure to shake Abraham Lincoln's hand before the president's assassination in 1865. The Hoosier congressman had been invited to accompany President and Mrs. Lincoln to Ford's Theatre that fateful evening in April, but he declined.
The Hoosier congressman was elected speaker of the House twice, then became vice president. Hint: He was the first of (so far) five Hoosiers to become vice president.
Question: Name the Indiana politician.
The prize was a one-night stay at the Holiday Inn Express Indianapolis City Centre, courtesy of the ICVA.
Roadtripper
Our Roadtripper, Chris Gahl of the ICVA, recommended venturing to the Rathskeller in downtown Indy on Aug. 8 for a performance by the American Pianists Association's Classical Fellowship Awards Finalist, Igor Lovchinsky.
The performance took place in the Athenaeum's Biergarten and is the final concert in their popular Summer Concert Series.
Lovchinsky, an alumnus of Juilliard, won both the Eastman International Piano Competition and the National Chopin Piano Competition. His talent has won him solo spots in the Indianapolis Symphony Orchestra, the Indiana Chamber Orchestra and others.
Theater history in Indy with Howard Caldwell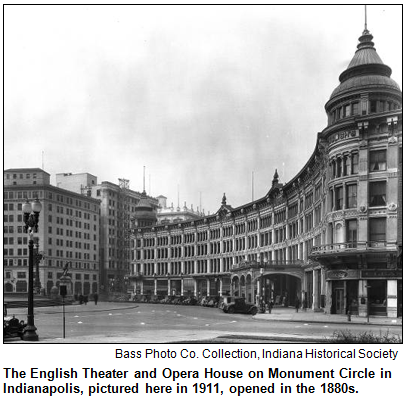 (July 31, 2010) - In 1934, an 8-year-old boy who lived in Irvington - and who would grow up to become one of the best-known TV news anchors in Indianapolis history - patronized a theater for the first time. It was Loew's Palace at 35 N. Pennsylvania St., where young Howard Caldwell was captivated by a movie, which was followed by a stage show.
Although Loew's Palace is long gone, its essence is recaptured in a new book by Howard, who became a familiar face - and often was described as "Indiana's Walter Cronkite" - during his long career at WRTV-Channel 6. His book, The Golden Age of Indianapolis Theaters (IU Press), not only explores the city's majestic theaters, many of them bygone or renovated for other uses, it also analyzes the Hoosier capital's theater-going heritage.
Howard joined Nelson in studio to delve into the colorful history that kicked off in September 1858 when the Metropolitan, the city's first theater, opened at 148 W. Washington St. with a seating capacity of more than 1,700. The Metropolitan later became known as the Park, then as the Capitol when it was a burlesque house as it declined before closing in the 1930s.
Almost from the start, there was controversy. Some shows at "the Met" featured dancing, which, as Howard points out, "was not tolerated by Methodists, Presbyterians or Baptists" during the 1850s. And many church groups here frowned on theater-going in general.
In the 1860s, famous actors who performed at "the Met" included none other than John Wilkes Booth.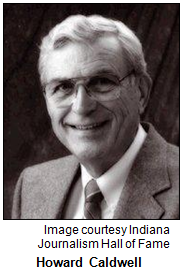 As Howard notes, his final performance in Indy was in 1863, a mere two years before he assassinated President Lincoln.
The city's second theater, the Grand Opera House, opened in 1875 and eventually became known for vaudeville. In the 1880s, the lavish English Theater and Opera House on Monument Circle vaulted theater-going to a new level.
In 1902, a production at the English of Lew Wallace's Ben-Hur featured "eight horses pulling two chariots on treadmills, powered by electricity," creating a sensation. As Howard notes in his book, performers who came to the Hoosier capital included W.C. Fields and escape artist Harry Houdini (both appeared at the Grand) and Ethel and John Barrymore at the English.
Alas, only four of the grand historic theaters downtown survive:
Howard and Nelson explored those, as well as the theaters that did not survive, such as Loew's Palace and the Lyric on North Illinois Street, which presented three vaudeville
shows a day when it opened in 1912. Some fun facts:
The first presentation of a film in Indy occurred in 1896 at the Park (the Met had been renamed by this point), according to Howard's book. The film was a farce called "A Railroad Ticket."
In the 1800s, auditoriums and lobbies for most theaters here were on upper floors of the buildings. The ground level typically was used for retail or offices.
Although Howard will be forever associated with broadcasting - he was the anchor on WRTV's Evening News for its debut in 1959 and has been inducted into the Indiana Broadcasters Hall of Fame - his accomplishments as an author go beyond his new book about theaters. He also is the author of Tony Hinkle: Coach for All Seasons (IU Press, 1991).
History Mystery question
In 1938, a new movie theater opened in Indianapolis, but not downtown. The first film shown in it was College Swing, starring Bob Hope.
The new movie theater became one of the city's first to be air conditioned. For decades, it was considered among the city's finest movie theaters, but by the early 1970s it had declined and even was showing adult movies, some rated X.
Then a major restoration in the late 1970s gave the theater a new life as a nightclub and concert venue that continues to this day. Long lines under the theater's marquee are a common sight as patrons wait to enter or buy concert tickets.
Question: Name the Indianapolis theater that fits this description.
The prize was four tickets to downtown Indy's newest attraction, the Rhythm Discovery Center at Illinois and Washington Streets, courtesy of the ICVA.
Roadtripper
Chris Gahl of the ICVA suggested that we stroll down memory lane to check out the Heartland Film Festival's premiere of the major motion picture Flipped (see a preview) on Aug. 2 at Hilbert Circle Theatre in downtown Indianapolis.
Hollywood director, writer and producer Rob Reiner attended the premiere, along with the movie's stars Anthony Edwards, John Mahoney and Penelope Ann Miller.
The movie Flipped is the latest addition to Reiner's directorial credits, joining such memorable films as Stand by Me, When Harry Met Sally, A Few Good Men and The Bucket List. Doors open at 6 p.m., with the screening beginning at 7 p.m. Tickets for reserved seating will be available in advance for $25 each.
Beer heritage in Indiana
(July 24, 2010) - Did you know one of the country's largest brewers 100 years ago was in Terre Haute? Before Prohibition, a German immigrant section of the Hoosier city bustled as the setting of beer-makers.

None was savored more than the Terre Haute Brewing Company, which was located in a five-story complex that included a bottling plant and a stable that housed dozens of Clydesdale and Belgian horses. (The horses drew wagons that delivered the beer.)
Terre Haute-made Champagne Velvet became wildly popular with the World War II generation, with connoisseurs from coast to coast. Fort Wayne, Lafayette, New Albany and even tiny Aurora on the Ohio River also have rich beer-making heritages.
Thirsty for details? Nelson was joined in studio by the writer recently dubbed "one of Indiana's grand dames of beer" by The Indianapolis Star. Rita Kohn writes the "Beer Buzz" column in Nuvo newsweekly and is the author of a new book, True Brew(Indiana University Press), that explores all aspects of the Hoosier state's links to beer, present and past.
And the past goes way back. According to Rita's book, a brewery was built in LaPorte in 1831 – even though the town's streets weren't laid out until two years later. In the 1840s, a brewery in Aurora was so productive it exported beer to Germany. Even one of the most prominent residents of early Indianapolis, banker Calvin Fletcher, wrote diary entries about his occasional beer-making endeavors using local ingredients.
"Indiana has a 200-year-old tradition of brewing practiced by people whose beer heritage was part of their cultural, social and economic life as home-brewers and commercial brewers," Rita writes in True Brew.
According to her book, the monks at St. Meinrad Archabbey in southern Indiana started a brewery in 1860. Alas, their beer was so lousy the brewery closed the next year.
No such humiliation was suffered by several beer-makers in Terre Haute, Fort Wayne and other Indiana communities. In Fort Wayne, popular Berghoff Brewing got under way in 1887. Civic leaders in Terre Haute hoped that city, not Milwaukee, would emerge as America's beer-making capital.
Prohibition, which began in 1918, changed the landscape in many ways. According to True Brew, when Prohibition ended in the 1930s only about half of the country's brewers reopened. The landscape changed again in the 1990s with the popularity of microbreweries and brew pubs, where beer is brewed and consumed on the premises.
Some fun facts:
"New Albany taverns emerged as a stopping place for travelers crossing the Ohio River," according to a website that celebrates the southern Indiana city's bicentennial this year. "The immigrations, in 1830 and 1850, of many Germans to the area directly contributed to the emergence of brewing in New Albany."
In addition to selling beer to Germany, the Great Crescent Brewery in Aurora supplied beer to the silver mines in Nevada during the late 1800s, according to True Brew.
Apparently the colony of Rappites who settled in New Harmony during the 1820s had a brewery, as well as two distilleries. "After all," Rita notes in her book, "it was to be a utopian society."
Our beer heritage - and Rita - are featured in some Indiana events:
July 24 at West Lafayette Public Library: A celebration at 1 p.m. with brewing demos. Rita spoke at 5 p.m. in a tribute to the late Bill Friday, a West Lafayette reference librarian known as "Indiana's patron saint of home brewers."
July 28 at Bloomington Brewing Company: A celebration of True Brew, with signings by Rita, from 5 to 7 p.m.
History Mystery question
A former speakeasy is being reused in an unusual way in a scenic Indiana town on the Ohio River. During Prohibition, the two-story speakeasy was patronized by riverboat passengers. Today, the former speakeasy building is the home of a harp-making operation and gallery. Harps made there are sold all over the world - even to Ireland. The historic building, which is located on the town's Main Street, also is the setting for concerts involving harps, including Celtic music celebrations.
Question: Name the Indiana river town with a former speakeasy that's been turned into a harp-making operation.
The prize was a pair of tickets to the new Indiana Experience at the Eugene and Marilyn Glick Indiana History Center, courtesy of the Indiana Historical Society.
Roadtripper
Stepping in this week for ever-busy Chris Gahl was our Roadtripper-ess, Amy Lamb of the Indiana Historical Society.
Amy recommended we Roadtrip down to weekly Concerts on the Canal on Thursday evenings through the end of August. The concert lineup includes a diverse selection of musical styles, from jazz, blues and Latin to cabaret and the Great American Songbook.
The IHS will also extend the Eugene and Marilyn Glick Indiana History Center's operating hours to 6 p.m. on concert nights. The new Indiana Experience includes a set of several interactive opportunities that connect visitors with the state's history in exciting and meaningful ways.
The home of the IHS is located at 450 W. Ohio St. in downtown Indianapolis along the Central Canal. And concerts are complimentary for those who bring a chair or blankets and sit on the east side of the canal!
Wayne County history
(July 17, 2010) - It was the setting for a "courthouse war" that involved the state's most protracted battle over the location of a county seat. With early settlements by groups of Quakers, Wayne County in far-eastern Indiana became a hub of anti-slavery activity and housed significant stops on the Underground Railroad.
And as one of the first counties formed in the Indiana Territory (it was organized in 1810, six years before Indiana became a state), Wayne County will celebrate its bicentennial this year. That makes it ideal for this installment in our Hoosier History Live! rotating series about town and county histories.
Nelson was joined in studio by Wayne County historian Carolyn Lafever, who lives on a 40-acre farm near Hagerstown. She is the author of A Pictorial History of Wayne County, Indiana (Donning Company Publishers, 1998) and the new Wayne County Indiana: The Battles for the Courthouse (The History Press), which describes the bitter feuds that resulted in six courthouses and three county seats, with Richmond finally winning out over Centerville.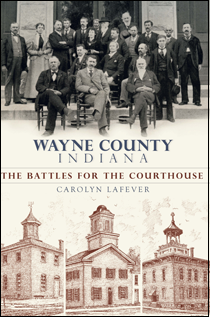 Wayne County is home to everything from Abbott's Candy in Hagerstown, a legendary locally owned candy-maker/retailer that opened in the 1890s, to the Levi Coffin House in Fountain City (the town once was called Newport), which became known as the "Grand Central Station of the Underground Railroad." Many of the escaped slaves helped by Levi Coffin and his wife, Catharine, chose to settle in Wayne County after the Civil War.
Speaking of the Civil War: Indiana's famous governor during the conflict, Oliver Perry Morton, was a Wayne County native who practiced law in Centerville for many years. An early supporter of the Republican Party, Morton's first official act as governor was to alert President Lincoln, his close friend, that Indiana would send 10,000 men for the Union Army.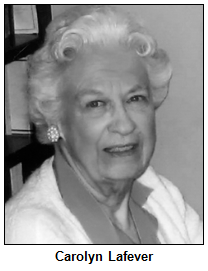 Prior to the Civil War, Wayne County was the most prosperous county in the state "by virtue of the National Road passing through," according to A Pictorial History of Wayne County, Indiana. In her book, Mrs. Lafever notes that Wayne County had the state's largest population in 1848. At that point, Centerville was the county's hub; only with the advent of railroad lines in the next decade did Richmond eclipse it.
Richmond may have triumphed in the courthouse war, but not quite 100 years later the city endured a horrific tragedy. On Palm Sunday in 1968, two explosions devastated the downtown, damaging a 14-block area and causing 41 deaths and more than 100 injuries. Nelson and Mrs. Lafever explored the aftermath and the still-disputed causes of the explosions, which have been blamed on a gas leak, followed by the igniting of gunpowder stored at a sporting goods store.
For several years after the tragedy, a major part of downtown Richmond became a pedestrian-only zone known as The Promenade. When controversy ensued, vehicular traffic was allowed to return to the downtown area in 1997. (Does the conflict sound a bit familiar, Indy?)
Some fun facts:
Centerville became the first town in Indiana to get paved streets, according to A Pictorial History of Wayne County, Indiana.
The Whitewater River in Wayne County is considered the state's fastest-running river.
The Wayne County Historical Museum even has an Egyptian mummy. It was purchased in the 1920s by a wealthy Richmond woman during an overseas trip.
History Mystery question
Faculty members at Earlham College in Richmond included one of the country's best-known Quaker authors and scholars. He lived on campus into his late 80s, was quoted in everything from "Dear Abby" advice columns to the Philosophical Review and wrote books about spiritual and ethical topics.
Born in 1900, he became known as "Mr. Earlham" in much the way Herman B Wells was regarded as "Mr. IU."
Question: Name the legendary faculty member at Earlham College.
The prize was a DVD of Movers and Stakers, Stories Along the National Road, courtesy of Executive Director Nancy Carlson of Ball State University. The National Road, of course, went through Wayne County, and you'll learn more about Richmond, Centerville and the Salisbury Log Courthouse.
By the way, if you didn't win the prize, the film also will be screened at the Indianapolis International Film Festival on Saturday, July 24, at 2:45 p.m. at the Indianapolis Museum of Art.
Roadtripper
What was the first Indiana state capital? Where did the nickname "Hoosiers" come from?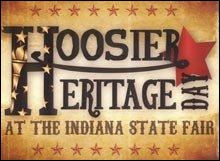 Chris Gahl of the ICVA has picked Hoosier Heritage Day on Thursday, August 12, at the Indiana State Fairgrounds as a Roadtrip to learn answers to these questions and more.
Hoosier Heritage Day, aimed to educate visitors about Indiana history, will test your knowledge of Indiana trivia, trace your Hoosier family history, expand your understanding of Indiana archeology, and much more.
Approximately 25 organizations will be present on the Boulevard from 9 a.m. to 9 p.m. to educate, re-enact and talk about Indiana history. And don't forget to order corn on the cob at the fair, an Indiana specialty!
Diners across Indiana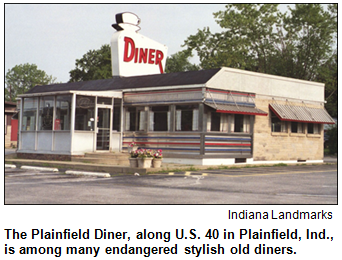 (July 10, 2010) - Roadside diners are a broiling topic this summer, what with a landmark, now-vacant eatery in Plainfield imperiled. Built in 1954 and topped by an eye-catching coffee cup sign, the Plainfield Diner stands along the National Road/U.S. 40 and heads the "10 Most Endangered" buildings in the state list compiled by Indiana Landmarks.
The hubbub has prompted the creation of a Facebook crusade to save the beloved dinner and an outcry that's startling all and sundry, according to Mark Dollase, vice president of preservation services at Landmarks. Diners, which boomed during the 1940s and '50s, have been popular across the state for decades, even though, as the current issue of Landmarks' Indiana Preservationist puts it, they now are at risk of being "rendered obsolete by fast-food chains, urban sprawl, and interstates."
At Hoosier History Live!, we relish this opportunity to explore all aspects of Indiana diners. That means not only did Mark join Nelson in studio, so did Max Lemley of Columbus, Ind., former president of the Indiana Restaurant Association and a former "King of the Road" trucker who for years patronized diners along the highways and byways of the Hoosier state.
As we served up a slice of Americana, Mark, Max and Nelson weighed in on an array of Hoosier diners, contemporary and bygone. What are the ingredients of a good diner, and what are telltale signs of a rotten one? What makes the Plainfield diner, built in an architectural style known as "Streamline Moderne," so special? (Note: The diner, which has its original interior, closed in 2009 and currently is for sale.)
Do you savor the jukeboxes, chili platters, milk shakes or curved booths at a beloved Hoosier diner? Consider yourself invited to call in during the show to share your picks and pans.
With Mark, we also explored other historic structures on the "10 Most Endangered" list. They include Bush Stadium in Indianapolis, the former baseball park that was the focus of a Hoosier History Live! show (also with Mark as our guest) two summers ago. Tune in to hear about the latest proposal for the former home of the Indianapolis Indians on West 16th Street.
The stadium reappears on the "10 Most Endangered" list, joining the Plainfield diner; circus barns in Peru where big cats and elephants once were trained; and St. John's Hospital in Gary, which was built in 1929 by African-Americans when the city's public hospitals declined to admit black patients.
Primarily, though, our focus is on diners, which, as the Indiana Preservationist puts it, are "a vanishing species."
Some fun facts:
According to several sources, the distinctive architecture of diners - long and narrow - originated because many initial ones had been dining cars on railways. The former rail cars were converted into inexpensive restaurants near train stations or alongside railroads.
Aficionados often debate which eateries qualify as diners. Most agree, though, that the ingredients should include a long counter, stools mounted on the floor, a casual atmosphere, late operating hours (often even 24-hour service) and typical American cuisine such as burgers, French fries, cole slaw, chili platters and, particularly in Indiana, tenderloins.
Max Lemley, our guest from Columbus, Ind., has long been a familiar figure in that city's food scene. Lemley's Catering has been a staple of the business community for decades, and he was the proprietor of "The Buffy" (its official name was Sap's Buffeteria), a popular hangout for coffee and talk, beginning in the 1970s. His current venture is M&D Marketing, which produces private-label sauces, rubs and spices.
History Mystery question
Three restaurants in Indianapolis opened as drive-ins, not diners, and constituted a small, locally owned chain. Located on busy city streets, the three restaurants began opening during the 1950s and continued with drive-in service through the 1960s.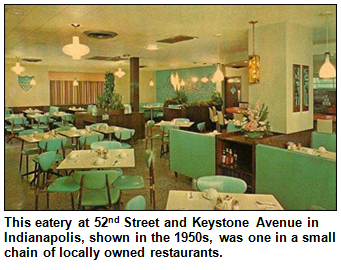 After that, some patrons referred to them as diners, although they did not have stainless-steel exteriors. But the small chain specialized in food often served in diners, including milkshakes, catfish and beef Manhattans.
One of the restaurants was located on North Shadeland Avenue. Another, at East 52nd Street and North Keystone Avenue, was the last to remain. It closed in early 2002.
Question: Name the small chain of Indianapolis-based drive-ins that fits this description.
The call-in number for the correct answer is (317) 788-3314, and the prize was two tickets to the James Whitcomb Riley Home, courtesy of the ICVA.
Roadtripper
Roadtripper Chris Gahl of the ICVA suggests you get a little wild in July - at the Indianapolis Zoo!
How did the Indianapolis Zoo come to fruition? In the 1940s, newspaper columnist Lowell Nussbaum began voicing his dream of establishing a zoo in Indianapolis via his column "Inside Indianapolis," which first appeared in the Indianapolis Times and then the Indianapolis Star. The columns spurred community leaders into action, and on Oct. 24, 1944, Articles of Incorporation for the Indianapolis Zoological Society Inc. were filed.
The Indianapolis Zoo continues its unique summer concert series, "Animals & All That Jazz," with performances July 15, 23 and 29. Meander alongside the animals as you listen to live jazz by Indiana musicians. It's a weeknight adventure, with food and beverage served. The Indianapolis Zoo welcomes more than 1 million visitors each year and plays a major role in worldwide conservation and research.
Maestro Raymond Leppard's legendary life
(July 3, 2010) -
In a first for Hoosier History Live!, our guest holds the title of Commander of the British Empire. That honor, bestowed by the Queen of England, is merely one of many high notes in the remarkable life and career of Indianapolis Symphony Orchestra conductor laureate Raymond Leppard.
The 82-year-old maestro's visit to our studio came as he is about to be named a Living Legend by the Indiana Historical Society at a black-tie gala July 16.
Maestro Leppard, who served as the ISO's music director from 1987 to 2001, certainly has become an adopted (and beloved) Hoosier since taking up permanent residency in Indianapolis. He even became an American citizen in 2003.
Born in London, he grew up in scenic Bath and became a prolific recording artist (his other honors include a Grammy Award) and conducted major orchestras around the world before his 14-year career with the ISO. During that tenure, he led the orchestra on eight recordings and two tours of Europe. He also has written several film scores, including the soundtracks for Lord of the Flies (1963) and Hotel New Hampshire (1984).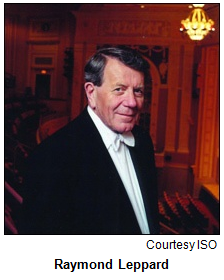 What's more, Leppard returned to the podium at the Hilbert Circle Theatre last September when his musical successor, Mario Venzago, left the ISO after contract negotiations failed. The ISO reached out to its conductor laureate and asked him to lead the orchestra for its season opener.
The maestro's legion of admirers also know he was a longtime friend of the late "Queen Mum" (mother of the current Queen Elizabeth II) and that he initiated Indianapolis On-The-Air, a nationally syndicated radio broadcast of ISO performances. At the beginning of his prolific career, he won raves as a harpsichordist.
In addition to the maestro, the distinguished Living Legends-to-be will include U.S. District Judge Sarah Evans Barker and civic leaders Bill Mays, founder of Mays Chemical, and his wife Rose, a professor emeritus at the IU School of Nursing at IUPUI.
Some fun facts:
The ISO is one of just 17 year-round orchestras in the country.
Leppard has honorary degrees from several universities, including the University of Indianapolis. So this Commander of the British Empire should feel at home in the WICR-FM studios.
History Mystery question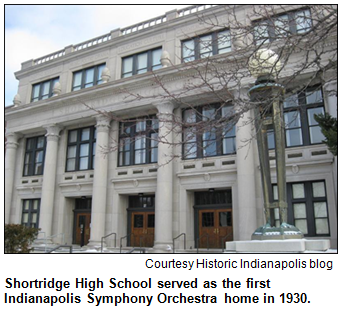 The Indianapolis Symphony Orchestra was founded in 1930 and played its first concert at Shortridge High School. Since then, three venues have served for long periods as the concert hall for the ISO. The second venue was Clowes Hall, which opened in 1963. The ISO moved to Circle Theatre on Monument Circle with its initial renovation in 1984.
Question: What majestic building was the primary concert hall for the ISO from the mid-1930s until the opening of Clowes Hall? Hints: The building was not Shortridge. And it still stands.

The call-in number for the correct answer is (317) 788-3314, and the prize is two tickets to the Children's Museum, courtesy of the ICVA.
Roadtripper
Roadtripper Chris Gahl of the ICVA recommended that we check out the Spirit of America, a world-class marching band from Cape Cod, Massachusetts. How does free sound? Check out this marching-band extravaganza on Thursday, July 8 at 8 p.m. at IPS's Manual High School. The Spirit of America 100-member marching band will perform its acclaimed "Exploration," an inspiring adventure and a time travel through history to meet some of our nation's most prominent figures.
Founded in the early 1970s, Spirit of America began as a hometown marching band and now tours the country to teach of the about the United States and the history of our country. This group has toured Europe, Africa, Canada and even Australia. Be sure to make the easy Roadtrip to Manual High School this Thursday!
Encore presentation - originally broadcast April 25, 2009
County courthouses, with architect Jim Kienle
(June 26, 2010) - Everyone loves Indiana county courthouses. Those architectural gems known as "the magnificent 92," the majestic courthouses that dominate town squares across Indiana, will be the focus of our show. Nelson's distinguished guest is Indianapolis architect and historic preservationist Jim Kienle, of Moody Nolan, who is known for his award-winning restoration work.
As the lavishly illustrated book Magnificent 92 (IU Press, 1991) puts it, Hoosier towns "seemed to compete with one another for splendor and expense" in constructing their courthouses during the 1800s and early 1900s. There's no question that courthouses are cherished – and deemed worth fighting (or even disrobing) for. Remember the national spotlight that fell on members of a women's bridge club in Randolph County who posed for a calendar to raise money to save their historic courthouse in Winchester?
Magnificent 92 quotes a 19th-century historian as rhapsodizing: "A man might sooner be the architect of that edifice than be President of the United States or King of England." By the way, most of the "calendar girls" were in their 80s; the eldest was nearly 94 years old. (They posed behind discreetly placed miniature replicas of the beloved courthouse.)
Last year, Jim restored the Orange County Courthouse in Paoli. Built in 1850, it is the state's second-oldest courthouse in continuous use and is seen annually by thousands of travelers who visit the nearby resort hotels in French Lick and West Baden. (Fun fact: The oldest still in use is the Ohio County Courthouse in Rising Sun, which was built in 1844. Like its Orange County counterpart, the Ohio County Courthouse was designed in Greek Revival style.)
Jim and Nelson also will discuss bygone courthouses, including the ornate Marion County Courthouse, which was demolished during the early 1960s (a major shame, if you ask Jim and other historic preservationists) to make way for the 28-floor City-County Building that stands on its site. And how can we talk about Indiana courthouses without mentioning the landmark Decatur County Courthouse in Greensburg, which has a tree growing at the top of its 115-foot clock tower? According to the book Oddball Indiana (2002), the tree atop the courthouse in Greensburg is now in its 12th generation.
Nelson plans to ask Jim whether towns in other states have showcased their courthouses to the same extent, or is this a Hoosier thing? According to Magnificent 92, the flurry of construction between 1870 and 1899 across Indiana was such that more than 60 of the 92 courthouses were built during that era, with 23 others erected between 1900 and 1930.
"This wasn't entirely foolishness," according to the book's collaborators, Jon Dilts and Will Counts. "Old courthouses, built of wood or brick 30 years before, were small and dangerous. Records often had to be stored elsewhere where fire was not a constant threat."
Fun facts:
The Wabash County Courthouse received international attention soon after opening in the 1870s because it was the site of an early experiment in electricity. Thousands of spectators watched electricity jump from one lamp to another in the dome of the hilltop courthouse. (Regular listeners of Hoosier History Live! will recall a previous Trivia Mystery question about this event.)
In addition to the Marion County Courthouse, historic courthouses have been demolished in Muncie and Logansport.
According to Magnificent 92, the town of Leavenworth lost its status as the county seat in 1896 when the rival burg of English offered inducements that included a new, ornate Crawford County Courthouse. (Ironically, that courthouse also was among those demolished during the mid-20th century. Magnificent 92 calls its replacement "probably the least pretentious courthouse in Indiana.")
Our guest has focused his architectural career on bringing new life to historic structures and Main Streets in small towns. Jim and his wife, Marjorie Kienle, also were among the first wave of urban pioneers in the 1970s revival of the historic Lockerbie neighborhood in Indianapolis. Tune in to learn more!
Fishin' across Indiana with Skip Hess
(June 19, 2010) -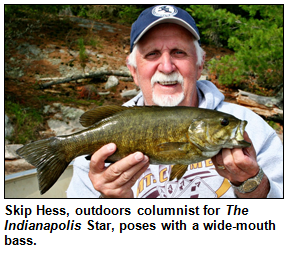 Spring and summertime are fishin' time, and Hoosier History Live! reeled in a catch as a guest. To offer tips about prime fishing spots across Indiana, share advice about techniques and maybe tell a whopper fish story or two, the "Outdoors" columnist for The Indianapolis Star, veteran journalist Skip Hess, joined Nelson in studio.
With Skip as our guide, we explored the good, the bad and the unheralded about all things related to fishing, from the best bait to common mistakes by aspiring anglers.
Seizing the opportunity with his former colleague (Skip and Nelson sat next to each other for several years at the Star; before that, they worked together at the bygone Indianapolis News), Nelson asked Skip to share some favorite fishing spots at the state's lakes, rivers, streams and reservoirs.
They also discussed artificial baits, including ones manufacturers say are "guaranteed" to catch fish, as well as various "gimmicks" (Skip's word) that he says to avoid. Conceding that he can't resist eavesdropping on conversations in fishing-gear departments, Skip shared insights from his stealth work.
Noting that bass, crappie and bluegill are the favorite fish to catch in Indiana, Skip shared tidbits about record catches and other kinds of fish that may not be as popular but nevertheless are a thrill to reel in from Hoosier waters. And he shared specifics about the cost of fishing licenses and related details.
His popular "Outdoors" column appears every other Sunday in the Star. You may have read Skip's recent column about sightings around the state of mountain lions now prowling Hoosier trails decades after they were thought to have vanished from the state.
According to Skip's column, even the Department of Natural Resources is conceding the big cats are out there after a camera installed along a Greene County trail captured some startling photos. This topic is too hot to ignore, even though water creatures will be the primary focus of the show. So Skip and Nelson will go with the flow and, at some point, move to dry land to explore the mountain lion sightings.
Some fun facts:
Crappie is pronounced "crop-ee," as Skip is quick to point out to fishing newbies (including city boy Nelson.)
For decades, Skip was a well-known, award-winning investigative reporter at the Indianapolis newspapers. In recent years, though, he's been following the call of the great outdoors with his prose. His statewide network of anglers and hunters keeps him posted from every corner of the Hoosier state.
According to McClane's New Standard Encyclopedia of Fishing, which includes a state-by-state analysis, Indiana's most sought game fish "is undoubtedly the large-mouth bass, and angling for this species is very good throughout most of the state. But if the large-mouth bass is most sought, the bluegill and crappie (black and white) are probably most caught."
The best trout fishing, according to McClane's, is found in northeastern Indiana's lakes and streams, particularly in LaGrange and Noble counties.
Of course, the Hoosier state also is renowned for catfish. McClane's gives its ultimate thumbs-up to the Tippecanoe River as a site for catching them, as well as for yielding various kinds of bass and pike.
History Mystery question
The Hoosier History Trivia Mystery was a carry-over from the previous week, when there was no correct answer. The question concerns the family of Irish immigrant-turned-Indianapolis mayor and French Lick Springs Hotel owner Thomas Taggart. One of Taggart's daughters became a renowned artist. She studied art in New York City and had studios in the Taggart family homes both in Indianapolis and Hyannis Port, Mass. In the 1930s, she also began teaching at what was then called the John Herron Art Institute after earlier serving on its board.
Question: Name the Taggart daughter who became an influential Hoosier artist.

The call-in number for the correct answer is (317) 788-3314, and the prize was two adult and two youth tickets to the NCAA Hall of Champions, courtesy of the ICVA.
French Lick and West Baden Springs hotels history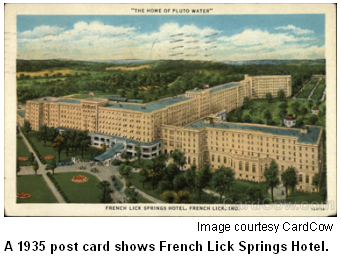 (June 12, 2010) - With a heritage that includes mineral waters renowned for their supposed curative powers, an atrium with one of largest free-standing domes anywhere (it was touted as the "Eighth Wonder of the World"), a series of colorful owners and a roster of distinguished guests for more than 100 years, the two lavishly restored hotels in French Lick and West Baden are troves for history lovers.
To explore the rollicking history of the French Lick Springs and West Baden Springs hotels, Nelson was joined in studio by a gem of a guest: distinguished Hoosier historian
Jim Fadely, widely regarded as the ultimate expert on flamboyant Tom Taggart, the former Indianapolis mayor who purchased the French Lick hotel in the early 1900s and made it an international showplace.
A descendant of early Indiana pioneers, Jim is the author of Thomas Taggart: Public Servant, Political Boss 1856-1929 (Indiana Historical Society Press) and a top administrator at University High School near Carmel.
Jim and Nelson have rotated the microphone on tours of the historic hotels in Orange County, where illegal gambling flourished for decades and Taggart's masterful promoters touted a sulfur-based water they marketed as Pluto Water.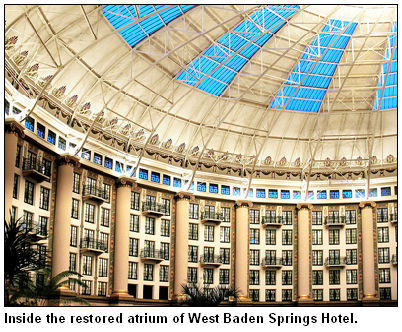 At the rival West Baden Springs Hotel, mineral water was marketed as Sprudel Water.
(West Baden was named after Baden Baden, Germany, a centuries-old site of similar mineral water. George Rogers Clark is credited with coining the name for French Lick, perhaps inspired by its salt licks. Even before the first white settlers, Native Americans had contended the mineral baths and waters of the Springs Valley were beneficial.)
Guests at the hotels during their heydays 100 years ago included Vanderbilts and Rockefellers. A self-made multimillionaire, Taggart was an Irish immigrant who, as mayor of Indianapolis, won praise for pushing for developing city parks, according to Jim. After traveling to French Lick on a vacation, Taggart was impressed and bought an existing hotel at the site, where the first inn (known as the French Lick House) had gone up in the 1840s. Then came spectacular success, concurrent with the rise of the rival West Baden Springs.
Both hotels in recent years have undergone stunning restorations spearheaded by Bloomington-based historic preservationists Bill and Gayle Cook; Indiana Landmarks Foundation initiated the renovation of West Baden, which had been closed as a hotel since the Great Depression. (During the intervening years, West Baden Springs had served as a Jesuit seminary, then as a branch of Northwood Institute, a college that offered instruction in the culinary arts and other fields.)
Some fun facts:
Near the French Lick hotel, Taggart built a hilltop home for his son on the second-highest point in the state of Indiana. According to Jim, he designed the residence, called Mount Airie, to recreate a Taggart home on Hyannis Port, Mass, which pre-dates the Kennedy family's compounds there. (Mount Airie today serves as the clubhouse for the spectacular golf course at French Lick designed by nationally renowned Hoosier Pete Dye.)
Tomato juice was invented - or at least marketed for the first time - at the French Lick Springs Hotel in 1917 when, according to folklore, the chef ran out of orange juice. (Regular listeners will recall this was the Hoosier History trivia mystery on our debut show.)
The first West Baden hotel burned to the ground. In 1902, owner Lee Sinclair and his daughter Lillian oversaw its lavish resurrection; its vast atrium was the largest unsupported dome in the world until the Astrodome in Houston opened during the mid-1960s.
According to Jim, the bipartisan political clout of the hotels' owners enabled gambling operations to flourish in the valley. Taggart was a national power broker in the Democratic Party; Ed Ballard, who succeeded the Sinclairs as West Baden's owner, was an influential Republican.
Since its ornate restoration, the French Lick Springs has 25 miles of hallways and the largest spa in the entire Midwest. One pavilion alone, the Pluto Pavilion, has $300,000 worth of gold leaf.
History Mystery question
The family of Irish immigrant-turned-Indianapolis mayor and French Lick Springs Hotel owner Thomas Taggart endured tragedies, just like the Kennedy family. (Both families owned homes in the resort of Hyannis Port, Mass.) The eldest of Tom Taggart's six children, a daughter named Florence, died at age 20 in a tragic yacht accident near New Orleans in 1899. However, one of Taggart's other daughters became a renowned artist. She studied art in New York City and had studios in the Taggart family homes, both in Indianapolis and Hyannis Port. In the 1930s, she also began teaching at what was then called the John Herron Art Institute after earlier serving on its board.
Question: Name the Taggart daughter who became an influential Hoosier artist.
The call-in number for the correct answer is (317) 788-3314, and the prize is two adult and two youth tickets to the NCAA Hall of Champions, courtesy of the ICVA.
Roadtripper
Tucked 65 miles southeast of Indianapolis is the charming town of Metamora, Indiana's only remaining functioning canal town. Our Roadtripper, Chris Gahl of the ICVA, says that when you visit the town, you'll journey through the early 19th-century history of horse-drawn canal boats - which fueled southeastern Indiana's economy until its displacement by the railroad later on in that century.
Metamora is littered with mom-and-pop stores in historic buildings dating back to the early 1800s. A must-stop is for a bag of freshly stone-ground cornmeal, a town treasure. And there are lots of great hikes along the Whitewater River Valley.
You might try spending the night at the Brookville Inn, a quaint B&B constructed in 1900. When in Brookville, be sure to see one of T.C. Steele's homes called "The Heritage" along the Whitewater River. And just down the road is Oldenburg, the Village of Spires. You can't go wrong by heading to Metamora for a slower pace of life. Leave your electronic gadgets at home!
Memoirs of farm life in the early 1900s
(June 5, 2010) - Journey with us to an era of rural schoolhouses heated by pot-bellied stoves, "party line" telephones with eavesdropping neighbors, chicken thieves, and kerosene lanterns used for nighttime walks to the hen house. Folks used slang and phrases that would perplex many of us today. Do you know what a "dewberry" is? And what kind of farm bird is a pullet?
Believe it or not, all of these - along with a sorghum mill, whooping cough epidemics and doctors who made house calls - were part of life 100 years ago in a corner of what today is the fastest-growing county in Indiana. For a glimpse of a bygone era in the Hamilton County village of Bakers Corner - typical in many ways of rural life across the state during the early 1900s - Nelson will be joined by a set of cousins, Ellen Swain and Carol Longenecker.
They are co-editors of a new book, Growing Up with Bakers Corner (Hawthorne Publishing). It's a collection of memoirs and vignettes told by a beloved ancestor, Mary Elizabeth Wilson, who was Carol's grandmother and Ellen's great-aunt. She was born in 1907 in Bakers Corner (the nearest "big city" is Sheridan), grew up on a farm, married a farmer, and enchanted people with her stories until her death in 2003.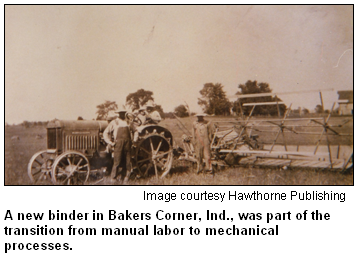 She also was an artist. Mary Elizabeth's works include a painting of a historic covered bridge, over which she drove to attend Cicero High School in the 1920s. The covered bridge was demolished in the 1950s to make way for Morse Reservoir. The sorghum mill in Bakers Corner, which was the hub of much of the village activity, also is gone. It had been one of the country's last remaining, operational sorghum mills, but it burned down last summer.
Although the sorghum mill may have been distinctive, much of daily life in Bakers Corner during the early 1900s, as recounted in Mary Elizabeth's vignettes, will resonate with anyone familiar with rural and small-town Midwestern life during the era. Her family enjoyed eating a treat known as "mush". (Never heard of it? Tune in for a description.) At school, long hours were devoted to "penmanship" - in jarring contrast to recent news accounts about some Indiana schools that have considered phasing out instruction in cursive writing because so much activity today involves computer keyboards.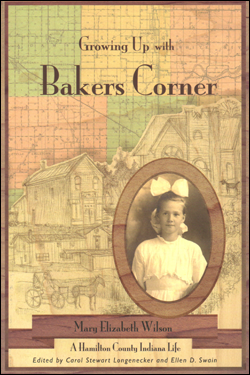 Mary Elizabeth's classmates often were felled by whooping cough; they also were among the first waves of children to receive the smallpox vaccine. And during the devastating influenza epidemic of 1918, Mary Elizabeth's mother became ill (she was pregnant at the time) during the Christmas holiday; she was so sick, according to Mary Elizabeth's account, that the doctor came to their home daily - sometimes twice per day. Eventually, young Mary Elizabeth also was stricken with the dreaded influenza, which was the focus of a Hoosier History Live! show in the summer of 2009.
Despite the illnesses and hardships, as Ellen and Carol will explain, their ancestor also shared stories filled with humor and warmth. Take her account about "party line" phones in which several families shared a single line. Every household had a distinctive ring ("two shorts and one long," for example), connections had to go through a local operator, and eavesdropping was rampant. According to Growing Up With Bakers Corner, the community did not convert from crank phones to ones with dials until the mid-1950s.
Families feasted on homemade delicacies such as gooseberry pie. And to help guide their hens about where to lay eggs, farmers used a fake product known as "nest eggs." As described by Mary Elizabeth, they were made of "white, smooth, heavy glass" and purchased in a local variety store. "It seemed the hen could not tell the difference between them and a real egg."
If these tales of party lines, nest eggs and other aspects of a bygone era and rural life ring a bell, call the show during our broadcast at (317) 788-3314. Nelson, Ellen and Carol would be delighted to hear anecdotes.
Ellen is an associate professor of library administration and an archivist at the University of Illinois. Explaining that she cherished listening to her Great Aunt Elizabeth's stories as a child, Ellen says they have directly influenced her current work in oral history. Carol, an ordained Wesleyan minister, is pastor of Bakers Corner Wesleyan. Like her grandmother, she lives on a farm in the area. The cousins will be the speakers at 7 p.m. on June 14 at the Sheridan Public Library. They also will be signing books at most events at the Sheridan Sesquicentennial from June 25 through July 4.
History Mystery question
In recent years, the restoration of a historic cabin in Sheridan, Ind., has won acclaim for the Hamilton County town.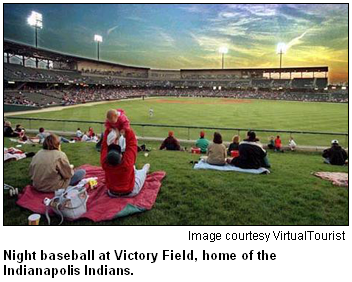 Built in the 1830s, the cabin was the home of a Virginia-born abolitionist who became a fugitive from justice in his home state. He secretly had been working to help a rebellion of slaves.
After the plan was discovered, he was thrown in jail. He managed to escape (although he was chased by bounty hunters) and fled to the Indiana wilderness, settling in what today is the town of Sheridan. The abolitionist's restored cabin sits on Pioneer Hill in Sheridan Veterans Park.
Question: Name the historic cabin.
The call-in number for the correct answer is (317) 788-3314, and the prize is four tickets to any Indianapolis Indians baseball game this summer at Victory Field, courtesy of the ICVA.
Roadtripper
Chris Gahl of the ICVA suggests that we take in the 55th annual Talbot Street Art Fair coming up on June 12 and 13. Samuel Henderson, the first mayor of Indianapolis, was also the first owner of the land now encompassing the historic Herron-Morton neighborhood, where the fair takes place.
Henderson did not believe Indianapolis would ever amount to much, and he later sold his substantial real estate here to pursue the Gold Rush in California. In 1859, Indiana's State Board of Agriculture purchased the land to create a permanent Indiana State Fairgrounds.
With more than 270 artists from across the nation, this juried art fair continues to be ranked as one of the finest fairs in the country. Fair hours are 10 a.m. to 6 p.m. on Saturday, and 10 a.m. to 5 p.m. on Sunday. And you can walk a few blocks over to the adjacent neighborhood of Fall Creek Place for its annual neighborhood sale on Saturday, June 12.
Your house has a history
(May 29, 2010) - If only your walls could talk, right? This is the ideal show for folks wondering how to track down the past "lives" of their houses. Nelson was joined in studio by two Indianapolis-based home history hunters who live in historic houses themselves and who know firsthand the challenges involved and resources available.
With tips and advice galore, photo historian Joan Hostetler and Home History Hunter (as she calls herself!) Tiffany Benedict Berkson offered guidance about how to get started, as well as the pitfalls to avoid.
The two house history "detectives" discussed how to:
Identify sources in local libraries (including city directories) and online Help for unearthing your home's history.
Explore the challenges and curves you may encounter. For example, some streets in Indy were re-named years ago. Did you know a portion of East 10th Street once was known as Clifford Street? In addition, many residential addresses across town were changed as the city grew.
Use Sanborn maps, the Indiana State Library, the Indiana Historical Society and U.S. Census info as resources.
Find good photographs of your house. "Did you know that the family most likely to have good photographs of your home lived across the street?" Joan says. "They usually positioned their children or family by the street and took a snapshot from the porch."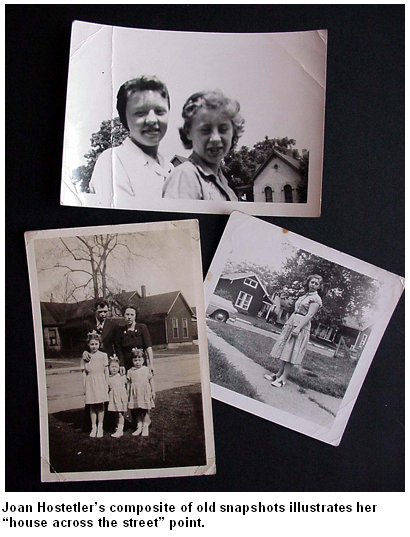 Joan is the owner of Heritage Photo Services, which specializes in photographic preservation, archive management, digital imaging and photographic research. She lives and works in a home built in1888 in the Cottage Home neighborhood by the legendary architectural firm of Vonnegut & Bohn. Active in neighborhood revitalization efforts, Joan collaborated with Nelson and photographer Garry Chilluffo on the Indianapolis Then and Now (Thunder Bay Press) visual history book.
Tiffany lives in a spacious, turreted house built in 1897 in Herron-Morton Place, where she is a past president of the neighborhood association. An avid local history enthusiast with a particular interest in the Victorian era, she is a member of the Daughters of the American Revolution (Caroline Scott Harrison chapter) and a former volunteer at the President Benjamin Harrison Home.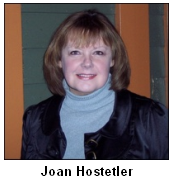 This show is your chance to call in and seek free advice from two professional house history "detectives." Joan can be reached at heritagephoto@indy.rr.com. Tiffany can be reached through her website.
The following "learn more" websites are recommended by our guests:
History Mystery question
A historic home with a distinctive past - and a distinctive name - is located in the Meridian Park neighborhood on the near Northside of Indianapolis. A bungalow built in 1906, the house became the residence of a fashion designer and his wife. She developed an international reputation as a palm reader.
Famous people such as Walt Disney, Eleanor Roosevelt, George Gershwin, James Whitcomb Riley and Helen Hayes visited the house to have their palms analyzed by the owner, Nellie Meier.
Nellie and her husband, George Phillips Meier, also were noted for their glittering dinner parties at the bungalow, which is listed on the National Register of Historic Places. It almost is hidden from view because of towering trees.
Question: What is the name of the famous bungalow?
Roadtripper
Chris Gahl of the ICVA suggested that we Unwind in Indiana: Southern Indiana, Uncorked!
For a Memorial Day Weekend escape, Corydon offers its annual wine and beer tasting festival. The Uncorked! festival features live music, food vendors and, of course, wine and beer. Entry into the festival is $10 and includes 12 free samplings, as well as a complimentary wine glass. A portion of proceeds are donated to the American Heart Association.
Founded in 1808 and known as Indiana's first state capital, Corydon was the second capital of the Indiana Territory, from 1813-1816. After statehood, Corydon was the capital of Indiana until 1825, when the capital was moved to Indianapolis.
Shelby County history
(May 22, 2010) - This show, one in our rotating series about town, neighborhood and county histories, is a look at the heritage of a county just southeast of Indianapolis that the Big Blue River runs through. That river was romanticized 100 years ago by Shelbyville author Charles Major.
Shelby County also is known for destinations such as the Boggstown Cabaret, which opened in 1884 as an inn and quickly became a popular venue for piano and banjo music, as well as the Kopper Kettle in Morristown, an antique-filled, family-style restaurant that's also located in an historic building.
All of these are featured in a new visual history book written by Nelson's guest Julie Young, author of A Brief History of Shelby County (The History Press). Her book features dozens of photos and postcards of Shelbyville from the mid- and late 1800s. After a rocky start because of financial challenges, the county seat enjoyed a growth spurt from 1830 to 1850, with families who stayed put for generations.
"Shelby County is an old region where family names ... date back nearly two centuries," Julie writes.
Railroad lines through the county often helped spur growth. An exception was the Knightstown & Shelbyville Railroad in 1850, which, as Julie recounts, "folded faster than any other line in the state's history." (Tune in to hear some of the amusing explanations.)
In addition to Charles Major, an attorney and author whose bestsellers included the adventure novel The Bears of Blue River (1901), famous folks who grew up in Shelby County include movie actress Marjorie Main (1890-1975), who always will be remembered for her performances as crusty "Ma Kettle" in a series of movies during the 1950s. As one of Hollywood's busiest character actresses, she also had roles in box office hits such as Meet Me in St. Louis (1944) and Friendly Persuasion (1956); ironically, her father was a Shelby County minister who objected to the theater.
Shelbyville was the hometown of basketball great Bill Garrett (1929-1974), who broke the "color barrier" in the Big Ten when, after being recruited by Indiana University, he became the first African-American to play regularly.
Earlier, he had been named "Mr. Indiana Basketball" as an outstanding player for Shelbyville High School in 1947.
In downtown Shelbyville, the public square is known for its diverse architecture.
The square also features a statue of Basler, the fictional hero of The Bears of Blue River, holding two bear cubs. (The desk used by Majors, the book's author, is displayed at the Grover Museum in Shelbyville. Among his other novels is When Knighthood Was in Flower, a historical romance that became a national bestseller in 1898.)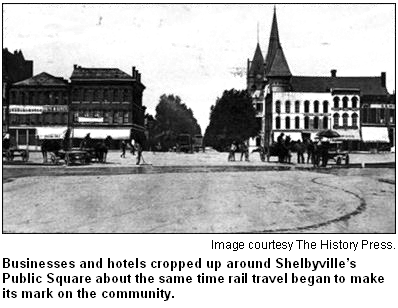 Recent developments in Shelby County, as Julie notes in her book, have included the building of the Indiana Downs race track and Indiana Live Casino, which has become the largest land-based casino in the Midwest.
Julie joined us last July for a popular show about bygone landmarks on the Eastside of Indianapolis. That's because her other books include Eastside Indianapolis: A Brief History (The History Press).
History Mystery question
The History Mystery was a carry-over from two weeks ago, when there was no correct answer. The mystery concerns one of Indiana's state parks, which became the site of the first annual Civilian Conservation Corps (CCC) reunion in the country.
The park's CCC reunion began in 1953 and has continued for more than 50 years. It's the longest-running CCC reunion.
Question: Name the Indiana state park. Hint: Incorrect guesses two weeks ago included Brown County, McCormick's Creek and Spring Mill state parks.
The prize was a pair of tickets to Conner Prairie, courtesy of the ICVA.
Roadtripper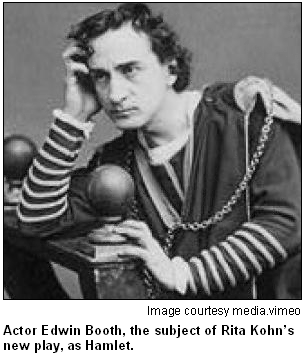 Chris Gahl of the ICVA picked the fourth annual Celebrate the Arts - Indiana Performing Arts Festival this weekend at the Indiana State Museum. The festival ran through Sunday, May 23, and showcased interpretive programs of the museum by displaying its numerous arts forms. Included in the performances was a variety of Hoosier dance, theatre, music and storytelling.
Additionally, Indianapolis writer Rita Kohn's new play, Before the Shadows Flee, was presented at the Indiana State Museum on Saturday, May 22, at 2 p.m. The play is about actor Edwin Booth, brother of President Lincoln's assassin John Wilkes Booth. Edwin Booth performed in Indiana theaters from the 1850s through the 1880s and experienced a lifetime of anguish over his brother's assassination of the president.
Encore show
Donner Party tragedy, Indiana links and lessons learned
(May 15, 2010) - It's been called one of the greatest tragedies in the history of westward migration. The Donner Party tragedy's most gruesome aspects occurred in the Sierra Nevada mountains during the brutal winter of 1846-47, but there are some Hoosier links with the ill-fated wagon train.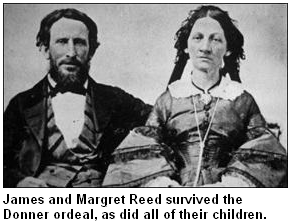 Nelson's studio guest not only will explain the Indiana connection, he will share lessons derived (in conflict resolution, leadership selection and group decision-making) from the tragedy that involved stranded, California-bound pioneers, some of whom eventually resorted to cannibalism.
Although group leader George Donner was born in North Carolina and, as a 62-year-old farmer, was based in Springfield, Ill., when the expedition headed west, he had lived for several years in Greensburg, Indiana. In fact, Nelson's guest, Hoosier business consultant and speaker Karl Ahlrichs, is a descendant of George Donner, one of whose wives is buried in Indiana. (A subsequent wife, Donner's third, accompanied the California-bound group.)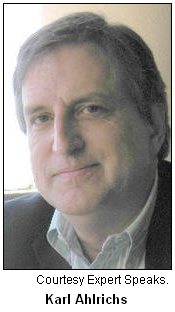 The "Donner" name not only is on sites in California (including what is now known as Donner Pass, where some of the more than 40 deaths occurred), it also is on parks and buildings in southern Indiana because of the influence of the extended family in this state, including Donner Park in Columbus. Donner also owned property in Jefferson County. According to Karl, some of the Donner land later became part of the Jefferson Proving Ground, an ammunition testing site established in the 1940s.
After researching what happened with the Donner Party and why, Karl will explain how he uses this historic episode to enhance decision-making and critical-thinking skills. He even sees parallels between political choices at the ballot box for Hoosier voters and the selection of grandfatherly, affable George Donner as the group's leader rather than a much younger candidate, James Reed, a visionary who was intense, ambitious and abrasive.
The horrifying tragedies associated with the Donner Party (of an original group that numbered 87 pioneers, 39 perished, along with two Native Americans who died while bringing supplies) resulted in changes in the way rescue parties were dispatched to help stranded wagon trains.
In addition to George Donner, the party included his brother Jacob and several members of their extended families, as well as hired hands. When they became snowbound for months during the raging blizzards, members of the Donner Party ran out of provisions and ate their oxen and other animals. In desperation, they then turned to mice and just about anything else that could be consumed. The tragedy is not a lighthearted topic, but Karl says it can be instructive, and Hoosier History Live! strives to cover all aspects of our heritage, even events that we wish had not occurred.
Note: This is an encore of a show originally broadcast in September 2009.
History Mystery question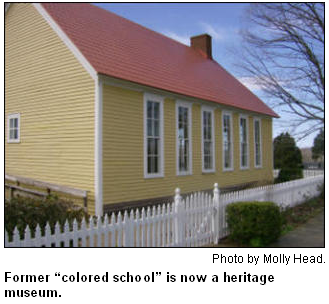 In the early 1800s, one of Indiana's first African-American communities was established in a Southern Indiana town. That's because abolitionists, over a series of years, brought more than 100 black slaves from the South to the Indiana town and freed them. For many generations, the descendants of these freed slaves attended a segregated school in the Indiana town. In recent years, the historic school, once known as the town's "colored school," has been restored as a heritage museum.
Question: Name the Southern Indiana town in which the historic African-American school-turned-museum is located.
Since this was an encore presentation, we fielded answers on our Facebook page. Prize was four tickets to an Indians game at Victory Field, courtesy of the ICVA.
State parks history
(May 8, 2010) - With nature in full bloom, Indiana's state parks not only beckon as serene retreats, they practically beg to be the focus of a Hoosier History Live! show. Responding to the call, we will explore their history, covering as much turf as possible with Nelson's guest, public historian Glory-June Greiff, author of People, Parks and Perceptions: A History and Appreciation of Indiana State Parks (Trafford Publishing).
With Glory-June, a preservation activist, as our guide, we will dig in to the creation of our state parks. We also will explore the major impact of German-born conservationist Richard Lieber (1869-1944), who is known as the "Father of Indiana State Parks," as well as the impact of the New Deal, including the Civilian Conservation Corps. And expect Glory-June and Nelson to explore the creation and evolution of state parks ranging from Turkey Run and Clifty Falls to Pokagon, Spring Mill and Fort Harrison.
Crusades to protect scenic areas of the state gained momentum in 1915 when, according to People, Parks and Perceptions, the sandstone canyons of Turkey Run in Parke County came up for sale. "The Hoosier Veneer Company coveted the heavily forested site in order to harvest its massive hardwoods," Glory-June writes.
As a result, the survival of the "relatively pristine area was seriously in doubt." Lieber and others led a public outcry and convinced the scenic area's new owners to sell it to the state in late 1916.
By that point, McCormick's Creek in Owen County already had been established as Indiana's first state park. Almost immediately after World War I, unexpectedly large crowds flocked to both Turkey Run and McCormick's Creek. Fun fact: Turkey Run, which includes Sugar Creek, derives its distinctive name, Glory-June writes, because of "the great flocks of wild turkeys that once sought shelter within the stream's canyon walls."
Her book describes the ways state parks became cherished by, among other Hoosiers, modest-income families as destinations for their annual vacations.
In the 1950s, family camping boomed, as did the clamor for the creation of more state parks.
Among the most recently created of them, there's a distinctive history with Fort Harrison State Park; it was established in 1996 after the closing of the military installation on northeast Marion County. "The property was virtually ready to go, once the park boundaries were determined, because the military installation had established large green spaces around its borders," Glory-June writes. "There were trails, artificial lakes, and even an 18-hole golf course, the first (and only) one in a state park."
Glory-June also is the author of: Remembrance, Faith and Fancy: Outdoor Public Sculpture in Indiana (Indiana Historical Society Press, 2005)
Bonus: She will offer a free presentation, "The New Deal in Indiana State Parks," at Hancock County Library in Greenfield at 7 p.m. on June 7.
History Mystery question
One of Indiana's state parks became the site of the first annual Civilian Conservation Corps (CCC) reunion in the country. The park's CCC reunion began in 1953 and continued for 50 years. It became the longest-running CCC reunion.
Question: Name the Indiana state park. Note: This Trivia Mystery was suggested by listener Terri Gorney of Fort Wayne.
The call-in number for the correct answer is (317) 788-3314, and the prize is a pair of tickets to the 40th Broad Ripple Art Fair on the weekend of May 15 and 16, courtesy of the ICVA.
Roadtripper
Chris Gahl of the ICVA suggests we head to Vincennes on the weekend of May 29 & 30 for the 34th annual Spirit of Vincennes Rendezvous.
At 10 a.m. on Thursday, Feb. 25, 1779, British Lt. Gov. Henry Hamilton surrendered to the Americans and French Canadians after a siege at Vincennes. The victor, Lt. Col. George Rogers Clark, had led an army of 170 Americans and French-Canadians across the flooded area of present-day southern Illinois in a march to Vincennes.
This event is one of the premier Revolutionary War reenactments, and it attracts 400 to 500 re-enactors, along with an estimated 35,000 visitors.
The Spirit of Vincennes Rendezvous is designed to bring back to life the sights, sounds and smells of late 18th-century and early 19th-century Vincennes.
From marble quarries of Italy to Indiana limestone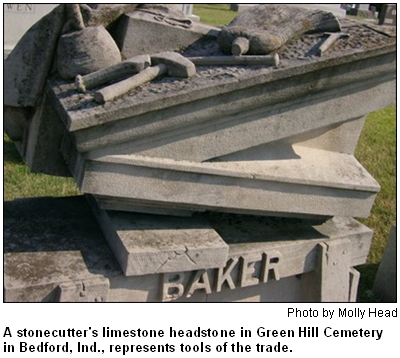 (May 1, 2010) - In our popular series about ethnic immigration and heritage, we explored the legacy of Italian stonecutters who came to southern Indiana to carve our famous limestone. Nelson was joined in studio by a descendant of stone carvers from Carrara, Italy, Indianapolis author and speaker Carol Faenzi. Her dramatic account of her great-grandparents' journey from Italy to the Hoosier state, The Stonecutter's Aria (Aperto Books), was selected by the Indianapolis Opera Company for its "One Book, One Opera" celebration and was selected by the Columbus Area Arts Council for its Community Read.
Carol shared details about the "first families" of Italian stone carvers to settle in Bedford, including the Arenas, who did much of the carving work on the town's main plaza.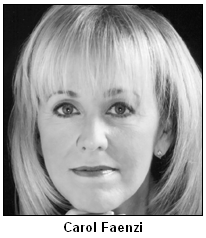 Did you know marble cutters from Italy who settled in Indiana often went on to use their talents with limestone in the construction during the 1930s of cathedrals, monuments and private buildings across the country? (Carol's ancestor's handiwork graces Julian Chapel at Duke University, the National Archives and the Cathedral of Learning at the University of Pittsburgh.)
Carol and Nelson also explored one of the state's "gems" among our burial grounds, scenic Green Hill Cemetery in Bedford, a trove of distinctive, personalized monuments created by the stonecutters. Carol has traveled extensively to her ancestral home of Carrara, located at the epicenter of the Italian Alps and the quarries of marble, which is known in Tuscany as "white gold."
KKK stranglehold in the 1920s
(April 24, 2010) -
Hoosier History Live! is dedicated to covering all aspects of Indiana's past, including those we wish had not happened. Certainly the political and cultural dominance of the notorious Ku Klux Klan during the 1920s falls into the category of shameful. To explore what happened and why, Nelson was joined in studio by Allen Safianow of Kokomo, a professor emeritus at IU-Kokomo who has done extensive research on the KKK in Indiana.
The central figure during the 1920s heyday of the hate group was the flamboyant D.C. Stephenson (1891-1966), who rose to become Grand Dragon. Stephenson intimidated Indiana politicians, recruited large numbers of Hoosier members and even boasted, "I am the law in Indiana."
Stephenson's downfall (and the decline of the KKK's dominance in the state) came when he was arrested in the death of an Indianapolis woman whom he had brutally raped.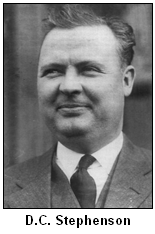 During a sensational trial in 1925, Stephenson was found guilt of second-degree murder. The trial was in Noblesville, which drew national attention again decades later when a local building contractor discovered Klan records and memorabilia dating back to the 1920s.
Professor Safianow has analyzed the impact of those records, which contained membership rolls of Hamilton County citizens, hoods and sashes.
Professor Safianow also has analyzed the KKK's impact during the 1920s in other parts of the state, including Tipton and Kokomo, said to be the site in 1923 of the largest conclave (called a "Konclave") ever held in the United States.
"At its height in Indiana in the 1920s, one quarter to one third of native-born, white males in Indiana were Klan members," Professor Safianow noted in an article in the Indiana Magazine of History about the discovery of the Hamilton County membership records and memorabilia.
He also notes that the unraveling of – and infighting among – the Klan in Indiana had begun even before Stephenson's trial. In the aftermath, confidential files were released that described corruption and Klan ties to the administration of Gov. Ed Jackson.
In Indiana, the resurgence of the KKK (which had flourished after the Civil War in the Deep South) is often traced to the arrival in Evansville in 1920 of a Klan recruiter named Joseph Huffington. Agents then began recruiting members in southern Indiana. Stephenson, a Texas native who spent much of his youth in Oklahoma, also drifted to Evansville in the early 1920s, then moved to Indianapolis.
During a 12-month period beginning in July 1922, more than 100,000 Hoosier men joined the Klan, according to some experts. Targets of the KKK during the 1920s in Indiana included immigrants, Catholics, Jews and African-Americans.
Professor Safianow, a New Jersey native educated at Rutgers and Cornell, moved to Indiana in the early 1970s to join the faculty at IU-Kokomo. He says he began his research on the KKK because of Kokomo's connection to the massive rally in 1923. Nelson discussed with Professor Safianow the challenges that confront historians who attempt to get a handle on the Klan of the 1920s.
History Mystery question
In the 1920s, the Ku Klux Klan was so brazen it openly used a convention center-revival house in downtown Indianapolis for several rallies. The convention center, known as a "tabernacle," was the setting for a vast array of public events, most having nothing to do with the Klan; they included dance marathons, religious revivals and teachers' conventions. Designed in a Spanish style with a whitewashed facade, the tabernacle was built in 1921 at the corner of Ohio and New Jersey streets. It had a seating capacity of 10,000, not counting a loft for 1,500 choir members. (Choral performances frequently were broadcast across the country on network radio programs.)
Question: Name the sprawling tabernacle that was the setting for hundreds of large gatherings in downtown Indianapolis from the 1920s until its demolition in the late 1960s.
Answer: Cadle Tabernacle. Its owner, entrepreneur Howard E. Cadle, intended for the tabernacle to promote nondenominational Christianity. But the building's use expanded to include hundreds of secular gatherings, some of which distressed Cadle, who lost control of the site periodically and died in 1942. The tabernacle, located on the northwest corner of Ohio and New Jersey streets, was demolished in the late 1960s to create parking lots for banks and other businesses east of Monument Circle. Today the former Cadle site is the location of Firehouse Square, an upscale complex of townhouse condos.
The prize was a DVD of Movers and Stakers, a documentary about the history of the National Road in Indiana, courtesy of producer/director Nancy Carlson of Ball State University.
Roadtripper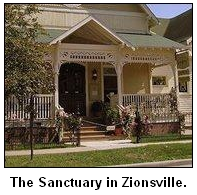 World-celebrated artist Nancy Noël invited all to experience her Spring Open House, on Saturday, May 1, and Sunday, May 2, at The Sanctuary, a restored Victorian church in downtown Zionsville. During this annual celebration, guests travel from all over the country to buy art and have the chance to actually meet Nancy in person.
Live music and tasty treats provided by the resident, in-house French chef ensure an enjoyable Roadtrip to Zionsville. And the open house is free. Hear more on Saturday from the Roadtripper himself, Chris Gahl of the ICVA.
Encore show
1920s auto heritage in Indianapolis
(April 17, 2010) - With so much focus recently on the Detroit-based auto industry, does anyone remember that before the Great Depression of the 1930s, Indy almost rivaled Detroit as the car-making capital? During the Roaring '20s, three of the most elegant American cars were designed and manufactured in Indy: the Stutz, the Marmon and the Duesenberg.
Certainly our studio guest has not forgotten the Hoosier auto-making heyday. In this "encore" show, originally broadcast in February 2009, Nelson welcomes well-known entrepreneur Turner Woodard, a vintage-auto buff, historic preservationist and owner of what was once the Stutz Motor Company building in the 1100 block of North Capitol Avenue in Indianapolis. Today, the Stutz Business Center houses more than 120 artists, architects, photographers and small businesses.
Fasten your seat belts as we roar back to the days when the Stutz Bearcat, the Blackhawk and other Indy-designed autos were captivating aficionados across the land. Turner, a board member of Indiana Landmarks and a former race-car driver, joins Nelson to explore how the luxury-car boom took off in Indy – and why it sputtered out, leaving Detroit unrivaled as the auto hub. Note: Because this is an encore broadcast, there won't be opportunities for call-in comments.
Some tidbits about Indy's auto heritage:
Early auto entrepreneur Harry Stutz moved from his native Ohio to Indianapolis in 1903 to be at the epicenter of the city that, according to the book Lost Indianapolis by John McDonald, seemed positioned to become "the headquarters of the automotive industry." Thrilled at the notion of a 500-mile race, Stutz frantically built a race car in only five weeks for the inaugural Indianapolis 500 in 1911. The Stutz car finished 11th, but that was considered a triumph because nearly half of the field dropped out during the grueling competition, which took seven hours to complete. For several years, the Stutz was advertised as "The Car That Made Good in A Day."
The inaugural 500 was won by a Marmon car – a Marmon Wasp, to be precise. (Its average speed during the raced was 74 mph.) According to The Encyclopedia of Indianapolis, about 22,000 Marmons with 8-cylinder engines were built in the Hoosier capital and sold in 1929. "Marmons were always an elegant and well-engineered machine, widely admired but never built in large numbers."
Fred and August Duesenberg moved to Indy from New Jersey for many of the same reasons that brought Stutz to the city. The Model J Duesenbergs built for five years (1929-34) are regarded by some experts as among the most splendid cars ever produced, but their cost was exorbitant. Depending on the model and design, a Duesenberg sold for nearly $20,000 in 1929.
Buyers of the luxurious Stutz, Marmon and Duesenberg cars, according to the encyclopedia, "were people who regarded their automobiles the way they did their yachts, as exotic playthings."
The Great Depression was among the factors that spelled doom. Turner and Nelson explore other factors, including the fact that many of the Indy-made cars were custom-assembled to buyers' specifications (Henry Ford is generally credited for having the genius to create assembly line production in Detroit), as well as the easy access in Michigan to the Great Lakes for shipping convenience.
Nelson also asks Turner about his collection of rare and exotic automobiles. Many of the Indy-made cars of the 1920s now are considered collectors' dream machines. And since the original broadcast of this show in 2009, Hoosier History Live! would also like to note that Turner also invested in Indianapolis heritage by buying the historic Canterbury Hotel in downtown Indianapolis in March of 2010.
History Mystery question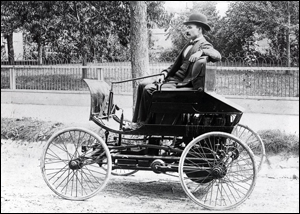 A Hoosier inventor born in 1857 is credited with creating one of the very first gasoline-powered cars in America. During a test run in 1894, the "horseless carriage" reached a top speed of about 7 miles per hour. To avoid scaring horses on city streets, the test run was conducted in a rural area near Kokomo, which was the inventor's adopted hometown. He built automobiles in Kokomo until the 1920s.
Question: Name the inventor.
Because this week's show is an "encore" presentation, you won't be able to call in with the answer. However, since Hoosier History Live! is now on Facebook, if you go to our page and sign up as a fan and are the first to put the correct answer on our Facebook page, we'll send you a pair of tickets to the Indiana Wine Fair on April 24 in Brown County! That might even be more fun than a drive around Howard County.
Website now includes more shows for listening
We are gradually adding a richer audio section with full-length shows for your listening pleasure. Recently added:
There's treasure buried everywhere in the Hoosier History Live! website — and ironies ...
In the Elkinsville show audiocast (in bold above), you can hear the thunder and lightning in the background. It was recorded from 11:30 a.m. to noon on the day of the June 6, 2008 flood. The basement of the home of one of the sisters was flooded when she came up from Columbus, Indiana to Indy to do the show, and it took the sisters something like 10 hours to drive back down. And all for a show called "Elkinsville: A Town Under Water."
WWII fighter pilot from Indiana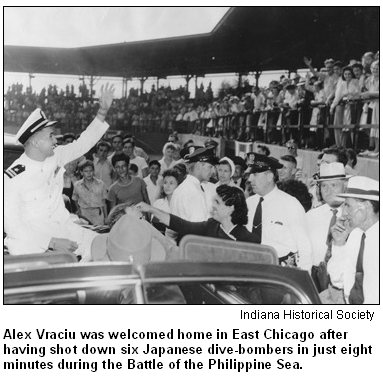 (April 10, 2010) - For four months in 1944, a Hoosier was the lead flying ace in the entire U.S. Navy. His biographer, Ray Boomhower of the Indiana Historical Society, joined Nelson in studio to share insights about the daring exploits of Alex Vraciu, a Hellcat fighter pilot who shot down 19 enemy airplanes in the air and destroyed an additional 21 on the ground.
Ray is the author of Fighter Pilot (Indiana Historical Society Press), a new biography of Vraciu (rhymes with "cashew") that's written for young readers to enhance their understanding of World War II.
A native of the Calumet Region of far-northwestern Indiana and the son of Romanian immigrants, Vraciu graduated from high school in East Chicago, then attended
DePauw University and learned to fly during his college years.
Fighting in the skies over the Pacific Ocean, he shot down six dive-bombing Japanese airplanes in just eight minutes on June 19, 1944. According to Ray, the Hoosier flying ace was "possessed with keen eyesight, quick reflexes, excellent shooting instincts and a knack for finding his opponent's weak spot."
Born in 1918, Alex Vraciu grew up in East Chicago enthralled by the exploits of aviator Charles Lindbergh and World War I flying ace Eddie Rickenbacker, according to Fighter Pilot. At DePauw, fearless Vraciu received national attention for a prank that he pulled during his psychology class. (Tune in to the show to hear Ray describe the details.)
When Pearl Harbor was attacked in December 1941, Vraciu was undergoing training to be a Navy pilot.
Eventually, the Hoosier earned the title of "ace" (achieved by downing five enemy aircraft in aerial combat), doing so while piloting one of the famous F6F Hellcat fighter planes. The Hellcats, Ray writes, "helped turn the tide for the Americans" in the aerial war against the Japanese.
Several times, Vraciu nearly lost his life. He had to ditch his Hellcat in the ocean twice because of battle damage or mechanical failure. In addition, two of the Navy carriers he served on were torpedoed (but not sunk) by the Japanese.
His exploits made him a hero in East Chicago. According to Fighter Pilot, more than 6,000 people cheered Vraciu at a welcome-home celebration. After the war, Vraciu remained with the Navy, retired with the rank of commander and settled in California.
Fighter Pilot is Ray's 11th book. Others have included biographies about Hoosier astronaut Gus Grissom (which was the focus of a Hoosier History Live! show with Ray in April 2009) and about war correspondent Ernie Pyle. Ray also is the editor of Traces of Indiana and Midwestern History, the popular magazine published by the IHS.
History Mystery question
During World War II, a Hoosier who already was famous for his football achievements endured two near-death experiences as a pilot.
As a fighter pilot in the U.S. Army Air Corps, this native of northern Indiana was reported missing in action and was given up for dead twice during the war. Both times, he survived terrifying ordeals. After World War II, he became a pioneer sportscaster in the early days of television.
Question: Name the football star-turned-war hero. Hint: To this day, he remains the only native Hoosier to have won the Heisman Trophy as the nation's outstanding collegiate football player.
Answer: Tom Harmon, who grew up in Rensselaer and Gary, where he drew national attention in the 1930s to Horace Mann High School as a star quarterback. Harmon followed that up with even greater fame at the University of Michigan, where he captured the 1940 Heisman Trophy. Shortly after the bombing of Pearl Harbor, Harmon enlisted in the Army Air Corps and became a fighter pilot. His B-25 bomber crashed during a ferocious thunderstorm over South America in 1943; he was the only crew member to survive. Later that year, his aircraft was shot down over China by the Japanese. Harmon survived because he parachuted into a lake, was rescued by the Chinese and hidden. For more than a month, Americans feared he had been killed; a special Mass was held in his honor. His war injuries, particularly severe burns on his legs suffered during the attack over China, limited his effectiveness after the war as a pro football player. But Harmon became extremely successful as one of TV's first sportscasters. Tom Harmon, who died in 1990, was the father of popular TV and movie actor Mark Harmon, the star of the "Navy NCIS" series.
The prize was a pair of tickets to the Indiana Wine Fair on April 24 in Brown County.
Roadtripper
Roadtripper Chris Gahl of the ICVA suggested that we head to bucolic Brown County for the Indiana Wine Fair on Saturday, April 24 in the village of Story in southern Brown County.
Doling out 1-ounce pours to an appreciative public in the Story Inn's "Old Barn," the Indiana Wine Fair will be an excellent opportunity to build your own wine cellar. Additionally, the night before, Friday, April 23, will feature a jazz concert and cabaret-style show.
Free parking will be available adjacent to the Story Inn, and free shuttle service will be running from the Nashville Courthouse.
Two years on the air and going strong
Proudly two years (on the air) old, Hoosier History Live! celebrated on Feb. 18 with a soiree at Morris-Butler House in Indianapolis. Party attendees enjoyed cake and refreshments and got to meet and greet fellow history lovers from a wide variety of backgrounds. Several on-air guests made appearances, including Sue Grizzell, Chris Connolly, Bo Connor and Rita Rose.
Host Nelson Price, producer Molly Head and event sponsor Marsh Davis of Historic Landmarks gave brief talks, and Nelson quizzed participants on Hoosier history, with prizes to several winners. Webmaster Richard Sullivan of Monomedia presented a slide show featuring some photos from the program's two-year history and some tidbits about the making of the show and the website.
Thanks to all who attended and helped out with our two-year celebration. And thanks so much for listening to - and reading about - Hoosier History Live!
Booth Tarkington's magnificent life and home
(April 3, 2010) - "A Decorated Past" was the headline on a recent newspaper story about the historic North Meridian Street mansion once owned by two-time Pulitzer Prize-winning novelist and playwright Booth Tarkington. The "decorated past" included glittering dinner parties that the author of The Magnificent Ambersons (1918) and the Penrod series hosted for guests such as Helen Hayes and the Marx Brothers.
But there also is a "decorated present" at the Tudor-style home, as its current owner, former Marion County Clerk Doris Anne Sadler, explained when she joined Nelson in studio along with Sally Sebeckis, decorator chairman of St. Margaret's Hospital Guild, which has chosen what's commonly known as the "Booth Tarkington Home" as the 2010 Decorators' Show House.
By the way, the Decorators' Show House, which benefits Wishard Health Services, has quite a history of its own: This marks its 49th year, making it one of the nation's oldest, consecutively-running show house events.
A portion of the Booth Tarkington Home dates clear back to 1911, long before most of the other North Meridian mansions were built. Most were constructed during the mid- and late 1920s.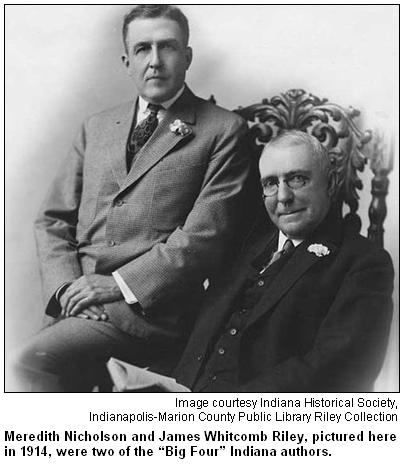 The home's initial owner was a widow named Marie Hare, who lived in it with her six children. Tarkington, who first drew national attention for his novel The Gentleman from Indiana (1899), bought the home from Mrs. Hare in 1923. Then he significantly enhanced the mansion, filling it with artwork as he flourished as a writer there and entertained his distinguished friends until his death in 1946.
Since Doris Anne, her husband Tim and their two young children moved in, guests have included former President George H.W. Bush. During a visit last fall, the former president shared memories of his encounters as a young boy in Kennebunkport, Maine, with Tarkington, who spent his summers at the New England resort. For nine months of the year, though, Tarkington and his wife, Susannah, lived in the North Meridian mansion, where he wrote every single day, including Sundays, even during a period in the late 1920s and early '30s when he suffered from cataracts and was nearly blind. (During that period, Tarkington wrote by dictating his stories.)
This was quite a reversal from the early life of Tarkington, who had been born in 1869 to one of Indianapolis' most prominent families. He disliked school, frequently played hooky, and, as a young man, drank heavily and lived extravagantly. As a condition of Susannah's marriage to him in 1912, she demanded that he focus on his gift for writing.
In addition to winning the Pulitzer Price for The Magnificent Ambersons, a novel about an aristocratic family coping with social and economic upheavals, Tarkington won a Pulitzer for Alice Adams (1921). This is the second time St. Margaret's Hospital Guild has chosen his mansion as the Decorator's Show House; it also was the show home in the mid-1980s.
Daily tours of the Decorators' Show House will be April 24-May 9 (except for Mondays), with special events sprinkled throughout. They will include a "designer breakfast tour" May 7 at 8:30 a.m. that will feature presentations by Tarkington scholar Jim Powell of IUPUI as well as by Nelson and photo historian Joan Hostetler, who collaborated on the book Indianapolis Then and Now, which features the historic home. Fun fact: Even though Tarkington is associated with a North Meridian mansion, he used spacious homes built during an earlier era, houses in the Woodruff Place neighborhood, as the inspirations for the elegant residences in The Magnificent Ambersons.
Roadtripper
Roadtripper Chris Gahl of the ICVA suggested that we head to Franklin, Indiana to see a picture at the Artcraft Theatre in Franklin's historic downtown, just north of the Johnson County courthouse.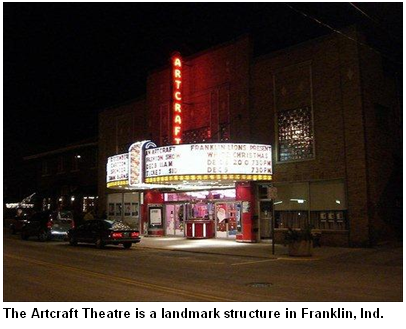 Built in 1922, the theater has been a venue for Indiana entertainment for more than 80 years.
The Artcraft started out as a theater for Franklin residents to enjoy both motion picture and stage productions, and through years of faithful patronage it has been able to establish itself as the perfect place to catch silver-screen hits from the Golden Age of film. This summer's movie lineup includes famous films like "Treasure Island," "Seven Brides for Seven Brothers," the James Dean classic "Rebel Without A Cause" and the family favorite "The Wizard of Oz." And tickets are only $5!
While you are enjoying Franklin's delightful small-town ambiance, you also can dine at the Willard Hotel, next door to the Artcraft. Make it a Roadtrip!
Hoosier History mystery
Novelist-playwright Booth Tarkington is considered to have been one of the "Big Four" of the golden age of Indiana literature during the early 1900s. Two of the others were poet James Whitcomb Riley and Meredith Nicholson, author of the best-selling novel "The House of 1,000 Candles."
Question: Name the fourth distinguished Hoosier literary figure regarded as one of the "Big Four" during the early 1900s.
The prize was a pair of tickets to the Indiana Wine Fair in Brown County on April 24!
Answer: George Ade. Known as the "Aesop of Indiana," George Ade lived for many years in Kentland in northern Indiana and became famous for his modern fables. Ade (1866-1944) attended Purdue University and is remembered there in the name of Ross-Ade Stadium. His best-selling books, including "Fables In Slang" (1899), told moral tales using humor and everyday language. George Ade's lavish home near Kentland, known as Hazleden, became the setting for parties and events attended by Theodore Roosevelt and Will Rogers. Hazleden, which is open to the public by appointment, is on the National Register of Historic Places.
Brown County history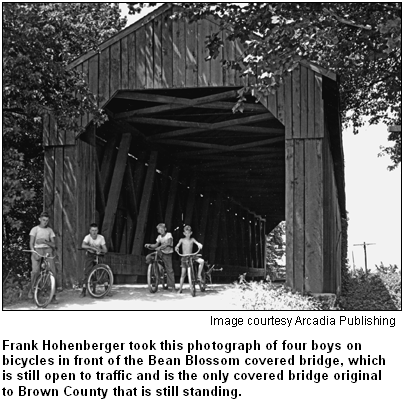 (March 27, 2010) - Has any Hoosier not marveled at the scenic beauty of the southern Indiana county that includes the Hoosier National Forest, the charming towns of Nashville and Story, colonies of artists, and a mountain (or at least a Hoosier hill) of other attractions? With at long last the arrival of spring, Hoosier History Live! explored Brown County in all its wonder.
Nelson was joined in studio by the co-authors of a new book about the county's rich history. Titled (naturally) Brown County, the visual history book is part of the Arcadia Books "Images of America" series. The co-authors are attorney and historic preservationist Rick Hofstetter, owner of the historic Story Inn, and Jane Ammeson, a travel writer who has put together several other books about southern Indiana.
Jane and Rick guide us through the heritage of a once-isolated county that, as they put it, attracted generations of photographers, painters and potters, as well as a mix of lifelong locals, including "hardworking 'hill' people sometimes just eking out a living."
The story of Brown County involves everything and everyone from Abe Martin, the cartoon character who attracted a huge national fan base in the early 1900s, and renowned artist T.C. Steele to covered bridges, ice cream parlors and bed-and-breakfasts. In 1859, the Nashville House was built as the county's first hotel. Although the original structure burned in 1943, the rebuilt Nashville House (located on the same site) is among the county's wildly popular dining spots, known for fried chicken, fried biscuits and apple butter.
Several captivating images in Rick and Jane's book were taken during the early 1900s by renowned photographer Frank Hohenberger. Initially based in Indianapolis, he was inspired to move to Brown County in 1917 after seeing photos of, as Rick and Jane write, "a log cabin, an old water mill and some people who looked to him like Southern mountain folk." His nationally distributed photos were credited with increasing tourism to the area, as did the artwork of painters such as Steele, whose hillside home, the House of the Singing Winds, is now a state historic site.
Such attractions along with festivals and events – next up is the Indiana Wine Fair in the town of Story on April 24 – make the county a perpetual destination for visitors.
Before the boom in Brown County's popularity, though, it actually had been losing population. According to Brown County, the number of residents dropped almost by half between 1890 and 1930, declining from 10,308 to 5,168 "due to poor land management and the Depression." Electricity did not arrive to parts of the county until the late 1940s, and the first automobile didn't appear until 1913, two years after car-crazed Indianapolis already had celebrated the inaugural 500 Mile Race. The county's isolation was among the reasons famed cartoonist Frank "Kin" Hubbard chose it as the home for his bumpkin philosopher creation, Abe Martin. According to Brown County, Hubbard found material by sitting near the potbellied stove in a Brown County hardware store.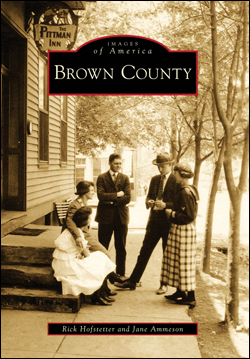 Some fun facts:
In 1837, when Nashville was named the county seat and 75 people lived in the town, wolves were so abundant that Brown County officials offered $1 per wolf scalp, according to Rick and Jane's book.
Stone Head, a neighborhood with distinctive stone markers, began during the 1850s when a farmer was asked to carve some directional markers. In more recent times, the best-known Stone Head marker was stolen and missing for several years before being discovered in an IU dorm.
The oldest covered bridge in the state, according to Brown County, is located off State Road 46 at the north entrance to Brown County State Park. The covered bridge, which spans Salt Creek, was built elsewhere in 1838 and moved to the county during the 1930s.
History Mystery question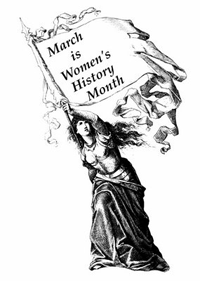 The Hoosier History Trivia Mystery is part of our salute to Women's History Month. In 1999, a "first" for women occurred in the campaign for Indianapolis mayor. A major political party nominated a woman in the race. Although she lost the mayoral election, she previously had made Indiana history by serving as the state's first female secretary of state, from 1994 to 2003.
Question: Name the first woman to run as a major-party candidate for Indy mayor.
Answer: Sue Anne Gilroy. A Republican, she lost her race for Indianapolis mayor in 1999 to Bart Peterson, a Democrat. Before that, Gilroy had won election to two terms as secretary of state. Her career in politics began with work for her mentor, Richard Lugar, when he was Indianapolis mayor in the 1960s and '70s; eventually, Gilroy became director of the Indianapolis Parks and Recreation Department in the Lugar administration. Today, Gilroy is executive director of the St. Vincent Hospital Foundation.
The prize was a CD of Movers and Stakers, a documentary about the history of the National Road in Indiana, courtesy of producer/director Nancy Carlson of Ball State.
Indiana's only First Lady
(March 20, 2010) - In a salute to Women's History Month, we explored the life of Caroline Scott Harrison, the wife of President Benjamin Harrison and, so far, the only Hoosier to have served as First Lady.
Although many accounts focus on Mrs. Harrison's gentle nature and tragic illness – she died of tuberculosis in the White House in 1892, throwing the country (and her adopted hometown of Indianapolis) into deep mourning – Mrs. Harrison initiated many accomplishments and often stood firmly on principle, sometimes on issues particularly appropriate for exploration during Women's History Month.
When the influential Johns Hopkins Medical School asked Mrs. Harrison, as First Lady, to help raise funds, she agreed, with major conditions: She demanded that the medical center begin admitting women students, and do so in the same way men were being admitted. Mrs. Harrison also founded the Daughters of the American Revolution and served as its first president general. An Indianapolis chapter of the DAR is named for her.
Nelson was joined in studio by Jennifer Capps, curator of the President Benjamin Harrison Home. Like her husband, Mrs. Harrison was born in Ohio (in 1832) and became a civic leader after moving to Indianapolis. Talented in the creative arts, she painted with watercolors, played the piano and grew orchids. Along with her husband, Mrs. Harrison became an active member of First Presbyterian Church and taught singing to children in the congregation.
At the White House, Mrs. Harrison started the china collection that continues to this day. (A stunning, nearly life-sized portrait painting of Mrs. Harrison hangs today near the China Room in the White House as a tribute to her.) She is credited with initiating many improvements to the White House. Mrs. Harrison was convinced it had fallen into neglect; she also knew that the Harrisons' two grown children, grandchildren and her elderly father would be living there with the president and First Lady. Fun fact: The Harrisons apparently were indulgent grandparents. They allowed their grandchildren to keep a rambunctious pet goat named "Whiskers." The goat boarded at the White House horse stables ("Whiskers" posed no threat to presidential decorum; he did not roam around the Oval Office!), but his presence did annoy the groundskeeper.
More significantly, several "firsts" resulted from Mrs. Harrison's vow to improve the White House.
The Harrisons were the first family to live in the White House with electricity, beginning in 1890. They also were the first family to have a decorated Christmas tree on the premises. (Previous generations typically adorned their holiday trees only with candles.)
As Mrs. Harrison began losing her battle with tuberculosis in 1892, her husband announced he would not take to the campaign trail so he could stay by her side. His opponent, Grover Cleveland, responded by sharply curtailing his campaigning as well. Among the Americans who wrote letters of support and sympathy to the ailing First Lady was a young Helen Keller. (Regular listeners will recall the Helen Keller letter as the subject of a recent History Mystery question.) Mrs. Harrison's death occurred two weeks before her husband lost his bid for re-election. Thousands of Indianapolis residents watched her funeral procession to Crown Hill Cemetery.
Roadtripper
Roadtripper Chris Gahl of the ICVA returned to tell us about the opening of the 2010 outdoor season at Conner Prairie on Saturday, March 27.
New this season will be "Grandparents Day," happening each Wednesday — special programming for grandparents and grandchildren. Also, each Thursday will feature "Taste the Past," where you can sample authentic foods from Indiana's Prairietown residents.
Opening Weekend on March 27 and 28 will also feature an "ask the doctor" dialogue between a present-day physician and Prairietown's Dr. Campbell, comparing common medical issues and diseases of 1836 to those of the present day.
And weather permitting, Conner Prairie's 1859 Balloon Voyage will open for its second season on Opening Weekend. So, get outdoors and head to Conner Prairie!
History Mystery question
This question was a hold-over from the previous week, when no one called in with the correct answer. So we added another hint!
This town lies along the Big Blue River in Indiana, and the popular hymn Bringing in the Sheaves was written there in 1874 by evangelical preacher and composer Knowles Shaw (1834-1878).
The town's state-of-the-art Thompson Mill had a water-funneled turbine in its basement, as opposed to a mill wheel, and provided all of the flour for the Union Army during the Civil War.
More recently, this town's Main Cross Street was the original location of contemporary business The Best Chocolate in Town, owned by Elizabeth Garber, who now has a retail location on Massachusetts Avenue in downtown Indianapolis.
Question: What is the name of the town? The prize was a gift certificate to The Best Chocolate in Town.
Answer: Edinburgh. Knowles Shaw wrote Bringing in the Sheaves in Edinburgh in 1874 while serving as minister of the First Christian Church there. An itinerant evangelical preacher, he also wrote Tarry with Me and a tune used with We Saw Thee Not. He is thought to have baptized (immersed) some 20,000 people, and he is buried in East Hill Cemetery in Rushville.
The Thompson Mill was originally built in 1826, and in 1850 James Thompson erected a larger four-story mill with a water-funneled turbine in its basement, as opposed to the more familiar side mill wheel with water running over it to create power. The Thompson Mill did provide all of the flour for the Union Army during the Civil War.
Fun fact: The Bona Thompson Memorial Center in Irvington is named after a daughter of one of the Thompsons of Edinburgh who moved up to Indianapolis.
Speaking of moving up to the big city of Indianapolis, Elizabeth Garber, originally from Columbus, started her chocolate operation in Edinburgh in 1998. She later moved her business to Franklin and now operates on Massachusetts Avenue in downtown Indianapolis as The Best Chocolate in Town.
Traveling in time down the White River
(March 13, 2010) - March is Women's History Month, and as Nelson was off in New York City tripping the light fantastic on a well-deserved break, we had a pair of not-so-well-behaved women guest-hosting the show.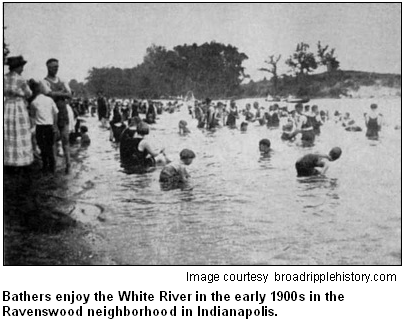 One grew up along the banks of the White River picking up Indian artifacts, and the other is an oft-canoeist of many rivers in Indiana. Per writer Laurel Thatcher Ulrich's words, "well-behaved women seldom make history."
Jim Willaert, guest experience general manager at Conner Prairie, took us on a tour in time down the west fork of the White River in Central Indiana. Bereft of mountains and seashores (although you will incorrectly see mountains in the 1956 movie Friendly Persuasion starring Gary Cooper, set in Indiana during the Civil War), the Wahehani once boasted 12 or more Delaware settlements along the river between what is now 96th Street in Indianapolis and Muncie.
Beyond the Native American connection to the river, Jim took us through the progression of European settlers arriving in flatboats. He told us a bit about the Indiana Mammoth Internal Improvement Act of 1836, which provided for making rivers more navigable, as well as for construction of canals, roads and railroads, but it also nearly drove the state bankrupt. And did you know that much of the proud early citizenry of Indianapolis, from the 1820s right up until after the Civil War, firmly believed that Indianapolis could be a thriving river port? They thought White River could handle steamboat and barge traffic coming up from the Wabash. We heard about a couple of accidents and disasters.
In the early 1900s, resort areas for swimming and boating sprung up along the White River in what is now Broad Ripple and Ravenswood in Indianapolis. The White City Park (now Broad Ripple Park, owned by the city) built the second-largest swimming pool in the country there in 1908.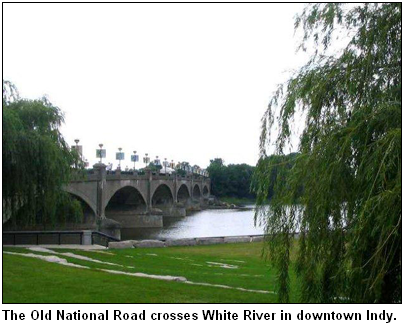 In 1922, the National Swimming Event took place in the Broad Ripple pool, and, in 1924, the Olympic tryouts were there. At this meet, Johnny Weissmuller won the 100-meter freestyle and later went on to win a gold medal at the Olympics.
More recently, the White River fish kill downstream from Anderson in December of 1999 brought further attention to the need to preserve and protect one of Central Indiana's most precious natural resources, the White River.
Some more White River resources:
Roadtripper
As Chris Gahl of the ICVA was deep in Big Ten action, Amy Lamb of the Indiana Historical Society checked in with a special preview of the Indiana Experience, opening to the public on March 20 at the Eugene and Marilyn Glick Indiana History Center. This ongoing interactive and high-tech exhibit allows the IHS to showcase its archival holdings, including 1.6 million photographs, in engaging new ways. This is not your grandfather's history museum exhibit, apparently!
According to Amy, ongoing elements of the Indiana Experience will include:
You Are There experiences, three-dimensionally recreated historic photographs that include trained first-person interpreters who interact with visitors.
Destination Indiana, a facilitated, interactive opportunity for visitors to "travel through time" using innovative digital technology, touch screens and immersive displays of historic images and documents.
The Fortune History Lab, a hands-on demonstration lab that allows visitors to learn and participate in conservation and preservation activities.
The Cole Porter Room, an intimate multimedia space with a performer/facilitator and original materials dedicated to the interpretation of Cole Porter's life and work.
Danville town history

(March 6, 2010) - On Good Friday of 1948, the town was devastated by a tornado that flattened almost everything in its path. By that time, the Hendricks County town of Danville for generations had been the home of Central Normal College, which brought prestige to the community. Never heard of it? Unaware that Danville in 1878 "stole" the entire school – including equipment, faculty, students and baggage – from the town of Ladoga?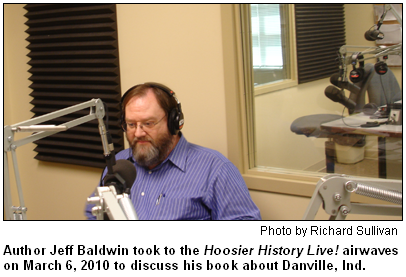 Find out more during this show, one in our rotating series about Indiana towns that already has explored Fort Wayne, Greensburg, Greenfield, Sheridan and many others. Nelson was joined in studio by Danville lawyer and civic leader Jeff Baldwin, the author of Danville, a visual history published in 2009 as part of Arcadia Books' Images of America series. A lifelong resident of the town founded in 1824 as the county seat of Hendricks County, Jeff writes that evidence of the 1948 tornado still is discovered when digging in many yards. "Pieces of tin roof and glass from that day," he says, "are turned up with a shovel." In fact, one caller to the show lived through that day and told of seeing, in the aftermath, a two-story building with one wall completely blown away, yet a lace tablecloth was still in place on a table in a second-floor room, visible from the ground below.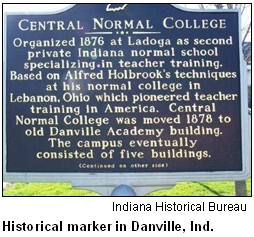 On a more lighthearted topic, Jeff points out that Danville found itself in the national spotlight a few years ago when a mysterious "Danville Turkey" showed up in the middle of Main Street and stopped traffic by strutting back and forth for days. The turkey could not be shot because it was not in season. As a protected animal, it also could not be adopted.
There's much turf to cover as we explore the heritage of the town that once was home to perhaps the heaviest married couple in the country (they toured with P.T. Barnum's circus) as well as an Indiana governor during the 1890s who refused to relocate to Indianapolis and instead took a passenger train daily.
We also explore the impact of Central Normal College, which specialized in training teachers.
There were no dorms or fraternity houses, so most students roomed with local families. That meant the construction of spacious homes with multiple entrances – and, as Jeff puts it, "a lifestyle that we now would call upscale" for many Danville residents until the college closed in 1951. (At the turn of the last century, Central Normal had trained more teachers than IU, Purdue, and the forerunners of Ball State and Indiana State combined, according to Jeff's book.)
And then there's the Mayberry Cafe, a diner in Danville that pays tribute to the classic TV series The Andy Griffith Show. A popular tourist destination, the cafe is easy to find. Just look for the unattended squad car parked nearby.
Roadtripper
Chris Gahl of the ICVA says "All aboard! Make tracks with the presidential train!" He called to suggest that we head to the President Benjamin Harrison Home on March 23 to participate in Benjamin Harrison Day.
Harrison was our centennial president, inaugurated 100 years after George Washington. It's timely to visit, as the home is also hosting a unique exhibit chronicling presidential travel by rail, including the journeys of Presidents Lincoln, Garfield, Hayes, McKinley and Theodore Roosevelt. In addition, the exhibit includes many items from the hundreds of gifts presented to Benjamin Harrison's party when making its 10,000-mile train trip in 1891 to the West Coast.
History Mystery question
One of Indiana's best-known contemporary authors grew up in Danville and continues to live there today. The author, a Quaker minister, writes nationally distributed books that include a series of folksy, humorous vignettes set in the fictional town of Harmony; it is quite similar to Danville. In addition, the author also writes theological books and is a popular speaker across the country.
Question: Name the contemporary author based in Danville.
Answer: Phil Gulley. He is the author of Front Porch Tales, Hometown Tales, Porch Talk and other popular books that have won him praise as a modern voice for small-town American life. Gulley, who grew up in Danville, continues to live in his hometown with his wife and two sons. He is the pastor of a Quaker meeting house in Camby and has written several theological books, including If Grace is True. He also writes a humor column for Indianapolis Monthly magazine. He will be featured with the Encore Vocal Arts chorus in a concert at 8 p.m. on Saturday, March 6, called "Poems & Parables" at Meridian Street United Methodist Church in Indianapolis.
The prize was a pair of tickets to the President Benjamin Harrison Home, courtesy of the President Harrison Home.
Central State Hospital history
(Feb. 27, 2010) - It opened as the Indiana Hospital for the Insane in 1848 as the state's first psychiatric hospital. The final chapter on what became known as Central State Hospital is scheduled to come later this year when most of its remaining buildings (located just west of downtown Indianapolis) are to be demolished.
The hospital on West Washington Street housed more than 3,000 patients in 1928 when its name was changed to Central State. But it closed in 1994, and some of its most distinctive structures – including a stately, Victorian-era building often referred to as the "Seven Steeples" – were declared unsound and torn down clear back in the late 1970s.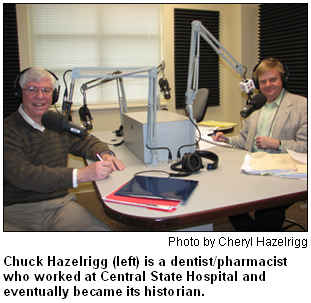 To guide us through the dramatic history of the institution that became known to generations of Hoosiers as simply "Central State," Nelson is joined in studio by Chuck Hazelrigg, a dentist and pharmacist who worked at Central State for 15 years beginning in 1970.
Eventually, Chuck became director of Central State's medical support services, supervising everything from radiology to security and the children's wards. He also became fascinated with Central State's history, conducted a range of interviews with former patients and employees, and is regarded as its historian. (Today he teaches at the IU School of Dentistry and serves as vice president of the Carmel Clay Historical Society.)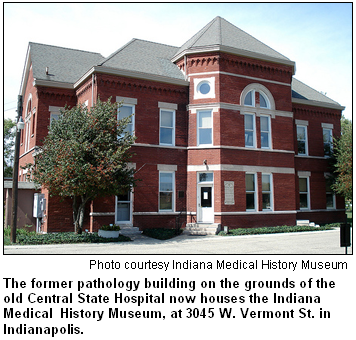 During the show, Chuck shares insights about the history of buildings, including the original structure (which eventually became known as the "men's building"), the women's building and what was known as the Sick Hospital. Central State's pathology building now houses the Indiana Medical History Museum.
In 2004, the city of Indianapolis took possession of the other former hospital buildings after purchasing the site from the state for $400,000. The city is exploring the possibilities for development such as commercial, residential or mixed uses.
Some facts:
When it opened in 1848, the Indiana Hospital for the Insane had just five patients.
To provide patients with a serene setting and relief from stress, the hospital complex for many years featured gardens, fountains and a chapel. Because of the belief during some eras that vigorous exercise could assist the mentally ill, the complex also included features such as a bowling alley.
Since 2000, Indianapolis-based USA Diving has leased one of the old dorm buildings, placed down mats, and used it for land training for top divers, including Olympians.
History Mystery question
Although not truly a Hoosier, one of the most famous and influential psychologists of the 20th century lived in Bloomington during the 1940s.
This person chaired the psychology department at Indiana University for several years during and after World War II and recruited several like-minded psychologists and researchers to join the faculty. This psychologist also conducted behavioral experiments with pigeons and rats while in the Hoosier state. In 1948, this psychologist left IU to teach at Harvard University.
Question: Name the influential psychologist.
Answer: B.F. Skinner. Considered a "radical behaviorist," B.F. Skinner became famous for developing the theory of "operant conditioning" – that is, that behavior is determined by consequences such as rewards and punishments. He worked extensively in laboratories with rats and pigeons, including during his stint on the IU campus in the 1940s. Skinner, who was born in Pennsylvania in 1904, spent most of his career at Harvard. After writing influential books such as Walden Two (1948) and Beyond Freedom and Dignity (1971), he died in Cambridge, Mass., in 1990.
The prize was a CD of Movers and Stakers, a documentary about the history of the National Road in Indiana, courtesy of producer/director Nancy Carlson of Ball State.
Early African-American settlements
(Feb. 20, 2010) - As Hoosier History Live! saluted Black History Month, we explored the waves of African-American migration here, which began even before Indiana became a state in 1816. Nelson was joined in studio by Wilma Moore, senior archivist for African-American history at the Indiana Historical Society. She shared details about the settlements that began, sometimes initially by freed slaves, during the pioneer era up through World War I.
From the beginning, many blacks who came here encountered challenges and restrictions. A state law in 1831, for example, required blacks settling in Indiana to register with county authorities and pay a bond to guarantee good behavior. Even so, African-Americans chose to settle in Indiana during the early 1800s – and even before. According to an article that Wilma recently wrote for Traces, the Historical Society's magazine, some blacks settled with the French in the mid- to late 1700s in the area that eventually became Knox County.
Early communities of African Americans in the 1800s included the Roberts settlement in Hamilton County, Lyles Station in Gibson County and the Beech settlement in Rush County. Many of the black communities were located near Quaker settlements. In northern Indiana, one of the first rural black settlements was initiated in St. Joseph County by Samuel Huggart, a free African-American from Ohio. Huggart was able to buy property beginning in the 1830s, according to a recent story in The Indianapolis Star.
Some insights from Wilma's article in Traces:
In 1820, the U.S. Census recorded 1,230 African-Americans living in the new state of Indiana.
During the 1870s, many African Americans migrated here from North Carolina. Known as "Exodusters," most of them were headed for Kansas, but many chose to remain in Indiana and other nearby states.
In 1900, the U.S. Census indicated that more than one-third of black residents of Indiana had been born in Kentucky. At this point, Indianapolis had a black population that made up 10 percent of the city's residents. This placed Indy seventh of northern cities in the size of its African-American population. (Northern cities with the largest black populations then were, in order, Philadelphia, New York City, St. Louis and Chicago.)
Incidentally, here is the study guide for the 2010 Indiana Black History Challenge, courtesy of the Indiana Historical Society. What's your score?
History Mystery question
African-American resort community in northern Indiana
Beginning in the 1930s, African-American families built cottages in northern Indiana to create a resort community. They had been prohibited from purchasing vacation homes at resort communities on lakes elsewhere in northern Indiana.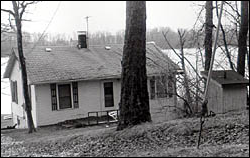 The resulting community became a popular summer destination for black families from Indianapolis, Fort Wayne and other Indiana cities, as well as families who lived in Michigan, Ohio and Illinois.
Question: Name the historic African-American resort community in northern Indiana. Hint: It was the focus of a Hoosier History Live! show last year. At right is a picture of one of its rustic cottages.
Answer: Fox Lake. By World War II, more than 30 cottages had been built in the resort community, which is in Steuben County in far-northeastern Indiana. Among the few communities of its kind in the nation, Fox Lake featured recreational opportunities for families such as swimming, dancing, basketball and tennis, as well as Sunday religious services. Fox Lake, which is now integrated, continues to thrive today.
The prize was a pair of tickets to the Indiana State Museum, as well as a couple of day passes to Climb Time Indy Indoor Rock Climbing, courtesy of the ICVA.
Roadtripper
In search of Indiana authors
Chris Gahl of the ICVA called in with a tip about how the Indianapolis-Marion County Public Library Foundation is asking the public to help find the next Kurt Vonnegut or Booth Tarkington. As part of the Eugene & Marilyn Glick Indiana Authors Award, the foundation is canvassing the community to recognize the contributions of Indiana authors to the literary landscape.
The deadline to nominate is March 26, with a panel selecting a national and regional winner, as well as an emerging author. Any published writer who was born in Indiana or has lived in Indiana for at least five years is eligible for nomination.
Winning authors will each receive up to $10,000 and will be able to designate their hometown Indiana public library as a recipient of an additional $2,500 grant. This is a public nomination process. See the Indiana Authors Award website for the full scoop.
A historic event!
Second-anniversary soiree is a success
Our Hoosier History Live! Second Anniversary Soiree on Feb. 18, 2010, was a successful event. Dozens of our audience members, on-air guests and show sponsors attended at the historic Morris-Butler House at 1204 N. Park Ave. in Indianapolis for birthday cake and cupcakes, History Mystery questions with prizes, and a demo of our new website with an ever-growing audio library. Thanks to Historic Landmarks Foundation of Indiana for hosting.
Medical treatments of early settlers
(Feb. 13, 2010) - To help cure a family member struggling with a disorder, would you serve a delicacy known as fried mice pie? Believe it or not, that was a treatment suggested to pioneers in the Old Northwest Territory, including early Indiana.
To find out what disorder the repulsive-sounding pie was supposed to cure, you'll have to listen to the show. Nelson was joined in studio by Hoosier storyteller Sue Grizzell, who has extensively researched medical "treatments" practiced during the late 1700s and early 1800s, often using archives at the Indiana Historical Society.
In fact, the IHS and Storytelling Arts Indiana recently commissioned Sue to put together a presentation she titled "Root Doctors, Midwives and Fried Mice Pie: Medicine in Early Indiana." She has uncovered the story of a so-called "root doctor" who was run out of early Connersville, for example.
According to Sue, many of the bizarre or crude early folk remedies were the result of desperation on the frontier. "Early Hoosiers only occasionally had access to doctors. ... They mostly lived in isolation, faced economic uncertainty and practiced self-sufficiency as much as possible."
A lifelong storyteller, Sue has collaborated with the Indianapolis Symphony Orchestra on various projects; in 2002, her story "Porch Swings and Prairie Wings" became part of the "Sharing Hoosier History Through Stories" series.
You won't want to miss this fascinating show, during which Sue will explain how our ancestors dealt with ailments and terrifying illnesses such as malaria and cholera.
"Whether ill or injured, the inhabitants of the Old Northwest Territory and early Indiana were subjected to all manner of medical treatments," Sue says. "Ranging from the common-sensical to the bizarre, these treatments sometimes worked but could often be fatal."
She notes that Thomas Jefferson once remarked, referring to doctors during his era, that they "let loose upon the world, destroy more human life in one year than all the ... Cartouches (a murderous French bandit) and Macbeths do in a century."
Families on the Indiana frontier typically ended up doing most of their own doctoring because contact with physicians was infrequent, Sue says. Hence, the popularity of folk remedies. She points out that, although pioneers had as many challenges surviving some of the "cures" as they did the initial illnesses, "modern science has proven some folk remedies effective." All of this was fodder for a show that was as intriguing as Sue's popular, fact-based storytelling presentation about fried mice pie and root doctors.
Her next public presentation is scheduled for March 25 at the Marion Public Library.
Roadtripper
Sweet treats in Fort Wayne
Chris Gahl of the ICVA suggested a sweet Roadtrip to Fort Wayne. The Chocolate Tour at Fort Wayne-based DeBrand Fine Chocolates is a perfect getaway for chocolate lovers during February, the month of romance.
Founded in 1987 by artisan chocolatier Cathy Brand, this Indiana company has grown significantly since its humble beginnings in Cathy's family's century-old home and now employs nearly 100 people with its four retail shops. Public tours of the chocolate maker take roughly one hour and include touring three chocolate kitchens and, of course, samples of their confections!
History Mystery question
Orthopedic manufacturing, starting in the 1890s
Beginning in the 1890s, the manufacturing of orthopedic devices began in a small Indiana city.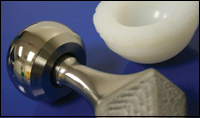 Eventually, several orthopedic businesses and suppliers were founded in – or chose to move to – the city, including the manufacturers of artificial hips. They have had a huge, historic impact on the local economy of the Hoosier city, which has a population of about 13,000 people.
Question: Name the Indiana city.
Answer: Warsaw. Its nickname is "Orthopedic Capital of the World." Located near lakes in north central Indiana, Warsaw is in Kosciusko County. In 1895, the first orthopedic manufacturer – what became known as DePuy Manufacturing Company – began in the city. In the decades after that, competitors and related businesses, including Zimmer Inc. and Biomet, were founded in Warsaw or moved there.
The prize was a pair of tickets to the President Benjamin Harrison Home, as well as a couple of free slots coupons for Indiana Live Casino, courtesy of the ICVA.
Terre Haute in the 1920s
(Feb. 6, 2010) - With our rotating series about town histories, we typically don't focus exclusively on a single decade. This show is an exception because Nelson's guest – Tom Roznowski, a musician and radio personality – has spent years researching a new book with an unusual format that's as much a social history of American life in the 1920s as it is a close-up look at Terre Haute.
Written in the form of an old-fashioned city directory – and using Terre Haute's 1927 Polk Directory as a starting point – An American Hometown: Terre Haute, Indiana 1927 (Indiana University Press) examines the city on the Wabash River that in 1927 had 400 grocery stores, three daily newspapers, speakeasies, cigar stores and a self-sufficiency that meant, as Tom puts it, more than 40 percent of the food consumed came from area farms.
He also notes most music was heard live, with four theaters in Terre Haute maintaining house orchestras in 1927, upright pianos in most living rooms,
and radio sets just beginning to "pre-empt" entertainment. Through vignettes of individual residents' stories – ranging from a local teacher and a fashion editor to a boxer, a chicken plucker and an inn keep – his book also depicts disturbing aspects of Terre Haute life in 1927. Those include the segregation of blacks into a neighborhood derisively called "Baghdad" and the disdain for destitute residents of an institution known as the County Poor Farm in an era before Social Security and worker's comp.
Although Tom is based in Bloomington, where he hosts a radio show on WFIU-FM, he long ago began immersing himself in Terre Haute of the 1920s, an era when the country was, as he puts it, "completing the transition of a rural nation into an urbanized one." Many of the social changes are reflected in the vignettes captured in his book. Observations and insights from An American Hometown: Terre Haute, Indiana 1927 include:
Horse-drawn vehicles were still a common sight in downtown Terre Haute in 1927. Milk delivery wagons, farm wagons loaded with produce, and peddlers with wagons relied primarily on horses. As a result, the major duties of a resident who listed his job as "street cleaner" in the city directory would have involved cleaning up after horses.
An extensive mass transit system during the 1920s included electric trolleys that carried about 30,000 passengers daily in Terre Haute.
The Ku Klux Klan had regular, weekly marches down Wabash Street in Terre Haute in 1927 and supported two local chapters. A veterinarian, whom Tom describes as "bald and bespectacled," reaped local publicity when he was named the Imperial Wizard.
Among more than 100 physicians in the city in 1927, only one was a woman.
Boarding houses and rooming houses, often owned by widows, were still prevalent. According to Tom, boarding houses would gradually be phased out because of zoning regulations, occupancy restrictions and insurance requirements.
"The nearby Wabash River – a repeated subject of story and song – was an integral part of the city's identity. Excursion boats carried passengers to picnic grounds and wooded retreats."
Roadtripper
Roadtripper Chris Gahl of the ICVA called in from the Super Bowl action in Miami and suggested the best fan gathering spots for listeners for Sunday night's game. Of course, we expect to see our Indianapolis Colts make Hoosier History! again with a second Super Bowl win!
Speaking of the Colts, did you know that the Hoosier History Live! audio library includes an interview with Mark Herrmann, currently of the NCAA, who played quarterback for the Colts in both Baltimore and Indianapolis? This show aired

originally on Feb. 2, 2008, and Mark talked about Colts history in Indianapolis, and the history of the RCA (formerly Hoosier) Dome. This show aired while the RCA Dome was still standing, and before the construction of Lucas Oil Stadium.
Wouldn't you like to be able to hear the Mark Herrmann show on the Hoosier History Live! website? Friends, remember the we are an independently produced show and are self-supporting through sponsorships and individual contributions. For a small sponsorship amount, you can sponsor the podcast of the Mark Herrmann show, or any other show, on our website, and you'll get a credit on the podcast. For details, contact Molly Head, or see the "Support us" page.
Abe Lincoln blockbuster preview
(Jan. 30, 2010) - We don't stretch historic truths, particularly if "Honest Abe" is involved. So it's no overstatement to predict an upcoming unveiling of the Lincoln treasures newly acquired by the Indiana State Museum – paired with a traveling display of Lincoln artifacts from the Library of Congress – will be the blockbuster exhibit of 2010 in the Hoosier state. On top of all that, "sister" institutions across Indiana are lending rare Lincoln artifacts to the state museum.
Where else are you going to see the Bible on which President Lincoln (and, just last year, Barack Obama) took the oath of office? Our guest will be the Hoosier expert who has been immersed in all things Lincoln ever since the announcement that the $20 million collection of the now-closed Lincoln Museum in Fort Wayne would remain in the Hoosier state, where Lincoln lived from ages 7 to 21.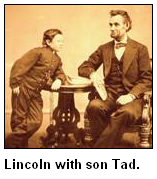 Dale Ogden, chief curator of cultural history at the state museum, has been burning the midnight oil to set up the exhibit called With Charity for All: The Lincoln Financial Foundation Collection, which opens Feb. 12 along with the Library of Congress' traveling exhibit.
Dale shared folklore about – and guided us through – the trove, which includes a handwritten copy of Lincoln's second inaugural address that "the Great Emancipator" delivered in March 1865, the last portrait Lincoln sat for and rare signed copies of the Emancipation Proclamation. Dale and his crew even have arranged for famous Hoosiers, ranging from NASCAR driver Tony Stewart and WNBA star Tamika Catchings to astronaut David Wolf, to cut videos for a Lincoln trivia kiosk.
Some other gems that will be displayed:
The Studebaker carriage in which President and Mrs. Lincoln rode to Ford's Theatre on April 14, 1865. The carriage is on loan from the Studebaker National Museum in South Bend.
A corner cabinet made by Thomas Lincoln, Abraham's father. The Lincoln family moved to the Hoosier wilderness in 1816, the same year Indiana achieved statehood. Even though Abe was just 7, he was tall and strong for his age, so he could help his father clear land in a thick forest and build the family's cabin.
A leather portfolio, signed by Abraham Lincoln, that he used to carry his law papers in Illinois. (Abe Lincoln, along with his father, stepmother and other family members, moved to Illinois when the future president was 21 years old.)
Rare photos of Abraham and Mary Todd Lincoln and their sons, including pictures that once were in the Lincoln family's personal collection.
A poem, penned in Lincoln's hand, titled My Childhood Home I See Again.
The chair in which President Lincoln sat for several famous photos.
Dale's visit to Hoosier History Live! comes on the heels of the announcement that $7 million has been raised in just six months to care for the state museum's large collection of Lincoln artifacts. Part of the collection from the former Lincoln Museum in Fort Wayne will be housed at the Allen County Public Library.The state museum and the library became the recipients of the collection after officials of Philadelphia-based Lincoln Financial Corporation, which had been headquartered in Fort Wayne, announced in spring 2008 that they would end their support of the Lincoln Museum. (The museum had been started decades ago by a top executive of Lincoln Financial, then known as Lincoln Life, who amassed a vast collection of artifacts.)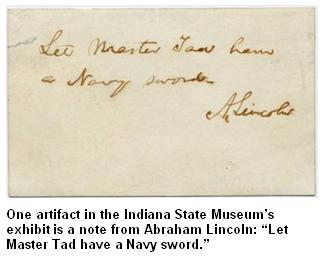 The decision to close the museum, as Dale notes, "put into play a collection of historic proportions."
After nine months during which experts worried that the artifacts might be dispersed to private collectors across the country – and during which the Smithsonian in Washington D.C. and other esteemed institutions expressed interest in acquiring them – the resolution was announced last December that the collection would remain in Indiana. That's when Dale began burning the midnight oil – as well as traveling to D.C. to view the historic Bible ("It took my breath away," he says) and other artifacts at the Library of Congress. The display of the Library of Congress artifacts is being titled With Malice Toward None at the state museum.
There's info about With Charity for All and With Malice Toward None, which will be a timed-ticket exhibit, at www.indianamuseum.org.
History Mystery question:
Lincoln speech at Indianapolis hotel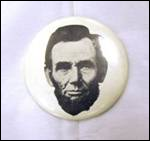 In February 1861, President-elect Abraham Lincoln traveled through Indianapolis en route from Illinois to Washington D.C. for his inauguration. During his stay in the Hoosier capital, the president-elect delivered a speech that made national news. Lincoln made the speech to thousands of Hoosiers from the balcony of a hotel in downtown Indianapolis. The hotel, located on the corner of Washington and Illinois streets, was demolished in 1901.
Question: Name the historic hotel.
The prize was a gift certificate to Chancellor's Restaurant at the University Place Conference Center, part of the Devour Downtown showcase of food and drink.
Roadtripper:
Devour Downtown Winterfest features dozens of restaurants
Roadtripper Chris Gahl of the ICVA gave us a complete report about Devour Downtown Winterfest, running through Feb. 6. More than 40 downtown restaurants are offering three-course meals for $30.
Wayne and Kim Seybold on Winter Olympics and Hoosier links
(Jan. 23, 2010) - The Vancouver Winter Olympics will kick off in February of 2010, and who better to explore Winter Olympians with Indiana connections than the brother-and-sister figure-skating duo who became the most famous of that illustrious group, even though they didn't win a medal? Wayne and Kim Seybold certainly put their hometown of Marion in the national spotlight with their quest to compete in the 1988 Calgary Olympics, a story that involved hard luck, family sacrifices, a town that rallied to support them, and overwhelming health crises that persisted long after their heyday as Olympians.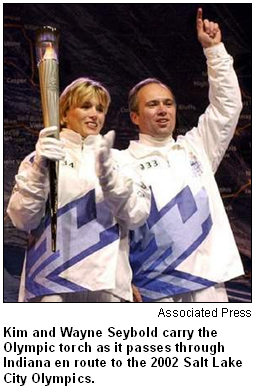 Fans of the Seybolds will recall many of the basics, including how their family lived for years in a trailer park so their devoted parents could save money for coaches, costumes and travel expenses for Wayne and Kim as they made long daily commutes across the state for lessons. Then there were the three scares with brain tumors for Kim (officially known as Natalie, her given name); she learned of the second health crisis the day after Wayne and Kim carried the Olympic torch in Indiana as the flame passed through en route to the 2002 Salt Lake City Olympics.
Beginning more than 22 years ago when the Seybolds were pursing their Olympic dream - and continuing through their post-Calgary career as touring professionals in shows with ice skating's top names - Nelson covered their story for the Indianapolis Star and News. (Wayne and Kim are featured in his books about famous Hoosiers.)
And today? Wayne is mayor of Marion, where the Seybolds remain hometown heroes. Kim lives in the Fishers area, coaches at the Carmel Ice Skadium, married a former hockey player and is the mother of two young daughters. (The youngest was just a few months old when her mother was diagnosed with the second brain tumor.)
Known for their warm personalities, the Seybolds joined Nelson not only to explore the joys and struggles intertwined with their personal Olympic story, but also to share details about other Hoosiers who have competed in previous Winter Olympics. Granted, there have not been many – in fact, fewer than a dozen since the debut of the Olympic Winter Games in 1924. It's not as though mountains, luge and bobsled runs, and speedskating coaches are plentiful in Indiana.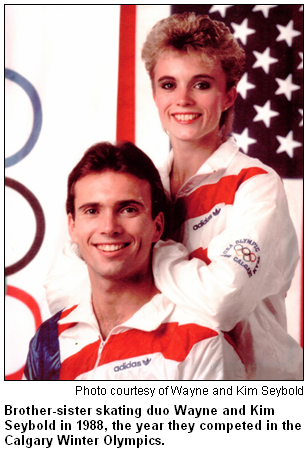 Even top-level figure skating arenas and coaches were not abundant here when Wayne and Kim (who are 46 and 44. respectively) began chasing their dream as kids. Not only did the Seybolds live in a trailer during most of their years of training, they received donations from residents and businesses of Marion (think bake sales and car washes), which put their hometown in the spotlight during ABC Sports coverage of the 1988 Calgary Olympics.
The Marion High School graduates finished 10th in pairs skating, a result that drew criticism of the judging from many analysts (not just Hoosier fans of the brother and sister), but their popularity was such that Wayne and Kim were able to carve out careers as professional skaters in touring shows for several years before returning to Indiana. Campaigning as a Republican, Wayne was elected mayor of Marion in 2003 and has kept up a jammed itinerary of overseas trips as he courts jobs to replace those lost to economic downturns.
While the Seybolds were still touring as skaters – and performing a routine known as the "death spiral" in which Wayne swung Kim inches above the ice – she began experiencing spells of dizziness and blurred vision. After being diagnosed with the type of brain tumor that may reoccur throughout her life, Kim underwent her first surgery – which involved temporarily removing an eye so the surgeons could extract the tumor – in 1995. She eventually married former pro hockey player Mark Catron (Wayne's former roommate) and began coaching. The need for a second surgery was discovered in January 2002, the day after Wayne and Kim served as Olympic torchbearers in a ceremony on Monument Circle. That surgery, which went well, occurred 14 years to the day after Wayne and Kim, now known as Kim Seybold-Catron, performed their short program in Calgary. Kim underwent brain surgery for the third time in May 2007.
Others with Hoosier roots who have competed in the Winter Olympics include:
Hoosier History mystery
A national Hall of Fame that has nothing to do with sports is located in Marion, Indiana. This Hall of Fame is in a Colonial Revival house and celebrates a domestic art.
Question: Name the Hall of Fame.
The call-in number for the correct answer is (317) 788-3314. The prize was a pair of tickets to the Eiteljorg Museum.
Roadtripper
According to Roadtripper Chris Gahl of the ICVA, the internationally renowned performing group Cirque du Soleil is coming to Indy February 11 to 14, performing seven shows entitled Alegria at Conseco Fieldhouse. From a group of 20 street performers in 1984 Quebec, the group has grown to a major performing-arts troupe with more than 1,000 performing artists. If you enjoy live theater, live music and the circus on steroids, Cirque du Soleil at Conseco Fieldhouse is a Roadtrip you won't want to miss.
High school hoops' 100 years
(Jan. 16, 2010) - On the heels of our 100th show, the sport intertwined with Indiana culture is about to celebrate a centennial. The high school basketball season will culminate with the 100th state tournament, the perfect opportunity for Hoosier History Live! to explore the chaotic and colorful early years of hoops here. With the "100 Years in 100 Days" celebration of Hoosier Hysteria under way – it will culminate with a parade in downtown Indy in March – Nelson was joined in studio by Chris May, executive director of the Indiana Basketball Hall of Fame in New Castle, and a Hall of Famer: Ralph Taylor, an outstanding player for Washington High School's state champion team of 1965. (Ralph went on to star at Purdue, leading the Boilermakers to a Big Ten championship in 1969.)
Ralph, Chris and Nelson explored the first basketball game ever played in Indiana. (The game in 1894, the subject of one of our History Mystery questions a while back, was played at the Crawfordsville YMCA.) We also explored the tumultuous early days of the state tournament. The first, in 1911, came down to arch-rival teams from Crawfordsville and Lebanon. According to some accounts, the Crawfordsville players were in agony during the first half because of sabotage. In the locker room, they discovered their jock straps had been saturated with Dr. Sloan's Liniment. Perhaps motivated by righteous anger, the Crawfordsville roared ahead in the second half to win, 24-17.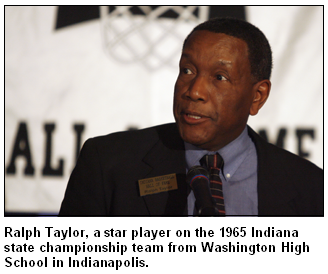 Hoops enthusiasts know basketball wasn't invented by a Hoosier. That distinction goes to Dr. James Naismith of Massachusetts, a medical doctor and minister who used peach baskets when he set up (and drafted early rules for) a game he called "Basket Ball" at a YMCA where he was a youth instructor. Even Naismith, though, identified the Hoosier state as ideal for the sport; when he visited Indiana to attend the 1925 high school tournament, he is said to have marveled at how his "little wintertime diversion had gripped an entire state," according to an Indianapolis Star account.
The on-court dramas that have ensued since then at the state tournament have become Hoosier folklore. We easily could devote entire shows to the "Milan Miracle" of 1954 in which tiny Milan High School slew "Goliath" (Muncie Central), an astonishing upset that inspired the classic movie Hoosiers (1986). Or to the back-to-back triumphs in 1955 and '56 by Oscar Robertson and his teammates at Attucks High School, the first all African-American (and first Indianapolis) team to capture the state title.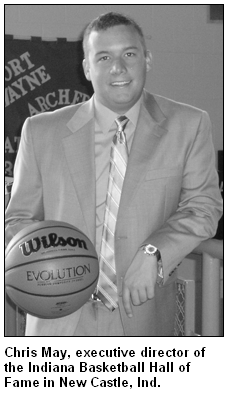 During those Attucks victories, Ralph, our guest, was a young boy who idolized the state champs and dreamed of one day following in their sneakers. Ralph, Chris and Nelson shared details of the "100 Years in 100 Days" hoopla, which will involve a traveling exhibit – put together with the help of the Basketball Hall of Fame – that will visit high schools and towns across Indiana. The centennial celebrations are being organized by the Indiana High School Athletic Association.
Today, Ralph is an Indy-based international resource adviser and president of the Hall of Fame's board. Chris, a former radio sportscaster, was not on the team during his days at Rushville High School; at 5-feet-6, he has found other ways to be immersed in the sport he loves. Nelson asked his guests about the sense among some that the "golden age" of the state tournament happened about 50 years ago – and that enthusiasm has fallen dramatically because of several factors, including "class" basketball. According to Hoosiers All author Emerson Houck, the guest on our show in August 2009, in 1938 there were 787 schools entered in a single-class championship, the largest entry list ever. Today, there are slightly more than 400 high schools entered in what has become a four-class tournament. No less a legendary figure than former coach Johnny Wooden (who was a star player at Martinsville High School in the 1920s) has called class basketball "a crime against culture."
Other fun facts:
Of the 10 largest high school gyms in the country, eight are in Indiana. (The two exceptions are in Dallas, Texas.) The largest, of course, is a stone's throw away from the Hall of fame: It's the New Castle High School Fieldhouse, which opened in 1959 and seats 9,325 spectators. Number 2 is the Wigwam in Anderson, which was spared (at least temporarily) from demolition last year; it remains in use even though the old Anderson High School, which used to be next to it, was closed more than a decade ago and subsequently burned.
The traveling "100 Years in 100 Days" exhibit will come to Greenwood Park Mall on Jan. 23. The exhibit, which includes historic memorabilia ranging from apparel to rare photos, newspaper articles and basketballs, will be at the mall from 12 noon until 6 pm. For more details about the exhibit's schedule or the "100 Years" celebration, visit 100yearsin100days.net.
History Mystery question
For most of basketball's early history, the balls were muddy brown in color. A famous Hoosier is credited with suggesting orange as an ideal color for a basketball.
Question: Name the famous Hoosier.
Answer: Tony Hinkle, the legendary multi-sport coach at Butler University. He's credited in the 1950s with advocating an orange basketball so that it would be more visible to players and spectators. Born on a farm near Logansport in 1898, Hinkle came to Butler in the early 1920s and was a coach or teacher there for nearly 50 years. He took Butler's basketball team to a national championship in 1929, and he also coached football and baseball. He died in 1992, more than 20 years after the athletic fieldhouse on campus had been renamed in his honor.
The prize was a pair of tickets to the Indianapolis Symphony Orchestra concert, featuring the music of Mozart, on Saturday, Feb. 20, courtesy of the ICVA. The station requests that you not try to call in to win if you have won a prize on any WICR program within the last two months. Of course, we always do welcome general questions for the show!
Roadtripper
Our intrepid Roadtripper correspondent, Chris Gahl of the ICVA, shared details about two upcoming winter festivals. Chris gave us the scoop on the 15th annual Winter Antique Show in Huntingburg, as well as the Chocolate Lover's Weekend in French Lick.
K.P. Singh on the Sikh heritage in Indiana
(Jan. 9, 2010) - For our 100th show, wouldn't you expect something special from Hoosier History Live? Well-known artist K.P. Singh joined Nelson in studio for a show in our rotating series about ethnic immigration and spiritual heritage in Indiana. Born in India, trained as an architect and renowned for his pen-and-ink drawings, K.P. was one of the few local members of the Sikh religion when he settled in Indianapolis during the 1960s; then-Mayor Richard Lugar had hired him as a city planner. Today, there's more than one Sikh temple in the Indy metro area, as well as a head priest. K.P., who eventually became a founding member of the International Center of Indianapolis and now devotes himself full-time to his artwork, will share details about the growth here in Sikhism, the world's fifth-largest religion. At one Sikh temple alone in Indianapolis, weekly attendance usually is more than 300 people.
Credited with helping start a group that saved Union Station from demolition in the 1970s, K.P. is a tireless advocate of historic preservation and is acclaimed for his architectural artwork of Hoosier landmarks, ranging from the Indianapolis City Market, Monument Circle and the Indiana Statehouse to the Vigo County Courthouse and the University of Notre Dame. He's also acclaimed for his artwork that depicts monuments in his homeland of India, as well as in Washington D.C., such as the Lincoln Memorial. Many of his drawings, as well as accompanying essays and poems, are featured in his book, The Art and Spirit of K.P. Singh (2003). He will share his personal journey as a Hoosier, along with details about the evolution of local Sikhs, whose temples are called "gurdwaras."
In 1947, when he was just 7 years old, K.P. left India with his family. His family members, along with thousands of other people, were thrown out of the country during an era of ethnic strife. Eventually he studied architecture, then earned a master's degree in city planning at the University of Michigan. He came to Indianapolis in 1967 and almost immediately found himself described on the front page of the former Indianapolis News in its "Did You Notice?" feature this way: "Did you see a turbaned and bearded man looking like an Indian maharajah viewing a children's exhibit in the lobby of the City-County Building?" Fortunately, Indy has come a long way in its international diversity, sensitivity and awareness during the 43 years since his arrival created such a stir. Along the way, K.P., who has been named a Sagamore of the Wabash, has enjoyed remarkable successes with his artwork. It's been exhibited in more than 25 countries and at the Smithsonian in Washington DC.
Some fun facts:
Before the building of gurdwaras, local Sikhs usually worshipped in private homes. K.P. is a member of the Sikh Satsang of Indianapolis, which worships at Gurdwara Sahib, a temple built in 1999 on Southeastern Avenue near Acton. In 2008, Gov. Mitch Daniels visited the Sikh temple, praised the growth of the Sikh community in Indiana, and said, "May it multiply ... and as it does, we will become a stronger state."
Sikhs believe in one God (Hindus worship to multiple deities) and worship on Sundays. People entering a gurdwara remove their shoes and cover their heads with hats, scarves, caps or turbans. All members of Sikhism have the surname Singh. The head priest at Sikh Satsang of Indianapolis is Pritam Singh.
Most accounts indicate there are nearly 30 million Sikhs around the world, with about one million in the U.S. and Canada. They have been in the U.S. for more than 100 years, initially settling in California as farmers. Sikhs have a particularly strong presence in the Punjab state in India.
Over the years, K.P. has done pen-and-ink drawings of a vast range of Hoosier houses of worship. His book includes his artwork depicting the historic St. John's Catholic Church in downtown Indy and St. Paul's Episcopal Church on the Northside, for example.
History Mystery question
A former governor of Indiana served as the U.S. ambassador to a small Asian nation in the late 1980s and early 1990s.
Question: Name the former governor and the Asian nation where he represented the U.S. in the diplomatic corps.
Answer: Gov. Robert Orr and Singapore. A Republican who grew up in Evansville, Orr served two terms as Indiana's governor, from 1981 to 1989. (Before that, he spent eight years as lieutenant governor.) In 1989, President George H.W. Bush appointed Orr as U.S. ambassador to the Republic of Singapore, an island city-state. Singapore is the smallest nation in Southeast Asia. Orr served as the ambassador there for three years. He died in 2004 and is buried in Crown Hill Cemetery in Indianapolis.
The prize was a pair of tickets to the Children's Museum, courtesy of the ICVA. The station requests that you not try to call in to win if you have won a prize on any WICR program within the last two months. Of course, we always do welcome general questions into the show!
Roadtripper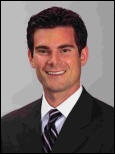 Our Roadtripper, Chris Gahl of the ICVA, logs almost as many airplane miles as George Clooney in Up In the Air. (Of course, our intrepid Roadtripper is a far more stand-up guy than is the Clooney character.) How are new security guidelines affecting air travel these days? Just how much do you have to take off, and what about those full-body scanners? What are some tips for getting in and out of the airport in a smooth and calm manner? Any trips on parking, or good transit options? Chris offered a report.
Janet Flanner's colorful and literary life
(Jan. 2, 2010) - Along with her admirer Kurt Vonnegut, fascinating Janet Flanner was one of the most acclaimed literary figures ever to come out of Indianapolis. Alas, more than 30 years after her death, Paris-based Janet Flanner may no longer be a household name, although she received a burst of attention last spring when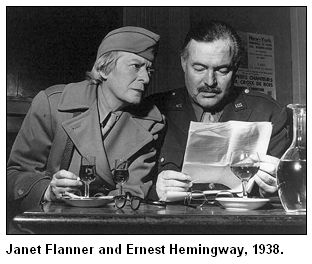 she was inducted posthumously into the Indiana Journalism Hall of Fame.
Witty and incisive, Janet Flanner (1892-1978) grew up amid the family that founded the Flanner & Buchanan mortuary business in Indianapolis. For 50 years, from 1925 to 1975, she wrote – under the pen name "Genet" – columns, profiles and vignettes for The New Yorker as its Paris correspondent. Her conversational dispatches, packaged as her"Letter from Paris," were eagerly awaited by thousands of devoted readers and included profiles of such cultural icons (and personal friends) as Pablo Picasso, Henri Matisse, Charles de Gaulle and Albert Camus.
Nelson's studio guests will be Flanner's cousin, Scott Keller, the former city-county councilman in Indy, and Chris Connolly, a local expert about her life and career. A well-known appraiser of antiques, fine art and collectibles, Scott always champions the impact of his colorful cousin, whose dispatches chronicled the "Lost Generation" in post-World War I Europe that included Flanner's pals Ernest Hemingway and Gertrude Stein.
Before her astonishing career overseas, Flanner served as the first movie critic for The Indianapolis Star in 1916. According to some accounts, she was one of the first film critics (reviewing silent flicks, of course) in the entire country. Chris, an Indianapolis businessman, is writing a play about Flanner. Incidentally, in this Youtube video, you can watch Flanner hold her own in a live television scuffle between Gore Vidal and Normal Mailer; it's from a 1971 Dick Cavett show.
Known as a "writer's writer," Janet Flanner once said, "I act as a sponge. I soak it up and squeeze it out in ink every two weeks." Flanner attended Tudor Hall School for Girls (where she was president of her class in 1905) and, like Vonnegut, had a turbulent relationship with her hometown. Her father, Indianapolis philanthropist Frank Flanner, committed suicide in 1912. He had co-founded the mortuary business with his brother-in-law, Charles Buchanan. (Frank Flanner also had founded a nonprofit organization, the Flanner Guild, to assist low-income people. It was the forerunner of today's Flanner House.)
Scott's crusade to make certain that his distinguished relative is remembered in their hometown has included donating the building that houses the Phoenix Theatre in her memory. A pioneer in the renovation of downtown houses and other properties in the 1980s, Scott has won awards from the Riley Area Development Corp. and other organizations for his urban trailblazing.
Some fast facts:
While based in Europe, Janet Flanner wrote articles on Hitler's rise to power; after World War II, she covered the Nuremberg trials. Her profile subjects ranged from Queen Mary of England to French artist Henry Matisse.
Since her death, Flanner has been the subject of several well-received biographies. They include Genet: A Biography of Janet Flanner by Brenda Wineapple (University of Nebraska Press) and Janet, My Mother and Me by William Murray (Simon & Schuster).
In the Genet bio, author Wineapple writes that Janet Flanner "consistently described Indiana as a hateful place, with its bourgeois standards, its lack of beauty, and its elongated flat spaces." However, esteemed journalist Lawrence "Bo" Connor, who interviewed Flanner as a cub reporter for The Indianapolis Star while visiting Paris in 1952, recalled in a recent Traces magazine piece that "she had no harsh words for the city."
When Flanner died in 1978, Vonnegut was so worried that the death of the world-renowned literary figure would not receive appropriate attention in their mutual hometown that he phoned The Star to lobby for a thorough obituary. He recounted this effort in his autobiographical book Palm Sunday (1981), writing that he considered Flanner "the most deft and charming literary stylist Indianapolis has so far produced."
History Mystery question
In addition to Janet Flanner, several other women who were native Hoosiers became famous writers during the mid-20th century. They included a woman who was born in Muncie during the 1890s. Known for her light-hearted humor, she was the co-author of a book about her youthful trip to Europe that became a national bestseller in 1942. Then it was turned into a hit movie in 1944. Before that, she had carved out a successful career as a journalist, serving as managing editor of Ladies' Home Journal magazine. After her 1942 bestseller, she wrote more than a dozen other books. Like Janet Flanner, she also wrote regularly for The New Yorker magazine. She died in 1989.
Question: Name the famous Hoosier writer.
Answer: Emily Kimbrough. Born in Muncie in 1898, she is best remembered for her 1942 bestseller, Our Hearts Were Young and Gay, a witty reminiscence. Written with her best friend, actress Cornelia Otis Skinner, the book recounts their youthful adventures during the early 1920s on an ocean liner and a vacation in Europe. Eventually, Emily Kimbrough wrote 14 books, including a sequel, We Followed Our Hearts to Hollywood, and an exuberant account of life in Muncie at the turn of the last century, How Dear to My Heart. She also wrote several popular books about international travel during the 1940s and '50s. Emily Kimbrough's girlhood home in Muncie, which has been restored, is open for tours by appointment.
Roadtripper
Our Roadtripper, Chris Gahl of the ICVA, called in with a surprise Indiana travel pick from a sub-tropical clime - checking in with those of us shivering up north.