Home | About us | Support the show | Contact us | Archives | Listen
2019 | 2018| 2017 | 2016 | 2015 | 2014 | 2013 | 2012 | 2011 | 2010 | 2009 | 2008
Archives - 2019
The Hoosier History Live archives are now organized by year. See the links above for all 10 years of our show descriptions and resources.
To listen to podcasts of old shows, just click on the link right below the show's headline.
Restaurants: the old, the new and their souvenirs
Click here to listen to the podcast.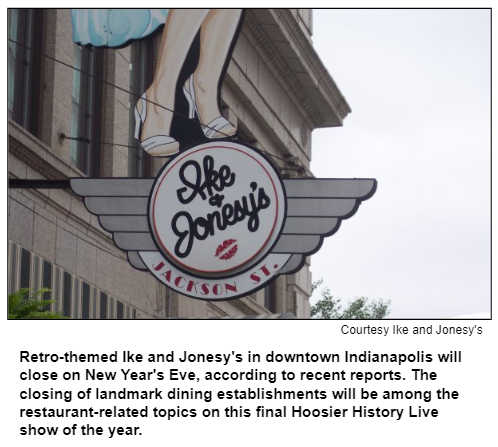 (December 28, 2019) Remember when it was common for dining establishments to offer customers distinctive placemats and other souvenirs as thanks for their patronage?
Those kinds of keepsakes are mostly bygone now, but Terry Kirts, the dining critic for Indianapolis Monthly magazine, has a stash of placemats from Hoosier restaurants. Terry describes the souvenirs as Nelson's studio guest for the final Hoosier History Live show of the year. As per our year-end tradition, the show explores dining trends and establishments: this time around we take a look at restaurants that have closed, those that are anticipated and some that have opened in historic structures.
The latter include Taxman Brewing Co., a pub and beer-garden that has opened in a former livery stable in the Cityway area on downtown Indy's south end. As Terry reported in an article for Indianapolis Monthly's website, the historic livery was moved a few blocks to accommodate residential and retail expansion in Cityway.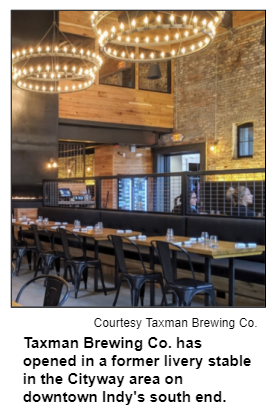 Terry also reports news about Clancy's, a popular regional hamburger chain that was based in Noblesville beginning in the mid-1960s. The original Noblesville location (which Terry says offered central Indiana's "first double drive-thru at one point") closed along with other Indiana sites a while back, but he reports Clancy's is making a comeback here during the new year. Clancy's, which was named after a cartoon cop, plans to open among the restaurants in the massive Bottleworks development on Massachusetts Avenue in downtown Indy that's expected to open in phases beginning in 2020.
Even though some old favorites are returning, others closed during 2019. They include Poe Brothers Cafeteria, a family-owned landmark in Morgan County since 1960. At one point, the Poe family owned cafeterias in both Mooresville and Martinsville, which were patronized by celebrities including Larry Bird and Bob Knight. The last Poe Brothers closed in Mooresville in September.
Another closing of a landmark was announced this month: Ike and Jonesy's, a retro-themed (1950s and '60s) pub located in downtown Indy, planned to have its "last hurrah" on New Year's Eve, according to The Indianapolis Star. In 1984, soon after the Indianapolis Colts began playing at the stadium known then as the Hoosier Dome, Ike and Jonesy's was one of the first new establishments to open nearby, kicking off the revival of the Wholesale District.
At a distinctive location elsewhere in downtown Indy, a landmark building with a pub that opened during Prohibition - and closed in 2017 - has become the home of new restaurant. Terry and Nelson will discuss The Flatiron, a restaurant that opened this year at the three-way intersection of Fort Wayne Avenue, East North Street and Pennsylvania. The Flatiron takes its name from the triangular footprint of its building, which had housed the Elbow Room since the 1930s.
Roadtrip: Wick's Pies in Winchester
Guest Roadtripper and food and travel writer Jane Ammeson suggests a visit to Wick's Pies in the town of Winchester in Randolph County, about an hour and a half east of Indianapolis.
Jane leads us on the quest for a true Hoosier experience: the sugar cream pie, a rich, custard-like confection that has become an Indiana culinary emblem. Also known as Hoosier Pie and honored as the unofficial state pie of Indiana, the sugar cream pie traces its heritage back to the early 1800s.
Containing just a few simple ingredients, the pie is a testament to the creativity and resourcefulness of pioneer women, who had to make do with what was available to them on their often isolated homesteads.
The geographical origins of sugar cream pie can be traced back to Shaker settlements along the Ohio border of eastern Indiana. There are also links to Amish areas in northern Indiana, where the Bob Andy pie, a version spiced with cinnamon and cloves, is popular.
In our pursuit of this confectionary delight, Wick's Pies makes a great starting place. As Jane tells us, the company was founded in Winchester in 1944 and has become famous for its sugar cream pie, made from a Wickersham family heirloom recipe dating back to the 19th century. Wick's started off with the hand production of 36 pies a day but now has grown into a pie force to be reckoned with, distributing their baked goods throughout the United States.
If sugar cream pie just isn't your thing, you'll have lots of other options at Wick's. The inventory includes savory pies (think chicken pot pie and beef pot pie), speciality pies like German chess, mince, gooseberry, black raspberry and sugar-free pies. They also sell house-made noodles and have a bakery café where you can grab a meal that manages to include items other than pie.
But Jane assures us that at Wick's, the main attraction for her will always be the pie!
History Mystery
During last year's final Hoosier History Live show - which focused on supper clubs and restaurants - a bygone dinner theater in Indianapolis also was discussed. A popular nightspot in the 2100 block of North Talbott Street, the dinner theater presented singers and musicians along with other entertainers, including artists and magicians.
Located in a former movie theater, the dinner theater was an anchor from 1968 until 1980 in an area of the Hoosier capital that was then becoming known as "bohemian," according to the book Classic Restaurants of Indianapolis.
Question: What is the name of the bygone dinner theater on North Talbott Street in Indianapolis?
The prizes this week are four tickets to the Indiana History Center, all dressed up for the holidays, courtesy of the Indiana Historical Society, and a gift certificate to Story Inn in Brown County, courtesy of Story Inn.
Early railroads in Indiana: encore
Click here to listen to the podcast.
(December 21, 2019) During the late 1840s, a former U.S. senator from Indiana told a gathering of Hoosiers: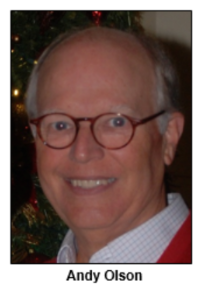 "The time has now come when central Indiana has to decide whether the immense travel, emigration and business of the west should pass round or go through central Indiana - and not force them round by either Cincinnati to the east, or Chicago on the north."
That speech advocating construction of more Indiana railroads is quoted in a book titled Forging the Bee Line Railroad, 1848-1889 (Kent State University Press, 2016). The Bee Line was a nickname for the Indianapolis and Bellefontaine Railroad that, when connected to other railroads, linked the Hoosier capital with Cleveland, Columbus and other Ohio cities.
Andy Olson, the book's author, notes that the Bee Line was likened to "a bumblebee's nearly straight-line path" as it traveled between cities. Andy is Nelson's studio guest for this encore show exploring the unfolding of the Bee Line and other early railroads in Indiana; the show was originally broadcast in April of 2017.
Dr. Francis Parker, the co-author of Railroads of Indiana (IU Press, 1995), also joins Nelson as a studio guest. He's a former department chair of urban planning at Ball State University. Considered one of the top experts on Indiana's railroad heritage, Dr. Parker is also a qualified locomotive engineer and conductor.
With our guests, we explore the evolution of early railroads in Indiana, including the Bee Line. (In Indianapolis, its tracks run parallel to Massachusetts Avenue, Pendleton Pike and Fort Harrison.)
The state's first railroad line was the Madison and Indianapolis, which was completed in 1847 and linked the Ohio River town (then one of the state's largest cities) with the Hoosier capital.
Major challenges for early Indiana railroads ranged from topographical (the bluffs of the Ohio River and hills of southern Indiana) to the financial. "The Bee Line far underestimated the amount of capital required to bring such a massive undertaking to life," our guest Andy Olson wrote in a series of blogs for the Indiana Historical Bureau.
Initially, railroad construction was slow. In Railroads of Indiana, Dr. Parker and his co-author, the late Richard Simons, note that construction of the Madison and Indianapolis line took nine years and involved cuts through solid rock to depths of 100 feet and embankments nearly 100 feet high.
But a dramatic increase in construction across Indiana between 1850 and 1855 resulted in a "railroad explosion." During our show, our guests will describe the national significance in 1853 of the opening in Indianapolis of Union Depot, the predecessor of the majestic Union Station that remains a downtown landmark today in the Hoosier capital.
Our guest Andy Olson also discusses the influential role of Oliver H. Smith, the former U.S. senator who delivered "the time has now come" speech to Hoosiers. Smith, who primarily was based in Connersville during the early railroad era, became a key figure in the development of the Indianapolis and Bellefontaine, which extended 83 miles northeast of Indianapolis into Ohio. A noted amateur historian and retired lawyer, Andy is a board member of the Society of Indiana Pioneers and has been involved in various projects at Conner Prairie Interactive History Park.
Board members for the railroad line came from all of the Indiana counties along the route: Marion, Hancock, Madison, Delaware and Randolph counties. For some members, lucrative contracts ensued because of the construction of depots and railroad ties or the provision of rights-of-way.
Some Indiana railroad heritage facts:
Madison banker James Lanier became a major financial backer of Midwest railroad lines, including the Bee Line, according to Andy's book.
As a locomotive conductor, our guest Dr. Francis Parker operated the Indiana State Fair Train and other special trains.
Located on the border with Ohio, the Indiana town of Union City (then a railroad junction known simply as Union), "bustled with activity," according to Forging the Bee Line. Early railroad companies "did not allow locomotives or rail cars to travel beyond geographic and corporate boundaries," so transfers at the junction were continual, often requiring passengers to stay overnight in a local hotel.
Note: Dr. Francis Parker died unexpectedly in March. He is remembered and admired as one of the foremost experts on Indiana's railroad history.
Roadtrip: Metamora and the passenger pigeon
Who could have known that a North American bird with a population in the billions, and whose flocks would literally darken the sky, would be nearly extinct by 1900?
The passenger pigeon was hunted and killed for inexpensive food and for sport, and the birds would not breed in captivity. The last documented passenger pigeon in the wild was shot and collected for specimen near Laurel in Franklin County on April 3, 1902.
Our guest Roadtripper Michael Homoya, formerly of the Indiana Department of Natural Resources, invites us to visit a state historical marker at the Whitewater Canal State Historic Site in Metamora, near Laurel, commemorating the extinct bird.
Other animals that once occurred in Indiana include Carolina parakeet, Ivory-billed woodpecker, American bison, elk, timber wolf, and black bear (a few transient bears have been coming into the state, but none have become established as a breeding population).
For more information this topic, check out the Hoosier History Live newsletter for our June 2014 show "Passenger pigeons and other extinct or endangered birds."
A stroll through the history of Meridian Street
Meridian Street mansions in Indy history
Click here to listen to the podcast.
(December 14, 2019) As showplace mansions built primarily during the 1920s with a mix of architectural styles, the stately homes along North Meridian Street in Indianapolis captivate motorists on one of the Hoosier capital's busiest streets. Not only is Meridian the city's east-west divider, the street is the route for U.S. 31 on the Northside.
The mansions in the North Meridian Historic District - 177 structures on both sides of the thoroughfare between 40th Street and Westfield Boulevard - are troves of city and social history, their stories intertwined with visits by famous Americans ranging from notable politicians like John F. Kennedy, Harry Truman and George H.W. Bush to movie stars and business tycoons.
With, in many cases, marble entryways, third-floor ballrooms, leaded glass windows, French doors, terraces, turrets, crystal chandeliers and carriage houses, the mansions are the focus of our show as we explore more than 100 years of their history, including the 1960s and '70s, when the homes fell out of favor and often could be purchased for a pittance. The Meridian Street Foundation was formed in 1960 to protect the heritage of the homes; during the 1980s, the district was added to the National Register of Historic Places.
Nelson's studio guests include Kassie Ritman, the author of two new, deeply researched books about the history of the mansions: Meridian Street, part of Arcadia Publishing's Images of America series, and Meridian Whispers (Knocking River Press).
Other guests include civic leader Peggy Sabens, who lives in a Meridian Street mansion built between 1926 and 1929 that's considered to be among the district's best-preserved historic homes. Peggy, a former president of the Meridian Street Foundation, and her late husband, a physician, bought the mansion from an owner who had a direct connection to a celebrity unlikely to be associated with the elegant mansions: the pro wrestler known as Dick the Bruiser.
Her home was built in the Tudor style, as was the Meridian mansion that became the residence of Pulitzer Prize-winning novelist and playwright Booth Tarkington (1869-1946). Other mansions - which typically have landscaped gardens - were built in architectural styles ranging from French Renaissance and Southern Colonial to Colonial Revival, Italian Renaissance and Renaissance Revival.
Much as there is to explore about the mansions and their previous, illustrious owners - who included early auto-making families such as the owners of the Cole Motor Car Company and nationally known political figures like Bill Ruckleshaus, who died last month - we broaden our scope to examine changing demographics over the years. Current owners of the historic houses include many families with young children.
We also explore buildings in the North Meridian Historic District that are not single-family homes. They include Tarkington Towers, a high-rise that opened in 1966 as apartments and now is luxury condominiums, and a restaurant in the 5600 block of North Meridian that today is called The Meridian. Many listeners may remember the restaurant as Dodd's Townhouse, its long-time name under previous ownership. Part of the restaurant's structure was built as a log-walled farmhouse in 1900, according to Kassie's books.

The North Meridian Historic District includes both the current residence of Indiana's governor - a mansion at 4750 N. Meridian built in 1928 - and a former governor's mansion. The latter is a grand house in the 4300 block built in 1920 with buff-colored brick and a green-tiled roof that served as the governor's residence from 1945 through the early 1970s.

A few blocks north of that mansion is the historic home of our third guest, Sheila Little, a retired molecular biologist from Eli Lilly & Co. Since 1993, Sheila and her husband have lived in the Colonial-style mansion, which was built in the late 1920s. Sheila is the past president of the Meridian Street Foundation and a civic leader, currently serving as president of the Fortnightly Literary Club.

Our guests note that the district's extensive landscaping often is as much a source of pride as the mansions themselves. Many trees on the properties, including silver maples, are as old as the houses and, under guidelines for homeowners adopted by the Meridian Street Foundation, must be properly maintained.

Summing up the historic mansions in Meridian Whispers, our guest Kassie writes that the homes are "a treasure to Indianapolis, and each one has an amazing story, or two, or six, behind its lovely doors."



Roadtrip: Annie Oakley Natural Perfumery in Ligonier
Guest Roadtripper and retired bookstore owner Kathleen Angelone suggests a "sweet smelling trip" to the Annie Oakley Natural Perfumery in Ligonier in northeastern Indiana.
Founded in 1980, the company is housed in a plain building that belies the fascinating and cheerful perfume showroom and manufacturing facility located inside.
Kathleen tells us that while taking the company tour, visitors learn about the perfumes, bath salts, fragrances, essential oils and other products that are manufactured there. They also learn the life story of Renee Gabet, the company's founder, who as a young girl loved perfume counters in department stores and eventually decided to create and market perfumes herself.
Visitors on the tour can even produce a fragrance themselves, as well as select purchases from the complete line of fragrances and Annie Oakley merchandise.
As for the company's name, listeners may wonder why an Indiana concern carries the moniker of Ohio native Annie Oakley, the sharpshooter star of Buffalo Bill's Wild West show immortalized by Ethel Merman in the 1946 Broadway show Annie Get Your Gun.
Fear not, intrepid Roadtrippers, this question (and many others!) are addressed by Kathleen as she takes us on this fascinating journey into the realm of the olfactory sense.
History Mystery
The mansion on North Meridian Street that currently serves as the Indiana governor's residence was built in 1928. The house, located at 4750 N. Meridian St., was a private residence until the early 1970s, when its owners sold it to the state for use as the new governor's mansion, replacing another historic home on N. Meridian that had been the official residence.
During the transition, the mansion at 4750 N. Meridian was shut down for about one year for renovations and updates so it could be used as the residence of the governor and first lady.
In 1973, Otis Bowen and his wife, Beth, became the first to live in the current governor's mansion.
A previous governor had lived in Riley Towers, the high-rise apartments in downtown Indianapolis, while the renovations were underway. The penthouse at Riley Towers served as a default "governor's residence" for this governor.
Question: Who was the governor that lived in Riley Towers during his term in office?

The prizes this week are four tickets to the Indiana History Center, all dressed up for the holidays, courtesy of the Indiana Historical Society, and a gift certificate to Story Inn in Brown County, courtesy of Story Inn.
The Case of the December Bride and other crimes from Indy police files
Click here to listen to the podcast.
(December 7, 2019) In the late 1930s, a brutal crime made headlines in Indianapolis as the "Case of the December Bride," so-called not because of the month in which the murder was committed - it happened in January - but rather because of the relative ages of the married couple involved.
The victim, Carrie Romig, who was fatally beaten with a claw hammer, was in her 50s. Her body was discovered in the couple's apartment on West 12th Street by her husband, Harold Romig, who was in his 20s.
A "whodunit" mystery unfolded for weeks as suspicion initially fell on Harold Romig, who insisted that he had been at work in a restaurant in an F.W. Woolworth five-and-dime store when the slaying occurred.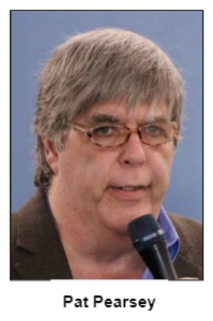 The Case of the December Bride is among the crimes that took place in the Hoosier capital during the early and mid-1900s that we explore during our show, which examines cases that were once considered sensational but are little remembered today.
They are among the array of cases described in a new book, True Crimes in the Circle City, written by Patrick Pearsey, the archivist for the Indianapolis Metropolitan Police Department (IMPD). He was a guest on a recent Hoosier History Live show about Police Department history in Indianapolis.
Patrick, a civilian member of the police department since 1980, is Nelson's studio guest for a conversation focused on how crimes illuminate social history. In some cases, the crimes to be discussed on the show involve police officers who were members of Patrick's family; he is the third generation of Pearseys to work for the department.
His father, Sgt. James Pearsey, was a key figure as a young detective in solving another gruesome murder. In 1946, a 22-year-old nurse working the night shift at Riley Hospital was discovered clubbed to death. Witnesses reported seeing a masked figure lurking in corridors of the hospital.
Despite extensive publicity and exhaustive searches, the crime went unsolved for several years. During our show, Patrickl explains how his father - who wanted to redeem himself with his supervisors because of his involvement in an accident with a paddy wagon - toiled on his own time to solve the case. During the early 1950s, he finally was successful.
During our show, we also explore a nationally publicized series of episodes in the early 1900s that became known as the "Case of the Dynamiters." In 1909, simultaneous explosions in four places across Indianapolis woke up residents at midnight. Suspicion fell on unions, particularly the Iron Workers.

The local blasts eventually were tied to a series of explosions that had occurred years earlier in Los Angeles and other cities. After charges were brought against 54 union officials for a nationwide bombing campaign, the trial was held in Indianapolis at what is now known as the Birch Bayh Federal Building and U.S. Courthouse.

A fourth case we explore during our show focuses on a moonshiner, Ivan Coy, whose farm near Brownsburg was raided in 1930 during Prohibition. After authorities found a 40-gallon still, Coy was sent to prison. Upon his release, he became a suspect in a burglary and led Indianapolis police on a wild foot chase that involved gunfire in which a police officer was seriously wounded. A car chase followed: Coy forced an innocent motorist to drive him to Martinsville, where authorities spent days searching for him.

For that case and the others that Patrick has included in True Crime in the Circle City, he relied on a variety of sources. Some historic cases investigated by IMPD - along with mugshots, crime scene information and personnel records - are included on a digital collection about the police department's history that has been put together as part of a partnership with the Indianapolis Public Library. Patrick and other IMPD staffers helped with the collection, which launched a few months ago on the library's Digital Indy website.



Roadtrip: Indiana Birding Trail
Where are the birding hot spots in Indiana? Guest Roadtripper and nature enthusiast Terri Gorney of Fort Wayne tells us about the new Indiana Birding Trail website, officially "open for business" in January 2020.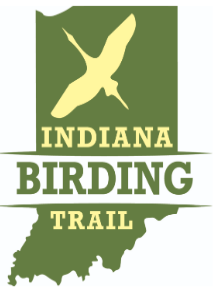 The Indiana Birding Trail was created under the auspices of the Indiana Audubon Society. It was designed in part to promote tourism and outdoor recreation by posting online birding maps and creating new signs that will be installed throughout the state.

From the shores of Lake Michigan to the banks of the Ohio River (and everything in between), Indiana's diverse habitats of prairies, wetlands, and forests have created homes for over 400 documented bird species.

For the Indiana Birding Trail, 64 locations in Indiana have been designated birding "hot spots," with the state divided into five regions: Northwest, Northeast, Central, Southwest and Southeast.

Areas listed include Goose Pond, Brown County State Park, Fort Harrison State Park, Eagle Creek, Jasper-Pulaski, Dunes State Park, Eagle Marsh, Fox Island, Pokagon State Park and Limberlost Swamp Wetland Preserve. Each area has a write-up on the website of what birds to expect to see, the habitat, and amenities in the area.

Even if you are a beginning birder or just like seeing the scenic beauty of the state, the birding trail will offer you endless variety of the natural beauty of the Hoosier State. The Indiana Birding Trail website isn't live yet, but if you click on the link you can sign up to be notified when it does go live in January.

History Mystery
The beginnings of the Indianapolis Metropolitan Police Department can be traced to 1821, when civic leader Hervey Bates became the first Marion County sheriff. Eventually, Hervey Bates also became the owner of a well-known building that even became associated with Abraham Lincoln.
The building Bates owned was demolished nearly 120 years ago, but it was the most prestigious of its kind in Indianapolis during the 19th century.
Question: What type of building was owned by Marion County's first sheriff, Hervey Bates?
Hint: It has been discussed during several Hoosier History Live shows, including a program in October about police history that also featured IMPD archivist Patrick Pearsey as a guest.
The call-in number is (317) 788-3314. Please do not call into the show until you hear Nelson pose the question on the air, and please do not try to win the prize if you have won any other prize on WICR during the last two months. You must be willing to give your name and address to our engineer and be willing to be placed on the air.
The prizes this week are four tickets to Indy's Teeny Statue of Liberty Museum, courtesy of Tim and Julie's Another Fine Mess, and two tickets to the Indiana History Center, courtesy of the Indiana Historical Society.
Talkin' bout a revolution(ary): Hoosier Eugene V. Debs
James Whitcomb Riley: Before he was famous - encore
Click here to listen to the podcast.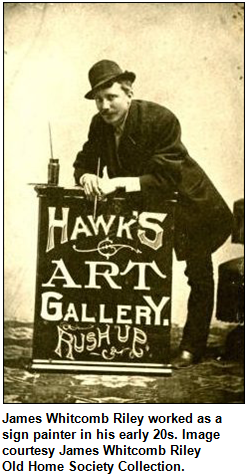 (November 30 2019) Long before the "Hoosier Poet" became known across the country as a spellbinding entertainer, he had a colorful life. That was so even before young James Whitcomb Riley worked as a musician and sign painter on the traveling medicine show circuit. Hoosier History Live spotlighted these and other captivating aspects of the Greenfield native's life in a show originally broadcast in November of 2014, which we are featuring now as an encore presentation.
Delving into Riley's early experiences, we explore his complicated relationship with his father, a Civil War veteran; his role in a hoax about a poem described as the long-lost work of Edgar Allen Poe; his schooling, childhood antics and sorrows; the visit of a Confederate soldier and a haystack of other aspects of the early life of the Hoosier who had written more than 1,000 poems when he died in 1916.
Nelson is joined in studio by three guests who have immersed themselves in Riley's pre-fame life. They include historic re-enactor Danny Russel, a popular entertainer/educator who periodically portrays Riley during this show as he shares some of Riley's poems, both obscure and famous.
Guests also include two Hancock County residents deeply involved with the James Whitcomb Riley Boyhood Home in Greenfield. They are Brigette Cook Jones, president of the Hancock County Historical Society, and Gwen Betor, past president of the Riley Old Home Society. Both Brigette and Gwen have served many years as docents at the home Riley's father built on the Old National Road (now U.S. 40).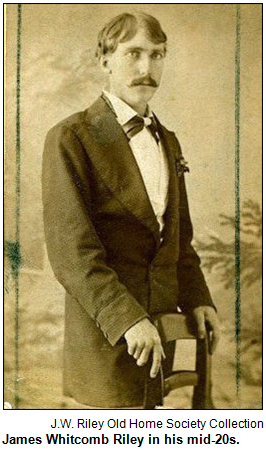 As a boy, Riley became captivated by the circus, imitated entertainers and once was given a flying squirrel that he featured in his routines - before things came to a sad end. Nelson and his guests share insights about that episode during our show, as well as facts about the series of jobs Riley attempted before he became a celebrity. They even included work as a Bible salesman and a shoe clerk.
So prepare for revelations, even if you grew up keenly aware of Riley's classic poems - such as "When the Frost Is On the Punkin' "- and his national impact.
Some of our show topics are humorous, such as Riley's desperate attempts as a boy to remove his freckles and what happened when he received his first pair of long pants.
Other topics include the end of his engagements to two women. His relationship with one fiancée ended after the loss of a newspaper job in Anderson. And that's related to the "Poe poem," which was revealed as a fraud.
"People don't realize how much he struggled before he become such a huge national celebrity," our guest Brigette Cook Jones says.
History trivia: Our guest Danny Russel portrays other historic figures with Indiana connections, including Abraham Lincoln. And Brigette Cook Jones joined us in October 2011 for a show about the real Hoosier who inspired Riley's classic poem "Little Orphant Annie."
Eugene V. Debs: Hoosier Socialist, five-time presidential candidate
Click here to listen to the podcast.
(November 23 2019) In 1920, he was in prison while running the final of his five campaigns for U.S. president. Terre Haute native Eugene V. Debs, the leader of the Socialist Party of America, won nearly one million votes during that unusual campaign.
Hailed by many as the "champion of the American worker" - and denounced by others as an agitator - Debs (1855-1926) advocated nearly all of his life for many labor reforms, including 40-hour workweeks and anti-child labor laws, that were regarded as radical then. Today, the reforms often are taken for granted.
Before his rise to national fame for his organizational role in the Pullman Strike of 1894, Debs had formed the American Railway Union, the first industrial union in the country.
He lived in Terre Haute for most of his life, with exceptions including his stint in the Atlanta Federal Penitentiary. A pacifist, he was imprisoned for speaking out against American involvement in World War I. Debs was freed on Christmas Day in 1921 by Warren G. Harding, who had been one of his opponents in the 1920 presidential race.
To explore the life and impact of Debs, the son of French immigrants who quit school as a teenager to take grueling jobs on railroads, Nelson is joined by two studio guests:
Allison Duerk, director of the Eugene V. Debs Museum Home in Terre Haute. The museum is in the Victorian-era home where Debs lived with his wife, Katherine, beginning in 1890.
And Kim Hood Jacobs, co-producer of a new documentary by WFYI-TV/Channel 20, The Revolutionist: Eugene V. Debs, which can be viewed for free at wfyi.org. The documentary emphasizes that no social safety net existed for workers and their families when Debs began crusading on their behalf during the Industrial Age. He may be best remembered for one of his statements during his trial for violating sedition laws during World War I:
"While there is a lower class, I am in it. While there is a criminal element, I am of it. And while there is a soul in prison, I am not free."

Because of debates about socialism among current candidates for the presidential nomination, the life and legacy of Debs again have become the focus of national media attention, including a recent article in the New York Times. Debs' first presidential campaign - as the candidate of the Socialist Party - was in 1900.

Six years earlier, he had helped Pullman railway car employees with their strike. It involved nearly 250,000 workers, many of whom had been toiling for notoriously low wages. Although Debs had urged the Pullman workers to refrain from violence, "bloody confrontations" connected to the strike resulted in about 30 deaths, according to The Revolutionist documentary.

Arrested on conspiracy charges, Debs was represented by Clarence Darrow, one of the country's most famous defense attorneys. Despite Darrow's stirring defense, Debs served six months in prison, his first stint behind bars. During that time, he concluded that both the Republican and Democratic parties were failing American workers - and that the country needed a new, third political party to champion their cause.




Roadtrip: Farmers Institute Academy in Tippecanoe County
Guest Roadtripper Norma Erickson, a volunteer at the Indiana Medical History Museum, invites us on a visit to the Farmers Institute Academy, a landmark of Quaker and African-American history in the southeast corner of Tippecanoe County.
The white, two-story wood-frame structure, topped by a charming cupola, was built in 1851 by members of the Society of Friends. Quaker families were moving from Ohio to this area as early as 1828 and by mid century the congregation - known then as the Greenfield Monthly Meeting - had grown to the point where it was able to build this structure to house a school. It was the first institution of higher learning in a rural area of the county, as noted on the historical marker placed on the site by the Tippecanoe County Historical Association.
Norma tells us that she originally visited the Farmers Institute Academy in search of African-American history and learned that some members of the congregation were conductors on one of the Western Indiana routes of the Underground Railroad. The local Sleeper family, for example, took into their home people fleeing slavery in the South and helped them on to the next station. There was another active Underground Railroad station at nearby Bethel in Fountain County.
Norma shares the dramatic narrative of the Sleeper family, along with other stories that touch upon local African-American history, as she leads us on this fascinating Roadtrip.


History Mystery
Terre Haute, the hometown of labor leader Eugene V. Debs, earned a distinction in 1915 associated with an iconic beverage. When a local business won a national design competition, the city became the birthplace of the distinctive bottle of the beverage. The bottle became instantly recognizable around the world, and its creation is a source of pride in Terre Haute.
Question: What iconic product's bottle was created in the city?
The prizes this week are two tickets to the Benjamin Harrison Presidential Site, courtesy of the Benjamin Harrison Presidential Site, and two tickets to the Indiana History Center, courtesy of the Indiana Historical Society.
Rare plants and animals in Indiana
Click here to listen to the podcast.
(November 16, 2019) Ever hear of a hellbender? How about an orange-fringed orchid?
Both are native to the Hoosier state, but only in isolated places. And both are among the seldom seen plants and animals that we feature on this show dedicated to Indiana's botanical and zoological rarities.
Nelson is joined in studio by botanist Michael Homoya, who retired last year after a distinguished career with the Indiana Department of Natural Resources, and by herpetologist Nate Engbrecht, who is based in Indiana DNR's Bloomington office.
According to Nate, who specializes in the study of reptiles and amphibians, the hellbender is "a large - two feet or longer - fully aquatic salamander" that has become an endangered species in Indiana, where the only known remaining population is in the Blue River near O'Bannon Woods State Park. Nate describes hellbenders this way:
"They are generally brownish in color and have a rather grotesque appearance with loose-looking folds of skin and small, diminutive eyes. They spend much of their lives under rocks in cooler, well-oxygenated streams."
Regarding orange-fringed orchids: In Indiana, they are known to exist only in the far northern part of the state, according to Michael. One of 45 species of wild orchids that have been seen in Indiana (although a few of them are no longer present), orange-fringed orchids are visible from a trail in Fisher Oak Nature Preserve in Jasper County.
Orange-fringed orchids are more common in southern Michigan and in the southeastern United States, Michael says.
Our guests also share insights about other rare plants and animals, including
Crawfish frogs. Like hellbenders, they are an endangered species in Indiana. According to Nate, crawfish frogs ("a big one is about the size of your fist") are "secretive," spending most of their lives in and around underground burrows created by crayfish. "They essentially depend on the crayfish to create their burrows for them," Nate says. In Indiana, the frogs primarily are found in the western part of the state, from Terre Haute to Evansville.
Mosquito ferns. "This plant is fascinating - the world's smallest fern," Michael says. For Outdoor Indiana magazine, he wrote an article about the fern, which can be seen in Twin Swamps Nature Preserve in southwestern Indiana.
And green salamanders. Describing them as "rare gems among southern Indiana amphibians," Nate calls attention to their "striking" green coloration and intriguing habitat. Green salamanders are seen in a small area near the Ohio River in Crawford and Perry counties.
Although this is Nate's first appearance on Hoosier History Live, Michael has been a guest several times, including on a Bicentennial-themed show about what the state's terrain looked like in 1816, the year Indiana became the 19th state.
Michael also is the co-author of a new book, Wake Up, Woods (Cardinal Publishing) that introduces children to the biodiversity of Indiana's parks and forests.
In addition to discussing orange-fringed orchids and mosquito ferns during our show, Michael also talks about a rare tree, the Eastern hemlock, which has a potentially ominous aspect associated with is presence. In Indiana, the Eastern hemlock can be seen in Turkey Run State Park and Shades State Park, often in deep ravines along creeks.
The potentially ominous aspect: In Eastern states, where the type of hemlock trees are more common, they have been invaded by an aphid-like insect. According to Michael, "It's an introduced insect pest by the name of hemlock woolly adelgid.
It's prevalent over much of the hemlock's range in the East and has caused great mortality (in the trees). We need to prevent the pest from getting here."
Roadtrip: John Mellencamp mural in Seymour
Were you born in a small town?

As anyone who listened to popular music in the 1980s knows, John Mellencamp was. The native Hoosier was born in Seymour, Ind., in 1951 and famously declared his hometown pride in the smash hit song "Small Town," released in 1985 on his album Scarecrow.

Guest Roadtripper, educator, and backroads bon vivant Ken Marshall suggests we visit the new John Mellencamp mural on the side of This Old Guitar Music Store in downtown Seymour.

The 35-foot-tall mural of Mellencamp was painted by artist Pamela Bliss, who has adorned buildings in downtown Indianapolis with murals of such notables as Reggie Miller and Kurt Vonnegut. Bliss spoke about her artwork in a 2017 interview on Hoosier History Live.

Ken also explains the origins of the stage name "Johnny Cougar" and the singer's decision to switch back to his small town, home town name.

So, whether you're having a Lonely Ol' Night or a Wild Night, whether your walls are Crumbling Down or you're just Not Running Anymore, you're sure to enjoy this Roadtrip with Ken. Check it Out!


History Mystery
Massive flocks of a type of bird frequently darkened the sky over Indiana during the 19th century. Once the most abundant bird in North America, it is now extinct in Indiana – and everywhere else. The last one left in the wild is thought to have been killed in southeastern Indiana in 1902.
The bird, which was native to the eastern half of the United States and Canada, was described by pioneers as trim, muscular, speedy and nomadic. The Indiana State Museum has a specimen of the extinct bird and has hosted exhibits about its former prevalence in the state.
Among the naturalists who documented the presence of immense flocks of the bird in the Midwest during the 1800s was John James Audubon, the famous ornithologist.
Question: What was name of the bird?
The prizes this week are two tickets to "The Holly and the Ivy" holiday organ concert on Dec.12 at Indiana Landmarks Center, courtesy of Indiana Landmarks, and two tickets to the James Whitcomb Riley Museum Home in Indianapolis, courtesy of the James Whitcomb Riley Museum Home.
The Census: Tips for using in historic research
Click here to listen to the podcast.
(November 9, 2019) As the nation readies itself for the 2020 U.S. Census, Hoosier History Live takes a close look at how records of the previous national headcounts - there have been 23 of them in all, beginning with the first in 1790 - can be used to unearth factual information and illuminate social history, as well as inform us about other aspects of our heritage.
Our exploration highlights various challenges faced by the once-a-decade tallying of the population - most of the 1890 Census records were destroyed in a massive fire, for example - as well as the widely disparate questions that have been asked by census takers.
"The first five enumerations listed the number of slaves in each household, and the 1930 enumeration listed whether or not there was a radio in the household," says our guest, Indianapolis-based history researcher Sharon Butsch Freeland.
Sharon regularly uses census information to delve into the history of families and old houses, as well as to investigate historical figures such as the Indianapolis-born wife of Treasure Island author Robert Louis Stevenson. In 2018, Sharon was a guest on our show about the colorful life of Fanny Vandegrift Stevenson. (Sharon's other guest gigs have included our 2017 show about her alma mater, Shortridge High School).
Noting that the census was established by the U.S. Constitution with the purpose of calculating fair representation in the House of Representatives, Sharon adds:
"I doubt the founding fathers had any idea of the many ways the census information would eventually be used."
To protect the privacy of living people, census records can't be viewed by the public until 72 years after the census date. Currently, the most recent available for viewing is the 1940 U.S. Census. In 2022, the 1950 U.S. Census will become available.
Some U.S. Census insights, courtesy of Sharon:
"Digitized census records from 1790 to 1940 can be viewed online at ancestry.com (by subscription) or at familysearch.org for free," she reports. "Ancestry.com is available free of charge at National Archives facilities nationwide and at many public libraries."
In Indianapolis, the 1870 U.S. Census was collected a second time, during the subsequent year. That's because city leaders had estimated the population to be more than 50,000. When the 1870 Census reported fewer than 41,000, power-brokers in Indianapolis demanded a recount. The 1871 recount was about 19 percent higher.
In the 1960 U.S. Census, women were asked how many babies they had ever had. Employed people were asked how they got to work: railroad, subway, bus, streetcar, taxi, private auto, car pool, walking, or whether they worked from home. (In 1980, bicycle was added to the list.)
A note about the fire that destroyed most of the 1890 U.S. Census records: The inferno occurred at the U.S. Commerce Building in Washington D.C. Although fragments of information from a few states survived, all of the 1890 records from Indiana were lost in the blaze.
The 2020 U.S. Census will be the first to offer the option of responding online. That's the method the Census Bureau expects most people to use to answer the questions, although respondents also can call a phone number to provide their answers. "Those who don't respond will receive paper questionnaires in the mail," according to an Associated Press report about next year's process. "If all those methods fail, the bureau will send out 'enumerators' to knock on doors."
Our guest Sharon Butsch Freeland has a family connection to census-taking: Her maternal grandmother, Catharine Tomlinson, was an enumerator for the 1930 U.S. Census, knocking on doors in the Indianapolis neighborhood where she lived with her family.
A decade earlier, the 1920 Census had determined that more Hoosiers were living in urban areas than rural ones. The percentage of rural residents in Indiana has declined noticeably in every census since then.
Roadtrip: Knox County and African-American heritage
Guest Roadtripper and veteran journalist Eunice Trotter invites us to join her for a look into historic sites related to African-American history in Vincennes, the territorial capital of Indiana before it became a state in 1816, as well as locations in surrounding Knox County.
Eunice tells us that African Americans either helped to construct or later worked on several historic sites in Vincennes, including Grouseland, the elegant Georgian/Federal home of William Henry Harrison and his family when he was Governor of the Indiana Territory.
Other sites where early black Hoosiers made significant contributions: the Elihu Stout print shop, printer of Indiana's first newspaper, the Indiana Gazette, and the Old French House, home of French fur trader Michel Brouillet (1774-1838). At one time, Knox County had the largest African-American population in the state.
Next stop on Eunice's Roadtrip: the campus of Vincennes University, home of Maria Creek Chapel. Founded in 1809 as Maria Creek Baptist Church, it was relocated from its original spot on the outskirts of the city in 1963 after being abandoned in 1947. The 12 Knox County residents who originally founded the church include John Morris, a former slave. The church denied membership to slave owners.
Other points of interest on Eunice's tour of the area include several black neighborhoods and churches, as well as a historical marker memorializing Mary Bateman Clark, Eunice's great-great-great grandmother, whose successful lawsuit led to an Indiana Supreme Court decision banning indentured servitude.
Join Eunice to hear the fascinating details of this African-American themed Roadtrip into Hoosier history!
History Mystery
The 2010 U.S. Census found that Indiana's population had increased 6.6 percent from 10 years prior, with all of the state's fastest-growing counties in the Indianapolis metropolitan area. They accounted for 60 percent of the overall growth in the state's population. The population of Carmel and Fishers had more than doubled since 2000.
As reported in the 2010 census, most of the states that border Indiana also had population increases, with one exception. That state actually lost people between 2000 and 2010. The other bordering states gained people, butmost of their percentage increases fell below the 6.6 percent growth in Indiana.
Question: What state bordering Indiana lost population between 2000 and 2010?
The prizes this week are two tickets to the Indiana History Center, courtesy of the Indiana Historical Society, and two tickets to the Eiteljorg Museum, courtesy of the Eiteljorg Museum.


Racial justice in 1820s Indiana: Slave trial and Fall Creek Massacre - encore
Click here to listen to the podcast
(November 2, 2019) Indiana judicial history is not generally known for legal precedents that promote the cause of racial justice.
But we're drawing upon our rich archive of previously aired episodes to bring you a special encore show focusing on two landmark legal cases of racial justice in early 19th century Indiana.
The two historical incidents in our focus: a trial in which an enslaved Indiana woman successfully sued for her freedom and a milestone legal case in which a gang of white men was found guilty and executed for slaughtering nine Native Americans, an infamous incident that history has dubbed the Fall Creek Massacre.
In 1821, Mary Bateman Clark, a young African-American woman living in Vincennes, made history when her lawyer filed a lawsuit seeking her release from an "indentured servitude" contract with one of the most prominent men in the new state of Indiana. The contract required Clark to cook, clean and sew for Gen. Washington Johnston and his family for 20 years. Her only pay was housing, food and clothing.
The case, which made its way to the Indiana Supreme Court, involved determining whether such "indentured servitude" contracts violated the state's Constitution as a form of slavery. Nearly 200 years ago this month - on Nov. 16, 1821 - the state Supreme Court ruled in Clark's favor and ordered her employer to release her.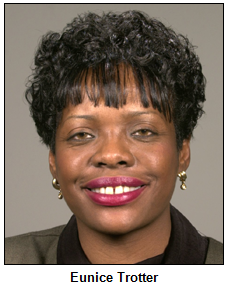 Sharing insights about the social history of the era and the landmark case, Nelson is joined in studio by one of Clark's descendants, Indianapolis resident Eunice Trotter. Eunice, a veteran journalist, and her sister Ethel McCane have used their research about their ancestor to do "living history performances" for schools and civic groups across the state.
Eunice and Ethel also crusaded for a historic marker in honor of Mary Bateman Clark, which was dedicated at the Knox County Courthouse in 2009. The sisters are Mary Bateman Clark's great-great-great granddaughters.
Nelson and his guest also discuss a similar case involving another young woman, Polly Strong, who also lived in Vincennes in the 1820s and sued to obtain her freedom. She had been enslaved by Col. Hyacinth LaSalle, a prominent Vincennes resident, before Indiana became a state in 1816. LaSalle challenged the new state Constitution, unsuccessfully arguing that it could not be applied retroactively.
Re-enactments of the Polly Strong case have been performed across Indiana under the direction of Corydon historic preservationist Maxine Brown, who has been a guest on Hoosier History Live for a show about her historic restoration of a segregated school in Corydon, as well as a show discussing DNA testing and family ancestry. The restored school, now known as the Leora Brown School, has been the setting for re-enactments of the court cases of Mary Bateman Clark and Polly Strong.
Just three years after the Mary Bateman Clark trial, another milestone Indiana legal case set a precedent for racial justice in the United States.
When a group of white men were found guilty by a jury and executed for the slaughter of nine Native Americans in March 1824, it was the first time that the murders of Indians by whites had been subject to capital punishment under American law.
To explore all aspects of the brutal crimes in the swampy woods of Madison County - where the Native Americans (including three women and four children) were gruesomely murdered - Nelson is joined in studio by David Thomas Murphy, author of the book, Murder in Their Hearts: The Fall Creek Massacre (Indiana Historical Society Press).
A professor of history at Anderson University, David spent four years researching the massacre, trial and subsequent developments, including the social history of pioneer Hoosiers (Indiana only had been a state for about seven years at the time of the massacre) and of the Native Americans in the region.
"The slaughter in the soggy Indiana creek bottoms created a short-lived but serious national security crisis," David has written, referring to concerns across the country that warfare would erupt across newly developing states.
In researching the tragedy, David explored why the federal government devoted great efforts and resources to prosecuting the perpetrators. David's research required that he reconcile conflicting accounts of the events (the tribal origins of some of the victims remain unclear) as well as the motivations involved in the cold-blooded crimes, which involved shooting some of the Native Americans in their backs and mutilating several of the corpses.
Breaking news: Creepy-crawlies invade WICR studios!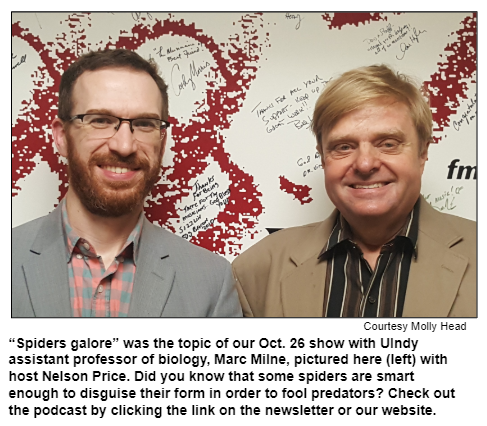 Please share our podcasts!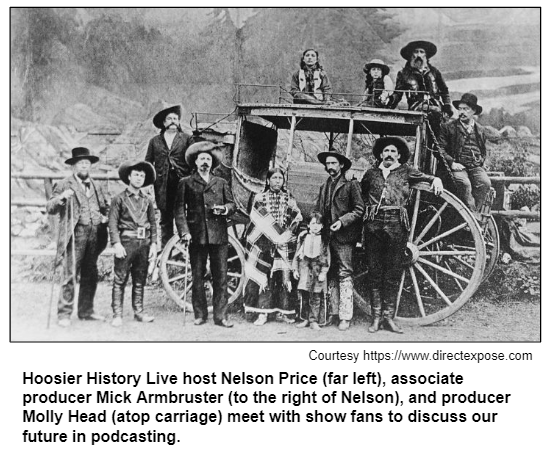 The world of podcasting is a bit like the Wild, Wild West, and Hoosier History Live is trying to stake its claim on the frontier by spreading our show in the Territories of Apple Podcasts, Google Play, and the like.
No, we're not going to shoot it out at the OK Corral with This American Life, but we need your help if we are going to prosper in this new, somewhat-still-uncharted land.
If you love Hoosier History Live, please help us out by posting our podcasts to your social media accounts and sharing your enthusiasm for particular shows with your friends.
Do you have questions about how to listen by streaming or download our podcasts? Unsure about how to repost? Contact producer molly@hoosierhistorylive.org or webmaster mick@hoosierhistorylive.org.
Spiders galore
Click here to listen to the podcast.
(October 26, 2019) Just in time for Halloween, the season when creepy crawlies take center stage, we will explore spiders across Indiana and beyond.
A top spider specialist - who has drawn national attention for describing and naming a new species of spider in a cave in southern Indiana - is Nelson's studio guest. Marc Milne, an assistant professor of biology at the University of Indianapolis and an arachnologist, has assessed spider diversity at the Indiana Dunes National Park (where news accounts dubbed him "Spider Man") and studied spiders in Yellowwood State Forest, Morgan-Monroe State Forest and other forests and caves.
The new species - its official name is Islandiana lewisi - is teeny tiny, barely 2 millimeters in length. Marc described the species after being shown the population by Julian Lewis, a biospeleologist from southern Indiana. Lewis found the spiders in the Stygian River Cave, a dark, flood-prone cave in Harrison County.
"The translucent, sheet-weaving spider shows that scientists haven't yet found everything in our own backyard," Smithsonian.com reported about his discovery.
Don't be spooked by the eight-legged critter, though. The new species is not poisonous or threatening to people.
Because of the miniscule size of the new species and several other spider species that Marc has studied, "even if they tried, they couldn't pierce your skin," Marc told the Indianapolis Star. "They couldn't hurt us at all."
In addition to describing a new species, Marc also has made breakthroughs in spider distribution research, recording more than 190 species in Indiana that previously were not known to exist in the Hoosier state. UIndy students have accompanied Marc on his spider-seeking expeditions and assisted in what is known on campus as his "spider lab."
During our show, Marc also discusses his earliest research, which focused on the relationship between carnivorous plants and spiders. He also shares insights about the role that spiders play in the ecosystem, including their consumption of mosquitoes.
Some fun facts:
Biospeleologists - like Julian Lewis, who discovered the new spider species - study cave organisms and ecosystems.
The fact that the new species is translucent is not surprising, given that it lives in a dark cave. "Spiders that have spent generations inside of caves have evolved to lose their pigment," Marc told the Indianapolis Star. "When it's pitch black, why have any pigment?"
Marc and his students have collected various spiders from forests in Johnson County. Many have been found living under leaves. The spiders often are taken to Marc's lab at UIndy, where they are studied under microscopes.
Roadtrip: Elwood Haynes and Pumkinvine Pike in Kokomo
Guest Roadtripper Justin Clark, Digital Initiatives Director at the Indiana Historical Bureau, invites us to explore the automotive history of his hometown of Kokomo, about an hour north of Indy in Howard County.
First stop on Justin's journey: Pumkinvine Pike (now known as Goyer Road). That's where, on July 4, 1894, inventor Elwood Haynes made the first test run of his horseless carriage.
Although the carriage had to be towed up Pumkinvine Pike, it reached a speed of roughly 7½ miles per hour on its way down, according to Haynes' own recollections. Later that year, he founded the Haynes-Apperson Company with brothers Elmer and Edgar Apperson, which was among the first automobile manufacturers in America.
In 1899, only five years after that gravity-assisted trial run, Haynes and Edgar Apperson drove one of their automobiles from Kokomo all the way to Brooklyn, New York, covering some 600 miles. The Haynes Automobile Company continued to produce cars until 1924, and Justin tells us that today Haynes is regarded as one of the many trailblazers from Kokomo that give the town its moniker as the "City of Firsts."
While we're exploring Kokomo's pioneering role in automotive history, Justin suggests that we also visit the Elwood Haynes Museum on Webster Street, which occupies the former mansion of the automobile magnate.
If all that motor history has you ready to shift gears and go to lunch, Justin recommends that you steer over to Gordo's Taco Shop, which he says has great shredded beef tacos.
And given his day job poking around the state's digital archives, Justin also suggests checking out historic newspaper articles about Haynes in Hoosier State Chronicles, our state-wide digital newspaper program.

History Mystery
Spiders are arachnids, not insects, but insects (which have six legs, as opposed to eight-legged spiders) occasionally get their moment in the spotlight as well.
In 2018, Indiana got its first official state insect. The bug's symbolic designation as state insect was the result of a crusade by students at schools in West Lafayette and other Indiana cities.
Before Gov. Eric Holcomb signed the proclamation, Indiana was one of only three states that did not have an official insect. The honored insect is native to Indiana.
Question: What is Indiana's official state insect? The specific species is not required for the answer, just the type of insect.
You must be willing to give your name and address to our engineer and be willing to be placed on the air.
The prizes this week are two tickets to the Indiana State Museum, courtesy of the Indiana State Museum, and two tickets to the Indiana History Center, courtesy of the Indiana Historical Society.
Heartland Film Festival screens Breaking Away at 40
Last August, Hoosier History Live listeners had the chance to revisit memories of Indiana movie classic Breaking Away, which was filmed in and around Bloomington 40 years ago. Nelson interviewed Dave Blase, whose experiences as a student and cyclist at Indiana University inspired the film; their conversation explored Blase's experiences as a competitor in IU's Little 500 race and how the making of the film affected his life after its debut in 1979.

Commemoration of the film's four-decade anniversary continued during the recent Heartland Film Festival. Hoosier History Live producer Molly Head attended the Oct. 21 screening of a remastered print of the movie, along with an exuberant crowd of IU alumni and biking enthusiasts.

Dennis Christopher, the actor who portrayed the film's lead character based on Dave Blase, joined Blase himself after the screening to mark the occasion. Steve Tesich, the film's Oscar-winning screenwriter (and former IU fraternity brother of Blase) was present only in memory; he passed away of a heart attack in 1996.

Did you miss the original airing of Nelson's interview with David Blase? Click here to listen to the podcast.
Policing Indianapolis history
Another plunge into the White River
Click here to listen to the podcast.
(October 19, 2019 ) In many ways, our White River history show in July offered depth and context about the heritage of the waterway. In other ways, though, we barely skimmed the surface, particularly because the White River has been in the news so much during the last three months.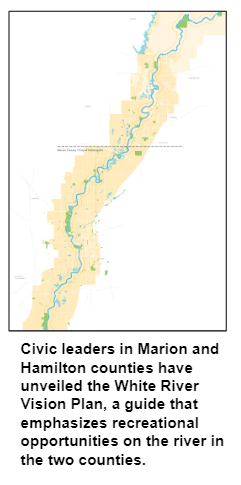 The attention has included a periodic series on the front pages of The Indianapolis Star that emphasized ongoing concerns. As The Star reported, "Even after the improvements to the sanitary sewer system are finished in 2025, Indianapolis will still dump huge amounts of pollution into the White River."
So Hoosier History Live once again plunges into all aspects of the river, from its use by flatboat crews who moved trade goods on the waterway during the early 1800s to the return of significantly larger numbers of some fish species, including bass, and other wildlife, thanks to progress achieved since the early 1980s in cleaning up the river.
Not only does Kevin Hardie, executive director of the Friends of the White River, return as a studio guest, we keep the phone lines open throughout the entire show for listeners who want to comment or ask questions about any aspect of the river's heritage. The phone number for the WICR-FM (88.7) studio is (317) 788-3314.
The Star series describes a 1982 survey that found only 35 species of fish in the West Fork of the White River; in contrast, 57 species were documented in 2011.
Referring to fish life during the mid-19th century, Kevin Hardie says: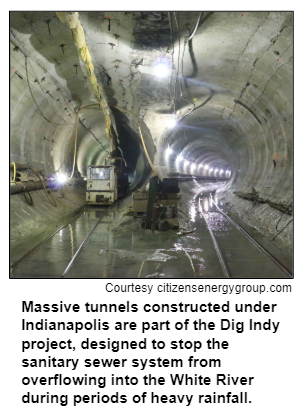 "'Trout' were supposedly speared from what were then crystal clear waters that did not carry the amounts of today's agricultural and developmental run-off that hold so much sediment. Actually, these fish probably were sauger, which are similar in shape to trout and related to walleye. I'm pleased to report that improving water quality over the years has allowed for them to reappear."

Earlier this year, civic leaders in Marion and Hamilton counties unveiled the White River Vision Plan, a guide to decision-making for the next 30 years. The plan calls for increased recreational opportunities on 58 miles of the river in the two counties.

In Marion County, the massive Dig Indy project is expected to be completed in 2025. Dig Indy is an underground tunnel system designed to stop the sanitary sewer system from overflowing into the river, as it has done during rainfalls for more than 100 years.

Our guest Kevin Hardie, who has been involved with Friends of the White River since its inception in 1985, frequently conducts on-water tours of the river.

Kevin is joined on the show by Mark Kesling, one of the original founders of Reconnecting to Our Waterways (ROW); he is involved with Partners for the White River.

Mark also is the founder and CEO of The daVinci Pursuit, a non-profit that uses art to engage the community in science education. In addition, he is the co-host, with Jill Ditmire, of She Says Art, He Says Science, the program that follows Hoosier History Live on WICR-FM at 1 pm on Saturdays.



Roadtrip: New visitor center at T.C. Steele State Historic Site
Intrepid Hoosier Roadtrippers are likely to be familiar with the T.C. Steele State Historic Site in beautiful Brown County, located about 90 minutes south of Indianapolis.
Fans of the Hoosier Group landscape painter have been making pilgrimages to the House of the Singing Winds, built by Steele and his second wife Selma Laura Neubacher in 1907, since Selma began renting out cabins on the property to make ends meet after Steele's death in 1926.
But even if you've already been to the site to see Steele's studio and the dozens of his paintings displayed there, you'll want to join guest roadtripper and art historian Rachel Berenson Perry to visit the new 4,600-square-foot Singing Winds Visitor Center.
Among the new visitor center's attractions: an orientation video about the history of the site, as well as classroom space, restrooms and a gift shop.
Perhaps most exciting, Rachel tells us that a replica of the "studio wagon" Steele used while traveling throughout Indiana as a plein air painter is on display and ready to be explored. The studio wagon exhibit was conceived as an "interactive, educational, historic platform for children to come here and play, and to think about history and T.C. Steele," according to museum officials.
Whether it's your first time to the T.C. Steele site or just one of many visits you've made to pay homage to this artistic genius, this Roadtrip is sure to make an impression on you!
History Mystery
The White River was called the "Wapahani River" by a Native American tribe that once lived in villages along the waterway in Indiana.
Members of the tribe also established trading posts near the White - or Wapahani - River. The tribe lived and traded along the river in Indiana from the 1790s until the 1820s.
After that, the Native American tribe was led out of Indiana in what historians have called a "forced migration." The Wapahani River villages and trading posts were on or near the sites that later became Muncie, Anderson and other cities.
Question: What was the name of the Native American tribe that lived on the present-day White River?
The prizes this week are a gift certificate to the Story Inn in Brown County, courtesy of the Story Inn, and two tickets to the James Whitcomb Riley Museum Home in Indianapolis, courtesy of the James Whitcomb Riley Museum Home.
Ruminating on the history of Greencastle
Police department history in Indy
Click here to listen to the podcast.
(October 12, 2019 ) The first African-American police officer to be named a detective in Indianapolis was born into slavery in Virginia. After Benjamin Thornton became a detective in 1886 in what today is called the Indianapolis Metropolitan Police Department (IMPD), he earned acclaim across the country for his skills in tracking criminals.
In 1918, fourteen policewomen were appointed for the first time to work outside headquarters, on the streets of the Hoosier capital. (In the 1890s, the department had established a position of "police matron" whose duties focused on counseling teenage girls.) The policewomen in 1918 were needed because of a scarcity of male officers during World War I.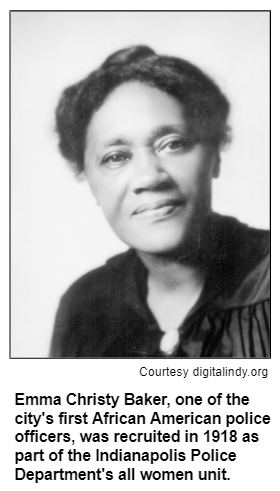 The trail-blazing women included Clara Burnside, the first captain in what was then the Indianapolis Police Department, and Emma Christy Baker, an African-American who confronted various challenges in her new position. For example, Baker was surrounded and taunted by a group of downtown pedestrians when she attempted to interrogate a suspect. Initially, none of the policewomen were allowed to carry weapons or billy clubs.
To explore these and other aspects of the history of the police department, Nelson is joined by:
Deputy Chief Mike Spears, a veteran of more than 36 years on IMPD. He served as the city's police chief for five years beginning in 2005.
Patrick Pearsey, the archivist for IMPD. A civilian member of the department since 1980, Patrick is the author of several books about various aspects of police history, including a biography of Benjamin Thornton.
And Jo Ann Moore, a retired IMPD office and archivist. For most of her 32 years on the police force, she was a street supervisor. Her husband also is a retired police officer; their son, IMPD officer David Moore, was killed in the line of duty in 2011.
Our guests have been working with the Indianapolis Public Library to put together a digital collection about the police department's history. The collection, which recently launched on the library's Digital Indy website, includes more than 1,500 mugshots, historic personnel records and crime scene information, but it is not all-inclusive.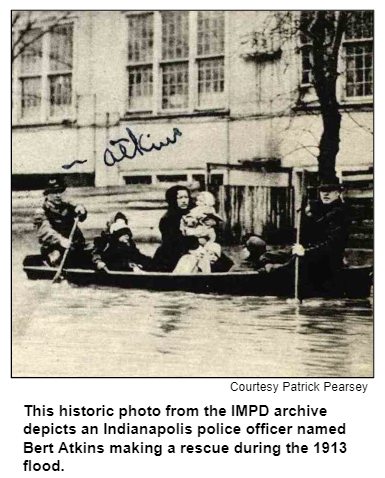 The beginnings of IMPD can be traced to 1821 when civic leader Hervey Bates became the first Marion County sheriff. (In 2005, the Indianapolis Police Department merged with the Marion County Sheriff's Department, becoming IMPD.) Bates eventually became the owner of the Bates House Hotel, the most prestigious guest lodgings in Indianapolis during the 19th century.
In 1876, ten years before Benjamin Thornton was promoted and served as the first African-American detective on the police force, he was among a group of six men who became the first black police officers in the city.
Thornton, who was born in 1849, had fled a plantation in Virginia where he had been enslaved. After the Civil War, Thornton taught himself to read and write. He lived in several cities before settling in Indianapolis, where his early jobs included carpentry, according to research by our guest Patrick Pearsey.
During our show, Patrick also shares insights about another aspect of law enforcement history that he has researched: The response by the police to the Flood of 1913, the worst in state history. The Flood of 1913 was the focus of a Hoosier History Live show in 2013.
Other significant episodes that we explore include two strikes: a streetcar strike in 1892 in which several police officers were assaulted, and a massive protest by officers in 1977 when the city administration proposed ending the practice of allowing squad cars to be taken home. Hundreds of off-duty officers parked their cars - with their sirens blaring and red lights on - in front of police headquarters, making national news.
Because we have devoted previous Hoosier History Live shows to many of the most notorious crimes investigated by the Indianapolis police, we take a different approach during this program and focus on some of the most unusual cases.
They include a sensational episode in 1954 that has become known as the Battle of Elder Avenue. A man with a history of mental illness barricaded himself into a near-Westside house and shot his wife and nine police officers. More than 200 other police officers arrived on the scene and were held at bay for nearly three hours while thousands of spectators watched. All of the shooting victims survived, including our guest Patrick Pearsey's grandfather, who was the first police officer to be shot.
On a much lighter note - and with a nod to the Halloween season – we also explore a 1962 case in which the police were summoned several times to investigate reports of a poltergeist.
Roadtrip: Private pharmacy museum in Griffith
This week's Roadtrip takes us to the Pharmacy Research Center, a museum in the town of Griffith, located in northwest Indiana.
Housed in an old bank building, the museum contains a private collection of beautifully displayed artifacts and documents showcasing the history of pharmacy, including patent medicines, equipment, advertisements, drug store displays, apothecary, etc.
Visits are by appointment only; the museum can be reached at 319-924-5807.
History Mystery
In 1992, the Indianapolis Fire Department battled a catastrophic late-night inferno in a historic building downtown. Two firefighters were killed while battling the blaze, becoming the first city firefighters to die in the line of duty in more than 20 years.
The nine-story building is well-known in the Hoosier capital and was constructed during the early 1920s. Like many structures built during that era, it had no sprinkler system.
In addition to the two firefighters who were killed, a civilian who was in the historic building also perished. Several other firefighters suffered severe injuries, as did other civilians.
The building, which is on the National Register of Historic Places, was saved from destruction and eventually repaired. More than 10 years ago, its rooms were converted into luxury condominiums.
Question: What historic building in downtown Indy was the setting for a tragic fire in 1992?
The prizes this week are two tickets to the Indiana State Museum, courtesy of the Indiana State Museum, and two tickets to the Eiteljorg Museum, courtesy of the Eiteljorg Museum. Enjoy some time in White River State Park, and you can park in the underground lot for both museums if you want to do it all in one day!
Walking Tour of the Circle hits the mark!
Greencastle history
Click here to listen to the podcast.
(October 5, 2019) A "buzz bomb" from World War II, the first pharmacy of Col. Eli Lilly and a bank that was robbed by John Dillinger in his biggest heist.
All of these are part of the heritage of Greencastle, the city in Putnam County that's the home of DePauw University.
For this show exploring the history of Greencastle (pop. 10,326, according to the 2010 Census,) Nelson's studio guest is Greencastle civic leader and historian Jinsie Bingham. A seventh-generation Putnam County resident and a former Greencastle City Council member, Jinsie is a retired broadcasting executive who became the first woman in Indiana to buy and operate a commercial radio station. That was WJNZ in Greencastle, now WREB-FM.
During World War II, "Buzz bomb" was the name Americans gave to German V-1 rockets used by Nazis to blitz London. During our show, Jinsie describes how one of the bombs became an unusual memorial to the war; the buzz bomb is displayed in the Putnam County Courthouse square in downtown Greencastle.
The courthouse square and surrounding areas include several historic buildings constructed beginning in the 1880s. Almost none of the structures pre-date the 1880s because the Great Fire of 1874 destroyed much of Greencastle's downtown.
The courthouse square also was the site in 1859 of the first drug store of chemist Eli Lilly. Although he had been born in Maryland, Lilly (1838-1898) moved with his parents to Greencastle in 1852. In subsequent years, he became a Civil War hero, struggled in some post-war endeavors and eventually settled in Indianapolis, starting a small business that became what today is the pharmaceutical giant Eli Lilly and Company

Our guest Jinsie Bingham has a family connection to the Greencastle bank robbery on Oct. 24, 1933 by Dillinger and his gang. Jinsie's father was a Greencastle police officer who was off-duty when Dillinger absconded with the biggest haul (about $75,000) in his string of robberies across the Midwest. Her father was summoned in an unsuccessful attempt to capture "Public Enemy No. 1".

Jinsie shares colorful details about that episode during our show. She also discusses the Putnam County Museum, where she is a former board member. Her honors include being named a Sagamore of the Wabash and induction into the Indiana Broadcast Pioneers Hall of Fame.

Tapping Jinsie's deep knowledge of Greencastle history - her paternal ancestors had arrived in Putnam County by 1832 - the "buzz bomb" isn't the only distinctive memorial she discusses during the show. In Forest Hill Cemetery, a Civil War monument was refurbished last year.

Dedicated five years after the war ended in 1865, the memorial was the first Civil War monument in the state to depict a human being: a lone soldier. At the base of the monument, which rises 30 feet, the names of 321 Putnam County residents who fought in the Civil War are inscribed. More than 8,000 people attended the monument's dedication in 1870. The population of Greencastle then was just 4,000.

The city endured a blow in 1986 when IBM announced the closing of a parts distribution plant, the largest employer in Putnam County. That resulted in the loss of 985 jobs that Jinsie describes as "mostly white collar." During our show, she will discuss the ways that Greencastle has recovered.



Roadtrip: Old cemeteries in Hendricks County
As we look ahead to Halloween, Guest Roadtripper Eric Grayson invites us to join him on a seasonally appropriate visit to Hendricks County to explore some under-appreciated, off-the-beaten-path graveyards.
Eric points out that in earlier times, cemeteries were considered gathering places where people would congregate to have picnics and to spend time with their loved ones, living and deceased. For present-day visitors, old cemeteries provide a quiet refuge from the modern world, often shaded by mature trees and filled with the song of birds.
Moreover, Eric says, old cemeteries have a lot to teach us about history. One example Eric cites: the multitude of graves with death dates in 1918 and 1919, years of world war and a global flu epidemic which spread through Indiana.
The cemeteries in Hendricks Country around Danville, Plainfield, and Avon can provide a glimpse into Hoosier culture of past eras as well. A gravestone inscription in the Spring Hill Cemetery near Cartersburg, for example, proves that James Whitcomb Riley caught the Hoosier dialect just right when he wrote Little Orphant Annie and spelled orphan with a T.
And if traipsing around old boneyards makes you bone tired and hungry, Eric suggests lunch in Avon at the Frost Bite, an old-fashioned ice cream and sandwich shop offering a variety of frozen desserts as well as more substantial fare.


History Mystery
As a proud veteran of the Civil War, Col. Eli Lilly organized a huge national reunion of a fraternal organization for veterans of the Union Army and Union Navy. This massive gathering of the organization, which called its annual events "encampments," was held in Indianapolis in 1893.
More than 300,000 delegates of the organization and their families came to the Hoosier capital, where former Civil War soldiers participated in a spectacular parade and enjoyed fireworks. Downtown buildings were lavishly decorated with flags and bunting.
During the organization's encampment, Col. Lilly was able to call attention to the Soldiers and Sailors Monument, which was under construction at the center of Indianapolis to honor Hoosiers who served in the Civil War.
Question: What was the name of the organization for Civil War veterans that had a national encampment in Indianapolis in 1893?
The prizes this week are two tickets to the Halloween screening of 1955 Bride of the Monster film at Indiana Landmarks Center on Oct. 25, courtesy of Indiana Landmarks, and two tickets to the Indiana History Center, courtesy of the Indiana Historical Society.
Adventures in personal DNA testing - encore
Click here to listen to the podcast.
(September 28, 2019 ) As is clear from the popularity of the PBS show Finding Your Roots, and from the high volume of visitors to the website ancestry.com, many Americans are interested in learning about their family history. And with the advent of personal DNA analysis from services such as 23andMe and AncestryDNA, more and more individuals are learning about the admixture of ethnicities in their genetic heritage, as well as discovering possible matches for unknown blood relatives who have undergone DNA testing themselves.
But these tests have raised thorny questions. What does our genetic information tell us about ourselves? If we use online sleuthing to contact relatives revealed by the DNA tests, should we consider them family? What if they would rather not have heard from us? And what if we learn that the race or ethnicity revealed by our DNA is different than the one we had always identified with? Does the newly available genetic information outweigh culture, tradition and family lore in our sense of who we are?
In this Hoosier History Live show originally broadcast in 2017, we examine what personal DNA testing reveals about ourselves and our shared history. Guest host and associate producer Mick Armbruster interviews three Hoosier women who have recently conducted a personal DNA analysis that yielded surprising results. Mick's guests in studio are:
Joan Hostetler, a photo historian and founding director of The Indiana Album. She had her DNA analyzed in 2015 and learned some surprising things about the ancestry of her mother, who had been adopted as an infant in 1927. Joan's mother knew only that she had been born in Fort Wayne, Ind., and that her birth mother, Joan's biological grandmother, had identified herself as a musician and requested that the baby she was giving up eventually be given piano lessons.

Despite years of searching, Joan and her mother were unable to learn the names of Joan's maternal biological grandparents before Joan's mother passed away in 2005.
Becky Hostetter, a vegetarian chef and co-owner of Duos Indy. Her genetic testing connected her to a long-lost half sibling; as Becky had known for years, her mother had gotten pregnant while serving in the Women's Army Corps during WWII at Camp Ritchie, Md., and had given the baby up for adoption.
In the 1970s Becky and her mother attempted to find the adopted sibling, but to no avail. What little information they had about the person could be summed up on a 3x5 index card: Female, weighed less than 6 lbs. at birth, reddish hair and born May 30, 1946, in a military hospital in New Hempstead, N.Y.

Becky's 2015 DNA test eventually led to locating this long-lost sister and a joyful reunion (including Becky's three other sisters) in 2017. But that wasn't the only surprise: Becky's DNA testing exposed other family secrets about her biological parentage and ethnic heritage.
Maxine Brown, a historian and preservationist from Corydon, Ind., and founder of the Leora Brown School renovation project, which restored one of Indiana's oldest African-American schools. Before DNA analysis she knew of her ancestors who came into Indiana Territory in 1814 with a group of nearly one hundred enslaved people. They were accompanied by an elderly white Anglican couple, Paul and Susannah Mitchem, who originally were from Virginia. The Mitchems were abolitionists whose goal was to bring former slaves into the nominally free territory of Indiana. Maxine's great-great-great grandmother Milly and her five children came into the Indiana Territory as a part of this group.
When Maxine had her DNA tested in 2017, however, she was surprised to learn that despite identifying as African American throughout her life, her genetic heritage is more Irish than any other ethnic group. She also discovered that her white great great grandfather, John Wimp Jr., (1838-63) was a slaveholder and fathered her great-grandmother, Emeline Wimp Brown. Through genealogy groups, Maxine has been in touch with many of her white Wimp relatives, who she says call her "cousin" as a term of affection.
Learn more:
Roadtrip: Completed east wing of Lanier Mansion in Madison
Kisha Tandy of the Indiana State Museum and Historic Sites recommends a Roadtrip to the Lanier Mansion in the town of Madison in southern Indiana on the Ohio River. Since 1926 the mansion has been a museum dedicated to the story of its builder and original owner, James F. D. Lanier (1800-81), a financier who is credited with starting the first railroad in Indiana. He also helped stabilize the finances of Indiana on three separate occasions, including a series of loans to the state totaling more than $1million during the Civil War.
The Lanier Mansion, completed in 1844, is one of the best examples of Greek Revival architecture in the country and is considered to be the crown jewel of Madison's Historic District. Designed by architect Francis Costigan, the mansion exhibits many original Greek Revival features, including its square plan, the full-façade porch on the south elevation, the Corinthian columns on the south portico, the Doric pilasters that appear on several locations on the exterior, the ornamental pediments over the windows and doors and the Ionic columns that separate the double parlors on the first floor.
Careful interior restoration and redecoration have recaptured the mansion's 19th-century splendor. During the 1990s, the Department of Natural Resources Division of Museums and Historic Sites, with major funding provided by the Lanier Mansion Foundation, restored the building and grounds to their former grandeur. After many years of painstaking research, the home was painted in the original colors both inside and out. On the interior, horsehair brushes were used to paint the walls and decorative plaster moldings, which were then covered with a high-gloss varnish as they were in 1844. The wallpapers and carpets all are reproductions of those available for purchase in the 1840s. Curators and other staff continue to research furnishings from the period, and changes to reflect their research may be made to the home in the future.
And now, for the first time in the past 100 years, the east wing of the Lanier Mansion has been opened to the public, restored to its appearance at the time Lanier lived in the home.
"The restoration has taken more than 20 years, involving painstaking research, physical reconstruction and plenty of community involvement," Kisha says, and the results are well worth a visit.
History Mystery
In 1907, the Indiana State Legislature passed a law that provided for the involuntary sterilization of "confirmed criminals, idiots, imbeciles and rapists." The law, which was later found to be unconstitutional and repealed in 1974, was the first recorded sterilization law in world history and, according to some historians, served as a model for similar laws in Nazi Germany during the 1930s.
During the time when the Indiana sterilization law was active, more than 2,300 Indiana citizens deemed "mental defectives" by the state were involuntarily deprived of their ability to have children.
Question: What was the official term for the "science" (now regarded as pseudoscience) of improving the human population through forced sterilization?
Hint: the word is based on the Greek roots for "well" and "born."
Join Nelson for a complimentary walking tour of Monument Circle!
Did you ever wonder what Monument Circle was like during the 1800s, before construction of the Soldiers and Sailors Monument?

What about the Circle Theatre, which was a cinema house long before it became home to the city's symphony orchestra? Or the City Market, which dates back to the late 19th century?

You can sate your curiosity by joining Hoosier History Live host Nelson Price, "connoisseur of all things Hoosier," for a walking tour of Monument Circle in Indianapolis on Wednesday evening, October 2 from 6 to 8 pm.

Meet at the beautiful new Lugar Plaza on the south side of the City-County Building, 200 E. Washington St., near the swings. Free parking may be available at 320 E. Market.

Wear your walking shoes and bring your questions for Nelson! No RSVP needed, and thanks to the City of Indianapolis Department of Metropolitan Development and Big Car Collaborative for presenting this event.
On the road (and in the studio) with Abraham Lincoln
September 21, 2019
Ask Nelson - and Reid Duffy, too
Click here to listen to the podcast.
(September 21, 2019) Here's another "Ask Nelson..." show, which we've featured regularly over the eleven years Hoosier History Live has been on the air. As usual, our host, author and historian Nelson Price, is joined by a co-host, this time one who is familiar to long-time TV viewers across Central Indiana. Reid Duffy, a popular personality for nearly 30 years on WRTV-Channel 6 in Indianapolis, joins Nelson; the two interview each other in between phone calls from listeners.
Reid is undoubtedly best known for his Duffy's Diner feature about Indiana restaurants, which appeared on WRTV from 1978 to 1995, as well as his humorous and human-interest pieces on a range of topics. Now retired, Reid has been inducted into the Indiana Broadcast Pioneers Hall of Fame.
Although the topics covered in the show depend on listeners' call-in questions, Nelson does have an agenda. For starters, he provides historical context about a controversial public figure who is back in the news more than 85 years after he was killed.
Bank robber John Dillinger (1903-1934) - known as "Public Enemy No. 1" during the Great Depression - has been the focus of national media attention in response to requests by some of his surviving family members to have his body exhumed. They were encouraged by The History Channel, which originally hoped to put together a documentary on the exhumation but then pulled out of the project. Some family members objected to tampering with Dillinger's burial site, located in Crown Hill Cemetery in Indianapolis.
Ever since Dillinger was shot and killed by federal agents and Chicago-area police officers, rumors have circulated that the corpse was not that of the outlaw. In Nelson's book Indiana Legends: Famous Hoosiers from Johnny Appleseed to David Letterman (Hawthorne Publishing), he describes how Dillinger took steps to alter his appearance while in hiding.
In addition to darkening his hair with black dye, Dillinger had his facial features altered at the East Chicago, Ind., home of a plastic surgeon. He also asked the surgeon to scar his fingerprints with acid in an attempt to prevent identification.
Born in the Brightwood neighborhood of Indianapolis, Dillinger lived as a teenager and young adult on his family's farm in Mooresville.
During our show, Nelson also shares insights about the 50th anniversary of one of the most tragic episodes in Indiana history. In September 1969, two aircraft collided near Shelbyville, resulting in the state's worst aviation disaster.
All of the 78 passengers and four crew members aboard an Allegheny Airlines flight traveling from Cincinnati to Indianapolis were killed when the DC-9 jet crashed into a soybean field. It plummeted to the ground after colliding with a much smaller plane, a single-engine Piper Cherokee; the pilot of that plane was also killed.
A memorial was dedicated on the site of the tragedy, which also is the focus of a commemorative website.
Lighter aspects of the state's heritage also are explored during our show. Reid Duffy, an avid baseball fan, discusses minor league baseball teams and their ballparks in Indiana.
They include the popular Fort Wayne TinCaps, a Class A minor league team that's affiliated with the San Diego Padres. Reid has attended games of the TinCaps in their home stadium, Parkview Field, which opened in downtown Fort Wayne in 2009. The TinCaps name is a salute to folk hero Johnny Appleseed (real name: John Chapman), whose fictionalized depiction in a Disney cartoon featured the character wearing a cooking pot on his head. Most historians emphasize that Chapman, who died in the Fort Wayne area in 1845, did not wear a cooking pot as a hat.
Reid also describes the Gary SouthShore RailCats, a minor league team in northwest Indiana. Its name is an homage to the area's history of freight lines and the South Shore commuter train. The train is visible from the RailCats' ballpark, which is named the U.S. Steel Yard in another tip of the hat to the area's industrial heritage.
Listener calls during our show are not restricted to these topics or to history topics that have been in the news recently. Nelson and Reid welcome questions, comments and insights about any slice of our state's heritage.
Roadtrip: the Kokomo Opalescent Glass factory
Guest Roadtripper, author, and travel writer Jane Ammeson suggests a tour of the Kokomo Opalescent Glass factory, located in its namesake city in Howard County, an hour north of Indianapolis.
Glass production was a flourishing industry in Indiana in the late 19th century. Thanks to the natural gas boom that occurred during that time, Indiana had abundant energy resources for the heat-intensive glass-making process. The sand required for glass production was taken from the dunes at the southern tip of Lake Michigan, and the state's many rail lines facilitated nation-wide distribution of the finished product. To learn more, check out the Hoosier History Live show on this topic from 2014.
Although the gas boom didn't last, Kokomo Opalescent Glass survived, and today is open for tours. Visitors witness the same technique for manufacturing art sheet glass that the company has been using since it opened in 1888. In the vast KOG manufacturing room, an amalgam of raw materials - soda ash, silica sand, crushed limestone, feldspar colors and other minerals - are melted in clay pots that can hold about 1200 pounds of the mixture. The glass-making process requires "cooking" the constituent ingredients for about 17 hours at a temperature of 2400 degrees Fahrenheit.
Visitors also get to see glass blowers making a variety of artistic objects, from blown glass rondels to unique glass paperweights and vases.
Jane has lots more to share about the types of glass produced by KOG and stories of how that glass has been used in historic buildings and fine art, but we'll save those for the show!
History Mystery
The woman who betrayed John Dillinger by alerting authorities that the fugitive bank robber would be attending a movie at the Biograph Theater in Chicago on a night in July of 1934 has been deemed by popular imagination as the "Lady in Red."
Much of the "Lady in Red" story is true. The woman was the Chicago landlady of Dillinger's girlfriend, and both women accompanied Dillinger to a showing of the movie Manhattan Melodrama starring Clark Gable. Tipped off by the Lady, Federal agents and police officers from East Chicago, Ind., were waiting outside the theater for the outlaw to emerge after the show with the two women.
One crucial detail is wrong, however: the infamous informant was not wearing red.
Question: What color was the skirt worn by the woman who tipped off authorities to John Dillinger's whereabouts on the night of his death?
The prizes this week are a gift certificate to Story Inn in Brown County, courtesy of Story Inn, and two admissions to the Benjamin Harrison Presidential Site, courtesy of Benjamin Harrison Presidential Site.
Historic homes: Tips for buying, restoring and maintaining
(September 14, 2019) "Sometimes an old lady deserves a few wrinkles," Billy VantWoud says, referring to historic houses.
Billy is an Indianapolis-based general contractor who has restored older homes in Woodruff Place, Cottage Home, Fountain Square, St Clair Place and other Indy neighborhoods dating back to the late nineteenth century. "If you can't tolerate a few imperfections, maybe a historic home is not for you."
Billy joins Tim Harmon, co-owner of Tim and Julie's Another Fine Mess architectural salvage and vintage wares shop, as Nelson's studio guests to share advice for potential buyers of historic homes as well as tips for maintaining and restoring them.
Beginning in the early 1970s, when many historic neighborhoods in Indy were in decline, Tim Harmon began working as a contractor, specializing in restoring houses that he calls "ultimate survivors."
During the 1990s, Billy and Tim were partners in a restoration services business. Both of them have done restoration or renovation work on houses built before the Civil War.
The craftsmanship and character of such houses entices potential buyers. "But most people, even with a historic house, want a modern kitchen and modern bathroom," Tim notes.
Our guests urge potential buyers to research how much of a historic home is the original structure as well as the type of renovations and the extent of repair work that have been undertaken in subsequent decades.
Some tidbits about our topic and guests:
Billy, who grew up in the town of Culver in northern Indiana, lives in a Woodruff Place house built in 1901. He restored the historic house, which had been carved up to create 10 rental units.
Tim was the Roadtripper correspondent on our Aug. 31 show, reporting on an offbeat storefront museum he operates next to his architectural salvage shop. Indy's Teeny Statue of Liberty Museum has more than 500 pieces of memorabilia depicting Lady Liberty.
Tim offers this tip for potential home buyers who want to assess the extent that a floor has settled in a historic home: "Take a marble or ball bearing with you when you visit. Don't roll it. Just set it down on the floor, and see where it goes."
Roadtrip: The Atterbury-Bakalar Air Museum in Columbus
Great Roadtripper Skip Taylor, volunteer and docent at the Atterbury-Bakalar Air Museum in Columbus, Ind., invites us to join him on an aviation-themed Roadtrip to explore the experiences of Indiana's military and civilian personnel who served in wars and military conflicts from 1942 to 1970.
The museum is located on the former Atterbury Army Airfield, established in 1943 as an aviation training facility and adjunct to Camp Atterbury, located about 10 miles to the west. The airfield was decommissioned as an Air Force base in 1970 and now serves as the Columbus Municipal Airport.
The Atterbury-Bakalar Air Museum covers the history of World War II, plus the conflicts in Korea and Vietnam, and displays a wide variety of military hardware. Full-size exhibits include a WWII-era CG4-A glider, a cut-away Curtiss-Wright 3350 aircraft engine and two military jeeps. Scale models round out the collection and explore the broad range of Indiana aviation history. A 1960s-era F4 Phantom fighter-bomber can be viewed outside the museum building.
But Skip tells us that the real focus of the museum is on the men and women from Indiana who served in military aviation. This includes the famous Tuskegee Airmen, a group of African-American servicemen who overcame segregation and discrimination to become one of the most respected fighter groups of World War II.
You may even have the chance to meet some veterans on your visit: the volunteers who maintain the museum and guide visitors through it are largely composed of veterans and former service members.
History Mystery
Restoration of historic homes can involve the use of specific architectural terminology not often found in everyday speech. This week's History Mystery concerns the name for an architectural feature common to Indiana homes from the nineteenth and early twentieth centuries.

Question: What is the architectural name for a type of roofed porch that leads to the entrance of a house? This type of covered porch typically is attached to the house and has columns that support the roof.

Occasionally this type of roofed porch is enclosed by walls.

Hint: In ancient Greece, these often were the entrances to temples.

The prizes this week are two admissions to the Indianapolis Scottish Highland Games on October 12 in German Park, courtesy of the Scottish Society of Indianapolis, a gift certificate to Story Inn in Brown County, courtesy of Story Inn, and two admissions to James Whitcomb Riley Museum Home in Indianapolis, courtesy of the James Whitcomb Riley Museum Home.
Our reach - and our production costs - are expanding!
The news is in: Hoosier History Live's expansion into podcasting is increasing our listenership by leaps and bounds!
As many of our fans have discovered, it's easy to "tune in" to our weekly radio show by accessing the podcast on apps such as Stitcher and Apple Podcasts, or wherever you download or stream your favorite podcasts. You can also "Click here to listen to the podcast" below shows listed on our archive page or at the top of the newsletter and website.
But as our podcast audience grows, so do the demands upon our Internet server and our devoted Hoosier History Live production and editing team. Our podcasts are free to listeners, of course, but they definitely cost money to create and make available to the public.
Won't you consider helping out? To make a personal donation, click on the yellow "Donate" button on our newsletter or website. We can publish your name with a big "Thank You!" or you can remain anonymous, as you prefer.
If you own a business or run an organization, please consider a sponsorship. We'll express our appreciation by featuring your business or organization's logos, links, and voiced credits in the live show and in podcasts. To arrange for a sponsorship, contact producer Molly Head at (317) 927-9101 or email her at molly@hoosierhistorylive.org.
Toys in the attic
Click here to listen to the podcast.
(September 7, 2019) From wind-up or battery-operated gizmos to rocking horses, wagons, sleds and tricycles, cherished toys often are kept by families who hope future generations will be equally enchanted by them.
Or by grown-ups who just can't bring themselves to part with treasured childhood playthings.
When vintage toys are kept in attics, basements and closets, however, the consequences may not be fun and games.
To offer advice and tips about the care, maintenance, storage and repair of toys that have been around for decades or even generations, two Hoosier experts join Nelson as his studio guests:
Tim Showalter, owner of Hoosierboy Restorations in Beech Grove. Tim restores toys made in the early and mid-20th century, particularly metal and wooden items manufactured in the United States. Toy cars and tractors, sleds, rocking horses and red wagons are among the array of playthings that he has repaired or restored.
And Heather Ibey, manager of Randy's Toy Shop in Noblesville. "Our main focus is vintage, pre-1950s tin, wind-up, battery-operated, celluloid toys and their original boxes," Heather says. The shop restores and makes parts for a range of the pre-1950s toys.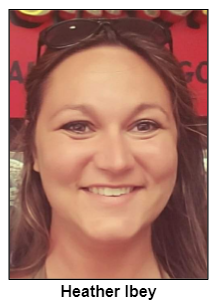 Heather has a special fondness for toys such as the Marx Merry Makers mouse band (a wind-up group of mice with musical instruments from the early 1930s) created by Louis Marx & Company, one of the world's largest toy manufacturers of the early and mid-20th century.
"[Marx] made a very large variety of toys ranging from automobiles to wind-up space toys," Heather notes.
Among her suggestions for the care of wind-up toys: "Wind them up every so often to keep them from gumming up. There's lubrication inside the mechanism to keep the gears moving smoothly. If the toy is not wound, it can thicken and jam up the mechanism and gears."
Heather also advises keeping vintage toys away from direct sunlight, which can cause vibrant colors to fade.
At Hoosierboy Restorations, Tim Showalter has a couple of tips about vintage toy cars: Those made of metal are easier to restore than those of plastic or other material. Plus, metal cars have better resale value.
Tim urges people to document family stories associated with vintage toys, as with any cherished antique. Too often, he says, meaningful personal details are forgotten (or become murky) as an item is passed down from generation to generation.
Roadtrip: Hayden Historical Museum in Jennings County
What would Indiana be without its small towns? Native Hoosier John Mellencamp celebrated them in song. The movie Hoosiers immortalized a small-town high school basketball team's victory in the state championship.
To soak up the small-town history of Hayden, Ind., guest Roadtripper Roger Ruddick invites us to the Hayden Historical Museum, located just a bit north of U.S. 50 in Jennings County, between Seymour and North Vernon.
As Roger tells us, Hayden is the home town of Indiana governor Ed Whitcomb, who fought heroically in WWII and returned to Indiana to earn a law degree and serve as the 43rd governor of the state. A section of the museum is dedicated to exploring his life and legacy.
The Hayden Historical Museum also seeks to convey the experience of growing up in a small town through its display of a 1940s-era Sinclair gas station (originally built in Hayden after U.S. 50 was established in 1926) and a recreated mid-1950s school classroom.
For those still curious about the old-time, small-town experience, visitors can also stop in to a neighboring museum, A Place Called Yesterday, which explores the world of home entertainment before the invention of electricity.
Don't miss this opportunity to "have yourself a ball in a small town," as Mr. Mellencamp put it, and join Roger on this exciting Roadtrip!
History Mystery
A doll that became famous around the world was created by a cartoonist who grew up in Indianapolis in the Lockerbie neighborhood.
In 1903, he was hired by the Indianapolis Star as a cartoonist, and after reaping national acclaim for his work, he became a cartoonist for New York City-based newspapers.
While living on the East Coast, he wrote adventure books that featured the character he used as the basis for the doll. Initially marketed as a promotion for the books, the doll was an immediate sensation. Ever since, the doll has been sold around the world.
Question: What is the name of the famous doll?
The call-in number is (317) 788-3314. Please do not call into the show until you hear Nelson pose the question on the air, and please do not try to win the prize if you have won any other prize on WICR during the last two months. You must be willing to give your name and address to our engineer and be willing to be placed on the air.
The prizes this week are two admissions to "Not- So- Silent Halloween" screening of camp film classic Bride of the Monster at Indiana Landmarks on Oct. 25, courtesy of Indiana Landmarks, and two admissions to the Eiteljorg Museum, courtesy of the Eiteljorg Museum.
On the road to Lincoln-related sites
Click here to listen to the podcast.
(August 31 2019) "I love that there are still inns where Lincoln stayed," says travel writer Jane Ammeson, who has been a popular Roadtrip correspondent on Hoosier History Live for several years.
Although her radio reports, magazine articles and books cover a range of historic topics, Jane has narrowed her focus in her newest book, Lincoln Road Trip: The Back-Roads Guide to America's Favorite President (Red Lightning Books).

As most Hoosiers know, Abraham Lincoln grew up in southern Indiana. As a 7-year-old, he and his family moved from Kentucky to the wilderness area that became Spencer County; the Lincolns arrived in 1816, the same year Indiana achieved statehood.

We will reach beyond the boundaries of Indiana when Jane joins Nelson as a studio guest to explore some of the inns, homes, mills and recreated historic sites with a connection to Lincoln (1809-1865), his extended family and the historical events associated with his life.


Our itinerary for the show includes traveling to Kentucky to explore the Old Talbott Tavern in Bardstown, which opened as an inn in 1779. Abe Lincoln was about five when he stayed at the inn; according to Lincoln Road Trip, it is considered "one of the oldest taverns in continuous operation in the United States and the oldest stagecoach stop west of the Allegheny Mountains."
Guests at an inn in Corydon, Indiana's first state capital, included Josiah Lincoln, Abe's uncle. Josiah (the brother of Thomas Lincoln, father of the future president) visited the Kintner Tavern after he moved to Harrison County to establish a 160-acre farm near Corydon in the early 1800s, according to Lincoln Road Trip. Although the original tavern was destroyed by a fire, its owner, Jacob Kintner, later opened the Kintner House Inn, which still stands.


And here's another Lincoln-connected bit of trivia about Harrison County: Because there are no direct descendants remaining of Abraham Lincoln - the last, his great-grandson Robert Todd Lincoln Beckwith, died in 1985 - descendants of Josiah Lincoln are considered, as Jane puts it, "among the closest living kin of the greatest American president." Many of Josiah Lincoln's descendants continue to live in Harrison County or nearby.

Thousands of visitors from across the country have seen the burial sites of Abraham Lincoln's mother, Nancy Hanks Lincoln, and his older sister, Sarah Lincoln Grigsby, at the Lincoln Boyhood National Memorial in Spencer County. The site includes a recreation of the log cabin the Lincolns built when they moved to the Little Pigeon Creek settlement in the wilderness.

"It was a region with many bears and other wild animals still in the woods," Lincoln recalled later in life. "There I grew up."

Our guest Jane Ammeson notes that the Lincoln family was related through marriage to the extended family of frontier explorer Daniel Boone. So Lincoln Road Trip highlights historic sites associated with the Boones, which we also explore during our show.

These sites include Squire Boone Caverns in Harrison County, which Janes describes as a "magical and mystical" cave system with an underground waterfall. Squire Boone, Daniel's younger brother, lived near the caverns in southeastern Indiana for the final 11 years of his life. When he died in 1815 at age 71, Squire Boone asked his children to bury him in one of the passageways of the cave system. Today, Squire Boone Caverns is a popular tourist attraction, and visitors often stop in the area that includes his casket.

Also during our show, we explore the Colonel William Jones State Historic Site near the town of Gentryville in southwestern Indiana. Jones ran a general store during Abe Lincoln's teenage years, employing him as a clerk and discussing political issues with him. After the Lincoln family moved to Illinois, Abe Lincoln spent the night at Jones' house during a return visit to Indiana.

During the Civil War, Jones was killed at the Battle of Atlanta in 1864, his former clerk serving as commander-in-chief. The house in Gentryville, which Jones designed in the Federal style, is listed on the National Register of Historic Places.




Roadtrip: Indy's Teeny Statue of Liberty Museum
Guest Roadtripper Tim Harmon, longtime purveyor of architectural salvage and co-owner of Tim and Julie's Another Fine Mess on East 10th Street in Indianapolis, decided to do something eclectic with the small retail space next to his store. He created Indy's Teeny Statue of Liberty Museum a couple of years ago as a tribute to what he calls "the absurdity of what people do with the Statue of Liberty."
Tim invites us to join him in a visit to the storefront museum, which houses a collection of over 500 pieces of Statue of Liberty memorabilia packed into 160 square feet of space. Some of the Liberty-themed items include Avon bottles, a toothbrush holder, lawn sprinklers, Jim Beam bottles, cigarette lighters, pencil sharpeners, books, a condom, stamps, and more. All this, and admission is only 50 cents!
Once you've had your fill of Liberty, Tim invites you to drop in and have a look around Another Fine Mess, one of Indy's most enticing salvage stores. Wares run the gamut from such treasures as early 20th century plumbing fixtures to lovingly crafted vintage doors and windows.
And if culling through old stuff is your thing, consider visiting two nearby salvage hotpots: Rewired Antiques and Society of Salvage.
If your love of history is balanced by an appreciation for kitschy Americana, be sure to join Tim on this off-beat Roadtrip to one of Indy's most unusual museums.
History Mystery
In 1865, as Abraham Lincoln's funeral train passed through Indianapolis, the slain president became the first person to lie in state at the Indiana Statehouse.
The second person, a Hoosier who achieved national fame, died in 1916. According to several accounts, more than 35,000 people filed past his casket at the Statehouse.
Question: Who was the famous Hoosier who was the second person to lie in state at the Statehouse?
The prizes this week are two admissions to the Indianapolis Scottish Highland Games on October 12 in German Park, courtesy of the Scottish Society of Indianapolis, a gift certificate to Story Inn in Brown County, courtesy of Story Inn, and two admissions to James Whitcomb Riley Museum Home in Indianapolis, courtesy of the James Whitcomb Riley Museum Home.
Bootleg King and his Indiana connections
Click here to listen to the podcast.
(August 24, 2019) In the early years of Prohibition, nearly 35 percent of all of the illegal liquor in the country was controlled by a teetotaler, a lawyer-turned-entrepreneur who owned a chain of distilleries and pharmacies across nine states.
Known as the "Bootleg King" during the early 1920s, George Remus was based in Cincinnati but had several connections to Indiana, including one of his top revenue sources, the Squibb distillery in Lawrenceburg on the Ohio River.
Many of his rum-runners came from Indiana and stayed at "Death Valley," his heavily-guarded farm just west of Cincinnati that served as a storage area for his vast quantities of alcohol.
The posh Claypool Hotel in downtown Indianapolis was one of the favorite lodging spots for Remus and his glamorous wife, Imogene.
The Claypool also was where, in the middle of the night, Remus tracked down Imogene when she was staying at the hotel with a car salesman. Remus, in a jealous rage, nearly beat the salesman to death in the elegant hotel.
The social history, national impact and Indiana connections of the colorful "Bootleg King" is the focus of our show, with New York-based author Karen Abbott joining Nelson by phone. Abbott (as she prefers to be called), is the author of The Ghosts of Eden Park (Crown Publishing), a new book about Remus, his lavish lifestyle and his crimes.
Abbott shared insights about Remus and the era of Prohibition during a presentation at the Indiana History Center.
Abbott noted that a courthouse in Indianapolis was the setting for one of his federal trials; in 1925, he was accused of crimes associated with a Jack Daniels distillery.
During the trial, Remus stayed at the lavish Claypool, which, with its rival, the Hotel Lincoln, was the focus of a Hoosier History Live show in March.
According to Abbott, Remus probably was the inspiration for the fictional character of Jay Gatsby, the central figure in The Great Gatsby, the classic novel by F. Scott Fitzgerald published in 1925. Like Gatsby, Remus owned a string of pharmacies, lived in an opulent mansion and, as Abbott puts it, "was obsessed with an enigmatic woman."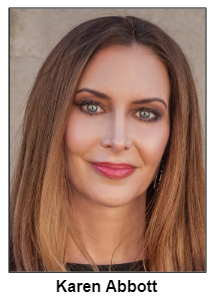 Remus, the son of impoverished German immigrants, came to the United States as a child in the 1870s. Because his father was an alcoholic, Remus vowed as a boy that he would never "drink a drop" of liquor, according to The Ghosts of Eden Park.

Although he stuck to that vow on a personal level, he oversaw a bootleg operation based in Cincinnati that was so massive he had 3,000 people on his payroll and a fleet of 147 trucks.


His chief adversary was Mabel Walker Willebrandt, the assistant attorney general for the U.S. Department of Justice based in Washington DC. According to our guest Karen Abbott, Willebrandt was "the most powerful woman in the country" during the early 1920s and was in charge of thousands of alcohol-related cases during Prohibition.

Her challenges in bringing Remus to justice included his bribes to federal agents and what Abbott describes as his "cozy relationships" with top federal administrators, including Willebrandt's coworkers and supervisors.




Roadtrip: Lydick Bog, a new Indiana State Nature Preserve
Feeling swamped at work? Stuck in a quagmire of irksome responsibilities? Up to your neck in the quicksand of life's challenges?
Leave those figurative swamplands behind and join Guest Roadtripper Chris Taelman of South Bend as he takes us on a visit to a literal swamp: the Lydick Bog near South Bend in St. Joseph County.
As Chris tells us, the 178-acre parcel of land known as Lydick Bog was recently dedicated an Indiana State Nature Preserve, part of the Shirley Heinze Land Trust, which has been protecting and preserving natural land since 1981.
Located just west of South Bend at the northern edge of North Chain Lake, Lydick Bog contains a variety of habitat types, including wetlands interspersed with high ridges and islands of upland forest. Many interesting plant species characteristic of bog habitats have been identified on the site, including round-leaved sundew, pitcher plant, winterberry, tamarack and large cranberry.
Approximately 20 acres of agricultural fields are being restored to forest habitat, and a hiking trail is now on the site so that the public can enjoy this natural resource, one of the last remaining sphagnum or peat bogs in Indiana.
But rather than get bogged down in the details, we'll let Chris cover the terrain of this immersive Roadtrip!
History Mystery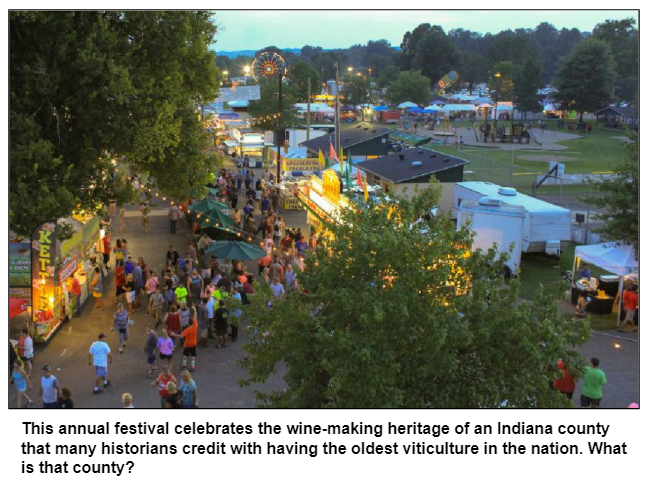 A county in Indiana is considered by many historians to have been the site of the country's first successful commercial winery. European immigrants to the county set up vineyards and established the winery during the early 1800s. Some historians say the immigrants may even be credited with introducing grape cultivation to the United States.
As a salute to its wine-making heritage, the Indiana county celebrates an annual wine festival. It typically features a grape stomp, riverboat cruises and music, as well as tents showcasing Indiana wineries.
Question: What Indiana county is considered the site of the country's first winery?
The prizes this week are two admissions to the Indiana State Museum, courtesy of the Indiana State Museum, and two admissions to the Indianapolis Scottish Highland Games on October 12 in German Park, courtesy of the Scottish Society of Indianapolis.
Talking with Dave Blase, who inspired Breaking Away
Breaking Away at 40 with Dave Blase
Click here to listen to the podcast.
(August 17, 2019) If the decades seem to have zipped by with the speed of a competitive cyclist, brace yourselves: The movie Breaking Away, filmed in and around Bloomington, opened in theaters across the country 40 years ago this summer.
The film became an unexpected hit in 1979 and won an Academy Award for its screenwriter, Indiana University graduate Steve Tesich, who drew inspiration from his fraternity's victory in the Little 500 bicycle race. He based the film's central character on his fraternity brother Dave Blase, a zoology major and avid cyclist at IU in the early 1960s who used to sing Italian arias as he rode over the hills of Monroe County.
Now 79 years old, Dave Blase is retired after a long career as a biology teacher, including 39 years on the faculty of Arlington High School in Indianapolis. Dave Blase is Nelson's studio guest and shares insights about his early life (he grew up in Speedway), the impact of Breaking Away (in which the aria-singing protagonist is named Dave Stoller), and how his life has unfolded during the 40 years since the release of the movie.
"Dave had this fanatical attachment to the sport," Tesich recalled in an interview with Nelson, our host, a few years before the screenwriter's death in 1996. "It was almost a romantic involvement."
The Phi Kappa Psi brothers won the Little 500 in 1962, with Dave Blase as the undeniable star of the team. Several factors influenced his fondness for all things Italian, including the fact that he had spent a semester working as a researcher at a campus medical center with Italian doctors. It also didn't hurt that cyclists from Italy had dominated the competition at the 1960 Rome Olympics.
In Breaking Away, the "townie" characters on the scrappy Little 500 team hail from working-class families who cut limestone in the quarries near Bloomington. The team members, who call themselves "Cutters," feud with preppy IU students, competing not only in the Little 500, but also for the attention of sorority members.
In interviews over the years, Dave Blase has said that during his boyhood in Speedway, he had minimal interest in sports, including cycling. That changed at IU, culminating in his spectacular performance in the Little 500 in 1962, in which he rode 139 of the 200 laps and set campus records.
With only a $2.4 million budget - modest even for the time - Breaking Away was filmed in Bloomington and elsewhere in Monroe County during the summer and fall of 1978, then released the next year.
Steve Tesich, the screenwriter, was born in 1942 in what was then Yugoslavia. At age 14, he immigrated with his family to East Chicago, Ind. After winning the Oscar for Breaking Away, Tesich wrote the screenplay for Four Friends (1981), an autobiographical movie about an Eastern European immigrant who comes of age in northwestern Indiana.
"I had heard from my frat brothers about a freshman who showed up on campus with a 10-speed bicycle, which was unusual in those days," Dave Blase told Nelson several years ago, referring to his initial meeting on campus with Tesich in the fall of 1961.
Breaking Away, though, is set in the late 1970s. The film, in which Dennis Christopher played the Dave Stoller character, was such a success that it inspired a short-lived TV series starring teen idol Shaun Cassidy in the role.
By then, Dave Blase was teaching at Arlington High School. Although he had continued to race competitively after he graduated from IU and through his 20s, he found that the occasional prize money he won was not enough to support a family. He had met his wife Yolande, who is Dutch, during a bicycling excursion through Europe.
The two now live on the northeast side of Indianapolis and are the parents of two grown children.
Roadtrip: Windmill Museum in Kendallville
Guest Roadtripper, retired bookshop owner and world traveler Kathleen Angelone invites us to "catch the wind" at the Mid-America Windmill Museum in Kendallville, north of Fort Wayne in northeastern Indiana. The museum features a "path of mills" in a bucolic setting and includes more than fifty historic windmills from all over the country.
Windmills played an important role in American history, Kathleen informs us, and the museum has taken on the mission of telling "the story of wind power from its origination through the American windmill to the present day."
The Mid-America Windmill Museum was established in 1992 and displays all of the windmills manufactured at Kendallville's Flint and Walling Company, which has been in business for 153 years (but no longer manufactures windmills).
So if the role of wind power in history sets your heart to fluttering, be sure to join Kathleen on this breezy Roadtrip. You'll be blown away!
History Mystery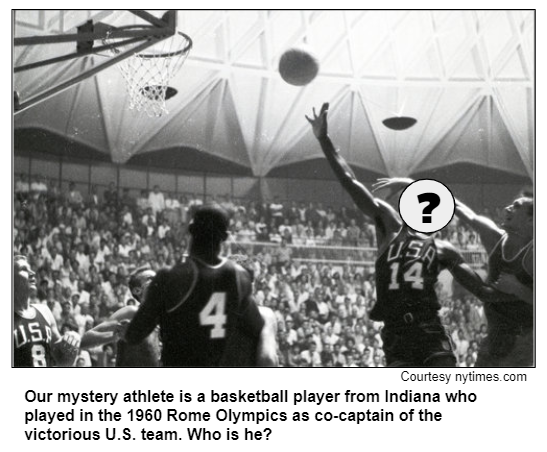 The 1960 Rome Olympics, in which Italian athletes swept many of the medals in cycling and inspired our guest Dave Blase, also featured an outstanding performance by a basketball player from Indiana.
He helped the U.S. team capture a gold medal, the country's fifth straight in the Summer Olympics. The basketball player was co-captain of the victorious team in the Rome Olympics.
Even before the Olympics, he had become a household name in Indiana. After the Olympics, he enjoyed a sensational, 14-year career in the NBA.
Question: Who is basketball player from Indiana who helped lead the U.S. team to victory in the 1960 Olympic games?
The prizes this week are two admissions to the Eiteljorg Museum, courtesy of the Eiteljorg Museum, and two admissions to the Indiana History Center, courtesy of the Indiana Historical Society.
Baseball history hits a home run!
Indianapolis Indians history with Max Schumacher and Mark Montieth
Click here to listen to the podcast.
(August 10, 2019) Has there been an ardent Indianapolis Indians fan since the 1950s who has not known the name Max Schumacher? Often called "Mr. Indianapolis Baseball," Max worked for the minor-league baseball franchise for more than 60 years, in positions ranging from ticket manager all the way up to president.
Not only did he spearhead the effort to build Victory Field in downtown Indy in the mid '90s, he actually began his career by working for Owen Bush, the namesake of historic Bush Stadium, which had been the Indians' home field since 1931.
Now chairman emeritus of the Indians (the franchise is managed by two of his sons), Max has written a book to convey some of the highlights of his long career. In Extra Innings: My Life in Baseball (Blue River Press), Max shares insights about wild promotions, players who passed through the Indians before achieving stardom in the major leagues, and periodic drama in the team's front office.
To explore the mounds of history associated with the Indians - who are currently the Triple-A affiliate of the Pittsburgh Pirates, following years of affiliation with a range of major league teams, including the Cleveland Indians and the Cincinnati Reds - Max joins Nelson as his studio guest. So does his Extra Innings co-author, Mark Montieth, the award-winning Indianapolis-based sportswriter.
As a student at Shortridge High School, Max attended Indians games with his lifelong friend Richard Lugar (both were members of the class of '50), who wrote the foreword to Extra Innings before he died in April. After Shortridge, Max played baseball at Butler University for another legendary figure: Tony Hinkle, the three-sport coach who became the namesake of Hinkle Fieldhouse.
Future Hall of Famers who played for the Indians early in their careers included Harmon Killebrew, who was 24 years old in 1958 when, as Max notes in Extra Innings, he had a dismal season in Indy.
If some fans are not aware that Killebrew (who hit more than 570 home runs for the Washington Senators after leaving Indianapolis) ever came up to bat at Bush Stadium, few have forgotten the most popular player in Indians history: charismatic Razor Shines, who spent most of nine seasons with the team during the 1980s and '90s. Invariably introduced over the public address system as "R-r-r-r-r-r-azor Shines," he will be among the notables that Max and Mark will discuss during our show.
Some Indians history facts:
In 1955, the Indians came close to leaving Indianapolis. The team, which was losing money, was affiliated with the Cleveland Indians then. Max and Mark will explain how the team managed to remain in Indy.
Bush Stadium was nearly slated for demolition after the Indians moved to the newly opened Victory Field at White River State Park in 1996, but then made history by becoming the first former baseball stadium in the country to be converted into residential housing. Historic preservationist John Watson of Core Redevelopment discussed the conversion during a Hoosier History Live show in 2013. Stadium Lofts apartments opened later that year.
Max Schumacher was named a Living Legend by the Indiana Historical Society in 2012.
Roadtrip: Martinsville - Goldfish Capital of the World
Guest Roadtripper Daina Chamness, author and foodie who now lives embraces the RV lifestyle with her husband Larry and pooch Finn, invites us on a jaunt to historic Grassyfork Fisheries in her hometown of Martinsville, Ind.


A fishery in Martinsville? Who knew?

Well, Martinsville was actually famous in the early 20th century as the "Goldfish Capital of the World," thanks to the entrepreneurship of Eugene Shireman, who started Grassyfork Fisheries in 1899 on a plot of swampy land that he had inherited.


As the little gold Carassius auratus, first imported to the US from China just a few years earlier, grew in popularity as an easy-to-care-for pet, so did Grassyfork; the facility eventually became the largest goldfish production center in the world.

Daina tells us that the hatchery is still in operation as a family business producing goldfish and koi, though it now operates under the name Ozark Fisheries Shireman Farm. It has been listed on the National Register of Historic Places and is open for tours.


So if you're fishing around for a fun and educational adventure in Indiana history, join Daina and make a splash on this exciting Roadtrip!



History Mystery
For more than 35 years, a touring mascot based in California performed at Indianapolis Indians games, delighting fans with playful antics and joking around with players and umpires on the field. The mascot - an oversized yellow chicken - eventually became known as The Famous Chicken and is credited with popularizing the use of mascots in professional sports. Sporting News even deemed the anthropomorphic bird, who made promotional appearances at events across the country, one of the 100 most powerful people in sports during the 20th century.
As our guests Max Schumacher and Mark Montieth note in their book Extra Innings, The Famous Chicken had a different name when the character began appearing at Indians games and interacting with spectators, particularly children. At the beginning of the mascot's promotional appearances in the 1970s, the chicken's name included the California city where the character originated.
Question: What was the original name of The Famous Chicken?
The prizes this week are a family 4-pack to the Indiana State Museum, courtesy of the Indiana State Museum, and a gift certificate to Story Inn in Brown County, courtesy of Story Inn.
Reno Brothers, notorious train robbers: encore
Click here to listen to the podcast
(August 3, 2019) Shortly after the Civil War, a notorious crime spree unfolded across the Midwest that included the country's first robbery of a moving train. The perpetrators were bandits in a gang organized by brothers who grew up on a farm near Seymour, Ind., in Jackson County. The outlaws also pulled off what may have been the first peacetime train robbery in U.S. history.
The notorious Reno Brothers - whose history-making train robbery occurred on Oct. 6, 1866 - are the focus of this encore show originally broadcast April 14, 2018. The gang included brothers Frank, John, Simeon ("Sim") and William Reno, who had begun looting businesses before the Civil War.
Their most infamous crime occurred May 22, 1868 as the Jefferson, Madison & Indianapolis Railroad train was proceeding through Marshfield, Ind., about 17 miles south of Seymour. The Renos and their gang boarded the train, overpowered the engineer, threw one of his co-workers out a door, broke into an express car and eventually made off with about $96,000.
As train robberies and other crimes by the Reno gang persisted, Jackson County residents formed vigilante committees. Pinkerton detectives were hired to capture the gang.
To describe the Reno Brothers' crime spree, William "Bill" Bell, a retired law enforcement officer based in Indianapolis, is Nelson's studio guest. Bill, who writes for several magazines about the Old West, has researched and written about the Reno Brothers for Wild West magazine. In a 38-year career, Bill worked as a police officer, deputy sheriff, U.S. border patrolman and as a U.S. Customs worker. He is a member of the Scarlet Mask Vigilance Society, which is named after one of the vigilante organizations that, as Bill puts it, "finally put a stop to the depredations of the notorious Reno Brothers."
According to Bill's research, the Reno family came to Indiana in 1813, when the grandfather of the brothers arrived from Kentucky. Frank, John, Sim and William Reno grew up on a 1,200-acre farm. Another brother, Clinton, and a sister, Laura, "apparently never entered into the illicit activities of their siblings," Bill writes.
As an early headquarters, the Reno Brothers and their gang used a dilapidated building in the small Jackson County town of Rockford; later, their base was a hotel in Seymour. Before the historic train robberies, the Renos committed a series of post office robberies and murders.
According to Bill Bell's article, the Reno gang's robbery of an Ohio & Mississippi Railroad train as it left the Seymour depot in 1866 means that the brothers can be blamed for "opening the door to the train robbery era, which featured Jesse and Frank James, and, later, Butch Cassidy and the Sundance Kid."
The Reno Brothers were suspects in arson fires that swept through Rockford and in the slayings of residents who could have testified against them in court.
In 1868, several members of the Reno gang, including Frank, William and Sim Reno, were captured in separate apprehensions. They were taken to New Albany, the Ohio River town in Floyd County with a "big stone jail, considered the strongest in southern Indiana," according to Bill's article. (John Reno had been arrested previously and was imprisoned in Missouri, where members of the Reno Gang had robbed banks and a county treasurer's office.)

Determined to make the Reno Brothers pay for their crimes, nearly 100 members of a vigilante society in Jackson County took trains to New Albany one night in December. The vigilantes showed up at the Floyd County jail at about 3 a.m., masked and armed with revolvers and clubs. They overpowered the jailers, the Floyd County sheriff and Floyd County commissioners, and dragged Frank, William and Sim Reno one-by-one out of their cells and executed them by hanging. After the lynchings, the vigilantes returned by train by Seymour.

The bodies of the three Reno Brothers who had been lynched were turned over to their sister Laura and were buried side by side in Seymour City Cemetery. The fenced graves of the infamous bandits can be visited by going up a stone walkway from 9th St in Seymour.

To learn more about the Reno Brothers' lasting impact on American culture, listen to "The First Train Robbery," a bluegrass song written by Chris Stout and performed here by Larry Cordle.
Roadtrip: Bethel AME Church in Richmond
Guest Roadtripper Casey Pfeiffer, historical marker program director at the Indiana Historical Bureau, invites listeners to learn about the Bethel AME Church at 200 S. 6th St. in Richmond, Ind.
Bishop William Paul Quinn, a traveling missionary and preacher, organized the AME congregation in Richmond in 1836. Quinn was instrumental in establishing the African Methodist Episcopal Church in free and slave states prior to the Civil War. In 1844, the AME General Conference elected him its Fourth Bishop.
The building was originally built in 1854 for the local German Methodist Church, but was eventually sold to the Hicksite Friends, a Quaker faction. The Bethel AME congregation gained ownership of the building in the late 1860s. Bethel AME is one of the oldest continually operating African American congregations in the state.
The Indiana Historical Bureau placed a new state historical marker at the church in June of 2018 commemorating Bishop Quinn.
Exploring the landscapes of Indiana history
Hoosier horticultural heritage
Click here to listen to the podcast.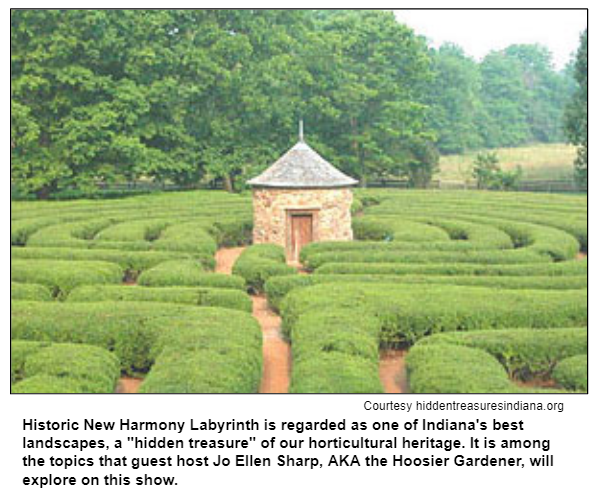 (July 27, 2019) With midsummer upon us, it's time to pour a glass of iced tea, sit on the porch and soak up some of the history that grows in the lush gardens of Indiana. Guest host Jo Ellen Meyers Sharp, AKA the Hoosier Gardener, explores the rich horticultural heritage of the Hoosier state.
First stop on Jo Ellen's tour of Indiana's garden history: Zionsville. Turns out that the historic village (now a booming suburb of Indianapolis) played an important role in the development and marketing of flowers for use in home gardens.
Nearly a century ago, Zionsville gained the nickname "Dahlia City," thanks to the success of two neighboring nurseries located in the village. Both produced not only dahlia tubers, but other showy flowers as well, which they sold locally and across the country through mail-order catalogs.
Zionsville became known as one of the best places to purchase tubers to produce colorful, spectacular blooms.
The story of Zionsville and the dahlias comes from Mark Zelonis, who joins Jo Ellen in studio to discuss Indiana's horticultural history. Mark has spent an entire career directing beautiful gardens, including those at the Indianapolis Museum of Art at Newfields. Mark is a frequent lecturer on gardens and landscape history and recently formed a new company, Cultural Excursions, through which he leads tours to gardens, museums and historic sites in the U.S. and Europe.
Mark tells how early 20th century promoters of the growing Zionsville community touted the town's attractiveness to potential new homeowners and businesses and probably coined the nickname "Dahlia City." The craze for dahlias eventually waned, however, and by the 1940s both nurseries had closed.
Some of Zionsville's floral legacy has been sadly lost: it appears the dahlia variety Zion's Pride is no longer available in the trade. However, town officials recently named a new road on the south side of town Dahlia Drive to recognize this colorful aspect of the village's history.
Also joining Jo Ellen in studio: landscape architect David Gorden, co-owner of Mark M. Holeman Inc., landscape company.
Jo Ellen, Mark and David share stories of some of the state's most beautiful landscapes and how they convey a unique sense of place. Among the most culturally significant of these gardens: twenty "Hidden Treasures" that have been placed on the National Register of Historic Places. These include Lindenwood Cemetery in Fort Wayne, Deming Park in Terre Haute, and the Historic New Harmony Labyrinth.
Within the boundaries of Indianapolis, garden lovers can revel in the beauty of Garfield Park, designed by George Kessler, and Oldfields, the estate garden designed by Percival Gallagher of the famed Olmsted Brothers landscape firm.
Yet another important historic garden to explore with Jo Ellen and her guests: the recently restored Riverdale estate landscape designed by Jens Jensen, now part of the campus of Marian University. The Friends of Riverdale raised $1.4 million to restore the century-old landscape that recently won an award from Indiana Landmarks. Riverdale also figures into Hoosier racing history: it is the former estate of James A. Allison, one of the founders of the Indianapolis Motor Speedway.
Also on the agenda for discussion: the value of native plants in Indiana gardens. There's growing interest in these plants as gardeners, urban planners, horticulturist, garden centers, nurseries and landscape architects learn more about the role of native perennials, trees and shrubs in sustainable gardens. A good example is public interest in milkweed, the only family of plants beloved monarch butterflies use to lay their eggs.

History Mystery
A famous landscape architect and city planner is responsible for planning a multitude of parks and green spaces in Indianapolis, Terre Haute, Fort Wayne and South Bend.
Over the course of his forty-one year career, this German immigrant completed over 200 projects and prepared plans for 26 communities, 26 park and boulevard systems, 49 parks, 46 estates and residences, and 26 schools. His projects can be found in 23 states and 100 cities, in places as far flung as Shanghai, New York and Mexico City.
"Planning," this landscape architect wrote, "should be comprehensive. Even though a grand urban design could only be realized in bits and pieces, and over a long period of years, still we should always know where we are going."
Question: Who is this famous landscape architect?
This week's prize is a signed copy of The Visitor's Guide to American Gardens, courtesy of its author, Jo Ellen Meyers Sharp. The book includes details on more than 400 gardens in the U.S. and Canada to include in your travels.
Roadtrip: Quest for the Orange Fringed Orchid at the Fisher Oak Savanna Nature Preserve
Guest Roadtripper Michael Homoya, author, world traveler and recently retired from the Indiana Department of National Resources, will be calling in from a search mission at Fisher Oak Savanna Nature Preserve in Jasper County in northwestern Indiana.
He's leading a hike to see the state endangered orange fringed orchid (Platanthera ciliaris); the Fisher Oak property provides one of the few habitats in Indiana in which the orange fringed orchid can thrive.
Fisher Oak Savanna Nature Preserve is owned by the NICHES Land Trust and consists of 266 acres of black oak savanna dune ridges interspersed with pin oak flatwoods.
Because pin oak flatwoods hold water in the spring and dry later in the season or in summer, they contribute to a wet/dry cycle that creates the perfect home for many rare plants and amphibians that depend on this type of ecosystem.
We can also appreciate the Fisher Oak preserve as a reminder of our state's pre-European history. Before the pioneer era, the natural diversity of wildlife in the area attracted Native Americans, who used the sand ridge above the lower wetlands and prairies as a spot for encampments.
To find out the results of Michael's quest, be sure to join us for this fascinating Roadtrip!

Broad Ripple High School alumni share their stories
Broad Ripple High School history
Sorry, no podcast availble due to technical difficulties
(July 20, 2019) The fate of its high-visibility site on the northside of Indy has been a question mark since the closing of Broad Ripple High School in 2018.
But there's no questioning the high school has a rich history that sometimes seems to have changed course with the speed of a Rocket, which was adopted as the school's mascot in the early 1930s, according to the Broad Ripple High School Alumni Association.
It was considered a "rural" high school - located in the village of Broad Ripple - when Broad Ripple High opened in 1886 with seven students in a building that also was being used as an elementary school.
It became part of the Indianapolis Public Schools system in 1923 (one year after the village was annexed into the city) and has a roster of notable alumni including David Letterman (class of '65); attorney Marilyn Tucker Quayle (class of '67), the nation's second lady as the wife of former Vice President Dan Quayle, and George Hill (class of 2004), the current NBA player for the Cleveland Cavaliers.
Hoosier History Live takes a glance at the lives of these alumni as we explore how their alma mater evolved from rural to suburban to urban over the years, with plenty of triumphs and challenges along the way. BRHS milestones have included a state high school basketball championship in 1980; court-ordered integration in the 1970s; designation as an Arts and Humanities magnet school; and dwindling enrollment after reaching a peak of 2,500 students in 1995 because of the closings then of other IPS high schools.
Nelson's studio guests include three alums of Broad Ripple High:
Alice Ashby Roettger (class of '52), a Broad Ripple historian who has lived in the area most of her life. Members of her family attended the high school for a span of more than 50 years, extending from the1930s (an older sibling was in the class of '39) to 1988, with the graduation of the youngest of her four daughters, all of whom attended Broad Ripple.
Bruce Buchanan (class of '73), CEO of Buchanan Group Inc./Flanner and Buchanan Funeral Centers and a civic leader. Bruce, who was a member of the high school's state championship tennis team in 1973, is currently involved in an effort to ensure that the school's archives, keepsakes and other artifacts are protected and not dispersed, which has been the fate at some other local high schools that have been closed.
And Sandy Sisson Fenstermaker (class of '54), who periodically coached track, golf and swimming and was a substitute teacher at her alma mater. Sandy, who continues to live in the Broad Ripple area, is the mother of five graduates of the high school. Six of her grandchildren also have graduated or attended Broad Ripple.
At the 1893 Chicago World's Fair, the then-new Broad Ripple High School was recognized as one of the nation's outstanding "rural" high schools. At that point in its history, the school was not located at its current address on the corner of Broad Ripple Avenue and Haverford Avenue, where it moved in 1914.
What we know today as Broad Ripple High school consists of a series of additions to the 1914 structure, which was itself demolished in 1968. That demolition and reconfiguration project made navigating the school's hallways easier, but getting from one side of the building to the other could still be a circuitous challenge.
Before that demolition, students included Michael Graves (class of '52), an internationally acclaimed architect whose hometown projects included the Indianapolis Art Center near his alma mater; John Mutz (class of '53), former lieutenant governor of Indiana; and former Indianapolis Mayor Steve Goldsmith (class of '64).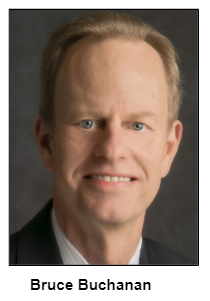 Beginning in the early 1980s, Broad Ripple High School periodically was threatened with closing. Along with the eventual decision to shut down BRHS in 2018, IPS officials closed Arlington High School and Northwest High School.
According to an article published in Indianapolis Monthly after the school's closing, BRHS during its final year was attended by "just 25 percent of the number of students it was designed to accommodate." The final graduating class consisted of about 130 students.
Some other BRHS history facts:
A cow pasture south of the school became its football field in 1928. The parents of an alum killed during World War II donated funds to make Broad Ripple the first IPS school with a lighted football field, according to the alumni association.
In 1970, the high school was overseen by a black principal, William Jones, for the first time.
Our guest Bruce Buchanan wrote for The Riparian, the school's newspaper, which, along with the yearbook, won several national awards in the decades following their debuts during the 1920s. Other Riparian staffers included David Letterman's younger sister, Gretchen Letterman, who has enjoyed a long career as a newspaper editor based in St. Petersburg, Fla.

Roadtrip: James E. Roberts School 97 on Indy's near eastside
Guest Roadtripper Suzanne Stanis of Indiana Landmarks suggests a visit to Roberts School Flats on East 10th Street in Indianapolis. The apartment building is a great example of "adaptive reuse," a process by which historic buildings are given a second life by modifying them to serve a new purpose.

Suzanne tells us that Robert School Flats is part of a larger trend to turn former schools into contemporary living places that appeal to urban dwellers. "Wide corridors, spacious rooms, and ample natural light make historic school buildings a popular housing option," she says.
The project adds to the growing revitalization of East 10th Street and preserves an important landmark for the disabled community. Constructed as a PWA project, the building opened as the first state-of-the-art facility for physically disabled children in 1936. Noted local architects McGuire & Shook designed the two-story school with ramps, a hydrotherapy pool, elevator and sun deck.
To hear the story of how the historic building was almost lost but then saved with the help of Indiana Landmarks and a $3 million rehabilitation by Core Redevelopment, be sure to join us for this fascinating Roadtrip!

History Mystery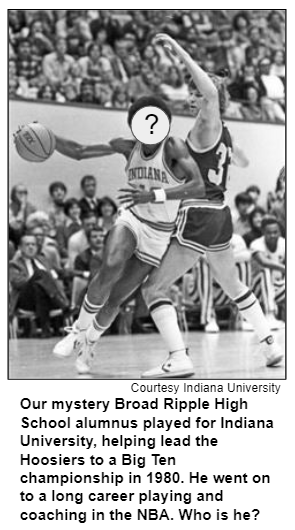 Famous alumni of Broad Ripple High School include a member of the class of 1976 who enjoyed a long and distinguished career in the NBA as both a player and a coach.
After graduating from Broad Ripple, he achieved success at Indiana University playing for coach Bobby Knight and helping lead the Hoosiers to a Big Ten championship in 1980. Later that year, he began his NBA career when he was drafted by the New York Knicks.
After more than a decade as a player for various teams, he served as coach or assistant coach for several NBA teams. From 2004 to 2010, he was the head coach of the Atlanta Hawks, which made the NBA playoffs in each of his final three seasons.
Question: who is the member of Broad Ripple High's class of 1976 who has enjoyed a long career in the NBA?

Please do not call in to the show until you hear Nelson pose the question on the air, and please do not try to win if you have won any other prize on WICR during the last two months. You must be willing to give your first name to our engineer, you must answer the question correctly on the air and you must be willing to give your mailing address to our engineer so we can mail the prize pack to you.
The prizes this week are four tickets to the James Whitcomb Riley Museum Home in Indianapolis, courtesy of the museum, and a gift certificate to Story Inn in Brown County, courtesy of Story Inn.
Getting into the flow of White River history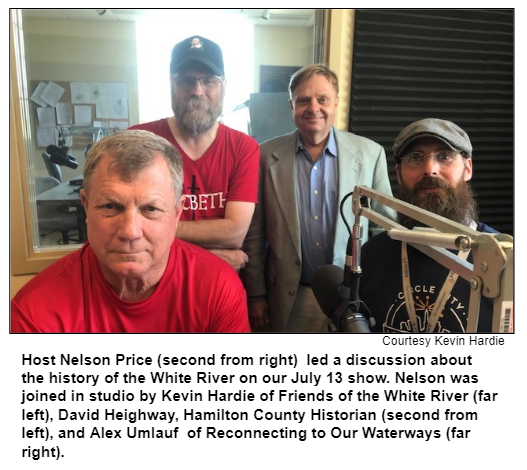 White River history
Click here to listen to the podcast.
(July 13, 2019) During the 1820s, it was a key factor in determining the site of the new city of Indianapolis. But there was a major misconception that became obvious when a steamboat got stuck and became the object of ridicule.
Soon it became an aquatic dumping ground, with complaints about pollution surfacing by the 1880s in both Marion and Hamilton Counties. During the early 1900s, it was the setting for baptism events that involved hundreds of people on Sundays; the practice ended because of typhoid outbreaks.
In the mid-1970s, an Indianapolis-based rock music radio station sponsored hippie-oriented raft races in which competitors paddled aboard discarded sofas, debris and other makeshift watercraft.
In recent decades, however, significant efforts have been undertaken to clean up the White River.
Now, in the wake of the White River Vision Plan recently unveiled by Marion and Hamilton County civic leaders, Hoosier History Live explores all aspects - the good, the bad and the filthy - of the compelling history of the waterway that has been called "an under-utilized community asset." Nelson's studio guests are:
Assumptions that the White River would be navigable as a major trade route were a significant factor when state leaders in the 1820s selected the site of the Indiana's new capital city.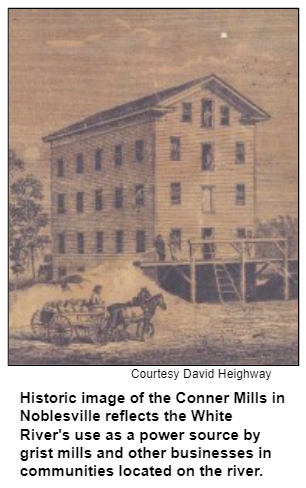 In 1831, a steamboat called the General Hanna (overseen by a Brigadier General Robert Hanna) ran aground near Indianapolis and was left in the river for several months.

The humiliating episode, known as Hanna's Folly, convinced Hoosiers that the river could not handle large ships of any kind.

Near the river's edge just west of downtown Indianapolis, Kingan & Co. opened a huge meat-packing operation in the late 19th century; environmentalists eventually criticized the operation and other industries for using the river as a way to dispose of waste.

"As late as the 1950s, state environmental employees sampling the river using a rowboat would have animal entrails hanging from the oars while there were on the river downtown," according to our guest Kevin Hardie.

Colorful watercraft were seen on the White River during the WNAP Raft Races that began in July 1974 and drew thousands of spectators to Broad Ripple Park. Organized by the former WNAP-FM, a radio station popular with young listeners, the raft races were described as "Central Indiana's version of Woodstock."

The White River Vision Plan has been put together to guide decision-making for the next 30 years. According to a recent story published in the Indianapolis Business Journal, the plan encourages the creation of seven recreational "anchor areas" on 58 miles of the White River through Marion and Hamilton counties.
Roadtrip: Yount Mill in Montgomery County
Guest Roadtripper Ron Morris, author and history professor at Ball State University, invites us to join him on a visit to Yount Mill in Montgomery County to learn about industrial history in rural areas of Indiana and the role manufacturing played in the lives of early immigrants to the state.


Ron tells us that the Yount Woolen Mill was founded during Indiana's pioneer period by German immigrants and employed workers from the surrounding area, some of them immigrants from Great Britain. For three generations in the second half of the 19th century, the mill prospered, employing up to 300 millworkers who used the hydraulic power of Sugar Creek to manufacture raw wool fleece into yarn, cloth and clothing.

Some of the wool that passed through Yount Mill ended up in the blankets and uniforms of the men who fought in the American Civil War and the Spanish-American War.


The mill's days of prosperity were numbered, however. As Ron explains, the Industrial Revolution that marked the late 19th century brought changes in global trade and technological innovation that rendered Yount Mill unable to compete. It ceased production in 1905.

Today, Yount Mill lives on as a site for historic education and a fun weekend getaway. Near the original mill building, the large brick house where the mill owner housed his family has been made into a bed & breakfast, Yountsville Mill & Inn, providing an ideal base camp for those exploring this unique corner of Hoosier history.


More information will be available in the Ron's upcoming book, Yountsville: The Rise and Decline of an Indiana Mill Town.




History Mystery
During the early 1900s, a spectacular amusement park flourished on the banks of the White River in the Broad Ripple neighborhood of Indianapolis.
The amusement park opened in 1906 with attractions that included roller coasters, a funhouse, a merry-go-round, a dancing pavilion, marching bands, animal acts, acrobats and rides with such names as Shoot-the-Chutes, Loop-the-Loop and Bump-the-Bumps. Aquatic activities included boat rides on the White River.
Alas, the amusement park was short-lived, destroyed by a massive fire in 1908. The inferno apparently started in an attraction called the Mystic Cave. In 1922, a new entertainment center on the site opened with the name Broad Ripple Amusement Park. It lasted until 1945, when the site was converted into a city park.
Question: What was the name of the original amusement park on the White River in Broad Ripple?
Please do not call in to the show until you hear Nelson pose the question on the air, and please do not try to win if you have won any other prize on WICR during the last two months. You must be willing to give your first name to our engineer, you must answer the question correctly on the air and you must be willing to give your mailing address to our engineer so we can mail the prize pack to you. The prizes this week are a Family 4-Pack to the Indiana State Museum, courtesy of the Indiana State Museum, and a gift certificate to Story Inn in Brown County, courtesy of Story Inn.
Electoral College upset, souvenir hunters and no campaigning: 1888 and 1892 presidential races
Click here to listen to the podcast.
(July 6, 2019) Because of the attention focused on the Electoral College in the 2016 presidential race - in which the winner did not gain the most popular votes - it may not be surprising that a similar situation unfolded in 1888.
Can you imagine a scenario, though, in which neither major party's presidential candidate actively campaigned?
That's what happened in 1892 - in sharp distinction to the current situation in which intense campaigning is in full swing more than 18 months before voters go to the polls.
Both the 1888 and 1892 campaigns featured Benjamin Harrison of Indianapolis as the Republican candidate for the White House. And both unfolded during an era - stretching from the 1870s through the 1920s - in which Indiana was regarded nationally as a "swing state" in presidential elections.
As evidence: Harrison did not carry his home state in 1892 (a majority of Indiana voters preferred his Democratic opponent, Grover Cleveland), although Harrison, a former U.S. senator from Indiana, won the Hoosier State in 1888. His "front porch campaign" that year - based out of his Italianate home that is now part of the Benjamin Harrison Presidential Site at 1200 N. Delaware St. - resulted in scores of souvenir hunters who tore off pieces of the property's wooden fence. Caroline Scott Harrison, who would become the nation's first lady, is said to have remarked: "If we don't go to the White House, we'll go to the poor house, with all of the repairs we'll have to make."
To share insights about colorful and intriguing aspects of Harrison's presidential campaigns, Nelson is joined by Ray Boomhower of the Indiana Historical Society, the author of the new biography Mr. President: A Life of Benjamin Harrison (IHS Press).
Caroline Scott Harrison's battle with tuberculosis - and eventual death in the White House two weeks before the 1892 election - explains why neither candidate campaigned that election cycle. Harrison announced he would not leave his wife's bedside. Out of respect, Cleveland, the eventual winner, also refrained from campaigning.
In contrast, the 1888 campaign - which also featured Harrison against Cleveland - was a lively affair. One of the more memorable publicity ploys: Harrison's supporters built a massive, steel-rigged, canvas ball, covered it with campaign slogans and travelled over 5,000 miles with it to the candidate's Indianapolis home.
Harrison achieved the presidency that year by winning the Electoral College (with 233 votes to 168 for Cleveland), although he lost the popular vote. That was the third of five times in American history in which the loser of the popular vote won the Electoral College - and, as a result, the White House.
Of the six vice presidents who have been elected from Indiana, four of them achieved office during the era when Indiana was considered a swing state in national elections and was therefore courted by both parties. The Hoosier vice presidents during that era include two Democrats - Thomas Hendricks (who was in office for one year only, 1885) and Thomas R. Marshall (who served from 1913-1921) - and two Republicans, Schulyer Colfax (veep from 1869-1873) and Charles Fairbanks (1905-1909).
Ray and Nelson discuss the factors that resulted in Indiana's swing state reputation then, in contrast to its general tendency to support Republicans in national elections in recent decades.
In the 1888 presidential campaign, Benjamin Harrison gave "more than 80 extemporaneous talks to more than 300,000 visitors to Indianapolis" between early July and late October, according to Ray's biography. Marching bands often escorted the delegations of visitors from a city park to the Harrison home on North Delaware Street. Delegations included Union veterans of the Civil War, African-American supporters and railroad workers.
Four years later, some key Republican Party leaders declined to help Harrison. From the start of his presidency, Ray writes, Harrison "stood steadfast … in making sure that qualified individuals - not party stooges - received appointments to key government positions."
Because of Caroline Scott Harrison's illness, the 1892 presidential contest "paled in comparison in every way with the one four years before," according to Mr. President. After she died on Oct. 25, grief-stricken President Harrison accompanied his wife to Indianapolis for her burial at Crown Hill Cemetery. Two weeks later, he lost his bid for re-election, with Cleveland defeating him both in the popular vote and in the Electoral College.

Roadtrip: Jackson County History Center in Brownstown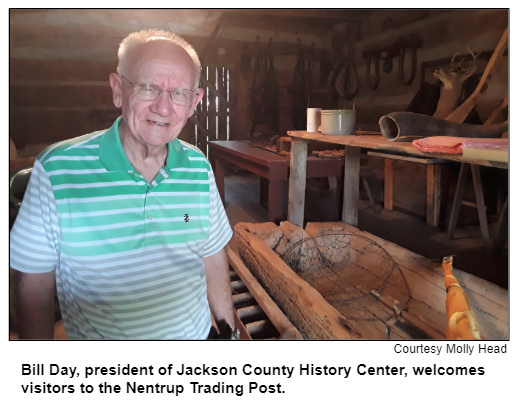 Guest Roadtripper Mary Beth Glick, Bartholomew County resident and Cummins retiree, tells us that her interest in learning about her German farming and merchant ancestors in Bartholomew and Jackson Counties led her to discover the Jackson County History Center in downtown Brownstown in southern Indiana.
Mary Beth begins our trip to the History Center with a visit to the Nentrup Trading Post, which was erected about 1840 by Mary Beth's ancestors. Other points of interest in the History Center's compound include an old bridge constructed of trusses from the Vallonia Canning Factory, a schoolhouse and a pioneer cabin.
For those who trace their ancestry to the region, the Jackson County Genealogy Library is adjacent and available to explore. The library offers classes in genealogical research as well as special-interest group meeting for those with German and Irish heritage. Check out their website for the current meeting schedule!
To hear more about Mary Beth's own research into her German ancestors and why they settled in Jackson and Bartholomew counties, be sure to join her on this fascinating Roadtrip!
History Mystery
Benjamin and Caroline Scott Harrison's young grandchildren, who lived with them in the White House during the late 1880s and early 1890s, had an unconventional pet. Their pet was an animal typically seen on farms. Although the pet was not a horse or pony, it often was seen on the White House lawn pulling the president's grandchildren in a wagon or cart for playful rides.
In a rollicking episode described by the national press, the pet once broke loose and ran through the White House gates. President Harrison chased the pet down Pennsylvania Avenue, much to the astonishment of onlookers.
Question: What animal was the unconventional pet of Benjamin Harrison's grandchildren?
Hint: The presidential chase - with Harrison holding his tophat as he ran - inspired a children's book published in 2018.
The prizes this week are a Family 4-Pack to the Indiana State Museum, courtesy of the Indiana State Museum, and a gift certificate to Story Inn in Brown County, courtesy of Story Inn.
Violent early era of Fishers: encore
Click here to listen to the podcast.
(June 29, 2019) It's a suburban boomtown continually in the spotlight because of developments like the opening in 2017 of the first Ikea store in the state.
So who today would guess that Fishers, located in Hamilton County, had a reputation for lawlessness, gun fights, grave robberies and drunken brawls in the years after it was founded during the 1870s?
To explore the violent early history of Fishers - which shed the designation of town to assume official status as a city only in 2014, after years of explosive growth - Nelson is joined by David Heighway, Hamilton County's historian, in this encore show originally broadcast in 2017. Based on his extensive research, David has several explanations for why the town was so rough-and-tumble in the years after it was founded in 1872.
Even Fishers' nickname of Mudsock has violent origins: a melee known as "the Battle of Mudsock" made national news in 1881, one month after the infamous Gunfight at the O.K. Coral (in Arizona) when, according to David, the public was paying close attention to violent incidents.
"If you've seen the movie Tombstone or the TV series Deadwood - that was what Fishers was like," David contends.
He has posted several blog entries about Fisher's violent early years on a weekly blog of the Hamilton East Public Library, where he works in collection services.
Much of the blame for the Wild West early years of Fishers, David says, falls on "the loose political structure of the town," which encouraged lawlessness. As a railroad depot (the community early on was known as Fishers Station), Fishers was located near several towns with strict temperance laws and ordinances.
"So if someone wanted to raise a little hell," David says, "they would go to Fishers."
A native Hoosier and a descendant of Indiana pioneers, David is on the board of directors of the Hamilton County Historical Society and serves on the Noblesville Historic Preservation Commission.
According to an article David wrote for the Hamilton County Business Magazine, the Battle of Mudsock in November 1881 was a "community-wide brawl" that left one dead and 32 wounded. A fistfight escalated into an "explosion of violence."
During its early years, lawlessness in Mudsock - i.e. Fishers - persisted in part because the town apparently had few, if any, law enforcement officers, David says.
Grave robbing in the Fishers area circa 1900 was an extension of "body snatching" problems in Indianapolis, which was the epicenter of a major national ring led by Rufus Cantrell, who was known as the "King of the Ghouls."
Cantrell and his accomplices, who may have included a physician born in Hamilton County in 1859, supplied corpses to early medical schools desperate for bodies to use in teaching students. In one of David's blog posts about the grave robbery problems, he describes how Cantrell testified in court against the physician from Hamilton County.
Other crimes in early Fishers included "train wrecking," robberies in which desperadoes placed ties or other obstructions on railroad tracks. When approaching trains would crash or overturn, the criminals would loot the wreckage.
In the 1880s, when the Monon Railroad line opened in the western part of Hamilton County - the opposite end from Fishers - violence in the town began to decline, according to David. He adds, though, that a pool hall located in the back of a Fishers hardware store was demolished by a dynamite explosion in 1914.
"By the end of World War I," he notes, Fishers "had begun to settle into a quiet farming community."
Roadtrip: Garfield Park's Confederate memorial revisited
With Confederate monuments in the news and causing controversy around the country, guest Roadtripper and architectural historian William Selm invites us to explore Garfield Park's Confederate memorial.
Bill explains that the memorial was originally placed in the old Greenlawn Cemetery in downtown Indianapolis in 1910. It read "Erected by the United States to mark the burial place of the 1616 soldiers and sailors who died while prisoners of war and cannot now be identified."
Basically these 1616 men died between 1862 and 1865 while Confederate prisoners of war at Camp Morton, in what is now Herron Morton Place in Indianapolis. Their remains were moved quite a few times, from Camp Morton to Greenlawn Cemetery and finally to what is now called the Confederate Mound in Crown Hill Cemetery.
Meanwhile, the memorial was moved from the then-closing Greenlawn Cemetery to Garfield Park on the south side of Indianapolis in 1929.
Learn more:
Laura McPhee, Nuvo, August 22, 2017, The Long Controversial History of Garfield Park's Confederate Monument.
Paul Mullins, Archeology and Material Culture, Aug. 28, 2017, Race, Reconciliation, and Southern Memorialization in Garfield Park.

The Indiana Dunes
Click here to listen to the podcast.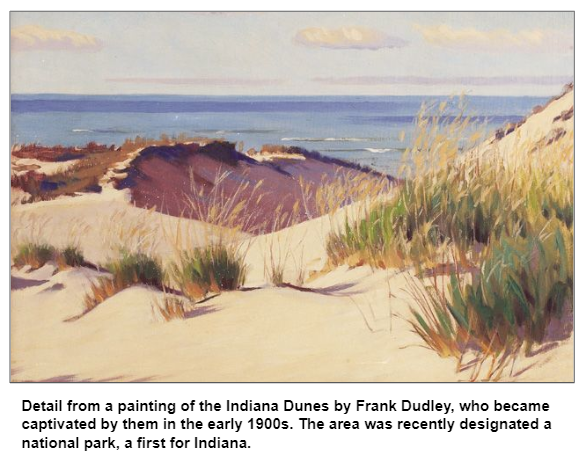 (June 22, 2019 ) Earlier this year, the Indiana Dunes made national news with the announcement that the distinctive shoreline on Lake Michigan would be a new national park, the first one in the state.
But does its designation as Indiana Dunes National Park - rather than the former Indiana Dunes National Lakeshore - make a substantive difference?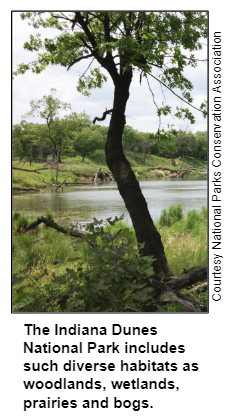 In this show, Hoosier History Live explores that question, as well as a mountain of other topics related to the towering mounds of white sand that resulted from changes in the level of Lake Michigan that occurred around six thousand years ago, after the last ice age. We also explore the Indiana Dunes State Park, which is included within the 15,000 acres of the national park. Only 61 sites in the country have been designated as national parks, according to an article in April in the Indianapolis Business Journal.
During our show, two guests join Nelson by phone from their Porter County offices at the Dunes:
Bruce Rowe, public information officer for Indiana Dunes.
And Dustin Ritchea, promotions director for Indiana Dunes Tourism.
In an interview with the Indianapolis Star when the national park designation was announced in February, Dustin described the Indiana Dunes as one of the most biodiverse areas of North America - with more plant and animal species than Hawaii. In addition to sand dunes, Indiana Dunes includes woodlands, wetlands, prairies and bogs.
During the early 1900s, Chicago-based painter Frank Dudley became captivated by the dunes. He crusaded to have them preserved even as steel plants and other industrial development was occurring nearby in northwest Indiana. Carl Sandburg, who lived in Chicago, came to the dunes to write some of his poetry; he once called the dunes "eternity's signature."
Proposals to designate the Indiana Dunes as a national park started more than 100 years ago. In 1916, the first director of the National Park Service initially suggested the idea, according to The Indianapolis Star. The Indiana Dunes State Park was opened in 1926.
Attractions today include a 3 Dune Challenge, an endurance test in which visitors to the state park are challenged to climb its three tallest dunes. "The 1.5-mile trail takes participants up and down 552 vertical feet," according to the IBJ.
Although this is our first show devoted exclusively to the Indiana Dunes, aspects of their heritage have come up during several previous Hoosier History Live programs. They have included:
According to Indiana Dunes Tourism, more than 3.6 million visitors came to the Dunes last year, putting the area on a par with Mount Rushmore's visitation.
Because of its biodiversity, Indiana Dunes is promoted as "one of the best spots in the Midwest for bird watching." More than 1,000 species of plant life also can be found there.
Consideration of national park designation for the Indiana Dunes dates back more than 100 years, according to an article in the June issue of Indianapolis Monthly. In 1916, Stephen Mather, the first director of the National Park Service, suggested the designation. The country's focus on World War I, however, meant the push was tabled and the proposal was essentially forgotten.
In total, the Indiana Dunes have 15 miles of white sand beaches on Lake Michigan. The Hoosier Slide, at about 200 feet tall, was the largest dune before it was destroyed by sand mining.
History Mystery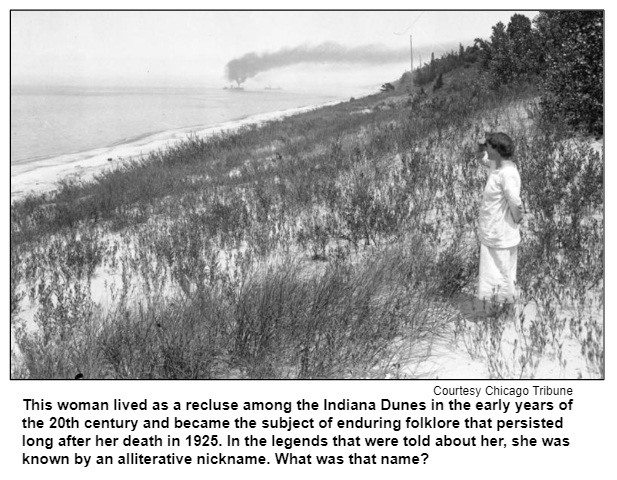 Some of the best-known folklore about the Indiana Dunes is based on a real woman who lived a reclusive, unconventional life during the early 1900s. Fishermen at the Dunes beaches during that era reported sightings of a naked woman swimming in Lake Michigan.
They gave her a nickname and told tales about her that were embellished and repeated for decades. Some people claimed she was a free-spirited heiress from a wealthy Chicago family who fled the city to pursue a simpler life among the scenic sand dunes.
Amid much speculation about the woman, whose nickname became familiar to thousands of visitors to the Dunes, fictional accounts about her were written. After her death in 1925, the truth about the "naked woman of the Dunes" began to emerge, but by then her nickname had become legendary.
Question: What was the nickname of the free-spirited woman who lived amid the Indiana Dunes during the early 1900s and became the subject of widespread folklore?
This week's prizes: a Family 4-Pack to the Indiana State Museum, courtesy of the Indiana State Museum, and a gift certificate to the Story Inn in Brown County, courtesy of the Story Inn.
Roadtrip: Juneteenth at the Central Library
Guest Roadtripper Dona Stokes-Lucas, African-American history researcher and owner of Xpression Tours, invites us to join her in celebrating Juneteenth at Indianapolis Public Library's Center for Black Literature & Culture, where she'll be calling in with her live Roadtrip report.
The celebration of Juneteenth dates back to the era following the U.S. Civil War. Slavery had been declared illegal in 1863 by Abraham Lincoln's Emancipation Proclamation, but even after the Union victory in April of 1865, U.S. troops still had to enforce emancipation in some former Confederate areas.
In Texas, approximately 250,000 people were still being held in slavery when, on June 19, 1865, Union troops led by Major General Gordon Granger arrived in Galveston to announce that the war had ended and that all enslaved people were now free.
Texas began the tradition of celebrating Juneteenth and made it an official state holiday in 1980; the day is now celebrated across America.
And while you're celebrating Juneteenth, Dona suggests you check out Central Library's Bookfest, also on Saturday, where bibliophiles of all ages will find a wide variety of activities and presentations catering to their interests.
History, celebration, books … sounds like a Roadtrip to remember!
Earliest settlers of Indianapolis
Click here to listen to the podcast.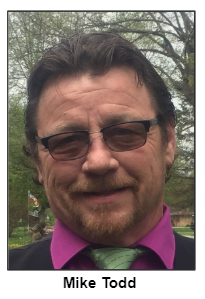 (June 15, 2019 ) One year from now, in June 2020, the city of Indianapolis plans to kick off its Bicentennial celebrations. An initial event in the 200th birthday jubilee - which will extend through May 2021 - is expected to be at a site near the White River, where the cabin of pioneer John McCormick, generally considered to have been the first settler of the city, was located.
In fact, in June of 1820 McCormick (1791-1825) hosted a meeting to identify the precise site of the new state capital, following an earlier gathering of top state leaders at the cabin of William Conner (namesake of Conner Prairie Interactive History Park.)
Today, a boulder with a commemorative plaque marks the historic site of McCormick's double cabin, which also included a tavern. The site is located in what is now White River State Park.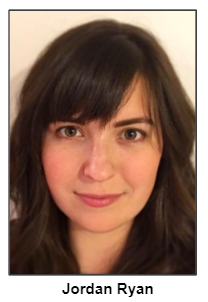 John McCormick, who came to the then-isolated frontier location from Connersville, built the double cabin with his brothers Samuel and James, along with various hired hands. A journal (or ledger) kept by John McCormick - and newly accessible to the public after being in family hands for nearly 200 years - confirms the arrival of the McCormicks prior to that of another pioneer, George Pogue, who also often has been identified as the first settler of Indianapolis. The journal also indicates that Pogue (namesake of the creek Pogue's Run) likely was among the McCormicks' laborers.
To share insights about the earliest settlers, Nelson's studio guests are:
Mike Todd, a retired truck driver who is descended from the McCormicks. Mike, a Ben Davis High School graduate who attended Indiana Central University (now the University of Indianapolis), lives on the west side of the city that his ancestors had such a key role in founding. Mike says that he only developed a passion for the city's history in recent years, although he recalls his grandmother taking him on Memorial Day to visit the commemorative boulder.
And Jordan Ryan, coordinator of the Indianapolis Bicentennial Project for the Indiana Historical Society. She notes that, as part of a new archival collection for the Bicentennial Project, the society has transcribed the McCormick journal, which was obtained from a descendant who lives in North Carolina. Mike and Jordan persuaded his relative to ship the journal to Indianapolis for transcription.
"It's remained in the family all of this time and was unavailable [to researchers and the public], but we have digitized it," Jordan reports.
The historic McCormick journal is now available on the Indiana Historic Society website as a series of high-resolution digital images of each page.
The city's 200th birthday celebrations will extend into 2021 because Scottish-born surveyor Alexander Ralston actually platted the city in 1821, not 1820.
Ralston had helped design the original layout of Washington D.C. and used the plan for the nation's capital as an inspiration for his design of the new Hoosier capital. Hoosier History Live explored Ralston's life and impact during a show in 2013.
According to our guest Mike Todd, Ralston was a guest at John McCormick's tavern. McCormick later built the first sawmill in Marion County.
The McCormicks also ran a ferry service across the White River. "Part of the reason the site near the McCormick cabin was chosen [for the new state capital] was that the White River was seen as navigable and a vital component to the growth of the new city," according to Indianapolis: A Circle City History by Jeffrey Tenuth.
Because the wilderness site selected for Indianapolis primarily consisted of marshland and swamps near the river, a devastating malaria epidemic swept the new city during the 1820s, as we explored in a 2014 Hoosier History Live show.
Meanwhile, early pioneer George Pogue vanished without a trace in 1821. The reason for his disappearance never has been determined conclusively.
A wooden table from the original McCormick cabin also vanished. Our guest Mike Todd is on a quest to find the historic table, which was donated to the Indiana State Museum in the 1920s by a McCormick descendant. (The state museum, which has moved twice since then, has said the cherry-wood table has been missing for decades.)
Some other history facts:
McCormick's Creek State Park in Owen County is named in honor of the McCormick family.
John McCormick had been a constable in Connersville. Pogue had been a blacksmith there.
The 200th birthday celebrations are being organized by a bipartisan Indianapolis Bicentennial Commission co-chaired by former mayors Greg Ballard and Bart Peterson.
History Mystery
When surveyor Alexander Ralston designed the city of Indianapolis in 1821, he did not designate a monument at the center of what today is called Monument Circle. Construction of the Soldiers and Sailors Monument began much later in the city's history: during the 1880s, culminating with its dedication in 1902.

Instead, Ralston designed the circle in 1821 with the idea that a much different kind of structure would be at the center. Although the structure was built as planned, it never really was used for its intended purpose - and was eventually demolished.

Question: What was the initial structure built at the center of Indianapolis?

Please do not call in to the show until you hear Nelson pose the question on the air, and please do not try to win if you have won any other prize on WICR during the last two months. You must be willing to give your first name to our engineer, you must answer the question correctly on the air and you must be willing to give your mailing address to our engineer so we can mail the prize pack to you. This week's prizes: A pair of tickets to the Indiana History Center, courtesy of the Indiana Historical Society, and a gift certificate to Story Inn, courtesy of Story Inn.
Roadtrip: Crawfordsville Strawberry Festival and historic sites
Guest Roadtripper Jeff Kamm invites us to check out Crawfordsville, famous for their annual June Strawberry Festival. The festival is the largest tourist event in Montgomery County and is held at Lane Place, this historic home of Senator Henry S. Lane.
But the summer delight of perfectly ripe, freshly picked Fragaria ananassa (yes, that's the botanical name for cultivated strawberries!) isn't the only reason to come to Crawfordsville, Jeff assures us.
Less than 50 miles northwest of the state capital, Crawfordsville was declared the seat of Montgomery County in 1822 and has a variety of sites of interest to history-minded Hoosiers. Among the most famous is the study of General Lew Wallace, now a museum dedicated to the author of the epic novel Ben-Hur.
For those interested in criminal history, the town features the world's only operating rotary jail, also open to the public as a museum. And while the jail still rotates, don't worry - the criminals are long gone!
Another must-see stop on Jeff's Roadtrip: the recently restored clock tower of the county courthouse, a feature that had been missing since World War II. The list of Crawfordsvile's historic sites and attractions goes on… but we'll let Jeff tell you about them himself on this week's Roadtrip adventure!
Thinking (and talking) about German freethinkers in Indianapolis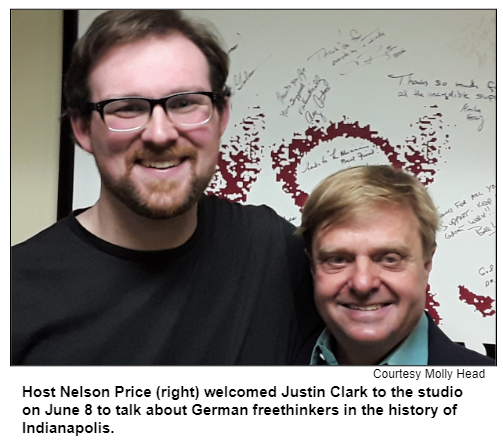 German freethinkers in Indy
Click here to listen to the podcast.
(June 8, 2019) During the 19th century, Germans became the largest European ethnic heritage group in Indiana. In 1870, immigrants and German-Americans in the state's capital - including some of its most influential residents - formed the Freethinker Society of Indianapolis.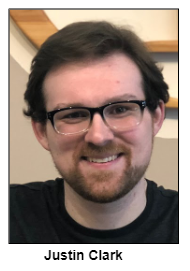 The immigrants, who included political refugees from a failed revolution in Germany in 1848, had a history in their homeland of "freethought," which our guest, public historian Justin Clark, describes as "open evaluation of religion based on the use of reason." Justin, the communications director for the Indiana Archives and Records Administration, shares insights about the German freethinkers and their impact on their adopted hometown of Indianapolis.
They included Clemens Vonnegut (1824-1906), the patriarch of a family that, for more than 110 years, owned an Indianapolis-based chain of hardware stores that he founded in the 1850s. Beginning in 1870, he served as the first president of the Freethinker Society of Indianapolis. During our show, Justin will describe how Clemens' freethinker beliefs influenced his great-grandson, literary icon Kurt Vonnegut Jr.
Other key figures in the Freethinker Society of Indianapolis included its co-founder, Herman Lieber, who immigrated from Germany in the 1850s and became the patriarch of an influential, multi-generational Indianapolis family. Lieber opened a small frame shop that became one of the most respected art dealerships of its era, employing more than 200 people.
According to Justin, the Freethinker Society was "one of the city's first non-religious organizations and facilitated freethought ideas and practices through educational lectures and social gatherings." At the society's events, these "philosophical radicals" discussed such topics as science, women's suffrage, socialism and theology.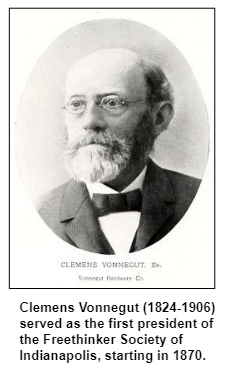 Freethinkers included German immigrant Philip Rappaport, who, in 1873, bought the German Daily Tribune, the city's dominant German-language newspaper of the era, which later changed its name to the Indiana Tribune. During a Freethinker Society debate, Rappaport changed his position on women's suffrage, becoming an advocate despite earlier opposition.
In a blog that Justin wrote for the Indiana Historical Bureau, he notes that, in Kurt Vonnegut's semi-autobiographical book Palm Sunday (1981), he describes his great-grandfather's freethinking as the novelist's own "ancestral religion."
Clemens Vonnegut, Herman Lieber and others in Indianapolis - as well as German Americans in other cities during the late 19th century - were influenced significantly by Karl Heinzen, a Boston-based freethinker. In 1882, Heinzen wrote Separation of Church and State, a widely distributed book. He traveled to Indiana several times and became a professional colleague of Lieber, according to Justin Clark.
All of them, in turn, were influenced by Robert Ingersoll (1833-1899), an orator known as the "great American agnostic."
In Indianapolis, the freethinkers established an industrial trade school and a secular Sunday school. But the Freethinkers Society of Indianapolis dissolved in 1890 because, among other reasons, the organization had "spread itself too thin," Justin Clark says. He emphasizes, though, that its impact endured, including in the literature of Kurt Vonnegut Jr.
History Mystery
In addition to being a co-founder of the German Freethinker Society of Indianapolis, Herman Lieber was an art patron. In the early 1880s, he raised the funds for his friend, painter T.C. Steele, to study at a distinguished art academy in a major city in Germany. T.C. Steele, who eventually became best-known for his paintings of Indiana landscapes, was joined at the German art academy by some of the other artists who later became famous as the Hoosier Group.
Question: What major German city was the location of the art academy where T.C. Steel studied?
Please do not call in to the show until you hear Nelson pose the question on the air, and please do not try to win if you have won any other prize on WICR during the last two months. You must be willing to give your first name to our engineer, you must answer the question correctly on the air and you must be willing to give your mailing address to our engineer so we can mail the prize pack to you. This week's prizes: a family 4-pack to Conner Prairie, including 4 tickets to the 1859 Balloon Voyage, courtesy of Conner Prairie, and two passes to the James Whitcomb Riley Museum Home in Indianapolis, courtesy of the James Whitcomb Riley Museum Home.
Roadtrip: Arcadia in Hamilton County
Guest Roadtripper Janet Gilray of Legacy Keepers Music invites us on a jaunt to the delightful small town of Arcadia, located just a hop, skip and a jump up the road from her place in northern Hamilton County.
The sign just outside of Arcadia proclaims it to be "where small town America still exists," and the town certainly lives up to that assertion. There's not a single traffic light in Arcadia, Janet tells us, and its small-town pleasures include taking an old-fashioned stroll down Main Street, where 120-year-old brick storefronts convey the charm and friendliness of a bygone era.
One of those delightful Main Street buildings is home to the Hedgehog Music Showcase, which features live performances and plenty of home grown local music. Styles range from country and bluegrass, to jazz, blues and swing. Check out their events page and plan your trip accordingly!
Just a few blocks away is the Arcadia Depot, a long-time stop on the Nickel Plate Railroad. The Depot was built in 1869 and is now a small museum featuring story boards and an antique telegraph, where you can try your hand at Morse code. Other displays present WWI memorabilia and authentic Arcadia glass from the nearby D.C. Jenkins Glass Factory. In its heyday, Arcadia was home to glass and tin factories powered by the natural gas boom of the 1880s, and the Arcadia Depot is a part of this rich railroad history.
Be sure to join Janet as she shows off this small-town gem!

Old Pathology Building show explores Indy's medical history
From pathology building to medical history museum
Click here to listen to the podcast.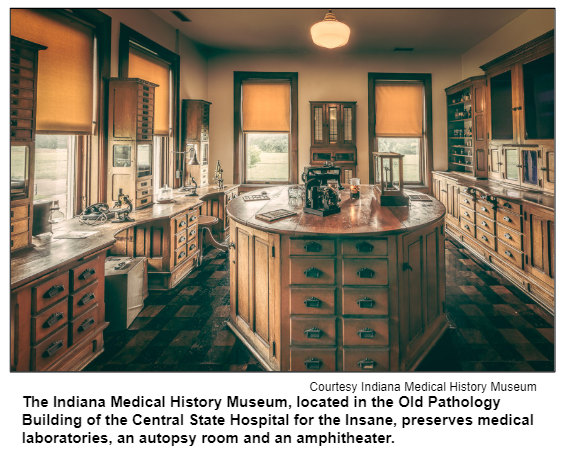 (June 1, 2019) During the 1890s on the Indianapolis campus of what was then called Central State Hospital for the Insane, brain research was undertaken in the brick building that came to be known as the Old Pathology Building.
The research - considered groundbreaking for its era - occurred in three clinical laboratories in the structure. It also had an autopsy room and an amphitheater where medical students learned about the brain as well as the treatment of syphilis and other diseases.
In 1969, more than 20 years before the closing of Central State as a psychiatric hospital, the Old Pathology Building - with most of its original furnishings, specimens, equipment and records - became the Indiana Medical History Museum.
The museum's path forward has not been smooth; it has faced challenges ranging from what Indiana Landmarks calls its "out-of-the-way location" west of the White River at 3045 W. Vermont Street to deterioration of the 1890s structure, including roof and masonry problems. In 2015, the Medical History Museum was placed on Landmarks' annual 10 Most Endangered Sites list.
Now, as the museum described as a "hidden history gem" celebrates its 50th anniversary, major improvements have been initiated. In September, an Indiana Historical Bureau marker commemorating the Old Pathology Building will be erected on the site.
As we explore the captivating history that has unfolded in the pathology building-turned-museum - where jars of human brain tissue and historic medical equipment are displayed - Nelson is joined in studio by:
Next to the museum, the former campus of Central State has become the site of apartments, single-family houses and businesses - both in historic and newly constructed buildings. Along with other state mental health hospitals, Central State was closed in 1994.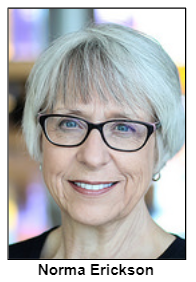 The labs in the Old Pathology Building opened in 1896 and, according to our guest Sarah Halter, were regarded as "the most modern in the country." During the early 1900s, classes were held in the building's 150-seat amphitheater by two schools that trained doctors and surgeons. Those schools were later were merged with the Indiana University School of Medicine.
During the 1920s and '30s, neurosyphilis was a major focus of the medical research undertaken in the building. Before the introduction of penicillin in the 1940s, untreated syphilis in the tertiary stage was correctly understood as a frequent cause of mental illness.
The Indiana Medical History Museum opened in 1969, three years before the two-story structure, considered to be the oldest surviving pathology building in the country, was added to the National Register of Historic Places.
Today, in addition to the exhibits and tours at the museum, its historic amphitheater is used for presentations open to the public on a range of medical history topics. Speakers have included Indianapolis-based medical historians Dr. William McNiece and Bill Beck, who were Hoosier History Live guests in 2014 on a show about epidemics throughout Indiana's history.
History Mystery
One of the most famous and influential psychologists of the 20th century lived in Bloomington during the 1940s.
The psychologist was not born in Indiana and didn't grow up in the Hoosier state. However, as the chair of the Psychology Department at Indiana University for several years during and after World War II, he brought national attention to the campus for his theories about the brain and how it influences behavior.
Considered a "radical behaviorist," by others in his field, our mystery man recruited several like-minded psychologists and researchers to join the faculty. They worked extensively in labs with rats and pigeons, exploring how their actions were shaped by punishment and reward. In 1948, the influential psychologist left IU to teach at Harvard University.
Question: Who was the famous psychologist?
This week's prizes: two passes to the Indiana History Center, courtesy of Indiana Historical Society, and two passes to the James Whitcomb Riley Museum Home in Indianapolis, courtesy of the James Whitcomb Riley Museum Home
Roadtrip: Kankakee Sands and Willow Slough in Newton County
Guest Roadtripper and naturalist Terri Gorney of Fort Wayne suggests a Roadtrip to northwest Indiana to experience two restored natural areas: Kankakee Sands and Willow Slough.
Kankakee Sands, with about 7,000 acres, is home to a variety of native birds, wildflowers and plants and offers a rare glimpse into an ecosystem that has been severely altered by modernity: as Terri explains, less than one percent of Indiana's original prairies survive. Native birds such as the Henslow's Sparrow rely on Kankakee Sands for their nesting grounds, and the area shelters about 600 native plant species. In a recent restoration effort, The Nature Conservancy returned bison to the prairie at Kankakee Sands for the first time in 200 years.
Neighboring Willow Slough Fish & Wildlife Area is primarily used for hunting and fishing and covers almost 10,000 acres. (The term slough is pronounced "slew" and denotes a swampy, muddy area.) With 1200 acres of open water and marshes it's also a great spot for birding, especially during spring and fall migration. Waterfowl rely on Willow Slough as a resting place on their way to and from nesting grounds further north.
For those who love foraging, we hear that Willow Slough is an excellent place to look for wild blackberries, blueberries and raspberries; walnuts and spring and fall mushrooms may be gathered from the property as well.
Join Terri for this Roadtrip back in time to an Indiana few of us have experienced!
Influential women in 1920s: Their enduring vision for culture and children in Indy
Click here to listen to the podcast.
(May 25, 2019 ) For nine years beginning in 1980, Mark Kesling was director of science for the renowned Children's Museum of Indianapolis. From 1993 to 2006, Mark was the academic director at Orchard School, a private school on the northside of Indianapolis.
Not only did both institutions date back to the 1920s, Mark noticed, but they were initiated by the same group of visionary women.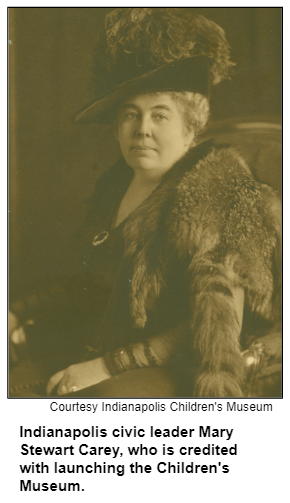 "If New York City-area children can have a free museum just for them . . . Why shouldn't the children of Indianapolis?" asked Mary Stewart Carey, a civic leader credited with launching the Children's Museum. In 1924, she had visited the Brooklyn Children's Museum.
Mrs. Carey and several other women on the initial board of trustees of the Children's Museum also were members of the Progressive Education Association of Indianapolis. It met in 1922 to begin planning what became Orchard School, an elementary school (now K-8) founded to emphasize individualized instruction and learning through children's direct interactions with their environment.
To share details about these 1920s-era women civic leaders and their vision, Mark Kesling joins Nelson as his studio guest.
Mark is the founder and CEO of The daVinci Pursuit, a non-profit organization that uses art to engage the community in science education opportunities. He also is the co-host, with Jill Ditmire, of She Says Art, He Says Science, the program on WICR-FM (88.7) that follows Hoosier History Live at 1 pm on Saturdays.
In addition to discussing the women civic leaders of the 1920s who helped launch the Children's Museum and Orchard School, Mark and Nelson time-travel to 1916 to explore another cultural initiative of women that endures to this day. Inspired by the state's Centennial celebrations in 1916, women civic leaders initiated a contest to design the Indiana state flag. The winning entry, designed by Mooresville-based artist Paul Hadley, remains the state flag more than 100 years later.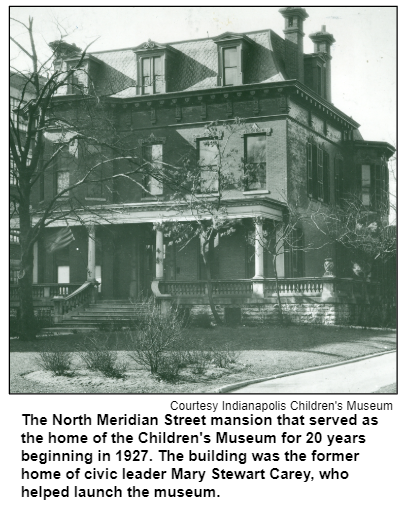 In 1925, the initial home of the Children's Museum was the carriage house of the Propylaeum, 1410 N. Delaware St., a women's advocacy organization. In addition to women civic leaders such as Edith Whitehill Clowes and Elizabeth Browning, former director of the Indianapolis Public Library, influential figures in the early years of the Children's Museum included architect Kurt Vonnegut Sr., the father of the future novelist.
Mary Stewart Carey (1859-1938) was a member of the Daughters of the American Revolution and the Indianapolis Garden Club, both of which, at her initiative, were involved in the movement to adopt an Indiana state flag. Mrs. Carey, in fact, helped select the winning design.
For 20 years beginning in 1927, her former mansion at 1150 N. Meridian Street served as the home of the Children's Museum.
Orchard School, which began with 20 students, also was initially located in the large house of a founding family. During the 1950s, Orchard moved to its current site on about 43 wooded acres at 615 W. 64th Street.
Some history facts:
Mrs. Carey's daughter, Mary Carey Appel, served on the first board of trustees of the Children's Museum. Mrs. Appel also was an organizer of the Progressive Education Association.
Pulitzer Prize-winning novelist Booth Tarkington, author of The Magnificent Ambersons (1918) and Alice Adams (1921), was Mrs. Carey's first cousin.
Orchard School's history is described in the book The Path Well Chosen (1984) by Caterina Cregor. The history of the Children's Museum is chronicled in Keep An Eye on That Mummy (1984) by Nancy Kriplen.
History Mystery
After several location changes early in its history, the Children's Museum of Indianapolis opened more than 40 years ago in a new facility at its current site at 3000 N. Meridian St. On the eve of the grand opening, the museum was visited by a First Lady of the United States.
Not only did she tour the new structure, which was touted as "state of the art," the First Lady even took a spin on the museum's antique carousel. She also was interviewed by Janie Hodge, the star of "Janie," a popular children's TV show; it had premiered during the early 1960s as "Popeye and Janie" on WTTV-Channel 4.
Question: Who was the First Lady who toured the Children's Museum the day before it opened in its current location?
Please do not call in to the show until you hear Nelson pose the question on the air, and please do not try to win if you have won any other prize on WICR during the last two months. You must be willing to give your first name to our engineer, you must answer the question correctly on the air and you must be willing to give your mailing address to our engineer so we can mail the prize pack to you. This week's prizes: a Family 4-Pack to Conner Prairie, including 4 tickets to the 1859 Balloon Voyage, courtesy of Conner Prairie.
Roadtrip: Indiana Dunes' Century of Progress District and Cowles Bog
Guest Roadtripper Rachel Berenson Perry of Brown County suggests a trip to the Indiana Dunes National Park on the southern shore of Lake Michigan. The 15,000 acre park was formerly called the Indiana Dunes National Lakeshore and is separate from the smaller Indiana Dunes State Park.
Rachel is especially excited to visit the Century of Progress Architectural District at the Dunes - five residential buildings that were originally part of the 1933 World's Fair in Chicago. Now listed in the National Register of Places, the homes were exhibited at the World's Fair to show the future of housing and display a variety of designs, experimental materials and new technologies of the time.
After the exposition ended in 1934, the homes were moved by barge to the town of Beverly Shores, now encompassed by Dunes parkland. The homes are in the process of being restored through a partnership between the National Park Service and Indiana Landmarks. Rachel tells us there is very informative interpretive signage at the location - or you can preview your visit by listening to a 2018 Hoosier History Live show exploring the homes' history and restoration process.
To balance out our visit to the area, Rachel recommends a side trip to Cowles Bog Trail, almost five miles of pathway that wends its way among ponds, marshes, swamps, black oak savannas and beaches, showing the natural beauty and ecological diversity of the area.
"There are boardwalks that traverse the marshes to gentle rolling hills and prairie land. At the end of the trail is a large dune. Once you get to the top, the expanse of Lake Michigan opens before you," Rachel says.
Sounds like a great end to a fantastic Roadtrip!
Brothels and streetwalkers in pre-1920 Indy: encore
Click here to listen to the podcast
(May 18, 2019) In our quest to explore all aspects of our heritage, even the unsavory and notorious, this edition of Hoosier History Live delves into a seldom-examined topic: Red-light districts and prostitutes in Indianapolis at the turn of the last century.
To examine these aspects of the Hoosier state capital's social history, Nelson's studio guest on this encore show (originally broadcast July 8, 2017) is Paul Mullins, a popular professor in IUPUI's Department of Anthropology.
A historical archaeologist, Paul has researched and written about pre-1920 prostitution as part of a larger project titled "Invisible Indianapolis: Race, Memory, and Community Memory in the Circle City."
Along with co-director Susan Hyatt and a team that includes both undergraduate and graduate students, Paul has published the project's findings in a blog called Invisible Indianapolis.
The project's overarching goal: to show the historical impact of seemingly invisible urban social factors such as racial redlining, highway construction and gentrification.
Paul has identified two major red-light districts in Indy during the late 1800s and early 1900s:
An area bounded by what is today Park Avenue (then called Liberty Street) and Market, East and Washington Streets.
A district at the site of what is now another hospitality building, the Indiana Convention Center. The district ran along Senate Avenue near Georgia Street.
"Prostitution probably always was an element of the early cityscape, but some of the earliest evidence for houses of prostitution comes in the 1850s," Paul writes in the blog.
He quotes an 1857 newspaper account of a shooting at a brothel managed by a "mysterious woman." After the shooting, he adds, the illicit business "became the target of mob justice when [the woman's] brothel was set afire by a mob of more than 200 people."
The census in 1870 and 1910 apparently even listed the occupations of some Indianapolis women as "prostitute." Others were listed in city directories as "seamstresses," but Paul's research indicates many of these actually were prostitutes, living in brothels (sometimes called "female boarding houses" by Sanborn Fire Insurance Company maps) raided by the police.

"The desperation of some women working as prostitutes was documented in a string of suicides and suicide attempts," Paul reports.

Paul Mullins is a past president of the Society for Historical Archaeology. For several years, Paul and his students could be seen during the summer months excavating sites near the IUPUI campus. Paul was a Hoosier History Live guest in 2009 when he was leading an excavation on the site of the long-demolished home of Madam Walker, the wealthy African-American entrepreneur and philanthropist.

According to Paul's research for Invisible Indianapolis, prostitutes often worked "in and around" Union Station during the late 1800s and early 1900s. (Before majestic Union Station opened during the 1880s, its predecessor, Union Depot, was the first train station in the country where competing railroad lines came together.)

Near the bustling train station, brothels were located among saloons and stores on South Street.

Farther east, a bygone street named East Court Street (now a parking lot between East and Park) had a cluster of brothels that Paul describes as "the city's most prominent concentration" of such businesses. In 1898, a Sanborn map "identified nearly every structure on East Court as a 'female boarding house,'" Paul writes, noting that at least 10 of these 16 homes listed in the 1899 city directory were brothels.

His blog describes attempts by local churches to encourage police raids of the brothels. Some of the churches also were active in the temperance movement.
Roadtrip: Indianapolis' Central Library
You might not think of a public library as a tourist destination, but guest Roadtripper Mick Armbruster recommends a sight-seeing visit to the Central Library in downtown Indianapolis. As the flagship of the Indianapolis Public Library system, this architectural gem offers outstanding examples of art, fascinating insights into history and an unparalleled view of the city skyline. Oh, and you might even check out some books during your visit as well!
Parking is available in an underground lot directly beneath the library from an entrance on Pennsylvania Street, or metered street parking is available. The main doors on the south side lead you to the library's original building, constructed in 1917 in classic Greek Doric style. Before you pass under the massive portico and through its enormous fluted columns, take a minute to gaze south at the American Legion Mall with its gilt statuary, gigantic American flag and fountains that all serve to memorialize the fallen soldiers of our nation's wars.
Once inside, take in the original library building's central hall (now called the Simon Reading Room). Its ceiling murals depict the history of written language, from the Rosetta Stone to the modern printing press, as well as scenes from Indiana's early exploration and settlement.
The heart of the modern Central Library is the massive, light-filled atrium that joins the original building to the modern glass tower that was added in 2007. Here you can pick up a snack in the cafe, people watch or make use of the library's free wifi Internet service. The atrium also provides access to the Learning Curve, the library's award-winning children's center, which offers state-of-the-art learning activities for kids.
Don't miss out on Mick's favorite part of the Central Library: the sixth floor of the modern building, which offers spectacular views of the city skyline. The sixth floor also houses the Special Collections Room, where history buffs can view such treasures as ancient Babylonian tablets, a leaf of a Gutenberg Bible, and signed copies of books by Booth Tarkington.
Willy T. Ribbs on making Indy 500 history
Click here to listen to the podcast.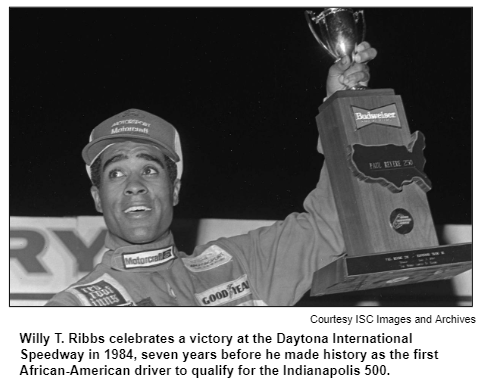 (May 11, 2019) "The crowd went crazy," historian Donald Davidson recalls in a video about milestones at the Indianapolis Motor Speedway. "It was a truly historic moment."
He's referring to the electrifying moment on May 19, 1991 when, at the last possible opportunity, Willy T. Ribbs became the first African-American driver to qualify for the Indianapolis 500. An earlier qualification attempt by Willy, who was driving for Derrick Walker Racing, had failed because of engine troubles.
His trailblazing achievement at the Speedway - he eventually finished 32nd in the Indy 500 in 1991 - followed years of struggles, including harassment and even death threats when he competed in NASCAR races beginning in the late 1970s. His challenges are recounted in Uppity, a documentary film that had its world premiere in Indianapolis last year.
Willy, 64, discusses his life and racing career as Nelson's guest by phone from Texas, where he lives today. The son of an amateur race driver and plumbing contractor, Willy grew up in San Jose, Calif. In Uppity, Willy recalls how he announced as a 9-year-old that he wanted to be an Indy 500 or Formula One driver - even though he had no African-American role models.
During the 1980s, movie star Paul Newman, who had become a co-owner of racing teams, reached out to support him. Willy came to the Speedway in 1985, but an attempt to participate in a rookie orientation program didn't work out. In 1990, Willy started in several IndyCar races but failed to qualify for the Indy 500.
Like Willy, several other former Indy 500 drivers have been Hoosier History Live guests. They include Willy's friends Lyn St. James, who in 1992 became the second woman driver in the Indy 500 (Janet Guthrie was the first, in 1977) and Derek Daly, the Irish racer who settled in central Indiana and became a broadcast analyst. In 2016, Merle Bettenhausen was our studio guest to discuss his racing career and the tragedies that befell his family.
As a boy in California, Willy T. Ribbs was intrigued by motorcycle and auto race drivers who were his father's friends. To launch his career, he moved to England during the mid-1970s and competed in various racing circuits.
Uppity takes its title from one of the derogatory words that detractors used to describe Willy after he returned to the United States and sought to advance in auto racing.
"It wasn't a red-carpet ride," he has said of the challenges involved with his racing career. "But it's one that I'd do over again."
In addition to his history-making achievement in 1991 - which was the 75th running of the Indy 500 - he competed at the Speedway two years later. In 1993, Willy finished 21st in the Indy 500.
Roadtrip: Community mausoleums
Guest Roadtripper Jeannie Regan-Dinius invites us on a journey to the "mansions of the dead," the stately community mausoleums that were built early in the last century and grace the finer cemeteries of Indiana.
As Jeannie explains, the U.S. community mausoleum movement started in Ganges, Ohio in 1907. The buildings were celebrated for their beauty and engineering and hailed as a modern, sanitary means of disposing of a loved one's remains. Unlike private family mausoleums, community mausoleums sold individual niches to members of the public, with no requirement to belong to a particular family or social class.
About 40 community mausoleums were constructed in Indiana between 1907 and 1937, and about 35 remain today. These architectural gems illustrate innovative early-20th-century use of materials such as concrete combined with traditional finishes such as as marble, limestone and granite.
Jeannie's Roadtrip will take us to some of the most architecturally opulent community mausoleums around the Hoosier state. Don't be caught dead missing this fascinating journey to Necropolis!
History Mystery
For many years, women were considered bad luck at the Indianapolis Motor Speedway and were prohibited from the pit area and Gasoline Alley. A certain color also was considered bad luck at the race track.
So in 1977, when Janet Guthrie made international headlines by becoming the first woman to qualify for the Indianapolis 500, she deliberately competed in a race car of the "forbidden" color as a gesture of defiance against antiquated traditions.
Question: What was the color?
This week's prizes: a Family 4-Pack to the Indiana State Museum, courtesy of the Indiana State Museum, and a pair of tickets to the James Whitcomb Riley Museum Home in Indianapolis, courtesy of the Riley Museum Home.
Lakes, lakes and more northern Indiana lakes
Click here to listen to the podcast.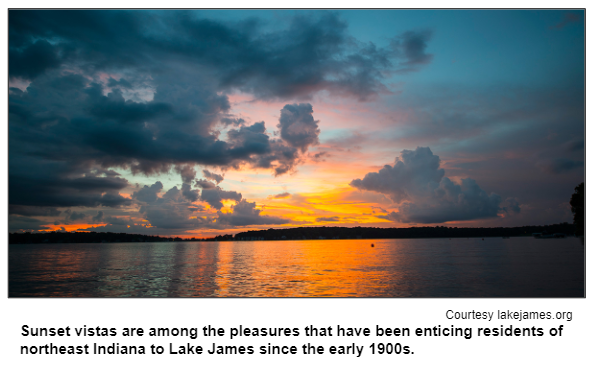 (May 4, 2019)
Lake James has been an enticing vacation and weekend destination for residents of northeast Indiana since the early 1900s, when those seeking rest and relaxation would take a train to the nearby town of Angola, then make their way to the scenic lake. By the 1920s, two dance halls and cottages had been built on the resort lake in Steuben County.
In LaPorte County, Hudson Lake has a colorful history that includes, during the 1830s, a cluster of cabins and shops on its shores that served as a stagecoach stop between nascent Detroit and Chicago.
Today, Olin Lake in LaGrange County has the largest undeveloped shoreline of all of Indiana's natural lakes.
They are among the lakes in northern Indiana that we explore during a show with a special format. Nelson's guests are a series of "lake correspondents" who phone in with reports about the heritage of natural lakes in northern Indiana.
As we noted during a show last summer about our state's two largest natural lakes - Lake Wawasee and Lake Maxinkuckee - most of the lakes in northern Indiana have glacial origins. Large lakes in southern Indiana, including Lake Monroe, are man-made.
Our lake correspondents include:
Jim Somers and Flaim Cupp, co-authors of the 2011 book A History of Lake James; both of their families are long-term property owners at the lake, which covers 1,229 acres and reaches a depth of 88 feet. They report that of about 800 cottages on Lake James today, about one-fourth are owned by year-round residents like Jim and Flaim.
Public historian Glory-June Greiff, who grew up at Hudson Lake. "LaPorte County is so lake-filled that you're bound to run into one just wandering the roads," she notes. "The county seat of LaPorte has at least five within its city limits."
Botanist Michael Homoya, who retired from the Indiana Department of Natural Resources. He shares insights about Olin Lake, which has a shoreline of about 2 miles in length. "Interesting wetlands border the lake, including a 'fen'," Michael reports, adding that a fen is a "natural community that is saturated with groundwater seepage flowing in a diffuse matter."
And Jim Nierman, who discusses Bass Lake, the state's third largest natural lake. Jim does commentary on history tours aboard trams that go around the lake, which is located in Starke County in far-northwest Indiana. Jim, who is 77, has been visiting the lake since he was a teenager during the 1950s. For more than 100 years, Bass Lake has been an enticing "escape," particularly for Chicago-area residents.
On the shore of Lake James, Pokagon State Park was established as an Indiana State Park in the 1920s, taking its name from illustrious leaders of the Potawatomi, a Native American tribe that once fished, hunted and lived across northern Indiana. During the 1920s, '30s and '40s, Big Band music attracted thousands of patrons to Lake James, according to Jim and Flaim. Motorboat racing has been a popular attraction for generations of lake-goers.
At Hudson Lake, the 1830s cluster of cabins was called Lakeport and, according to Glory-June, "vied unsuccessfully to become the county seat." She reports that 100 years later, Hudson Lake was a "happening place" again, with a casino (featuring performers such as jazz great Bix Beiderbecke) adjacent to the tracks of the South Shore Railroad running between South Bend and Chicago.
"Today," she says, "Hudson Lake is quiet, basking in its history."
Lake James, in contrast, is the site of scores of events, including sailboat races and an annual antique boat and car show organized by the Lake James Association. The association also presents "Centennial Cottage" awards to lake homes that, as Jim and Flaim put it, "have retained their original flavor for more than 100 years."
Bledsoe's Beach at Lake James - named after brothers who built a dance hall in 1919 - is often a hub of activity. During the 1960s, WOWO, an AM radio station based in Fort Wayne, broadcast live music during sock hops and record hops at the beach. Boat parades on holiday weekends and a seaplane "fly-in" at Pokagon State Park continue to this day.
History Mystery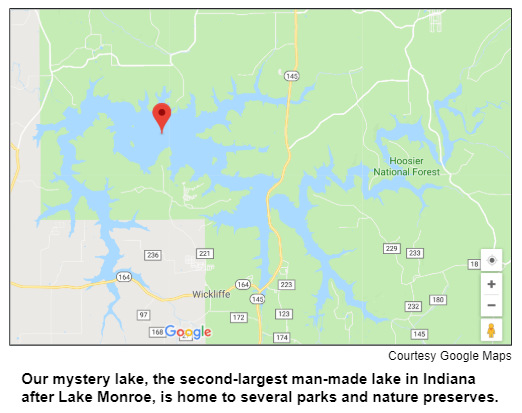 Lake Monroe, the largest man-made lake in Indiana, is located near Bloomington. The state's second largest man-made lake also is in southern Indiana.
A reservoir created by the Indiana Department of Natural Resources and the U.S. Army Corps of Engineers, the lake stretches across three counties in the far-southwestern region of the state. It was created by damming a river that has the same name as the lake. Several parks and nature preserves have been established around the lake. It covers 8,800 surface acres.
Question: What is the second-largest man-made lake in Indiana?
This week's prize: a pair of tickets to the 2019 Indiana Wine Fair at Story Inn in Brown County on May 11, courtesy of Story Inn.
A tour guide's fun facts about Indy 500 and pageantry
Click here to listen to the podcast.
(April 27, 2019) Who is the only person to participate, as a musician at an Indiana high school, in the Spectacle of the Bands at the Indianapolis Motor Speedway, then eventually compete as a race driver in the Indianapolis 500?
How did Purdue University begin their role as "host band" for the opening ceremonies at the racetrack - and how big is one of the band's most recognizable symbols, what's promoted as the "World's Largest Drum"?
And who has been the oldest winning driver in Indy 500 history?
The answers are among the fun facts about "The Greatest Spectacle in Racing" and its pageantry - including the 500 Festival Parade - that Nelson's studio guest share during our show. A tour guide at the racetrack, James Craig Reinhardt (who is known as "Craig") retired from his job as a Tampa businessman to move to the town of Speedway and indulge his lifelong dream of being affiliated with the world-famous race.
Craig is the author of two new books, both published by IU Press: The Winning Cars of the Indianapolis 500 and The Indianapolis 500: Inside the Greatest Spectacle in Racing.
As he does in his books, Craig explains the origins of the long-time "Gentlemen, start your engines!" command - and the controversy that unfolded when it was initially modified in 1977 as Janet Guthrie became the first woman driver to qualify for the race.
Craig says his interest in the Indy 500 was sparked during the early 1950s when his father took him to the race, which kicked off a string of more than a dozen such visits.
"I can still remember sleeping in our red and white Pontiac Star Chief on West 16th Street across from the main gate the night before a race," he says.
As a tour guide since 2014, he has kept notes about questions that the public frequently asks about the race and its storied venue, which led him to compile the answers in his two books.
According to The Winning Cars of the Indianapolis 500, the oldest champion driver since the first Indy 500 in 1911 was Al Unser Sr., who took the checkered flag in 1987 when he was 47 years and 360 days old.
According to The Indianapolis 500: Inside the Greatest Spectacle in Racing, the only person to be both a Spectacle of the Bands musician and a race driver was Johnny Parsons, who drove 12 times in the Indy 500 between 1974 and 1996. Before his racing career, Parsons was a trumpet player in the marching band at Scecina Memorial High School and participated in the pre-race musical festivities. (History fact: Parsons is the son of Johnnie Parsons, who won the Indy 500 in 1950.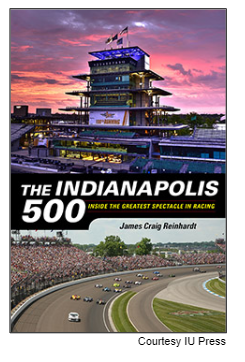 Speaking of bands: The Purdue University All-American Marching Band has been the "host band" since 1919, making this the 100th anniversary for the tradition.
The well-known promotional phrase "Greatest Spectacle in Racing" dates to the mid-1950s. During our show, Craig describes its origin, as well as the annual involvement in pre-race festivities and the 500 Festival Parade of the Gordon Pipers, a Scottish/Celtic bagpipe band.
Some other fun facts from Craig's books:
Although the starting field of the Indy 500 has almost always consisted of 33 cars for several decades, the number fluctuated in earlier eras. In the 1933 race, there were 42 cars, the largest starting field ever.
The youngest victorious driver has been Troy Ruttman, who was just 22 years old when he won the race in 1952.
For 37 consecutive years beginning in 1950, a spectator from Arizona was the first in line when the IMS gates opened for practice in early May.
Roadtrip: Old buildings, historic bridges and a cool diner in Plainfield
Guest Roadtripper and film historian Eric Grayson suggests a visit to the town of Plainfield, just west of Indianapolis along the Old National Road in Hendricks County.
Eric tells us that the first thing we'll notice in Plainfield is that everything is named for the Quakers, thanks to the large role that the group (AKA the Religious Society of Friends) played in the town's history. Even the local laundry and the high school sports teams bear the name of Quaker!
As a film historian, Eric is quick to point out Plainfield's old Village West Theater, which opened in 1927 as the Prewitt Theater. This endangered landmark is one of the few surviving theaters on the National Road; it is currently not open to the public, but hopes are high that it can be restored and find a new way to serve the community!
After checking out downtown Plainfield, Eric suggests a walk on the trails along White Lick Creek, which crosses Main Street (US40) just west of the Village West Theater. Among the scenery on the trails you'll find lovely historic bridges, including a very large steel truss bridge. Many of them are repurposed, having been moved to the area to become pedestrian bridges in the town's trails network.
And if your stroll along White Lick Creek trails helps you work up an appetite for lunch, you can't beat The Oasis Diner, another historic gem: this 1950s roadside diner was moved four miles west on US 40 a few years ago and restored to its classic 1954 look.
Old buildings, historic bridges and lunch at a 1950s diner; sounds like the perfect Roadtrip for Hoosier History Live fans!


History Mystery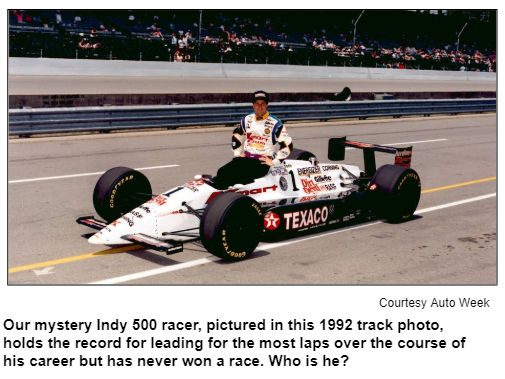 A well-known former racecar driver has the dubious distinction of leading for the most laps during Indy 500 races over the course of his career without ever winning.
According to The Winning Cars of the Indianapolis 500 by our guest James Craig Reinhardt, he led for a total of 431 laps in a nearly 20-year driving career at the Speedway that began in 1984.
Question: Who is the mystery Indy 500 driver who lead for the most laps, but never won?
Hint: He continues to be a high-profile figure as the owner of an IndyCar racing team.
This week's prize: a pair of tickets to the 2019 Indiana Wine Fair at Story Inn in Brown County on May 11, courtesy of Story Inn.
Please email molly@hoosierhistorylive.org if your business or organization would like to offer History Mystery prizes.
Talking historic renovation with Chief Justice Randy Shepard
Former Supreme Court Chief Justice Randy Shepard on historic preservation
Click here to listen to the podcast.
(April 20, 2019) Among distinguished Hoosiers in public life, few have been associated with historic preservation more closely - or longer - than former Indiana Supreme Court Chief Justice Randy Shepard.
A trustee for 11 years for the National Trust for Historic Preservation and a former board chair (and current honorary chair) of Indiana Landmarks, Justice Shepard grew up in Evansville. In an article about him in the March/April issue of Indiana Preservation, Justice Shepard traces his interest in historic buildings to his teenage years during the 1960s, when he marveled at historic architecture on his daily trip to Evansville Central High School, which was - and remains - among the oldest public high schools in continuous operation west of the Alleghenies. During the 1970s, the school moved to a new building, and Old Central was demolished to create a parking lot.
Justice Shepard, who was the longest-serving chief justice in Indiana history when he retired in 2012, is Nelson's studio guest to discuss the role of historic preservation in building stronger communities across Indiana.
Currently a visiting professor at the IU McKinney School of Law in Indianapolis, Justice Shepard also shares insights about Indiana's constitutional history, particularly on issues such as slavery and individual rights.
He also discusses the ways that state history likely influenced young Abraham Lincoln, who lived in southern Indiana from ages 7 to 21 - the future president's "formative years," as Justice Shepard puts it. Lincoln moved to what is now Spencer County from Kentucky with his parents and sister in 1816, the same year Indiana became a state.
A seventh-generation Hoosier, Justice Shepard has held several national leadership posts in the legal profession, including serving as chairman of the Conference of Chief Justices. He is a graduate of Princeton University and Yale University Law School. In the book Justices of the Supreme Court (Indiana Historical Society Press, 2010), he is praised for his "wisdom, plain English and independence."
According to the Indiana Preservation article, Justice Shepard's passion for preserving historic structures even had an impact on his family life. He met his wife, Ohio native Amy MacDonell, when she was visiting Evansville during National Historic Preservation Week.
Roadtrip: Donnell's Knoll in Johnson County
Guest Roadtripper Ken Marshall, educator and backroads Indiana "bon vivant," tells us about the history of Donnell's Knoll in Johnson County, located near the center point of the county at Centerline Road and Commerce Drive.
Donnell's Knoll, a natural landmark and meeting site, was used by the Lenape (Delaware) Native Americans as a campsite during their annual migration. The often swampy area was abundant with wild game and fish.
Early Johnson County pioneer George King later owned this area and originally earmarked it for the development of the town of Franklin. But a land swap with his brother-in-law, Simon Covert, who owned the land where Franklin College sits now, changed Franklin's location.
In 1841, the knoll became the home of J.H. Donnell, a doctor who moved to the area from Greenwood.
Today, Donnell's Knoll looks over a sweeping vista of central Indiana farmland. Tune in to the Roadtrip report to hear Ken share more details about this bucolic slice of Indiana history.
History Mystery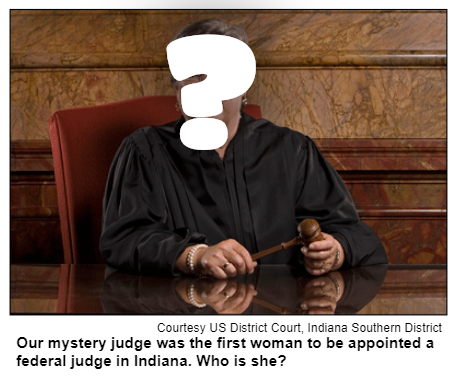 In 1984, the first woman to be a federal judge in Indiana was appointed. Although a native of Mishawaka in northern Indiana, she became a judge for the U.S. District Court of Southern Indiana.

Since then, she has been a civic leader, chairing the boards of the Indiana Historical Society, Conner Prairie and other organizations. Along with our guest, former Indiana Supreme Court Chief Justice Randy Shepard, she served on the Indiana Bicentennial Commission that oversaw celebrations and projects for the state's 200th birthday in 2016.

Question: Who is the first woman to serve as a federal judge in Indiana?

Hint: She discussed her trailblazing career on Hoosier History Live in 2014.

Prizes are two passes to the Indiana History Center, courtesy of Indiana Historical Society, and a gift certificate to Story Inn in Brown County, courtesy of Story Inn.

Please email molly@hoosierhistorylive.org if your business or organization would like to offer History Mystery prizes.

An artist who confronted segregation, and other painters
Click here to listen to the podcast
(April 13, 2019) It may seem remarkable that his abstract artwork often reflected harmony and balance, given the struggles he faced in establishing himself as a prominent artist.
Indianapolis native Felrath Hines, who became the first African-American conservator of the Smithsonian National Portrait Gallery, worked during the Great Depression in a segregated company of the Civilian Conservation Corps (CCC) based in Bloomington. Before that, he graduated from Attucks High School in 1931; he was a member of the first four-year class at Attucks, which was created in the late 1920s as a separate high school for black students in Indianapolis. After his stint as a laborer with the CCC, Hines worked as a dining car waiter on railroad cars at night while attending the Art Institute of Chicago during the day.
Today, paintings by Hines (1913-1993) are exhibited at museums across the country, including the National Museum of African American History and Culture in Washington D.C. and the Indianapolis Museum of Art at Newfields. For several years, Hines worked with Georgia O'Keeffe as her private paintings restorer.
We explore the life and impact of Hines - as well as other artists - with two studio guests:
As a 13-year-old boy, Hines received scholarships to attend special Saturday classes at what was then called the Herron Art Institute. Despite segregation in Indianapolis schools and public places, Herron had established an open door policy at its inception in 1903 and did not discriminate on the basis of race, according to Rachel's book. At Herron, young Hines studied painting and drawing.

During his career, Hines fought against, as Rachel puts it, "being pigeonholed as a black artist" - even when turning down opportunities for his paintings to be included in exhibits of African American artwork hurt his career.

During our show, guest Mark Ruschman also discusses other notable painters, including two who attended Manual High School in Indianapolis during the early 1900s: William Edouard Scott (1884-1964) and John Wesley Hardrick (1891-1968). At Manual, both Scott and Hardrick studied under famous Hoosier Group painter Otto Stark.

Like Hines, Hardrick went on to attend Herron. Unlike Hines, whose career flourished after he focused on abstract art, Hardrick painted landscapes, still lifes and portraits. The Indiana State Museum and the Indianapolis Museum of Art own paintings by Hardrick, who lived in Indianapolis all of his life.

In contrast, Hines was based during the 1960s in New York City, where he befriended well-known jazz musicians like Billy Strayhorn. In 1972, Hines moved to the Washington D.C. area to become the conservator of the National Portrait Gallery.
Roadtrip: Angel Mounds State Historic Site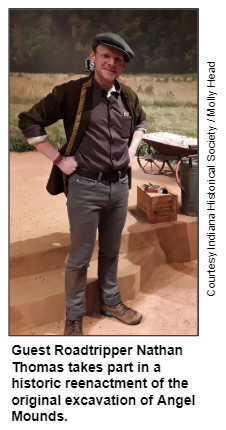 Guest Roadtripper and interpreter for the Indiana Historical Society Nathan Thomas invites us on a jaunt to Angel Mounds State Historic Site near Evansville.

Not to be confused with Mounds State Park in Anderson, Angel Mounds was the site of a large Native American town on the Ohio River that flourished from around 1000 to 600 years ago. At its largest point, the town was home to over 1000 inhabitants and held sway over a large swath of surrounding territory. Archeologists believe that the mounds themselves were the dwelling place of the chiefdom's upper class; the largest mound is over 600 feet long and around 30 feet tall.


Angel Mounds is just one of many towns that were occupied by a Native American civilization called the Mississippian culture, which raised corn, beans and squash and conducted trade with towns across hundreds of miles. The town was abandoned for unknown reasons around 1450. In the pioneer era, the area was used as farmland until Eli Lilly purchased it in 1938 for preservation.


Nathan tells us that the site was excavated beginning in the '30s as part of a joint project between Indiana Historical Society and the Works Projects Administration. Indiana University ran an archaeological field school at Angel Mounds from 1946-1964, and the state built an interpretive center there in 1971.

Today, visitors to Angle Mounds can see ancient artifacts from the area and experience a living history area portraying the site under excavation in late September 1939.


And if you can't make it down to the Evansville area, Nathan suggests we visit the current "You Are There 1939 - Exploring Angel Mounds" exhibit at the Indiana Historical Society.

Either way you make this archeological Roadtrip, you're going to dig Angel Mounds!





History Mystery
When what was then known as the Herron Art Institute opened in Indianapolis the early 1900s, the academy was located in the 100 block of East 16th Street. It is now the site of Herron High School, a charter school; the Herron Art Institute eventually evolved into IUPUI's Herron School of Art and Design and, in 2005, moved to a building on the Indianapolis campus.
During the 19th century, East 16th Street had a different name. In fact, famous Hoosier artist T.C. Steele lived on the property that became the Herron Art Institute. His estate was known by a name that reflected East 16th Street's historic name.
Question: What was East 16th Street called during the 19th century?
Hint: Today, a popular restaurant located farther east on the street has a name that pays tribute to the thoroughfare's historic name.
Please do not call in to the show until you hear Nelson pose the question on the air, and please do not try to win if you have won any other prize on WICR during the last two months. You must be willing to give your first name to our engineer, you must answer the question correctly on the air and you must be willing to give your mailing address to our engineer so we can mail the prize pack to you. Prizes: two passes to the Indiana State Museum, courtesy of the Indiana State Museum, and a gift certificate to Story Inn, courtesy of Story Inn.
Please email molly@hoosierhistorylive.org if your business or organization would like to offer History Mystery prizes.

Homing in on distinctive historic houses
Distinctive historic homes
Click here to listen to the podcast.
(April 6, 2019) A rare octagon-shaped house was built for a widow with 12 children in a rural part of Hancock County in 1879. She saved silver dollars until she accumulated more than $2,300, enough for construction of the distinctive house for her large brood.
Now known as the Jane Ross Reeves Octagon House, the historic residence had deteriorated alarmingly and almost burned in a firefighter training exercise before several residents of the town of Shirley purchased the farmhouse during the late 1990s. They moved it into Shirley near the railroad depot. A 20-year restoration project has resulted in a house that's now listed on the National Register of Historic Places and can be toured by appointment, beginning every April.
An equally distinctive house is a Swiss chalet built in 1903 on Main Street in the scenic town of Ferdinand in Dubois County. The initial owner of the Wollenmann House, Dr. Alois Wollenmann, was a local physician who had been born in Switzerland and wanted a residence like those of his homeland; all of its features were European in design.
One unusual detail of the house reflected Dr. Wollenmann's medical practice, which he ran out of the home. He had a sliding panel installed in the front door so that he could assess the illness of patients before bringing them into his house. In the early 1900s, his son raised 11 children in the residence.
The Wollenmann House also was imperiled - it was placed on the 10 Most Endangered Sites list of Indiana Landmarks in 2010 - before being rescued. Purchased by a small group of Ferdinand residents, who then donated it to the Ferdinand Historical Society, the Wollenmann House also is listed on the National Register. Today, the distinctive chalet is home to Soup-N-Such, a café whose owners live the upstairs portion, where original features include a claw foot bathtub.
As we explore distinctive historic structures built as homes (or that have become residences), Nelson is joined by:
Hancock County historian Brigette Cook Jones, who discusses the Jane Ross Reeves Octagon House, which is celebrating its 140th anniversary this year. With 16 rooms, including several that are pie-shaped, it is believed to be one of just five octagonal homes that survive in Indiana. Like round barns, octagonal houses fell out of style.
And Diane Hoppenjans, past president of the Ferdinand Historical Society and vice president of Dubois County Tourism. Diane and her husband Alvin were among the residents who purchased the Wollenmann House to save the historic structure before donating it to the local historical society, which continues to own the chalet.
During our show, Diane also discusses another landmark in Ferdinand, which is in a region of Indiana known for its German heritage. It's a historic structure that's also on the town's Main Street; in the 19th Century, it was the residence and store of a family in the mercantile business.
In addition, Diane describes a community-wide project in which she's involved: the restoration of the historic Chapel of Our Sorrowful Mother. Built on a hill in the 1870s by German immigrants, the Catholic chapel overlooks St. Ferdinand Parish.
The Jane Ross Reeves Octagon House had decayed to the point that it essentially functioned as a run-down barn, housing hogs and cattle, before its move to Shirley and the painstaking renovation. Aside from its shape, the house has other distinctive features: it has four chimneys, and all 16 rooms have closets.
In addition to describing the colorful history of the octagonal house, Brigette shares details about a project underway at a site in Hancock County that's well-known to Hoosier history lovers: the James Whitcomb Riley Boyhood Home and Museum in Greenfield. Riley (1849-1916), the Hoosier poet, grew up in the house, which is on the National Register. A new, multi-use building is being constructed on the home museum's grounds.
Roadtrip: Learn about the Amish and Mennonites at Menno-Hof in Shipshewana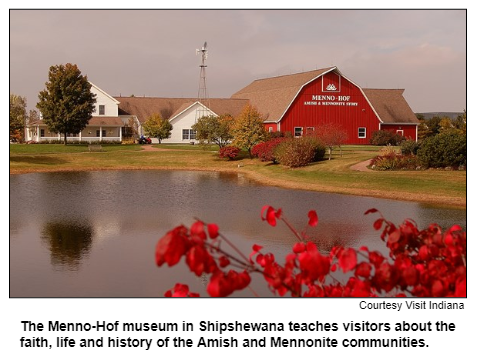 Did you ever wonder why the Amish dress as they do and don't drive cars, or what is the difference between the Amish and the Mennonites?
Guest Roadtripper and retired independent bookstore owner Kathleen Angelone invites us on a trip to visit Menno-Hof, a non-profit information center located in Shipshewana, Ind., near the far north-eastern corner of the Hoosier state. The Menno-Hof museum teaches visitors about the faith, life and history of the Amish and Mennonite communities.
Naturally enough, given the importance of agriculture for these two groups, the center is located in a huge red barn, where you can start your visit by watching a movie to see how the local community erected it in a one-day barn raising.
The Menno-Hof center relates the history of the Anabaptist movement, which dates to 16th century Switzerland; the Amish and Mennonites are direct descendants of early Anabaptists. The first several exhibits of the museum recreate important locales in Anabaptist history, including a dungeon where believers were tortured.
The center also covers more recent history, such as the Amish and Mennonites coming to America and early settlements. Kathleen says that there are loads of interactive displays which are "both interesting and informative."
And if shopping is your thing, you'll want to check out the museum's gift shop, which features handcrafted items made by local Amish and Mennonites.
History Mystery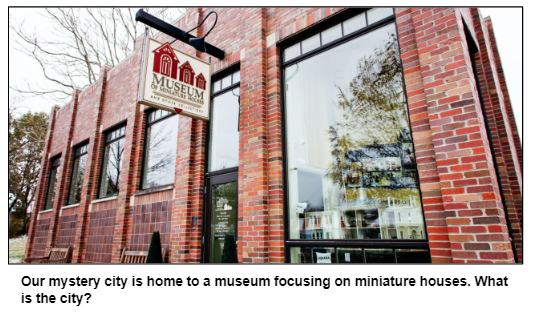 Miniature houses are the focus of a museum in an Indiana city. In addition to tiny homes, artifacts at the museum include historic dollhouses and room boxes, including some created in the 1860s. Other collectibles also are exhibited.
The museum, which opened in the early 1990s, is located on Main Street in the Indiana city.
Question: What Indiana city is home to a museum focusing on miniature houses?
Prizes: four passes to the Indiana History Center, courtesy of Indiana Historical Society, and a gift certificate to Story Inn, courtesy of Story Inn.
Please email molly@hoosierhistorylive.org if your business or organization would like to offer History Mystery prizes.

That "Sinky" feeling: talking about a Hoosier musical great
A multi-talented composer called Sinky and other captivating musicians
Click here to listen to the podcast.
(March 30, 2019) The origins of his nickname, Sinky, are unknown.
And you may never have heard of Belford "Sinky" Hendricks (1909-1977), a native of Evansville who worked as one of that city's first African-American mail carriers during the 1930s before his career flourished as a composer, pianist, arranger and conductor.
Undoubtedly, though, you have heard some of the songs Sinky composed: "It's Just a Matter of Time" (which has been a major hit for several singers, including Randy Travis); "Looking Back," recorded by Nat King Cole; "Call Me," which is associated with Johnny Mathis, and "First Star I See Tonight," a song popularized by Patti Page.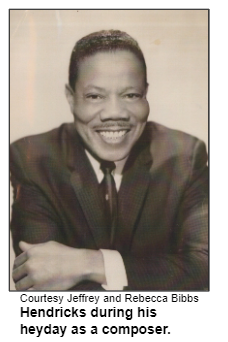 During the early 1960s, Sinky was the conductor and arranger for Aretha Franklin's first album at Capitol Records.
He also did the arrangements for "Ramblin' Rose," another Nat King Cole hit, "What A Difference A Day Makes," which reached No. 4 on the Hit Parade in 1959, and other songs that continue to be heard across the country today.
In addition to exploring the life and enduring impact of Sinky Hendricks, Hoosier History Live turns the spotlight on other African-American musicians with Indiana connections. Many are featured in Indianapolis Rhythm and Blues (Arcadia Publishing), a new book by David Leander Williams, a music historian who is among Nelson's studio guests.
Other guests are two of Sinky Hendricks' relatives who have been researching his life: Jeffrey Bibbs, Sinky's nephew, who is an Eli Lilly & Co. retiree, and Rebecca Bibbs, Sinky's great-niece (and Jeffrey's daughter). Rebecca is a reporter for the Herald-Bulletin newspaper, which is based in Anderson, Ind.
Sinky studied music and science at Indiana State Teachers College (now Indiana State University), graduating in 1935. During the 1940s, he played the piano on "Toast and Coffee," a popular radio show in Evansville. That was followed by his national success, which unfolded when Sinky lived in Detroit, New York and other cities.
Other Hoosier musicians we focus on during the show will include:
The Peanut Boys, a singing, dancing and guitar-playing group that began as sidewalk performers outside the Madam Walker Theatre when the Indianapolis landmark opened during the late 1920s. The group later evolved into the Ink Spots, which became nationally known.
The Highlighters, a band that formed when its members were students at Attucks High School. The band went on to back up the Temptations, Martha and the Vandellas and other famous groups.
And Ron Howard, a singer who lived in Lockefield Gardens apartments and appeared in nearby nightclubs on Indiana Avenue. Relocating to New York, he chose a song by Indiana composer Hoagy Carmichael for his signature number: "Skylark."
Many of the touring, nationally known entertainers who performed at Indiana Avenue nightclubs - as well as local musicians during the 1940s - were booked by brothers Sea and Denver Ferguson, who are featured in David's book. Sometimes called the "Fathers of Indiana Avenue Entertainment," the Ferguson brothers even owned several popular nightspots, including the Cotton Club and the Sunset Terrace Ballroom, which David discusses during our show.
During the late 1940s, Sinky Hendricks' singing and piano playing on the "Toast and Coffee" radio show resulted in some trailblazing, according to Evansville Living magazine. Sinky was paired on the radio show with a white hostess, one of broadcasting's first interracial pairings in the country.
"It's Just a Matter of Time," which he co-wrote with Brook Benton in 1959, has been listed among the 100 most licensed songs of the 20th century, according to our guest Rebecca Bibbs. Sinky was still writing music when he died in 1977.
Roadtrip: Bailly Homestead and Chellberg Farm in northwest Indiana
Guest Roadtripper and travel writer Jane Ammeson, author of Lincoln Road Trip: The Back-Roads Guide to America's Favorite President, suggests that we visit Bailly Homestead and Chellberg Farm near Porter, Ind.
Bailly Homestead was established in 1822 as one of the only trading posts between Chicago and Detroit; Chellberg Farm, less than half a mile away, spans 150 years of the history of Northwest Indiana. Both are part of the Indiana Dunes National Lakeshore and have living history activities that are open to visitors. Chellberg Farm was once a part of the large Swedish settlement that lined the shores of Lake Michigan starting in the 1800s and stretching into the early 20th century.
Hiking trails connect the properties through a forest dominated by maple, beech, basswood, and oak trees. You can follow a stretch of the Little Calumet River, once a critical transportation route for early regional travelers, and explore the recently restored Mnoké Prairie for a glimmer of the vast stretches of pre-settlement grasslands.
With spring in the air, Jane says it's a great time to enjoy the outdoor attractions of the Bailly Homestead and Chellberg Farm. If the weather is good, you may even want to turn this Roadtrip into a weekend getaway and explore the many other attractions of the Indiana Dunes!
History Mystery
A popular, internationally known orchestra leader probably was the first to record a song composed by Evansville native Belford "Sinky" Hendricks. In 1938, the song was recorded by the orchestra leader, who, like Sinky, was a multi-talented musician known as a pianist and composer.
Based out of New York City beginning in the mid-1920s, the orchestra leader never lived in Indiana. But according to the book Indianapolis Rhythm and Blues by guest David Leander Williams, he made several appearances in Indianapolis during the heyday of nightspots on Indiana Avenue.
The orchestra leader enjoyed a career that spanned more than 50 years. He died in 1974, three years before the death of Sinky Hendricks. Like Sinky, he was known by a nickname. Although primarily identified with jazz, the orchestra leader, also like Sinky, enjoyed success in multiple genres of music.

Question: Who was the orchestra leader?

Prizes: four passes to the Indiana History Center, courtesy of Indiana Historical Society, and a gift certificate to Story Inn, courtesy of Story Inn.
Please email molly@hoosierhistorylive.org if your business or organization would like to offer History Mystery prizes.
Claypool Hotel and Hotel Lincoln: bygone Indy landmarks
Click here to listen to the podcast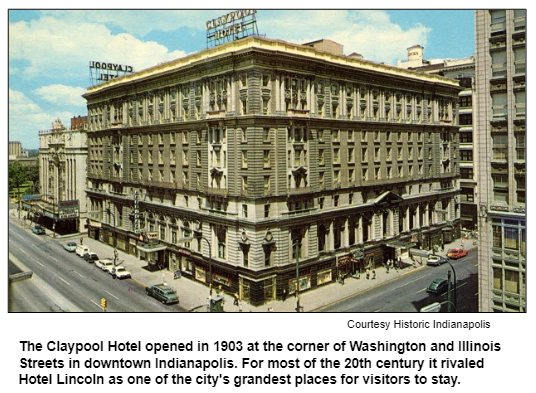 (March 23, 2019) With the announcement that downtown Indianapolis will get a new high-rise hotel that, according to news accounts, will "change the city's skyline," Hoosier History Live will explore two grand hotels that were rivals for most of the early and mid-20th century.
When the elegant Claypool Hotel opened in 1903 at Washington and Illinois Streets, its lobby was touted as one of the largest in the world. During the next six decades, distinguished guests included Eleanor Roosevelt, Jack Benny, Dwight Eisenhower and Fort Wayne native Carole Lombard, who spent the last nights of her life at the Claypool.
The glamorous movie star was killed in 1942 when her plane crashed as she was returning to Hollywood from Indianapolis, where she had raised a record $2.5 million at war bond rallies.
Two sensational murders at the Claypool made international headlines: The notorious "dresser drawer murder" in 1954 (the body of teenage victim Dorothy Poore was found stuffed into a dresser drawer), and the unsolved slaying of Maoma Ridings, who was serving in the Women's Army Corps at Camp Atterbury, during WWII.
Hotel Lincoln opened in 1918 on the current site of Hyatt Regency (it later was known as the Sheraton Lincoln Hotel after an acquisition). At 15 stories, the hotel was the largest flatiron building ever constructed in Indiana, built on an acutely angled lot at the corner of West Washington Street and Kentucky Avenue. The adjacent stretch of Kentucky Avenue was later eliminated from the city street grid prior to construction of the Hyatt Regency.
Like the Claypool, the Lincoln hosted political conventions, including dozens of state legislators who stayed at the hotels during the General Assembly. Demolition of the Lincoln in 1973 involved the first use of controlled dynamite to raze a building in the entire state, according to an article written by historian Joan Hostetler for historicindianapolis.com.
Nelson's studio guest is John McDonald, the CEO of the information technology company ClearObject in Fishers; he is the author of Lost Indianapolis (Arcadia Publishing, 2002), which devotes a chapter to the lavish Claypool.
Two years after a devastating fire in 1967 caused the Claypool to close, the hotel was demolished. Guests at a "demolition ball" then bid on dozens of Claypool artifacts and mementos.
Other Claypool objects, however, remained in storage for decades; for example, the Carole Lombard Suite (furnishings from the room in which the actress stayed) eventually was purchased in 2000 by the Indianapolis Propylaeum.
Some history facts:
Before the Claypool was built, its site had been the location of a legendary hotel of the 19th century: the Bates House, which was constructed in the 1850s. None other than Abraham Lincoln stayed at the Bates House. As president-elect in 1861, traveling from Springfield, Ill., to his inauguration in Washington, Lincoln delivered a speech from the balcony of the Bates House that made national headlines.
According to Lost Indianapolis, a partnership that involved entrepreneur Edward Fay Claypool, the son of one of the first settlers of Connersville, Ind., initiated construction of the eight-story hotel, which had 450 guest rooms. Our guest John McDonald writes that the Claypool's furnishings and décor were "made of the best mahogany, brass and textiles available." Every room at the Claypool had a private bath, a luxury in 1903.
At the Hotel Lincoln, an Estey pipe organ was built specifically for the Travertine Room, the elegant dining room.
The new downtown hotel will be a Signia Hotel, a new brand created by Hilton. Expected to become one of the tallest buildings in the Hoosier capital, the hotel is planned for Pan American Plaza at Illinois and Georgia streets.
Expansions of the Claypool during its heyday eventual increased its capacity to 600 guest rooms. The hotel included two ballrooms, the Florentine Room and the Riley Room, which was named in honor of poet James Whitcomb Riley.
"From the first night, the Claypool had no trouble filling its guest list with the most powerful and influential," John McDonald writes.
Carole Lombard stayed at the hotel in January 1942 while making a series of major public appearances to sell war bonds at Monument Circle, Cadle Tabernacle and the Indiana Governor's Residence. Lombard, 33, and her mother were among the passengers killed when their plane from Indianapolis crashed into a mountain in Nevada. Her grief-stricken widower, movie icon Clark Gable, then quietly visited Indianapolis and may have stayed in the rooms that later became known as Carole Lombard Suite.
The Claypool's reputation never fully recovered from the "dresser drawer murder" in 1954. Dorothy Poore, the 18-year-old victim, had come to Indianapolis from her hometown of Clinton, Ind., in search of a job. A door-to-door salesman was convicted of the gruesome slaying.
The years after the shocking murder also were a lackluster era for Indy's downtown, another factor in the decline of both the Claypool and the Lincoln hotels.
That era resulted in the demise of other landmarks depicted in Lost Indianapolis, the book by our guest John McDonald. In addition to being the CEO of ClearObject, John is the chairman of the Indiana Technology and Innovation Policy Committee.
Roadtrip: The National Road and Terre Haute
Please note: this Roadtrip was originally scheduled for our March 9 show, but had to be postponed until this show.

Guest Roadtripper Glory-June Greiff invites us on a journey to explore the National Road, the nation's first truly interstate highway. In Indiana, the National Road runs from Richmond westward through Indianapolis and on to Illinois through Terre Haute, crossing the Wabash into West Terre Haute.


Terre Haute makes a great destination, but Glory-June suggests we make the most of the journey by taking our time as we travel along US40, which traces the course of the original National Road and reveals much of its 189 years of history. A good place to start is the Oasis Diner, moved from its earlier location four miles away to a new spot in downtown Plainfield. Glory-June says it's a great place to eat and soak up the 1950s-era vibe.

Other interesting stops for history-minded Roadtrippers traveling the old National Road include 19th century inns and great old houses, like Rising Hall west of Stilesville. Take time to check out the Clay County Courthouse (listed in the National Register) in downtown Brazil. And while you're there, stop by Lynn's Old Fashioned Soda Parlor at Lynn's Pharmacy.

Upon reaching Terre Haute, you have a wealth of things to see! Glory-June tells us that the new Vigo County Historical Society museum is soon to open on Wabash Avenue (US40), just across the street from the Clabber Girl Museum. A little farther west, on 7th Street, is the Swope Museum of Art, in sight of the glorious Indiana Theater, an old movie palace and architectural treasure.


In need of a pick-me-up before heading home? Glory-June recommends the Corner Grind on the corner of 7th and Wabash, a great coffee house adjacent to its sister business, the Cornerstone Cafe, featuring tasty sandwiches and soups.

That's just a taste of the many great things to do and see in Terre Haute; plenty of reasons to return!

History Mystery
A well-known chain of optical stores in Indiana had its beginnings in the Claypool Hotel in Indianapolis. During the 1940s, an optometrist opened his first office in the Claypool. That office became the start of a chain of eye care stores, which still remains a family-owned business.
Even though the Claypool was demolished 50 years ago, the optical business today has more than 20 stores across Indiana.
Question: What is the optical business that got its start in the Claypool Hotel?

Please do not call in to the show until you hear Nelson pose the question on the air, and please do not try to win if you have Prizes: four passes to the Indiana History Center, courtesy of Indiana Historical Society, and two passes to GlowGolf, courtesy of GlowGolf.
Please email molly@hoosierhistorylive.org if your business or organization would like to offer History Mystery prizess.
Ask Nelson - plus the founding of Heartland Film Festival, Twin Aire history and more
Click here to listen to the podcast
(March 16, 2019) Periodically on Hoosier History Live, we open the phone lines so listeners can inquire about any aspect of our state's heritage.
This time around, our host Nelson Price is joined by Indianapolis civic leader Jeff Sparks, who founded the Heartland Film Festival in the early 1990s to celebrate "life-affirming" movies and oversaw its evolution into a major cultural event. During the 1980s, Jeff helped launch the New Harmony Project, which brings playwrights and screenwriters to the historic town of New Harmony in southwestern Indiana to develop new works in a scenic, tranquil setting on the Wabash River.
Since stepping down as Heartland's CEO in 2013, Jeff has been involved in the revitalization of Twin Aire, a neighborhood on the southeastside of Indianapolis that's been in the news because it will be the site of the Indianapolis Community Justice Campus, including the Marion County courts.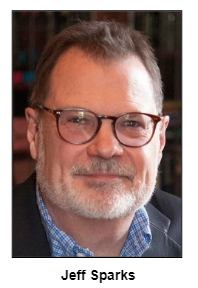 In between phone calls from listeners, Nelson interviews Jeff about the history of these diverse civic and cultural projects. Jeff describes their evolution in his new book, Changing Culture Through Stories (Sagamore Press), which traces some of his ideas about cultural change to his work with emotionally troubled teenagers at a residential treatment center.

As we spotlight Women's History Month, Jeff interviews Nelson about some notable Hoosier women, including a World War II aviator who is featured in the bestselling book The Greatest Generation.

Nelson also describes the history of Ellenberger Park, the hilly, sprawling park near Irvington on the eastside of Indy. We intended to spotlight historic Ellenberger during several shows a while back, including a program about the histories of various city parks, but ran short on time.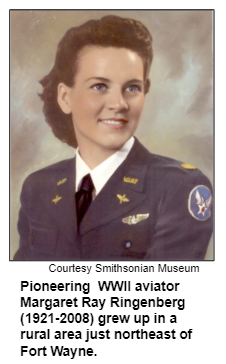 Twin Aire, long known for a drive-in movie theater and, in the 1950s, the site of one of the city's first strip shopping centers, has had "a crying need for new businesses," as Jeff puts it in Changing Culture Through Stories. Jeff's involvement began as a board member of Southeast Neighborhood Development Inc. (SEND), a community development organization.
Jeff is most closely identified with Heartland, which grew to involve more than 1,000 volunteers annually. When Jeff began planning to launch a film festival, he only had attended one of them - the Sundance Film Festival in Utah - just once.
During our show, Nelson asks Jeff about the involvement in Heartland of some Hollywood notables with Indiana connections, including Oscar-winning director Sydney Pollack (1934- 2008), whose credits included Tootsie (1982), Out of Africa (1985) and The Way We Were (1973).
The WWII aviator was Margaret Ray Ringenberg (1921-2008), who grew up in a rural area just northeast of Fort Wayne and became a WASP (Women's Airforce Service Pilot). At the war's conclusion, she was hired to drop 56,000 leaflets proclaiming "Japan Surrenders!" over Fort Wayne streets. Both newspapers in the city were on strike, so her historic "news drop" announced the war's end to residents of the state's second largest city.
Nelson interviewed Mrs. Ringenberg in 2002, when she was named a Living Legend by the Indiana Historical Society and, in her 80s, still competing in international races against other women pilots. Mrs. Ringenberg titled her memoir Girls Can't Be Pilots; an Aerobiography (Daedalus Press, 1998), alluding to what she was informed when she initially expressed interest in enrolling in flight school.
Roadtrip: Mathers Museum on the IU Bloomington campus
Guest Roadtripper Rachel Perry, art historian and fine arts curator emerita of the Indiana State Museum, recommends a visit to the Mathers Museum of World Cultures, which she calls "one of the best-kept secrets" on the Indiana University - Bloomington campus.
Located on Indiana Avenue just a few blocks north of Dunn Meadow, the Mathers is in easy walking distance of Sample Gates, Memorial Union, and other landmarks of the Bloomington campus.
Rachel tells us that the Mathers collection contains a fascinating array of artifacts from across the globe. Just a sampling: "musical instruments, North African, Middle Eastern, and Central Asian textiles and jewelry, South and Central American artifacts, Pawnee material culture, Indonesian puppets, and West African sacred and daily use artifacts."
Two particularly interesting exhibits among their current displays caught Rachel's eye:
"Hungry Planet: What the World Eats" is a traveling exhibit is based on the best-selling book by photographer Peter Menzel and writer Faith D'Aluisio, who sat down to dinner with 30 families in 24 different countries to document their meals and lives around food.
"Mexico Indigena" explores examples of the beautiful artistic traditions of the indigenous people of our neighboring nation to the south.
And if that "Hungry Planet" exhibit makes you yearn for a bite to eat, Kirkwood Avenue and Fourth Street, with their bounty of restaurant offerings, are only a ten minute walk away.
Come for the culture, stay for the food - sounds like a great Roadtrip!
History Mystery
In 1997, Heartland Film Festival began presenting an award in honor of a Hollywood star who had died earlier that year.
The movie actor, one of the most popular stars of the 20th Century, never lived in Indiana, but had a few indirect connections and coincidences associating him with the Hoosier state. For example, he was born in the town of Indiana, PA, located near Pittsburgh., in 1908.
Our guest Jeff Sparks developed a friendship with the late actor's family. In 2003, Jeff even was among the speakers at the unveiling of a commemorative postage stamp that depicted the Oscar-winning actor as part of the "Legends of Hollywood" series by the U.S. Postal Service.
Question: Who was the movie star?
Prizes: four passes to the Indiana History Center, courtesy of Indiana Historical Society, and a gift certificate to Story Inn, courtesy of Story Inn.
Highway 65 (and 70) revisited
Party like it's 1899!
Annual bash celebrates 11 Years of making Hoosier History!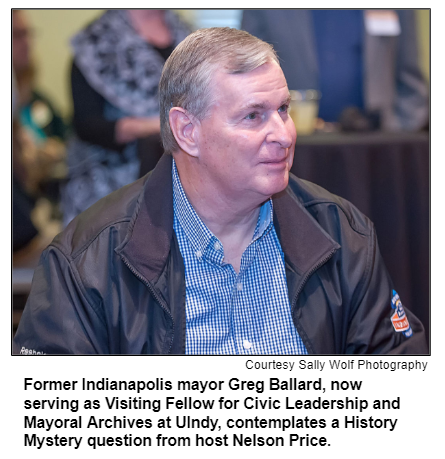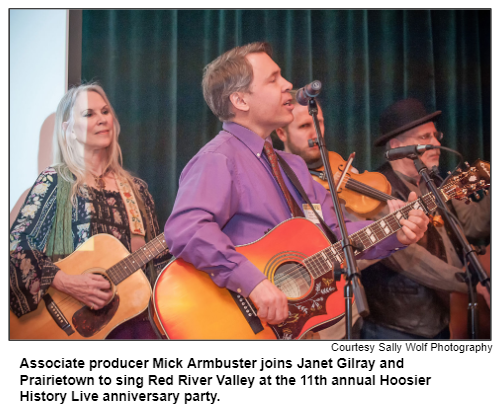 Interstate highway construction and its impact on Indianapolis
Click here to listen to the podcast.
(March 9, 2019) It's the largest engineered structure humans have ever built, covering a land mass the size of the state of Delaware. Along with the Great Wall of China, it's one of the few human creations that can be seen from space. In its entire length, it stretches 46,876 miles.
And you probably use it on a regular, if not daily, basis.
It's the Interstate highway system, and Indiana, true to its "Crossroads of America" official motto, has its share of the nation's federal highways - over 12,000 miles of them, criss-crossing the state and converging at Indianapolis, where Interstates 65, 69, 70, and 74 intersect. I-465 connects them all, circling the Hoosier capital and traversing 53 miles as it does so.
And while the nation's extensive network of well-engineered Interstate highways, which took over four decades to build, has brought undeniable benefits in the form of greater road safety and efficiency for personal travel and commerce, there's a darker side to the story.
Often unacknowledged by lovers of the open road are the high costs that Interstate highway construction wrought upon urban centers, where tens of thousands of American citizens lost their property to eminent domain, saw their neighborhood houses, schools and businesses bulldozed, and found themselves living next to an endless stream of noisy traffic.
Hoosier History Live associate producer and guest host Mick Armbruster delves into the impact of Interstate construction on the city of Indianapolis, looking at how it disrupted the lives of urban residents during the building phase and had long-lasting, far-reaching impacts on the city's development. Joining Mick in studio to discuss Indianapolis highway history are:
Jordan Ryan, who serves as Architectural Archivist and Curator of the City Bicentennjal project at the Indiana Historical Society. Jordan has conducted archival research into routing decisions made during the Interstate planning process in the late 1950s that brought the combined 65/70 inner loop to downtown Indianapolis, examining how those choices affected urban neighborhoods.
Paula Brooks, who as a child experienced firsthand the impact of Interstate construction on her Indianapolis neighborhood, Ransom Place. She is involved in current advocacy efforts regarding environmental justice and also works with Rethink 65/70, which seeks to influence plans by the Indiana Department of Transportation to redesign the Interstate 65/70 inner loop.
And Garry Chillufo, founding member and current president of Historic Urban Neighborhoods of Indianapolis (HUNI), a coalition that supports older neighborhoods by working with local government and serving as a forum for urban residents. Garry is also involved with the work of Rethink 65/70.
The dream of a national highway system that would unite the sprawling territory of the United States goes back all the way to the founding fathers; it was President Thomas Jefferson who signed the act establishing a National Road in 1806, with the goal of connecting the Potomac River at Cumberland, Maryland, to the Ohio River at Wheeling, Virginia (now West Virginia).
But it was the explosion of automobile ownership in the 1920s that spurred the massive growth in paved, graded highways that could accommodate high volumes of traffic traveling at ever increasing speeds.
Road building did not stall out during the Great Depression, thanks to billions provided by New Deal programs that put drought-stricken farmers to work constructing hundreds of miles of new highways. But it was during the era of post-war prosperity in the 1950s, with automobile ownership rising faster than the tail fins on Cadillacs, that highway construction got into high gear.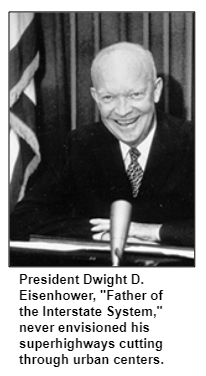 President Eisenhower, impressed by his post-war travels on Germany's Autobahn, saw the need for a national system of roads that could be used not only for personal travel and commerce, but for military preparedness in an era of growing Cold-War tensions. When Eisenhower signed the Federal-Aid Highway Act of 1956, he funded the Interstate highway system and set in motion a process that would revolutionize transportation in the United states.
But Eisenhower never envisioned the Interstate highways reaching into the inner urban core. Modeled on the Autobahn, his proposed system would have carried traffic only between and around cities, not through them.
Under pressure from members of Congress, however, who believed that urban freeway segments were essential to the needs of their constituents, Eisenhower relented and went forward with plans that brought major highways through the heart of America's cities - and left destruction and social upheaval in their wake.
Some Interstate history facts:
The Interstate highway system is the biggest public works project in the history of the United States.
Missouri was the first state to begin building a segment of Interstate highway, reconfiguring U.S. 40 into what was later designated the I-70 Mark Twain Expressway. The work began on on August 13, 1956.
In 2002, native Hoosier David Letterman launched a humorous campaign to rename I-465 in his honor. "Honest to God, would it kill ya to do this?" the comedian asked in reference to renaming the roadway the "David Letterman Expressway."

History Mystery
Interstate construction in downtown Indianapolis in the late 1960s and early 1970s required the demolition of dozens of historic buildings. One building on the city's Old Northside came close to destruction but was saved by the intercession of Eli Lilly, grandson of Colonel Eli Lilly - the pharmacist, chemist, and businessman who founded Eli Lilly and Company. The architecturally distinctive home, designed in the Second Empire style, was built in the 1860s and served over the years as the residence of two notable Indianapolis families, whose names the building is now known by.

The home was slated for demolition to make way for Interstate 65 construction when Eli Lilly, who had lived in a nearby home in the 1920s, provided money to have it purchased by the Historic Landmarks Foundation of Indiana (now Indiana Landmarks) and listed in the National Register of Historic Places. Because federal dollars were funding the Interstate construction, the route had to be moved south and the home was saved.


The home has been restored and serves as a venue for Indiana Landmarks programs, special events, and private rentals.

Question: What is the name of the historic home in the Old Northside neighborhood of Indianapolis that was in the pathway of Interstate 65 but was saved by the intercession of Eli Lilly?

Please do not call in to the show until you hear Mick pose the question on the air, and please do not try to win if you have won any other prize on WICR during the last two months. You must be willing to give your first name to our engineer, you must answer the question correctly on the air and you must be willing to give your mailing address to our engineer so we can mail the prize pack to you. The prize is a pair of tickets to the historic Athenaeum Tour, courtesy of Indiana Landmarks, and a certificate to Story Inn in Brown County, courtesy of Story Inn.

Please email molly@hoosierhistorylive.org if your business or organization would like to offer History Mystery prizes that can be easily mailed to contest winners.
Historic women in science: encore
Click here to listen to the podcast.
(March 2, 2019) Women from Indiana became pioneers in sciences ranging from physics to home economics during the early and mid-1900s. But they confronted myriad challenges, and their trailblazing efforts often have been ignored.
Hoosier History Live strives to fill in this historical void as we salute Women's History Month with this encore broadcast (original air date: March 11, 2017) of a show that spotlights the innovations of - and obstacles confronted by - a physicist from southern Indiana who pioneered new theories (but whose career was stalled because of McCarthyism during the Cold War) and two women associated with Purdue University who were pioneers in "bringing science into the home." One of them traveled across the Hoosier state during the World War I era to share research with farm women.
Nelson's guests include:
Jill Weiss, digital outreach manager at the Indiana Historical Bureau. She shares insights about Melba Phillips (1907-2004), a native of Hazleton, Ind., who became an internationally acclaimed physicist, worked to improve science education and, according to Jill, "advocated for women's place at the forefront of science research." Following World War II, Phillips and other scientists organized to prevent nuclear war. She was fired from university posts, though, after being accused of advocating subversive positions.
And Angie Klink, a Lafayette-based author and historian whose eight books include Divided Paths, Common Ground (Purdue University Press, 2011). It is a dual biography of Mary Matthews, who became the first dean of home economics at Purdue University, and Lella Gaddis, the first state leader of home demonstrations in agricultural extension.
"She hit the road to take research and knowledge ... directly to farm women, who often were isolated," Angie notes, referring to Gaddis. Prior to her outreach, what farm women knew about food preservation (a particularly important topic during World War I, when meat, sugar and other goods were in high demand), sanitation and nutrition often had just been "handed down by word-of-mouth from their mothers."
When Matthews was initially appointed a department chair of home economics in 1912 prior to becoming Purdue's first dean of the subject, "she had little support from the men in power at Purdue," Angie writes.
Melba Phillips, the physicist, encountered enormous challenges during her long career, but she rebounded and became the first woman president of the American Association of Physics Teachers in 1966.
More than 20 years later, according to a blog post that our guest Jill Weiss has written for the Historical Bureau, Brooklyn College publicly apologized for having fired Phillips during the 1950s. Eventually, the college even created a scholarship in her name.
Phillips, who had studied under Robert Oppenheimer and went on to write two physics textbooks, was living in Petersburg, Ind., when she died at age 97. During the 1950s, she refused to testify before a subcommittee of the U.S. Senate Judiciary Committee that was investigating internal security.
Jill's blog about her is titled "Melba Phillips: Leader in Science and Conscience." Phillips also is the subject of an episode of the IHB podcast Talking Hoosier History, which Jill helps produce.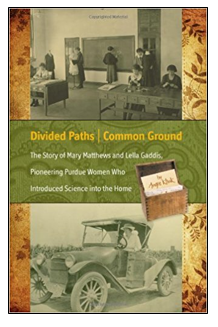 According to Jill's blog, Melba Phillips graduated from high school at 15, then studied at Oakland City College (which became Oakland City University in 1985) in southern Indiana. Eventually, she earned a Ph.D. and became "known throughout the physics world" because of her contributions to the field.

As described in our guest Angie Klink's book Divided Paths, Lella Gaddis "tooled down the country roads past Indiana cornfields" to bring the latest science about vitamins, food preservation, sanitation and other topics to farm wives. On the running board of her Model T, Gaddis propped her demonstration suitcase - and held onto it as she traveled on the rural roads.

Divided Paths also tells the story of an unconventional "lady farmer," as Virginia Claypool Meredith was called during the late 1800s and early 1900s. During our show, we also will explore her pioneering career, which included becoming the first woman on Purdue's board of trustees in 1921.

When Virginia Claypool Meredith was 33 years old in 1882, she had to take over the running of a 115-acre cattle and sheep farm near Cambridge City, Ind, when her husband died unexpectedly, according to Angie's book. "She became a nationally recognized agricultural speaker and writer."



Roadtrip: Adams Mill in Carroll County
Guest Roadtripper and travel writer Jane Ammesonsuggests a trip to Adams Mill in Carroll County, about 60 miles north of Indianapolis. John Adams built the three-and-a-half story mill on Wildcat Creek in 1845-46 in Cutler, a tiny village near Lafayette.
Adams Mill is filled with historic treasures on all its floors, including a Conestoga Wagon and a canvas bathtub used by pioneers as they traveled out west. The mill also has the original milling equipment and artifacts from when it housed a post office. And just down a winding country road is the Adams Mill Covered Bridge, built in 1872.
Adams Mill was placed into the National Register of Historic Places in 1984. Open for tours, it is a fascinating look back in time when mills served the towns and outlying regions where they were located. And it's also one of the few survivors in the 21st century. At one time saw mills and grist mills dotted the landscape of Indiana, necessary for both grinding grain and sawing lumber for building. Now just about 13 remain.
Former Indy Mayor Ballard on electric car history and more
Click here to listen to the podcast.
(February 23, 2019) For several decades, each mayor of the Hoosier capital has had a relationship with the University of Indianapolis once his term in office has ended. Greg Ballard, who was elected to two terms as mayor of Indianapolis, is no exception; he currently serves as a Visiting Fellow at UIndy.
On this show, former Mayor Ballard describes his new role, reflect on his terms as mayor (which followed an unexpected victory in the 2007 election) and talks about historic aspects of one of his major areas of focus - electric cars - when he joins Nelson as studio guest.
Indiana-related aspects of electric car production involve modern history: During the 1990s, crucial components of General Motors' EV1, described as "one of the most technologically advanced" and fuel-efficient vehicles of the 20th Century, were made in two Indiana cities. A Delco Remy plant in Anderson produced the motors. The battery packs were made in Muncie, also at a Delco Remy factory.
The need to shift from oil as the primary transportation fuel is the focus of Less Oil or More Caskets (IU Press), a new book by former Mayor Ballard, who draws on observations from his 23-year career as a U.S. Marine, which included serving in the first Persian Gulf War.
In 2013, while serving as mayor, Greg Ballard was our studio guest to discuss historic connections between the Marines and the Hoosier state. He also shared insights about attending Cathedral High School (where he was a member of the Class of '72) during its final years as an all-male school located in downtown Indy.
This time, former Mayor Ballard, a Republican, assesses his terms in office, including accomplishments and frustrations.
Documents, oral interviews and artifacts of former mayors are housed at UIndy's Institute for Civic Leadership & Mayoral Archives. Several former mayors, including Ballard's predecessor, Bart Peterson, a Democrat, have served on UIndy's board of trustees (Former Mayor Peterson was Nelson's studio guest on a show in 2015).
The history of electric cars stretches much further back than the 1990s production of the EV1. Early electric vehicles - powered by a battery charged by plugging it in - were built circa 1900 at the dawn of auto production.
As Ballard describes in his book, the challenges then involved the limitations of the vehicles; in the early 1900s, electric cars only could travel about 20 miles before requiring a recharge, severely limiting their range compared to gasoline-powered automobiles.
With substantial improvements in battery technology since that time, electric cars have made significant gains in range and efficiency. Less Oil or More Caskets is being promoted as a call to action to shift from gasoline to electricity in transportation, which former Mayor Ballard calls "the last industry dominated by the use of oil."
Blue Indy, an electric car-sharing program with a fleet of vehicles and charging stations across Indianapolis, is a visible legacy of the Ballard administration. As mayor, he struck a deal with a French company, Bollore, to bring the electric car service to the Hoosier capital.
Billed as the "first of its kind" in the country, Blue Indy was unveiled in 2014, with the all-electric cars showing up in designated, charger-accessible parking spaces the next year. Controversy ensued, with businesses and homeowners complaining that neighborhoods were not consulted about the loss of parking spaces that were given over to the electric cars and their charging stations.
Since then, the city has renegotiated some aspects of the Blue Indy contract, but critics continue to question the public demand for the car-sharing program and its benefits to the city.
In Less Oil or More Caskets, former Mayor Ballard traces his enthusiasm for all-electric vehicles to his stint as a Marine based in the Middle East. During a recent appearance on the syndicated TV show Inside Indiana Business, the former mayor said, "Eighty percent of the world's oil reserves are in the hands of monarchs." The United States, he added, only has 2 percent of the world's oil - meaning conversion to other sources of energy is crucial for economic as well as environmental reasons.
Greg Ballard grew up on the eastside of Indianapolis and attended Cathedral on a scholarship. He graduated from Indiana University before his 23-year career in the Marines, retiring in 2001 as a lieutenant colonel.
Roadtrip: New National Mascot Hall of Fame in Whiting
Lately it seems that sports team mascots are getting as much attention as the teams they represent. Just ask Gritty, the mascot of the Philadelphia Flyers hockey team, who made his debut last year and has become an Internet sensation and sought-after guest on the late-night talk show circuit.

To explore the exploding popularity of mascots, guest Roadtripper Jennifer Smith suggests an adventure at the National Mascot Hall of Fame, which opened last last year in Whiting, Ind., on the shores of Lake Michigan about halfway between Chicago and Gary.

Jennifer has more than a little experience with mascots. As the owner of Avant Garb, located in the Stutz Building in Indianapolis, she's a professional mascot maker who knows a thing or two about life-size, fuzzy characters designed to ratchet up the fevered devotion of sports fans. She also constructs mascots for corporations like Hewlett-Packard.

As Jennifer explains, the National Mascot Hall of Fame bills itself as an "interactive children's museum." Visitors can have fun trying out a T-shirt cannon, designing their own mascot, and tracing the historical development of mascots all the way back to Chinese dragons and Medieval court jesters.

And for those who dream of becoming mascots themselves, the Hall of Fame offers special events such as an upcoming "mascot boot camp" to help aspiring characters hone their craft.

Be sure to tune in to Jennifer's Roadtrip report to hear all about what a reviewer in Slate magazine called "one of the oddest museums I've ever visited."



History Mystery
In 1880, a town in Indiana played a role in the history of electricity. The town, which often has promoted itself as the "First Electrified City in the World," was the site of one of the earliest experiments in electricity.
Four large arc lamps were set up in the dome of the county courthouse, which sits atop a hill in the town. The crude electricity "jumped" from one of the lamps to another - an experiment that amazed thousands of onlookers. The experiment in March 1880 made headlines around the world because even Paris, New York and London did not yet have electricity, and Thomas Edison was still refining his work with the incandescent light bulb.
Question: What is the Indiana town?

The prize is a pair of tickets to the historic Indianapolis City Market Catacombs Tour, courtesy of Indiana Landmarks, and a certificate to Story Inn in Brown County, courtesy of Story Inn.
Movies with obscure Indiana connections
Click here to listen to the podcast.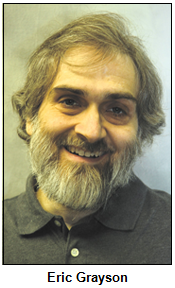 (February 16, 2019) Even though Close Encounters of the Third Kind was considered a blockbuster after its release in 1977, many Hoosiers may have forgotten its connection to Indiana. No scenes were filmed in the state, but the central characters were described as residents of Muncie.
In a scene played for laughs in Brother from Another Planet (1984), the protagonist, an alien who doesn't speak, encounters wide-eyed tourists from Indiana on a subway in New York City.
The Great Dan Patch (1949), a biopic about the world's greatest racehorse during the 1890s and early 1900s, is set in the Benton County town of Oxford. (Hoosier History Live explored the life of Dan Patch during a show in 2012.) But the movie wasn't filmed in Indiana; that's obvious because of the mountain range visible in scenes of Oxford, which is in a flat region of west central Indiana
In the 1953 version of the film Titanic, a fictional passenger on the doomed ocean liner is a student at Purdue University. Played by Robert Wagner, the character is described as a college tennis star.
Those are among movies that we spotlight with our guest, Indianapolis-based film historian and preservationist Eric Grayson. Known across Indiana for his popular screenings of vintage movies ranging from classics to films so rare that Eric owns the only existing copies (including some he salvaged before they were about to be destroyed), he has been described as a "walking encyclopedia" of movie lore.
In addition to talking about movies with obscure links to Indiana, during our show Eric shares insights about actors and directors with Hoosier connections who - unlike the more famous James Dean, Steve McQueen, Carole Lombard and other stars - are seldom discussed today.
They include Otis Harlan (1865-1940), a comedian and character actor from Martinsville. According to Eric, Harlan was featured in hundreds of silent movies and early talkies, including a film version of A Midsummer Night's Dream (1935). Harlan also provided the voice of the dwarf Happy in Disney's animated Snow White and the Seven Dwarfs (1937).
Richmond native Norman Foster (1903-1976), an actor who enjoyed greater success when he became a director, also was involved in Disney projects. Foster was associated with Orson Welles for many decades, serving as the director of the spy thriller Journey into Fear (1943) starring Welles, as well as several Charlie Chan mysteries. As an actor, Foster had a major role in Welles' final movie, The Other Side of the Wind, which began filming in 1970; it was uncompleted when Welles died in 1985 and finally was released in 2018 after being reconstructed by other filmmakers.
Both Foster and Harlan were in the cast of The Hoosier Schoolmaster (1935), a movie based on a 19th-century novel by Indiana author Edward Eggleston. The setting is southern Indiana after the Civil War.
Please note: This show was original scheduled for January 12 but had to be rescheduled due to severe weather.
History Mystery
A major Hollywood movie released in 1988 was set in Chicago, but many significant scenes actually were filmed in Indianapolis during the previous year.

The film's plot focuses on one of the most notorious scandals in baseball history. In 1919, Chicago White Sox players accepted bribes to lose the World Series. The movie, which starred John Cusack and Charlie Sheen, follows the unfolding of what became known as the "Black Sox scandal."

Historic Bush Stadium, still the home of the Indianapolis Indians during the 1980s, was the setting for many of the baseball sequences in the movie, standing in for the home field of the 1919 White Sox.

Question: What was the name of the baseball movie filmed at Bush Stadium?

The prize this week is a dvd of the newly remastered film Little Orphant Annie starring Colleen Moore and restored by Eric Grayson, courtesy of Eric Grayson. Don't miss this opportunity to win a copy of this cinematic treasure telling the story of a beloved James Whitcomb Riley poem!



Christmas is long past, but here's a Hoosier History Live wish list
Hoosier History Live is seeking a restaurant sponsor near UIndy, Fountain Square, or downtown. We like to treat our studio guests to lunch after the Saturday show, and we will offer a complimentary sponsorship in exchange for the opportunity to bring our guests to your restaurant to dine and to chat!
We like prizes for the History Mystery contest, too, ideally items that can be mailed in a standard business envelope. In return we will feature your logo and a link to your organization's home page in our newsletter and on our website, and a mention by Nelson on the air.
Also, if your business or organization would like to start a listening group during the live show, all you need is a quiet room and a radio, laptop or listening device and someone to facilitate the group. The Irvington Library has maintained a listening group open to the public for about eight years. This is a great opportunity for small busineses, libraries, or senior centers.
For all of the above, contact producer Molly Head at molly@hoosierhistorylive.org.
Roots tracing for African Americans
Click here to listen to the podcast
(February 9, 2019) Even with renewed, widespread interest in family history research - and the explosion of genealogical tools in recent years - challenges remain for those researching African American ancestry. Many of the challenges involve ancestors who were enslaved during the 19th century and earlier.
As Hoosier History Live salutes Black History Month, Nelson's studio guest is one of Indiana's top experts on African American roots-tracing. Indianapolis-based genealogist and librarian Nichelle M. Hayes is a past president of the Indiana African American Genealogy Group. Currently, she is the leader of the Center for Black Literature and Culture of the Indianapolis Public Library.
In this show, Nichelle shares advice and tips for tracing African American family histories. As a genealogist for more than 25 years, Nichelle conducts workshops about African American family history research and blogs about it and related topics.
In a recent blog post, Nichelle described her research into the death in 1933 of a great-aunt who lived in the Brightwood neighborhood of Indianapolis and died of tuberculosis. Information on the death certificate opened doors for Nichelle to learn about her ancestor's civic life.
"Genealogy is more than just birth and death dates," Nichelle writes. "It's fleshing the person out, so to speak."
To people beginning family history research, she recommends: "Start with yourself and work backwards."
In addition to examining U.S. Census data, records related to property ownership, probate and pensions also can be extremely helpful in illuminating the lives of ancestors, Nichelle says.
Among the resource books she recommends to African Americans are Black Roots: A Beginner's Guide to Tracing the African American Family Tree (Simon & Schuster, 2001) and A Genealogist's Guide to Discovering your African-American Ancestors (Genealogical Publishing Co., 2003).
Ancestory.com, another resource popular with genealogists for its extensive database of family tree information, has published Finding Your African American Ancestors: A Beginner's Guide (2001).
With Nichelle on hand to respond to questions from listeners embarking on roots-tracing adventures, we will open our phone lines earlier than usual during this show. The call-in number to the WICR-FM studio is 317-788-3314.
Roadtrip: Lincoln State Park in Spencer County
President Abraham Lincoln is our guest Roadtripper this week; he talks about his boyhood home in Spencer County, Ind., where he lived on a family farm from ages of 7 to 21. (Mr. Lincoln is portrayed by Danny Russel, an actor who interprets historical characters from Indiana's past.)

Illinois claims the title of the "Land of Lincoln," but Abe certainly spent his formative years here in the Hoosier state.

Mr. Lincoln tells us about Lincoln State Park in the beautiful forested hills of southwestern Indiana, where his mother, Nancy Hanks Lincoln, is buried, as well as his sister, Sarah Lincoln Grigsby. "All that I am, or hope to be, I owe to my angel mother," says Mr. Lincoln.

The park includes a replica of the Lincoln family farmstead. "Here I grew up," Mr. Lincoln has said of his Hoosier home.

The park is great for hiking, swimming, fishing, and camping. And while you're visiting Lincoln State Park, "Honest Abe" recommends you take a side trip to visit the Colonel Jones Home in nearby Gentryville, the historic residence of the merchant and Civil War officer who employed young Lincoln in a store there.



History Mystery
Hoosier notables honored at the Center for Black Literature and Culture at the Indianapolis Public Library include a broadcaster, columnist and civic leader who died in 2015. He was born in Chicago, but spent more than 40 years in Indianapolis, where he became a community activist and carved out a multimedia career.
At WTLC-AM (1310), he worked in various capacities, including station manager, but is probably best remembered for hosting a daily afternoon talk show. For many years, he wrote a weekly column for the Indianapolis Recorder newspaper. During the late 1990s, he was the host of a local TV talk show. In his various platforms, he questioned city and state officials about the impact of local issues on the African American community.
He was inducted into the Indiana Broadcast Pioneers' Hall of Fame before his unexpected death at age 64.
Question: Who was the famous Indianpolis-based African American broadcaster and columnist?
The prize is a gift certificate to Story Inn in Brown County, courtesy of Story Inn, as well as four tickets to the Indiana History Center, courtesy of the Indiana Historical Society.
French Lick, West Baden and The Wright Brothers
Click here to listen to the podcast.
(February 2, 2019) The rivalry during the early 1900s between two lavish hotels in the southern Indiana towns of French Lick and West Baden is almost as well known as the mineral waters they sold - marketed, respectively, as Pluto and Sprudel water. Far less remembered: The small towns also were archrivals on the basketball court because, until a consolidation fraught with controversy during the late 1950s, French Lick and West Baden each had their own high school.
Among the residents who witnessed the merger and the creation of what became Springs Valley High School - with a basketball team known as the Black Hawks - was a first-grade student in French Lick named Tim Wright. He grew up to become a public figure, known as the banjo- and guitar-playing sibling in The Wright Brothers Band, the Indiana-based group that has performed pop, country, rock and bluegrass music at the Grand Ole Opry, on national TV shows and even on the soundtrack of a Hollywood movie.
Tim Wright, who lives in Carmel now, has written a book, The Valley Boys: The Story of the 1958 Springs Valley Black Hawks, drawn from extensive interviews about the unfolding of the high school consolidation in the "twin cities" in Orange County. In addition to describing the social history of the school consolidation, Tim's book focuses on the basketball players themselves, former rivals who had to come together as one team.
He is Nelson's studio guest to discuss the merger that once was the talk of the state. The high schools' mascots had been the Red Devils (a nod to Pluto) for French Lick, and across the railroad tracks that separated the two town, the Sprudels (depicted as a wood gnome) for West Baden.
Tim also shares insights about the evolution of the Wright Brothers Band, who cut their first album in the early 1970s. Tim and his brother Tom, a vocalist, have been the core of the band, which has performed with headliners including Dolly Parton, Willie Nelson and Johnny Cash. The band also has performed the national anthem at Indianapolis Colts and Indianapolis Indians games.
During the 1950s, Tim and Tom Wright's grandfather ran a barber shop in French Lick that was a hub for chatter about the consolidation of the high schools, the blending of the basketball teams and the economic challenges of Springs Valley.
"Most folks in Orange County in the '50s considered themselves poor," Tim Wright notes in The Valley Boys. "There was no real industry, and wages were low."
In addition, the West Baden Springs Hotel - with a spectacular atrium touted as the "Eighth Wonder of the World" - had closed during the Great Depression. The landmark had various other owners over the years (including Jesuit priests and a culinary school), and did not reopen as a hotel until a spectacular restoration in 2007.
According to Tim's research, the combined population of the two towns was about 3,500 in 1958. Although wealthy visitors continued to patronize the French Lick Springs Hotel, which remained open, many assumed its glory era had passed.
Some history facts:
In the early 1950s, the West Baden Sprudels had been coached by Marvin Wood, who later became the basketball coach of another tiny school, Milan High School. In 1954, Wood was the coach for the legendary Milan team with Bobby Plump that won the state tournament.
John McDowell, a long-time bass guitarist and vocalist with the Wright Brothers Band (he sometimes is called the "third brother") is the nephew of Jimmy Mack, the former TV personality in Indianapolis who was the host of "Bandstand 13," a popular teen dance show during the 1960s. In 2016, Jimmy Mack, who is now 96, was a studio guest on Hoosier History Live.
The Wright Brothers Band can be heard on the soundtrack of Overboard (1987), a movie starring Goldie Hawn.
Known as the Wright Brothers Overland Stage Company when the band formed in 1972, the group has performed across the country. In Indiana, their performance venues have included the restored landmarks from Tim and Tom's boyhood, the French Lick and West Baden hotels.
The Wright Brothers gained national attention during the 1980s with their hit song "Made in the USA," which, as the title suggests, celebrates companies that manufactured their products in this country.
The brothers' father, Billy D. Wright, was a singer in southern Indiana. During the 1940s, he was a basketball star for the French Lick Red Devils, according to The Valley Boys.
For the book, Tim Wright interviewed one of the key figures involved in the aftermath of the consolidation of the rival high schools: Rex Wells, a West Baden native who, in his 20s, became the widely admired coach of the inaugural Springs Valley High School basketball team.
Wells is quoted as saying: "It was the team and not the school board that consolidated the two schools."
Roadtrip: Wilbur Wright Birthplace and Museum in Henry County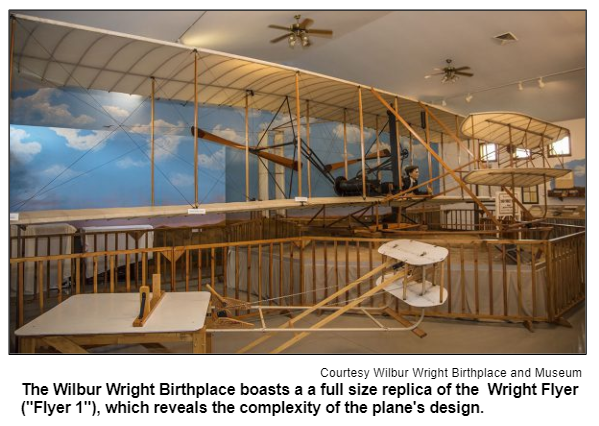 Our studio guest Tim Wright of The Wright Brothers Band sometimes has to clarify that there's no known kinship between his family and that of the "other" famous Wright Brothers - you know, the ones who had something to do with airplanes.
But the Wright Brothers who were pioneers in aviation also have an Indiana connection. Guest Roadtripper Ken Marshall, an educator and backroads Indiana "bon vivant," suggests a Roadtrip to the birthplace of Wilbur Wright, located a few miles north of I-70 in Henry County, twenty five miles northeast of Richmond.
The Wilbur Wright Birthplace and Museum preserves the house in which Wilbur Wright was born and seeks to educate the public by preserving and interpreting his life, family, and achievements. For fans of early aviation, perhaps the museum's most exciting display: a full-size replica of the 1904 Wright Flyer!
And to witness flyers of another type, Ken suggests a side trip to Summit Lake State Park, just a fifteen minute drive northeast from the Wright Birthplace toward Muncie. The park offers excellent birding: with its many low-lying wet meadows and prairies, you can spot such migratory species as the black tern, bald eagle, sandhill crane and American bittern, among others.
Be sure to listen in to join Ken for this gravity-defying Roadtrip adventure!
History Mystery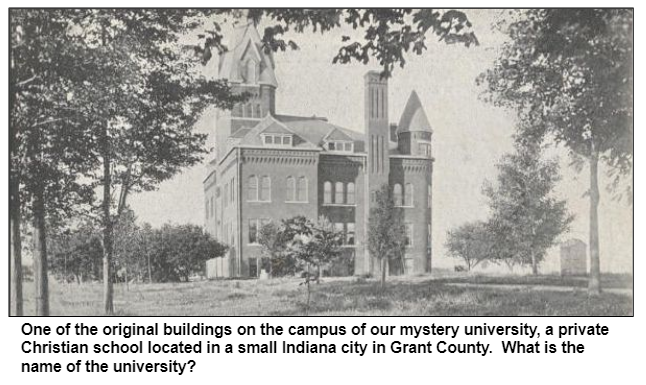 For more than 35 years, the Wright Brothers Band has performed at universities and colleges across the country. Campuses that have been the settings for performances by "Indiana's Band" have included Texas Tech, North Carolina State, Indiana University, Wabash College and Butler University.
The Wright Brothers also have performed at a private university located in a small Indiana city in Grant County. The university is an interdenominational, evangelical Christian school attended by about 2,000 students. The mascot of its sports teams is the Trojans.
Question: What is name of the university?
Please do not call in to the show until you hear Nelson pose the question on the air, and please do not try to win if you have won any other prize on WICR during the last two months. You must be willing to give your first name to our engineer, you must answer the question correctly on the air and you must be willing to give your mailing address to our engineer so we can mail the prize pack to you. The prize is a gift certificate to Story Inn in Brown County, courtesy of Story Inn, as well as four tickets to the Indiana History Center, courtesy of the Indiana Historical Society.

Exploring Indiana's Civil War governor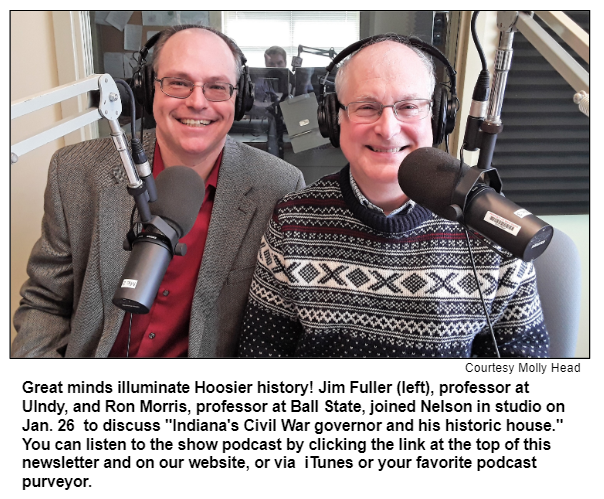 Indiana's Civil War governor and his historic house
Click here to listen to the podcast.
(January 26, 2019) He's been called the most consequential Indiana governor in state history. And a towering bronze statue of Gov. Oliver P. Morton stands in front of the Indiana State Capitol building.
But Morton - an ally of Abraham Lincoln who came close to being the Republican nominee for U.S. president in 1876 - was a controversial figure. Critics have contended that Morton (1823-1877) was practically a dictator who abused his powers as governor during the Civil War.
To explore the impact and colorful life of Morton, who served as a U.S. senator representing Indiana following his stint as governor, Nelson is joined by two distinguished guests:
Known as the "soldier's friend" and an ardent supporter of the Union Army cause, Morton even visited battlefields and traveled to Washington D.C. to plead with Lincoln to supply overcoats to shivering troops from Indiana. After the war, he was a fierce advocate for the civil rights of African Americans.
"His critics blasted him as a ruthless tyrant," Jim Fuller writes, noting that Morton was accused of exaggerating the threat of Copperheads and other Southern-sympathizing groups in Indiana as a means of rallying support for his expanded powers. He was also accused of misusing public funds and initiating "treason trials" in Indianapolis against his opponents.
Before the Civil War, Morton had been an attorney, practicing law in the house that Ron Morris is restoring. Morton was one of the early organizers of the Republican Party in Indiana and, before that, had helped form its predecessor, the People's Party.
At the GOP convention in 1876 that ultimately settled on Rutherford B. Hayes as a compromise nominee for president, Morton "enjoyed widespread support," dropping out only after the sixth ballot, as Jim Fuller recounts in his biography. The enthusiasm for Morton as a presidential candidate persisted for several years, even after he had suffered a debilitating stroke that paralyzed his legs, rendering him unable to walk unassisted.
Thanks largely to Morton's dedication to the Northern cause during the Civil War, Indiana ranked second in the percentage of men of military age serving in the Union Army.
He was the target of at least one assassination attempt as governor, according to Jim Fuller's biography. As Morton was leaving the Indiana Statehouse after working late, a gunshot flew past his head. A second shot also narrowly missed him.

Elected to the U.S. Senate in 1867, Morton championed the rights of African Americans newly freed from slavery in the South and called for a Constitutional amendment to abolish the Electoral College. After suffering a second stroke, he died in Indianapolis in 1877 and is buried in Crown Hill Cemetery, "next to the Union soldiers for whom he had done so much," Jim Fuller notes.

Morton and his wife, Lucinda Burbank Morton, sold the house in Centerville in 1863. Our guest Ron Morris has been restoring the stately house - the only one of Morton's residences that still stands - to what it would have looked like during the 1849-1862 period.
History Mystery
Oliver P. Morton, Indiana's governor during the Civil War, studied at Miami University in Oxford, Ohio, as a young man during the 1840s. He left after two years to become an apprentice to a lawyer.
Miami University in Ohio was the alma mater of another famous Hoosier political figure who, like Morton, had a connection to the Civil War.
Question: Who was the other important political figure from Indiana who attended Miami University and was connected to the civil war?
The prize is a gift certificate to Story Inn in Brown County, courtesy of Story Inn, as well as four tickets to the Indiana History Center, courtesy of the Indiana Historical Society.
Rev. Martin Luther King's visits to Indiana
Click here to listen to the podcast.
(January 19, 2019) Both before he became a household name nationally and after he was a famous public figure, Rev. Martin Luther King Jr. made trips to Indiana. How those visits during the 1950s and '60s unfolded, where Rev. King stayed and other details, are the focus of our show that aired two days prior to Dr. Martin Luther King Jr. Day.
In February 1968, Dr. King spoke at Manchester College in northern Indiana to an "overflow audience," according to the small, private school affiliated with the Church of the Brethren. Now Manchester University, the school describes the speech as Dr. King's "last campus address" before his assassination two months later, in April 1968.
Nearly 10 years earlier, in 1958 when he was a young minister and civil rights leader in the South, 29-year-old Dr. King spoke in downtown Indianapolis at Cadle Tabernacle, a sprawling, Spanish-style structure that served as the site of conventions, religious gatherings, music concerts and a range of other events. Cadle Tabernacle, which was located at Ohio and New Jersey Streets, was demolished during the late 1960s.
In the decade between that speech and the talk at Manchester College near the end of his life, Dr. King periodically visited Indianapolis, often staying with the family of his close friend Rev. Andrew J. Brown (1921-1996), pastor of St. John's Missionary Baptist Church. Rev. Brown, one of Indiana's most prominent civil rights leaders of the era, marched with Dr. King in Selma, Ala., in 1965.
For our exploration of Dr. King's trips to Indiana - which also included a speech at Goshen College in 1960 - our studio guests are: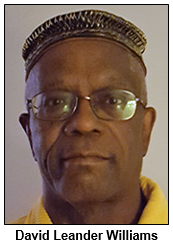 Accounts about Dr. King's speech at Goshen College, which is affiliated with the Mennonite Church, describe it a "spellbinding lecture." The speech, which he delivered in 1960, occurred about one year after he had traveled to India to study Gandhi's techniques of nonviolence.
At Goshen College, Dr. King discussed nonviolence. He also called on religious leaders to more strongly advocate for civil rights; Dr. King described most churches across the country as "segregated islands."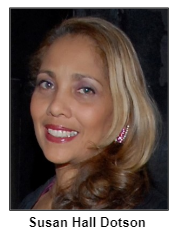 Beginning in the mid-1950s, Dr. King began staying at the home of the Brown family during his trips to Indianapolis. According to Rev. Thomas Brown, the family began receiving threatening phone calls around the time of the early visits. So the Browns kept quiet about where Dr King was staying when he came to the Hoosier capital.
Rev. Andrew Brown was active in the Southern Christian Leadership Conference (SCLC), a civil rights advocacy organization; Dr. King served as its first president. Today, Rev. Thomas Brown is president of the Indiana Christian Leadership Conference, an affiliated chapter.
Just as streets have been named in honor of Dr. King in many Indiana cities - including Indianapolis, Evansville, South Bend, Gary and Elkhart - a street on the near-eastside of Indy was named Dr. Andrew J. Brown Avenue in 1986. In addition to serving as pastor of St. John's Missionary Baptist Church, which is located on the street named in his honor, Rev. Andrew Brown was one of the primary organizers of Indiana Black Expo during the early 1970s.
Exploring Rev. Martin Luther King's visits to Indiana
History Mystery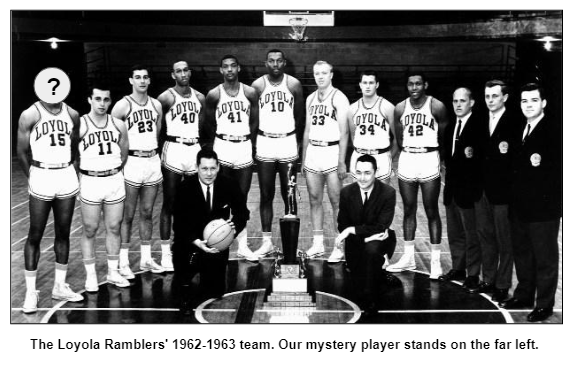 Major organizers of Indiana Black Expo in the early 1970s included Indianapolis civil rights leader Rev. Andrew Brown, a close friend of Dr. Martin Luther King Jr. and the father of our guest Rev. Thomas Brown. The inaugural Black Expo was a three-day event in 1971 attended by more than 50,000 people.
Celebrities featured at inaugural Expo events included a popular former player for the Indiana Pacers, which were then in the ABA (American Basketball Association). Our mystery player had been a basketball star at Loyola University in Chicago, leading the team to the 1963 NCAA championship. At the time of the inaugural Black Expo in 1971, he was working as the first African-American fundraiser for United Way of Central Indiana. During the 1970s, he became the first African-American sportscaster in the Indianapolis TV market.
In addition, he advocated for civil rights, working with the Southern Christian Leadership conference several years after Dr. King had served as the organization's first president.
Question: Who is our mystery man?

The prize pack is a gift certificate to Story Inn, courtesy of Story Inn, and four admissions to GlowGolf, courtesy of GlowGolf.

Bobby Plump, "Milan Miracle" shot-maker, to speak at Hoosier History Live 11th anniversary party!
Once in a great while, the little guy wins.
In 1954, in what became known as the "Milan Miracle," a basketball team from a small, rural high school beat out the favored teams to capture the Indiana state championship, a feat immortalized in the 1986 movie Hoosiers.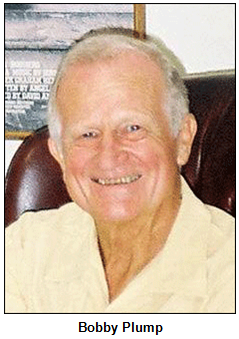 Legendary Hoosier Bobby Plump, who made the final, winning shot for the small Milan High School basketball team in 1954, will speak at Hoosier History Live's 11th anniversary party. The party will be held on Thursday, Feb. 28 from 5:00 to 7:30 pm at the Indiana Landmarks Center, 1201 N. Central Avenue, Indianapolis, IN 46202.
As our featured speaker, Bobby Plump will be helping to celebrate the success of another "small team" - the Hoosier History Live creative team. While quality journalism in newspapers, magazines and television news decreases, Hoosier History Live's independent production group continues to put out a compelling show and an informative newsletter each week.
And all the while expanding its reach as a podcast, available for free on iTunes and other popular podcast venues.
We invite all friends and supporters of Hoosier History Live to join the celebration as our guest. Come as you are, or (better yet!) dress in historic garb as your favorite character from the past. Watch our website for details and the RSVP form.
Thanks to our friends at Indiana Landmarks and Black Plate Catering for their support!
Avriel Shull, trail-blazing home builder and designer
Click here to listen to the podcast.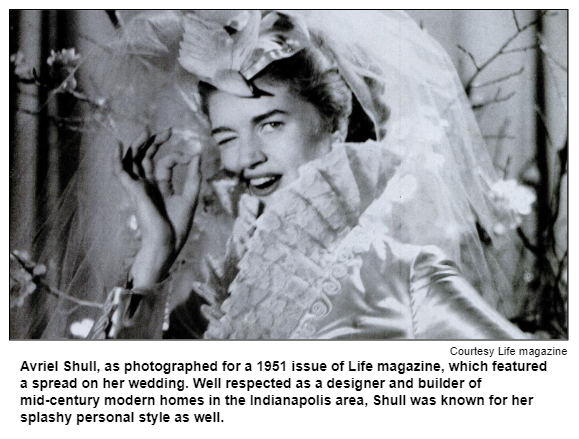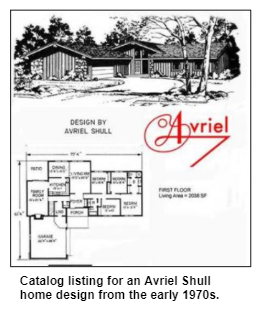 (January 5, 2019) To kick off the 11th year of Hoosier History Live with flair, we spotlight the impact of an Indiana architectural trail-blazer who had both pizzazz and spunk.
Beginning in the 1950s, when women home builders were a rarity, Avriel Shull designed and built mid-century modern homes in Carmel, Indianapolis and other cities. National periodicals eventually distributed the house plans of "Avriel" (she often was referred to by her first name only), with orders for her home patterns continuing long after she died in her mid-40s in 1976.
"Years before branding became an essential component of business success, Avriel was both a well-known company brand and a synonym for modern design," according to our guest, historian, researcher and preservationist Connie Zeigler, owner of C. Resources. Connie prepared the nomination for the National Register of Historic Places of the Thornhurst subdivision in Carmel, where Avriel designed 21 mid-century modern homes.
Just as Avriel's homes created something of a stir - with their floor-to-ceiling windows, sliding glass doors, vertical cedar siding and walled patios during an era noted for basic ranch houses - red-haired, charismatic Avriel drew attention on a personal level as well.
In 1951, Life magazine devoted a multi-page photo spread to her splashy wedding, during which Avriel entered amid a release of white birds; at 2 a.m., she lifted her white gown to perform the can-can.
Her husband was one of Indiana's best-known journalists of the era. An irreverent TV columnist for the Indianapolis News (and, before that, for the Indianapolis Times), R.K. Shull also answered reader questions in "Shull's Mailbag," which appeared in 260 newspapers across the country.
None of that overshadowed his wife, who, as Connie has written, "lived life at breakneck speed."
According to Connie, Avriel "often laid the stone herself on the houses she designed." As for an enduring architectural legacy, Connie notes that "At least 50, and probably more, of her houses are still standing in the Indianapolis area."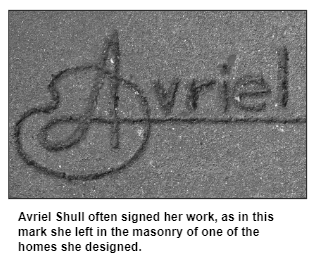 But Avriel was not an architect. In fact, although she studied at what was then the John Herron Art Institute during the 1940s, Avriel never earned a college degree.
In all of her Thornhurst subdivision houses - which were the focus of a 2017 home tour organized by the Carmel Clay Historical Society - Avriel featured modern fireplaces, some of which she built herself.
In a cover story about Avriel for a 2012 issue of Traces magazine published by the Indiana Historical Society, Connie notes that many of the fireplaces "had two-sided hearths opening into two different rooms."
Connie writes that for home interiors, Avriel chose vinyl-topped stools, tripod-legged lamps and sofas with hairpin legs, "unlike the ruffled sofas and overstuffed chairs of earlier eras." In many of the bathrooms, she painted murals - and added an elaborate "Avriel" as a signature to her work.
By the mid-1960s, Avriel landed contracts to design homes in upscale neighborhoods on the northside of Indianapolis including Avalon Hills, Crow's Nest, Meridian Hills and Sunset Lane. In the final years before her death shortly before her 45th birthday, Avriel was building houses in Brownsburg, Kokomo, Westfield and Evansville.
History Mystery
The multi-page photo essay about the wedding of home builder Avriel Shull in Life was one of many times during the 1950s that the magazine - which then was published weekly as one of the country's most widely read periodicals - focused on a topic related to Indiana.
In 1958, a six-page essay in Life described an Indiana city as "a thriving cesspool of vice." The illustrated article included descriptions of illegal gambling and prostitution in the Hoosier city.
For several years after the article's publication in 1958, it remained a topic of discussion in households across the state. Outraged and distraught, civic leaders in the Indiana city were quoted as worrying that it might cause "irreparable damage." Reacting to the Life article, a local newspaper published a front-page editorial with the headline: "A Low Blow If There Ever Was One."
Question: What Indiana city was the focus of the controversial article in Life magazine in 1958?
The prizes this week are four admissions to the Indiana History Center, courtesy of the Indiana Historical Society, and a gift certificate to Story Inn in Brown County, courtesy of Story Inn.